Head lice is one of those topics that I am totally embarrassed to admit that I know first-hand how to handle… but here we are, post-lice outbreak at my house and I have completely destroyed all of those nasty crawly critters. Hallelujah! Here's my now, go-to, recipe for DIY Head Lice Spray.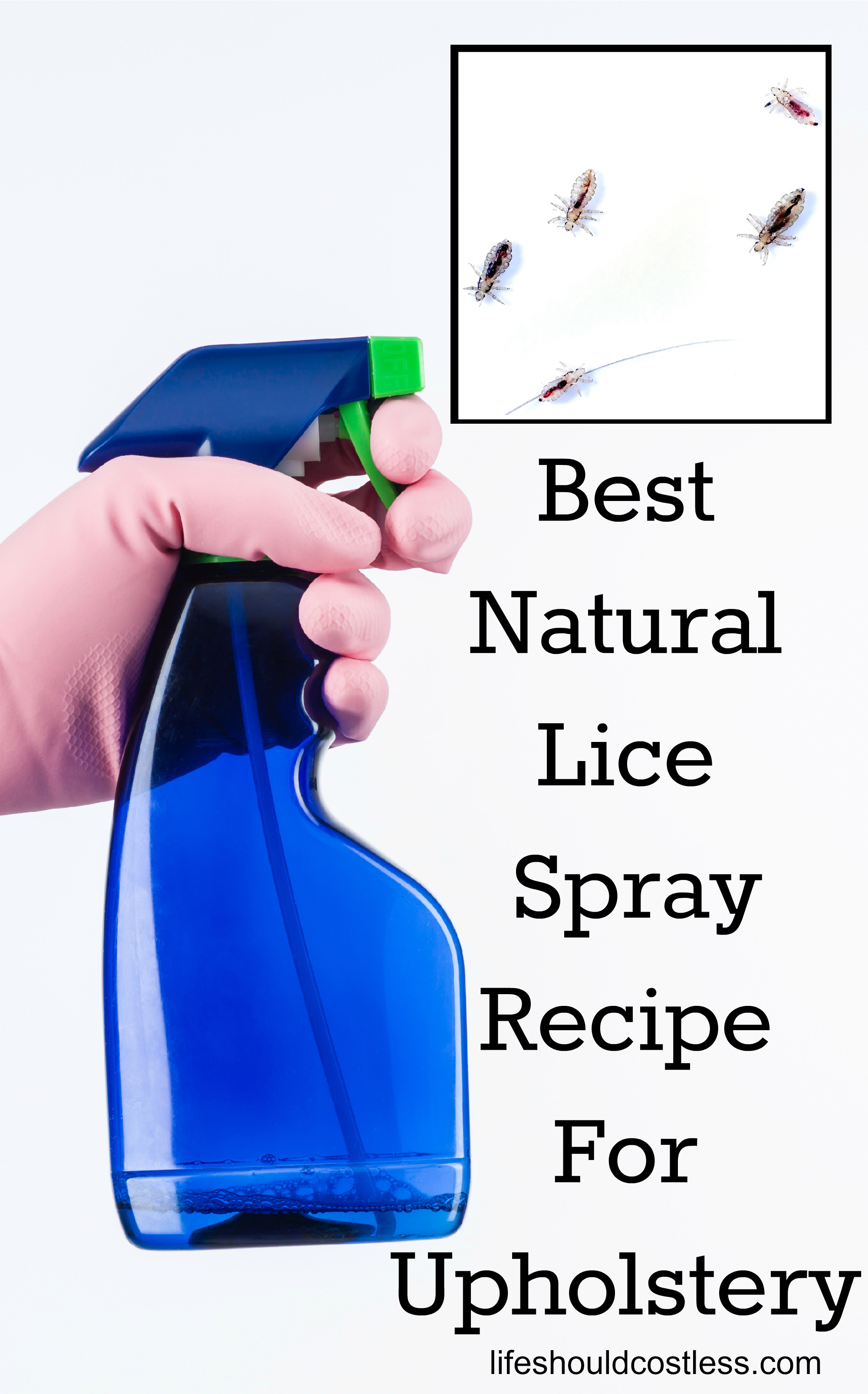 It just goes to show that no matter how "clean" you and your family are (and I have been cleaning like a mad-woman lately even before the outbreak), it can literally happen to anyone, so don't feel so bad about it.
I do have to share with you all the hilarious story about the discovery though.
My oldest child is a bit of a hypochondriac, so I almost brushed off her concerns when when she told me that she thought that she had head lice… but just to appease her, I started looking through her hair and sure enough I saw a couple of critters within a matter of moments…
I almost threw up, I was so freaked and grossed out.
Of course, after the initial shock, my mind started racing and I started googling, shopping, and trying not to panick.
The thought of having to shampoo every bed, couch and carpet in my house in addition to washing all the bedding, plush object, and even the drapes had me so stressed out it was pretty horrible.
After doing some research, I figured out my course of action…er the solution to the problem. I wanted to find a way to treat all of the soft surfaces so that I wasn't spraying chemicals all over everything, and luckily I figured out a natural way to kill the lice in the upholstery.
Before I share with you my "secret sauce" for killing head lice on our soft surfaces, I wanted to share with you links to five of my other posts that you're also going to love:
Now back to learning how to make Best Head Lice Treatment Spray Recipe For Upholstery (couches, beds, carpet, plush toys, furniture, car interior).
How do I know it works, you may be asking? The answer is a simple one. I had vacuumed a mattress, sprayed on this concoction of mine, and came back a couple of hours later to find a couple of dead adult lice bugs just hanging out on the mattress. Like, I could totally plainly see the dead lice with my naked eye.
If that isn't proof enough, I don't know what else would be… but the fact that I was able to completely wipe them all out in a matter of a day or two says something as well.
Here is a free printable card with the (non-food) recipe so that you can print it out and have it on hand.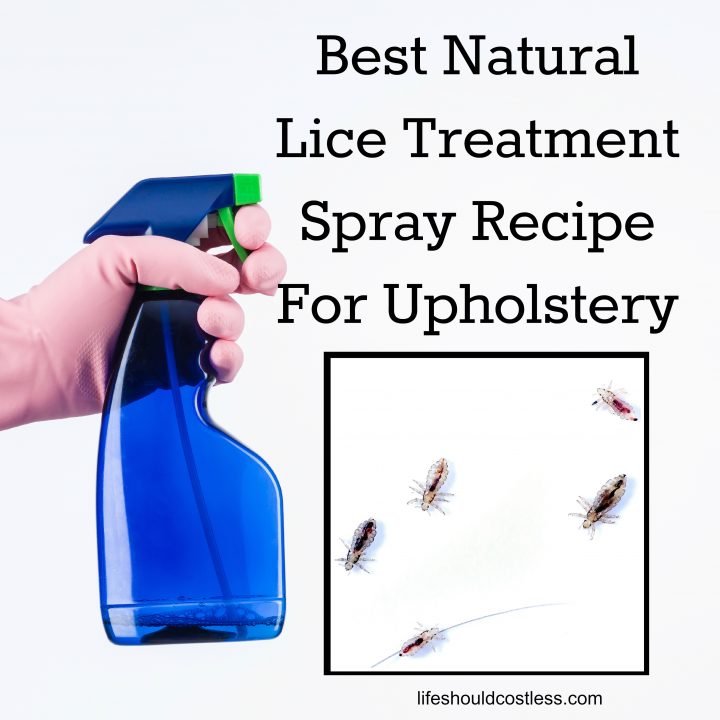 Best Head Lice Treatment Spray Recipe For Upholstery (couches, beds, carpet, plush toys, furniture, car interior)
Yield:
1 (32 oz) Spray Bottle
Easily mix up a bottle of this lice treatment spray to both kill live headlice and to prevent future breakouts in your home.
Materials
1 Large Spray Bottle (that sprays a fine mist)
Water
White Vinegar
Tea Tree Essential Oil
Instructions
In a new 32 oz spray bottle, take the lid off, fill it half way full with warm water.
Fill the other half full with White Distilled Vinegar
Add 15-20 Drops Tea Tree Essential Oil
Put the lid back on, tighten it, and shake well.
Vacuum any upholstery that may need it, otherwise you can just evenly spritz all your soft surfaces with this spray. Shaking the bottle periodically while spraying to make sure the tea tree oil stays mixed.
Let dry.
Repeat daily during a lice outbreak, otherwise treat your upholstery with the spray once or twice weekly to help prevent future outbreaks.
Notes
If you're worried about damaging any of your soft surfaces, you can find an inconspicuous area and do a test treatment.
Less tea tree oil is required during prevention than during an active infestation, but play with the ratios and see what works for you.
This spray can be used to freshen soft surfaces occasionally as well as it works similar to a Febreze type product.
I'm still a little mortified that I had to even deal with this particular misfortune, and more-so that I have the nards to share this with all of you… It was far more stressful than I ever would have imagined.
So, I am hoping that by reading this, and me swallowing my pride to share this tip, it will save you a bunch of headache and money too... because using this spray means that you don't have to get your carpets, couches, and beds shampooed or replaced.
Oh, I also thought I would share with you a few other pearls of wisdom about how to both treat and prevent head lice in the home.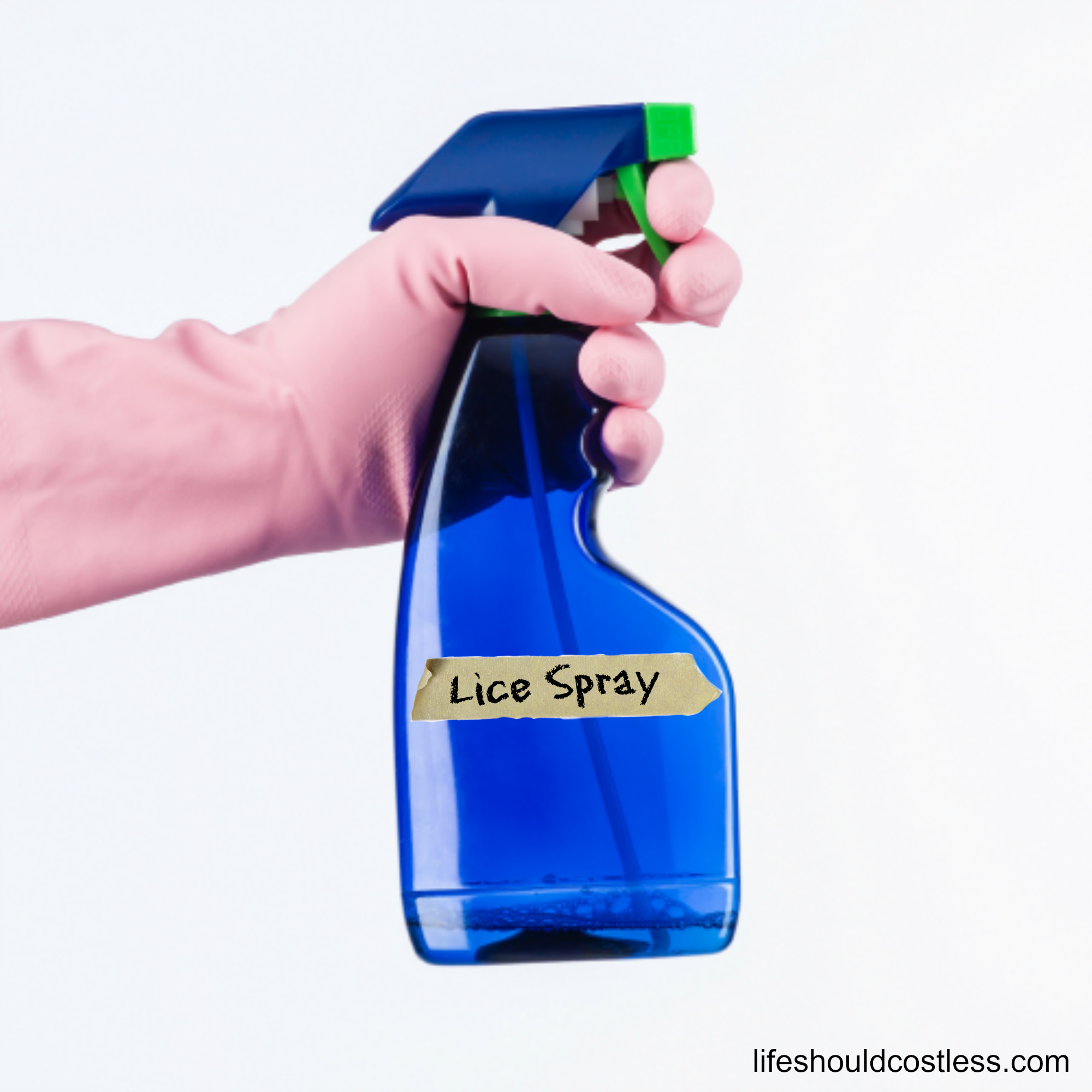 My neighbor, thanks Jenn, told me that she adds a few drops of tea tree oil to her kids detangling spray so that when they are brushing and styling their hair it provides a good deal of prevention.
I was so embarrassed when I had to tell Jenn that my kids had lice and to check her kids, but she was super sweet about it and told me her little trick. She said that it has prevented her kids from getting head lice from countless times that lice has been going around at school and such.
I don't know about you, but I have already added that little tid-bit to our daily hair routine to make sure that we are preventing any future outbreaks as well as helping us treat any lice that may have been missed by the lice treatment kit.
Another good thing to do is to wash all hair brushes, combs, hair ties, scrunchies (for all our VSCO girls, lol). When I was a kid I remember my mom throwing all of the brushes in the dishwasher during a lice outbreak, and I would throw the hair ties and scrunchies into a mesh laundry bag and just run them through the wash.
The best, most helpful, thing I can think to tell you is that instead of having to full on wash all the blankets and pillows and such… you can sometimes get away with just throwing them in the clothes dryer, on low to medium heat, and the heat will kill the lice, and the lice will end up in your lint trap so you don't have to worry about finding dead lice all over your blankets and kids toys.
Now that the head lice scare is behind us, I'm relearning to not immediately think that I have head lice again any time that my head even slightly itches… lol, but I'm sure that it will take my mind a bit of time to really get over that disgusting trauma.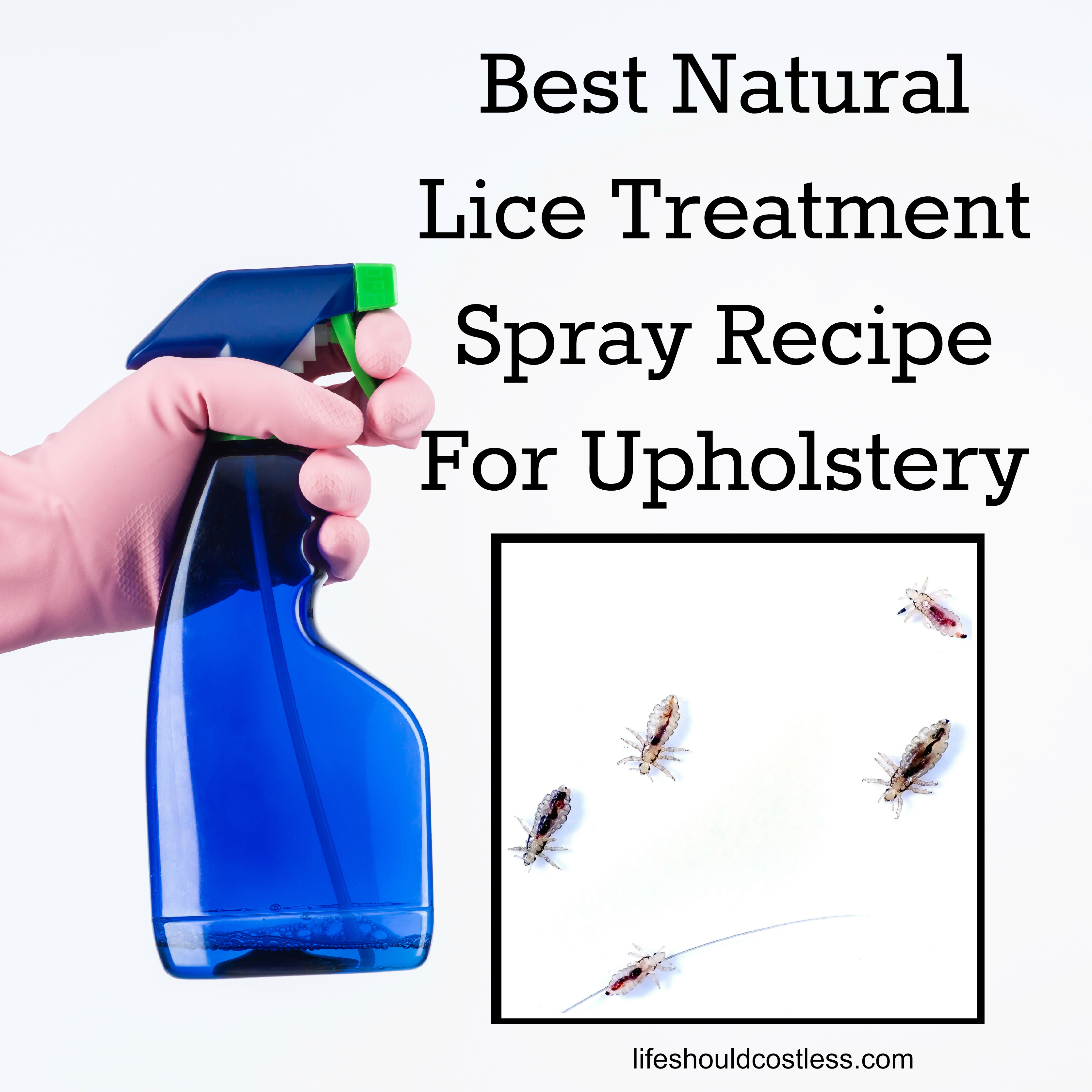 Thanks so much for stopping by my blog! If you liked what you saw, please make sure to share it via social media!
Other ways to show your support are to follow and/or interact with me on Pinterest, Instagram, Facebook, YouTube, or by Subscribing To My Email List.
If you purchase suggested products through Amazon, the cost to you remains the same, but I make a small commission on everything in your cart. Also, if you ever need to buy it again, you can always come back to my site for the link…just sayin';).
If something was particularly helpful and you would like to donate directly to the blog, you can do so via PayPal, here. I'm a single mom of four, so every little bit helps. Thanks so much! ~Sarah
P.S. You may also like my entire cleaning section, as well as some of my life hacks.
Here are five of my other posts that you may also like(the pics are links):