Can you make clothes soft again? Give those stiff clothes a little make-over, and they will be vintage soft and fluffy like they used to be in no time. There are many ways to make hard clothes soft, & I go over my favorite natural, "non-toxic" methods to do so. Learn how to make clothes soft with just a few simple steps.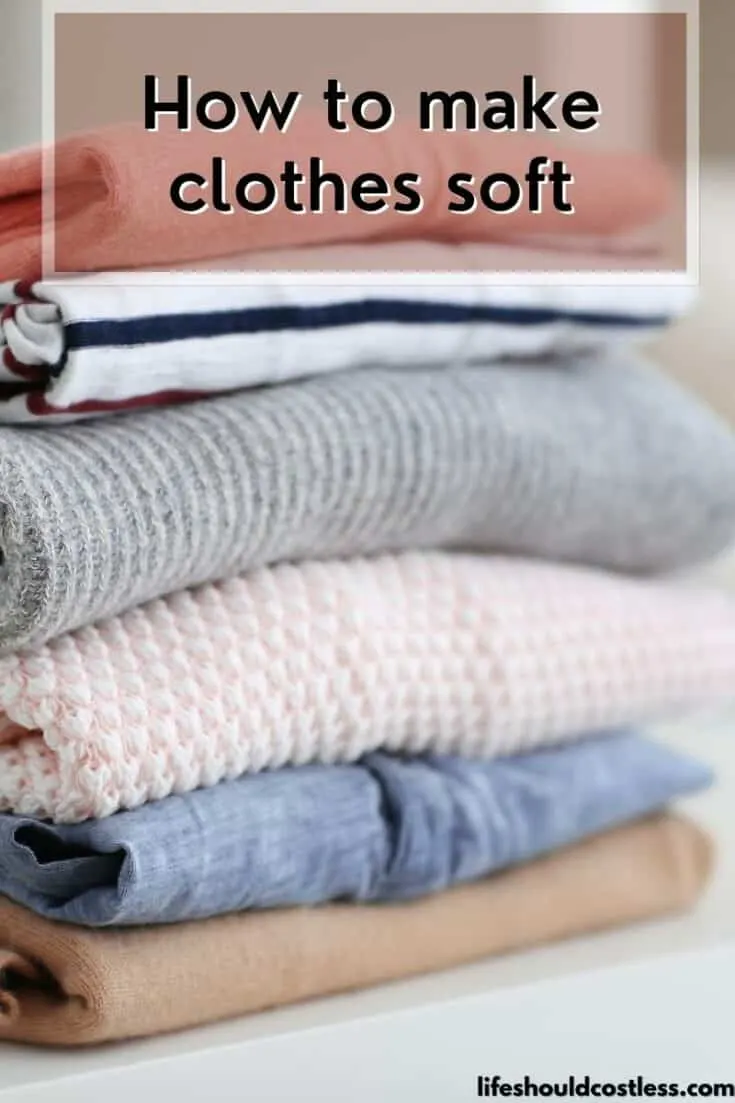 Being born a natural red-head…I have really sensitive skin, so much so that my pesky skin actually limits some of my options when I am doing my laundry.
I'm allergic to perfumes, dyes, most dryer sheets, most regular fabric softeners, and anything that is too "chemically"…if that's even a word…lol… and so it has forced me to get a little bit on the creative side when it's time to launder my clothes.
So I thought that I would share a little bit of "fabric softener for sensitive skin" knowledge.
Well, let's just dive right in. I have broken this information down into sections, so it should be pretty easy to navigate through it all.
---
Why are my clothes not soft anymore?
Oftentimes clothes become kind of hardened, or the fibers take on a stiffness that makes them not nearly as comfortable to wear as they were when they were first purchased.

This is often caused by a build up of minerals that are found in hard water. Although, it can also possibly be caused because we are using cheap detergents, fabric softeners, or even crappy dryer sheets. Or, maybe we have an inefficient washing machine (that doesn't rinse everything out) or just keep forgetting about the wash and went a little crazy with the drying time (accidentally crispy/baked clothes need re-softened too).
Not everyone has the luxury of a budget that will allow them to use some of the better laundry products, or upgrade their washing machine, so luckily there are some pretty inexpensive ways to combat clothing stiffness.
---
Table of Contents, Skip Ahead To What You're Looking For
How to make clothes softer without fabric softener.
Yes, let's go over the natural ways to make your clothes soft again, and they will feel like they are butter-soft and new again in no time.
I have this simple video tutorial, as well as free printable "how-to" direction cards below it as well.
How do you soften clothes with salt?
A salt soak is a great way to soften your various clothing items to get them soft or fluffy.
Whether it be jeans, t-shirts, sweaters, or even towels, and that is because salt helps break down the mineral deposits within the fabric fibers, that are causing the fabric to be stiff.
Using salt to soften those mineral deposits works the same way as how a water softener (which you fill with huge salt pellets) works to break down all the mineral funk in your home.
Though if you have a water softener already, you can skip this method and go straight to the vinegar method.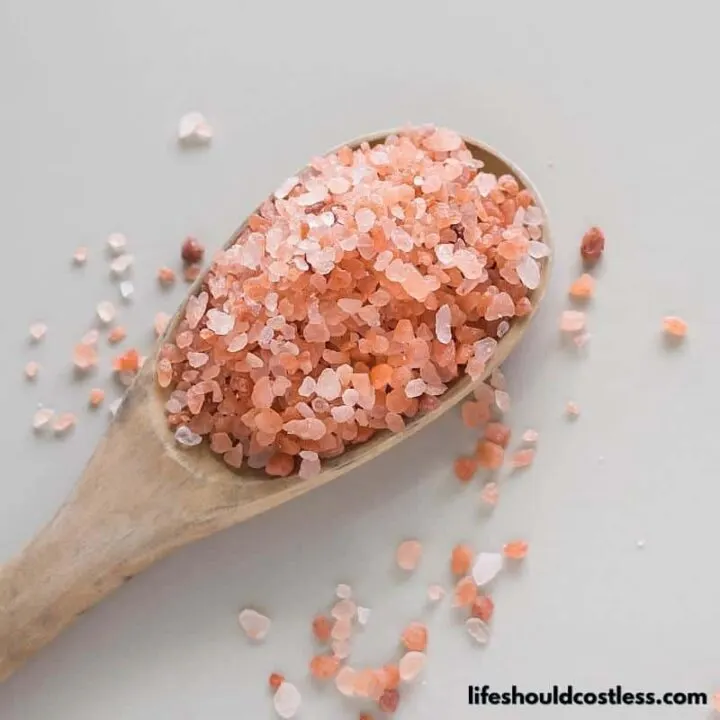 How To Soften Clothes With Salt
Total Time:
2 days
8 minutes
Clothes feeling hard, stiff, rough? Break down mineral deposits in clothes easily with a salt soak to make those stiff clothes feel soft again. Here's how to do it for best results:
Materials
Salt
Warm Water
Stiff Clothing Items
Instructions
In a bucket, add 1/2 Cup Salt per every One Quart of Warm Water.
Mix well (until salt has dissolved), and then submerge your stiff clothing items in the water/salt mixture.
Stir once per day for two to three days...yes, this salt soak method takes some time.
Drain the excess water, and then launder (wash & dry) the clothes as normal.
Now enjoy your clothes feeling soft and fluffy again.
Notes
It is normal, during the salt soaking process, for salt deposits to form on the clothing. This should just wash right out when you have completed all of the steps.
Recommended Products
As an Amazon Associate and member of other affiliate programs, I earn from qualifying purchases.
How do you soften clothes with vinegar?
You may be wondering how much vinegar does it take to soften clothes? You definitely can go over-board and use too much, so make sure to follow along in the free printable "how-to" card.
Also keep in mind that I am referring to using regular white distilled vinegar in this post, actual cleaning vinegar is much stronger so should be diluted even further.
What happens when you put vinegar in your laundry?
What happens if you soak clothes in vinegar? There are a myriad of benefits that happen to your clothes with a good vinegar soak or even a vinegar wash.

Here are a few of the benefits of soaking clothes in vinegar:
*Vinegar is antibacterial, so it removes funky smells.
* It brightens dingy colors.
*Breaks down deposits of minerals and detergents.
*It softens your clothes and reduces wrinkles.
*It'll even help clean your washing machine while it's at it.

To read a more in-depth post on the subject, and why it works, head on over to Healthline and read what they have to say about it, here.
*I have many more vinegar in laundry FAQ's at the bottom of this post as well.*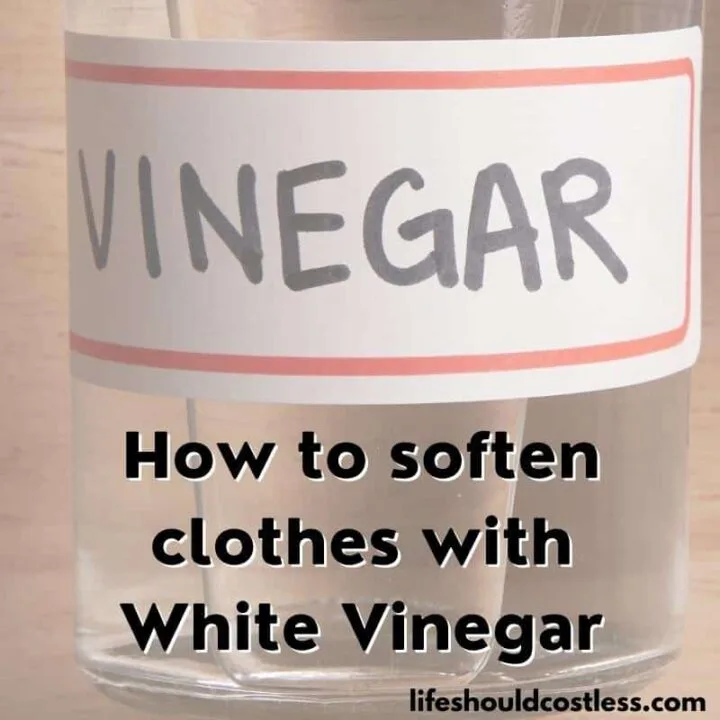 How To Soften Clothes With Vinegar
Additional Time:
30 minutes
Estimated Cost:
Less Than $5
Saoking your clothes in white vinegar is a great way to brighten colors, deodorize, break down deposits of minerals and other residues, as well as it will soften them and reduce wrinkles. Here's how in just a few easy steps (& no it will not leave your clothes smelling like vinegar either).
Materials
White Distilled Vinegar
Water
Stiff Clothing Items
Tools
Soaking Bucket
Stirring Spoon
Instructions
In a bucket, add four parts water to every one part white distilled vinegar.
Submerge clothing items in the vinegar water, stir, and allow to soak for 30 minutes.
Then drain the excess water from the bucket. Wash & dry clothes as 
you normally would.
Now enjoy your clothes feelin soft and fluffy again.
Notes
Please note that this soaking tutorial is for using regular white distilled vinegar only. Cleaning vinegar is much stronger and will need to be diluted further.
Recommended Products
As an Amazon Associate and member of other affiliate programs, I earn from qualifying purchases.
Which is better at softening clothes, vinegar or salt?
Both a Salt or Vinegar soak will give you great results to release all of the funky mineral deposits and make your clothes feel soft again.
So, it's really up to you, and your available amount of time, on which method will suit your needs best.
Vinegar soaking is obviously way faster, and since vinegar is also naturally antibacterial it actually has many more benefits than salt.
If I were to pick one method over the other…I would use the vinegar soaking method.
Fabric Softening FAQ's
How to get the best results with fabric softener
Manufacturers of products seem to know the best way to get the most out of their product that they are producing.

So, you can typically just follow the directions on the back of the packaging (for the particular brand you are using) and you will get the desired results, unless you are buying the cheapest products out there.

Keep in mind that most manufacturers also have a helpful website full of FAQ's so a simple search on their website could solve any other questions you may have.
Does fabric softener really make a difference?
It most certainly does. Not only do your clothes feel more soft if you are using a quality fabric softener, but they will actually last longer if you soften them regularly.

Keeping the fabric fibers softened helps to keep them stronger, so the material should just plain wear out much slower if you are softening it regularly…especially if you are using a dryer to dry them.
How long should you leave your clothes in fabric softener?
For extra stiff clothes, you may want to leave your laundry soaking in fabric softener overnight. It's one of those things that don't really matter too much on a set amount of time for a soak, so long as you make sure it had enough time to do its thing (maybe a two hour minimum).

I recommend not allowing them to soak for more than a day or two though.
What happens if you put too much fabric softener on clothes?
Well, just like if you put too much conditioner in your hair…your clothes will feel a bit on the heavy side, and it may not feel quite as soft.

Luckily, I know just what to do if you use too much fabric softener and that is to just toss it back in the washing machine and run a rinse/spin cycle.

You shouldn't need to completely rewash those clothing items, just think about it like how your hair would feel if you didn't wash enough of your conditioner out…same with your clothes, just rinse again and dry and they'll be feeling great again in no time.
How do you soften a shirt naturally?
If you want to make your tee shirts, or really any style of shirt feel vintage soft, I suggest using the Salt Soak method as listed above. It will break down all of the mineral deposits and leave it feeling super cozy.

The salt soaking method to making clothes softer is definitely a natural, chemical-free, way to make your tee's feel their best.
Vinegar in laundry FAQ's
Is it better to use vinegar or fabric softener?
Personal opinion here, but which is better completely depends on what you are trying to accomplish. If you are just trying to get your clothes to soften, then both are a good option.

Vinegar is just plain more versatile, in general, in the myriad of benefits that it will do to your clothes, so that is the only reason that it should possibly be considered a better option to soften your laundry items.
Does vinegar really soften clothes?
It sure does, and that is because vinegar is acidic and those acidic qualities are great at breaking down heavy mineral deposits, detergent build up, body odor, starches, and anything else that may be making your clothes too stiff.
How long should clothes sit in vinegar?
The length of time that clothes should sit and soak in vinegar completely depends on what you are trying to accomplish with the soak.

In order to make your colors more bright and vibrant (by breaking down the mineral deposits on the fabric) a longer soak is preferred, though I don't recommend going more than a couple of hours or so.

If you are soaking your clothes in vinegar to remove foul odors, I recommend allowing it to soak for one to two hours.

If you are wanting to soften your clothes with vinegar, a minimum of 20 to 30 minutes is necessary.
Is it ok to soak clothes in vinegar overnight?
I actually think that soaking overnight is too much as it risks damaging your clothes letting them sit that long, breaking down in such acidic water. So do so at your own risk of ruining your clothes.

That's pretty much all that I could think of to share with you guys about the ins and outs on "how to make clothes soft"…but please feel free to message me if you have any additional advice that is helpful to add to this post to continue to educate myself on the topic as well as to share it with others.
To check out my entire laundry tips section, go here.
---
Thanks so much for stopping by my blog and supporting my endeavors to make people's lives a little easier/better/more affordable.
If you liked this post, or found it helpful in any way, please make sure to share it with your family, friends, and co-workers via social media.
Or you could even send them the direct link via email. Whichever way you choose to spread the love, I super appreciate it! ~Sarah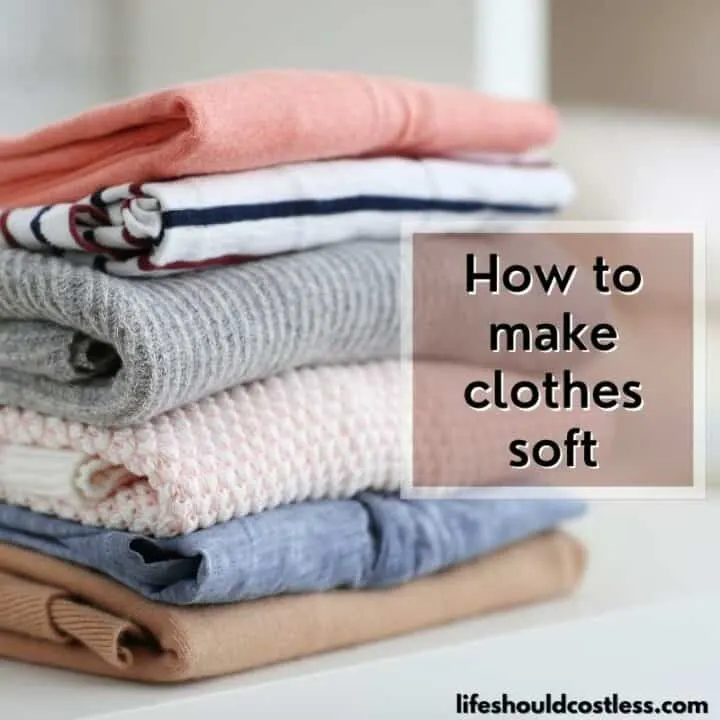 Follow Me
If you would like to subscribe to my email list, go here.
Make sure to follow along via social media, by going here.
If you would like to learn how to really show your support to this site (at no cost to you), go here.
Here are direct links to several of my other Laundry related posts:
*Please note that this post was originally shared to this website on 01/27/2023, and has been updated frequently to remain relevant and as socially shareable as possible.