Shoe odor is a common problem that many people face. It can be caused by a variety of factors, including sweat, bacteria, shoes made of cheap materials, and other substances that can accumulate inside your shoes. Shoe odor can be embarrassing, uncomfortable, and even lead to foot infections depending on the cause. The good news is that there are several effective methods for eliminating shoe odor. In this article, we will discuss some of the best ways on how to remove shoe odor using both natural methods, as well as showing you which commercial products actually work to fix stinky shoes.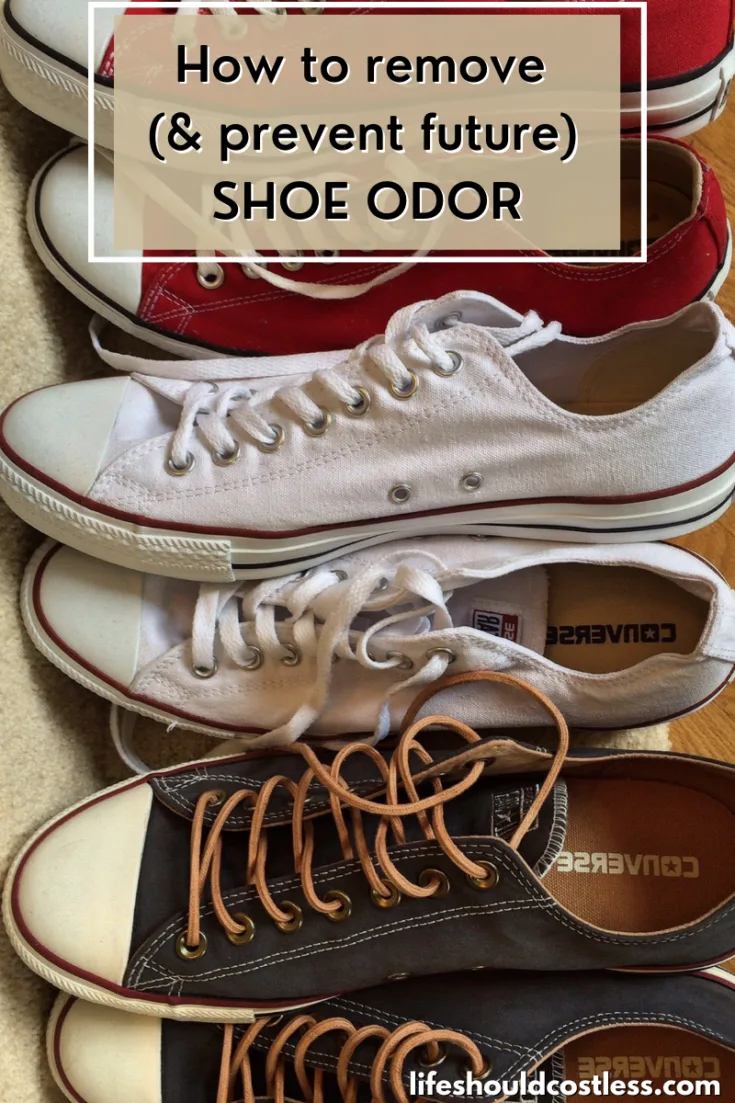 Why do my shoes stink?
Before we dive into all the different methods for how to stop smelly shoes, I thought that I would mention that sometimes we need to get to the source of the problem beforehand.

Often there is a bigger contributing factor to why our shoes smell in the first place.
There are several reasons why your shoes may stink:

Bacteria: The most common cause of shoe odor is bacteria. Bacteria thrive in warm, moist environments like the inside of your shoes, and can produce an unpleasant odor.

Sweat: When your feet sweat, the moisture can become trapped inside your shoes. This creates a moist environment that is ideal for bacteria to grow, leading to a foul odor.

Poor ventilation: If your shoes do not have adequate ventilation, moisture can become trapped inside, providing a breeding ground for bacteria.

Fungal infections: Fungal infections like athlete's foot can also cause shoe odor. These infections can cause a foul odor and may require medical treatment to resolve.

Poor hygiene: Poor hygiene practices like not changing your socks (not wearing socks at all) or washing your feet regularly can also contribute to shoe odor.

Environmental factors: Environmental factors like humidity or exposure to moisture can also cause shoe odor. It can even be caused by wearing shoes that are made with cheap material.

In summary, shoe odor can be caused by a myriad of contributing factors. By identifying the cause of the odor, you can take steps to eliminate it and prevent it from returning.

Now it's time to get on with the odor eliminating part!
How to Get Rid of Smelly Shoes
If you're wondering how to eliminate shoe odor, there are several methods you can try. Let's begin with some natural deodorizer for shoe methods, the home remedies, and then go from there:
Cheap Natural Shoe Deodorizer Methods
That's all of the ways that I know how to deodorize shoes naturally, so let's move on to some of the more "commercially available ways to deodorize those shoes.
---
What are the best commercial products for removing shoe odor?
If you're looking for commercial products in your quest of removing odors from shoes, there are several options available. Here are some of the best shoe odor removal commercial products, and how to use them:
When using commercial products to remove shoe odor, it's important to follow the manufacturer's instructions carefully. In general, you'll need to remove the existing insoles from your shoes and apply the product directly to the inside of the shoe. Let the product dry completely before wearing your shoes again. Be sure to store the product in a cool, dry place when not in use.
---
How to prevent shoes from smelling?
Now that you know how to get your shoes all fresh again. The next thing that is good to know is how to prevent future shoe odors from making a comeback, or even just how to keep new shoes smelling fresh.
Here are some tips for preventing shoes from smelling:
Wear moisture-wicking socks: Moisture-wicking socks are designed to keep your feet dry by wicking away sweat and moisture. By wearing these types of socks, you can prevent moisture buildup inside your shoes, which can lead to odor-causing bacteria.
Alternate your shoes: By alternating your shoes, you give each pair time to air out and dry completely between wearings. This can help to prevent moisture buildup inside your shoes, which can lead to odor.
Use shoe trees: Shoe trees are inserts that you place inside your shoes to help them retain their shape and prevent moisture buildup. Using shoe trees can also help to eliminate odor-causing bacteria.
Clean your shoes regularly: Regularly cleaning your shoes can help to prevent odor-causing bacteria from building up inside. Use a mild soap and water to clean the inside and outside of your shoes, and allow them to air dry completely before wearing.
Store your shoes in a dry place: Storing your shoes in a cool, dry place can help to prevent moisture buildup and odor-causing bacteria from growing. Avoid storing your shoes in damp areas with no moving air such as in basements or garages (or the trunk of your car).
Deodorize your socks regularly: If you've always had a stinky foot issue, you may need to get in the habit of sanitizing your socks once a month (or more if needed). You can easily do so by following my tutorial on how to clean and disinfect clothes.
Incorporate these tips into your daily routine to keep your shoes smelling fresh and clean as long as possible by preventing the odor causers in the first place.
---
That's really all that I have to share with you all today. I hope that after reading these methods, you now have a better understanding of how to remove shoe odor. Whether you prefer natural remedies like baking soda and activated charcoal or prefer commercial products like shoe deodorizer sprays and inserts, there are several effective methods to eliminate shoe odor so it's good to know that you're not limited to just one option.
---
Thanks so much for stopping by my blog and supporting my endeavors to make people's lives a little easier/better/more affordable. If you liked this post, or found it helpful in any way, please make sure to share it with your family, friends, and co-workers via social media…or you could even send them the direct link via email. Whichever way you choose to spread the love, I super appreciate it! ~Sarah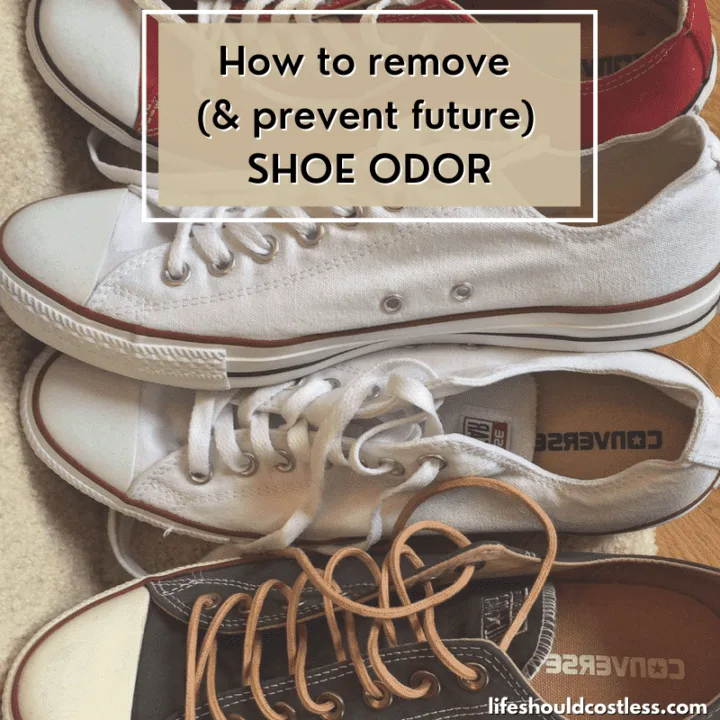 Oh, don't forget to subscribe to my email list (found here). Also, if you would like to learn how to follow along or really show your support for this blog, go here.
---
Other good resources for how to get rid of smell shoes:
Here's how Nike.com suggests removing shoe odor.
Here's what Health.com has to say about shoe odor removal.
Wikihow has some photo tutorial on how to get those shoes smelling better, found here.
To check out all of my cleaning and laundry tips, go here.
Here are some direct links to some of my posts I think you will find super helpful too:
*This post was originally shared to this blog on 03/24/2023, and has since been/will be continually updated to improve user experience, as well as to make it as shareable as possible across the social medias.