I'm sure that pretty much everybody has a little bit of extra stuff lying around their house. Whether you've resolved to get your home organized this year, or you are just sick of all of the extra clutter , taking the time to learn how to declutter and organize your space can be a great decision. I know that the task of decluttering a home or business can be a bit stressful – especially if you're worried about the mess you are inevitably going to make in the process of organizing your home.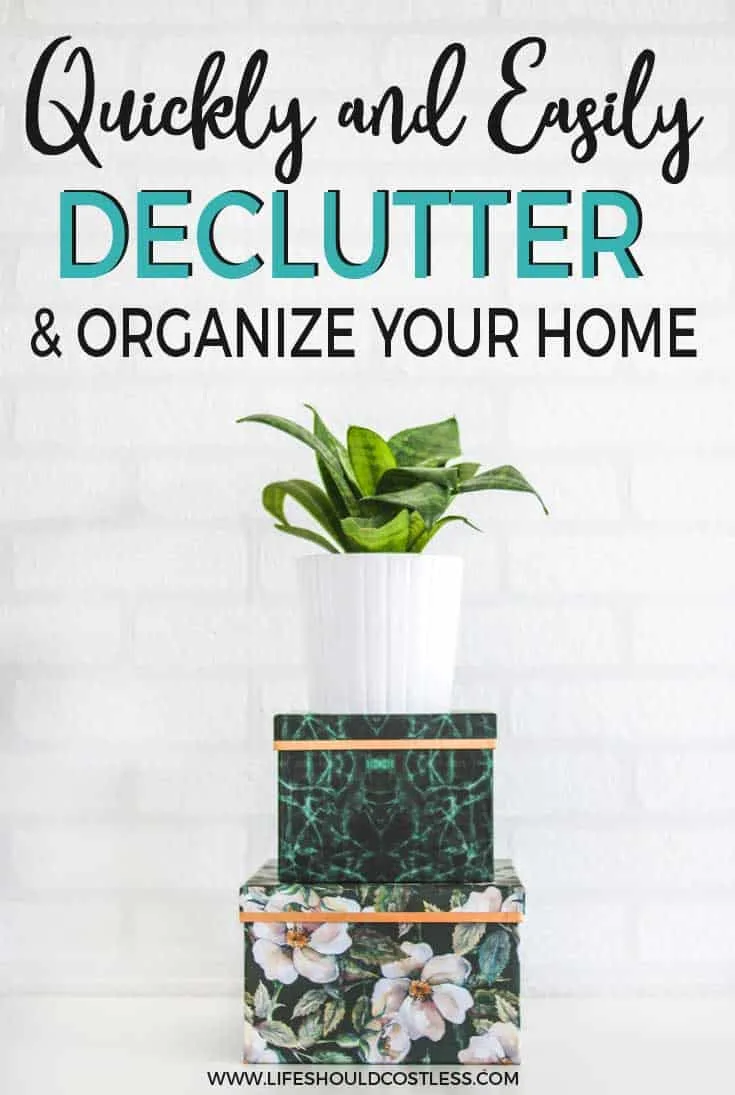 However, what if I told you there was a way to declutter your house without making a massive mess? Here's how to declutter without destroying your house.
What is Decluttering?
Before we get into the nitty gritty of how to declutter and organize your home, let's start by talking about what decluttering is in the first place.
Decluttering is the act of removing items from your home that don't add value to your life.
Through the decluttering process, you'll work though each room of your home to remove items you no longer want or need.
Then, after the room is decluttered, you can take steps to reorganize the space.
Typically, decluttering involves removing all the items from a room and sorting through those items individually – placing them in different piles based on what you plan to do with the item as you reorganize your home.
While this process can be effective, it can also get very messy. But luckily, there are a few steps you can take to reduce the amount of clutter throughout your house without having to tear your house apart in the process.
Before we dive into the mechanisms of decluttering, I wanted to share with you links to five of my other cleaning posts that you're also going to love:
Table of Contents, Skip Ahead To What You're Looking For
Now back to getting your home spick and span and learning How To Declutter Your Home Without Making A Big Mess
How to Declutter
There are three main steps to decluttering your home: planning, purging, and organizing. The first step may be the most important because it will help you stay organized through the entire process. Start by setting goals for yourself so you know exactly where you want to be when you're finished decluttering. Then, make a plan for how to declutter your home.
Map out the space. The first part of your plan should include an outline or map of your home, including all the rooms, as well as the most cluttered zones in each of those spaces.
Rate the clutter. Next, give each room a rating based on how cluttered the space is on a scale of one to five (with five being the most cluttered).
Make a plan. Decluttering and organizing your home can be a big project, which means it's best to break up the tasks over a period of time. In addition to deciding in what order you'll tackle each room, it's also a good idea to schedule times that you'll focus on decluttering. When making your plan, consider days you'll have more time to devote to decluttering, like on the weekends, and schedule the more cluttered areas of your home for those days.
Set goals. Setting completion dates for each phase of the decluttering process is a great way to help you stay motivated to finish the job. As you set your goals, make sure each completion date is attainable so you don't sabotage your own efforts.
Sort Your Clutter
One of the biggest issues many people have with how to declutter is that it creates a mess in the room you're organizing. To help control the mess as you declutter, consider using the three box method of decluttering.
Instead of emptying the room of all the items inside, simply work your way through the room, sorting your items as you go. Using three large boxes, sort the items in the room by placing them inside one of the three boxes:
Keep. Use this box to sort all the items you plan to keep in your home. When the box is full, take each item to its designated home and return the box to the room you're decluttering.
Throw away. Use this box to sort all the items in the space you plan on throwing away. These items will probably be broken, old, or unusable. When this box is full, throw the items in the trash and return the box to the room you're decluttering.
Donate. Use this box to sort all the items that you don't plan on keeping but are still in good condition. When this box is full, either place the items in your vehicle to donate on your next trip out, or store them in the garage until you're able to donate them. Wherever you plan to put your donation items, be sure to return the empty box back to the room you're decluttering.
Just as it's important to sort your items as you declutter, it's also important to follow through on your sorting efforts. Make sure all the items you plan keep are organized and items to remove from your home are removed in a timely basis to keep them from adding more clutter to the space.
Organize as You Go
Part of the planning process should include your plan for organizing your home when you're finished decluttering. One of the best ways to ensure you don't make a mess while you declutter is to organize the room as you work through the space.
Before you start decluttering a room, be sure to have an organizational plan in place.
That means making sure you have a designated spot for each item that goes in the room, as well as a place to store everything you plan to keep in each space. Then, work through the items in the room and place those items you plan to keep in their new home as you declutter.
After the space is newly reorganized, don't forget to stick to your plan! If you remove an item from its spot to use it, always put it back exactly where you found it. As long as you adhere to the organizational plan from now on, you're less likely to contribute more clutter to the space throughout the years.
How to Get Rid of Clutter
Whether you decide to throw away unwanted items or donate them to someone in need, you'll still need to dispose of your clutter.
Here are a few different ways to get rid of your junk as you declutter:
Throw them away. If you have small items that are unusable, it's fine to throw them in the trash. But larger items will need to be hauled to the landfill.
Recycle. There are a variety of items you can recycle instead of throwing in the garbage. Glass, plastics, and paper can be dropped off at your local recycling center or placed in the recycling bin if you have curbside pickup. Additionally, electronics must be recycled and can not be placed in the trash.
Donate. Clothing, shoes, household items, and toys are all great items to donate to those in need. You can donate the items to local nonprofit thrift stores. Or contact your church, Red Cross, or maybe a local school or shelter to see if they know of any families in need of any of the items you have on hand.
Have a yard sale. Instead of donating all your unwanted items, consider hosting a yard sale to make a little bit of extra money on your clutter. You can always donate the items that don't sell after your yard sale is over.
You get the gist, I'm sure. There are a great many ways that you can tackle your clutter messes, and I would love to hear them, so feel free to add to the discussion below in the comments section.
Thanks so much for stopping by my site! If you liked what you saw, please make sure to share it via social media!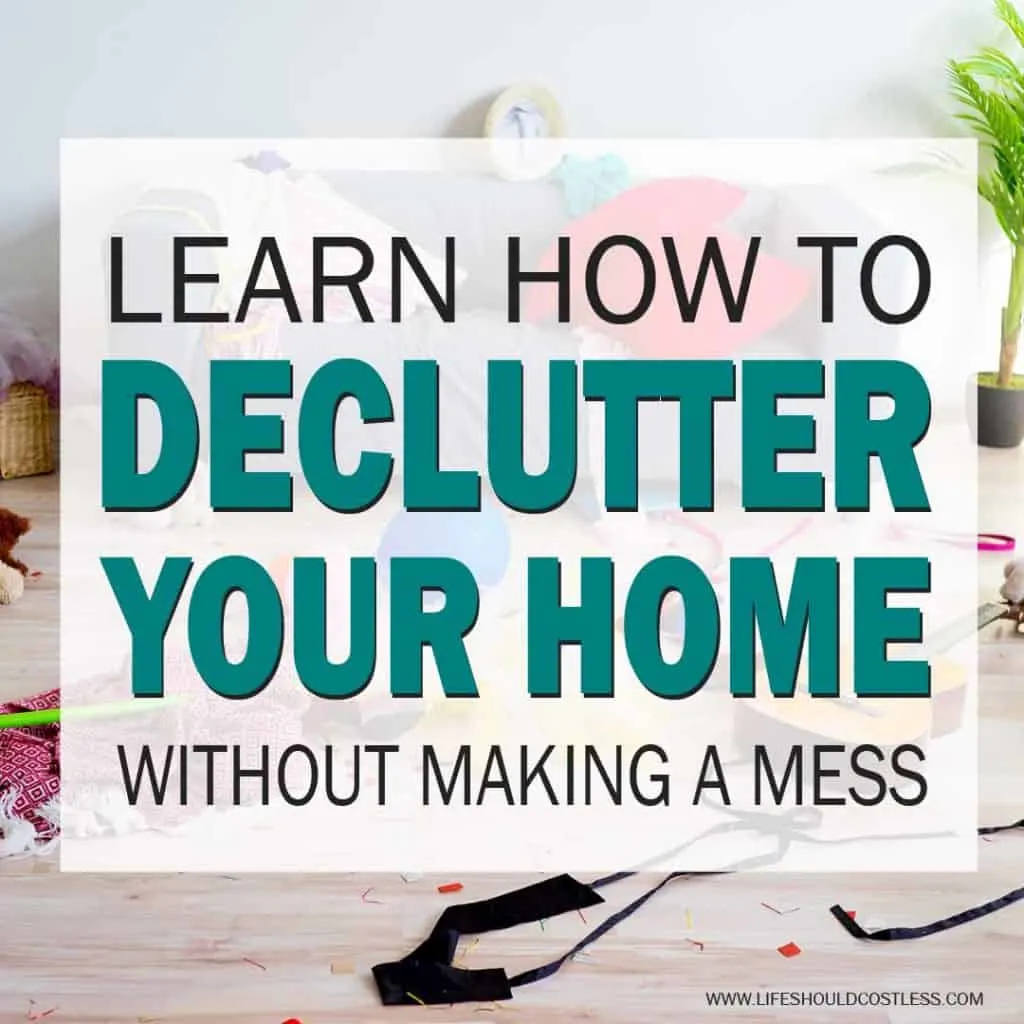 Other ways to show your support are to follow and/or interact with me on Pinterest, Instagram, Facebook, YouTube, or by Subscribing To My Emails List.
If you purchase suggested products through Amazon, the cost to you remains the same, but I make a small commission on everything in your cart. Also, if you ever need to buy it again, you can always come back to my site for the link…just sayin';).
If something was particularly helpful and you would like to donate directly to my site, you can do so via PayPal, here. I'm a single mom of four, so every little bit helps.
P.S. While you're here, you may also want to check out my Entire Cleaning Section.
Here are links to five of my other Cleaning tips that you're also going to LOVE:
Also, for those of you that love Pinterest, here is another "Pinnable" image to help you save this content for later…or you know, just to help spread the love (thank you!).