Learn how to make a cute pine cone owl craft that is optionally made with felt or colored paper, cotton balls, and googly eyes. It comes with an in depth tutorial (video too), supply list, free printable template for the owl's beak, feet, eyebrow area/ears/hood, and wings. This post also has answers to all of the frequently asked questions when making any craft with pine cones. You could easily call it a complete guide to this subject. These fun little owls are simple to personalize in any desired color, & it can easily be turned into an owl ornament if so desired as well.
*Please note: This idea was originally shared to this blog on December 27, 2019, but needed to be completely overhauled. It has since been updated to improve user experience, provide better photos, add video instruction, to provide a free printable template, as well as to make it as shareable as possible across the social medias. It will continually be updated to remain relevant.*
I have THE most adorable crafting owl activity to share with you all today! You can either make it for a fun winter time "snowy owl" activity, or for any time of the year really because you can make it in various colors so it doesn't have to be limited to a winter time activity at all.
This project just happens to be perfect for any owl lovers out there that need some owl craft ideas…or could just be used as a fun thing to do to keep kids busy on a day that needs to be spent indoors.
This is not just specifically an activity for kids either, if you want to make them more intricately, it's a perfect idea for owl crafts for adults too.
---
Table of Contents, Skip Ahead To What You're Looking For
What is an owl pine cone?
Pine cone owls are just that! It's a DIY owl craft that is made with pine cones. You can use many different things to make them…I have even seen a version of them made with only things found in nature. Which can also be super fun and challenging, so if you need to go the more frugal route for your owl ideas…it super won't hurt my feelings if you don't make my version. As I always say, "ya just gotta do what is best for the 'ol family budget".
However, I like to go the super colorful crafting route whenever possible… so we are going to do a bright and fun version of these owls made from pine cones too.
This tutorial is going to be a little on the longer side (there are lots of steps and I give you a TON of options to personalize them and really make them to your own liking), so I am going to just jump right in.
Remember that I have a free printable "how-to" card near the bottom of this post, and within it is a step by step video of the process of how to make these.
---
Supplies needed to make a craft owl with pine cones:
Here is the bulleted list of the supplies needed for making a more plain owl pine cone craft. If you're not sure what something is, I made sure to link most of them so that you know without a doubt what I'm talking about for reference:
That's just the basic things that you will need, although you can get even more creative.
(Btw, you gotta check out my FAQ's section at the bottom of this post…there are a TON of different variations you can do with these owls.)
---
Free printable PDF pine cone owl template
*As per my usual request. Every "free printable" I have on this website is for personal use only. Please contact me for any template use beyond creating these at home with your own kids (not to be used for material gain, or sold in any way).*
This owl craft printable template is for wings, beak, feet, eyes, and "eyebrows"/ears. I recommend printing it out on a thicker card stock, then cut out the shape (on the card stock) with scissors. Then it's easy to place the shape cut out on top of your desired color of felt and trace around it. Use that traced line to cut the shapes out of the felt (colored paper instead of felt works too).
I am definitely not a professional graphic designer…just giving you guys some basic "owl-like" shapes to make these.
I tried to make the various owl shapes so that they are the size that you will need if you're using a medium-sized pine cone to make yours (which is also about the size of a medium sized apple) .
If you need larger or smaller shape sizes maybe try uploading it to Canva or another photo editing software and adjusting it as needed.
If you don't like the shape options that I provide for my free printable owl template, here are three other cute owl template ideas as well.
---
How to make it (with printable instructions & video):
How To: Making Owls With Pine Cones
This fun and easy crafting owl brings a touch of nature indoors. It is the perfect activity for some cheap entertainment to keep those little hands busy...although it's one of the more fun owl crafts for adults too.
Materials
Template (provided within the post, printed out on card stock)
Pine Cones (dry and free of bugs)
Cotton Balls (about 5 for each pine cone, depending on the size)
Felt or Crafting Paper (in desired colors)
Wiggly Eyes (2 for each pine cone)
Quick Dry Tacky Glue (or desired adhesive)
Tools
Fabric Markers
Scissors
Glue Gun (optional)
Crafting Tweezers (optional)
Instructions
Prepare a crafting surface area by putting down crafting paper or parchment paper (or just make it somewhere that can get messy).
Print out the free printable owl template on cardstock.
Gather the rest of your needed supplies.
Pull pieces of the cotton balls apart (fluffing them up) and gently stuff the cotton between the prongs of the pine cone. Once the pine cone is as fluffy and filled as you desire, set it aside.
Decide which owl feature shapes you want from the provided template, cut them out with scissors.
Place them on the desired color of felt or crafting paper and trace the shapes using a marker or pen.
Cut out the shapes.
(optional) Outline the cutouts and draw a fun "feather-like" pattern on the wing pieces with a fabric marker.
Glue the owl features on as desired, make sure to include the beak, eyes, "eye brows"/ears/hood, and feet. Set aside to dry.
Allow to dry completely, and handle with care, before transporting them elsewhere or using to decorate with.
Notes
Owl in the top image was made using watercolor cardstock paper.
If you would like to embed or share the YouTube version of my "how to", here is a link to it. I only ask that you also include a "do-follow" link to this post in order to use it. Also, I do require a "do-follow" link to this post for sharing this post in general on other websites.
---
Instructions for coloring/dying cotton balls
Using cotton balls as the feathers for these owls has got to be my favorite part of the whole activity because between them, and the pine cone shape, it gives them a fluffy scalloped look just like the feathers of a real live owl.
Though the best part about this who owl craft is just how versatile and customizable it truly is. You can make the cotton balls any color that you wish, including going so far as to make a rainbow pattern in the owls "fluffy fur" (directions to do that a little lower down in this post).
You could even make different colors of owls for all of the various holidays…such as green for a St. Patricks Day Owl, or Pink/Red for an Owl Valentine Craft… use that imagination!
Here is a tutorial on how to color the cotton balls if you're wanting to make your owl super colorful and fun.
*Dying cotton balls, or working with food coloring in general, can be super messy, so make sure that you are doing this where animals, and little ones, aren't going to get into it and make a bigger, stain-causing, mess all over your house.*
If you think that dying cotton balls is fun, you should check out my post about how to dye burlap any color…it has made my craft projects take on a whole new level of awesome!
---
How to make owl ornaments
However you decided to make your owl, there are a few ways that you can turn it into a menagerie of pinecone owl ornaments to hang somewhere fun, or even on a tree as part of your diy owl decor.
I found this handy little video on YouTube that teaches you how to turn pine cones into ornaments, so here is a link to that.
I feel like they teach you the basics on how to hang a pine cone, and make it ornamental, enough so that I don't need to make a video to teach you how too.
---
Here's what the felt owls that my kids and I made look like.
I think that my kiddo's little owls turned out super cute…but I may be a little biased ;). What do you think? Totally worth the time and effort to make these, right? They're pretty dang inexpensive to make as well.
Don't forget that I said that you can easily switch things up with these little owls and each kid can make them in whatever colors or combinations of things that they desire to really add a personal touch.
---
Crafting with pine cones FAQ's
What age children are recommended to craft with pine cones?
When I have seen other bloggers write about making a similar craft projects/ or just making pine cone crafts for kids in general, I'm usually pretty surprised that they list these as "pinecone crafts for preschoolers", "owl craft preschool", or "owl craft for kindergarten". Pine cones are SHARP and can cut someone pretty easily!

In fact, with the last package of pine cones that I bought, I somehow managed to cut myself with one just when I was opening the packaging…

So if you're going to be making these with younger kids, it may be a good idea to add the cotton to the pine cone yourself first before having them do the rest, or at the very least teach them that if you hold the pine cone at the top and the bottom that is typically the least sharp part of the pine cone to hold when handling them. You could also inspect the pine cones ahead of time for the extra "pokey" pieces and pick them off.

The age appropriateness that I recommend for making an owl with a pinecone, or for crafting with pine cones in general, is 8 years old and up…but use your best judgement of course. I know that every kid is different and has different skill levels.

It also wouldn't hurt to have a basic first-aid kit handy while making them too, just as a precaution.
How to save money when making a pine cone kids crafts:
Normally, to save money on a project, I am pushing pretty hard to buy everything in bulk…but on this particular project, unless you are planning on having a whole classroom full of kids (or a church class) making these…you just plain can get by with only buying what you actually need, so that you're not being wasteful or having to store all the leftover supplies.

I know that Dollar Tree usually has a pretty good selection of craft supplies that can be purchased inexpensively, but did you know that most of the craft supplies found at Dollar Tree are actually a few cents cheaper at Wal-Mart? I noticed this years ago, that Wal-Mart tries hard to be competitive with the pricing of similar items that are often found at Dollar Tree. So, I recommend checking Wal-Mart for what you need first...then try the store route.

If you are making a ton of these owls, definitely buy your pine cones, felt, cotton balls, and any other supplies you'll need in bulk (the multipacks) though to save yourself some money (always checking the price per ounce/unit first before buying).

What type and size of pine cones are needed to make craft owls?
Personal opinion here, but I like to make these crafty little owls out of medium-sized pine cones (about the size of an apple found at the grocery store).

Medium pine cones seem to be the easiest size to work with, because the gaps between the "prongs" are the perfect spacing apart to add the cotton balls, though using whatever sized pine cones you have on hand is fine too.

It could even be fun to use various sizes of pine cones and make an entire owl family.
Can I use mini or tiny pine cones to make owls?
It is definitely possible to make a miniature version of an owl with a tiny pine cone, or even a long and skinny owl with those long little ones. Though, if you want to add the cotton between the "prongs" of the cone it may be a little difficult/time consuming though. To work around the added difficulty of using a small pine cone, you may want to try using some crafting tweezers to help with placement of all the decor features on the smaller pine cones. Otherwise, an owl made with a tiny pine cone can still be super cute without using the cotton.
Can I craft with cinnamon pine cones?
"Fun" fact! Some people are actually very allergic to the cinnamon on the seasonally scented pine cones…So, if these owls are going to be a gift, or put somewhere in public that an allergy could be an issue, it's probably best to avoid using cinnamon scented pine cones to craft with.

However, if it's going to be a gift to an individual you can always just ask the recipient, before making it, if they have any allergies (problem solved). Otherwise, go right ahead and use the cinnamon pine cones to make your owls, or pine cone ornaments, smell heavenly.

My only caution/recommendation is to either wear gloves (throwing away as soon as you're done) or at least make sure to wash your hands well after handling the cinnamon pine cones for crafting, so that you don't burn yourself or accidentally get the cinnamon in your eye later on.
Can I use painted or glittery pine cones to craft with?
You definitely can use painted or glittery pine cones to make these owls or any other pine cone crafts. They can either be purchased previously painted or glittered…or you can DIY the paint/glitter job yourself to further personalize your craft project (such as using the glitter spray paint found here, or you could make them even more cool and use a glow in the dark paint too and turn it into some sort of night owl crafts).

I only caution that you make sure that they are fully dry before trying to turn them into anything, and do the painting outside if using a spray or fume-filled paint of any sort.
Do I have to use cotton when making an owl out of a pine cone?
You absolutely do not need to use cotton at all if you don't want to making an owl.. when my youngest child was making their owl & asked if they needed to use the cotton… I threw a pun in there and said that "it's ok if her owl had owlopecia"… lol. So really, it's up to you!
What kind of glue should I use on a pine cone craft or pine cone ornament?
I typically prefer to use a tacky crafting glue when making craft projects with kids (either in clear, or original white)… If you would like to cut down on how messy this project can get with little ones, crafting glue dots work too.

However, if older kids, teens, or adults are making this craft then hot glue (either low or high temp…both work) is a good option for glue, and can be used to speed up the crafting process quite a bit.
Can I use pine cones I found outside to craft with, or do I need to buy store bought?
Pine cones found in nature are perfect for this project, or any other crafting project you would like to do.

However, often there are microscopic bugs/critters (or even bird poop) that are in those cones found in the outdoors. If you choose to make your owls with pine cones from outside, make sure to prep the pine cones first.

Here is a link for a simple tutorial on how to clean and prepare pine cones for crafting. If that seems like too much of a hassle, then I strongly suggest buying the ones found in stores (or on Amazon) because the manufacturer has already prepped them for in home use and we don't need to bring in any critters into our homes unnecessarily.
Where do I buy pine cones for crafting purposes.
Most grocery stores will have pine cones in stock at the end of the year, around the holidays. However, to find pine cones for crafts year round, they are typically available at almost any crafting store such as Joann Fabrics, Michaels, or Hobby Lobby…and they're obviously found on Amazon too. You may even have luck in finding some pine cones to craft with at your local hardware store, just save yourself a trip and call ahead and ask an employee or check their website.
How long does it take to make an owl with a pine cone?
How long it takes to make an owl out of a pinecone depends entirely on how much you decide to personalize it, or how intricately you want to decorate it. On average, making a basic owl with white cotton balls, two wings, basic facial features and feet should take no more than thirty minutes. However, if you decide to color your cotton, paint the pine cone, or do a more intricate design on the wings this project could take several hours between actual time spent crafting and time spent allowing things to dry…so plan it taking a minimum of a half hour to make them, and go from there. How long it takes is really dependent on your crafting preferences.
That's all of the answers to the questions that I could think of when trying to make an owl out of a pine cone, but if you think of any others that I may have missed, feel free to email me so I can add it to the post.
---
Hopefully I gave you enough instruction and options of ways to make this and any other pine cone or owl crafts, to really get those inspiration and creative juices flowing, and most importantly…to keep those hands busy and the memory-making going in full force.
---
Thanks so much for stopping by my blog and supporting my endeavors to make people's lives a little easier/better/more affordable. If you liked this post, or found it helpful in any way, please make sure to share it with your family, friends, and co-workers via social media…or you could even send them the direct link via email. Whichever way you choose to spread the love, I super appreciate it! ~Sarah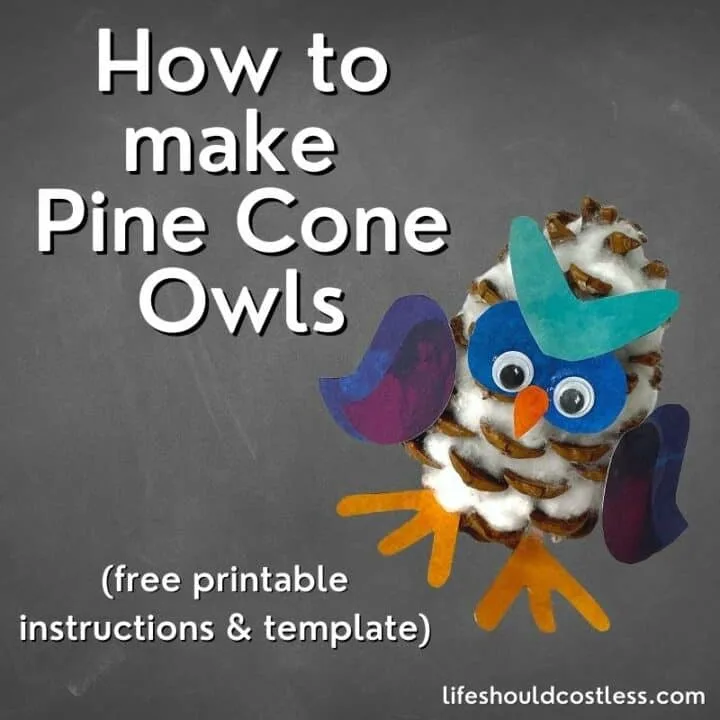 If you would like to subscribe to my email list, go here.
Make sure to follow along via social media, by going here.
If you would like to learn how to really show your support to this site (at no cost to you), go here.
To check out my entire "for kids/parents" section, go here.
Here are some direct links to several of my other crafty/kid posts that you may also like:
https://lifeshouldcostless.com/gift-to-teacher-ideas/