Learn how you can easily make this Cute Polar Bear Paper Plate Craft with free printable bear cut out templates. It's the perfect paper and cotton ball craft for toddler, preschool, or any kid really, and can be used to make any type of bear, not just Polar Bears.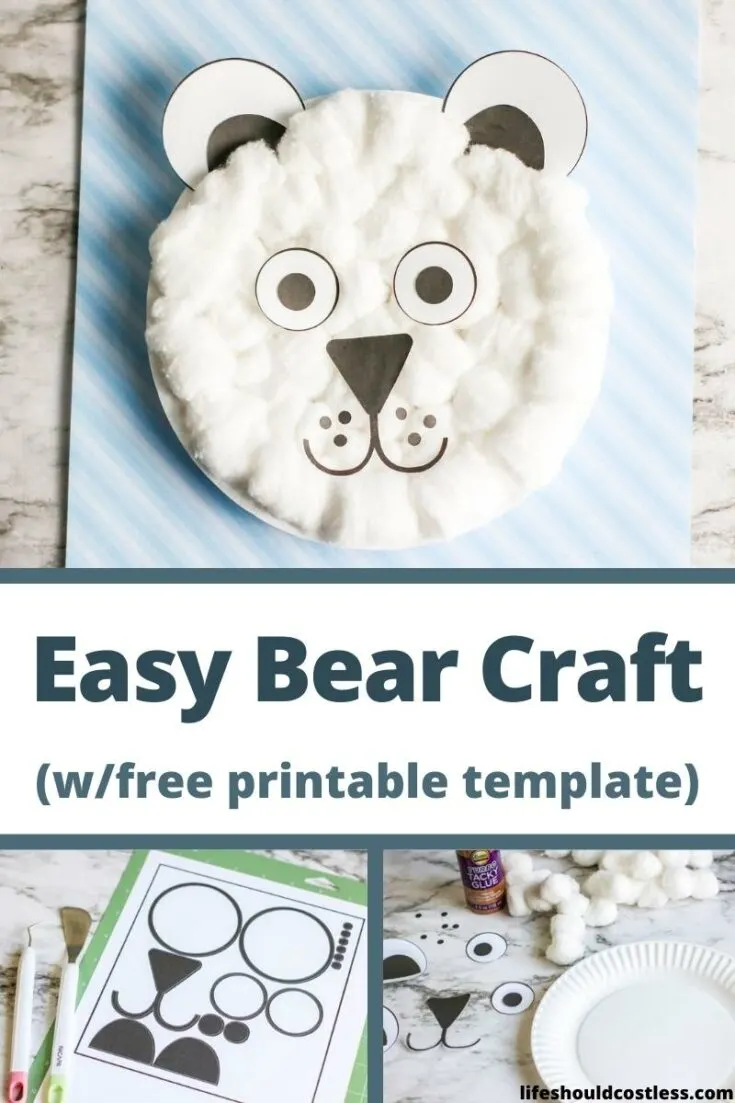 I love this cute little craft because it only takes minimal supplies, can keep those little ones busy for a good half hour to an hour, and it even helps them develop their fine motor skills while having fun.
It really is easy to make this bear paper plate craft!
First I'm going to share with you a little tutorial video. Then still pictures of the process, some pictures of what it looks like when the craft project is done, then I will give you a direct link to the free printable bear cutout template, as well as a free printable how-to card that will have a supply list and instructions.
Here are the supplies laid out: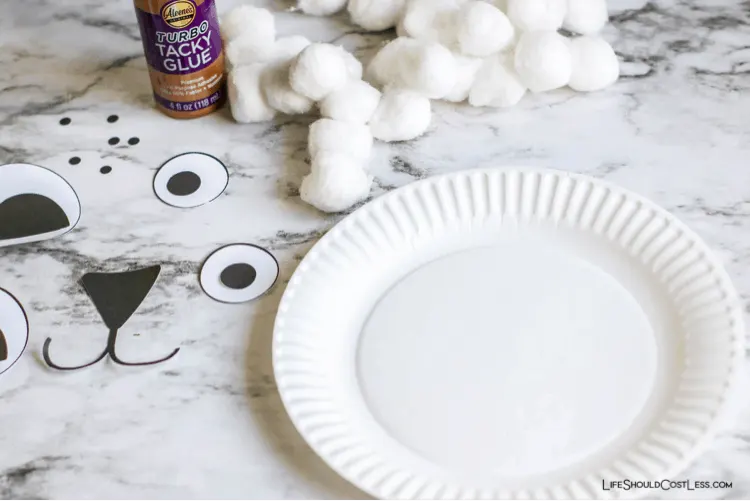 Not pictured are the scissors to cut out the eyes, ears, and mouth/nose.
Take a basic paper plate, and apply tacky or elmers glue to the plate, or to each individual cotton ball and attach them the the plate covering as much of the plate as desired with cotton balls.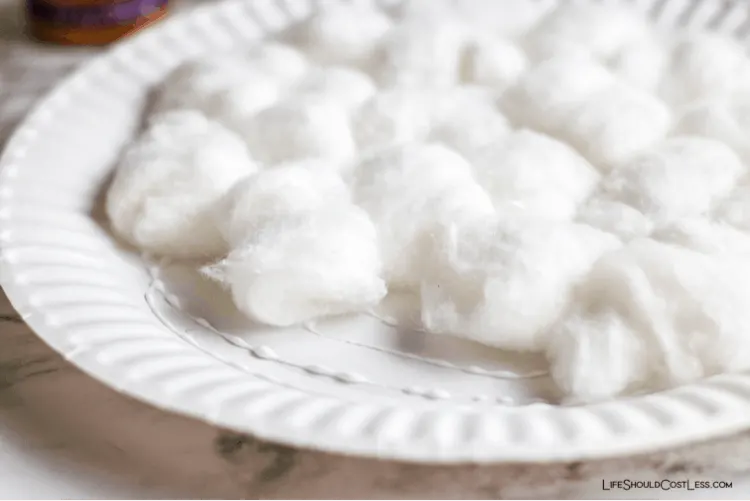 Print out, and cut out the spots, eyes, mouth/nose, and ears. Assemble them with glue as needed. Keep in mind that if this craft is being made for very small children, the adult may want to do all of the cutting ahead of time so that the children can just keep creating.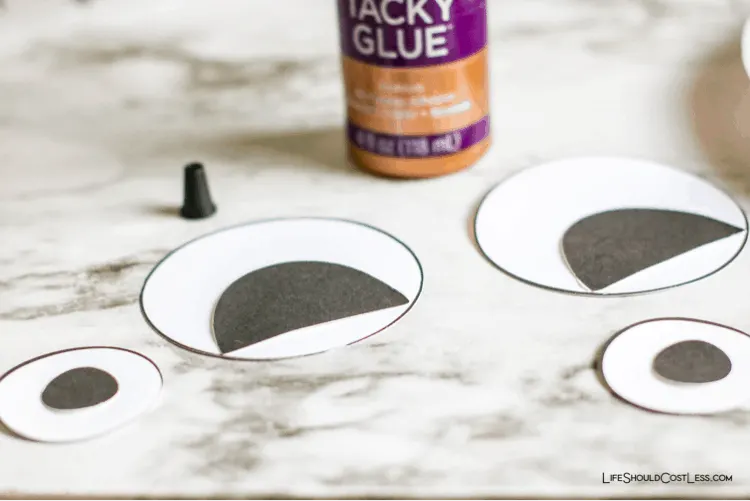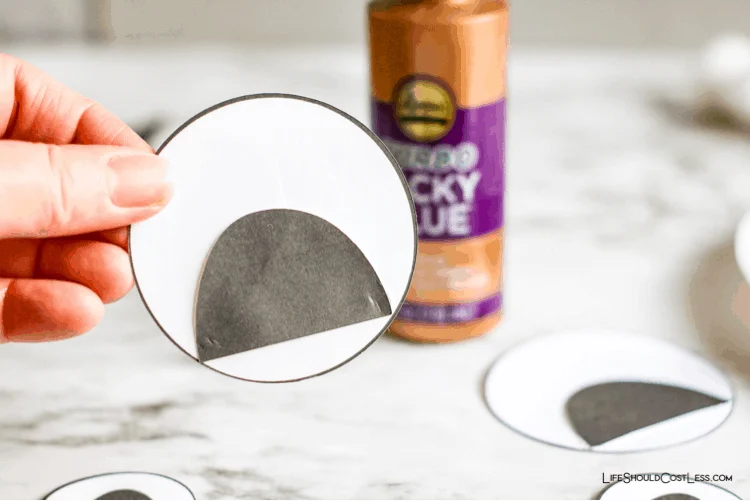 Attach the ears first with glue.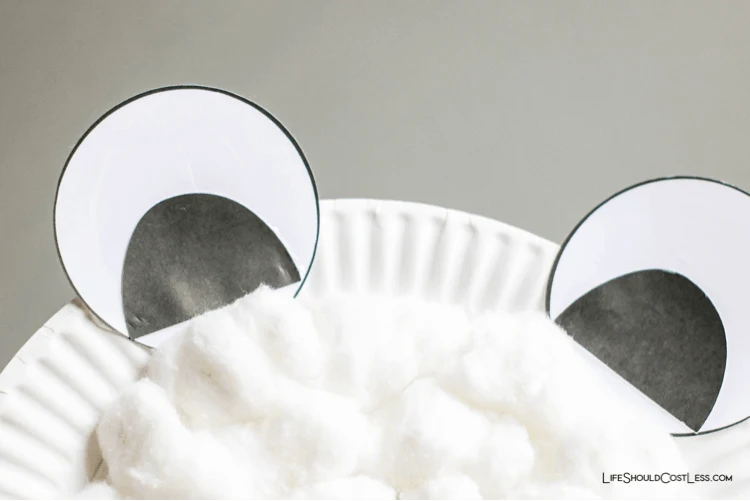 Then attach the nose/mouth with glue as well.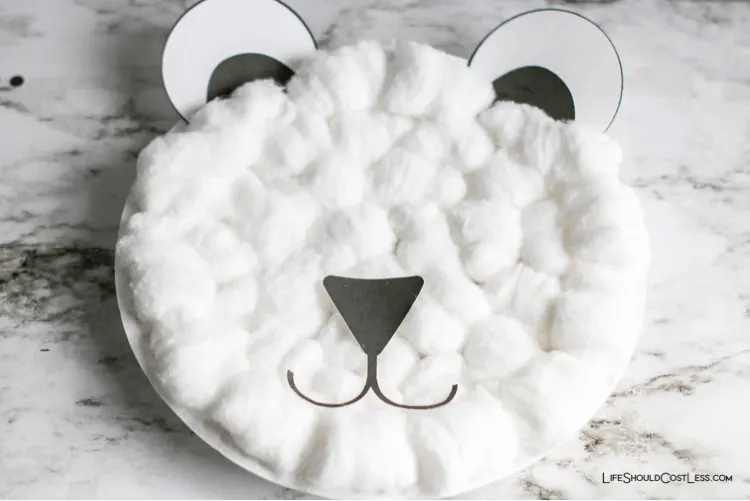 Then attach the eyes and the "dots" are completely optional, but I think that they make it look a little cuter.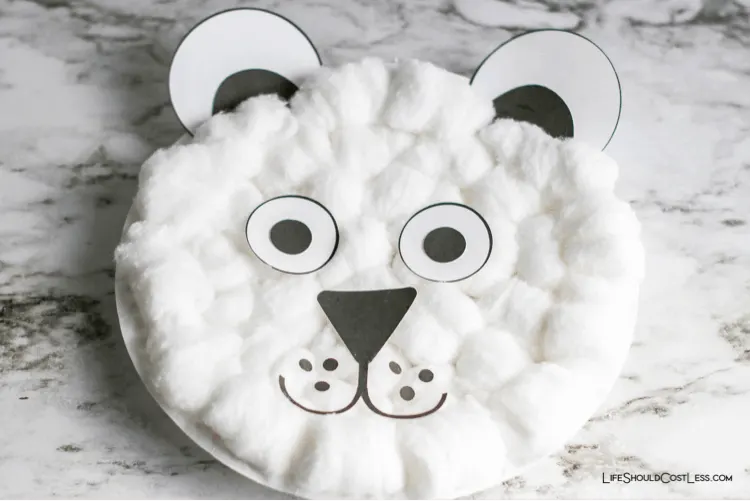 Now to enjoy and admire your Polar Bear Art and Craft project.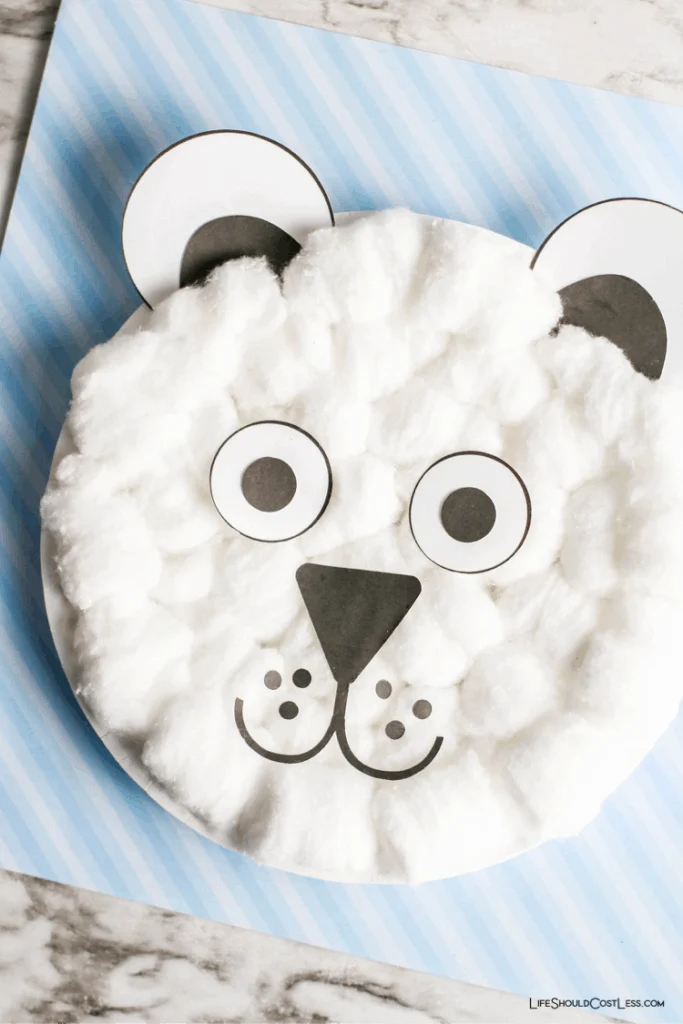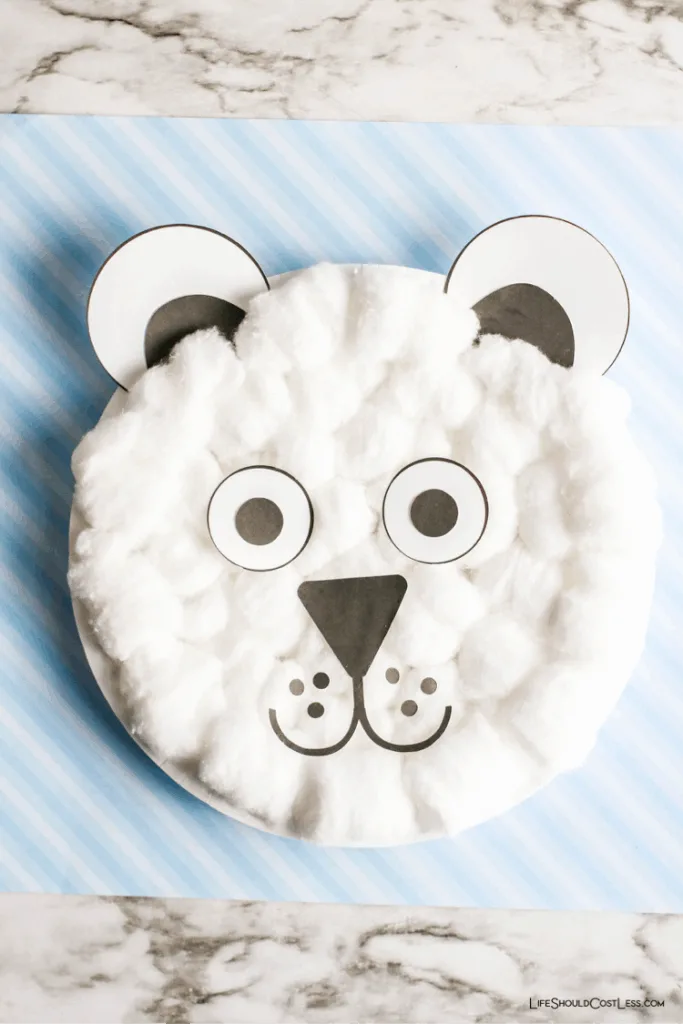 Make sure to click on that link and download/print the template from there.
Please keep in mind that yes, all my free printables are free, but they are for personal use only. Rights for any type of commercial use, or sales, needs to be purchased directly through me.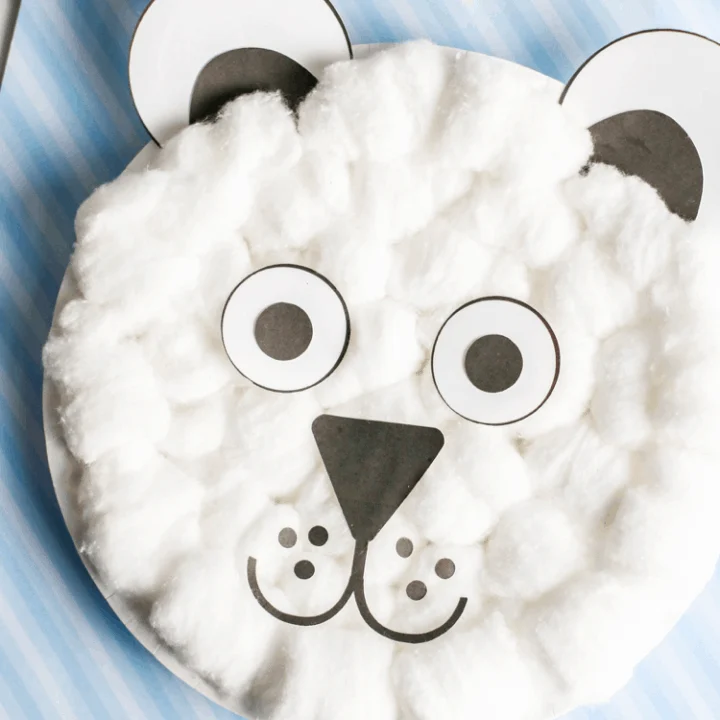 How To Make A Polar Bear Craft
Total Time:
1 hour
35 minutes
Learn how to make easy polar bear paper plate craft with free printable templates. Perfect for toddler, preschool, and first grade aged kids.
Materials
Paper plate
Cotton balls
Quick dry tacky glue or school glue
Print Off Of Polar Bear Template
Instructions
Print the Polar Bear Template. If you did not see the link for the template above in the post, you can get that here.
Allow children to create the polar bear by gluing cotton balls to the paper plate.
Add the paper layers to create the ears and face, attach them with glue.
Allow to dry fully before sending home with children or moving to hang up.
Notes
If printing with a cutting machine such as a cricut or a silhouette, make sure to upload the correct file to your software. Resize your images to fit 6 ½ inches wide and 11 inches long. Select to print and cut. Please be aware that the SVG and EPS files are in black and white. If you choose to print in color, you will need to set those colors within your software manually for any changes desired.
This can easily be turned into any type of bear...you could color/paint the cotton balls or replace them with pom poms.
What story about polar bears should I tell with this craft project?
If you're like me, and you like to tell kids a bit about the animal that they are crafting (so that they're learning some fun and educational facts while we're at it)…here is a link to a great little resource to teach you some fun facts about Polar Bears. You could even share with the kids some of the pictures, the map of where they are indigenous, as well as even their dietary needs.
I think it's fun to know that kind of stuff, and kids usually soak it up too.
---
I love the simplicity of this craft! Especially since it's nearly an all-white project, that means that if a kid goes a little crazy with the glue that it's going to dry and blend right in…which means it's hard to mess this one up…though, like I said in the "how-to" card, you can easily switch the cotton balls color by painting them, or use pom poms to turn it into any type of bear that you want.
That's all I have for you today folks, make sure that if you loved this craft to check out my entire crafts section.
Thanks so much for stopping by my site! If you liked what you saw, please make sure to share it via social media, or you could even send a direct link to your family, friends, co-workers, or friends at church. However you share it, I super appreciate the support! ~Sarah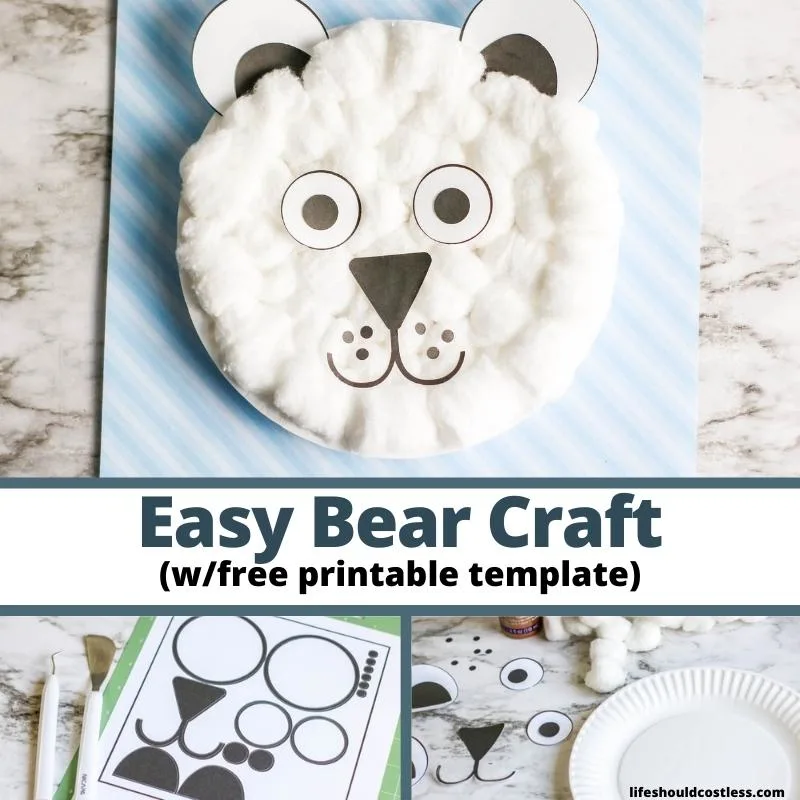 If you would like to subscribe to my email list, go here.
Make sure to follow along via social media, by going here.
If you would like to learn how to really show your support to this site (at no cost to you), go here.
Here are links to five of my other crafty posts that you're also going to love:
For those of you that would like another option for a "pinnable" image for Pinterest, here you go. Thanks so much for sharing!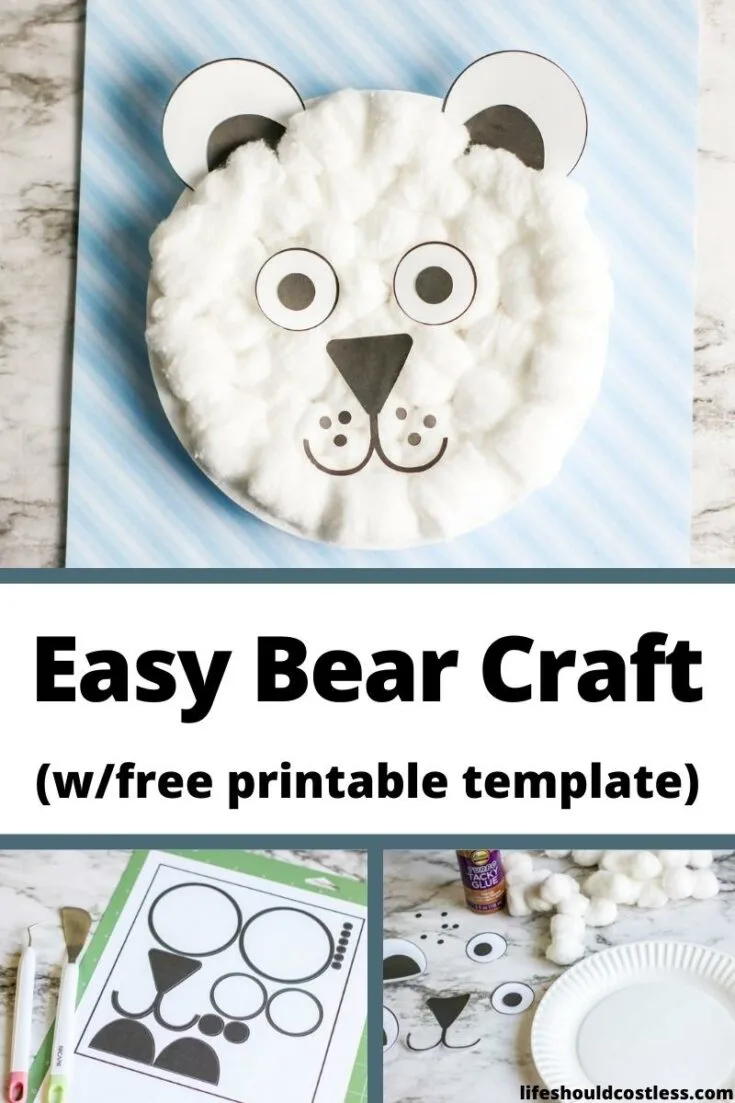 *This post was originally published to this website on January 26, 2020 and has since been updated to improve user experience and shareability.