This easy Valentine's Craft is perfect for kids from preschool to early Elementary age. Love Bugs made with Pom Poms will keep everyone happy & busy at the same time.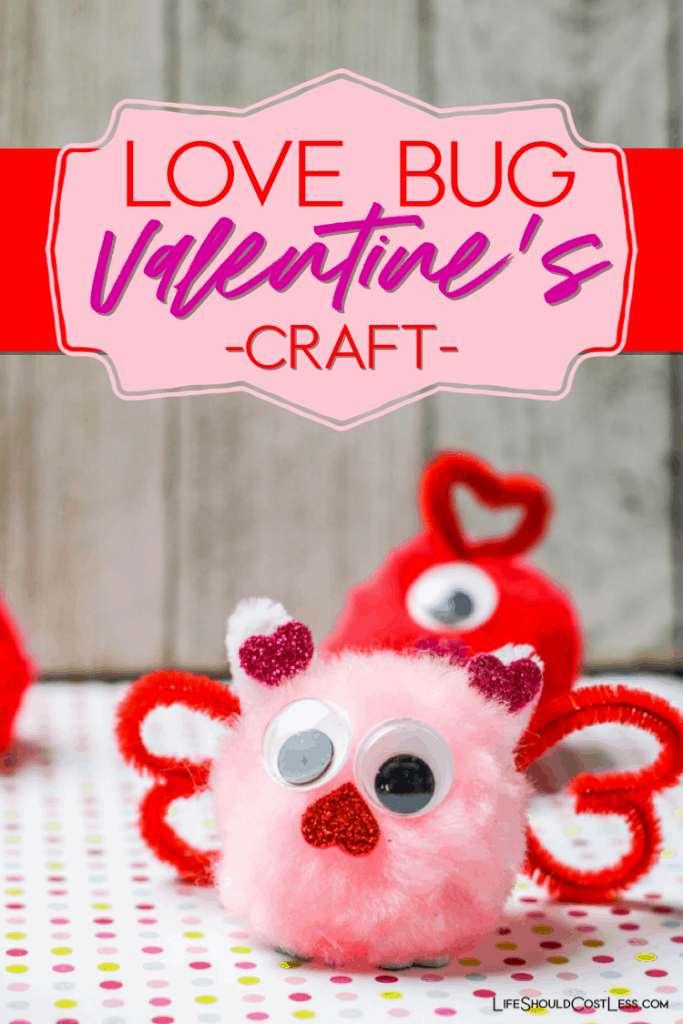 Let's Dive Right Into Our Love Bugs Valentine Craft For Kids
This is such an easy craft project that it really doesn't need too much explaining, I mostly just need to show you the pictures of the process and then I have a free printable card at the bottom that has the instructions as well as a supply list on it to make this even more simple.
Here are some examples of the love bugs craft that we made with pom poms, foam stickers, and pipe cleaners.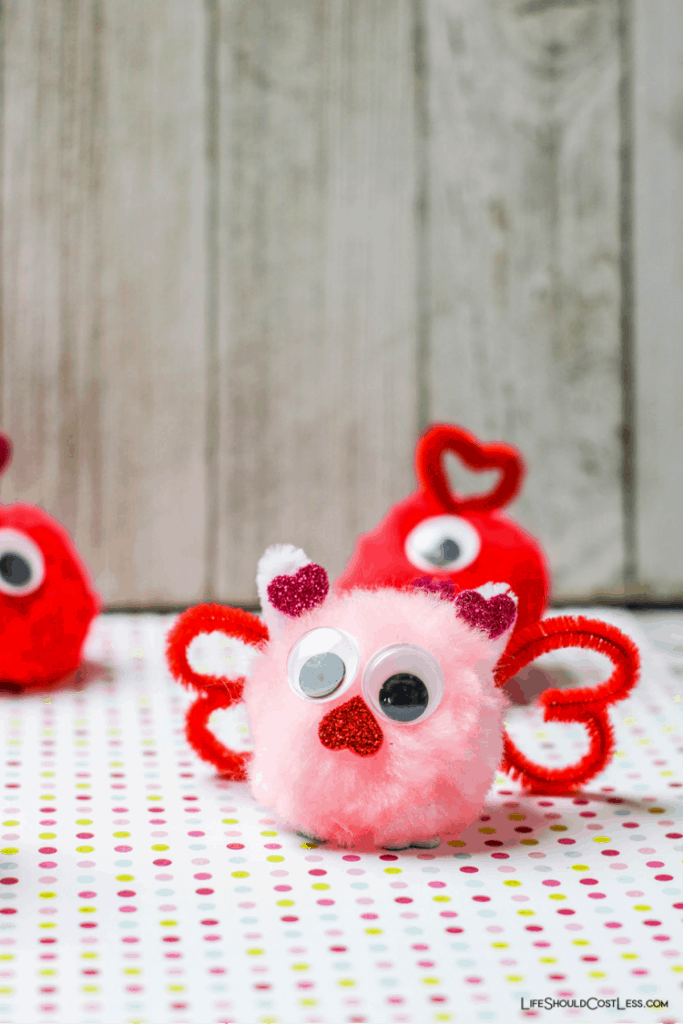 I especially like the heart shaped wings.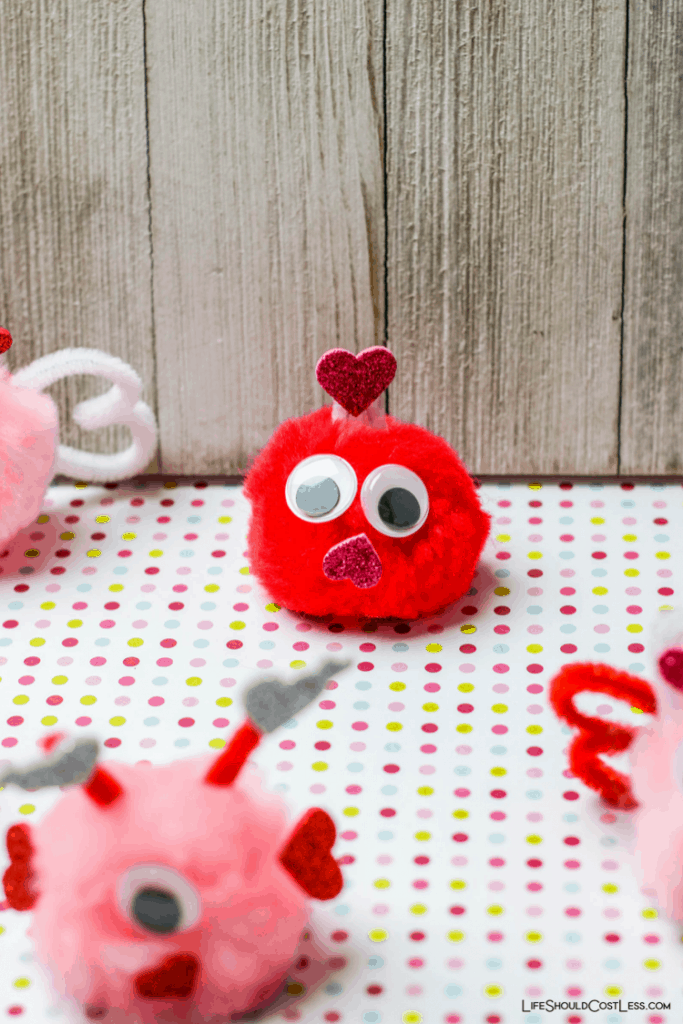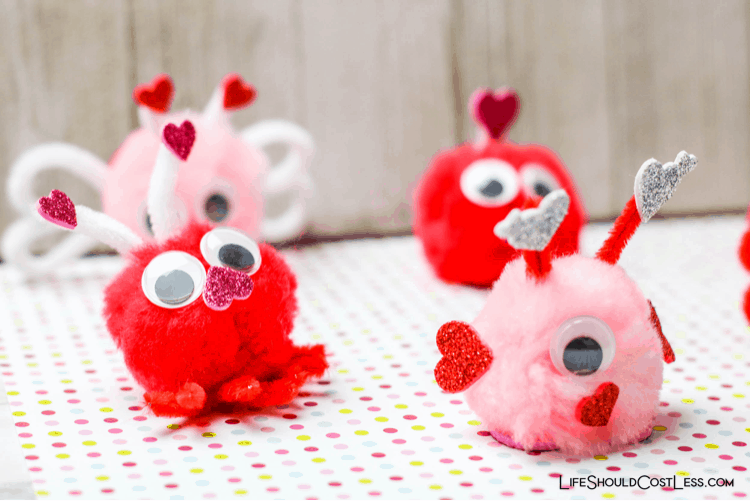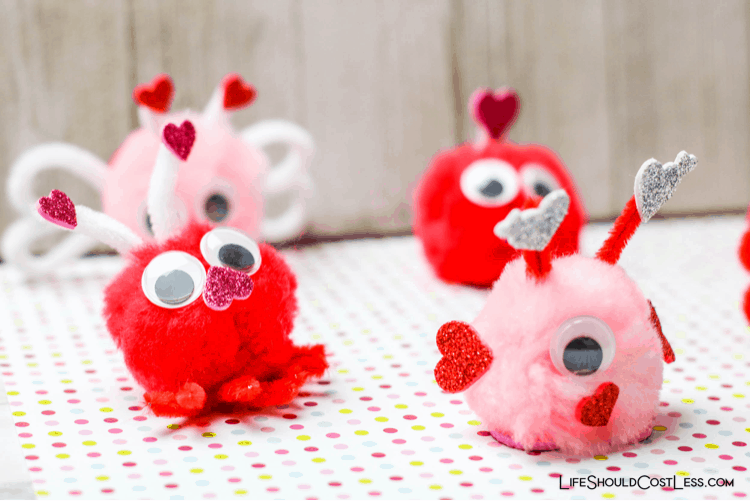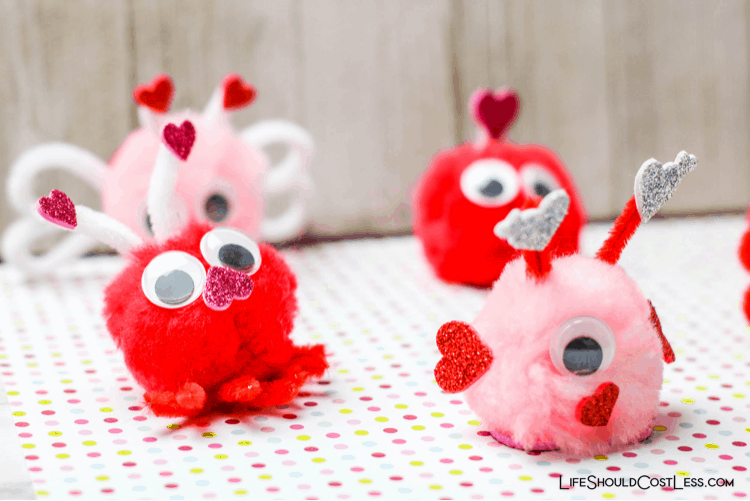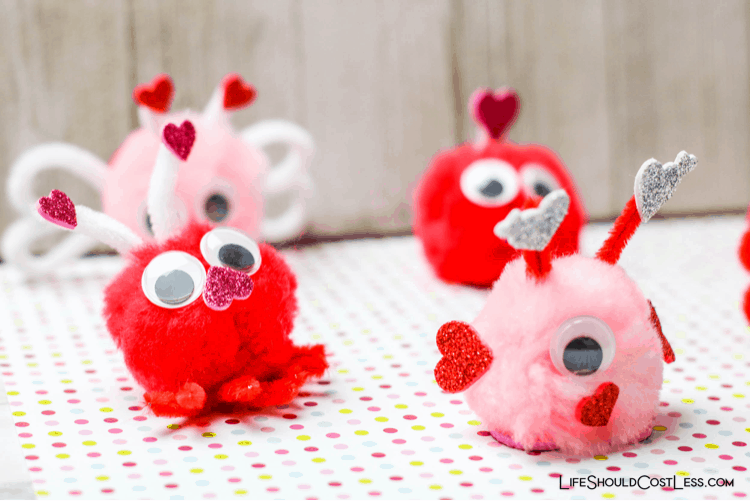 It's way easy to show these pics to kids to give them a few ideas on how to make their own.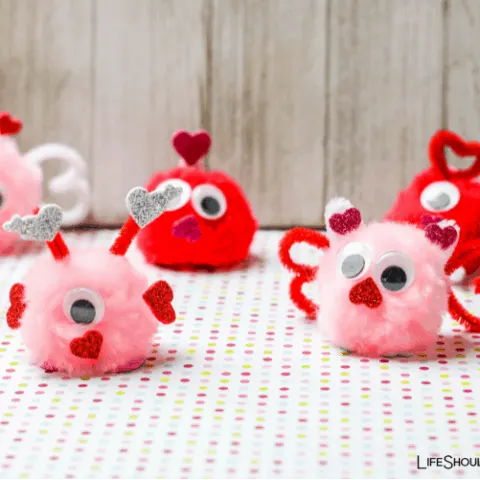 How To Make Love Bugs Valentine's Day Craft For Kids
Estimated Cost:
Less Than $20
This easy Valentine's Craft is perfect for kids from preschool to early Elementary age. Love Bugs made with Pom Poms will keep everyone happy & busy.
Materials
1 inch, or bigger, pom poms in Valentine's Day colors (red, pink, white, etc)
Self-adhesive foam stickers in desired shape (hearts are ideal, but others may be used)
Pipe Cleaners in Valentine's Day Colors (reds, pinks, white's, misc)
Wiggly eyes in different sizes
Quick drying tacky glue or hot glue (only use hot glue with parental supervision for older kids)
Tools
Scissors
Tacky Glue or Hot Glue Gun
Waxed Paper
Instructions
Cut the pipe cleaners into various lengths to create the antenna's, ears, wings, and/or feet for the love bugs.
Foam stickers can also be used as antenna, ears, wings, and/or feet.
Encourage children to really make this project their own by mixing various colors of pom poms, pipe cleaners, stickers, and wiggly eyes.
Children can attach the pieces with quick drying tacky glue or have an adult assist using a hot glue gun. Hot glue will give better results but does require more adult supervision (or actual helping).
Allow love bugs to dry completely on waxed paper before allowing children to play with them, or transferring them.
Like I said before, these Love Bugs are crazy simple to make, which makes them such a good craft for even very young children to enjoy creating.
I hope you enjoyed this cute Valentine's Day Craft!
The best part about this project is that you could easily stop by a Dollar Tree, hit up their craft section, and have everything that you need to make lots and lots of these Love Bugs for less than $10-20 and that is a total win in my book.
**Remember that if you liked this post to check out my entire Crafts section!**
Thanks so much for stopping by my site! If you liked what you saw, please make sure to share it via social media!
Other ways to show your support are to follow and/or interact with me on Pinterest, Instagram, Facebook, YouTube, or by Subscribing To My Emails List.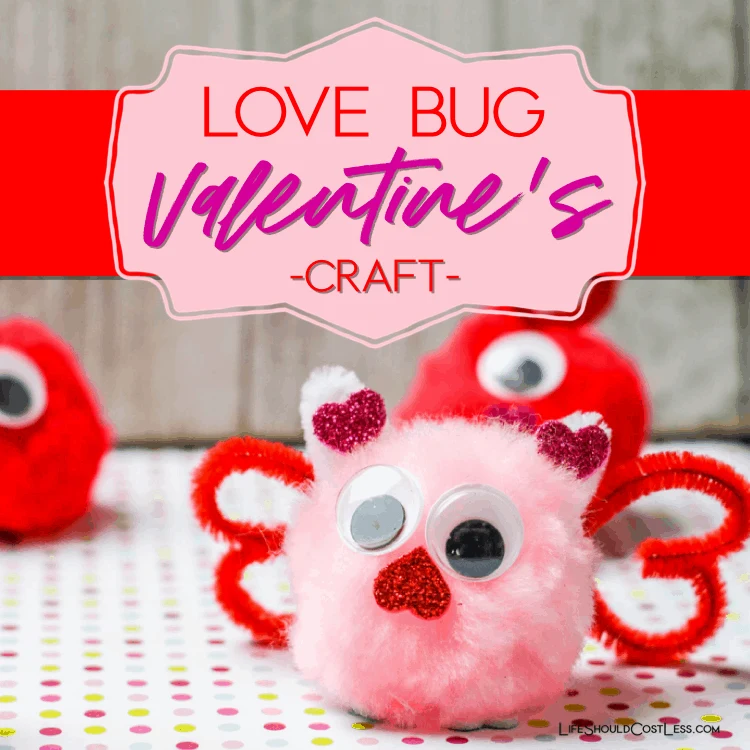 If you purchase suggested products through Amazon, the cost to you remains the same, but I make a small commission on everything in your cart. Also, if you ever need to buy it again, you can always come back to my site for the link…just sayin';).
If something was particularly helpful and you would like to donate directly to my site, you can do so via PayPal, here. I'm a single mom of four, so every little bit helps. Thanks again!~Sarah
Here are links to five of my other Craft posts that you're also going to love:
For those of you that would like another option of an image to pin to Pinterest, here you go. Thanks so much for sharing!