If you are looking for both a service and a gratitude oriented advent calendar that gives you fun daily activities to count down the days of December, look no further. This Free Christmas Advent Countdown Paper Chain is the perfect mix of both Christmas Service Ideas & Fun. It's so that you have a well-balanced experience that keeps the whole family involved in Christmas kindness but you also know "how many more sleeps until Christmas".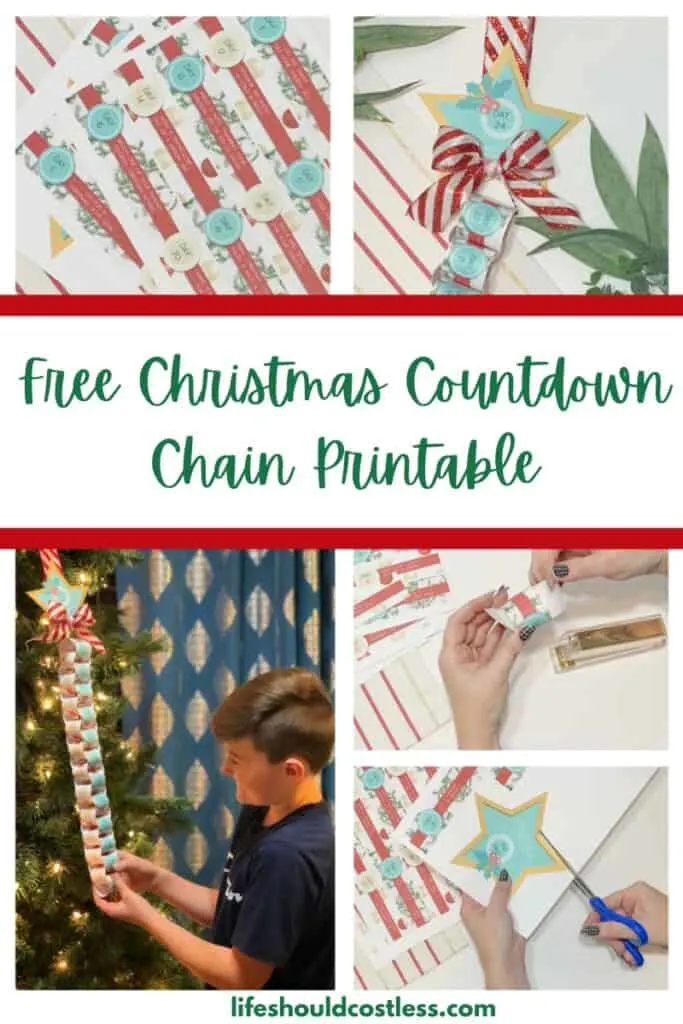 What is the purpose of advent calendar?
For those of you that are maybe new to the tradition of using an Advent Calendar, I thought it may be helpful to give you a little bit of info on the topic.

In the most basic terms possible, an Advent Calendar is a "fancy" way to count down the days leading up to Christmas. There are many ways to go about it, some people have elaborate displays that count down the days, those ones typically open up and reveal a gift of some sort inside. (I actually have an easy DIY craft version of one of those if you would like to go that route instead, you can find that post here).

Other people keep it simple and just buy a cheesy Advent from the grocery store (or Amazon) that often has a piece of cheap candy as your daily prize. This way is nice to do if you have a bunch of kids that don't want to share…they can each have their own this way.

Or, sometimes people do a Christmas Chain Countdown, which is what we are doing today. Christmas paper chains are fun and versatile because you can either make them with just paper and write the days left until Christmas (we made them with colored construction paper when I was in Elementary School)…or you can include fun advent calendar activities to keep everyone busy and in the spirit of Christmas.

If you would like to read more in depth about the history of the Advent, here is what Wikipedia has to say on the subject.
---
I'm realistic enough to realize that my ideas for advent calendar activities aren't going to please everyone…we all have different tastes, budgets, comfort levels, and expectations for the season.
That being said, If you would like to personalize or change up my Free Printable Christmas Chain Countdown it shouldn't be hard to download the pdfs and make necessary changes in Canva or another inexpensive editing program…
So download my Christmas Paper Chain Template and if you're able to, you can switch things up to your desired preferences (or you could just handwrite on plain paper any daily service ideas and make your DIY Christmas countdown chain that way). However you decide to do it, here are some other fun advent ideas for families that you might like better instead.
13 Advent Service Ideas (service projects to do and inexpensive other options):

1. Ask a Veteran if there is anything that you can do to help them have a better holiday experience. Especially any Veteran's that were wounded in war…they may need help with something as simple as decorating their Christmas tree, putting up their Christmas lights, or getting the decor boxes out of storage so that they can finish the job themselves.
2. Bake Christmas cookies for the neighbors.
3. Make grandma and grandpa their favorite dinner(keep dietary restrictions in mind).
4. Help a farmer! You may not understand how hard the work of a farmer is, but it can be especially challenging in the winter just trying to keep animals fed and stalls mucked when everything keeps freezing. So, ask around and see if any local farmers may be in need of someone that can help out a bit during those chilly months.
5. Volunteer at a local toy drive or soup kitchen.
6. Drop off Seasonal Themed Coloring Books and crayons to any local friends with special needs (these can easily be purchased at a Dollar Store for just a couple or so bucks).
7. Make a DIY outdoor Nativity Scene to add to your yard Christmas decor.
8. Donate needed winter items to your local teens crisis center. These can often be warm clothing items that your family members have already outgrown.
9. See if your elderly neighbor will let you help them cook their Holiday meals. Some people struggle with standing for long periods of time, so it could really help them out to see what help you can offer in the process
10. Offer to read a Christmas book at your child's class and/or bring a holiday treat.
11. Adopt a single mom. Sure, we all know that Widow's and the elderly need lots of help in the winter…but Single mom's often get overlooked during the Holiday season…keep in mind that many of them are trauma survivors that struggle to provide the basics for their kids and have been conditioned to do it all themselves and to not ask for help, so any help could be beyond needed and appreciated. It would be easy to shovel their walkways after each storm, offer to watch their kids so they can have a few minutes to themselves, drop off gift cards to places such as Amazon, Wal-Mart, a local Gas Station, or even a Visa Gift Card), or even have a grocery order of pantry staples delivered to their doorstep. Believe me, as a single mom of four…some years are incredibly tight and my prayers for help often go unanswered…so don't assume that someone doesn't need help just because they appear to carry their burdens well, or maybe don't assume that they make more money than they actually do.
12. Make homemade Christmas Cards of appreciation for your local Firemen or Police Officers and drop it off at the station.
13. Sing Carols at a local nursing home. The elderly sometimes adore having guests, not everyone has family that visits so it could be a good idea to call up the nursing home near you and ask if there is a time that they would like some Carolers to come and visit to spread some Christmas cheer.

Those are just some of the ideas I had off the top of my head, but here are three other resources that have great ideas for things that you can do too:
blessedhomeschool.com, dukesandduchesses.com, & nourishingjoy.com
I had my super talented cousin design us this paper chain advent free printable, but on this countdown, it could easily be considered more of a countdown to Christmas "Bucket List".
Each day on the countdown, it gives a suggestion for one fun or service oriented thing to do that day. If you would like to do more of a simple kids paperchain instead of mine, here is a super cute resource.
Here is a simple video I have made to show you how to put these together once you have printed them out. I hope it all makes sense.
I feel like it's a fairly simple project, especially if you watched the above video tutorial.
Here is what my Advent Chain Printable looks like in action!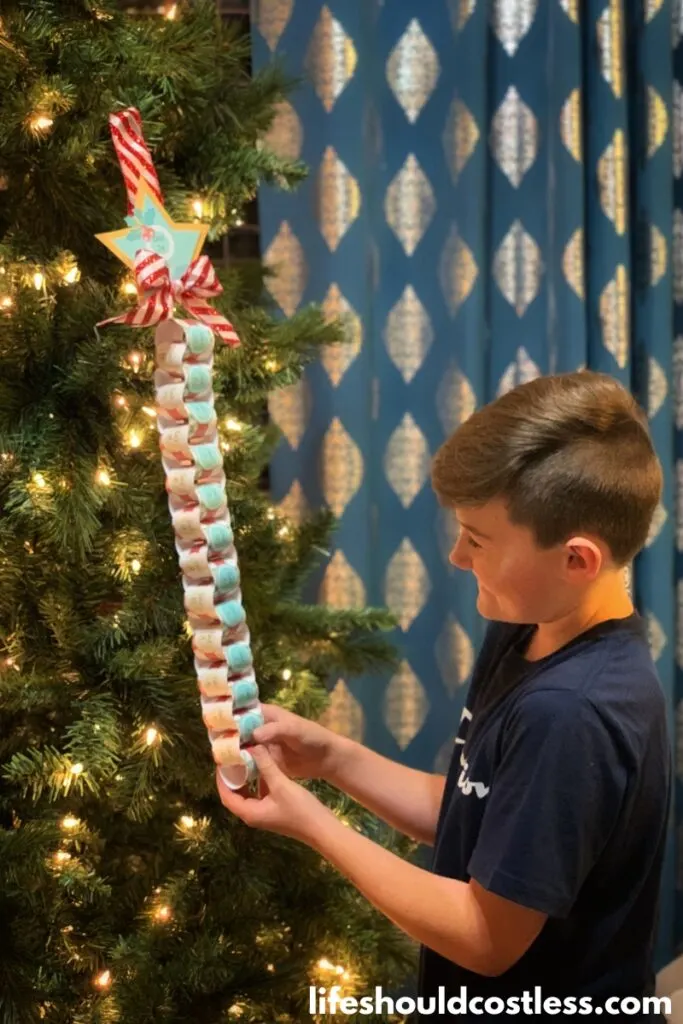 Anyway, here are the pdf's of the free Christmas Paper Printable to download and print out.
Remember that my "free printables" are for personal use only. Any other type of use needs to be purchased from me, or have written permission to share.
For actually printing out and making this simple craft, I recommend this project for a bigger kid/tween, but it's something that could be super fun to create with the younger little ones with a little supervision and maybe some safety scissors.
I recommend printing it out on some nicer quality paper, or using the better printing quality settings on your printer if budget permits of course.
How to use advent calendar paper chain:
Starting at the bottom of the chain , remove one paper from the chain each day.
Each "chain-link" has written on it something festive as a suggested activity for you to do with your family that day.
Repeat removing one link per day and completing that fun task until all the links are gone.
Then enjoy your fun new holiday tradition.
---
That's really all that I have to share with you all today for this Advent themed post. I hope you were able to get some great service project ideas for Christmas, and some added Holiday fun, out of it and I wish you all a very MERRY CHRISTMAS!
---
Thanks so much for stopping by my blog and supporting my endeavors to make people's lives a little easier/better/more affordable. If you liked this post, or found it helpful in any way, please make sure to share it with your family, friends, and co-workers via social media…or you could even send them the direct link via email. Whichever way you choose to spread the love, I super appreciate it! ~Sarah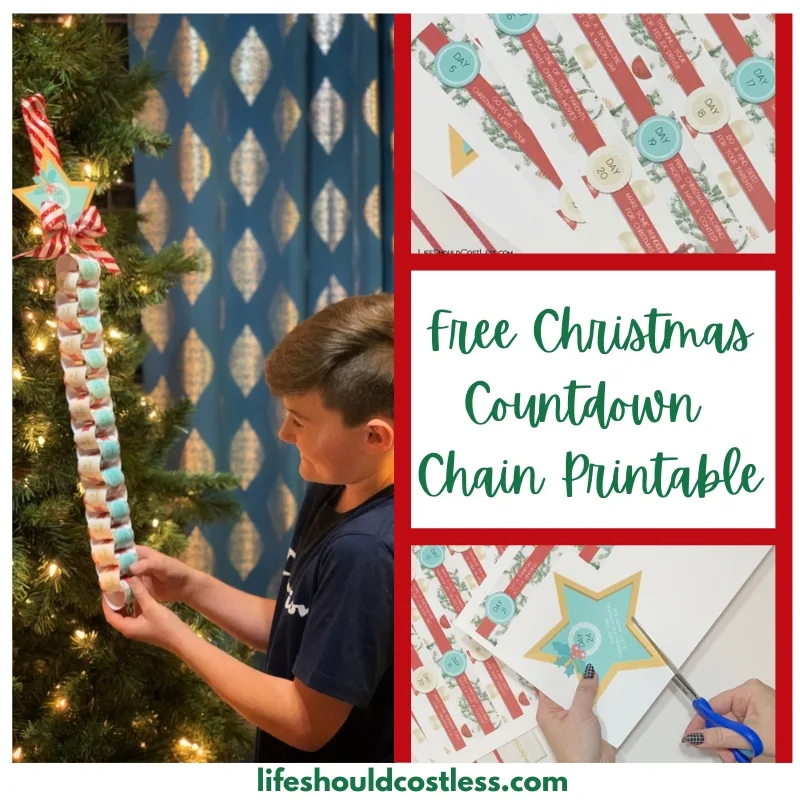 If you would like to subscribe to my email list, go here.
Make sure to follow along via social media, by going here.
If you would like to learn how to really show your support to this site (at no cost to you), go here.
P.S. You may also want to check out my Free Printables Section, as well as my Christmas Time Section.
Here are links to several of my other seasonal posts that you'll also love:
Here is an additional "pinnable image" that you can use to share on Pinterest if you need it. Thanks again!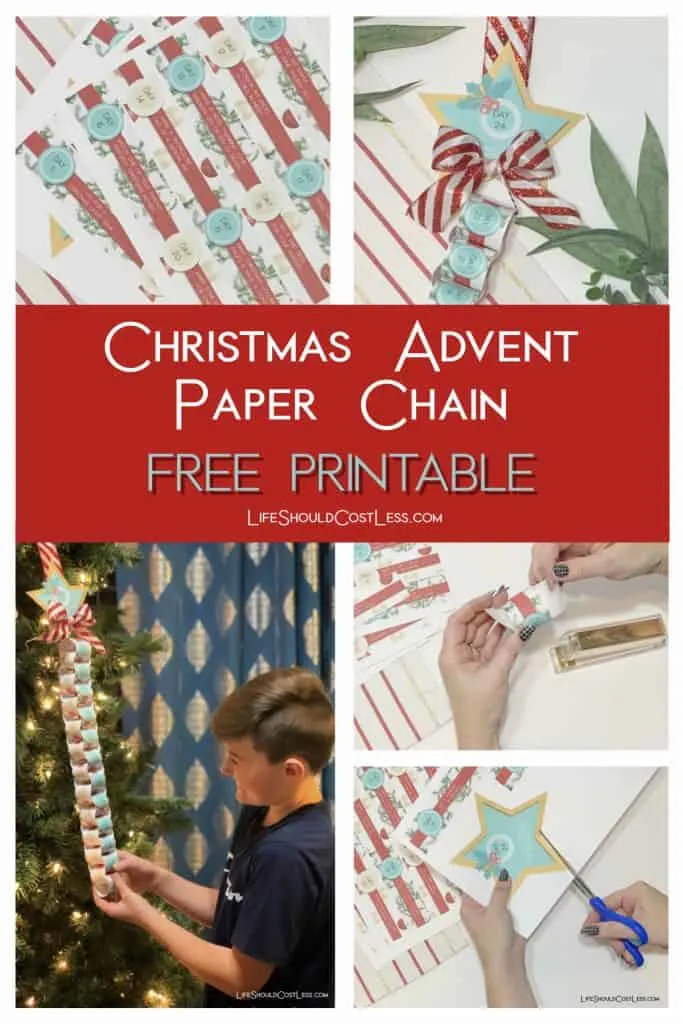 *This post was originally shared to this blog on November 27, 2019 and has since been updated to improve user experience, add video instruction, as well as to make it as shareable as possible across the social medias.