These free Christmas Present Coloring Pages are a delightful way to add a touch of festive cheer to the holiday season. Whether you're a child eagerly awaiting Santa's arrival or an adult looking to embrace the spirit of giving, these coloring sheets offer a perfect opportunity to unleash your creativity and immerse yourself in the joyous atmosphere of Christmas. So grab your favorite coloring tools, let your imagination run wild, & bring the magic of the holiday season to life with these enchanting coloring pages.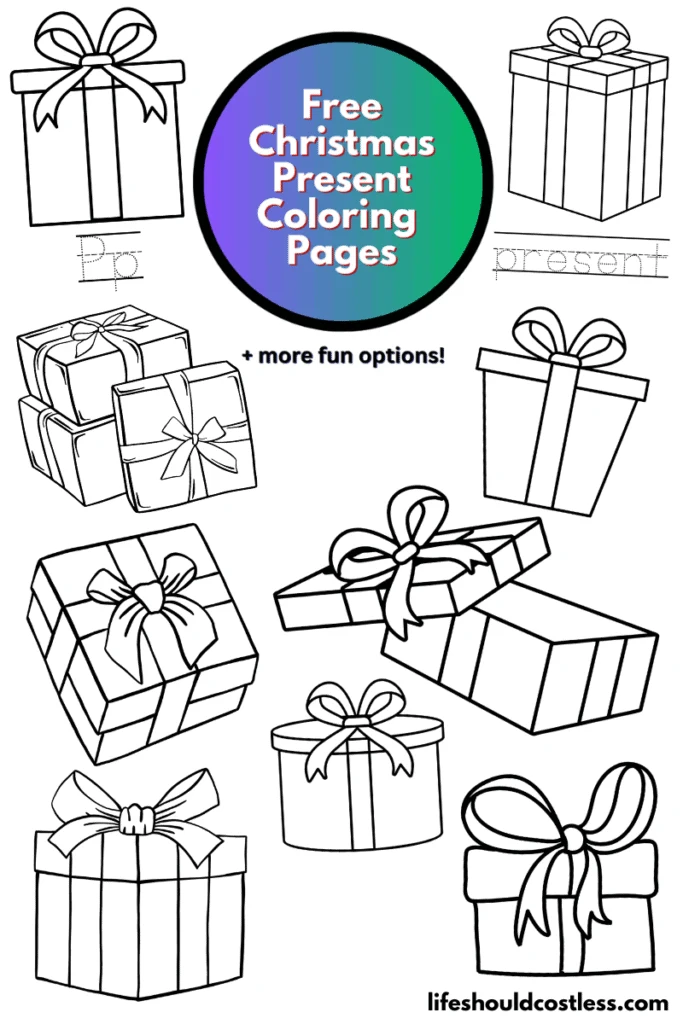 Feel free to choose any design that catches your eye, save the free PDF template, print it out, and indulge in the joy of coloring to your heart's desire.
Additionally, these delightful designs can serve as inspiration for embroidery patterns or even fine line tattoos, allowing you to explore various artistic avenues beyond coloring.
---
Table of Contents, Skip Ahead To What You're Looking For
Learn about Christmas gifts as you color them
For those who are new to my coloring pages, it's worth mentioning that I enjoy providing the opportunity to learn about the subject matter, transforming the coloring experience into an educational lesson.
So, let's embark on this journey together, where you can simultaneously have fun coloring while expanding your knowledge on the topic. Let's get started!
Here are several fun and interesting facts about Christmas presents (my reference source can be found here):
Gift-giving tradition: The act of giving gifts during Christmas has been a cherished tradition for centuries, with its origins traced back to the story of the Three Wise Men presenting gifts to the baby Jesus.
Historical background: The practice of exchanging gifts during the Christmas season became more widespread during the Victorian era, influenced by Queen Victoria and Prince Albert, who popularized the idea of a festive gift exchange.
Santa Claus and gift-giving: The modern image of Santa Claus delivering presents on Christmas Eve can be attributed to the influence of Clement Clarke Moore's poem, "A Visit from St. Nicholas," more commonly known as "The Night Before Christmas."
Advent calendars: Advent calendars, which originated in Germany, are special calendars used to count down the days until Christmas. Many modern versions of these calendars include small gifts or treats behind each door or window.
Christmas stockings: Hanging stockings by the fireplace or on a mantle is a popular tradition. According to legend, St. Nicholas would drop gold coins down the chimney, and they would land in stockings hung by the fireplace to dry.
Gift-wrapping: The art of gift-wrapping became popular during the early 20th century. Prior to that, gifts were often presented in simple paper or tied with ribbon. Today, elaborate gift-wrapping techniques and materials are widely used to enhance the presentation of gifts.
White Elephant gift exchange: A popular holiday game, the White Elephant gift exchange involves participants bringing humorous, impractical, or unwanted gifts to be exchanged and swapped in a fun and often comical manner.
Charitable giving: Christmas is also a time of giving to those in need. Many people and organizations engage in charitable activities during the holiday season, such as donating gifts, food, or funds to support less fortunate individuals and communities.
International variations: Gift-giving customs vary across countries and cultures. For example, in many European countries, gifts are exchanged on Christmas Eve, while in others, such as Spain and Latin American countries, presents are opened on January 6th during the celebration of Epiphany.
Regifting: The act of giving a gift that was previously received is known as "regifting." It has become a common practice, especially when a received gift may be more suitable or appreciated by another person.
Online shopping: The rise of e-commerce has transformed the way people shop for Christmas presents. Online shopping provides convenience and access to a wide range of gift options, enabling people to shop from the comfort of their homes.
Remember, these facts can serve as a starting point, and you can always explore further to discover more intriguing information about Christmas presents.
Here are some other reputable resources to learn about them while coloring:
---
---
Tips for coloring pictures of Christmas presents
Here are some of my best tips and tricks to help you when coloring a picture of a Christmas present:
Color coordination: Consider using a color palette that evokes the festive spirit of Christmas. Traditional colors like red, green, gold, and silver work well for gift boxes, while complementary colors can be used for ribbons and bows.
Texture and shading: Add depth and dimension to your coloring by incorporating texture and shading. Use light and dark shades of the same color to create shadows and highlights, giving the presents a more realistic and three-dimensional appearance.
Experiment with patterns: Get creative with patterns! Instead of solid colors, try adding stripes, polka dots, or even plaid patterns to the gift boxes. This can add visual interest and make the presents more visually appealing.
Metallic accents: If you have metallic coloring tools, use them to enhance the look of ribbons, bows, and wrapping paper. Metallic colors can give a touch of shine and elegance to the presents, making them look more luxurious.
Blend and layer: Take advantage of blending techniques to achieve smooth transitions between colors. Gradually blend lighter and darker shades together, or use a colorless blender pencil to create a seamless gradient effect.
Embellishments: Consider adding extra details to the presents, such as glitter, sequins, or even tiny stickers. These embellishments can bring a touch of sparkle and make the gifts stand out.
Experiment with different coloring mediums: Explore various coloring mediums like colored pencils, markers, or even watercolor paints. Each medium has its own unique qualities and effects, so don't be afraid to try different tools to find the one that suits your style best.
Reference real-life objects: Look at photos or real-life examples of wrapped presents to get inspiration for colors, patterns, and textures. Observing how light interacts with different surfaces can help you create more realistic and visually appealing coloring.
Practice blending and shading techniques: Mastering blending and shading techniques can greatly enhance the final result of your coloring. Practice blending different colors together smoothly and experimenting with different shading techniques to add depth and dimension to your presents.
Have fun and be creative: Remember that coloring is a form of self-expression and relaxation. Don't be afraid to add your personal touch and get creative with colors, patterns, and embellishments. Let your imagination run wild and enjoy the process of bringing the Christmas presents to life with your coloring skills.
By incorporating these tips and tricks into your coloring process, you can create beautifully colored pictures of Christmas presents that capture the holiday spirit and showcase your artistic flair. Happy coloring!
---
Christmas Present Coloring Sheet Options For Printing:
Letter P is for present writing practice worksheets
*My letter P is for present coloring sheet printables are specifically designed to be used in a classroom setting, they are the only printable options on this page that do not need written permission to use in a public setting.
Please send the link to this post along if anyone asks you where you got them. Thank you!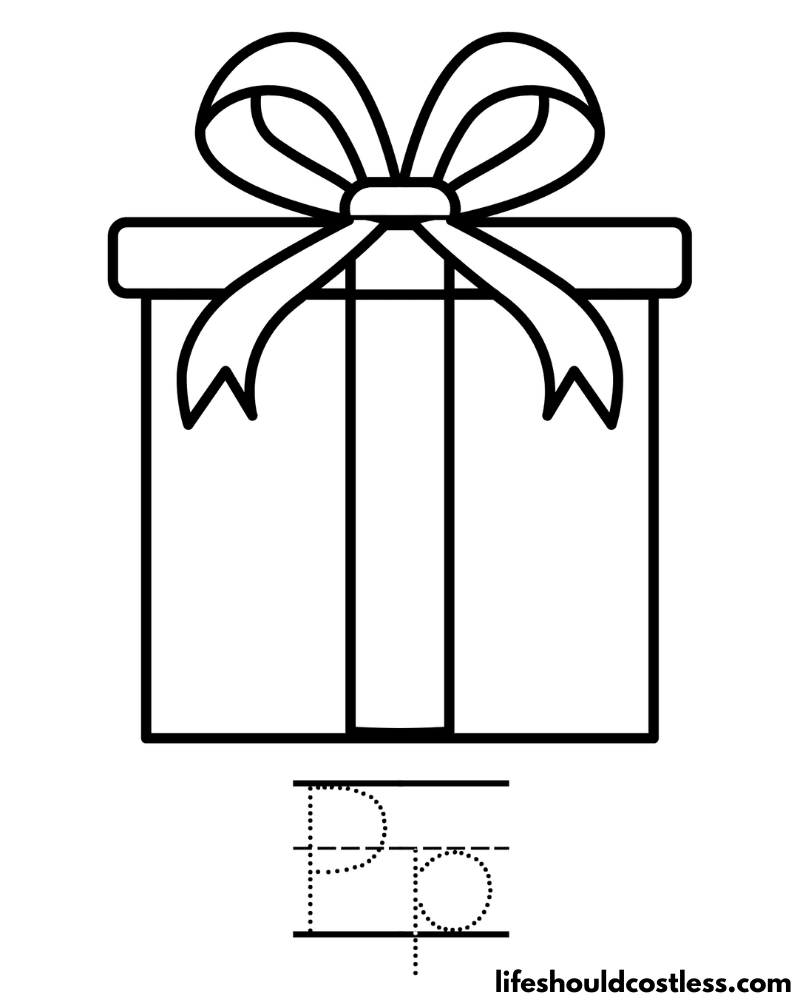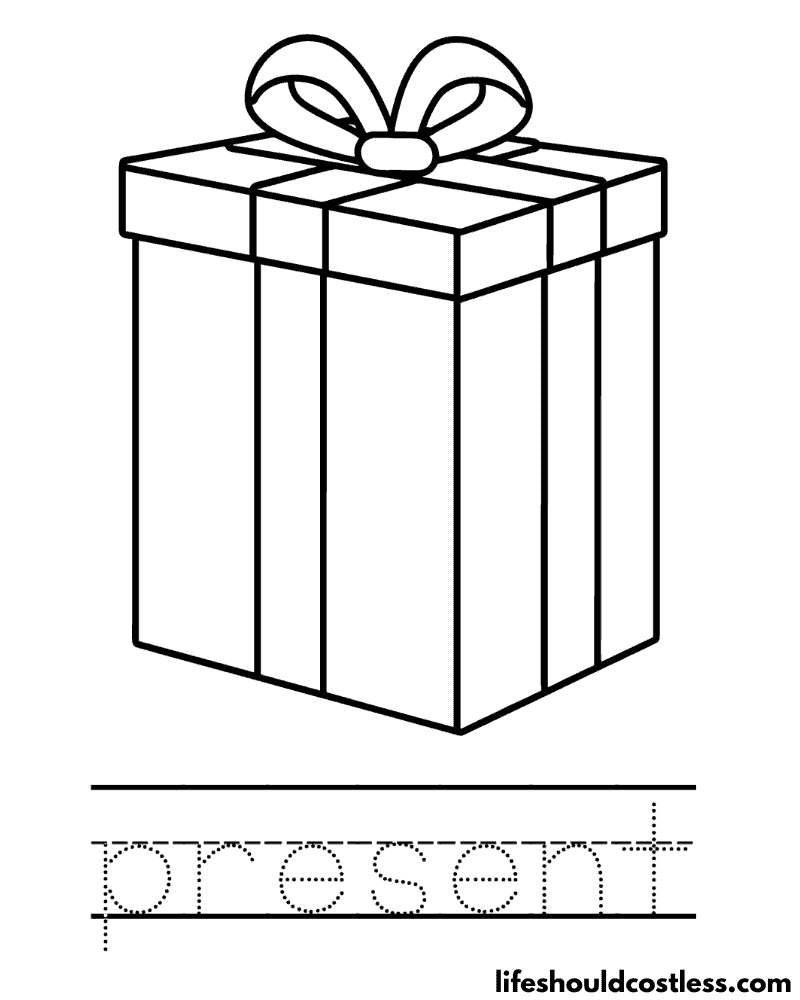 Various Christmas Gifts To Print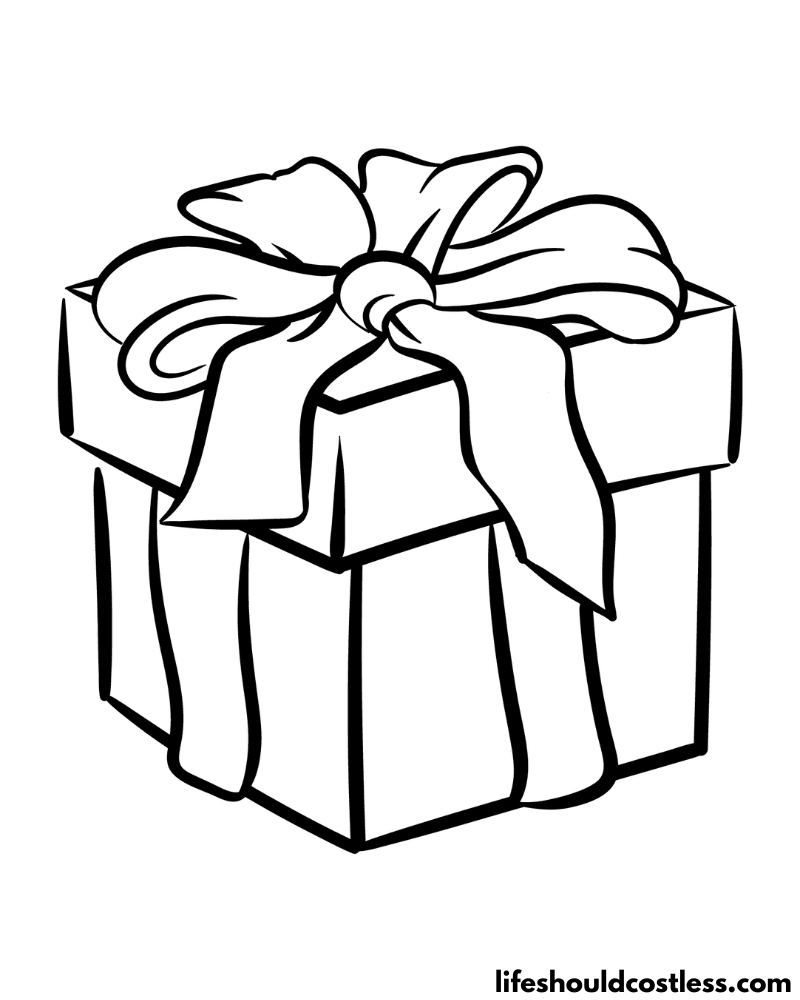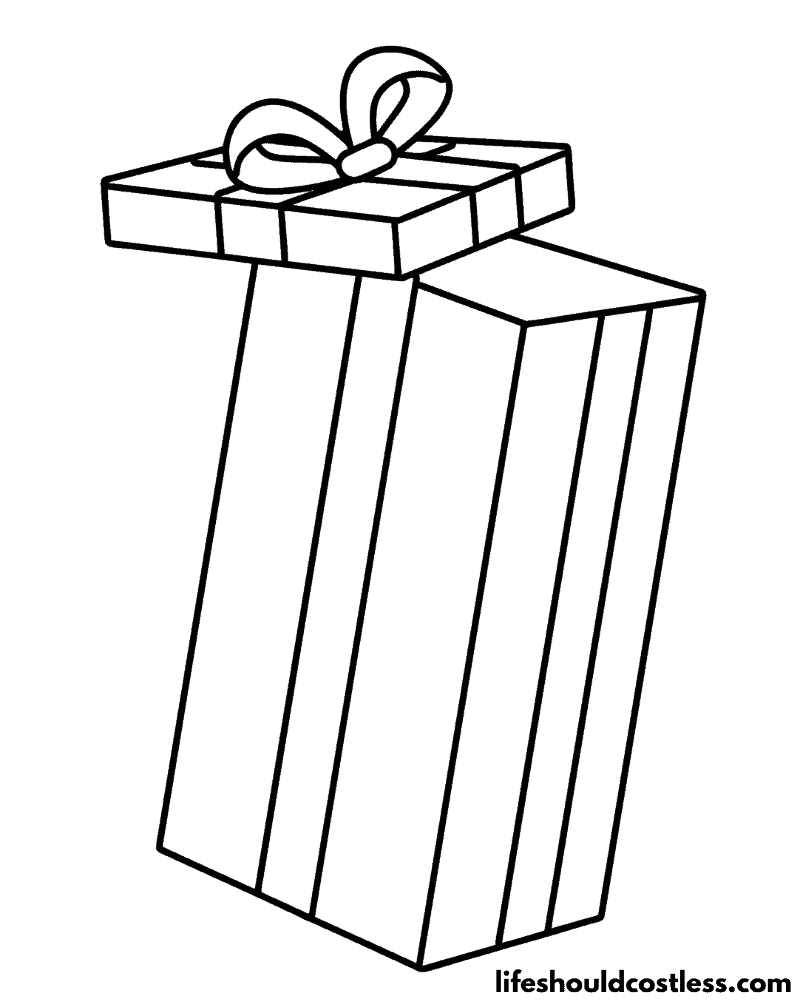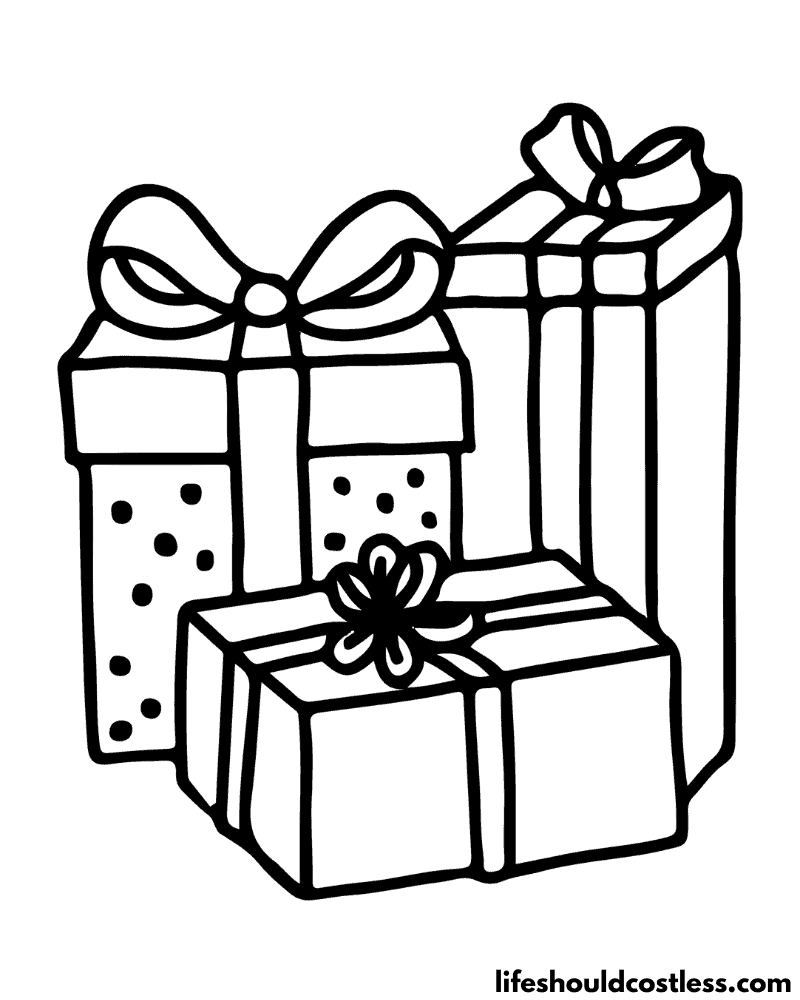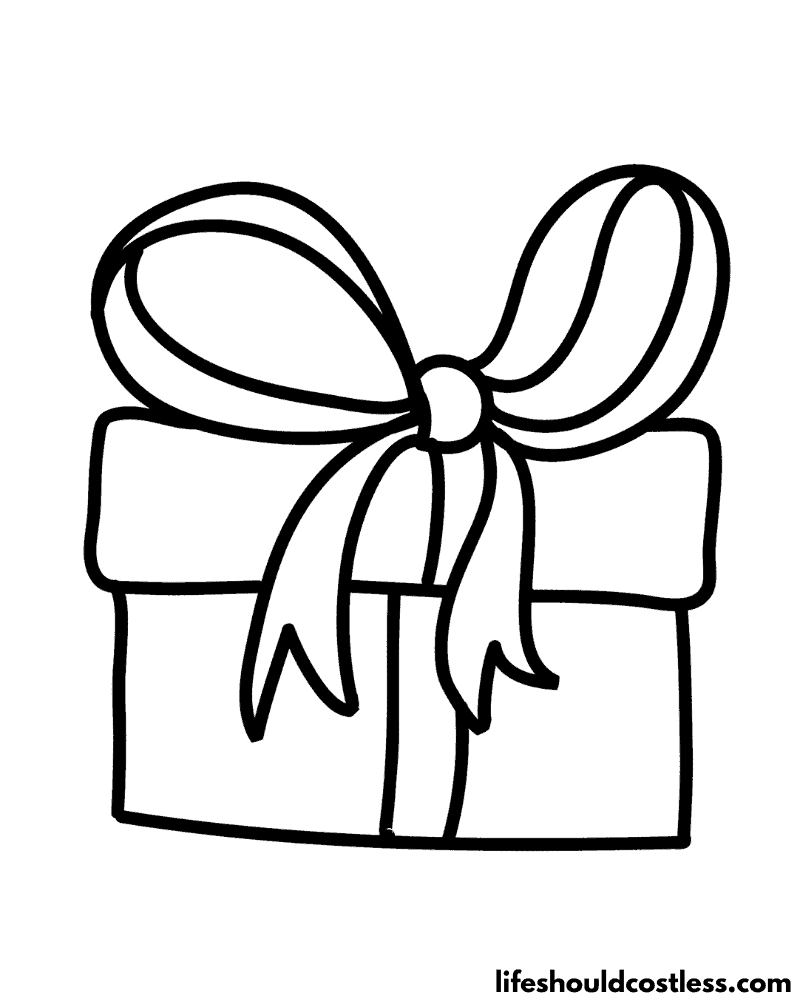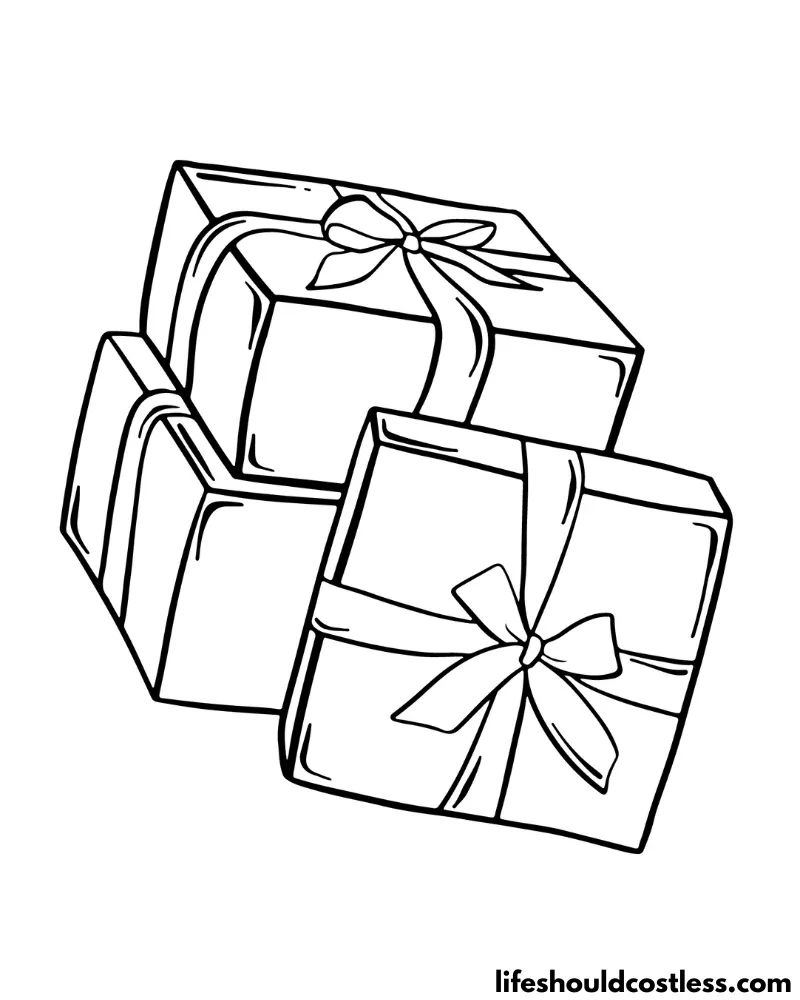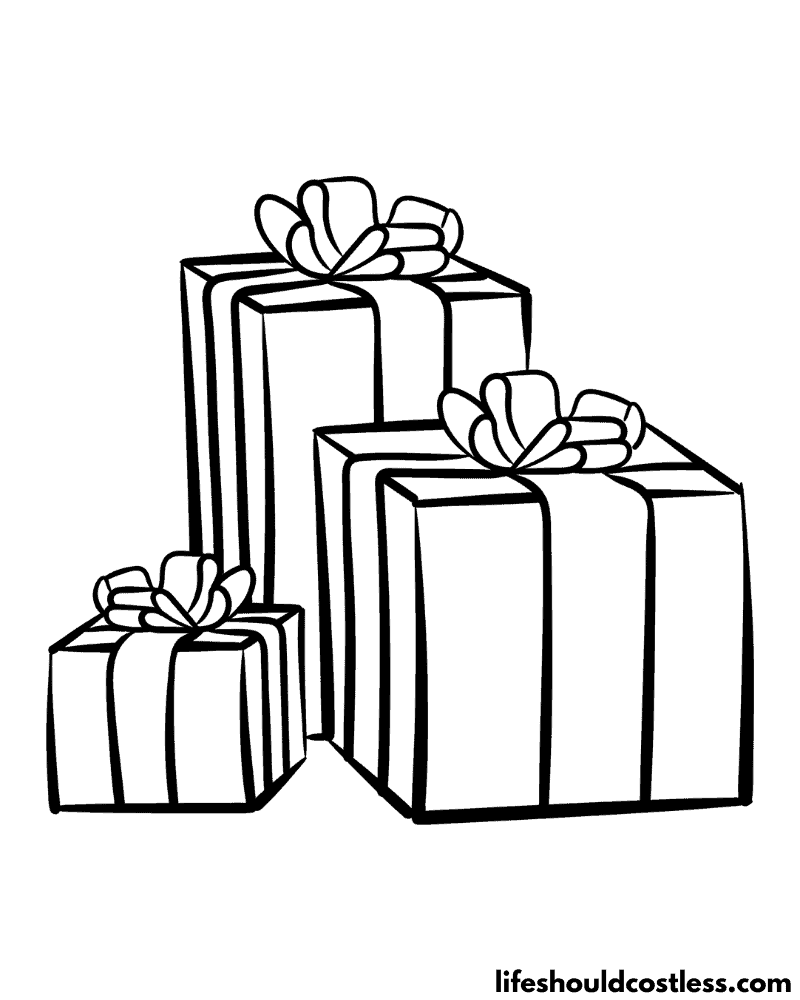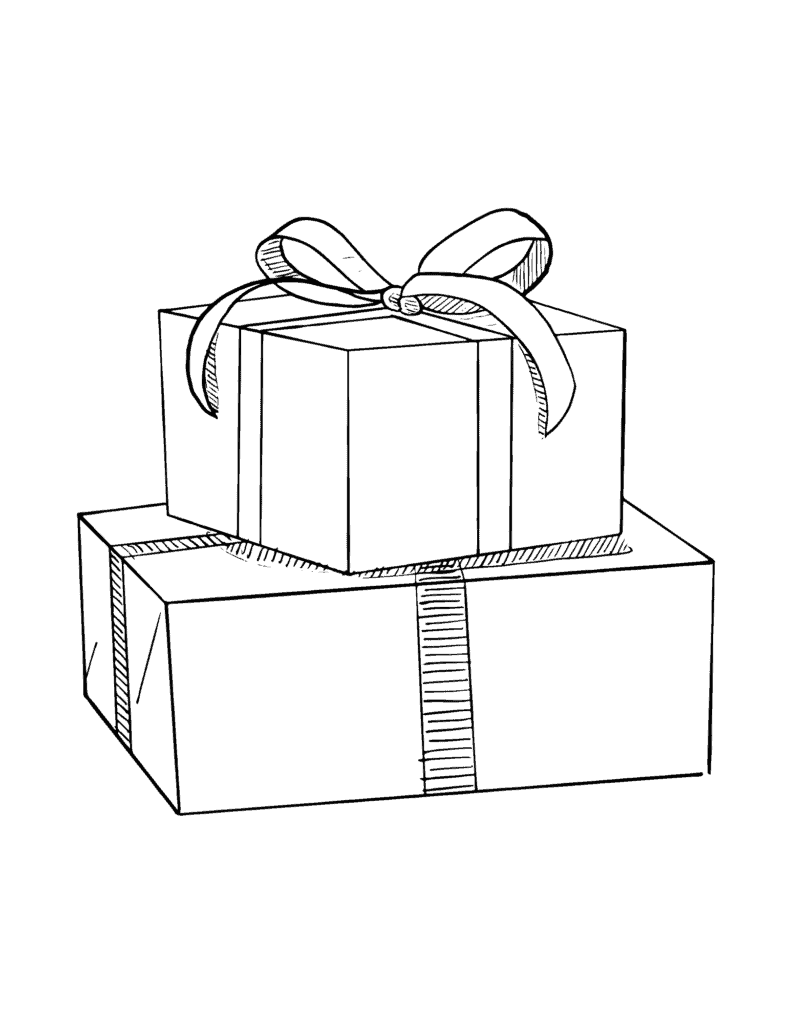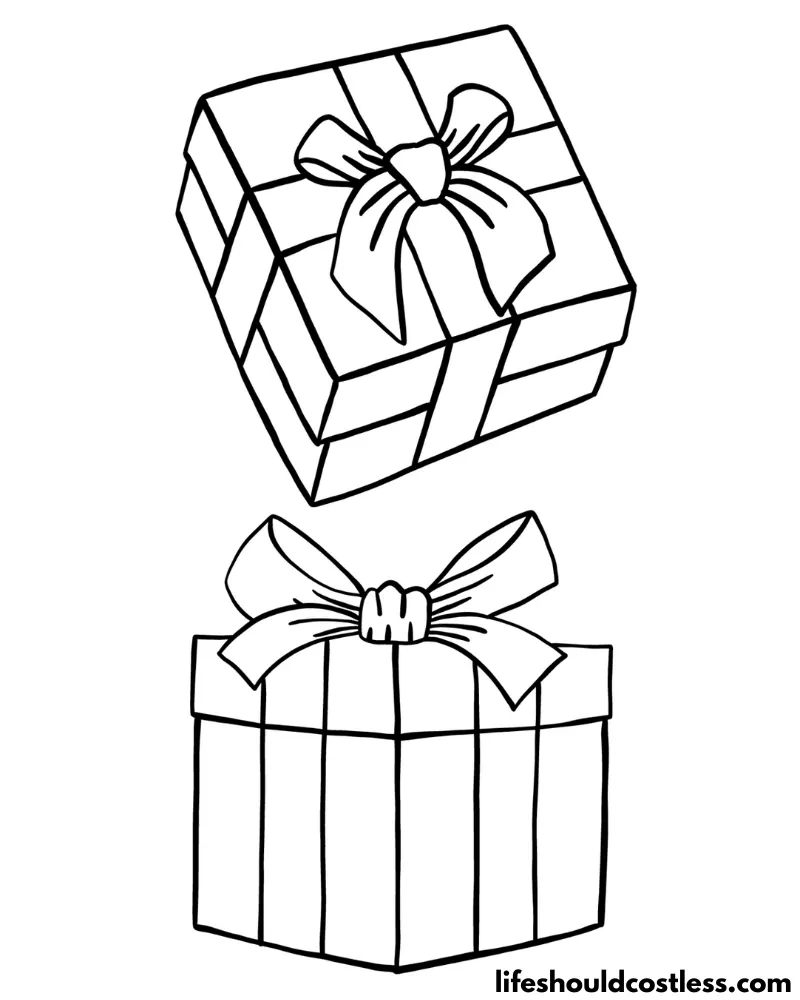 ---
Christmas Present Color FAQ's
What color are Christmas gifts?

Christmas gifts come in a variety of colors. While there is no specific color that represents all Christmas gifts, some traditional and popular colors associated with Christmas presents include:

Red: Red is a classic and commonly used color for Christmas gifts. It represents warmth, love, and the festive spirit of the holiday season.

Green: Green is another prominent color for Christmas presents. It symbolizes evergreen trees, nature, and renewal, and is often associated with the Christmas tree.

Gold: Gold is often used as an accent color for Christmas presents. It adds a touch of elegance, luxury, and festivity to the gifts.

Silver: Silver is another popular metallic color used for Christmas gifts. It provides a cool and shimmering effect, adding a sense of sophistication and glamour.

White: White is often associated with snow and winter, making it a common color for Christmas gifts. It can also represent purity and peace.

Blue: While not as prevalent as red or green, blue is sometimes used for Christmas presents, particularly in winter-themed or icy designs. It can evoke a serene and tranquil atmosphere.

Other colors: Christmas presents can also be found in a wide range of other colors, including pastels, jewel tones, or even multi-colored designs. These colors offer variety and allow for creative expression in gift wrapping.

Ultimately, the colors of Christmas gifts can vary depending on personal preferences, cultural traditions, and individual creativity.

Feel free to explore different color combinations and create a festive and visually appealing presentation for your Christmas gifts.
*I will add more Christmas present colour / color questions and answers as the questions get sent to me.
---
In conclusion, Christmas Present Coloring Pages offer a wonderful way to celebrate the holiday season and engage in a creative and relaxing activity.
By immersing yourself in the joyous world of coloring, you can bring to life beautifully wrapped gifts adorned with bows, ribbons, and all things merry.
Whether you are a child eagerly awaiting Santa's arrival or an adult looking to embrace the spirit of giving, these coloring pages provide a perfect opportunity to express your creativity and immerse yourself in the magic of Christmas.
From simple outlines to intricate patterns, there is a Christmas present coloring sheet option to suit every preference and skill level.
So, grab your favorite coloring tools, let your imagination soar, and enjoy the festive delight of coloring these enchanting pages.
May your holiday season be filled with warmth, joy, and the wonder of Christmas presents brought to life through the art of coloring.
---
Thanks so much for stopping by my blog and supporting my endeavors to make people's lives a little easier/better/more affordable.
If you liked this post, or found it helpful in any way, please make sure to share it with your family, friends, and co-workers via social media.
Or you could even send them the direct link via email. Whichever way you choose to spread the love, I super appreciate it! ~Sarah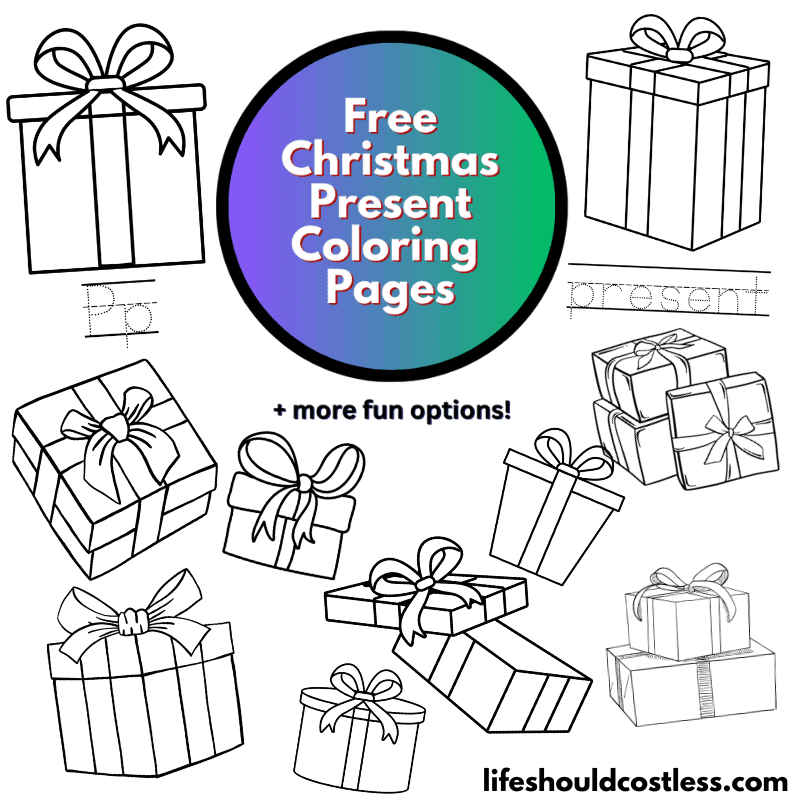 Follow Me
If you would like to subscribe to my email list, go here.
Make sure to follow along via social media, by going here.
If you would like to learn how to really show your support to this site (at no cost to you), go here.
Check out my other free printables
Otherwise, here are direct links to several of my other related posts that you're also going to love:
Fall Coloring Pages
Other good resources for Christmas presents printables
*This post was originally shared to this blog on 07/11/2023, and has since been updated to improve user experience, add video instruction, as well as to make it as shareable as possible across the social medias.
**Please note that I do try my hardest to provide factual, but easy to understand, information about each topic. If you notice a discrepancy in my coloring pages, facts, or see something that you deem "misinformation/incorrect" please make sure to notify me about it. I would prefer that you send me an email with a link to a more reputable resource on that subject, so that I can correct it as soon as possible. Thanks so much for helping this site become the best that it can be!