Welcome to the enchanting world of creativity and learning with our captivating collection of rainbow coloring pages! As you immerse yourself in the joy of coloring, these pages not only offer a plethora of designs but also provide a wonderful opportunity to discover the fascinating science behind rainbows. From understanding the prismatic beauty of light refraction to the meteorological magic that creates these natural wonders, our coloring sheets become a gateway to both artistic expression and educational exploration. Let your imagination soar while you bring these rainbows to life on paper, & simultaneously uncover the captivating secrets of these mesmerizing meteorological phenomena.
Grab your coloring tools, and let the colors of the rainbow ignite both your creativity and knowledge!
Feel free to choose any design that catches your eye, download the PDF template for free, print it out, and let your creative spirit run wild as you immerse yourself in the experience.
Alternatively, these designs can also serve as inspiration for embroidery patterns or fine-line tattoos, allowing you to explore various artistic avenues.
---
Rainbow facts
If you're new to my coloring pages, let me introduce you to my approach: I believe in offering you the chance to not only enjoy the coloring experience but also to turn it into an educational adventure.
So, buckle up, because we're about to begin a creative journey that combines fun with learning!
Here are lots of fun and interesting, simplified, facts about rainbows (my reference source can be found here):
Optical Phenomenon: Rainbows are optical and meteorological phenomena that occur when sunlight interacts with raindrops in the atmosphere.
Prismatic Colors: The most common rainbow displays seven colors in order: red, orange, yellow, green, blue, indigo, and violet (ROYGBIV).
Double Rainbows: Sometimes, a second, fainter rainbow can be seen above the primary rainbow. This is known as a double rainbow, with the order of colors reversed in the outer bow.
Supernumerary Rainbows: Under certain conditions, a series of faint, colorful bands called supernumerary rainbows can appear within the main rainbow.
Circular Rainbows: Rainbows can form a complete circle when observed from high vantage points, such as from an airplane or mountain peak.
Alexander's Band: Directly opposite the sun, there is an area of reduced brightness known as Alexander's band, which separates the primary and secondary rainbows.
Primary and Secondary Rainbows: The primary rainbow is the bright, inner arc, while the secondary rainbow is fainter and has its colors reversed.
Full-Circle Rainbow: A full-circle rainbow can occur when sunlight reflects inside water droplets in the form of a water curtain, like a waterfall or fountain.
Rainbows vs. Moonbows: Moonbows are rainbows produced by moonlight rather than sunlight. They are relatively rare and fainter than regular rainbows.
Glory and Brocken Spectre: A glory is a set of concentric colored rings surrounding the shadow of an observer's head on a cloud or fog bank. When this occurs on a mountain, it's known as the Brocken spectre.
Rainbow Eclipses: Under special conditions, rainbows can coincide with solar eclipses, creating a stunning celestial event.
Rainbows in Mythology: Rainbows hold significance in many cultures' mythology and symbolism, often representing bridges between the mortal world and the divine realm.
Pot of Gold: In European folklore, there is a myth that a pot of gold is hidden at the end of a rainbow, but it remains elusive because the end of the rainbow is not a fixed point.
Isaac Newton's Experiment: Sir Isaac Newton conducted experiments with prisms to demonstrate how white light could be split into a spectrum of colors, leading to a better understanding of rainbows.
Rainbows in Art and Literature: Rainbows have inspired countless artists and writers, symbolizing hope, beauty, and the transient nature of life.
Rainbows in Religion: Rainbows are often mentioned in religious texts, such as the Bible, where they are associated with divine promises and hope.
Moon Halos and Sun Dogs: Moon halos and sun dogs are related optical phenomena, where ice crystals in the atmosphere cause colorful rings or spots to appear around the moon or sun, respectively.
Tertiary Rainbows: In rare cases, tertiary rainbows can be observed as faint outer arcs beyond the secondary rainbow.
Underwater Rainbows: Snorkelers and divers can experience underwater rainbows known as "rainbow reefs" caused by sunlight interacting with water and marine life.
Rainbows are truly amazing natural phenomena, embodying both science and wonder, which have fascinated humans for centuries.
Each sighting offers a unique and mesmerizing spectacle, leaving us with a sense of awe and appreciation for the beauty of the natural world.
We merely scratched the surface on what there is to know about rainbows. If you would like to learn more about them, here are some other reputable resources:
---
To see all of my free printables, go here.
To see an Alphabetized Index of all my coloring pages, go here.
To see all of my nature and weather coloring pages, go here.
To see all of my St. Patrick's Day related coloring pages, go here.
---
Tips for coloring
When coloring pictures of rainbows, here are some of my best tips and tricks to achieve a stunning and vibrant result:
Color Order: Remember the classic color order of a rainbow: red, orange, yellow, green, blue, indigo, and violet (ROYGBIV). Start with red at the top and work your way down.
Blending: Use colored pencils, markers, or crayons with good blending capabilities. Gradually blend the colors together to create a smooth transition between each stripe.
Gradient Technique: For a smooth gradient effect, apply light pressure at the beginning of each stripe and gradually increase the pressure as you move down. This helps the colors blend seamlessly.
White Space: Leave a tiny white space between each stripe to make the colors pop and prevent them from blending too much.
Rainbow Borders: Outline the rainbow with a thin black or dark-colored line to give it a clean and defined look.
Background Choice: Consider the background of your rainbow. For example, if the rainbow is in a sunny sky, the sky can be light blue with fluffy clouds.
Contrasting Clouds: To make the rainbow stand out, create contrast with the clouds. Make them slightly darker than the sky or use shading to give them dimension.
Glitter or Shimmer: Add a touch of sparkle to your rainbow using glitter pens or metallic markers for an enchanting effect.
Experiment with Mediums: Don't limit yourself to traditional coloring tools. Watercolors, pastels, or even digital tools can create unique and captivating rainbow artwork.
Color Symbolism: Consider the symbolic meanings of colors. For example, red can represent energy, while blue symbolizes tranquility. Use these meanings to evoke emotions in your artwork.
Rainbow Variations: Get creative and experiment with different types of rainbows. Try circular rainbows, double rainbows, or rainbows with supernumerary bands for a fun and challenging coloring experience.
Rainbow Landscape: Expand your artwork by incorporating a colorful landscape or setting beneath the rainbow to give your creation a more complete and imaginative look.
Practice Patience: Coloring a rainbow with precision can be time-consuming. Take your time and be patient to achieve the desired result.
Color Wheel: Use a color wheel or reference to help you understand how colors complement each other and choose the best shades for your rainbow.
Protective Sheets: When using markers or any medium that may bleed through the paper, place a protective sheet behind your artwork to prevent damage to the surface below.
Remember, coloring rainbows is supposed to be a joyful and creative process.
Embrace your imagination, experiment with different techniques, and have fun bringing your rainbow to life with an explosion of colors!
---
Options For Printing:
Letter R is for rainbow writing practice worksheets
*My letter R is for rainbow coloring sheet printables are specifically designed to be used in a classroom setting, they are the only printable options on this page that do not need written permission to use in a public setting,
Please send the link to this post along if anyone asks you where you got them. Thank you!
Various Rainbow Designs
Boho Rainbow Outlines
Cat And Rainbow
---
FAQ's
*I will add more rainbow colour / color questions and answers as they get sent to me.
---
Conclusion

In conclusion, our collection of rainbow coloring pages is not just about adding color to paper; it's a gateway to endless possibilities of creativity and learning.
As you delve into this vibrant world, you'll discover the mesmerizing science behind rainbows, the enchanting myths and symbolism they hold, and the profound impact they have had on art, literature, and culture.
Each stroke of color becomes an opportunity to explore the beauty of nature's optical marvels and express your artistic flair.
So, whether you're a young enthusiast seeking an educational adventure or an adult seeking a moment of joyful nostalgia, these rainbow pictures to print offer a delightful and enriching experience for all.
Unleash your imagination, embrace the kaleidoscope of colors, and let the magic of these rainbows brighten your world! Happy coloring!
---
Thanks so much for stopping by my blog and supporting my endeavors to make people's lives a little easier/better/more affordable.
If you liked this post, or found it helpful in any way, please make sure to share it with your family, friends, and co-workers via social media.
Or you could even send them the direct link via email. Whichever way you choose to spread the love, I super appreciate it! ~Sarah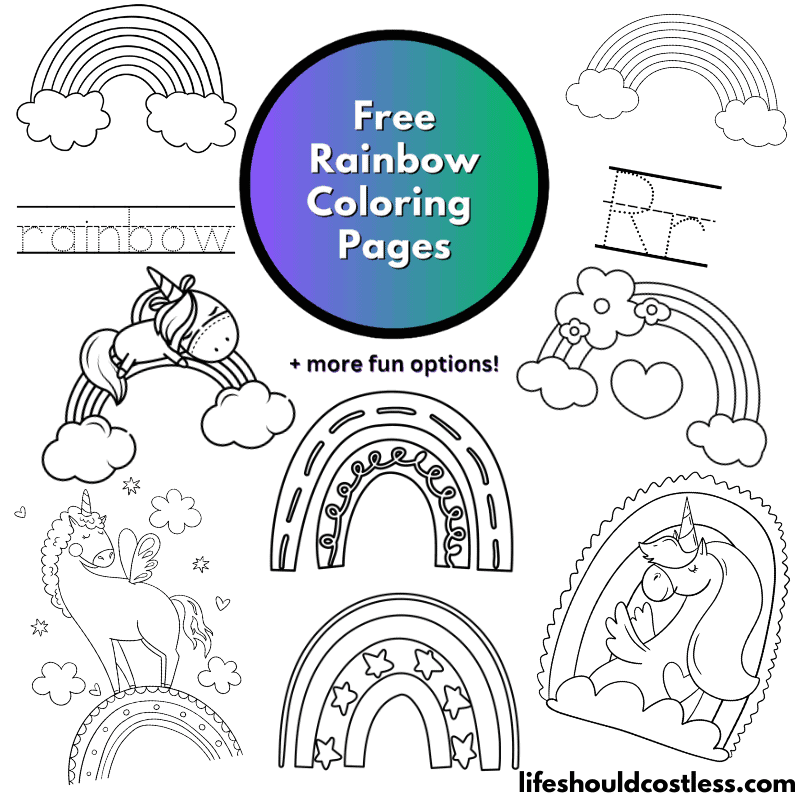 How to follow & support this site
---
Check out my other free printables
To see all of my free printables, go here.
To see an Alphabetized Index of all my coloring pages, go here.
To see all of my nature and weather coloring pages, go here.
To see all of my St. Patrick's Day related coloring pages, go here.
Otherwise, here are direct links to several of my other related posts that you're also going to love:
Nature & Weather
Fall Coloring Pages
Other good resources for a printable rainbow
*This post was originally shared to this blog on 04/08/2023, and has since been updated to improve user experience, add video instruction, as well as to make it as shareable as possible across the social medias.
**Please note that I do try my hardest to provide factual, but easy to understand, information about each topic. If you notice a discrepancy in my coloring pages, facts, or see something that you deem "misinformation/incorrect" please make sure to notify me about it. I would prefer that you send me an email with a link to a more reputable resource on that subject, so that I can correct it as soon as possible. Thanks so much for helping this site become the best that it can be!