Watermelon coloring pages are a fun and interactive way to explore the world of watermelons. Not only can coloring sheets provide an entertaining activity for children, but they can also help develop essential skills such as hand-eye coordination, color recognition, and creativity. Just pick whichever design you like, save the downloadable free PDF template, print it out, and get coloring to your little hearts content, or you could even use them as an embroidery pattern or inspiration for fine line tattoos.
Learn About Watermelons As You Color Them
If you're new to my coloring pages, you should know that I like to turn coloring into a learning experience. So, I typically try to provide you enough information on the subject that you could easily create a little teaching lesson to go with it if you're using them for educational purposes.
Here are 7 fun facts about watermelons (with the source so you can read more if desired):
I hope you found these facts interesting and informative. If you would like to read the full history of watermelons on Wikipedia, go here.
---
If you would like to see my index of free printable coloring pages, go here!
All of my botanicals coloring pages are found here.
Or, my other fruits coloring pages can be found here.
---
How to use my free coloring pages & supplies needed list:
*Keep in mind that while these coloring sheets are free, they are for personal use only. Any additional use will need written permission, from me, obtained via email. Thanks.*
**The example images for this little printing tutorial are from my free spring flowers coloring pages, you can get those here if you so desire.**
Tips for coloring pages of watermelon
When you print out a coloring page of a watermelon, here are some tips and techniques that you can use to create a vibrant and realistic-looking watermelon picture:
Start with a light-colored base: Begin coloring the flesh of the watermelon with a light pink or red color. Layer on additional colors as needed to create depth and contrast.
Add shading and highlights: To create a more realistic watermelon, add shading to the areas that are furthest away from the light source. Add highlights to the areas that are closest to the light source. This will create depth and dimension to your coloring page.
Use a variety of colors: Watermelons have a range of colors, including green, pink, and red. Use a variety of shades to add interest and dimension to your coloring page.
Blend colors: Use a blending tool or pencil to blend colors together, especially where the different colors meet. This will help create a smooth and realistic transition between the colors.
Experiment with textures: Try using different coloring techniques to create texture, such as cross-hatching, stippling, or using circular strokes. This will add depth and interest to your coloring page.
Pay attention to the seeds: Watermelon seeds can add an element of detail to your coloring page. Use a fine-tipped pen or pencil to create realistic-looking seeds.
Remember, coloring watermelon is an excellent way to express your creativity, so feel free to experiment with different techniques and colors to create your unique watermelon color sheets!
---
Watermelon Color Page Options For Printing:
W is for Watermelon Coloring Sheets To Teach Writing & Letters
Critters Eating Watermelon
Cat
Giraffe
Gnome
Panda
Basic Watermelon Pictures/ Outines
Cartoon Watermelons
---
Watermelon Colouring Pages FAQ's
---
In conclusion, watermelon coloring pages can be a fun and engaging way to learn about this delicious fruit while also developing creativity and fine motor skills. Whether you're a child or an adult, coloring pages can provide a relaxing and rewarding experience that allows you to express your artistic abilities.
With their vibrant colors, unique patterns, and refreshing taste, watermelons make for a perfect subject for a coloring page. By using a variety of colors, shading, and highlighting techniques, you can create a realistic and visually stunning watermelon color pages that are both fun and educational. So grab your coloring tools and start creating your own watermelon masterpiece today!
---
Thanks so much for stopping by my blog and supporting my endeavors to make people's lives a little easier/better/more affordable. If you liked this post, or found it helpful in any way, please make sure to share it with your family, friends, and co-workers via social media…or you could even send them the direct link via email. Whichever way you choose to spread the love, I super appreciate it! ~Sarah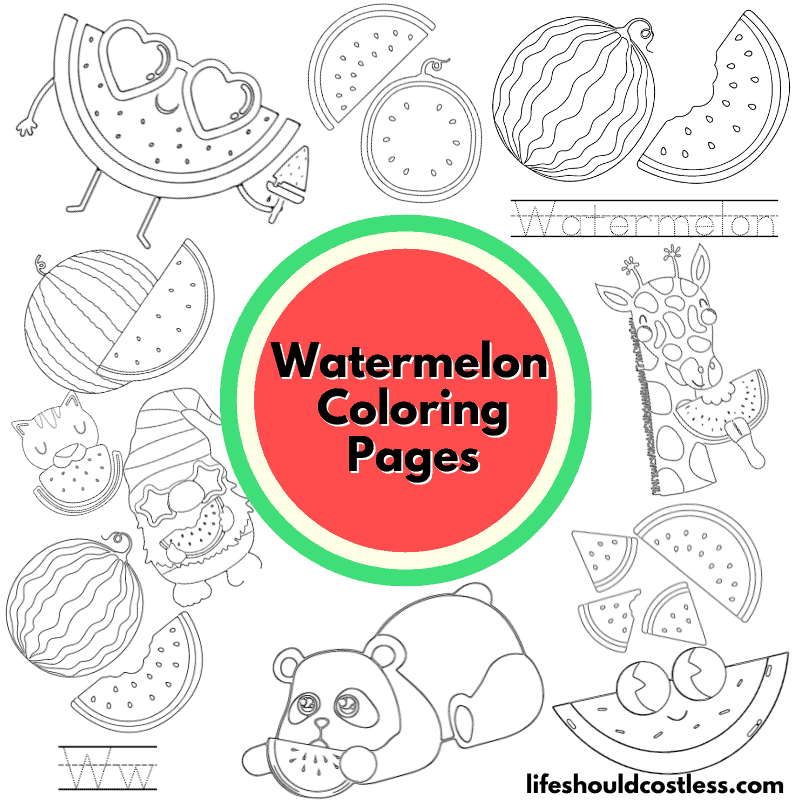 Oh, don't forget to subscribe to my email list (found here). Also, if you would like to learn how to follow along or really show your support for this blog, go here.
Check out my other free printables
If you would like to see my index of free printable coloring pages, go here!
All of my botanicals coloring pages are found here.
Or, my other fruits coloring pages can be found here.
Otherwise, here are direct links to several of my other related posts that you're also going to love:
Other good resources for Watermelon Coloring Sheets
*This post was originally shared to this blog on 04/23/2023, and has since been updated to improve user experience, add video instruction, as well as to make it as shareable as possible across the social medias.
**Please note that I do try my hardest to provide factual, but easy to understand, information about each topic. If you notice a discrepancy in my coloring pages, facts, or see something that you deem "misinformation/incorrect" please make sure to notify me about it. I would prefer that you send me an email with a link to a more reputable resource on that subject, so that I can correct it as soon as possible. Thanks so much for helping this site become the best that it can be!