As the seasons shift and winter fades away, spring emerges with its vibrant blooms and enchanting colors. Beyond the simple pleasure of adding hues to petals and leaves, these coloring sheets offer a unique opportunity for learning. Join us as we embark on a colorful journey where creativity and education intertwine, unlocking a realm of growth & exploration with these free printable Spring Flowers Color Pages. Perfect for ages elementary, teen (middle school), and even grown ups will enjoy them.
Go ahead and choose whichever design you love, save the downloadable free PDF template, print it out, & get coloring.
Or, you could even use them for an embroidery pattern or inspiration for fine line tattoos.
---
Spring flower facts
If you're new to my coloring pages, you should know that I like to give you the option of learning about the subject so that you can easily turn it into an educational lesson while you are at it…so here we go!
Fun and Interesting Facts About Some Types Of Spring Flowers (here is a link to my reference source):
Tulips: Tulips are known for their vibrant colors and diverse varieties. Originating from Turkey, they were introduced to Europe in the 16th century and quickly became a sensation. They come in various shapes, including single, double, fringed, and parrot tulips.
Cherry Blossoms: Cherry blossoms are celebrated worldwide for their breathtaking beauty. In Japan, the tradition of Hanami involves picnicking under cherry blossom trees to appreciate their transient beauty. The blooms typically last for only a week or two, symbolizing the ephemeral nature of life.
Bluebells: Bluebells carpet the forest floors with their delicate blue-purple blossoms. These enchanting flowers are native to Europe and are often associated with ancient woodlands and fairy tales. Did you know that bluebells are an indicator species? Their presence indicates a healthy and ancient woodland ecosystem.
Peonies: Known for their large, fragrant blooms, peonies are popular spring flowers. They come in a variety of colors, including shades of pink, white, and red. Peonies have been cultivated for centuries and hold special significance in Chinese culture, symbolizing wealth, honor, and beauty.
Hyacinths: Hyacinths are highly fragrant spring flowers that come in a range of colors, including pink, purple, blue, and white. Originating from the eastern Mediterranean region, these flowers have a distinct scent and are often associated with rebirth and springtime.
Iris: The iris is a striking flower known for its intricate and vibrant blooms. Its name derives from the Greek word for "rainbow," reflecting the wide range of colors and patterns found in iris flowers. Irises have been cultivated for thousands of years and hold various cultural and symbolic meanings.
Primroses: Primroses are delicate and charming flowers that bloom in early spring. They come in a range of colors, from pale yellows to pinks and purples. Primroses are native to Europe and are associated with love and youthfulness.
Ranunculus: Ranunculus flowers are famous for their multiple layers of delicate, paper-thin petals. They are available in a variety of bright colors, making them popular for bouquets and floral arrangements. Ranunculus blooms in late spring and early summer, adding a burst of color to gardens and landscapes.
Pansies: Pansies are known for their "faces" with distinct markings and color patterns. These charming flowers are a favorite in spring gardens and are often associated with love and remembrance. Pansies come in a wide range of colors, from pastels to vibrant shades, and they can even be bi-colored or tri-colored.
These fascinating facts about spring flowers highlight the diversity and beauty that nature brings during this season of renewal.
From their cultural significance to their intricate characteristics, these flowers offer a captivating world to explore and appreciate.
I only touched the tip of the subject, and didn't list every type of spring flower either, so if you would like to do even more research about them, here are some other reputable resources to do some more learning:
---
To see all of my spring coloring pages, go here.
---
Printing instructions
*Keep in mind that while these coloring sheets are free, they are for personal use only. Any additional use will need written permission, from me, obtained via email. Thanks.*
Coloring tips
Here are some of my best tips and tricks for coloring pictures of spring flowers:
Start with a Light Pencil Sketch: Before diving into coloring, lightly sketch around the outline of the flowers and other elements using a pencil. This helps you plan your color choices and ensures a more accurate representation of the flowers.
Select a Color Palette: Consider the colors you want to use for your spring flowers. Springtime often brings a variety of pastel shades, but you can also explore bold and vibrant hues. Select a color palette that harmonizes with the overall mood you want to capture.
Layer Colors for Depth: To add depth and dimension to your flowers, apply multiple layers of colors. Start with a light layer and gradually build up the intensity by adding more pigment. Experiment with blending different colors to create smooth transitions and gradients.
Use Reference Images: Reference images of real spring flowers can be invaluable in capturing their unique characteristics. Pay attention to the color variations, shapes, and patterns in the petals, leaves, and stems. This will help you achieve a more realistic and detailed coloring.
Experiment with Different Coloring Tools: Explore a variety of coloring tools to enhance your artwork. Colored pencils, markers, watercolor paints, or even digital tools can all yield different effects. Try different techniques and find the tools that suit your style and desired outcome.
Add Highlights and Shadows: To make your flowers really pop, incorporate highlights and shadows. Lightly shade certain areas to create depth and use a white or light-colored pencil or gel pen to add highlights to the petals. This technique adds dimension and realism to your coloring.
Play with Textures: Experiment with adding texture to your spring flowers. You can achieve this by using different stroke techniques with your coloring tools. Consider cross-hatching, stippling, or even using a blending stump to create interesting textures and visual appeal.
Pay Attention to Backgrounds: Don't forget to consider the background of your coloring page. It can complement and enhance the flowers. Whether it's a simple sky, a garden scene, or abstract patterns, choose colors and techniques that complement your flowers and create a balanced composition.
Practice Blending and Layering Techniques: Blending and layering colors is key to achieving smooth and vibrant results. Practice blending techniques such as burnishing (applying heavy pressure to create a smooth finish), layering colors to create depth, and using colorless blending pencils or blending solution for a seamless look.
Embrace Creativity and Enjoy the Process: Coloring spring blooms is a chance to let your creativity flourish. Don't be afraid to experiment, try different color combinations, and add your personal touch. Enjoy the process, and let the colors bring your spring blossoms to life!
Remember, there are no strict rules when it comes to coloring.
Let your imagination guide you, and have fun exploring the beauty of these seasonal flowers through your personal artistic expression.
---
Options For Printing
Various Spring Blooms: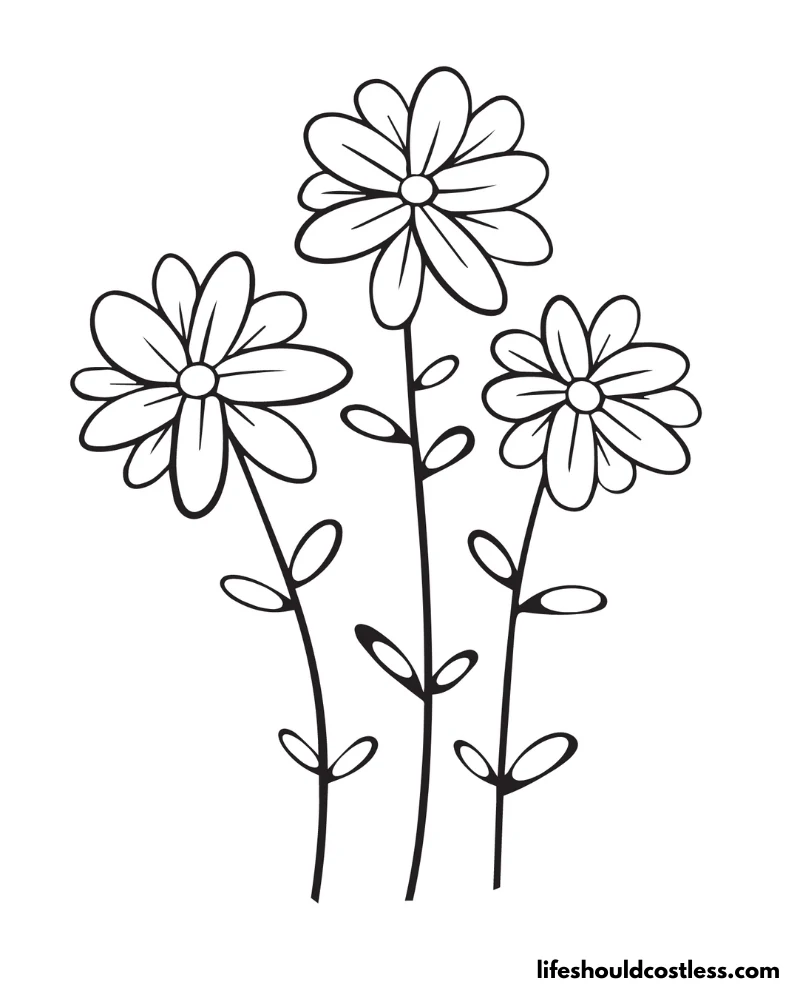 Barrel Planter With Flowers
Bluebell
Cherry Blossom / Cherry Blossoms
(also known as Japanese Cherry or Sakura Blossoms)
Crocus
Daisy
Hyacinth / Hyacinths
Iris
Lilac
Lily / Lilies
Magnolia/Magnolias
Pansy/Pansies
Peony
Primrose
Snowdrop
Here are what some of them look like after one of my older kids colored some of them…Just to give you a little bit of an idea of what they can look like "in action"…lol.
FAQ's
*I will add more spring flowers colour / color questions and answers as the questions get sent to me.
---
Spring flowers color pages offer a captivating and fun journey through the beauty of nature, inspiring creativity and fostering a love for learning.
As we conclude our exploration of these delightful coloring sheets, we are reminded of the countless benefits they bring.
From enhancing fine motor skills and artistic expression to cultivating botanical knowledge and appreciating the wonders of the natural world, using these spring flowers coloring sheets can be a truly enriching experience for both young and old alike.
So, grab your coloring tools, embrace the vibrant hues, and let your imagination bloom as you embark on a colorful adventure, where art and education intertwine in celebration of the breathtaking beauty of these blooms.
---
Thanks so much for stopping by my blog and supporting my endeavors to make people's lives a little easier/better/more affordable.
If you liked this post, or found it helpful in any way, please make sure to share it with your family, friends, and co-workers via social media.
Or you could even send them the direct link via email. Whichever way you choose to spread the love, I super appreciate it! ~Sarah
How to follow & support this site
---
Check out my other free printables
To see all of my spring coloring pages, go here.
Otherwise, here are direct links to several of my other related posts that you're also going to love:
Botanicals / Floral & Misc
Botanicals / Fruits
Fall Coloring Pages
Other good resources for printable spring flowers
*This post was originally shared to this blog on 02/28/2023, and has since been updated to improve user experience, add video instruction, as well as to make it as shareable as possible across the social medias.
**Please note that I do try my hardest to provide factual, but easy to understand, information about each topic. If you notice a discrepancy in my coloring pages, facts, or see something that you deem "misinformation/incorrect" please make sure to notify me about it. I would prefer that you send me an email with a link to a more reputable resource on that subject, so that I can correct it as soon as possible. Thanks so much for helping this site become the best that it can be!