Hummingbirds captivate the imagination with their mesmerizing beauty and remarkable aerial skills, making them an adored species among nature enthusiasts. Their resplendent hues and unmatched agility make them an irresistible muse for hummingbird coloring pages. Whether you prefer a design that reflects their vibrant palette or showcases their graceful flight patterns, you can effortlessly unleash your creativity.
Choose your favorite design, download the complimentary PDF template, and let your imagination take flight as you embark on a coloring journey.
Alternatively, these pages can serve as a delightful source of inspiration for embroidery patterns or even delicate fine line tattoos.
---
Hummingbird facts
If you're new to my coloring pages, you should know that I like to give you the option of learning about the subject so that you can easily turn it into an educational lesson while you are at it…so here we go!
Here are some fun and interesting, simplified, facts about hummingbirds (here is a link to my reference source):
Hummingbirds are the smallest birds in the world, with the Bee Hummingbird being the tiniest species, measuring about 2.25 inches (5.7 cm) in length.
They are known for their rapid wing beats, which can range from 12 to 80 beats per second, depending on the species.
Hummingbirds have the unique ability to hover in mid-air, fly backward, and even upside down.
Their wings move in a figure-eight pattern, allowing them to generate lift on both the upstroke and downstroke.
Despite their small size, hummingbirds are highly energetic and have one of the highest metabolic rates of any animal.
These birds have a high heart rate, ranging from 250 to 1,200 beats per minute, which helps fuel their rapid wing movement.
Hummingbirds are famous for their iridescent feathers, which can reflect and refract light, creating dazzling displays of colors.
They are capable of seeing ultraviolet light, which aids them in finding nectar-rich flowers.
Hummingbirds have an incredible appetite and must consume their body weight in nectar and insects daily to meet their energy requirements.
They possess long, extendable tongues that can lap up nectar at a rate of up to 13 licks per second.
Hummingbirds play a crucial role in pollination, as they often transfer pollen from one flower to another while feeding.
These birds have a high tolerance for cold temperatures, and some species can survive at high altitudes and even in subfreezing conditions.
Hummingbirds are found only in the Americas, from Alaska to Tierra del Fuego, with the majority residing in tropical and subtropical regions.
Some species of hummingbirds are known for their elaborate courtship displays, including aerial acrobatics and unique mating rituals.
Despite their small size, hummingbirds are highly territorial and fiercely defend their feeding and nesting territories.
Hummingbird nests are incredibly tiny and often built using plant material, spider silk, and other natural fibers, which allows the nest to expand as the chicks grow.
The lifespan of a hummingbird can vary depending on the species, ranging from 3 to 12 years.
Hummingbirds go into a state of torpor during the night or periods of food scarcity to conserve energy.
They have excellent memory and can remember specific locations of nectar sources.
Hummingbirds are migratory birds, with some species traveling thousands of miles each year between their breeding and wintering grounds.
These fascinating facts about hummingbirds highlight the incredible nature of these tiny birds and their unique adaptations, but that is just the beginning to what there is to know about them.
If you would like to learn more about hummingbirds while you color, I suggest checking out these reputable resources:
---
---
Tips for coloring
When it comes to coloring pictures of hummingbirds, here are some tips and tricks to enhance your coloring experience:
Observe Real Hummingbirds: Take some time to study real hummingbirds in photographs, videos, or even in real life. Pay attention to their vibrant colors, feather patterns, and the way light interacts with their plumage. This will help you capture their essence while coloring.
Choose Color Palettes: Hummingbirds come in a wide range of colors, so consider selecting a color palette before you start coloring. You can use natural hues found in hummingbird species or experiment with imaginative and creative color combinations to add your own flair.
Layer and Blend: To achieve depth and dimension in your coloring, use multiple layers of colors. Start with lighter shades as base colors and gradually build up with darker tones. Use blending techniques, such as shading and feathering, to create smooth transitions between colors.
Experiment with Different Mediums: Explore different coloring mediums such as colored pencils, markers, watercolors, or even digital coloring tools. Each medium offers unique effects and textures, so try different options to find the one that suits your style and desired outcome.
Add Details: Pay attention to the intricate details of the hummingbird, such as the feathers, beak, and eyes. Use fine-tipped pencils or pens to add small lines and textures that mimic the delicate features of these birds.
Reference Nature: While coloring, refer to images of flowers or natural surroundings that hummingbirds are often depicted with. This will help you create a harmonious composition and add context to your artwork.
Play with Backgrounds: Consider adding a background to your coloring page to complement the hummingbird. It could be a garden setting, a tropical landscape, or even an abstract background with vibrant patterns. This will make your artwork more visually appealing and complete.
Practice Blending Techniques: Mastering blending techniques will greatly enhance your coloring. Experiment with techniques like burnishing (applying heavy pressure to blend colors), layering, and using blending tools to achieve smooth and seamless color transitions.
Embrace Creativity: While accuracy is important, don't be afraid to add your own creative touch. Feel free to experiment with different color combinations, patterns, or even embellishments like glitter or metallic accents to make your hummingbird truly unique.
Enjoy the Process: Coloring is supposed to be a relaxing and enjoyable activity, so remember to have fun and enjoy the process. Let your creativity flow, embrace mistakes as opportunities for growth, and take pride in the final result.
By incorporating these tips and tricks, you'll be able to bring your hummingbird color pages to life with vibrant colors and stunning details.
Happy coloring!
---
Options For Printing:
Letter H is for hummingbird writing practice worksheets
*My letter H is for hummingbird coloring sheet printables are specifically designed to be used in a classroom setting, they are the only printables on this page that do not require written permission to use in a public setting.
Please send the link to this post along if anyone asks where you got them. Thanks so much!
Adult color sheets
Cartoon hummingbirds to color
Easy/Beginner/Preschool Level Hummingbird to color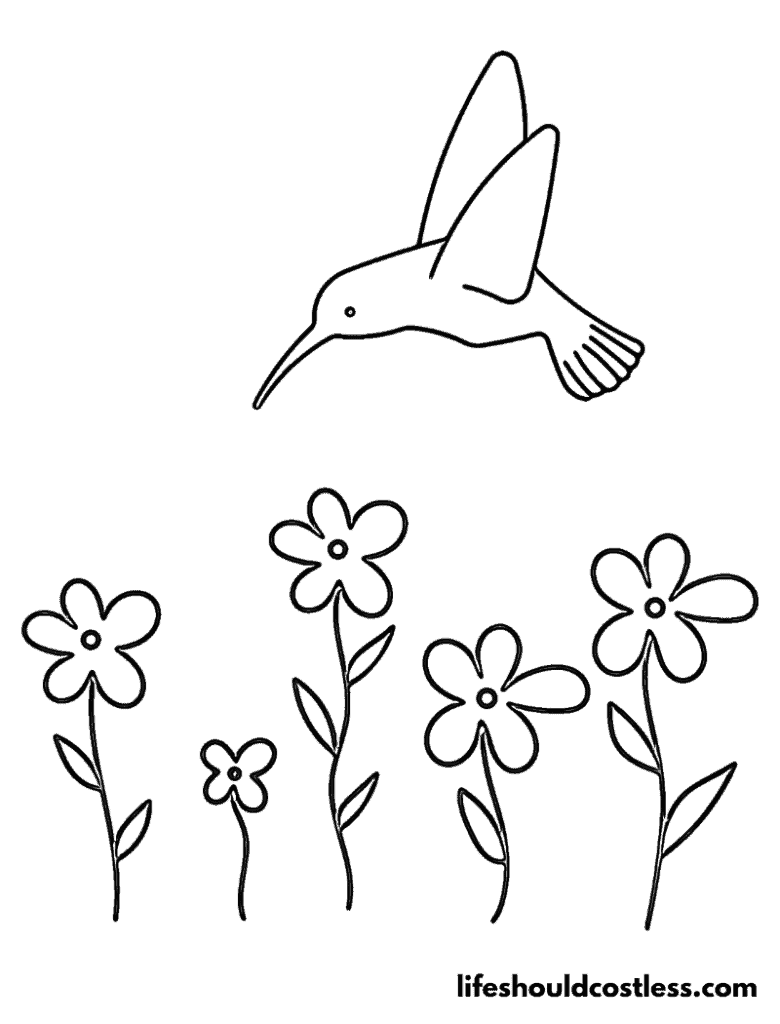 Other Hummingbirds
Realistic Hummingbirds To Color
Outlines Of Hummingbirds
Whimsical Hummingbirds
---
Inspiration for coloring
Here are what some of these coloring pages look like having been printed out and colored by some of my kids.
I share them so that you can get some ideas on how to color yours too.
FAQ's
---
In conclusion, exploring the world of hummingbird coloring pages offers a delightful journey into the realm of these enchanting birds.
As you bring these intricate designs to life with your own color choices and artistic flair, you not only engage in a creative and relaxing activity but also deepen your appreciation for the captivating beauty of hummingbirds.
Whether you opt for realistic representations or imaginative interpretations, the process of coloring allows you to immerse yourself in the intricate details of their iridescent feathers, delicate features, and graceful flight.
By adding your personal touch and experimenting with different coloring techniques, you can create stunning artworks that showcase the vibrant colors and captivating allure of these tiny wonders of nature.
So, pick up your coloring tools, unleash your creativity, and let your imagination soar as you embark on a colorful adventure with hummingbird color sheets.
May each stroke of color bring you joy and a deeper connection to the awe-inspiring world of hummingbirds.
---
Thanks so much for stopping by my blog and supporting my endeavors to make people's lives a little easier/better/more affordable. If you liked this post, or found it helpful in any way, please make sure to share it with your family, friends, and co-workers via social media.
Or you could even send them the direct link via email. Whichever way you choose to spread the love, I super appreciate it! ~Sarah
How to follow & support this site
---
Check out my other free printables
Otherwise, here are direct links to several of my other related bird posts that you're also going to love:
Animals / Birds
Animals / Mammals
Animals / Insects
Other good resources for a printable hummingbird
*This article was originally shared to this blog on 03/24/2023, and has since been updated to improve user experience, add video instruction, as well as to make it as shareable as possible across the social medias.
**Please note that I do try my hardest to provide factual, but easy to understand, information about each topic. If you notice a discrepancy in my coloring pages, facts, or see something that you deem "misinformation/incorrect" please make sure to notify me about it. I would prefer that you send me an email with a link to a more reputable resource on that subject, so that I can correct it as soon as possible. Thanks so much for helping this site become the best that it can be!