Hummingbirds are a fascinating and beautiful species of bird that are loved by many. With their vibrant colors and unique flying abilities, it's no wonder why they are such a popular subject for coloring hummingbird pages. Just pick whichever design you like, save the downloadable free PDF template, print it out, and get coloring to your little hearts content, or you could even use them as an embroidery pattern or inspiration for fine line tattoos.
About Free Printable Hummingbird Coloring Sheets
These coloring pages come in all shapes and sizes. They can range from simple outlines to intricate designs, and there are options for all skill levels. Whether you're a beginner or an experienced colorist, hummingbird pages are a great way to unwind and tap into your creativity.
Coloring hummingbirds can also be educational (I list lots of resources to learn about them throughout this post). So that as you color, you can learn about the different species of hummingbirds and their habitats. You can also learn about the various plants and flowers that hummingbirds are attracted to, which can help you better appreciate and understand these amazing creatures.
Hummingbird coloring pages can be a fun activity to do alone or with others. You can color with your kids, grandkids, or friends, and make it a relaxing and enjoyable bonding experience. You can also use the finished pages to decorate your home or office, create your own hummingbird coloring book, or even give them as gifts to others who love hummingbirds.
---
If you would like to see all of my free printable coloring pages, go here.
To see my other animals coloring pages, go here.
---
How to use my free coloring pages & supplies needed list:
*Keep in mind that while these coloring sheets are free, they are for personal use only. Any additional use will need written permission, from me, obtained via email. Thanks.*
**The example images for this little printing tutorial are from my free spring flowers coloring pages, you can get those here if you so desire.**
Tips to give hummingbirds color
When it comes to coloring pictures of hummingbirds, there are a few tips and tricks that can help you create a beautiful and realistic-looking artwork. Here are some things to keep in mind:
Choose the right colors: Hummingbirds are known for their vibrant and colorful feathers. When coloring a hummingbird, be sure to choose bright and bold colors that will make your artwork pop. Consider using shades of red, purple, green, and blue.
Use different shades: To make your hummingbird coloring page look more realistic, use different shades of the same color. For example, use light and dark shades of green to create depth and dimension in the bird's feathers.
Add details: Hummingbirds are known for their intricate patterns and markings. To make your coloring page look more realistic, add details such as stripes, spots, and lines to the bird's feathers.
Experiment with different mediums: There are many different mediums you can use to color your hummingbird coloring page, including colored pencils, markers, and watercolors. Experiment with different mediums to find the one that works best for you.
Hummingbird coloring can be a fun and relaxing activity that allows you to appreciate the beauty and uniqueness of these amazing birds. Whether you are a child or an adult, there are many different hummingbird coloring pages available that you can use to create your own unique artwork. So grab your favorite coloring medium, and start coloring realistic hummingbirds!
---
Coloring Hummingbirds Pages (Options For Printing):
Cartoon Hummingbirds to color
Easy/Beginner/Preschool Level Hummingbird to color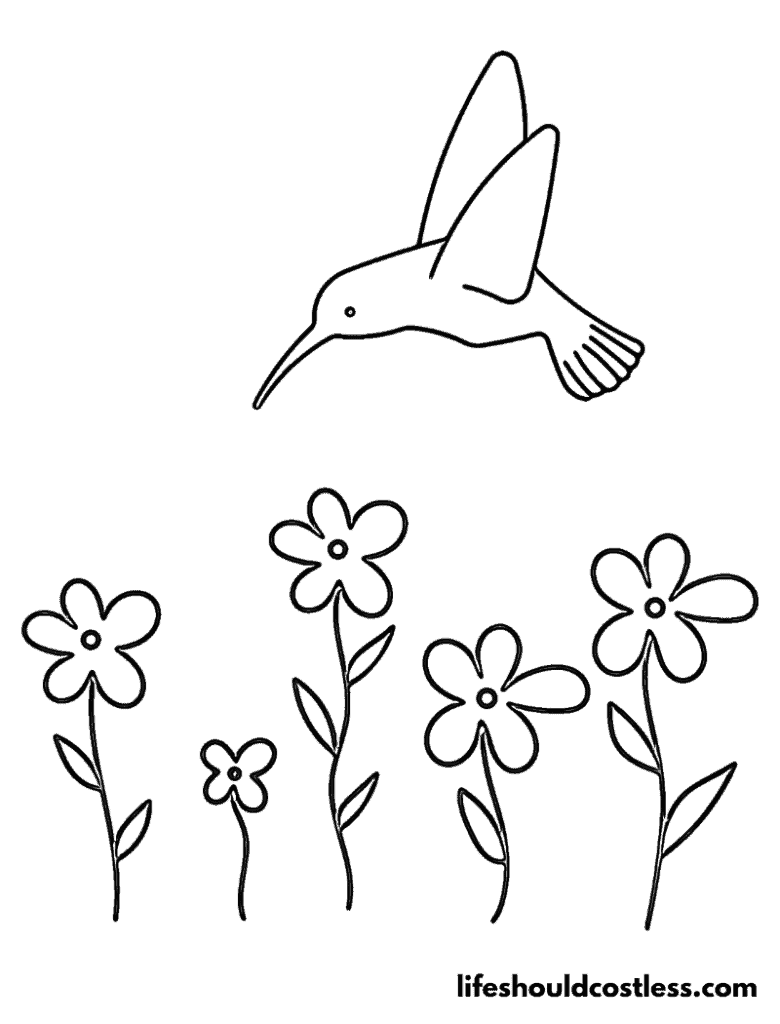 Other Hummingbirds
Realistic Hummingbirds To Color
Outlines Of Hummingbirds
Whimsical Hummingbirds
---
Inspiration to color hummingbirds
Here are what some of these coloring pages look like having been printed out and colored by some of my kids. I share them so that you can get some ideas on how to color yours too.
Hummingbird FAQ's/Learn about them
---
Well, that's all I have to share with you all today. I hope you were able to find what you were looking for as far as my coloring hummingbird pages go. If not, there are a bunch more resources to check out towards the bottom of this post.
---
Thanks so much for stopping by my blog and supporting my endeavors to make people's lives a little easier/better/more affordable. If you liked this post, or found it helpful in any way, please make sure to share it with your family, friends, and co-workers via social media…or you could even send them the direct link via email. Whichever way you choose to spread the love, I super appreciate it! ~Sarah
Oh, don't forget to subscribe to my email list (found here). Also, if you would like to learn how to follow along or really show your support for this blog, go here.
Check out my other free printables
If you would like to see all of my free printable coloring pages, go here.
To see my other animals coloring pages, go here.
Otherwise, here are direct links to several of my other related posts that you're also going to love:
Other good resources for hummingbird coloring sheets
One of the best sources for hummingbird coloring pages is the website supercoloring.com. This site offers a wide range of hummingbird coloring sheets, including realistic drawings and cartoon-style images. Some of the most popular hummingbirds color pages on this site include a ruby-throated hummingbird, a violet-crowned hummingbird, and a rufous-tailed hummingbird.
Another great website for hummingbird coloring pages is bestcoloringpagesforkids.com. This site has a large selection of free printable hummingbird coloring pages that are perfect for children of all ages. Some of the most popular hummingbird coloring pages on this site include a cartoon hummingbird with a flower, a hummingbird in flight, and a hummingbird sitting on a branch.
Also, the free printable coloring pages of hummingbirds found over at iheartcraftythings.com are a great resource for the pre-school to elementary aged coloring enthusiast.
*This post was originally shared to this blog on 03/24/2023, and has since been updated to improve user experience, add video instruction, as well as to make it as shareable as possible across the social medias.
**Please note that I do try my hardest to provide factual, but easy to understand, information about each topic. If you notice a discrepancy in my coloring pages, facts, or see something that you deem "misinformation/incorrect" please make sure to notify me about it. I would prefer that you send me an email with a link to a more reputable resource on that subject, so that I can correct it as soon as possible. Thanks so much for helping this site become the best that it can be!