Bat coloring pages offer a thrilling and enchanting way for children and adults alike to explore the fascinating world of these mysterious creatures. From their iconic wingspan and sharp fangs to their nocturnal lifestyle, bats captivate our imaginations. With bat coloring sheets, you can unleash your creativity and bring these remarkable critters to life through vibrant colors & imaginative designs. Get ready to embark on a coloring adventure that combines science based facts, art, and the beauty of the natural world, all within the pages of these captivating bat-themed illustrations.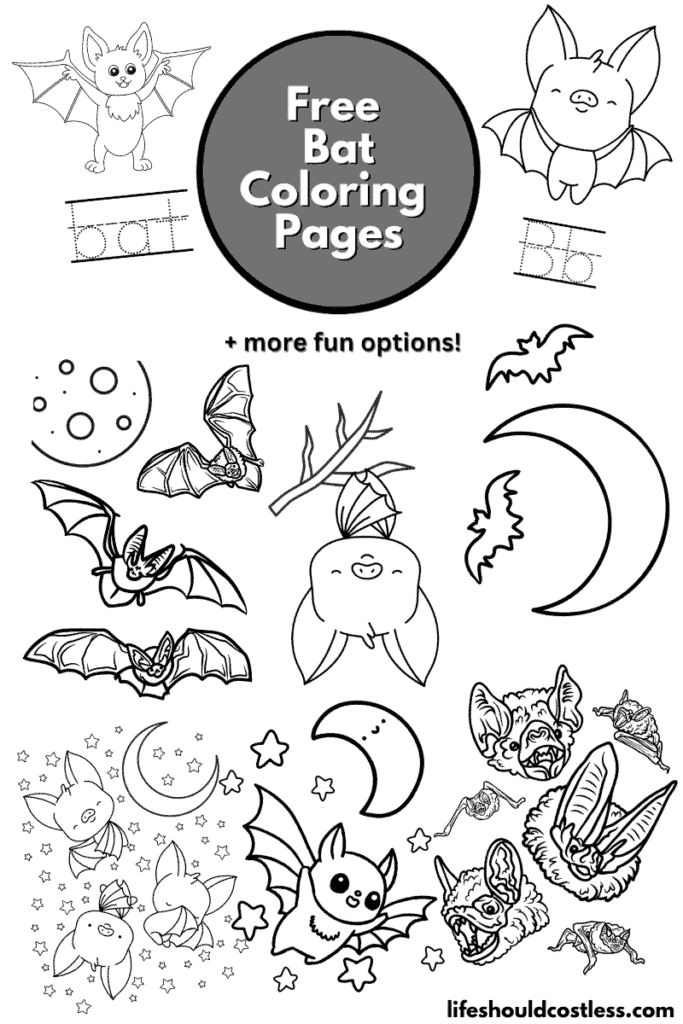 Just pick whichever design you prefer, save the downloadable free PDF template, print it out, and get coloring to your little hearts content.
Or you could even use them as an embroidery pattern or inspiration for fine line tattoos.
---
Table of Contents, Skip Ahead To What You're Looking For
Bat facts
If you're new to my coloring pages, you should know that I like to give you the option of learning about the subject so that you can easily turn it into an educational lesson while you are at it…so here we go!
Here are several simplified fun and interesting facts about bats (my reference source is found here):
Bats are the only mammals capable of sustained flight.
With over 1,400 species, bats make up about 20% of all mammal species worldwide.
Bats have a unique adaptation called echolocation, which allows them to navigate and locate prey in complete darkness by emitting high-frequency sound waves and interpreting the echoes that bounce back.
The largest species of bat is the giant golden-crowned flying fox, with a wingspan reaching up to 5.6 feet (1.7 meters).
Bats play a crucial ecological role as pollinators. They are responsible for pollinating various plants, including bananas, mangoes, and agave.
Some bat species are insectivores and can consume a staggering number of insects each night, helping to control pest populations. A single bat can eat hundreds of mosquitoes in just one hour.
Vampire bats exist and are the only mammals that solely feed on blood. However, they typically feed on the blood of other animals and rarely pose a threat to humans.
Bats are long-lived creatures, with some species living for more than 30 years.
Some bats migrate over long distances, traveling thousands of miles to reach their preferred breeding or hibernation sites.
Bats have adapted to various habitats worldwide, from caves and forests to deserts and urban areas.
Contrary to popular belief, bats are not blind. They can see and have fairly good eyesight.
Bats are social animals and often live in large colonies, ranging from a few individuals to millions in certain cases.
Certain bat species, such as the Honduran white bat, construct elaborate leaf "tents" for roosting and protection.
Bats exhibit diverse feeding habits, including fruit-eating (frugivorous), nectar-feeding (nectarivorous), and fish-catching (piscivorous) bats.
Some bat species have evolved unique adaptations, such as the ability to walk or crawl on the ground, enabling them to access different food sources.
These fascinating facts showcase the incredible diversity and importance of bats in our natural world and eco-system, but there is so much more to learn about bats!
If you would like to do some more reading about them, here are some other reputable resources to learn about Bats while coloring:
---
If you would like to see all of my other mammals coloring pages, go here.
---
Tips for coloring
Here are some tips to enhance your bats coloring experience:
Reference Images: Look up pictures of bats to gather inspiration and reference. Pay attention to their unique features, such as wing structure, facial expressions, and body proportions. This will help you create a more accurate and realistic depiction when coloring.
Color Selection: While bats are commonly associated with dark colors, feel free to experiment with a variety of shades. Consider using different hues for the body, wings, and facial details to add depth and visual interest. You can opt for traditional brown and black tones or explore vibrant colors to create a more imaginative and playful interpretation.
Texture and Patterns: Bats have diverse textures and patterns on their wings and bodies. Experiment with different coloring techniques to mimic these textures. For example, you can try stippling, cross-hatching, or using a sponge to create a mottled effect on the wings. This will add depth and realism to your coloring.
Background Elements: Think about incorporating a background for your bat coloring page. It could be a moonlit sky, a spooky cave, or a natural habitat where bats reside. Adding a complementary background will enhance the overall composition and create a more immersive scene.
Highlight and Shadow: Consider light sources and add highlights and shadows accordingly. This will add dimension and make your bat printable more visually appealing. Pay attention to the direction of light and imagine how it would interact with the bat's body and wings.
Experiment with Materials: Don't limit yourself to just colored pencils. Try using markers, watercolors, or even digital tools for a different coloring experience. Each medium offers unique possibilities and can bring out different textures and effects.
Have Fun and Be Creative: Remember, coloring is a creative outlet, so don't be afraid to experiment, try new techniques, and add your personal touch. Let your imagination soar and enjoy the process of bringing your bat print out to life!
By following these tips and allowing your creativity to flourish, you'll be able to create beautiful and captivating bat-themed artworks. Happy coloring!
---
Options For Printing:
Letter B is for Bat writing practice worksheets
*My letter B is for Bat coloring sheet printables are specifically designed to be used in a classroom setting, they are the only printable options on this page that do not need written permission to use in a public setting.
Please send the link to this post along if anyone asks you where you got them. Thank you!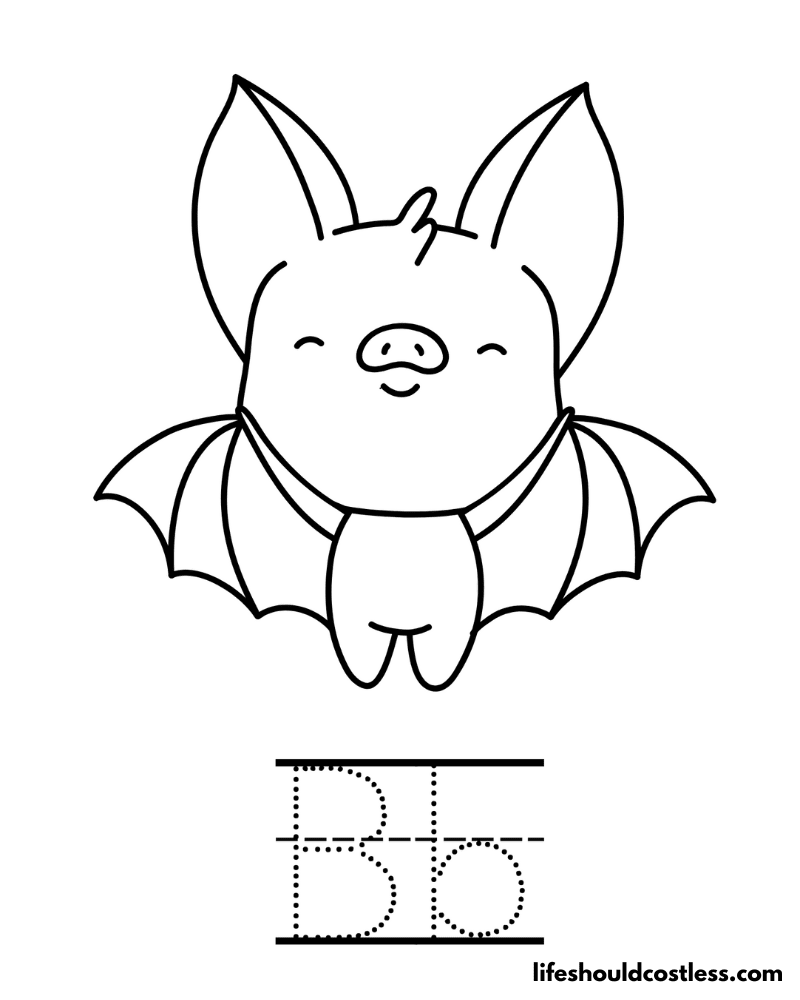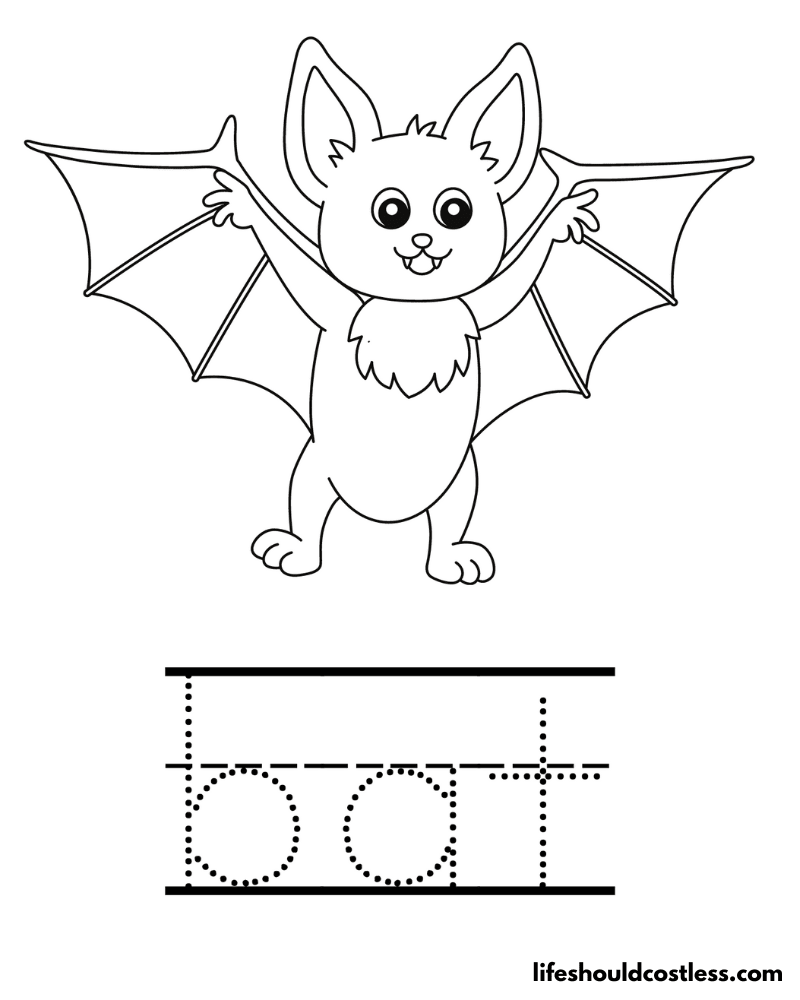 Hanging Upside Down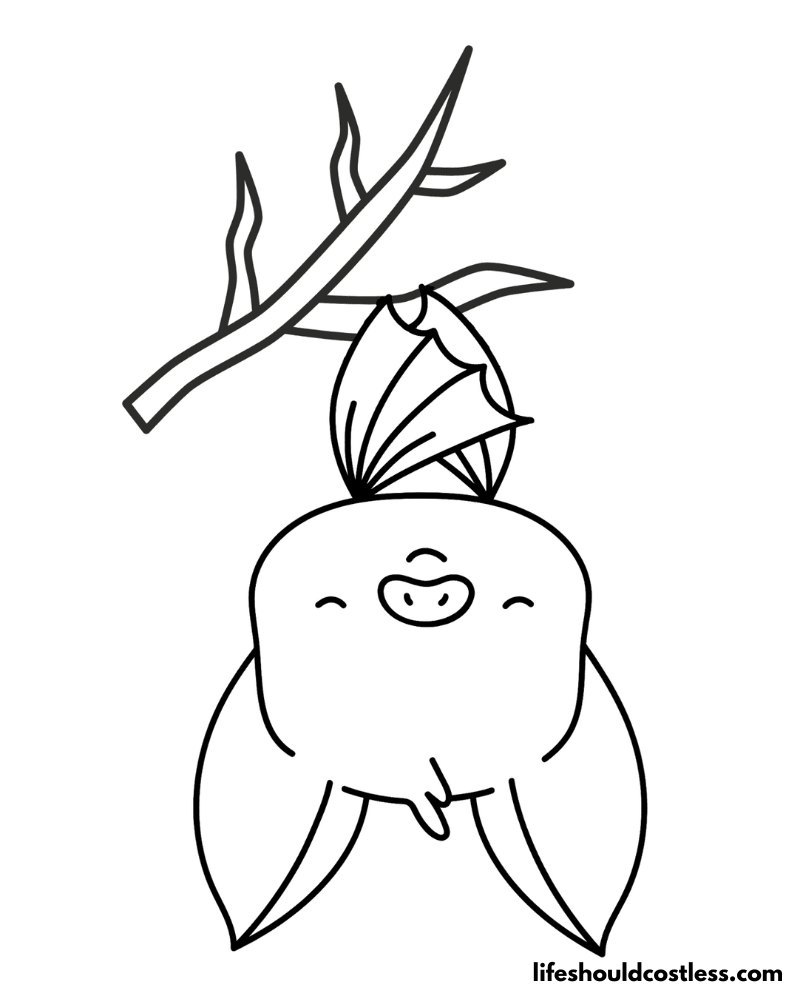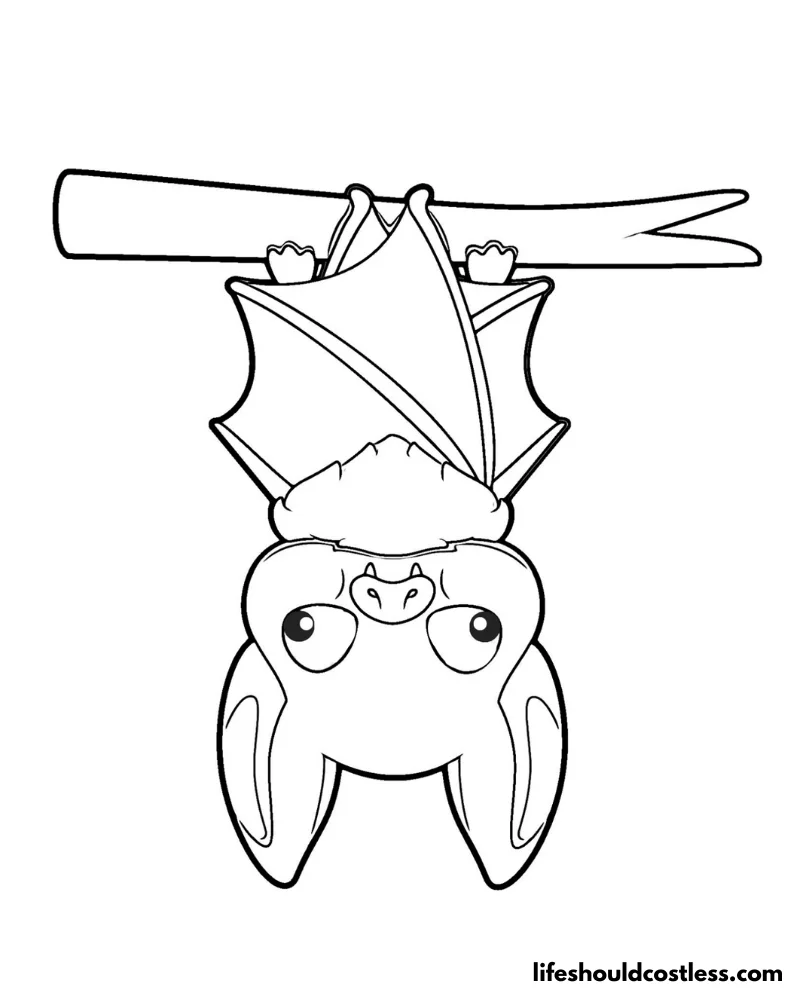 Misc. Cartoon Bats To Color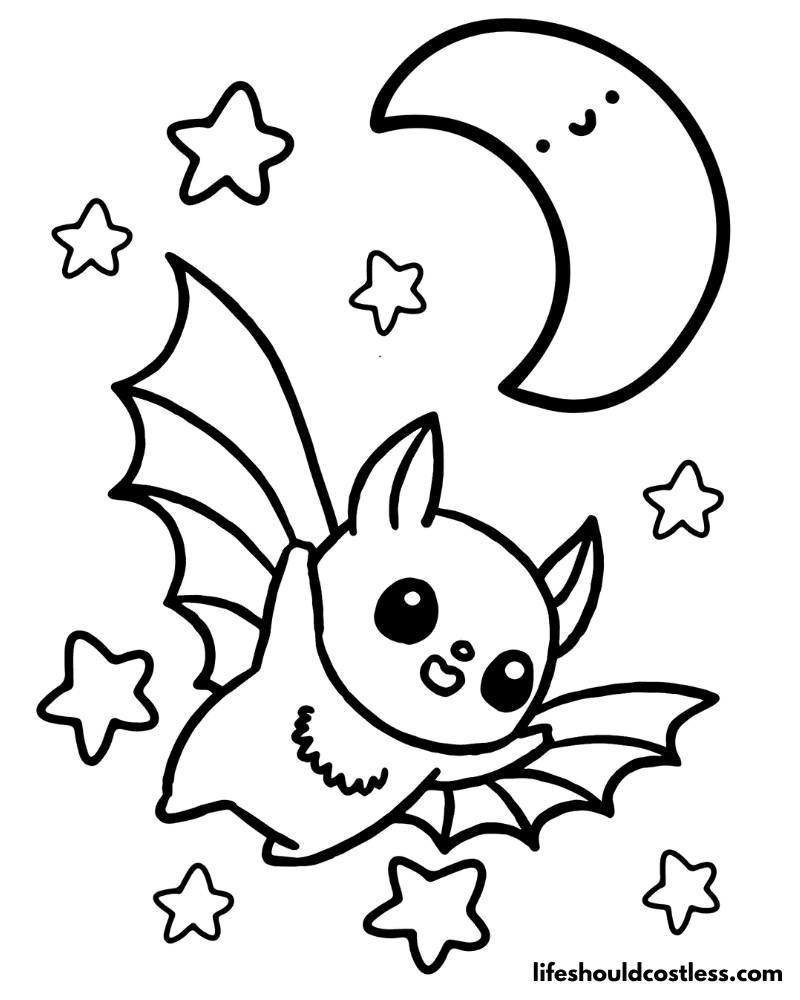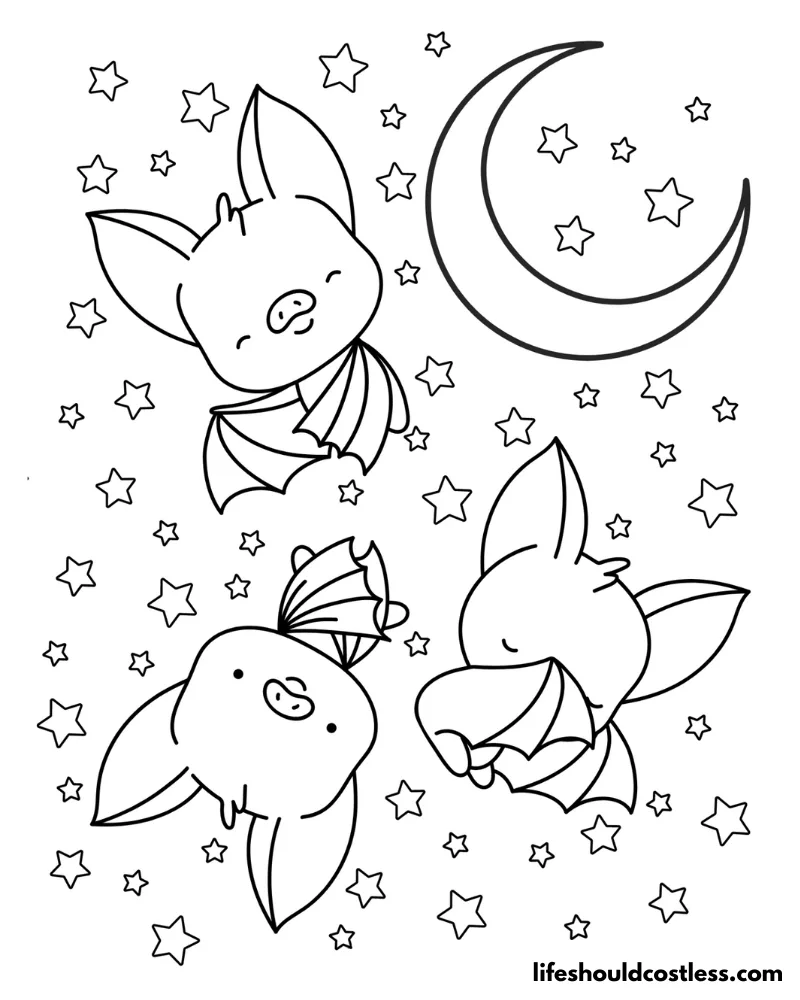 Realistic Looking Bat Coloring Sheets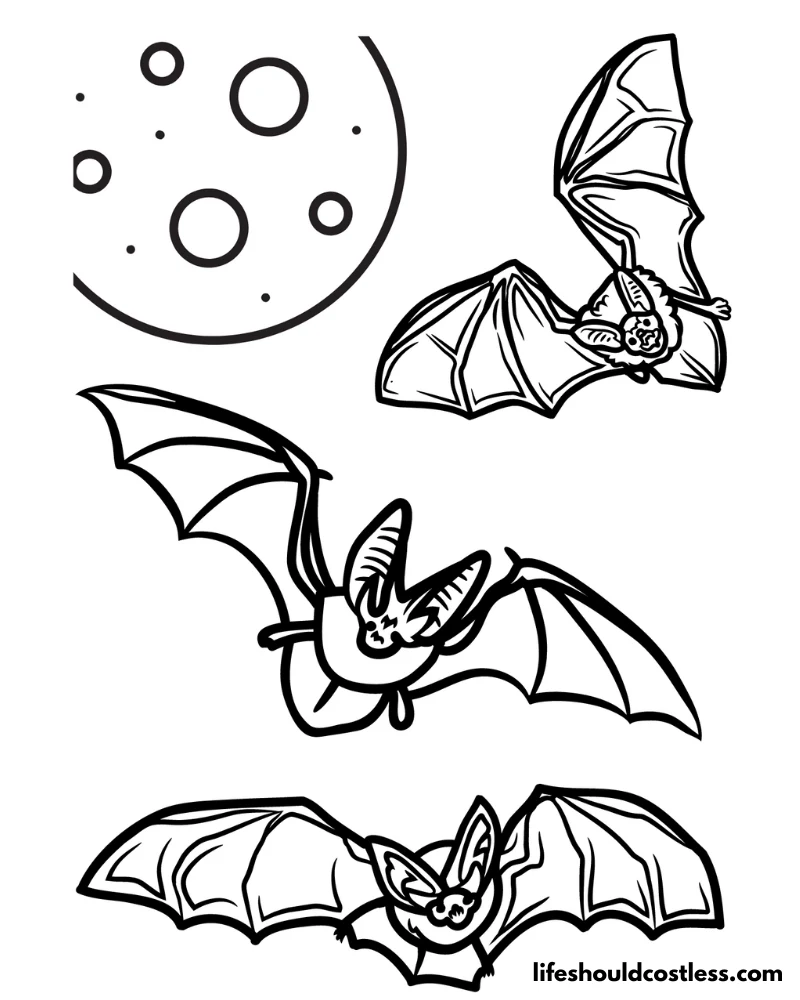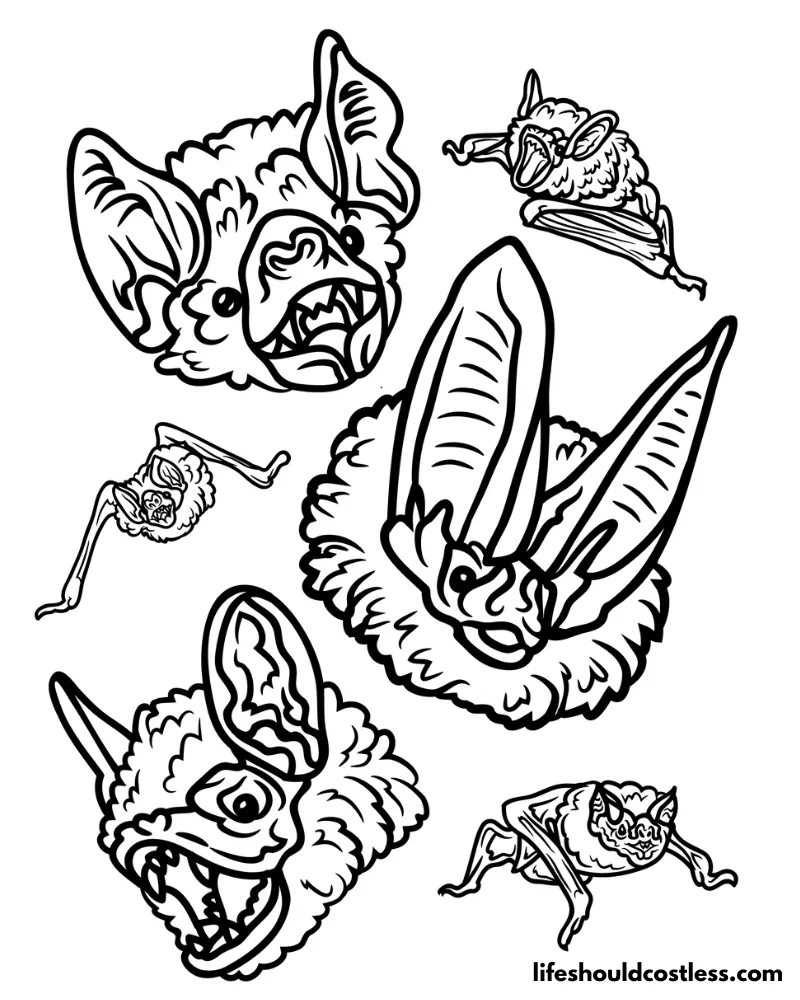 Halloween-ish Bats
*Make sure to also check out all of my other Halloween themed coloring pages, here.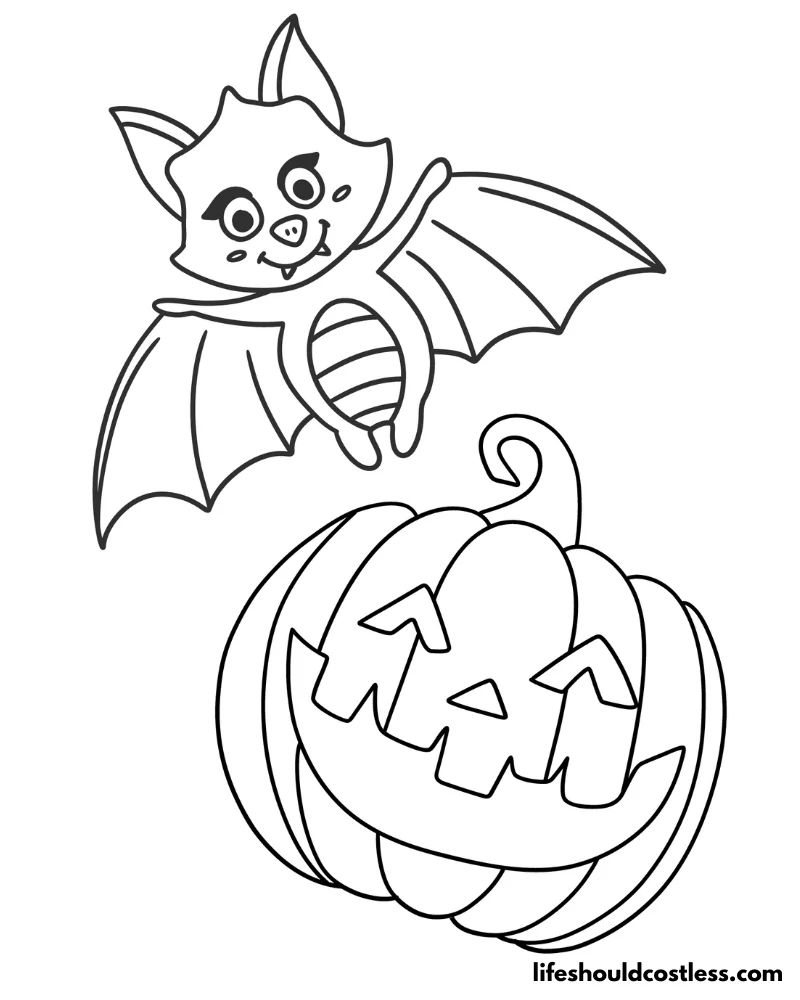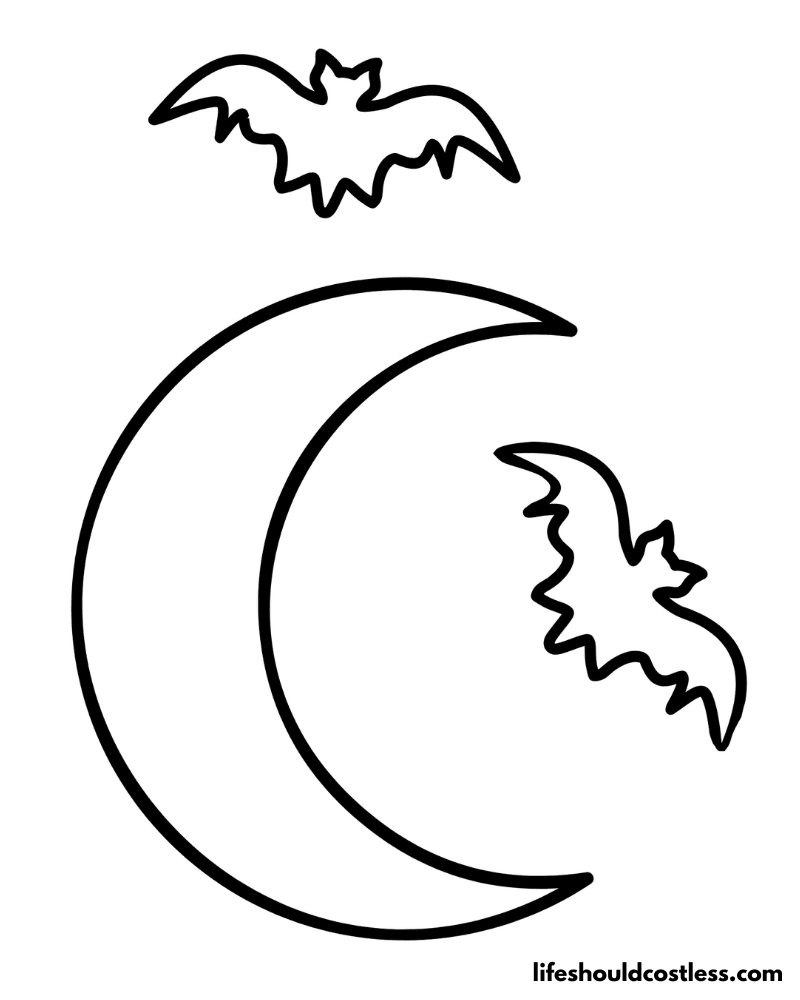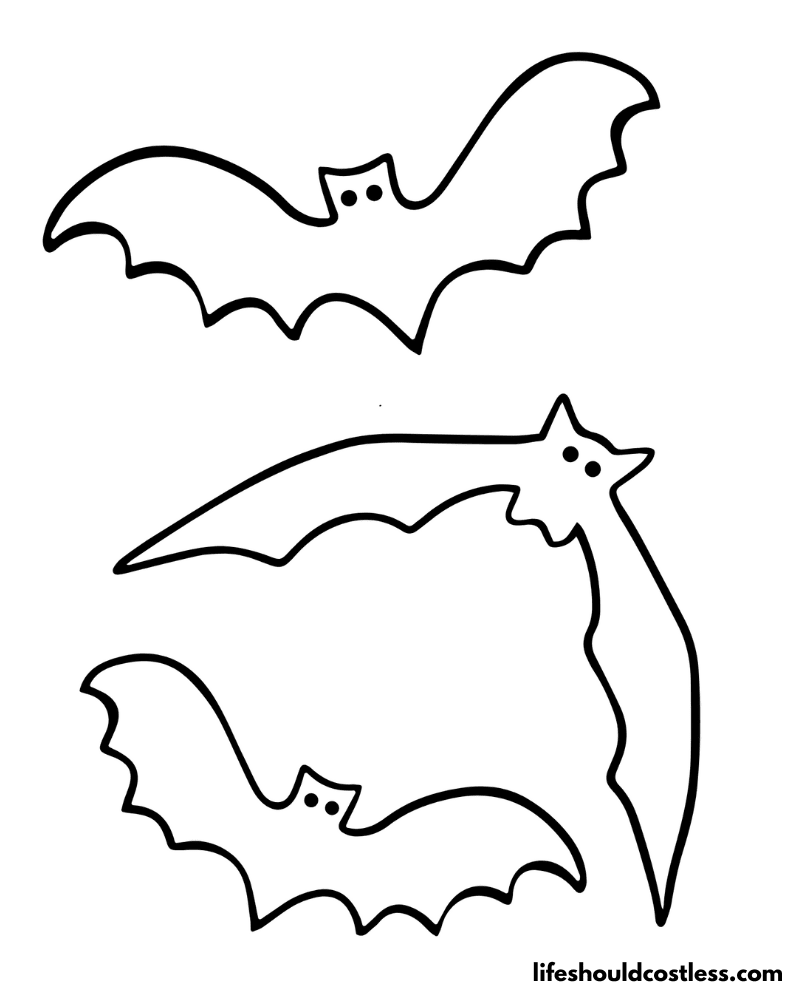 ---
FAQ's
What color are bats?

Bats, with their diverse array of species, exhibit a remarkable range of colors. While many people associate bats with dark hues, their coloration is actually quite diverse and captivating. From deep browns and blacks to lighter shades and even hints of gray, bats showcase a stunning palette that reflects their incredible natural beauty.

List of Bat Colors:

Shades of Brown: Bats can be found in a wide range of brown tones, from rich chestnut and mahogany to lighter tawny and sandy shades. These earthy hues often help bats blend in with their natural surroundings.

Black Fur: Many bat species are known for their jet-black fur, which gives them a striking appearance. This dark coloration serves as excellent camouflage, allowing bats to seamlessly navigate their nocturnal habitats.

Lighter Brown Tones: Some bats showcase lighter shades of brown, which can range from warm caramel and honey tones to soft beige and light coffee hues. These variations in color add to the visual diversity among bat species.

Gray Hues: While less common, certain bats exhibit gray coloration. This can range from steely gray to a delicate silver-gray shade. Gray bats possess a unique charm, their color reflecting a subtler elegance in the animal kingdom.

Reddish and Rusty Undertones: Some bat species, such as the red bat, feature fur with reddish or rusty undertones. These hints of warm color add a touch of vibrancy to their appearance, making them stand out in their environments.

Albino and Leucistic Bats: Although rare, albino and leucistic bats exist. Albino bats have a complete absence of pigmentation, resulting in white fur and pink or red eyes. Leucistic bats, on the other hand, have reduced pigmentation, often resulting in pale or light-colored fur.

Bats, contrary to popular belief, are not confined to a single color. They possess a rich spectrum of shades, ranging from dark and mysterious to lighter and more ethereal tones.

Whether it's the striking black fur, the various shades of brown, the subtle grace of gray, or the occasional hints of red, bats showcase nature's artistry through their captivating colors.

Next time you encounter a bat, take a moment to appreciate the intricate hues that adorn these remarkable creatures, and revel in the astonishing palette that nature has bestowed upon them.
What color are bats eyes?

The color of bats' eyes varies depending on the species. Most commonly, bats have dark-colored eyes, ranging from shades of brown to black.

These dark eyes often blend with their facial features and fur, enhancing their nocturnal vision. However, it's important to note that some bats, particularly those with albinism or leucism, may have lighter-colored eyes, such as pink or red.

These unique eye colors are a result of the absence or reduction of pigmentation in the eyes, giving them a distinct and striking appearance.

Overall, the majority of bats have dark eyes, allowing them to navigate and thrive in their nighttime habitats.
*I will add more bat colour / color questions and answers as the questions get sent to me.
---
In conclusion, bat coloring pages provide a captivating and educational experience for individuals of all ages.
Through these artistic endeavors, we have delved into the enchanting world of bats, uncovering their unique characteristics, fascinating behaviors, and the vast array of colors that adorn their wings and bodies.
By engaging in the coloring process, we have not only expressed our creativity but also deepened our understanding and appreciation for these remarkable creatures.
From the intricate patterns of their wings to the captivating hues that bring them to life on paper, bat coloring pictures have allowed us to embark on an imaginative journey, exploring the beauty of nature and fostering a connection with the animal kingdom.
So pick up your coloring tools, unleash your artistic flair, and let the magic of bat printables transport you into a world where science, art, and the wonders of bats collide.
Let your colors soar and your imagination take flight!
---
Thanks so much for stopping by my blog and supporting my endeavors to make people's lives a little easier/better/more affordable.
If you liked this post, or found it helpful in any way, please make sure to share it with your family, friends, and co-workers via social media.
Or you could even send them the direct link via email. Whichever way you choose to spread the love, I super appreciate it! ~Sarah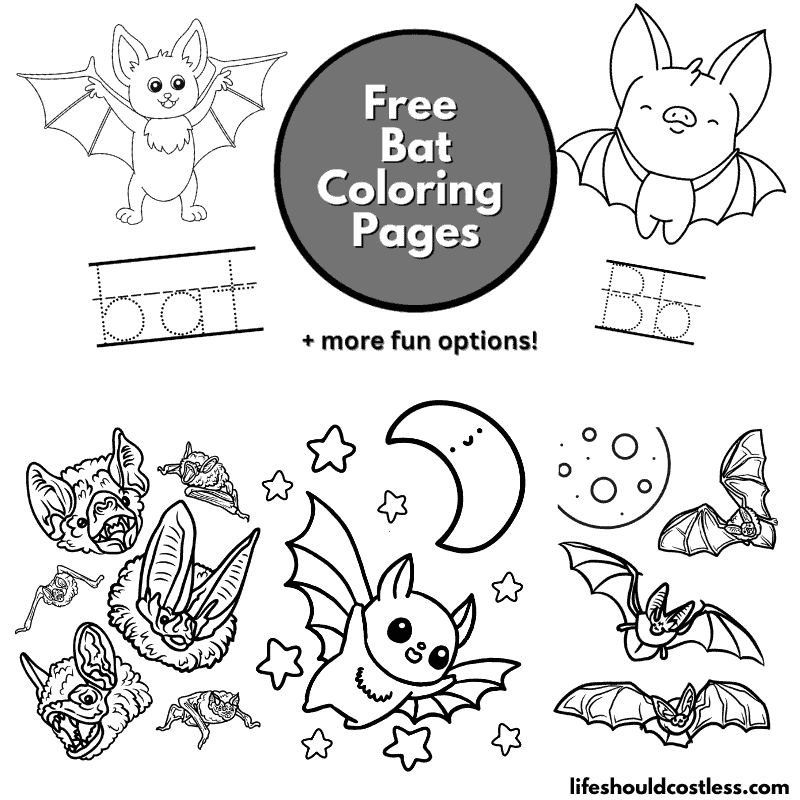 How to follow & support this site
---
Check out my other free printables
If you would like to see all of my other mammals coloring pages, go here.
Otherwise, here are direct links to several of my other related posts that you're also going to love:
Fall Coloring Pages
Animals / Mammals
Animals / Insects
Animals / Birds
Other good resources for a printable bat
*This post was originally shared to this blog on 05/24/2023, and has since been updated to improve user experience, add video instruction, as well as to make it as shareable as possible across the social medias.
**Please note that I do try my hardest to provide factual, but easy to understand, information about each topic. If you notice a discrepancy in my coloring pages, facts, or see something that you deem "misinformation/incorrect" please make sure to notify me about it. I would prefer that you send me an email with a link to a more reputable resource on that subject, so that I can correct it as soon as possible. Thanks so much for helping this site become the best that it can be!