Discover the luminous fun of Moon coloring pages and let your creativity brighten as you bring these lunar landscapes to life with vibrant hues in any color you wish. Immerse yourself in the enchanting world of celestial art and find tranquility in the simple act of coloring, all while expanding your knowledge about the Moon.
Just pick whichever design you prefer, save the downloadable free PDF template, print it out, and color to your little hearts content.
Or you could even use them as an embroidery pattern or inspiration for fine line tattoos.
---
Learn about the Moon as you color
If you're new to my coloring pages, you should know that I like to give you the option of learning about the subject so that you can easily turn it into an educational lesson while you are at it…so here we go!
Here are several fun and interesting, simplified, facts about the Moon and its phases, (and here is a link to my reference source):
The Moon is Earth's only natural satellite, and it is the fifth-largest Moon in the solar system.
It takes approximately 27.3 days for the Moon to orbit around the Earth, which is known as its sidereal period.
The Moon's rotation is synchronous with its orbit, meaning the same side of the Moon always faces Earth. This phenomenon is called tidal locking.
The Moon's surface is covered with impact craters caused by collisions with asteroids and comets over billions of years.
The Moon has phases, which are caused by the changing position of the Moon relative to the Earth and the Sun. The four primary phases are the new Moon, first quarter, full Moon, and last quarter.
A lunar eclipse occurs when the Earth passes between the Sun and the Moon, casting a shadow on the Moon's surface.
The Moon's gravitational pull creates tides on Earth. When the Sun, Earth, and Moon are aligned during a new Moon or full Moon, the gravitational forces combine, causing higher high tides (spring tides) and lower low tides.
The Moon has a very thin atmosphere called an exosphere. It is composed mainly of hydrogen, helium, neon, and argon.
The Moon's gravity is about one-sixth of Earth's gravity. This reduced gravity allowed astronauts during the Apollo missions to jump higher and move more easily on the lunar surface.
The Moon's temperature can vary drastically, from extremely hot during the lunar day (up to 127°C or 260°F) to extremely cold during the lunar night (as low as -173°C or -279°F).
The Moon is devoid of liquid water, but traces of ice have been discovered in permanently shaded areas of the Moon's polar regions.
The Moon's appearance can vary due to phenomena such as lunar maria (dark, flat areas formed by ancient volcanic activity), lunar mountains, and lunar rays (bright streaks emanating from certain craters).
These facts provide a glimpse into the fascinating nature of the Moon and its various phases, showcasing the allure and intrigue it holds for scientists, astronomers, and sky-gazers alike…but there is much more to learn about the Moon.
If you would like to expand your Moon-knowledge further, here are some other reputable resources to learn about it while coloring:
---
To see all of my free printables, go here.
To see an Alphabetized Index of all my coloring pages, go here.
To see all of my nature and weather coloring pages, go here.
---
Tips for coloring picture of the Moon
When it comes to coloring pictures of a Moon, here are some tips to help you create beautiful and realistic lunar scenes:
Study reference images: Look for photographs or images of the Moon to observe its various features, such as craters, mountains, and subtle color variations. Understanding these details will help you depict them accurately in your coloring.
Choose the right color palette: The Moon is not simply white or gray. Experiment with shades of gray, light blues, and even subtle hints of other colors to add depth and realism to your Moon. Consider using different shades for the illuminated and shadowed parts of the Moon to capture the three-dimensional aspect.
Gradual shading: Use light strokes and build up layers of color gradually to achieve smooth transitions. Pay attention to the light source (typically the Sun) and create a gradual gradient from the brightest part of the Moon to the darker areas.
Texture and details: Depict the Moon's surface texture by adding fine lines or dots to represent craters, ridges, and other features. Use a fine-tip pen or pencil to add these details, or consider using a stippling technique for a textured effect.
Play with contrast: Use contrast to enhance the Moon's appearance. Darken the background or add stars to make the Moon stand out. Experiment with the contrast between light and shadow to create a sense of depth and dimension.
Experiment with different coloring mediums: Explore various coloring mediums such as colored pencils, pastels, watercolors, or even digital tools to find the medium that suits your style and allows you to achieve the desired effects.
Practice observation and patience: Observe the Moon carefully and practice patience as you work on your coloring. Take breaks if needed and come back with a fresh eye to make adjustments and refine your artwork.
Remember, coloring is a creative process, and there's no right or wrong way to depict the Moon.
Feel free to experiment, add your own artistic touch, and enjoy the meditative experience of bringing the Moon to life on paper.
---
Moon Coloring Sheet Options For Printing:
Letter M is for Moon writing practice worksheets
*My letter M is for Moon coloring sheet printables are specifically designed to be used in a classroom setting, they are the only printable options on this page that do not need written permission to use in a public setting.
Please send the link to this post along if anyone asks you where you got them. Thank you!
Kawaii Moons To Color
Misc Moons To Color
Phases Of The Moon
New
Waxing Crescent
First Quarter
Waxing Gibbous
Full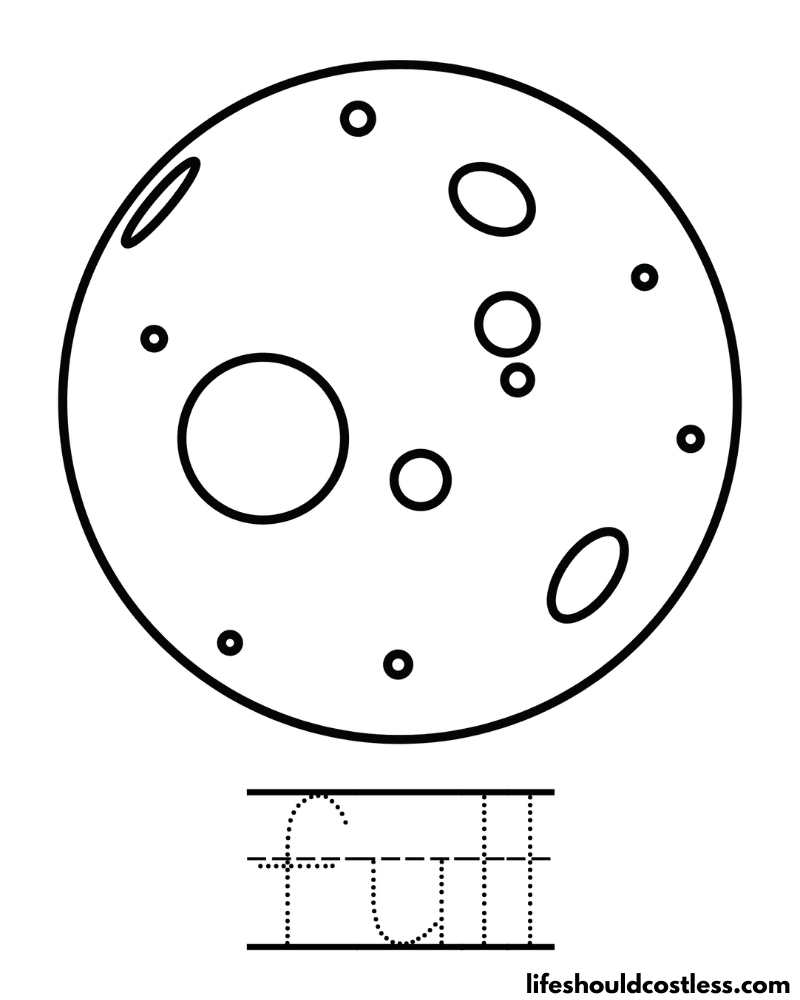 Waning Gibbous
Third Quarter
Waning Crescent
---
Moon Color FAQ's
*I will add more moon colour / color questions and answers as the questions get sent to me.
---
In conclusion, Moon coloring pages offer a remarkable journey through the enchanting realms of the lunar world.
As we immerse ourselves in the act of coloring, we not only indulge our creativity but also find solace and tranquility in capturing the essence of the moon's captivating beauty.
Through the strokes of our pencils and brushes, we bring lunar landscapes to life, infusing them with vibrant hues and intricate details.
Each coloring page becomes a personal artistic expression, a testament to our imagination and connection with the celestial wonders above.
As we explore the phases of the moon on these pages, we discover the magic of new beginnings with the new moon, embrace the growing potential of the first quarter, witness the luminous splendor of the full moon, and contemplate the wisdom of reflection during the last quarter.
Each phase offers a unique opportunity to reflect on the cycles of life and find inspiration in the ever-changing nature of the universe.
Moon coloring pictures provide a gateway to escape the chaos of everyday life, allowing us to reconnect with the simplicity and beauty of the analog world.
They offer a canvas for self-expression, a therapeutic outlet for relaxation and mindfulness, and an avenue to ignite our curiosity about the vastness of outerspace.
So, pick up your colored pencils or paintbrushes, and embark on your lunar coloring adventure.
Let the moon's tranquil energy guide your creativity as you discover the joy of bringing celestial scenes to life.
With every stroke, feel a sense of wonder, serenity, and connection with the cosmic mysteries that unfold above.
---
Thanks so much for stopping by my blog and supporting my endeavors to make people's lives a little easier/better/more affordable.
If you liked this post, or found it helpful in any way, please make sure to share it with your family, friends, and co-workers via social media.
Or you could even send them the direct link via email. Whichever way you choose to spread the love, I super appreciate it! ~Sarah
Follow Me
If you would like to subscribe to my email list, go here.
Make sure to follow along via social media, by going here.
If you would like to learn how to really show your support to this site (at no cost to you), go here.
Check out my other free printables
To see all of my free printables, go here.
To see an Alphabetized Index of all my coloring pages, go here.
To see all of my nature and weather coloring pages, go here.
Otherwise, here are direct links to several of my other related posts that you're also going to love:
Nature & Weather
Other good resources for a printable moon
*This post was originally shared to this blog on 06/06/2023, and has since been updated to improve user experience, add video instruction, as well as to make it as shareable as possible across the social medias.
**Please note that I do try my hardest to provide factual, but easy to understand, information about each topic. If you notice a discrepancy in my coloring pages, facts, or see something that you deem "misinformation/incorrect" please make sure to notify me about it. I would prefer that you send me an email with a link to a more reputable resource on that subject, so that I can correct it as soon as possible. Thanks so much for helping this site become the best that it can be!