I know that Christmas costs can add up quickly , so I have a fun little free printable for you to keep your pocket book in check. It's perfect for Christmas decor in your own home, or could be used as an inexpensive gift idea for someone else.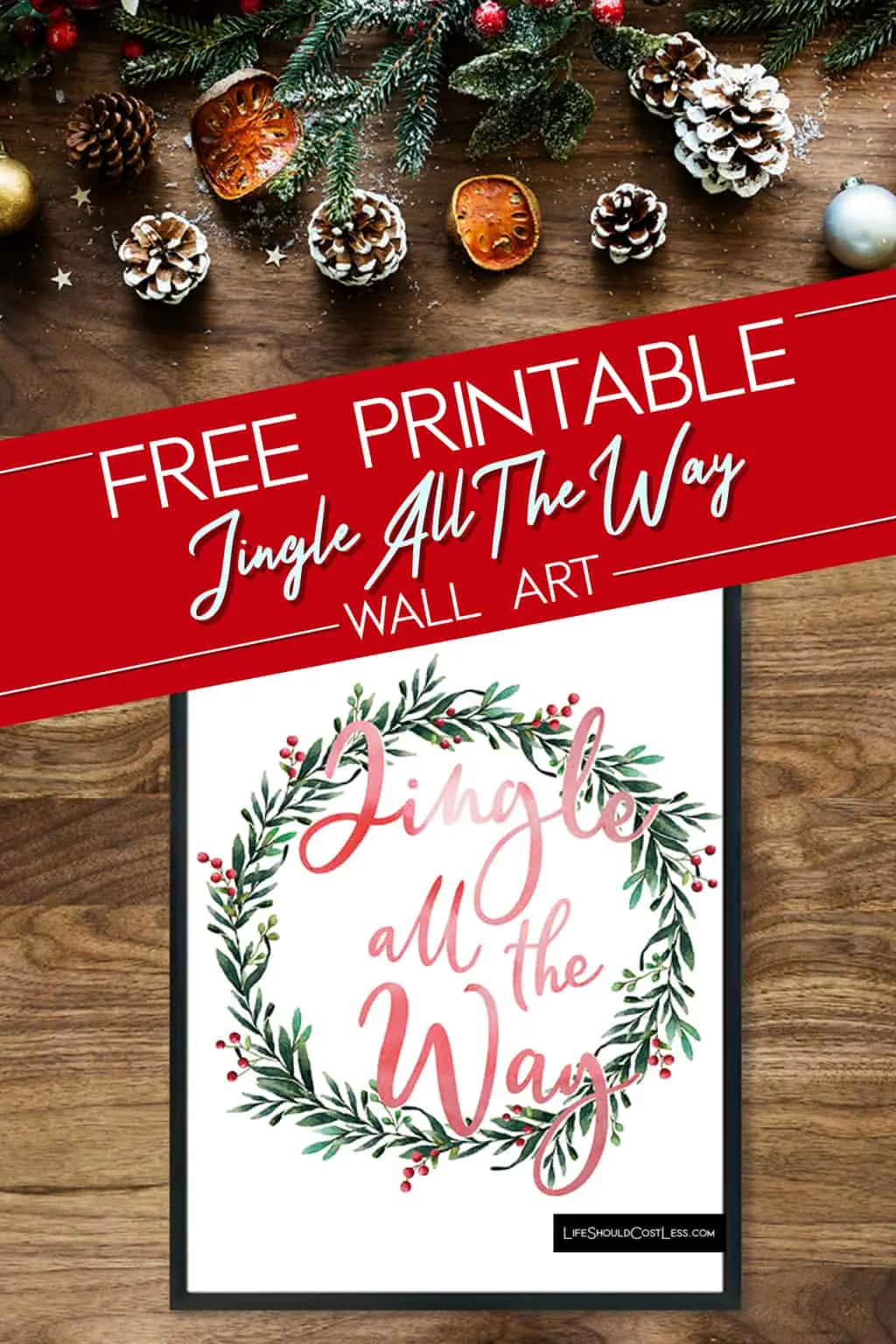 I love this printable because it has kind of a cozy farmhouse feel to it, and uses the bright reds and greens, which means that it is going to fit into most people's Christmas decor, so it's super versatile on what you could use it for.
You can use this for wall decor, or you could even use the image for some custom Christmas cards.
My free printables are free, yes, but please remember that they are for personal use only! Rights to use them commercially need to be purchased through me.
So, here's what it looks like when it has been printed out and framed.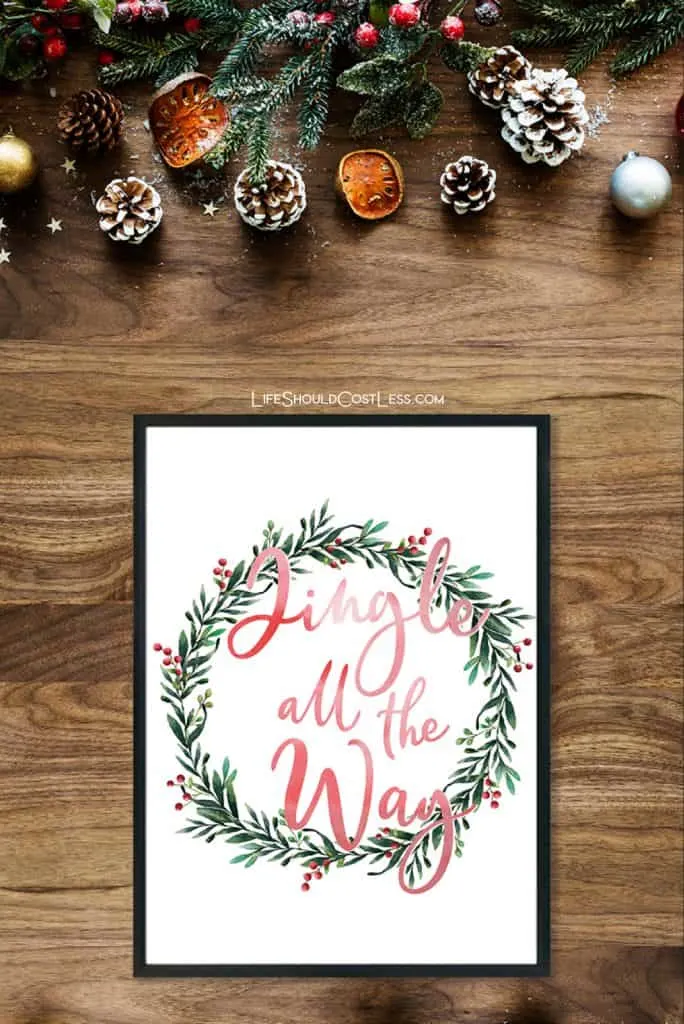 Here is the link to the pdf for my Free Printable "Jingle All The Way" Wall Art that you need to download onto your computer.
I suggest taking it somewhere to get it printed professionally…or even printed onto a canvas if you want to do it that way… but if you do it right and take care of it, it will be a fun and classy addition to your Christmas decor for years to come.
The best part is, that since it wasn't mass-produced and found in stores, not very many people are going to have the same piece of Christmas decor as you.
It's probably silly, but I really enjoy having home decor that is at least somewhat not "mainstream" or super popular… which is one of the reasons that I really like to offer "free printables" so that when I'm decorating my home, you can too but it saves you money in the process.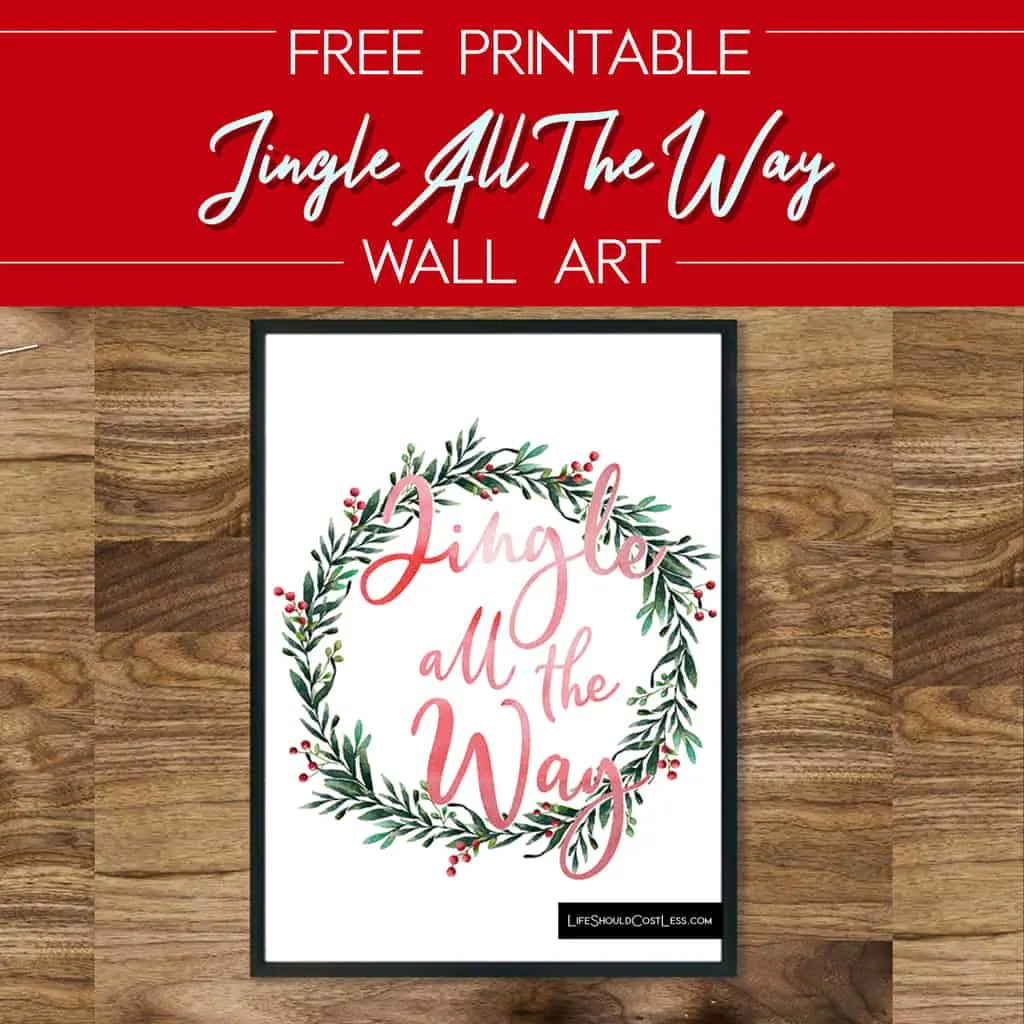 That's all I have to share today. Thanks so much for stopping by my site! If you liked what you saw, please make sure to share it via social media!
Other ways to show your support are to follow and/or interact with me on Pinterest, Instagram, Facebook, YouTube, or by Subscribing To My Emails List.
If you purchase suggested products through Amazon, the cost to you remains the same, but I make a small commission on everything in your cart.
Also, if you ever need to buy it again, you can always come back to my site for the link…just sayin';).
If something was particularly helpful and you would like to donate directly to my site, you can do so via PayPal, here. I'm a single mom of four, so every little bit helps.
P.S. You may also like my Christmas Section as well as my entire Free Printables Section.
Here are five of my other posts that you may also like: