Learn how you can make a DIY (Do It Yourself) Nativity Scene Silhouette for your outdoor Christmas themed decorations. Though just a heads up, this project does require a medium level DIY skill set, but I promise you that it will have you celebrating the holiday season in no time at all.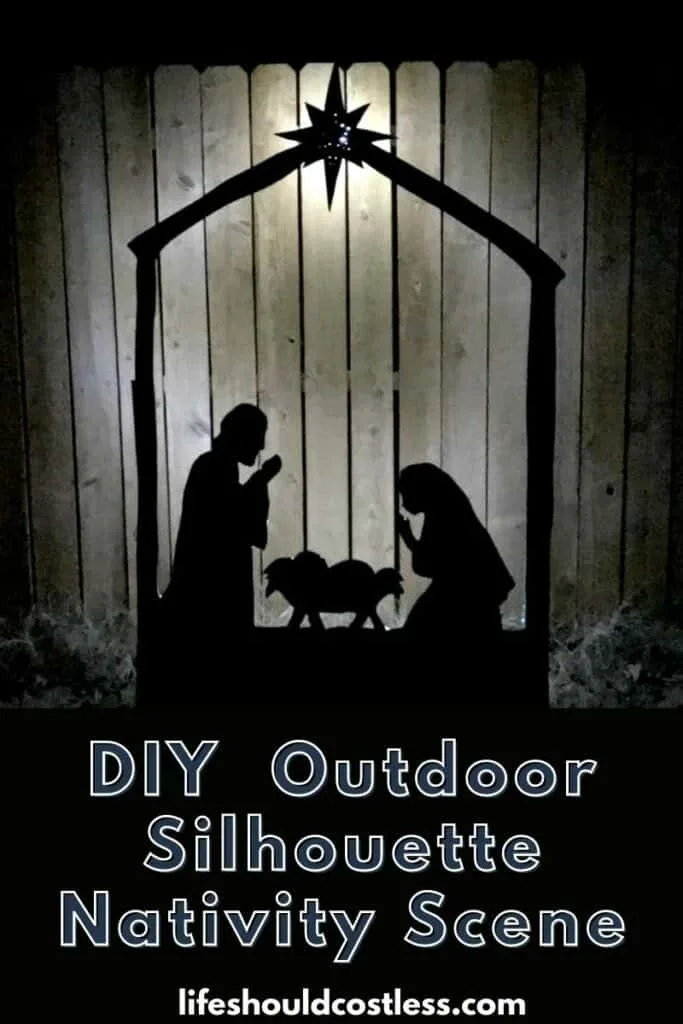 I have always personally preferred to gear things more towards Christ instead of Santa during the holiday season,as much as I can at least, and this year I finally got to make the Outdoor Nativity Scene decoration for my yard, that I have been wanting to make for the past three years. It is pretty basic, but I would say that it's about an intermediate level as far as DIY projects go.
Now moving on to show you all how I made it so that you can make one too if you would like to. As with any "prototype", I ran into some snags and hopefully by sharing some of them with you. That you can avoid some of the mistakes that I made that ended up costing me more time and more money than it should have had I known exactly what would or would not have worked before I started.
How to make a silhouette nativity scene outdoor:
I started out by doing a google image search for "free nativity silhouette" to see if I could find anything that was going to be similar to what I wanted to use. After being super picky I finally found one that I wanted to use so then I was good to go buy all the stuff and start the project. The very first thing that I needed was a 3/4″ piece of ply wood. I had to find something that was smooth so that it would be easy to paint.
At first I attempted to look at the picture that I had chosen, and then draw the outline onto the ply wood, but I can't draw to save my life so I ended up saving it on a thumb drive and going to a local print shop to have a transparency film made.
A little tip for you, I found one of those old school overhead projectors at a thrift shop years ago and it has been really fun to use for large scale projects.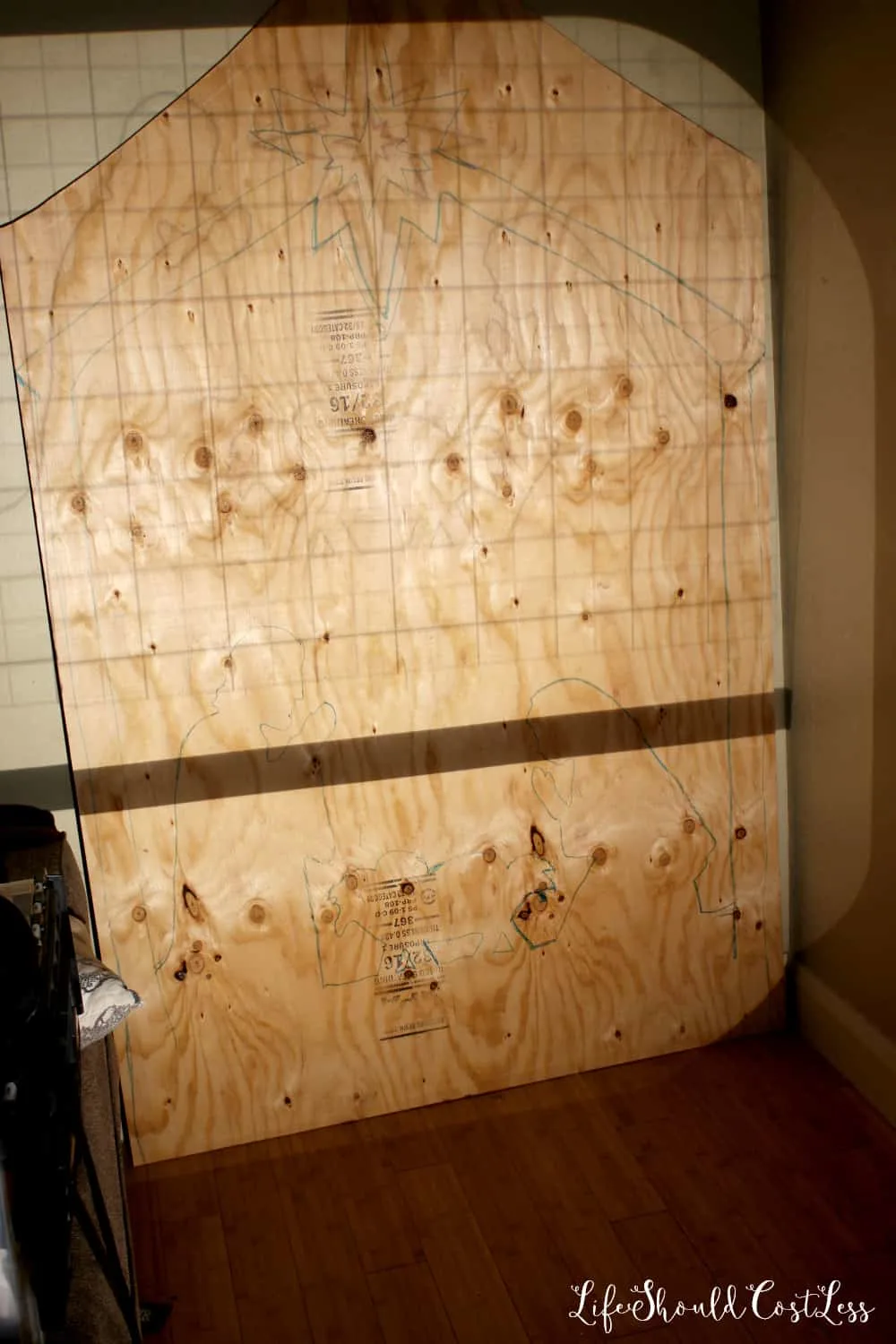 This allowed me to just trace the picture onto the plywood, of course I had to use a different color marker than I had tried to free-hand with, and I had my outline ready to go.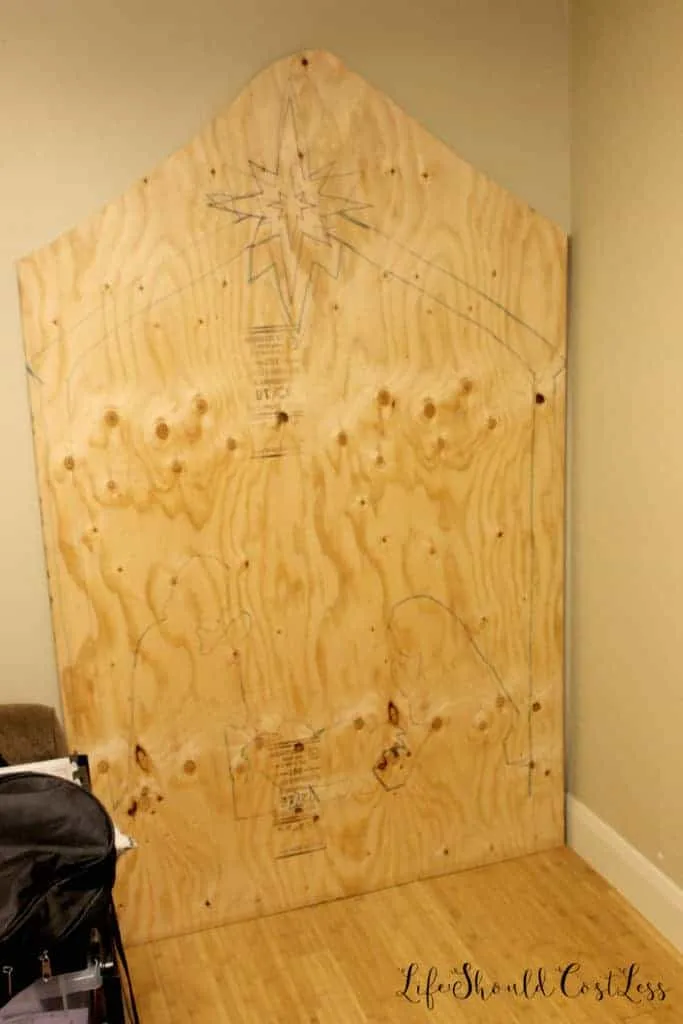 Next, I took it outside to start cutting (had to do the tracing indoors with the lights off in order for the projector to work). I used a jig saw and a drill with a large drill bit to help me get around the curved places…since my jig would only do a slight curve I had to get creative and the drill worked to allow me to enter the wood from anywhere.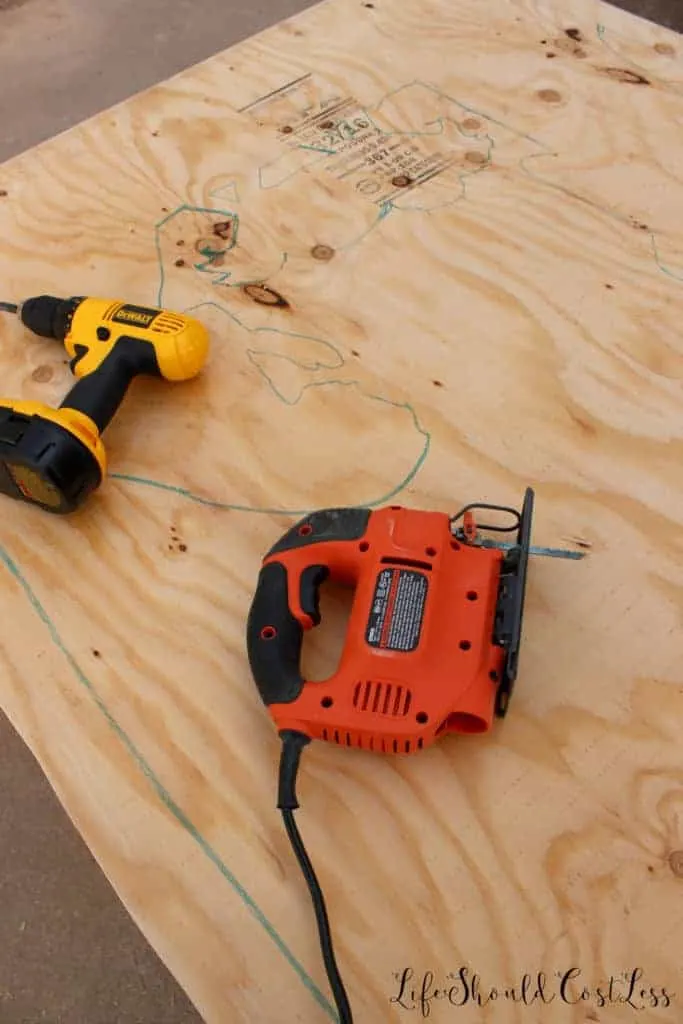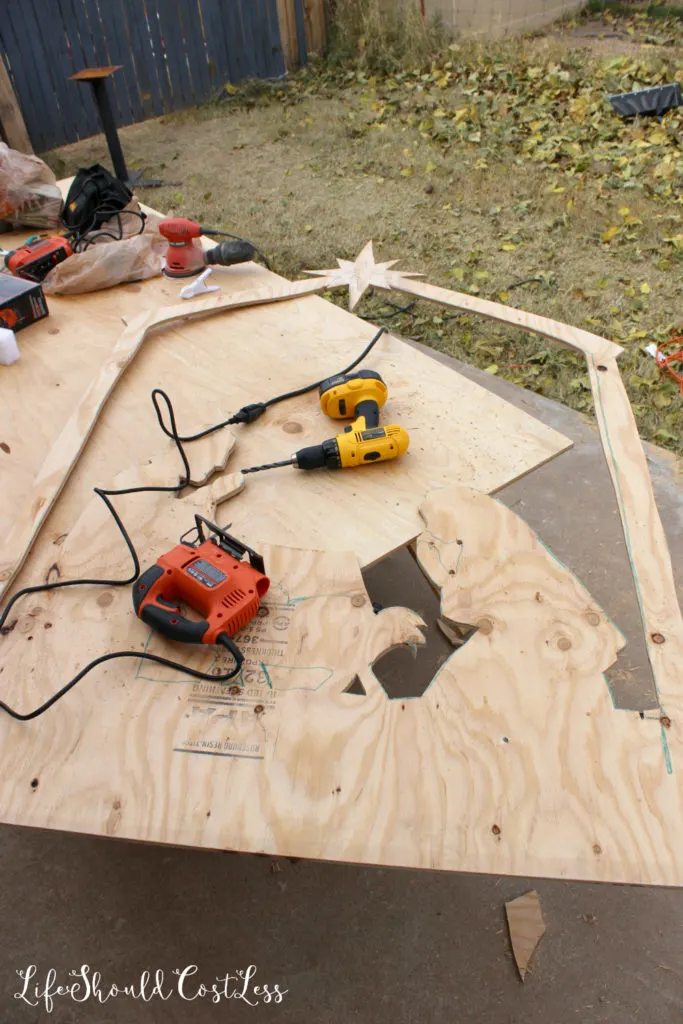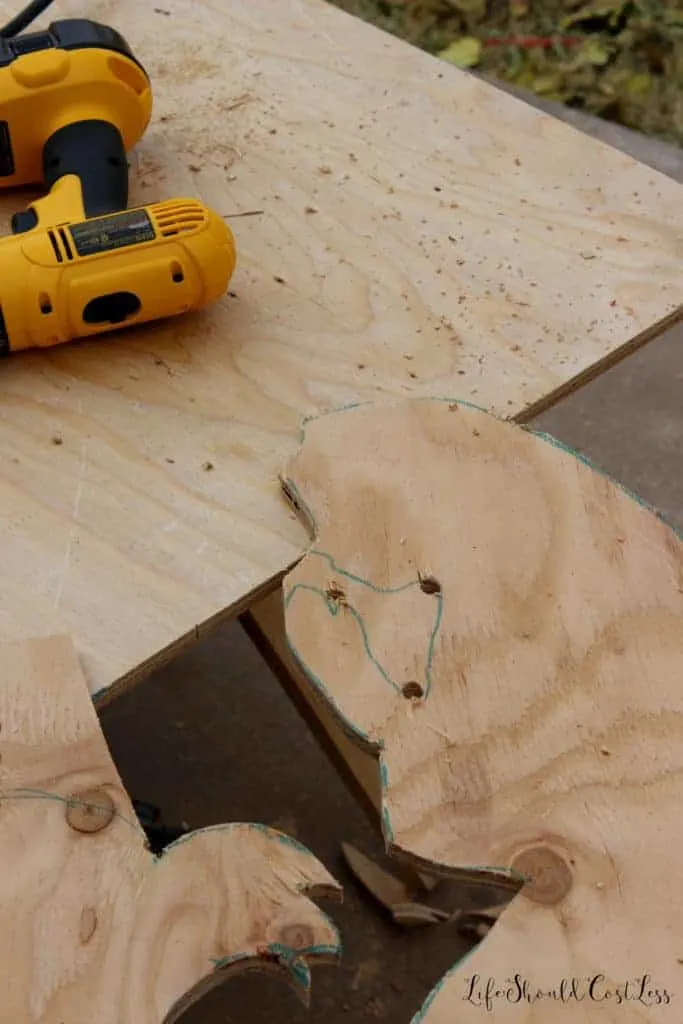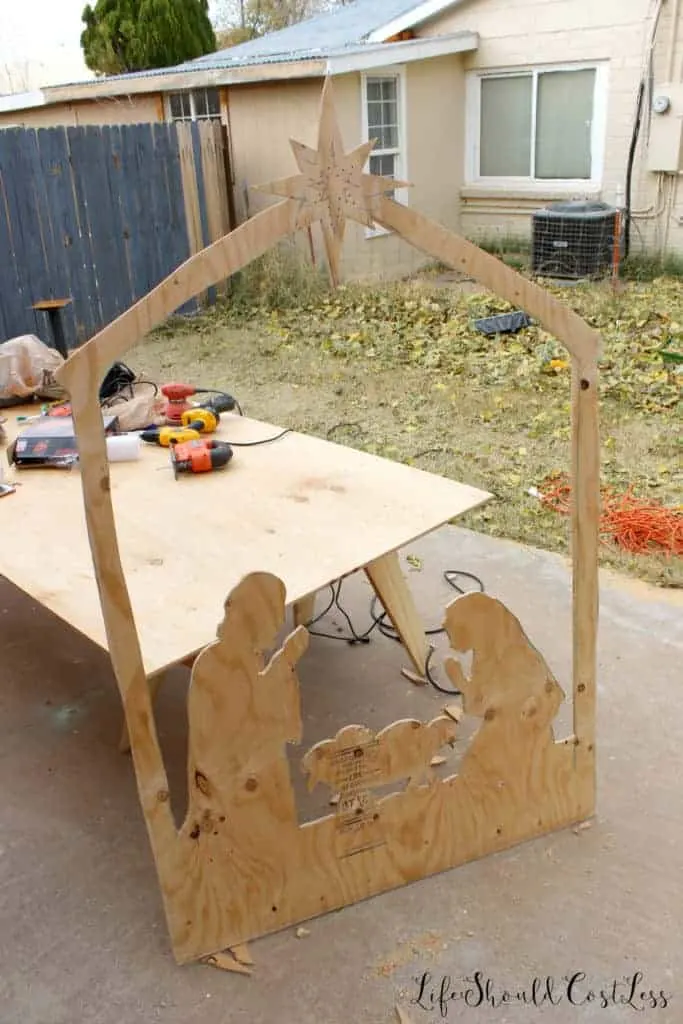 Once I was finally done cutting it all out I used an orbital sander and sanded around all the rough places.
I dusted it off a bit to prep it to paint. I decided that since I was spending so much money on this project that I wanted this decoration to last me for a decade so I chose to paint it with some Smooth Behr Premium Deckover in the darkest color they had (at Home Depot), I think the color was called Slate.
I used a 4″ roller and some of those cheesy 1″ sponge brushes to paint in the nooks and crannies. It was a little breezy out so the paint dried very quickly. I painted both sides.
Believe it or not, but the hardest part of this project was deciding how to support it so that it could stand wherever I wanted to put it. I ended up going with some short T posts (I think they are 4′ tall) and I was able to drive them with a regular hammer and did not need to buy a driver of any sort.
When I decided where I wanted it to go I drove the first T post and then held the Nativity Scene up to it to see where to put the other post…it was easy peasy. (If you go this route just make sure that you're putting it somewhere that you won't be hitting any underground lines (power, sewer, water…you get the picture).
To secure the Nativity to the T Posts I went with these straps. They were actually a little wider than I needed but luckily the metal was easily bendable so I bent it to the size that I needed. I used some 3/4″ screws to secure them to the Ply wood.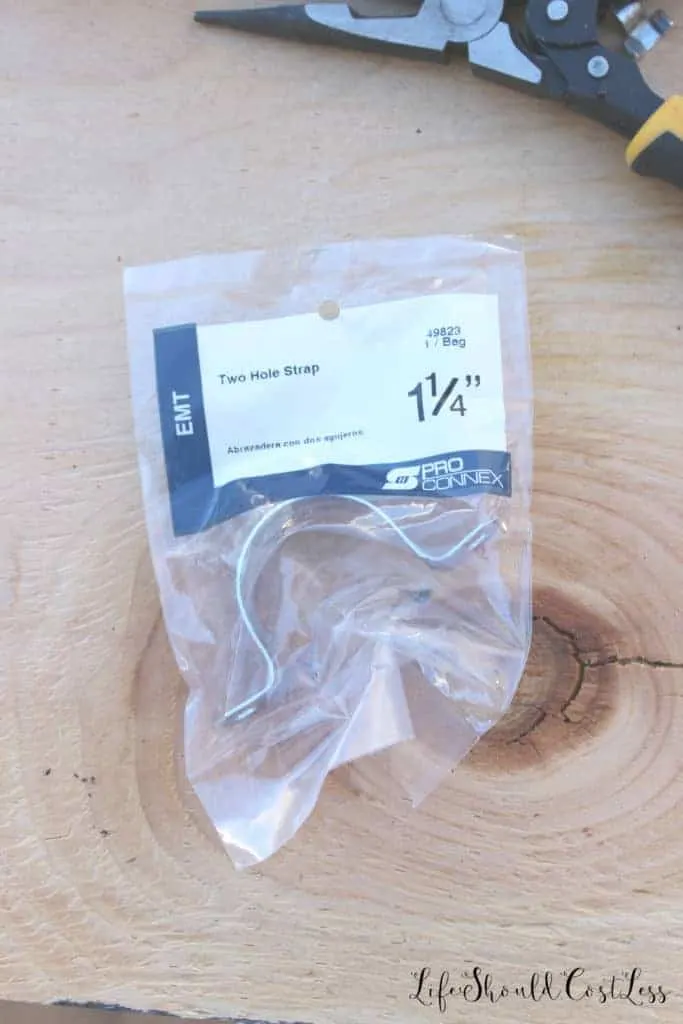 So it was secured like so. This next picture shows how it's secured, but it also shows that I used some white Christmas lights and stapled them on the back. Those lights were my first attempt and they ended up being way too dim so I took those lights off and ordered something else. I will show you what I ended up going with in a moment.
Here is what it looked like standing in my (messy) yard during the daytime.
Now to show you what actually worked for the lights on the back. I decided to go with a rope light and to use cable clamps and screws to hold it on.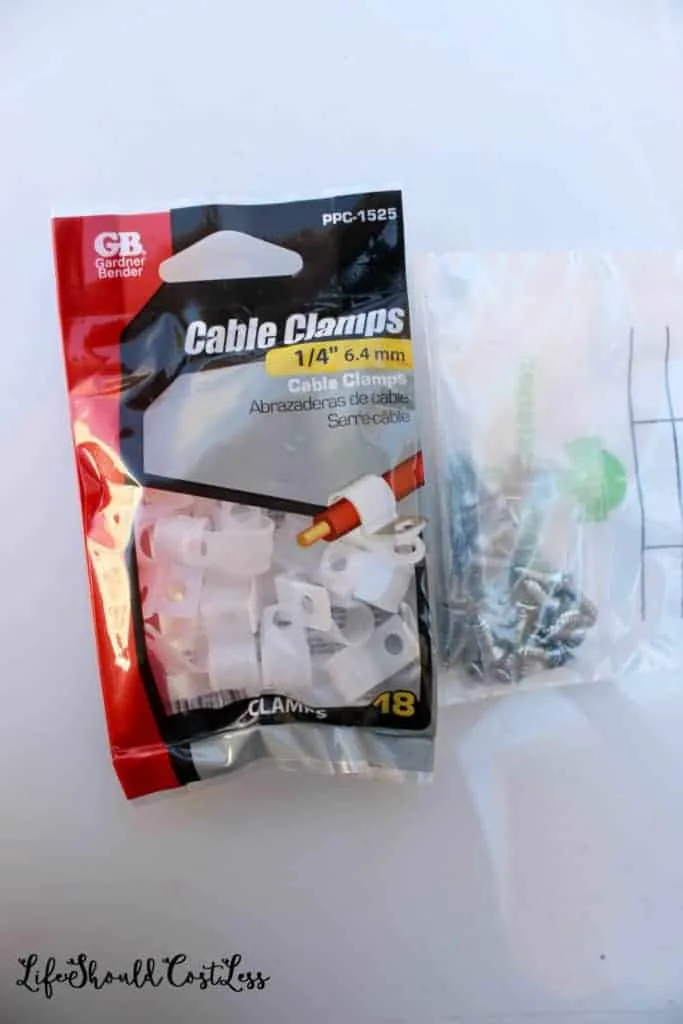 Like so…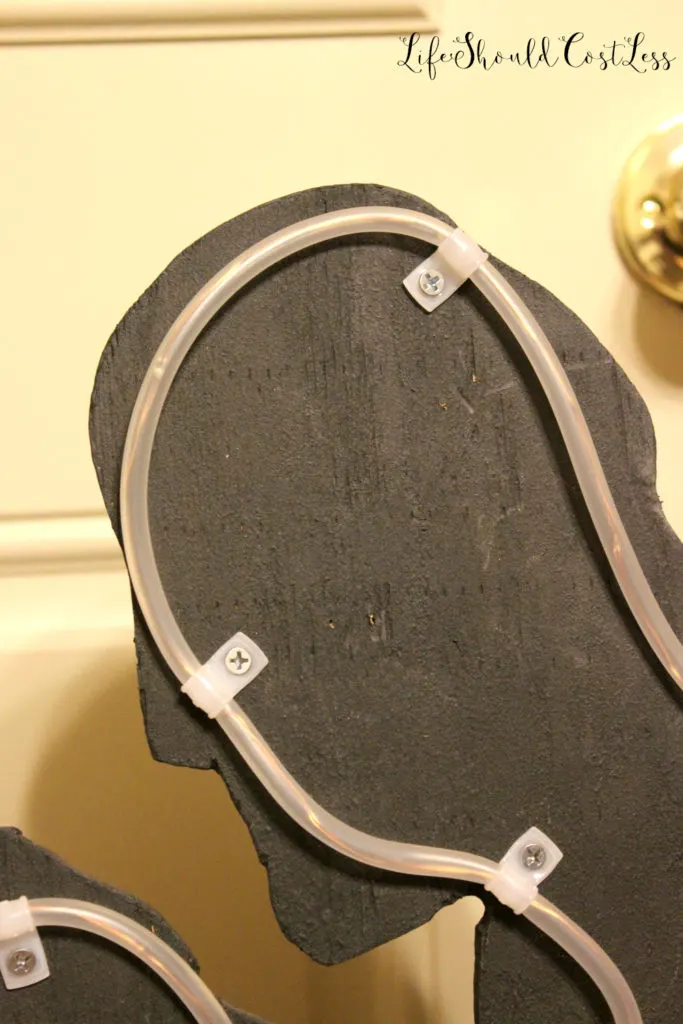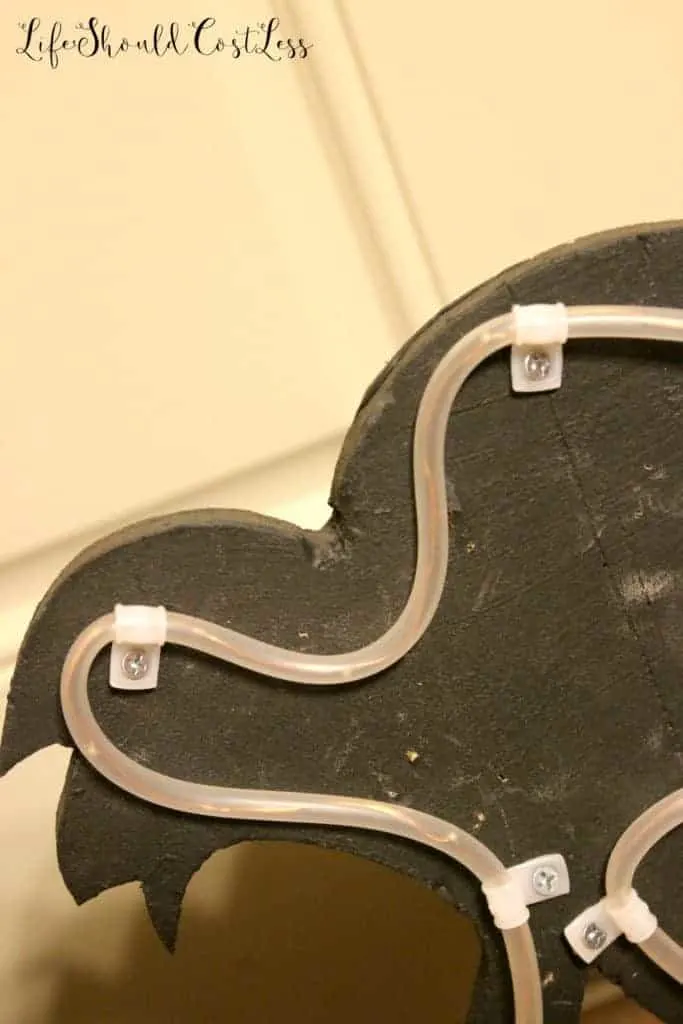 Don't mind that the paint on the back got a little chipped when I was removing the Christmas lights. Anyway, I started and ended the rope light in the bottom right corner,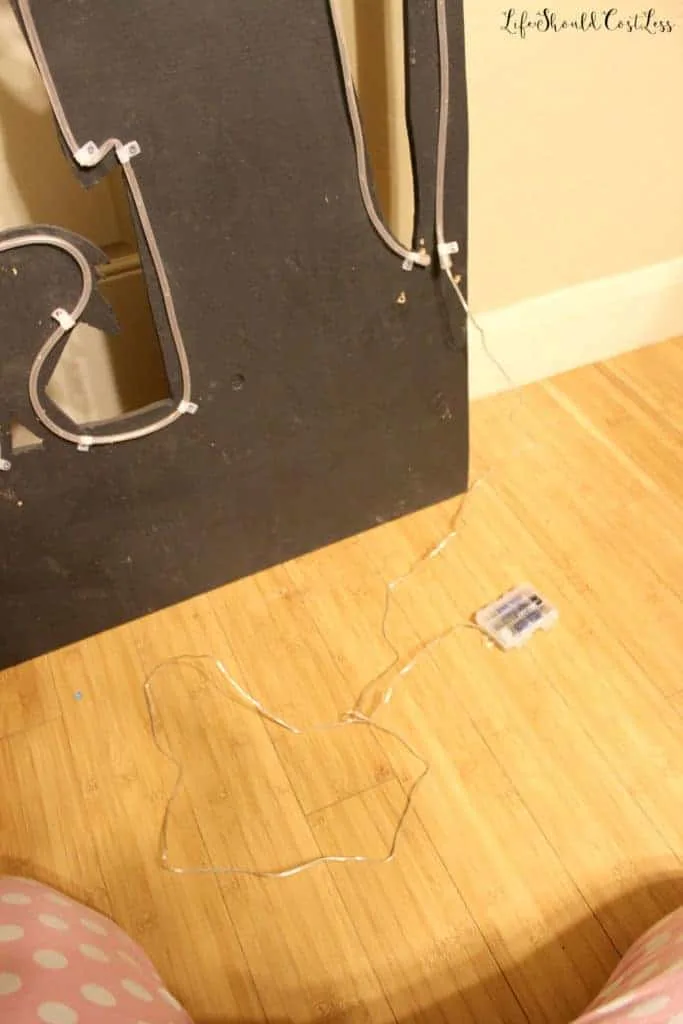 and I bunched up the leftover rope light all up in the star part so that it would be a little brighter there. It looks rough, and I attempted to help it stay on there with some hot glue, but it didn't really help much.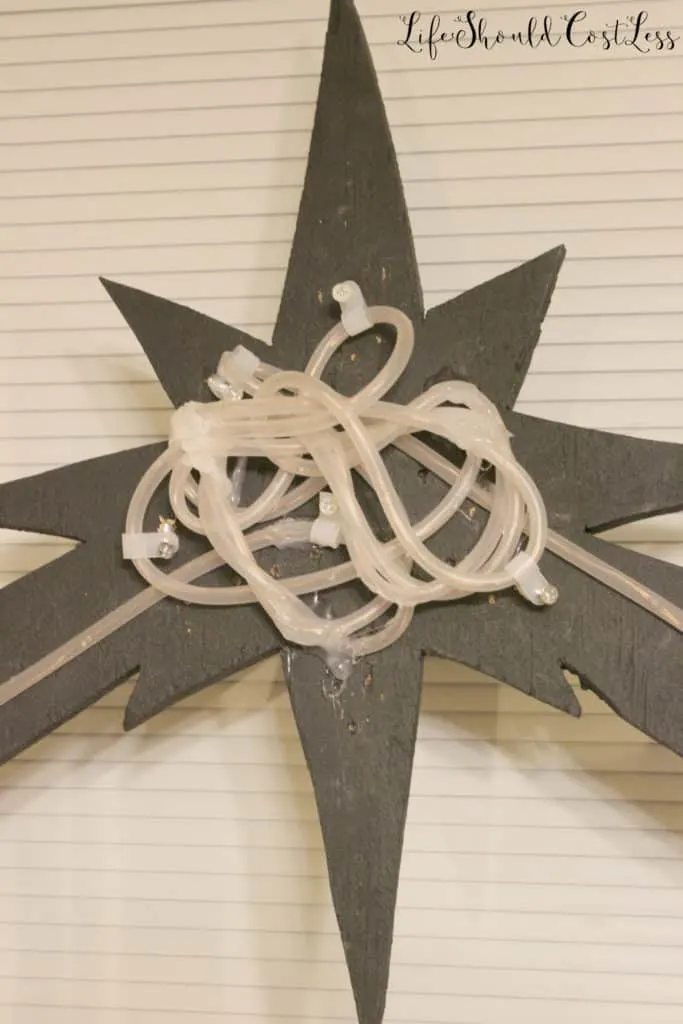 Here's what it looked like when I was ready to go put it outside on the T posts for the second time. The LED rope light that I used, found here, has a little battery pack and even a remote control and the lights have like 8 different patterns that they flicker to, but I just like to leave it on a steady glow.
Of course, after Christmas I discovered that for it to show the silhouette the best at night you need to put the whole thing in front of something so that the light will reflect off of it and it will look much brighter. I put mine about a foot in front of the fence.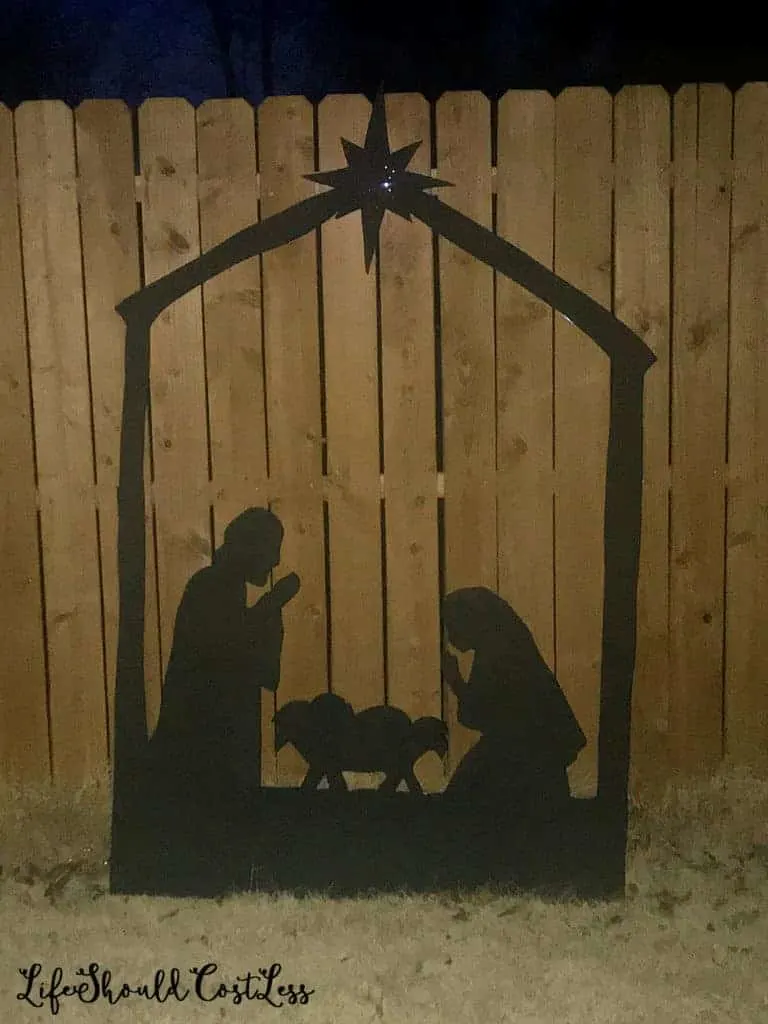 Which makes it look like this at night.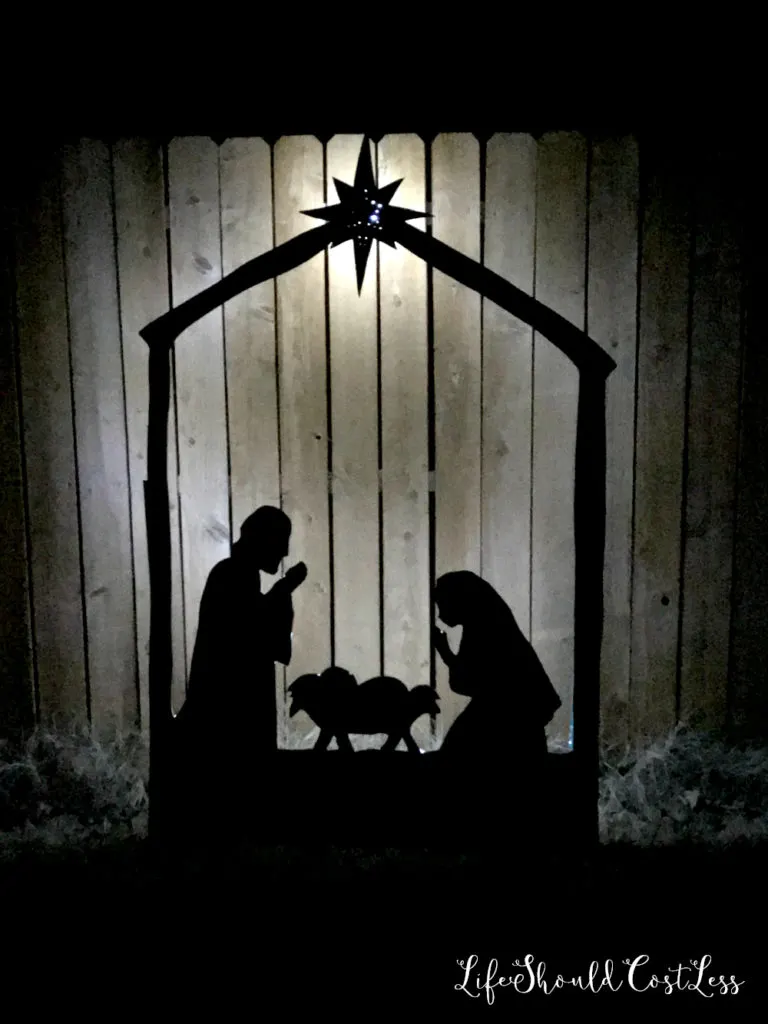 I'm in love with it! It definitely looks like a first draft of a project…which is rough and a little flawed, but it was a blast to make.
My money saving tips for this project, would be to make two or three of them at once to save money (see if you have friends or family that want one too). There is enough paint (smooth behr premium deckover) in one gallon to make about three of these nativities, and if you buy the same rope lights that I did it is actually cheaper to buy the two-pack than it is to buy just one at a time. Obviously when you buy any hardware in bulk that saves money too.
Well, that's my two cents on this Nativity Set Outdoor project. I hope you enjoyed seeing my yard decor take shape. Oh, and I forgot to mention that if I hadn't run into any snags or interruptions it would have taken me about 7 hours to complete it…just so you know, you could bust one out in one day or a couple of evenings if you wanted to.
Thanks for stopping by my blog, and please make sure to share this post (the direct link emailed, or on social media) with anyone that would find it helpful. ~Sarah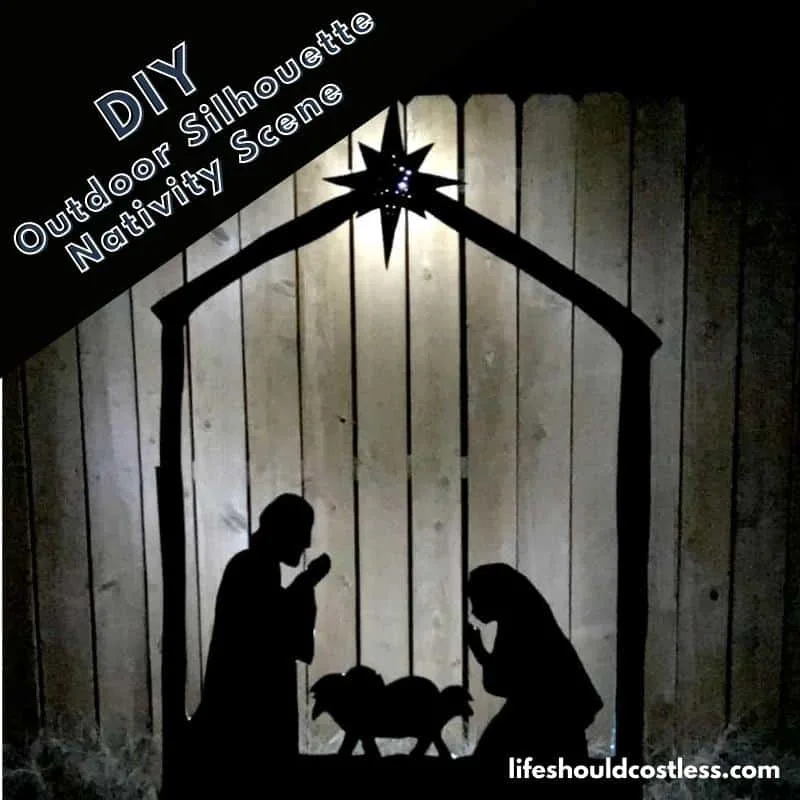 P.S. Make sure to check out all of my Christmas Posts.
Oh, don't forget to subscribe to my email list (found here). Also, if you would like to learn how to follow along or really show your support for this blog, go here.
For those of you that would like to check out some of my other projects, here are some links to some fun ones: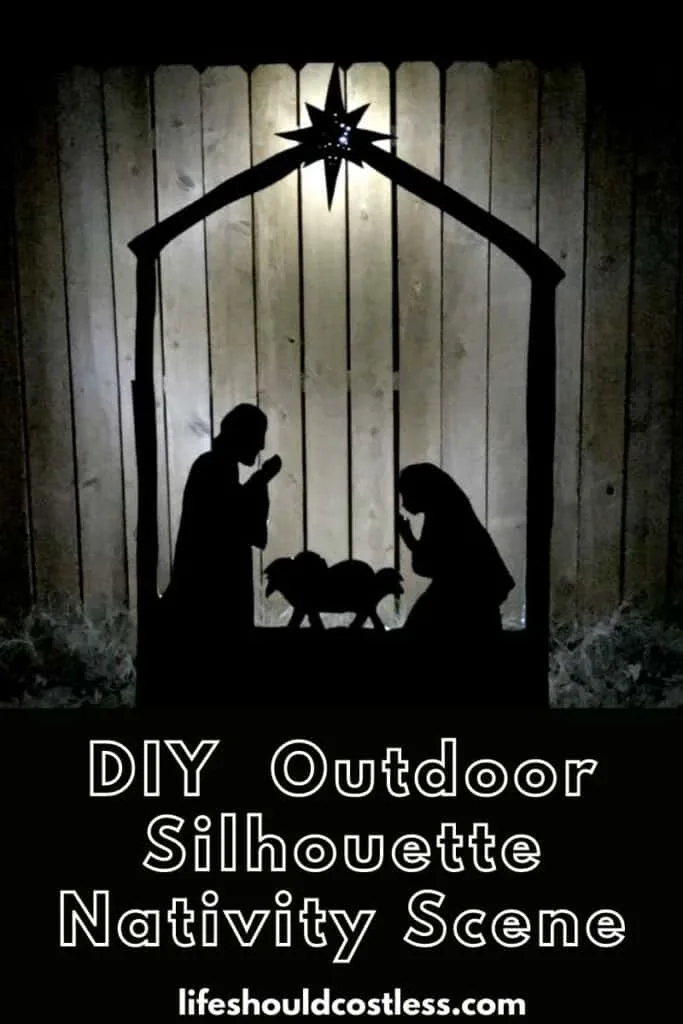 *Please note that this post was published to this website on January, 3rd 2018 and has since been updated to be a little more user friendly and shareable too.