Staying on top of kids crafts organization can be a big job for any parent, but with these eight simple tips, you will have it perfected in no time at all.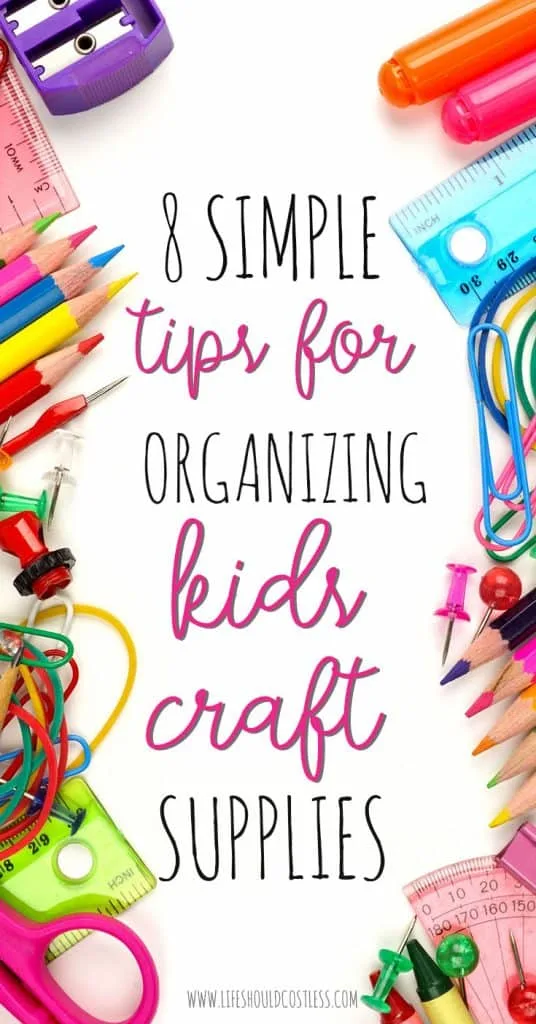 Crafting together, as a family, is a great way to spend some quality time together and help your kids get their creative juices flowing.
However, keeping all of those craft supplies and projects organized can sometimes be a difficult task.
If you're struggling to keep everything in order, just know that you are not alone.
Staying on top of kids crafts organization is a big job! But with these eight simple tips, you'll have a handle on all that craft clutter in no time.
Before you begin organizing any area in your home, it's important to start by decluttering.
That means gathering up all your kid's craft supplies and sorting through everything to determine what you need and what you don't.
As you're sorting through your supplies, think about how you plan to use each item and where you'll store it. That simple step will help you organize your craft supplies after you're done decluttering.
While sorting through your supplies, first create three different piles for each of your craft supplies:
Throw away. Put supplies in this pile if they are broken, dried up, or unusable.
Donate. If you have craft supplies that are still in good, usable condition that your family has no use for, consider donating them to your child's school or church.
Keep. Place craft supplies in this pile if you know your kids will use them in the near future.
Look through all the supplies you have at home and place each one in its designated spot.
After you're finished sorting, be sure to remove all the items you don't want from your home before you begin organizing all the supplies you decide to keep.
This will help keep your home from becoming cluttered with kids craft supplies that you don't even want.
Keep Everything in One Spot
The simplest way to get on top of your kids crafts organization and keep it that way is to make sure all your supplies are stored in one spot.
Find an organizational storage system, like a set of stackable drawers or a rolling cart, and keep all the supplies your kids need to create their favorite crafts inside that storage container.
Place the storage system in the area where your kids do their crafts most often to keep the supplies from being spread out across your home.
This simple method will not only help keep your kid's craft supplies organized in between crafting sessions, but it will also help your kids as they craft.
With this storage system, they'll know exactly where the supplies they need are located, which means they won't have to make a mess finding everything they need before they even start their project.
Make it Easy
Since your kids will be the ones using the supplies, it's important to make your storage system as simple as possible.
When you're making your organizational plan, think about how your kids use the supplies for the projects they make and keep those ideas in the back of your mind as you sort through and organize all the supplies.
In addition to sorting the supplies according to how your kids will use them, it's also a good idea to make your storage containers easy to use.
Make sure all your boxes are easy to open and test to ensure your storage bins aren't too heavy when they're filled with craft supplies.
You should also check to see if the craft supplies are within easy reach for your kids so you won't have to help them get the supplies out or put them back when your kids are finished with their project.
Sort Your Craft Supplies
After you have decluttered all your kids craft supplies and you have a designated spot to store those supplies, it's time to start sorting.
In addition to the main storage container, it's also a good idea to have smaller containers to store all the different types of supplies your kids will be using to make their crafts.
As you sort your supplies, you may find you need:
Small baskets for crayons, markers, pens, pencils, stamps, ink pads, glue sticks, and scissors.
Small jars or containers with lids for messy craft supplies like glitter and sequins or small craft supplies like beads, wiggly eyes, buttons, and pom-poms.
Larger containers for bigger items like pipe cleaners, popsicle sticks, and feathers.
Airtight storage boxes for sensitive craft supplies like clay, paint, and slime.
Folders for paper, felt sheets, foam sheets, and stickers.
Many of these items can be picked up for cheap, at a Dollar store such as Dollar Tree.
Label Everything in the Kids Crafts Organization
Labeling your craft supply storage containers is essential. On top of letting your kids see what's inside each container, it also helps them remember where each supply goes when they're finished using it.
That means they're more likely to put everything back where it goes when they're done – keeping you from having to tackle kids crafts organization every time your kids take on a new project.
Teach Your Kids How to Organize
While labels provide great guidance for your kids, they're still going to need some guidance when it comes to keeping their art supplies organized.
After your kids are finished with a project, show them how to put their supplies back in the proper place.
With a little bit of instruction, they'll be able to keep their craft supplies neat and organized every time they do a craft…and the added bonus is that it will help them become more organized adults too.
Don't Add to the Collection
You spent a ton of time decluttering and organizing those craft supplies. Don't make your life harder by adding to your kid's craft supply collection unless it's absolutely necessary.
Before your kids start a new craft project, think about how you can make the craft using supplies you already have on hand.
That way, you're able to use up the supplies you already have and don't have to search for a new place to store those extra supplies.
To keep craft supply clutter at bay, make sure to only add to your craft storage space when you run out of a supply and have room to include more stuff.
Use Discretion When Keeping Artwork
In addition to keeping your supplies organized, sorting your kid's art projects is a bit part of kids crafts organization.
Even if your kids are great at arts and crafts, not every project they finish will be a work of art. Yeah, I said it…lol.
If your kids are anything like mine, they'll complete tons of different craft projects throughout the year.
There's no way you can keep everything! After a project is finished, use your discretion to determine which ones you keep and which ones you'll throw away.
There are a few ways you can make the decision a little bit easier, like:
Display the project for a set period of time, then discard it and replace it with a new project.
Take a photo of the project with your phone and store the digital photo instead of the actual project.
Only keep projects that have sentimental value, like a footprint craft or handmade gift from your kids.
Create an art gallery space in your home and let your kids decide which projects they want to display in their gallery.
Taking the time to plan how your store and display your kids' craft projects after they're finished making them will make things so much easier!
In addition to helping you declutter your home, a plan will also keep your kid's feelings from getting hurt when you get rid of an art project…or at least it might dampen the blow a little bit by mentally preparing them.
That's really all I have to share on craft supply organization today, if you liked this post please make sure to share it via social media. Thanks so much for the support!~Sarah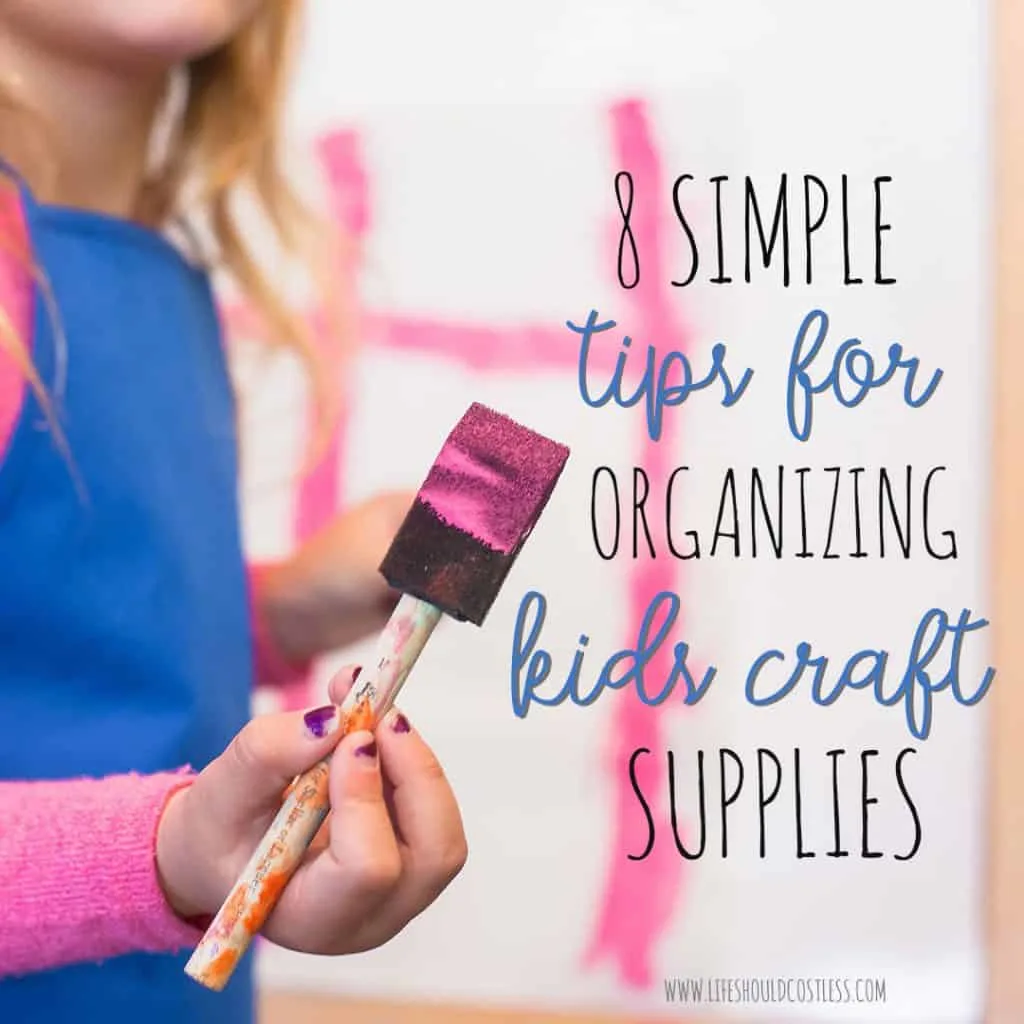 Follow Me
If you would like to subscribe to my email list, go here.
Make sure to follow along via social media, by going here.
If you would like to learn how to really show your support to this site (at no cost to you), go here.
P.S. If you want to check out my entire crafts section, go here.
Here are a few of my crafty posts for you to check out: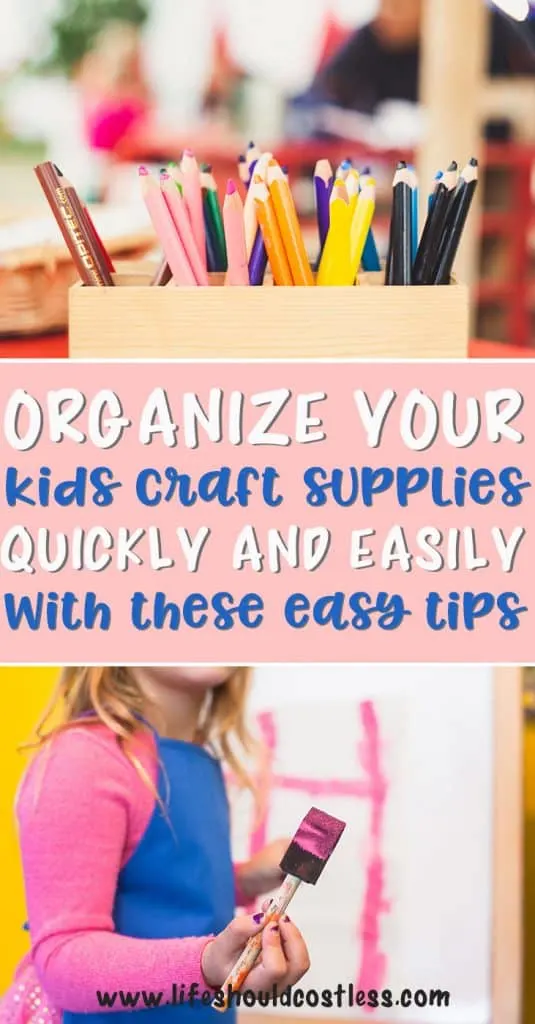 *Please note that this article was originally published to this website on October 12, 2020 and has since been updated to remain relevant.