Whether it's too hot, or too cold to send kids outside to play, sometimes we are all in need of some cheap, free, and easy ideas to entertain the kids at home on those crazy days.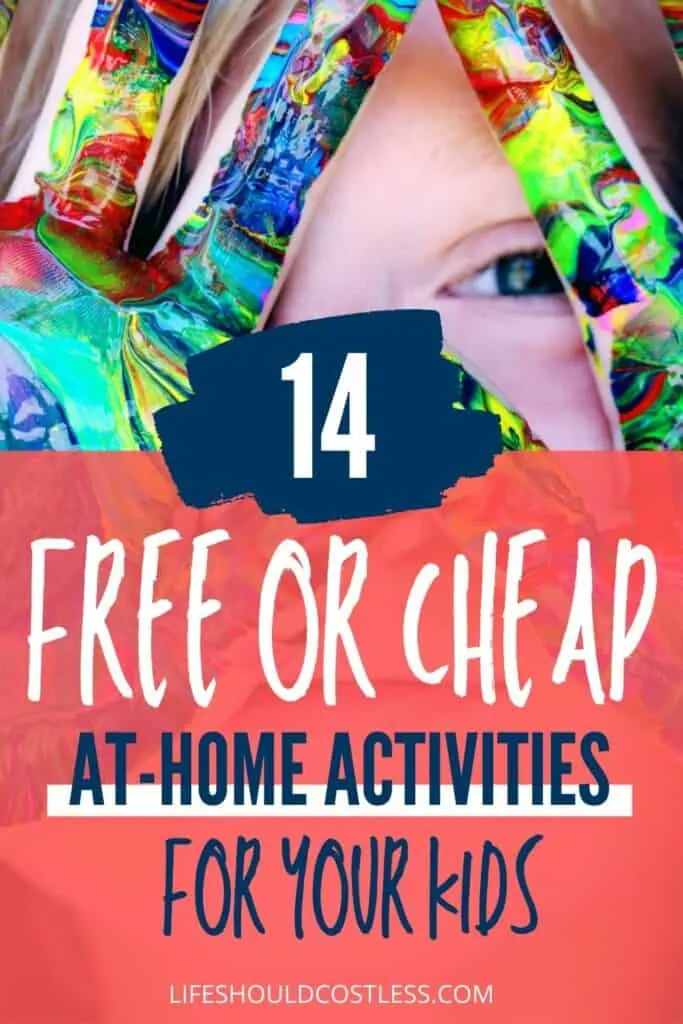 Being stuck at home is no fun for your kids! So, if you have kids at home right now, you've probably heard the words "I'm bored" more than a few times.
The next time boredom sets in for your kids, be prepared! There are a variety of great ways to entertain your kids at home that don't cost a thing.
These 14 free or cheap at-home kids activities are sure to make staying at home a lot more fun for your kids.
Fun At-Home Kids Activities
There are a few activities your kids can do at home that are always a crowd pleaser….whether it's just you and one child, or there are several kids to keep busy.
If you're struggling to keep your kids entertained while you're at home, you can be sure one of these fun at-home kids activities will do the trick:
Build a fort. Every kid loves to build a fort in their house! Simply use items from your house to create a fun place for your kids to play in while they're at home. You can use larger pieces of furniture, like your couch or dining room chairs, to help hold up the walls of the fort. Then, drape blankets and sheets over the top of the furniture to enclose the structure. Add some pillows to the floor to make it more comfortable, then give your kids some flashlights to play with while they're inside.
Scavenger hunt. This fun game is another classic activity that your kids will enjoy while they're stuck at home. Make a list of household items for your kids to find, then send them out on their search. You could leave the items where they usually are or hide items throughout the house to make things a little more difficult. The first person to bring back all the items on the list wins.
Bake together. Take a look in your pantry to see what ingredients you have at home right now, then whip up something delicious to eat. Baking is a great way to spend some time together while also teaching your kids valuable skills. But the best part is that you get to eat a sweet treat when you're finished baking.
Do a puzzle. Help your kids practice their cognitive thinking and problem solving skills while having fun with a puzzle. Spread out all the pieces on your dining room table and work together to put the puzzle together as a family.
Play a board game. Grab your family's favorite game and play together. Or hold a board game tournament and play each of your family member's favorite board games one after the other for a day of family fun.
Make crafts together. Gather up some craft supplies and let your kids get creative by making a craft together. You can simply lay out the supplies and let your kids come up with their own ideas. Or search online for inspiration for your craft and let your kids follow the instructions to make the project.
Make slime. Or playdough, moon sand, or whatever other messy craft your kids are into right now. Making slime is always a kid-favorite, so they're sure to get excited about making a batch while they're at home.
Active Indoor Ideas
Keeping your kids active while they're stuck inside is a great way to help them get some exercise while having fun at the same time. These fun active at home kids activities are perfect for getting your kids moving while they're stuck inside.
Obstacle course. You can make an amazing obstacle course inside your home using items you already have in your house. The first step to creating an obstacle course at home is to clear a path for the race. Move furniture and other big items to the edges of the room to make space for your obstacle course. Then, figure out items you can use from your house to make obstacles for your kids to climb over, crawl through, jump over, or run around. These household items are perfect for creating obstacles:
Furniture, like ottomans, dining room chairs, and stools
Cushions and pillows from the couch and bed
Kitchen utensils, like spoons and spatulas
Blankets and sheets
Play an active game. There are a variety of active games your kids can play inside. Each of these games is perfect for keeping the kids entertained while they're indoors – and they don't cost a thing for your kids to do! Need some ideas for great active games for your kids while they're inside? Try one of these classic indoor games:
Hide and seek. One person is "it" and must close their eyes and count to a certain number. Everyone else finds a place to hide. After the person who is it is finished counting, they can start searching for the rest of the hiders. The last person to be found gets to be it during the next round.
Freeze dance. Turn on your kid's favorite music and tell them to start dancing. When the music stops, they all have to freeze in whatever position they're in at that second. If someone moves or falls down, they're out. The last person standing wins.
Hot potato. Give one of your kids a soft ball or bean bag and tell everyone to stand in a circle. Turn on a song and let the kids toss the ball back and forth. When the music stops, the kid holding the ball is out. Keep playing until only one kid is left standing.
Simon says. One kid stands in front of the group and acts as Simon. Simon gives commands to every one (stand on one foot, jump up and down, etc.) but they must say "Simon says" before each command. If they don't say Simon says and someone does the command anyway, that person is out. The last kid standing gets to be Simon during the next round.
Cardboard Box Activities
If you have ever bought a big appliance, you know how much fun kids can have with a cardboard box. The next time you make a big purchase, save that box! Then, use it for some of these fun cardboard box activities.
Cardboard box race cars. Place the cardboard box on the floor in a room that has smooth flooring, like tile or hardwood. Let your kid sit in the box, then push them around the room pretending to be a race car. You could even let your kid decorate the box before the race starts so they can get the full race car experience.
Drive-in movie. After your kids are finished racing around in their cardboard box cars, set the cars up in the living room in front of the TV to create a drive-in movie at home. Turn on your kid's favorite movie, make them some popcorn, and let them watch the movie while they sit in their cardboard box cars.
Cardboard doll house. Making the doll house will be just as much fun as playing with it for your kid! Use your arts and craft supplies to decorate the exterior of doll house, then add smaller boxes inside the larger box to create rooms inside. You can also cut up boxes to build furniture for your child's dolls, like a couch, bed, and chairs. This fun activity is a great way to get creative with your kids while they're stuck inside.
Those are all of the activities I can think of for now…I like to have a good mix of both indoor and outdoor options, so hopefully something on my list will do the trick to keep everyone happy and creating.
Thank you so much for stopping by my blog and for the support! Please make sure to share this with anyone that would also find it helpful, especially on social media. I appreciate it! ~Sarah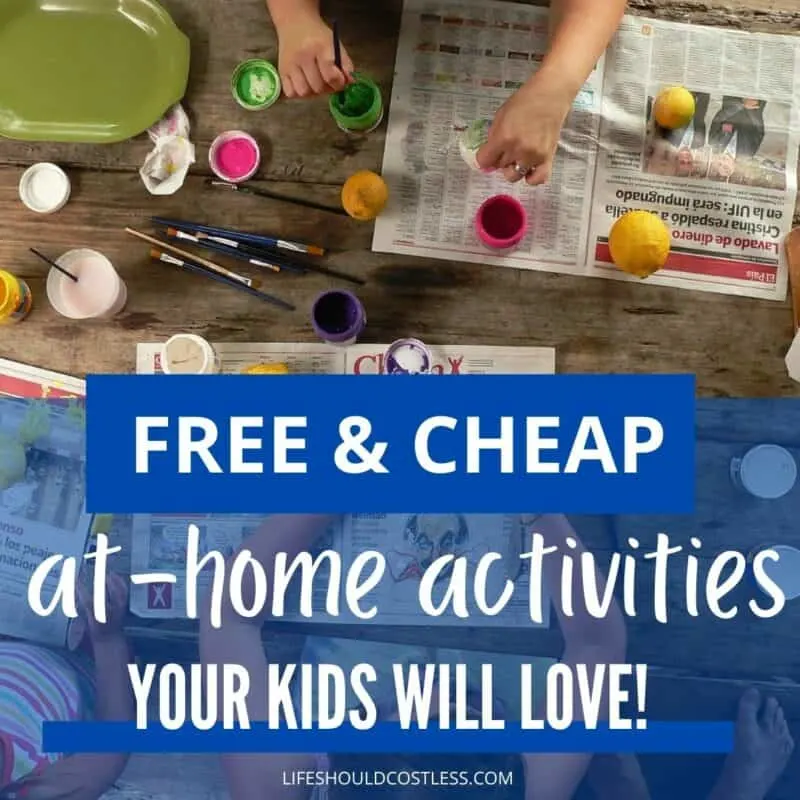 How to follow & support this site
---
If you would like to check out my entire kids section, go here.
Here are several of my other posts that you're not going to want to miss: