This delicious old fashioned/great depression era, recipe for Cinnamon Pie only takes a few basic pantry staple ingredients to make. It has a texture somewhere a cross between a soft caramel and a Lemon Bar/Square, but it's packed full of tasty cinnamon goodness. There are also instructions to make them into Cinnamon Bars/Squares if you would prefer.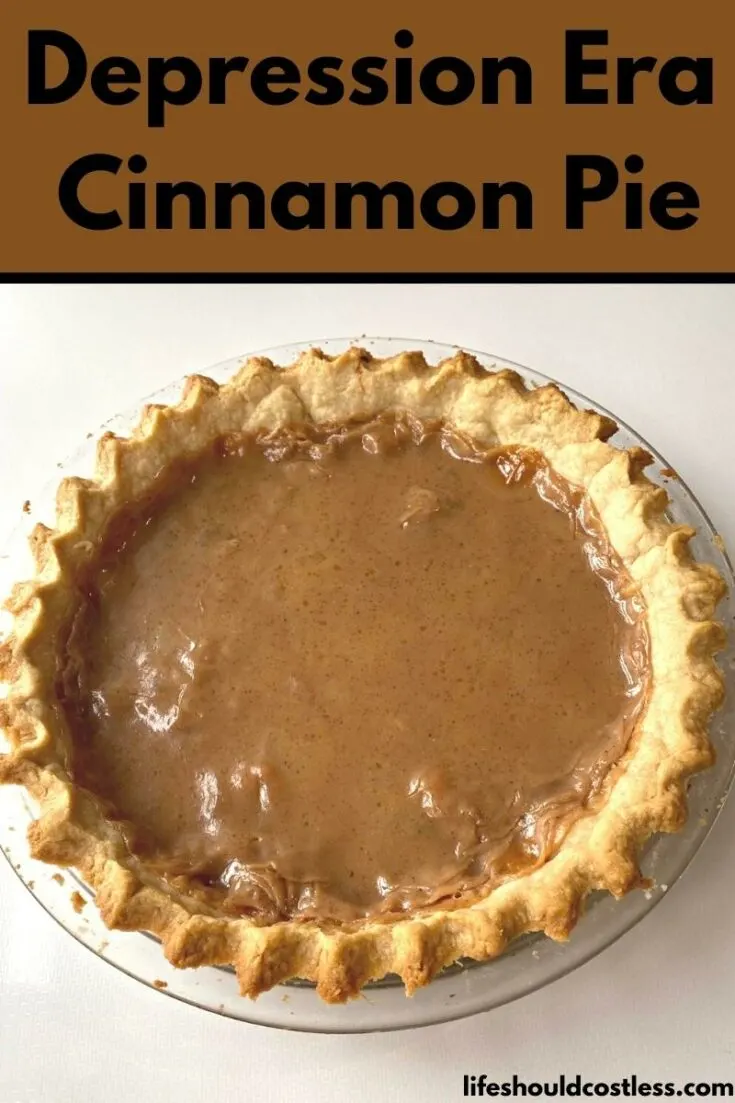 What is Cinnamon Pie?
Much like a Depression Era Water Pie…this simple Cinnamon Pie is a great dessert to be able to make when funds are tight, but you would really like to eat something super sweet/rich.
The best part about this easy dessert recipe is that you probably already have all of the ingredients on hand already too.
As far as I know, this recipe was my Great Grandma Jenny's (on my mom's side of the family). It has been passed down for generations.
It's actually a constant dish at all of our Holiday celebrations because my grandmother always makes a massive batch for the whole family to enjoy.
I'm not quire sure why the family has affectionately named it "Gunk"…probably because the consistency is just that…. some sort of gunk. Delicious gooey, cinnamon gunk that is…lol.
If you need a good flaky pie crust recipe to go with this filling, my Mom's Basic Flaky Pie Crust recipe is what I use when making these.
Her recipe makes enough for three single layer pie crusts, or two if you want to do lattice-work or something fancy with extra crust on top.
Also, if you're in a pickle and have no access to evaporated milk, this is a good resource to check out in case you need an alternative option.
Here's how to make this inexpensive pie filling: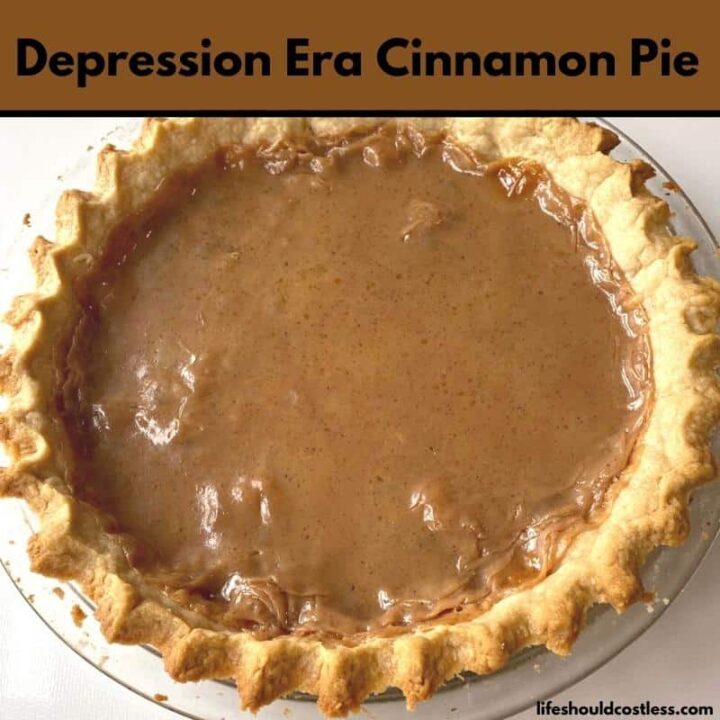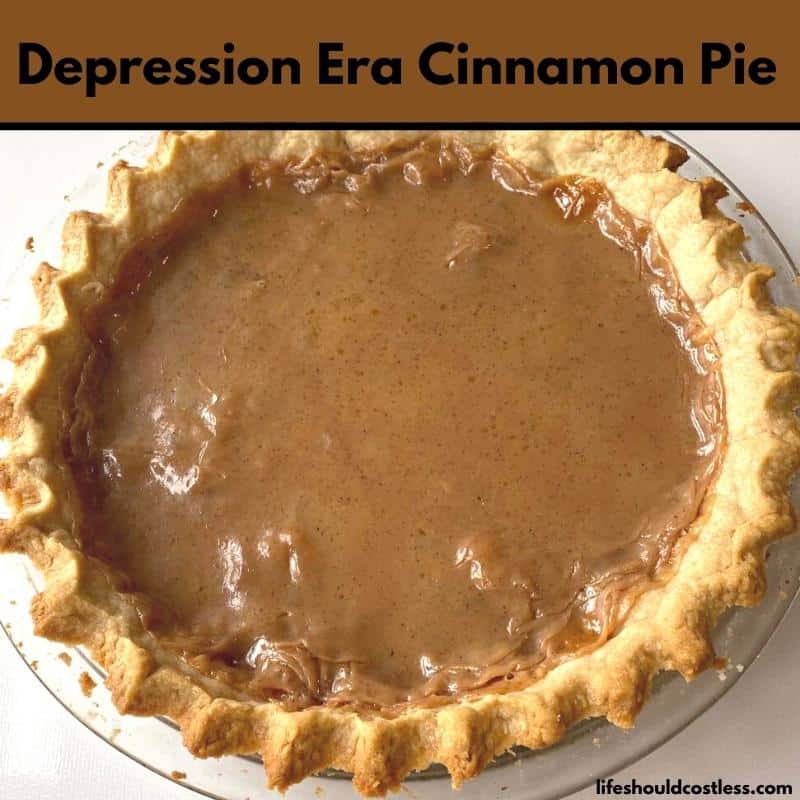 Depression Era Cinnamon Pie
Fondly referred to a Gunk by the sharers family. This depression era cinnamon pie era recipe is often a special treat for holidays. This pie can easily be made into cinnamon bars as well.
Ingredients
1 Pie Crust (uncooked, previously prepared)
1 (12 oz) Can Evaporated Milk
1/2 Cup Butter (1 cube)
1 Cup Sugar
1 Tablespoon Cinnamon (ground)
Instructions
Prepare the pie crust ahead of time, set aside.
In a medium sized pot, boil the other four ingredients together until thick (If using a candy thermometer that is when it reaches around 200 or so degrees). Stir nearly constantly as it is very easy to scald the filling, it will need your full attention.
Pour the cinnamon mixture into the prepared crust (can roll out more crust in shapes or do a lattice on top if desired).
Bake at 350 degrees Fahrenheit for 25-30 minutes, or until crust is golden brown.
Allow to cool completely on a baking rack before cutting.
Notes
If your pie turns out not looking the greatest, it is easy to dust it with a powdered sugar/cinnamon mixture to hide any imperfections.
If it's not setting up properly once it has cooled most of the way, put it in the fridge and it will continue to thicken.
Make sure that you make your pie crust fairly thick as the filling will be boiling and bubbling and will bleed through if it is not 1/4" thick or so.
To make cinnamon bars: Prepare a double crust in a 9x13 inch baking dish and make sure the crust goes up the sides quite a bit. Double the filling recipe and bake as per the pie instructions.
Nutrition Information
Yield

8
Serving Size

1
Amount Per Serving
Calories

304
Total Fat

17g
Saturated Fat

9g
Trans Fat

0g
Unsaturated Fat

7g
Cholesterol

32mg
Sodium

186mg
Carbohydrates

37g
Fiber

1g
Sugar

26g
Protein

2g
These caloric amounts are automatically estimated by a plugin on my site and should be treated as an estimate only.
I hope that your family enjoys this Cinnamon Pie Recipe as much as mine does. We can't go without "gunk" for very long…lol.
It's definitely one of the more inexpensive pie filling recipe's out there, and one of the tastier great depression recipes in general, so add it to your recipe box just in case you need it someday.
---
Thanks so much for stopping by my blog and supporting my endeavors to make people's lives a little easier/better/less expensive.
If you liked this recipe post, or found it helpful in any way, please make sure to share it with your family, friends, and co-workers via social media.
Or you could even send them the direct link via email. Whichever way you choose to spread the love, I super appreciate it! ~Sarah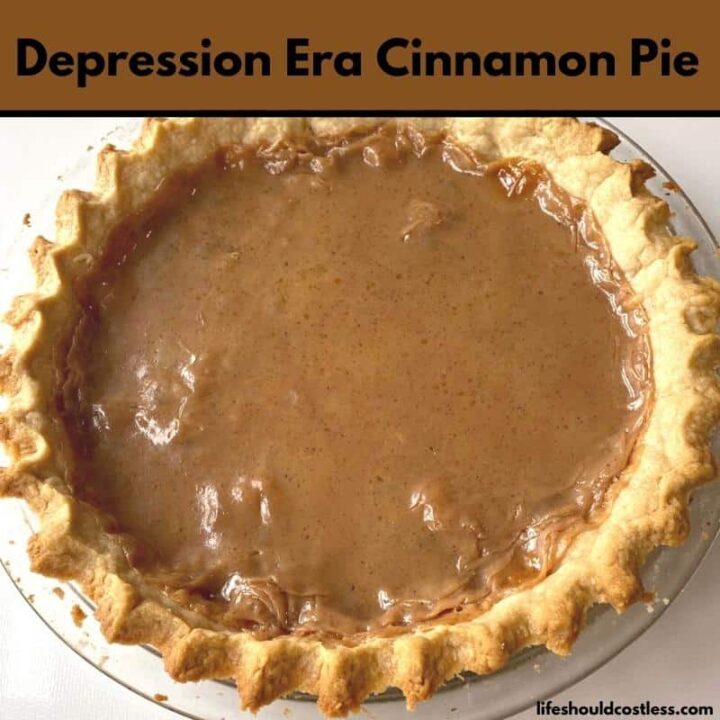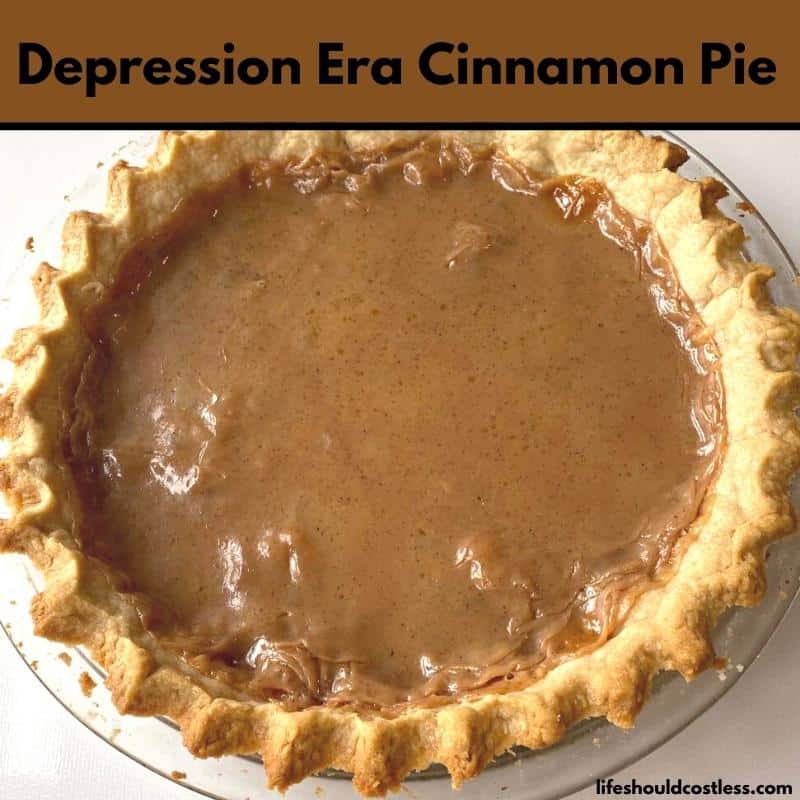 If you would like to subscribe to my email list, go here.
Make sure to follow along via social media, by going here.
If you would like to learn how to really show your support to this site (at no cost to you), go here.
P.S. If you would like to check out all of my yummy dessert recipes, you can do so by browsing my Sweet Tooth section here.
Here are links to several of my other recipes that you're also going to LOVE:
*This recipe article was originally shared to this website on November 15th, 2011 and has since been updated to improve user experience, add a free printable recipe card, as well as to improve shareability on the social medias.