This is one of those recipes that oozes with nostalgia for me. I remember my parents both making these cookies a lot when I was a kid, and since it's a family recipe, of course it has been tried and tested for several generations and it is still one of my favorite cookie recipes. I think that the best thing about these cookies is the versatility. They are literally the best cookies you can use to stuff with your favorite chocolate or caramel, or both my favorite stuffer, Rolo's. Or you could even add a chocolate kiss to the top…there are so many things you can do with these cookies you just have to experiment until you find your very own favorite.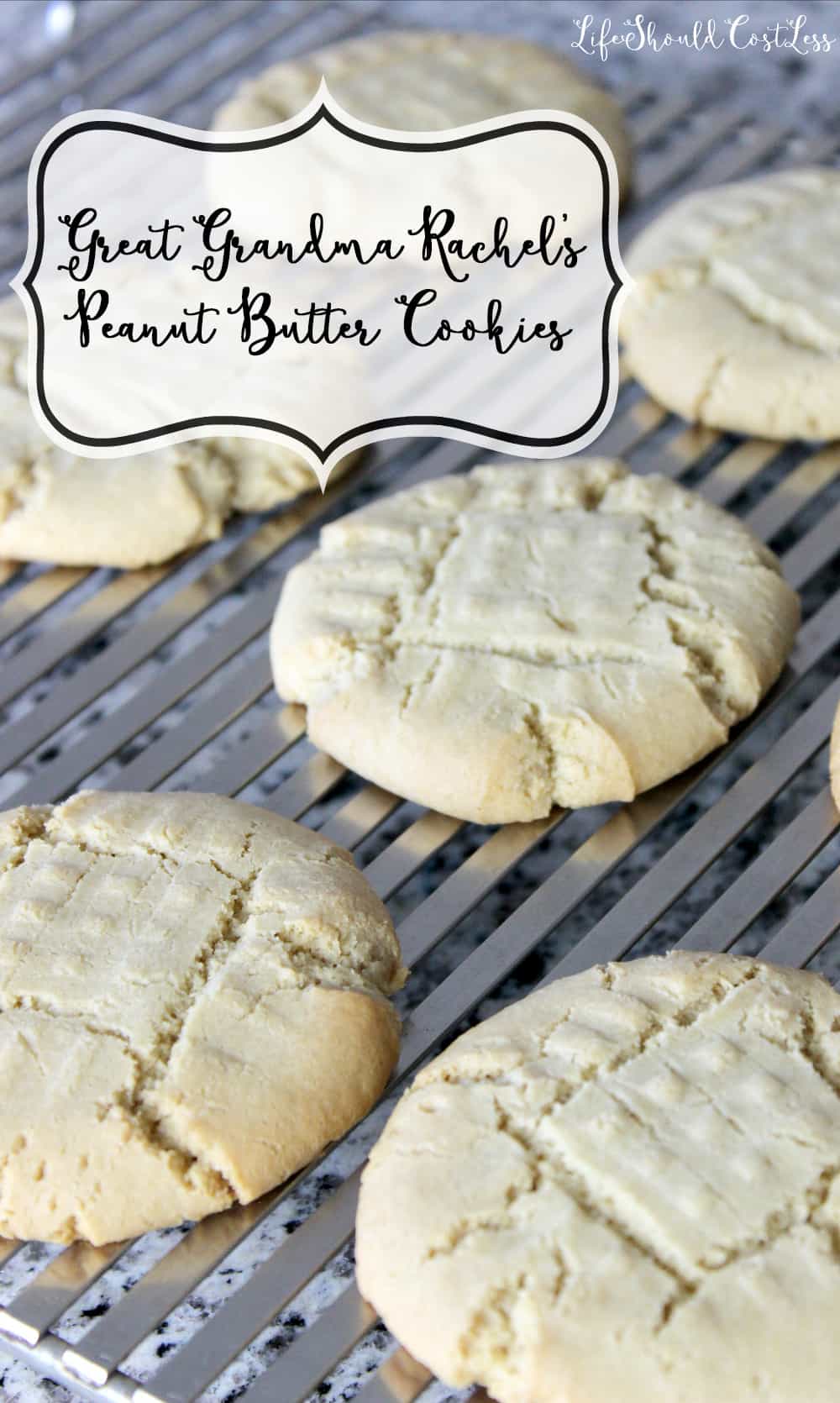 It's a pretty basic recipe, I don't normally use regular flour or peanut butter when I bake, you can see my clean eating peanut butter cookie recipe here, but I was not about to mess with Grandma's recipe so I made them as the recipe called for. I'm just going to jump right in and show you the ingredients and the process and then I share the recipe at the bottom.
Here are the ingredients.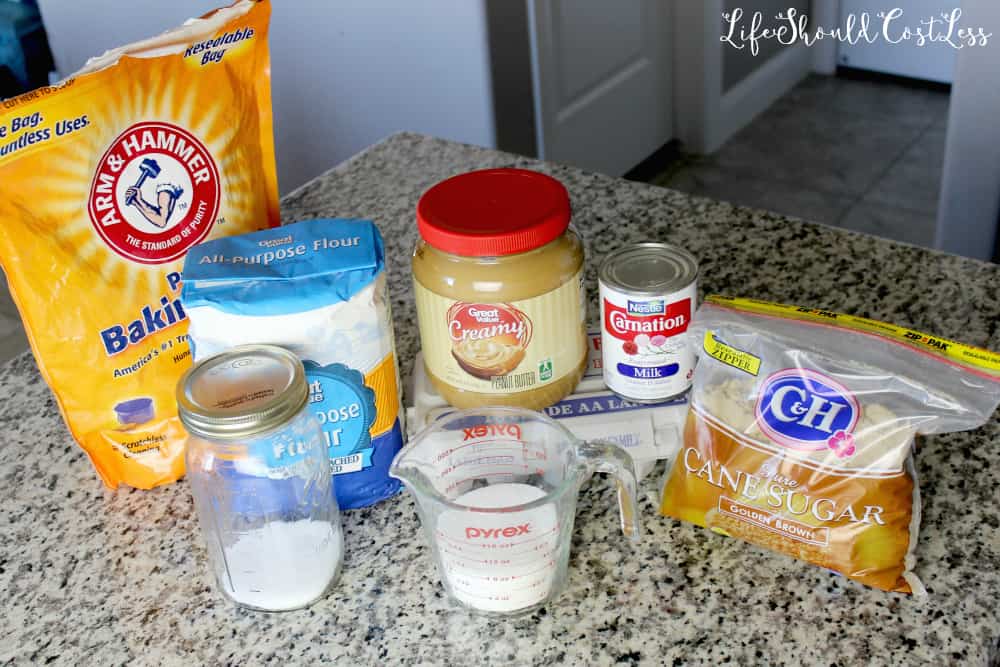 The first step is to sift the flour, baking soda, and salt together, but I always just whisk everything together.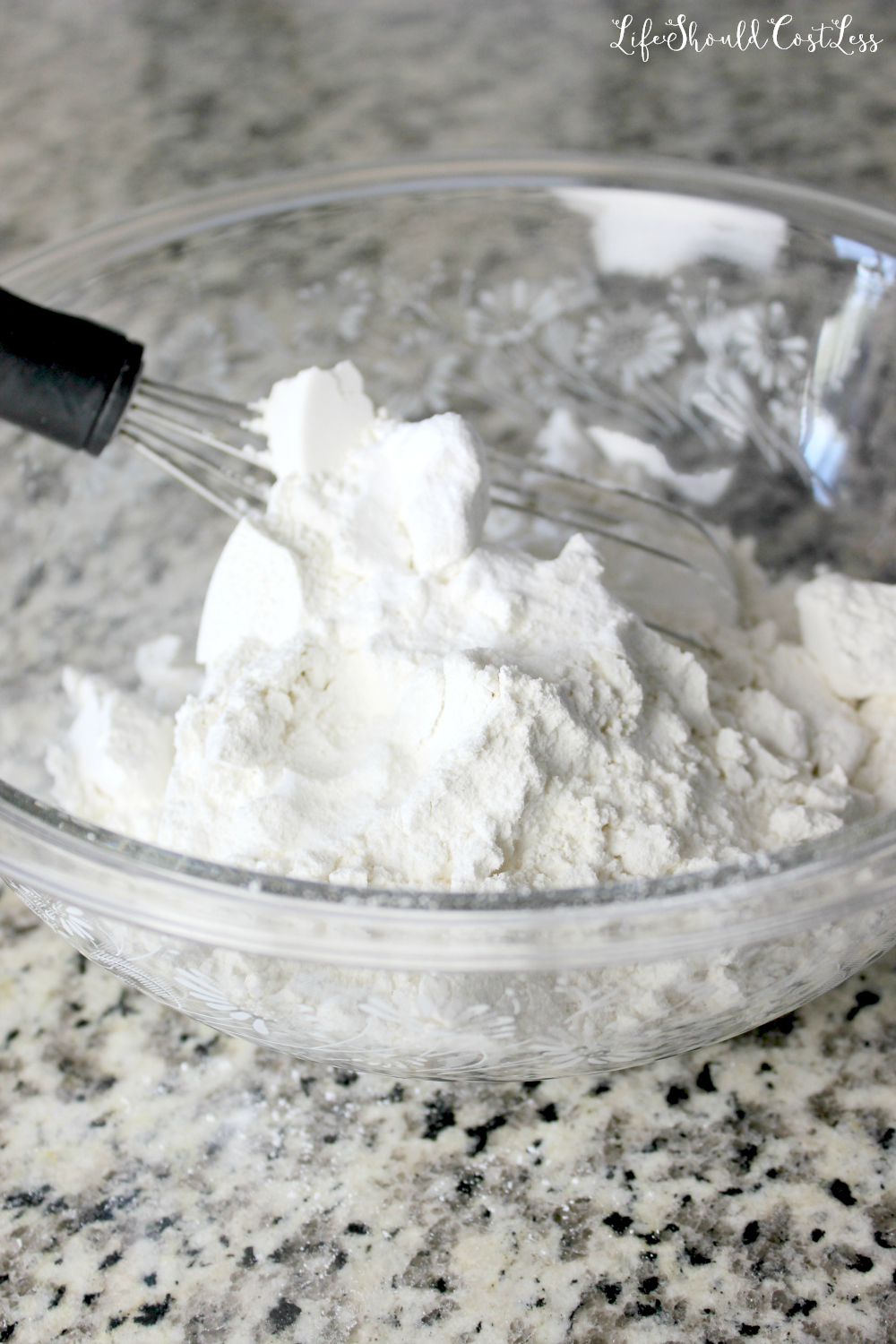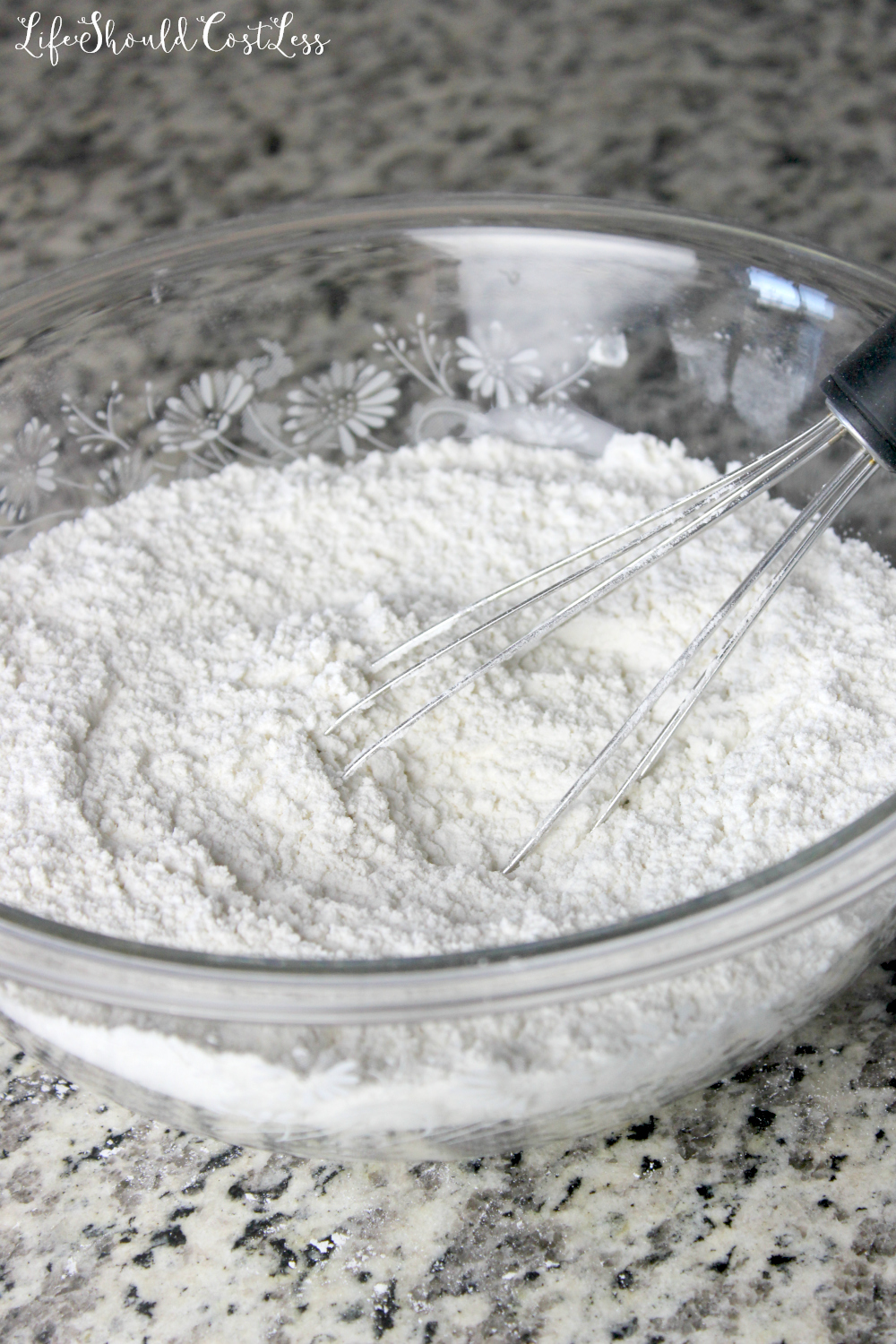 Then you set that bowl aside and get out a larger one for the wet ingredients. I use a four quart glass bowl, and that's the perfect size for this recipe.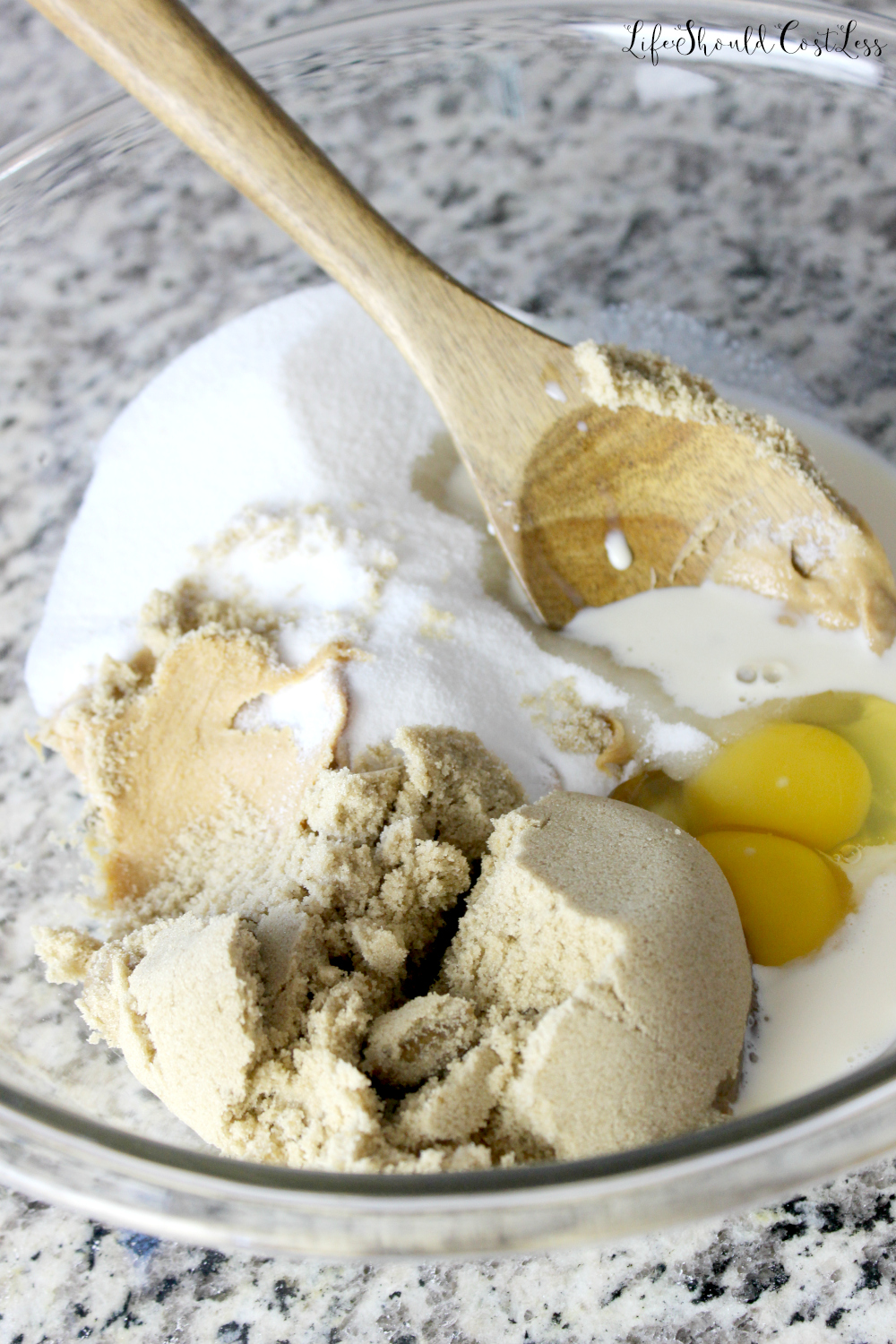 Mix it all together.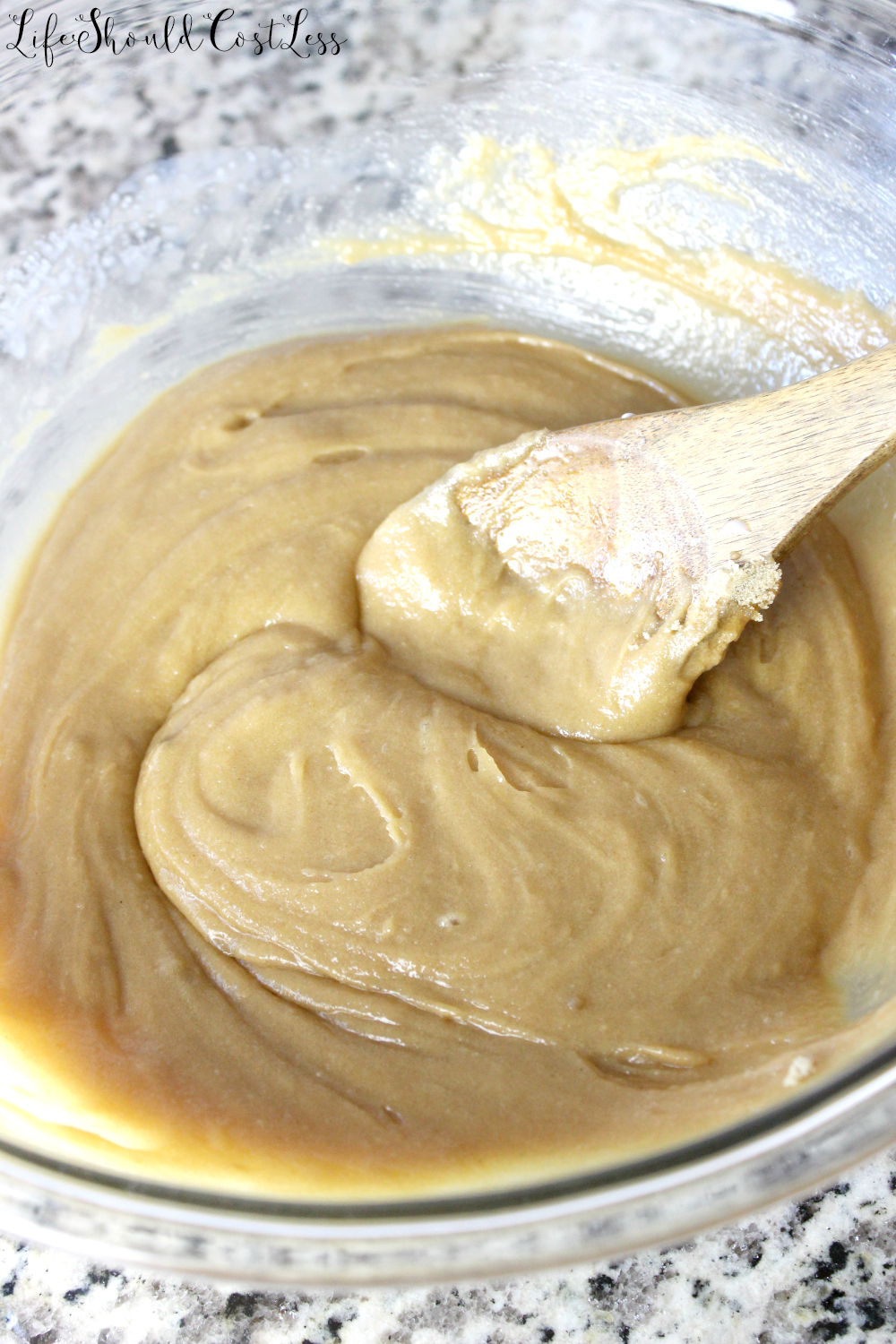 Then gradually add the dry ingredients.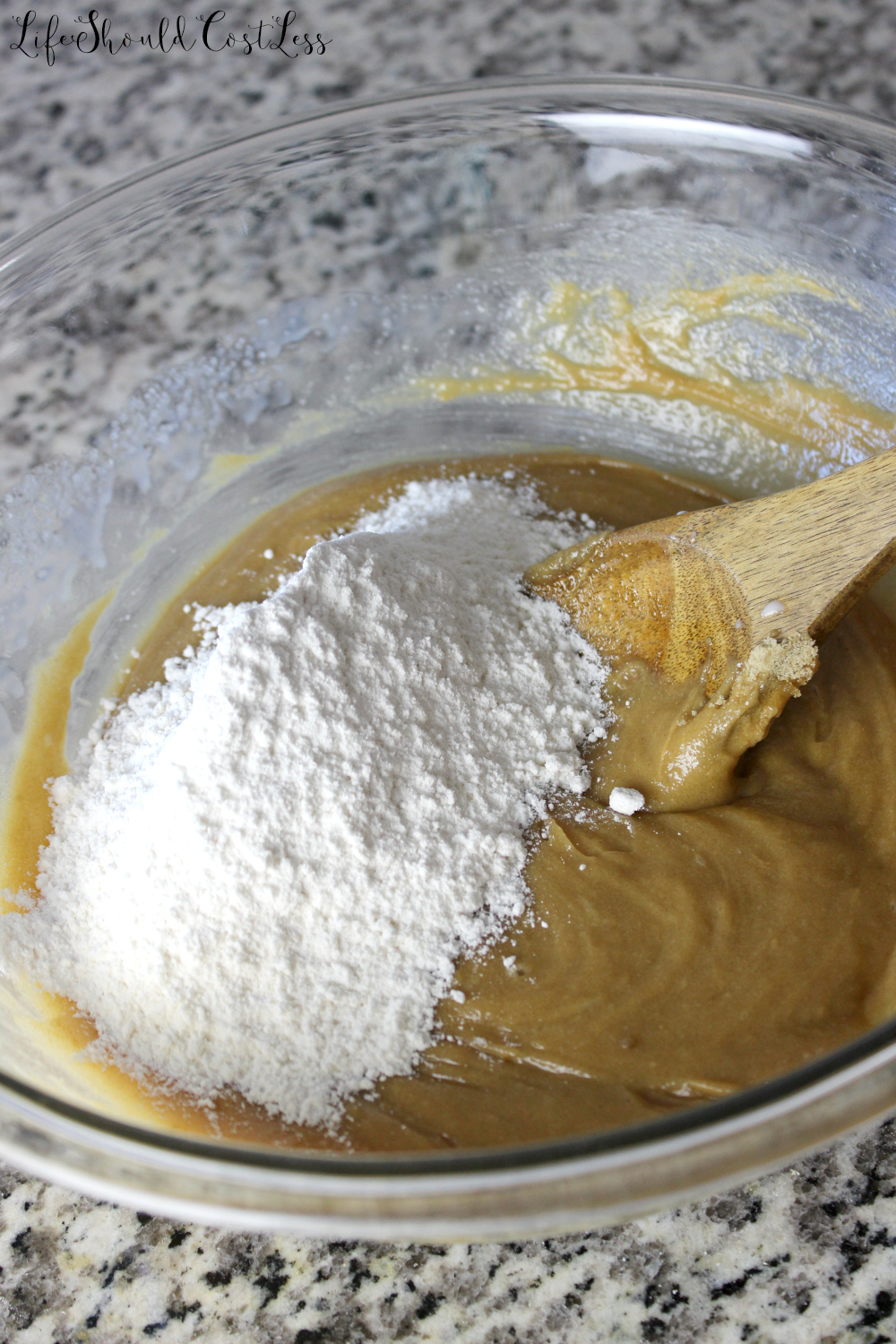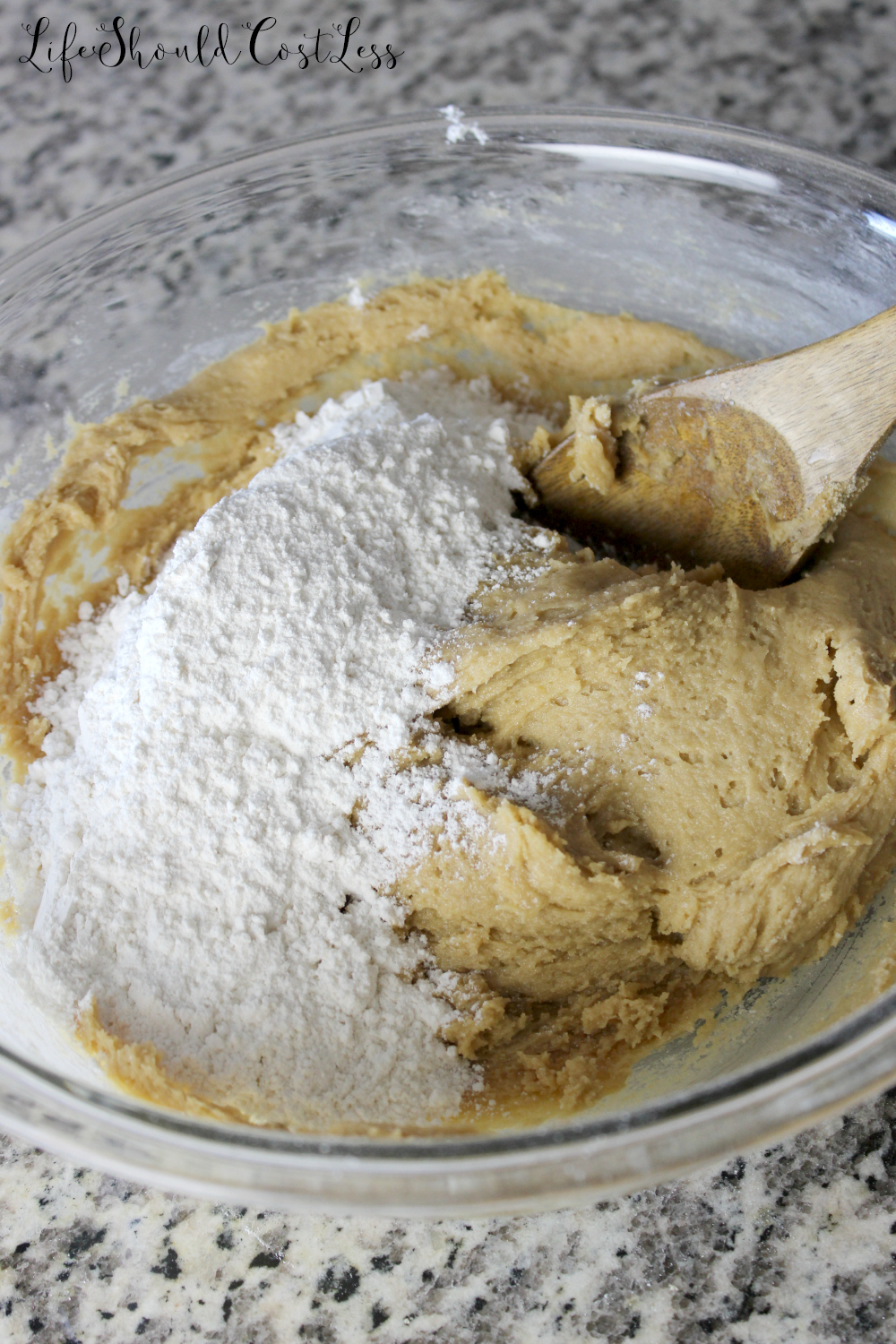 At the end it gets really hard to mix with a spoon. I usually ditch the spoon and mix the last of the dry ingredients in by hand. It forms a stiff dough that you may think seems a little too dry, but it's not. They'll be perfect.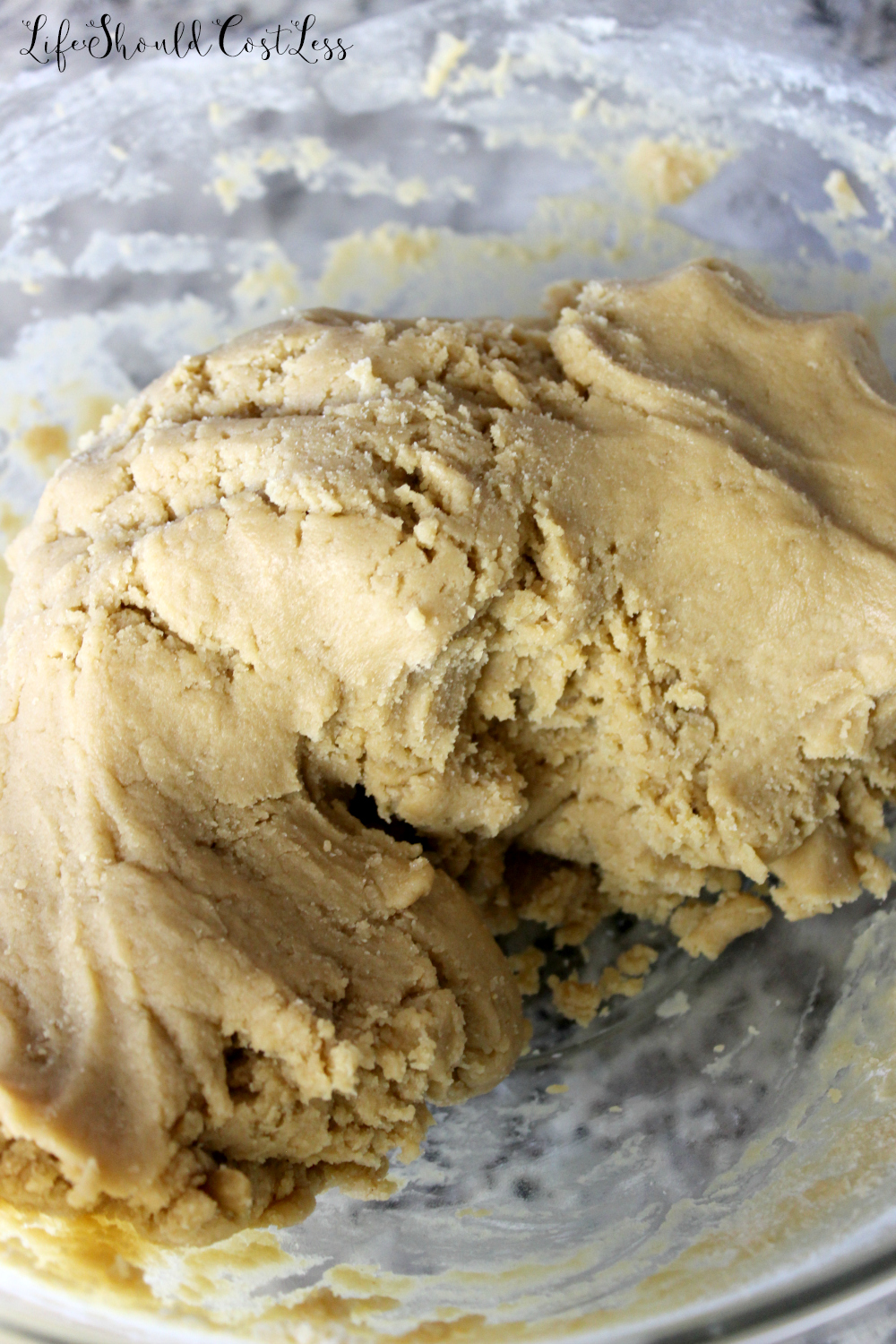 Next you cover and chill for ten minutes or so.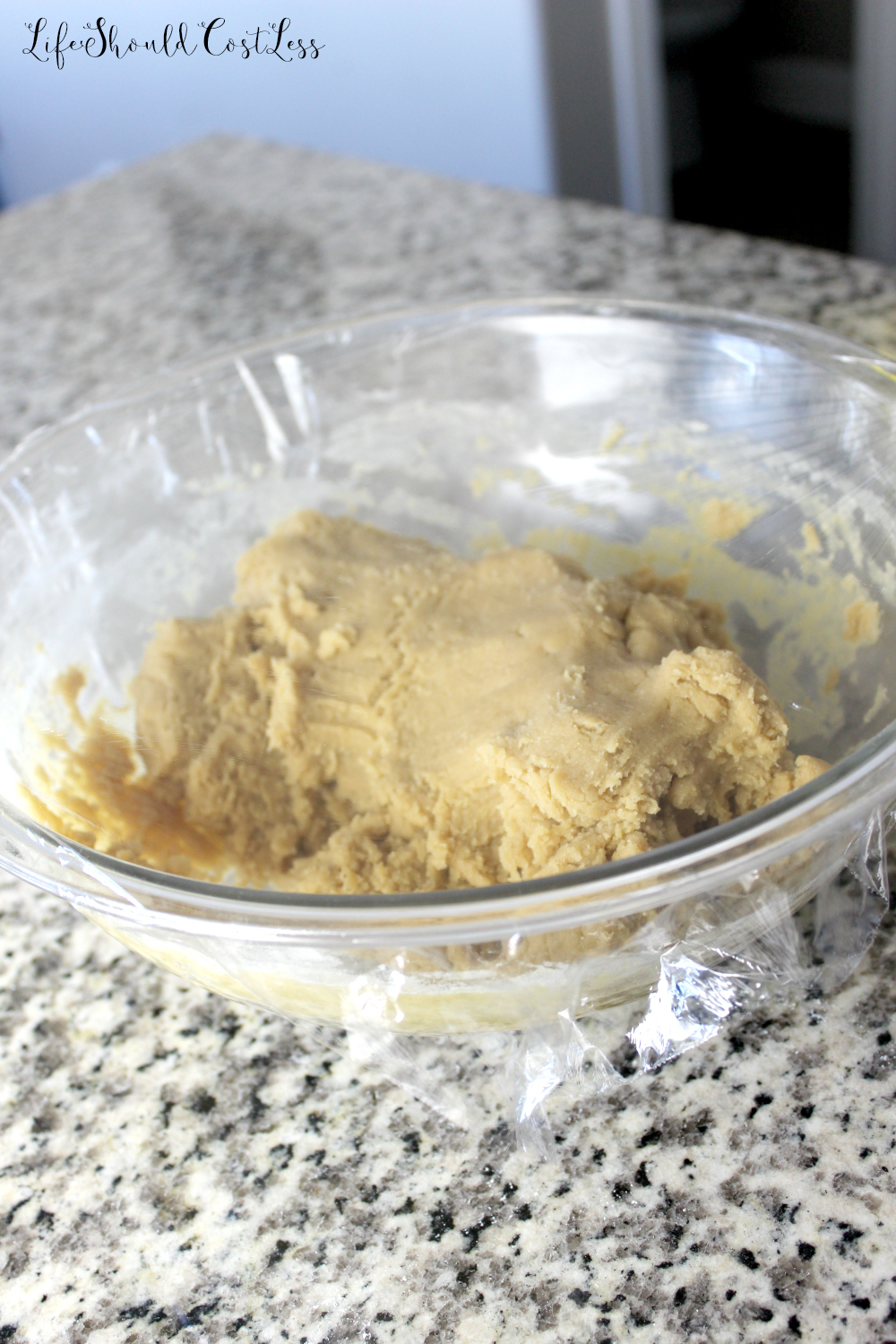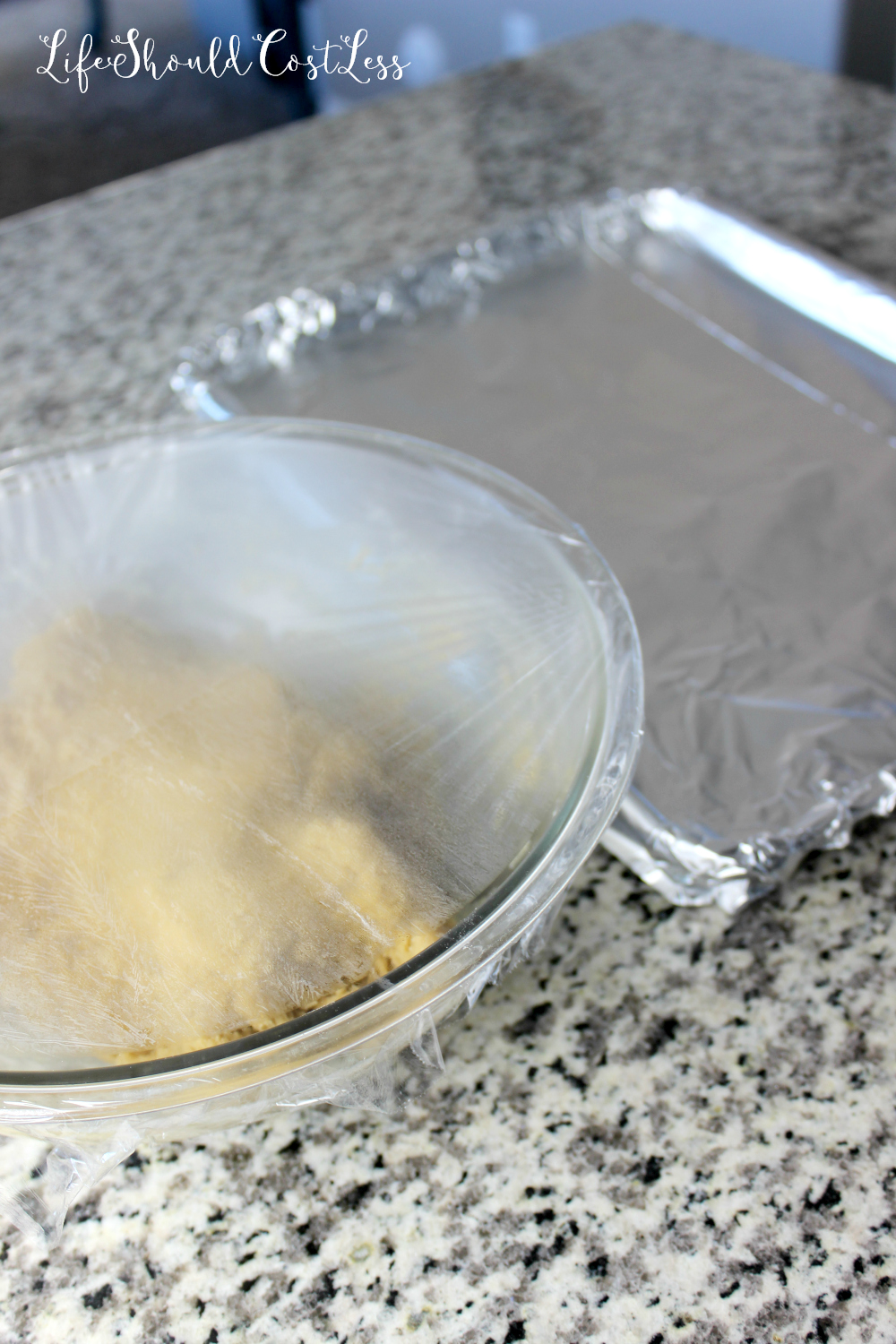 Then form into balls and place on a parchment paper lined cookie sheet. I had run out of parchment paper so I used some non-stick foil.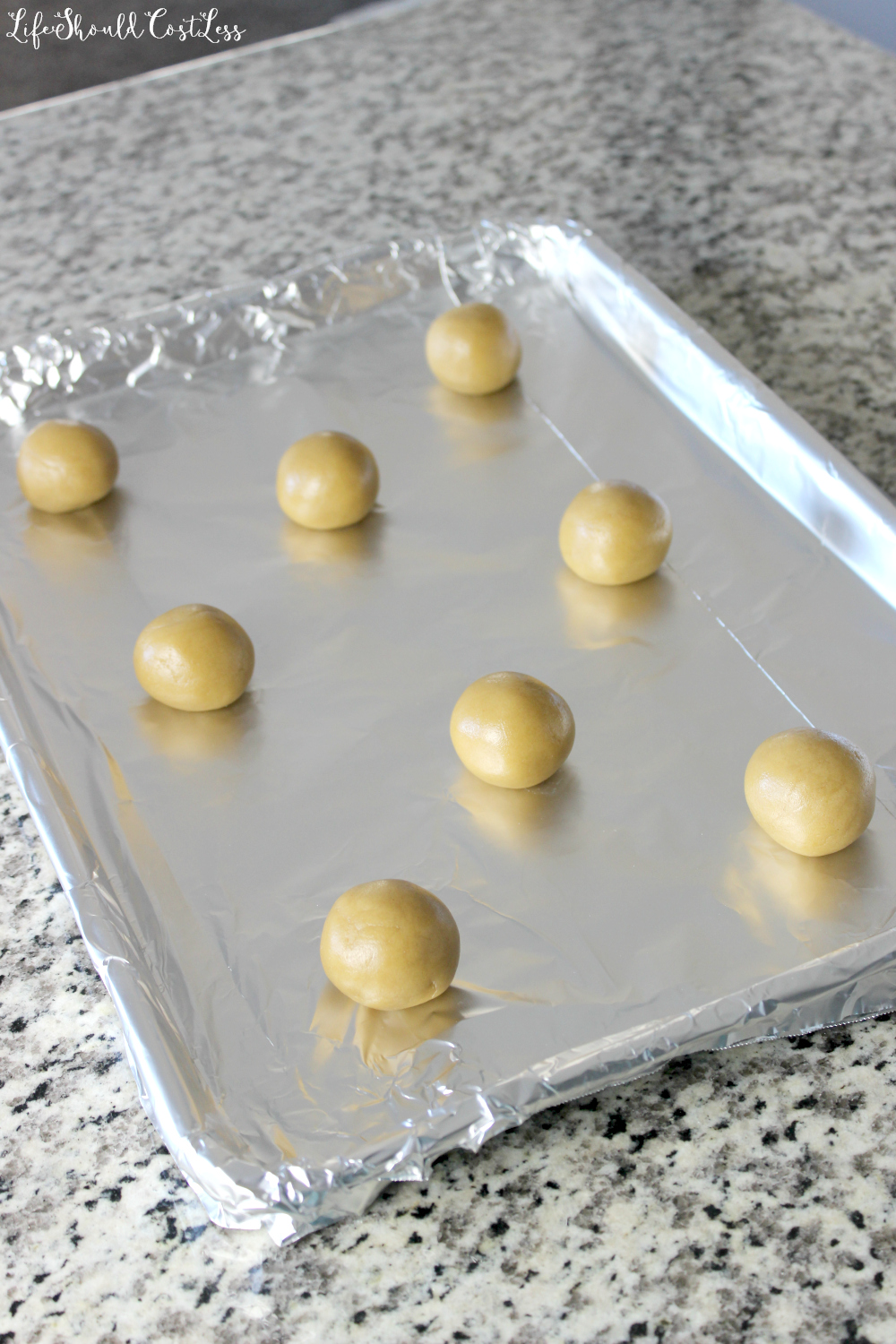 Then squosh them down, with a fork, in a criss cross pattern and put them in the oven to bake.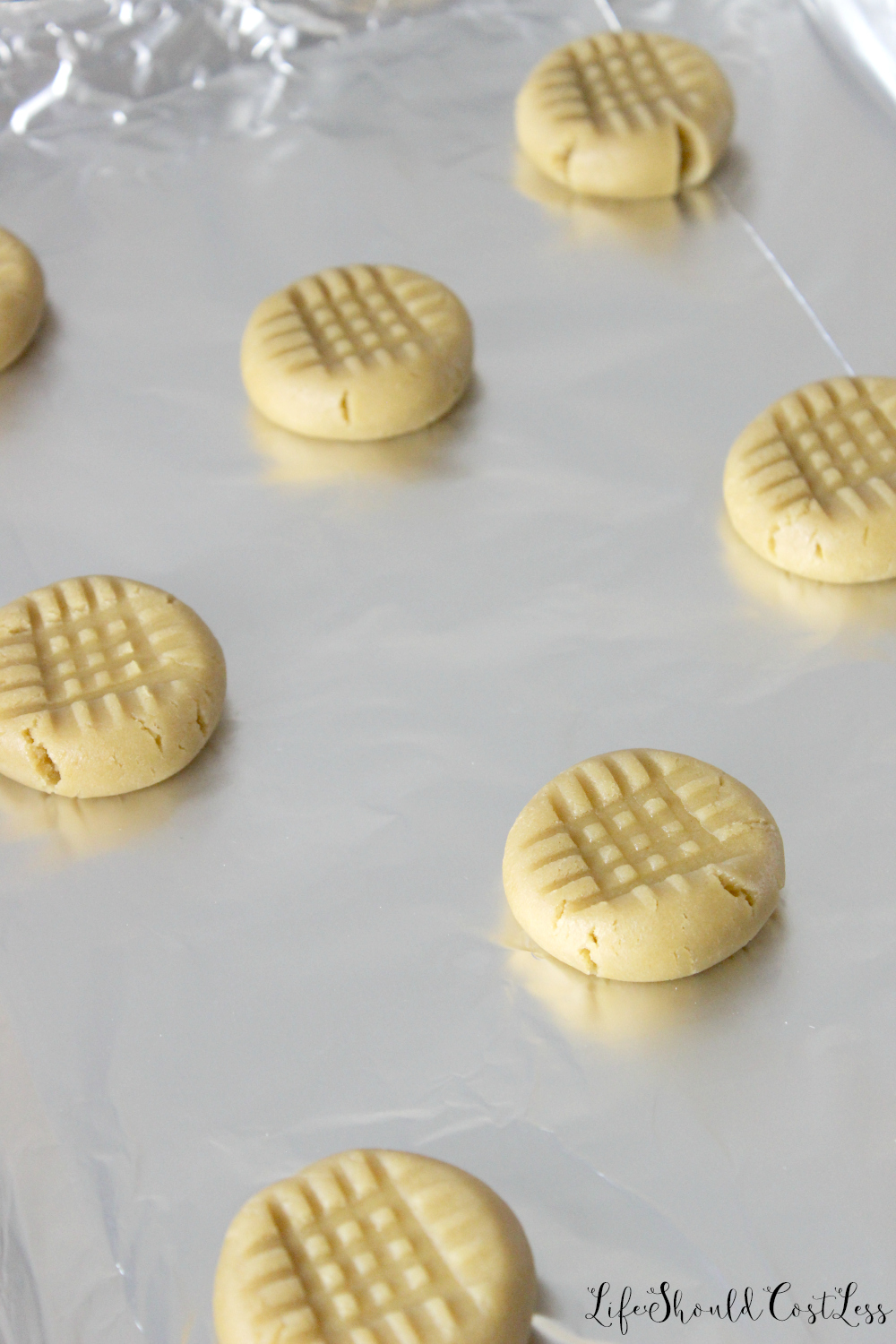 You'll know they are ready when they are slightly golden around the edges. I like to remove them from the oven, and leave them on the baking sheet for one to two minutes before transferring them to a cooling rack.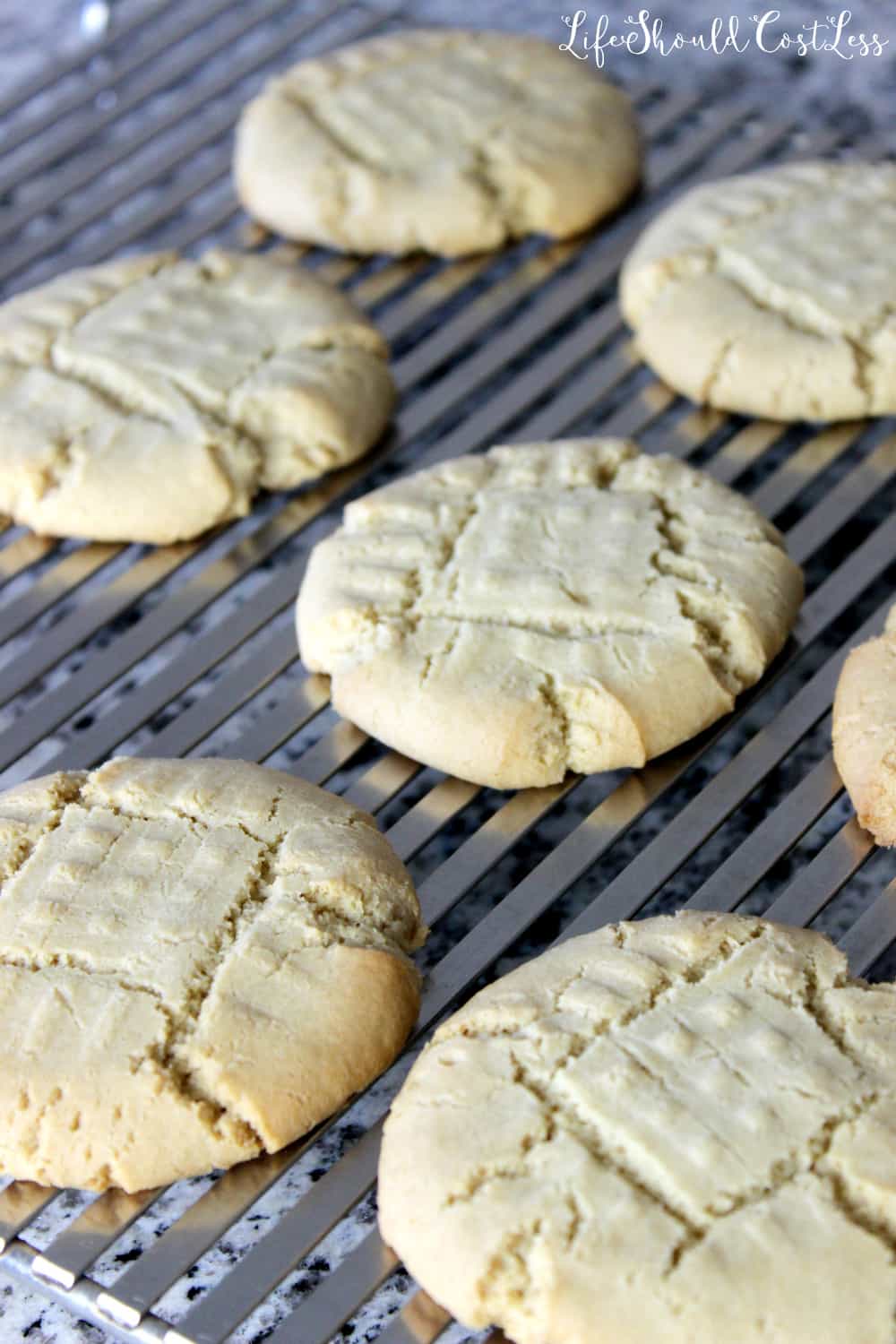 I thought that I would also show you how to stuff them. I always roll the dough into a ball and then squish it flat in my hand.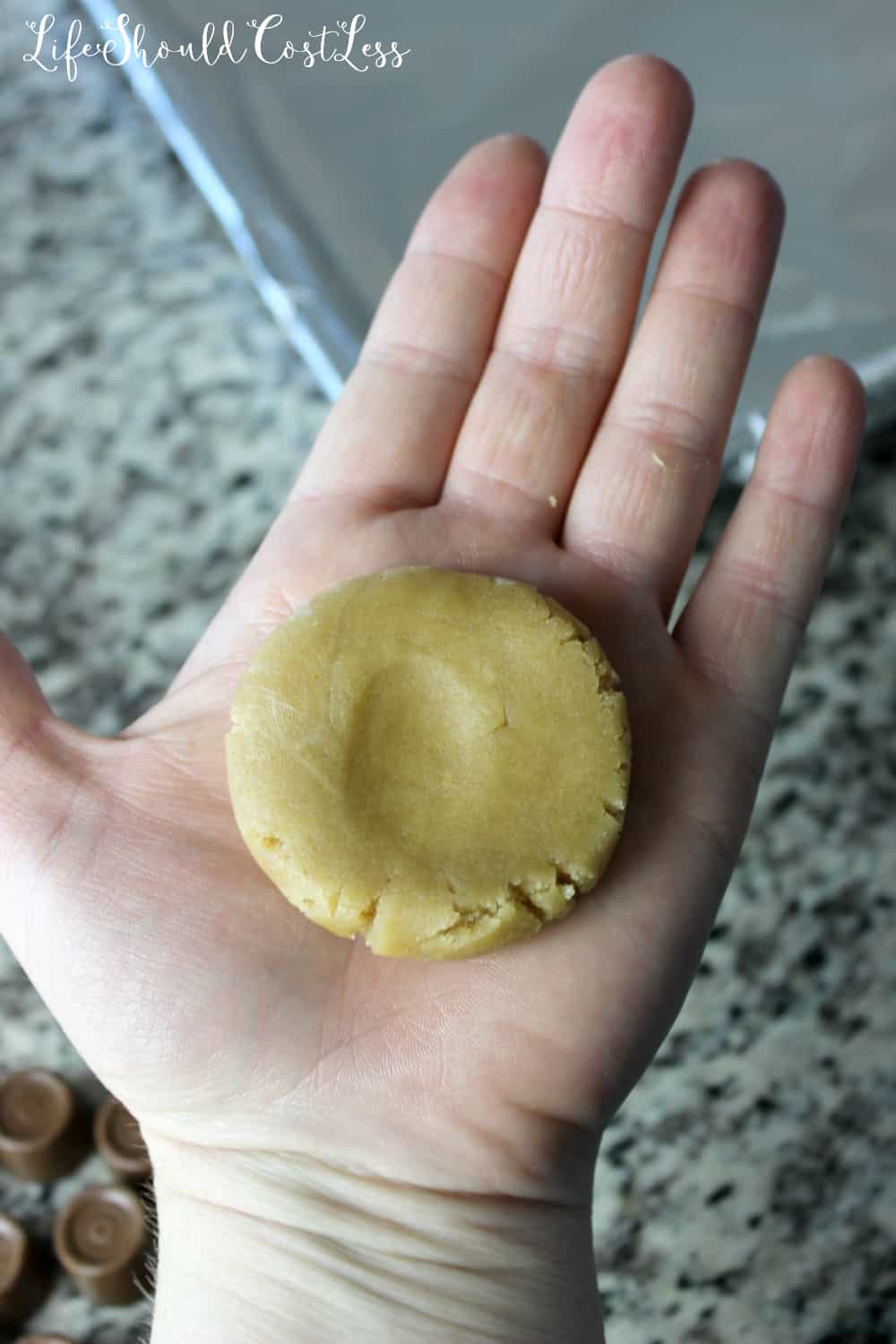 Put your desired stuffer in the center.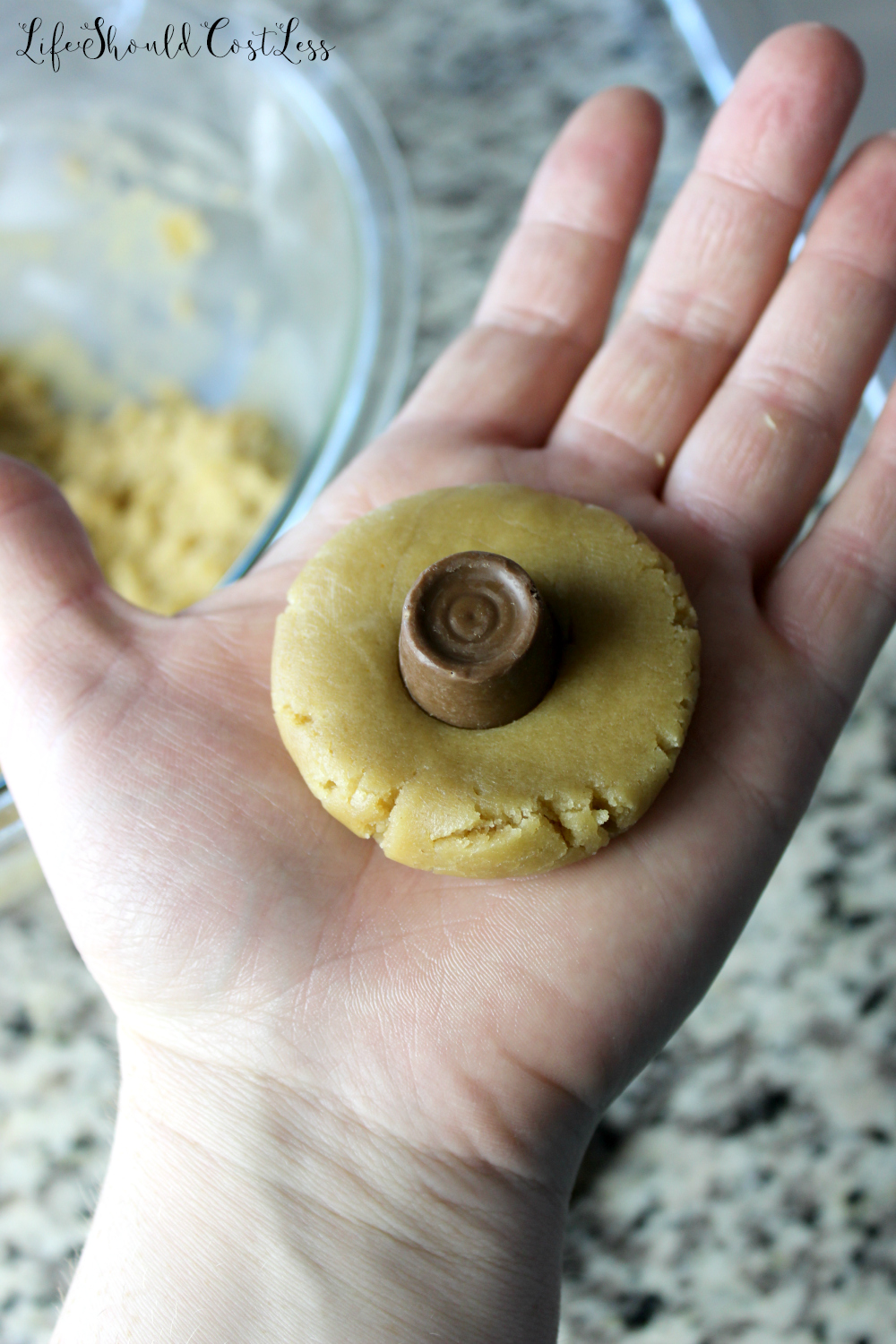 Then start folding the edges of the cookie up and around it.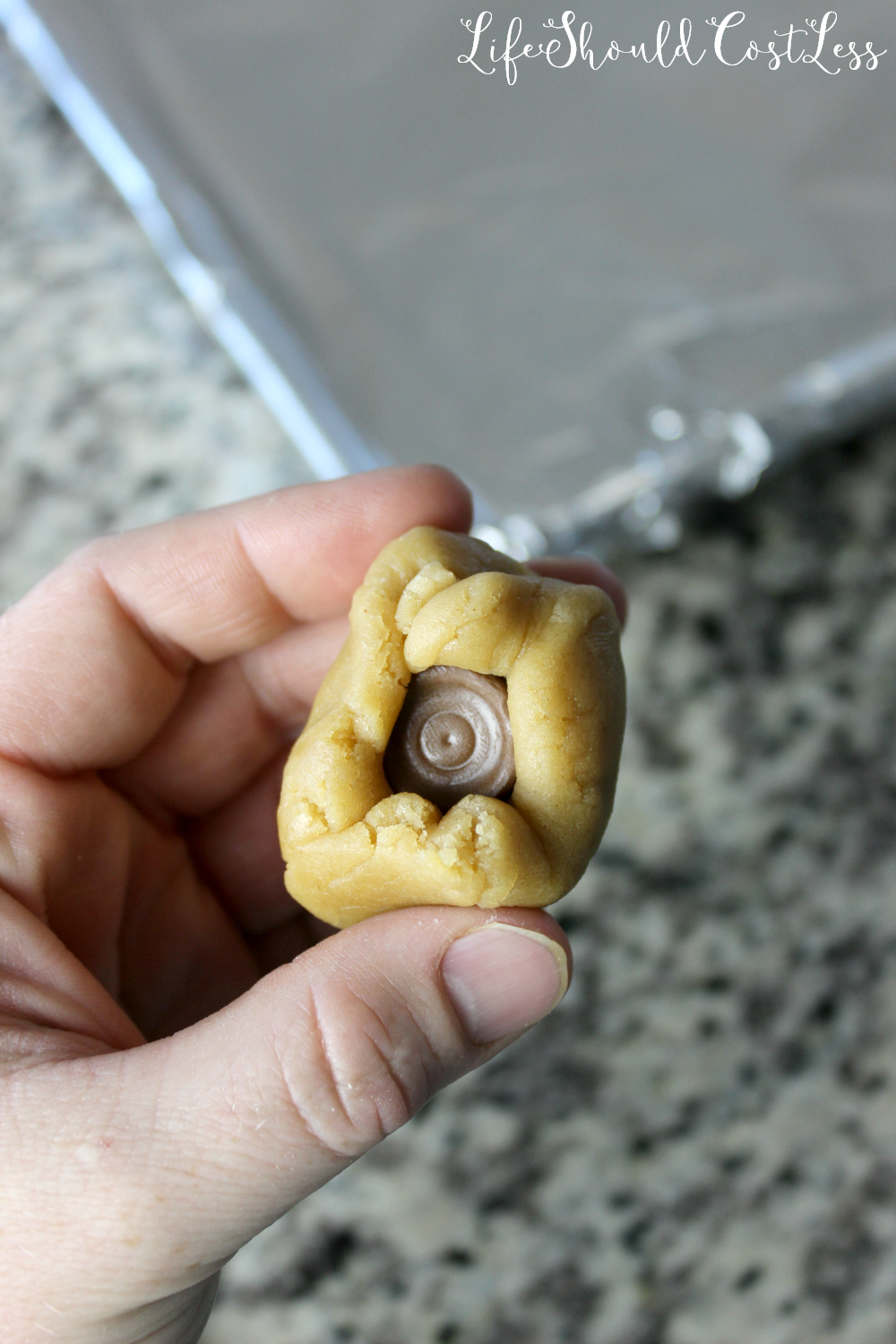 Keep squishing it around the stuffer until you can no longer see it and then roll it around in your hands until it makes a smooth ball.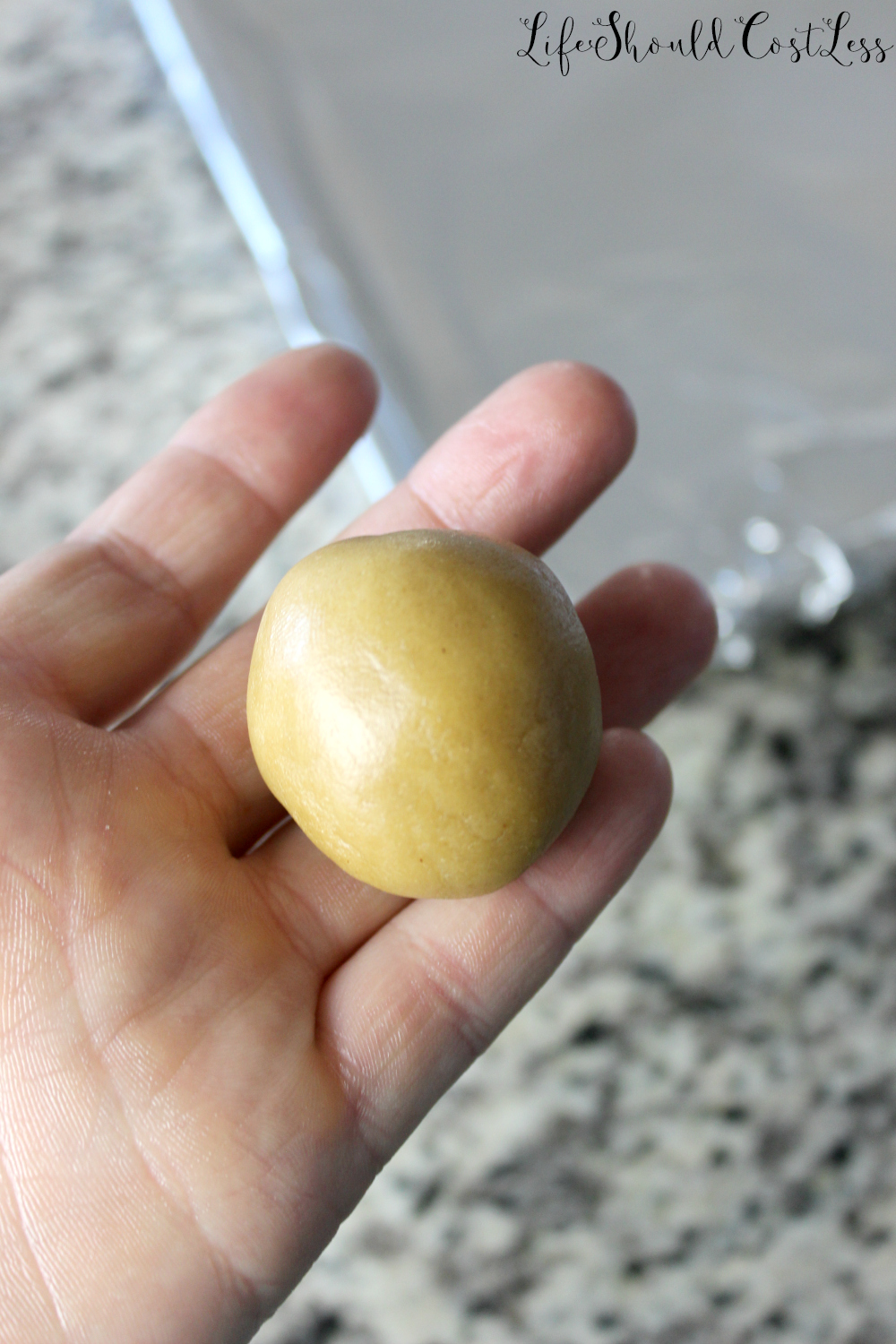 Then place on a cookie sheet and bake.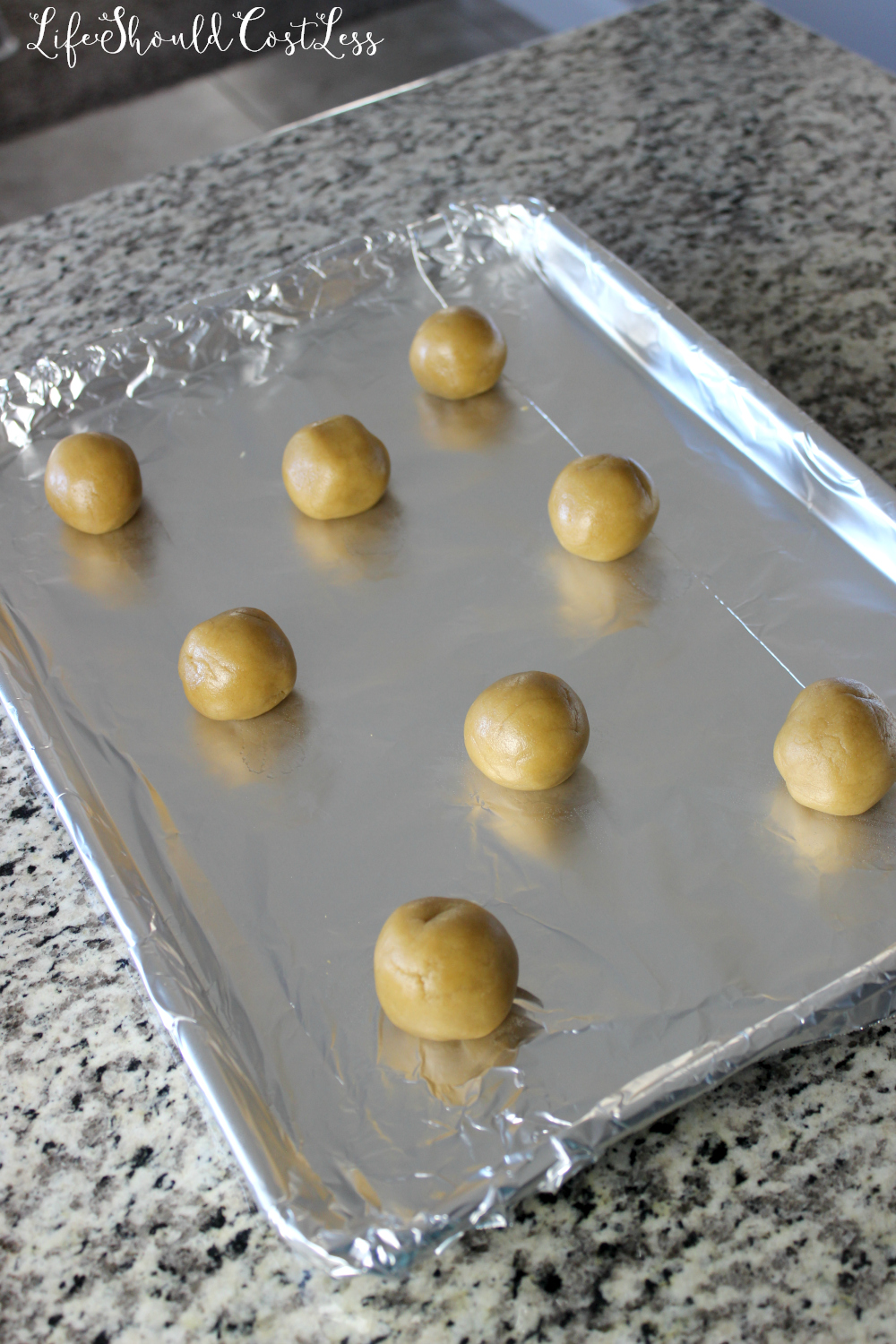 You'll know they are done when they are slightly golden on the tops.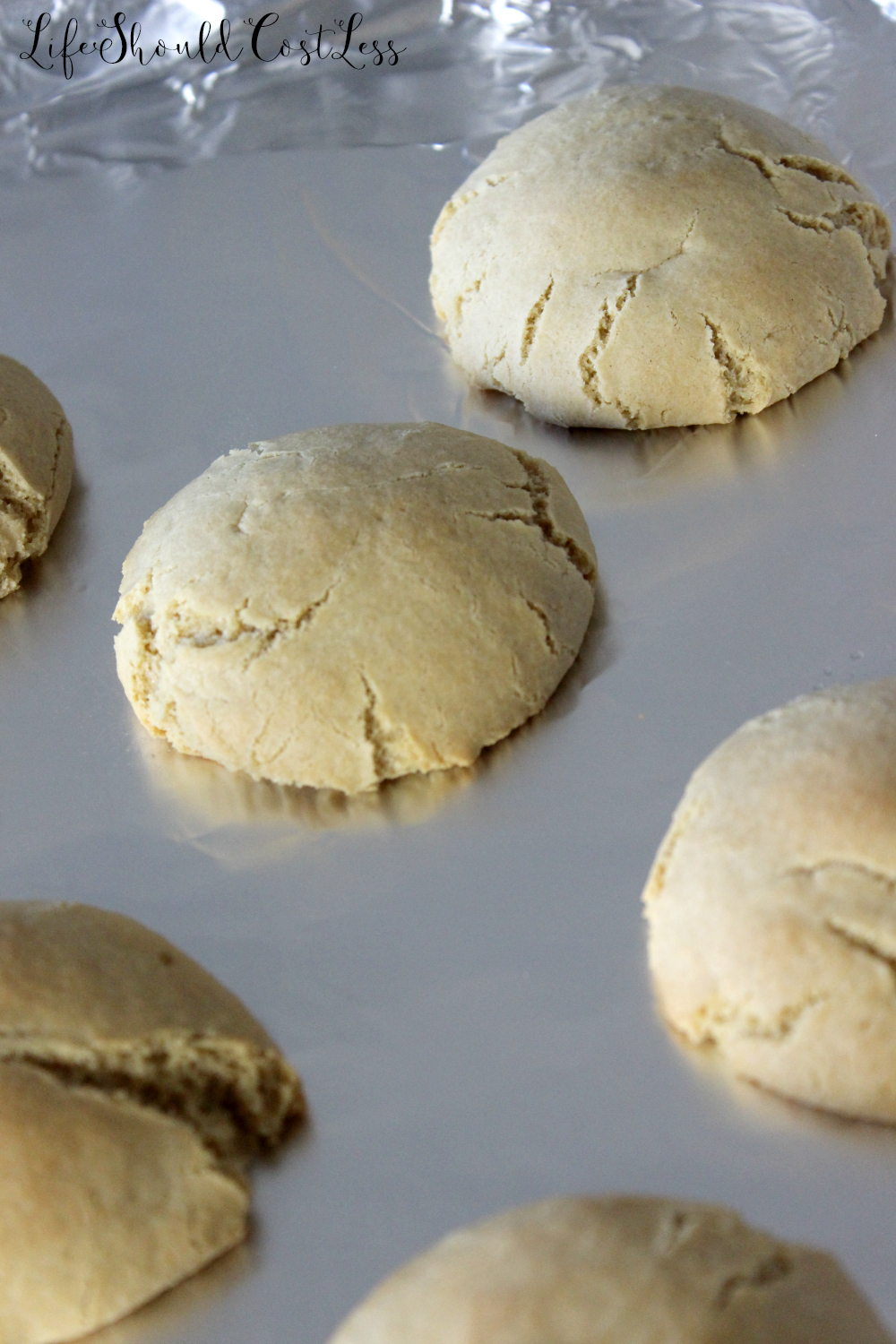 I usually prefer to wait until they have cooled completely to take a bite, but my kids were hovering around the kitchen so I figured I better hurry and get a shot of one that had been stuffed or they would all be gone… so here you go, this one had a gooey rolo filling.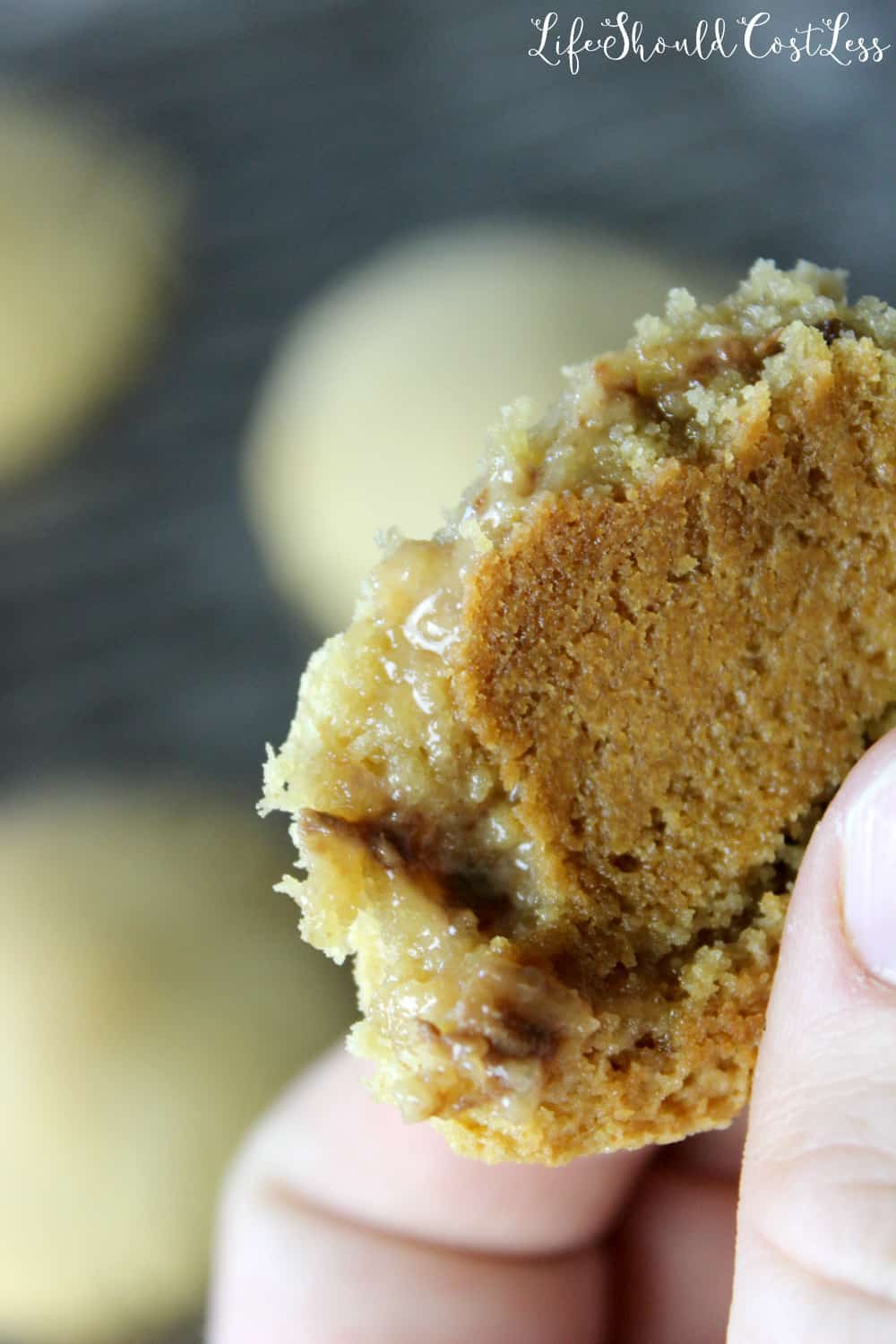 Great Grandma Rachel's Peanut Butter Cookies
Author:
LifeShouldCostLess.com
Ingredients
2 & ½ C Flour
1 & ½ tsp Baking Soda
1 tsp Salt
1 C Peanut Butter
2 Eggs
1 C Brown Sugar
⅓ C Evaporated Milk
1 C Sugar
Instructions
Pre heat oven to 375 degrees.
In a small to medium bowl sift together the flour, soda, and salt. Set aside.
In a medium to large bowl add the remaining ingredients and mix well.
Slowly mix the dry ingredients into the wet ingredients and mix well.
Cover and chill ten minutes or so.
Shape into balls and squash with a fork in a criss cross pattern.
Place on a parchment paper lined baking sheet and bake for ten minutes or until slightly golden around the edges.
Leave on tray for one minute and then move to a cooling rack.
Notes
These cookies are perfect for stuffing with rolo's or your favorite chocolate or caramel treat. Just form a ball around your desired candy and bake as normal. May take slightly longer to bake if filled. You'll know they're done when slightly golden on the edges.
There you have it! Some delicious cookies to add to your recipe box. Make sure to comment if you love them and share this post with your friends and family via social media. I appreciate it. Thanks ~Sarah
P.S. If you've been hankering for something sweet but maybe not Peanut Butter cookies make sure to stop by my Sweet Tooth section, I only post things that I really like so you are sure to find a good recipe there.