This easy, non-alcoholic, instant wassail mix recipe is super quick to make and lucky for you….. only requires five dry ingredients. Did I mention that it is also insanely delicious? It is a recipe that my mom has been making since I was just a little girl, although I'm not quite sure where she got it from originally. It's a bulk recipe that could easily be put into jars with a simple tag (directions to mix it up) for an inexpensive holiday gift.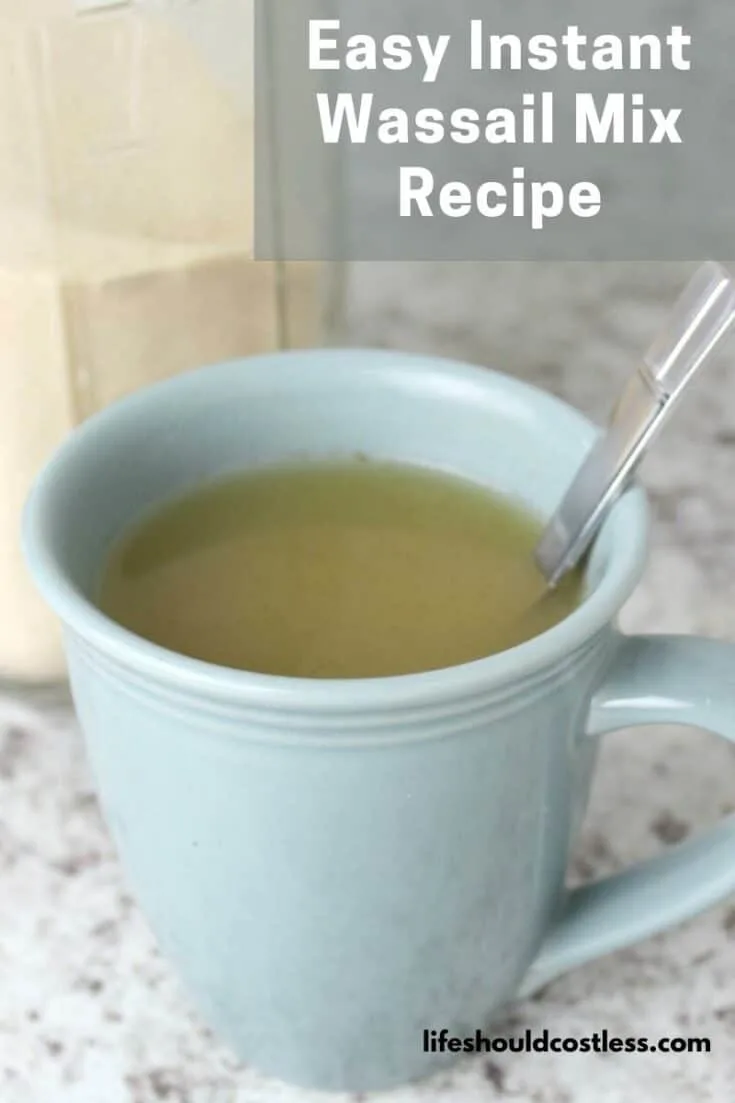 In fact, sadly this recipe had been lost for a few years, but when my brother asked my mom if he could have the recipe recently, my mom went on the hunt and found it, so I knew that I needed to take a minute and share it with you all.
What is Wassail drink?
Basically, Wassail is a spiced drink that has juices in it… those juices can be apple, lemon, orange,…or pretty much any juice you'd like to throw in with some wintery seasonal spices… this particular recipe is spiced lemon (lemonade) powder and orange (tang) powder but you could always try making something similar with some other yummy flavors of juice and/or alcohol.
Please note that I don't drink alcohol at all, so I'm not sure how it blends with different alcohols, but I imagine it wouldn't take much experimentation to figure out which flavor combos taste the best should you choose to give it a little bit of a kick and make it kind of your own version of Wassail recipes.
This is a very Americanized instant version of the cider, so keep that in mind…but if you would like to read more about the origins of Wassail, you can go here and read about it at britishfoodhistory.com.
---
This easy homemade recipe is so simple that I decided to make you guys a silly little video of the process.
How to make Wassail mix:
Please note for best results: It says on the Tang bottle not to store it in a metal container (I'm assuming because of acidity), so when I make my Wassail I put it in a half gallon mason jar.
One batch of this recipe will only require one each of the small (18/20 oz) Tang and Countrytime Lemonade canisters, but it's cheaper to buy them in bulk if you decide that you are going to make a bunch for gifts or just always want to have the ingredients on hand… each batch makes about 5 cups of mix in case you were wondering how much to make if you do want to fill up some jars for a unique homemade gift.
Mix up a batch and enjoy it! I know we are loving it at my house. Any time I mix up a batch my kids beg me to let them have some a couple of times a day. However, since it's super sweet I really do try to limit my little sugar monsters to one cup per day.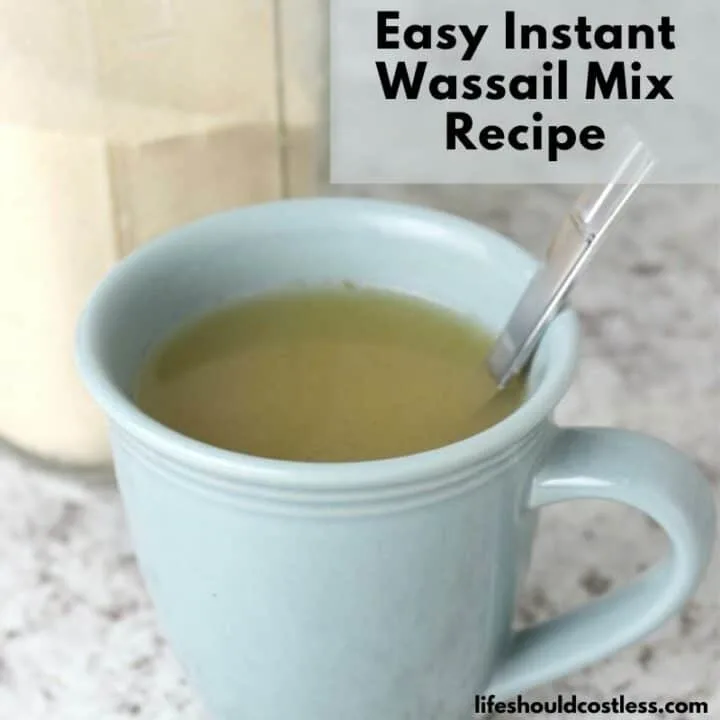 Easy Instant Wassail Mix Recipe
This easy, non-alcoholic, instant wassail mix recipe is so quick to make and only requires five ingredients.
Ingredients
2 Cups Sugar
1.5 Cups Country Time Lemonade (Powder)
1 Cup Orange Tang (Powder)
2 Tablespoons Cinnamon (Ground)
½ teaspoon Cloves (Ground)
Instructions
In a large glass jar or plastic container large enough to hold 5 cups ( I use a half gallon mason jar), layer your ingredients. Add the lid and tighten. Shake well! It sometimes takes a few minutes of shaking until it is well mixed you'll know you are done when the color is the same throughout the whole mixture.

Mix one Tablespoon per one cup of hot water. Enjoy!
Notes
This mix makes a great Holiday gift! Just package it cute with instructions on what water to mix ratio to use.
Please make sure that if you like this recipe for Wassail to spread the love and share this post via social media or even send friends the direct link via email. Whichever way, I really do appreciate the support. Thanks for stopping by my blog! ~Sarah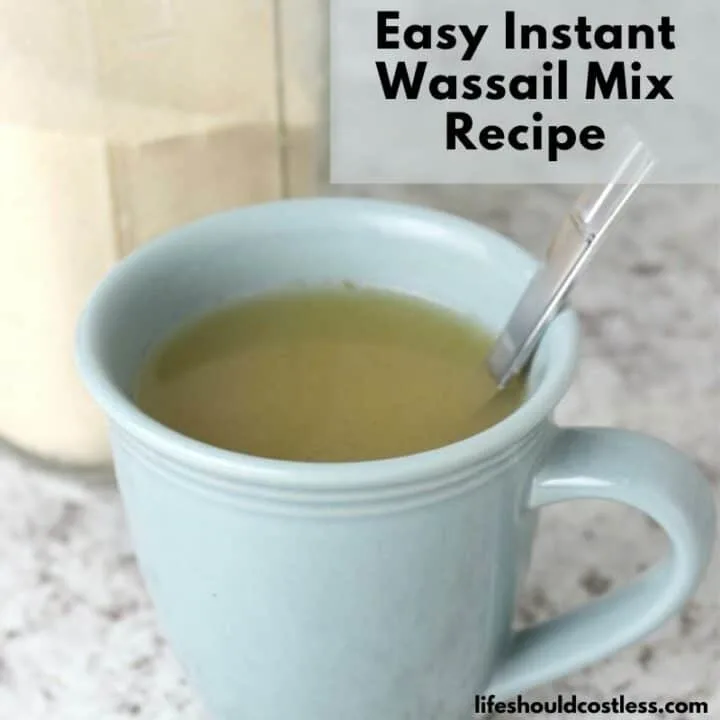 If you would like to browse some of my other yummy and usually easy recipes, you can do so here.
If you would like to subscribe to my email list, go here.
Make sure to follow along via social media, by going here.
If you would like to learn how to really show your support to this site (at no cost to you), go here.
Here are links to five of my other super popular easy recipes that you're also going to love:
For those of you that would like another option of a "pinnable" image to share on Pinterest, here you go. Thanks again for the support: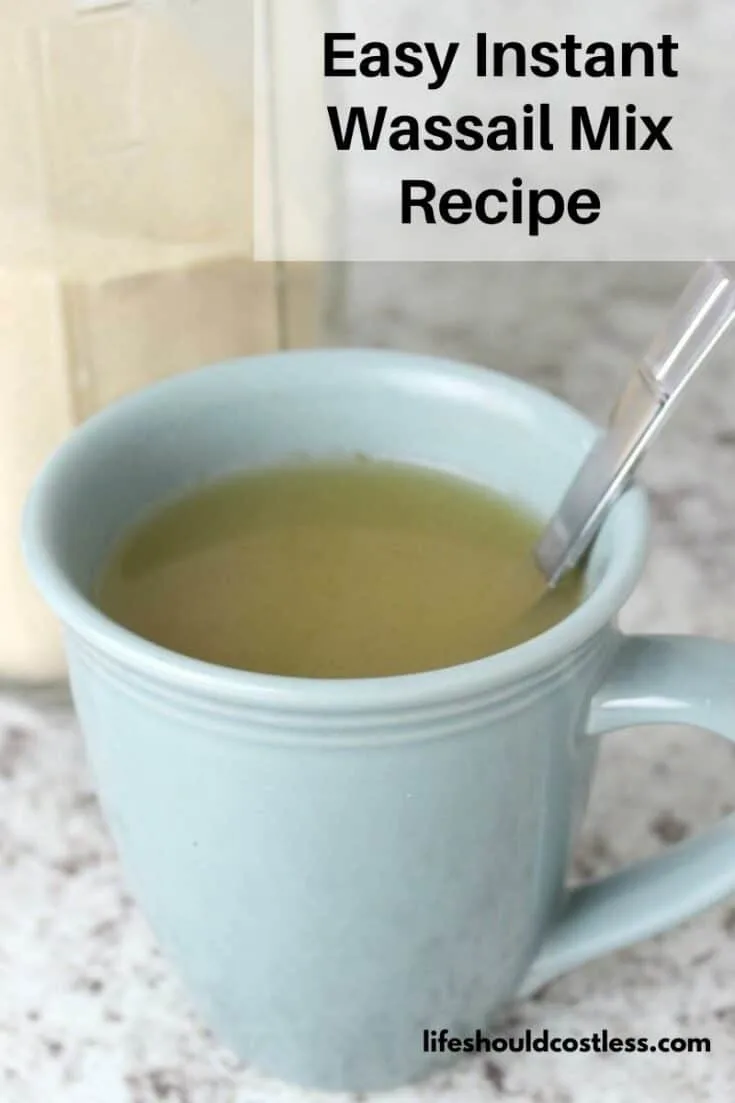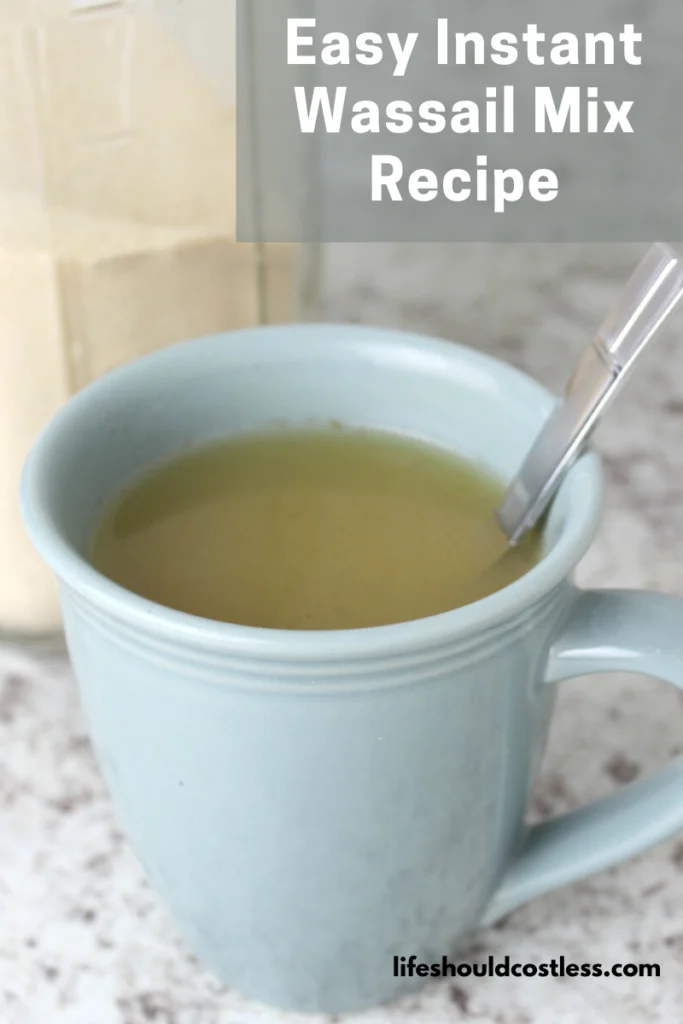 *This recipe was originally published on this site on December 17th 2016, and has since been updated to improve viewer experience as well.