Mint and chocolate are another one of my favorite flavor combinations, so I am so excited to share with you this delicious recipe for yummy pancakes!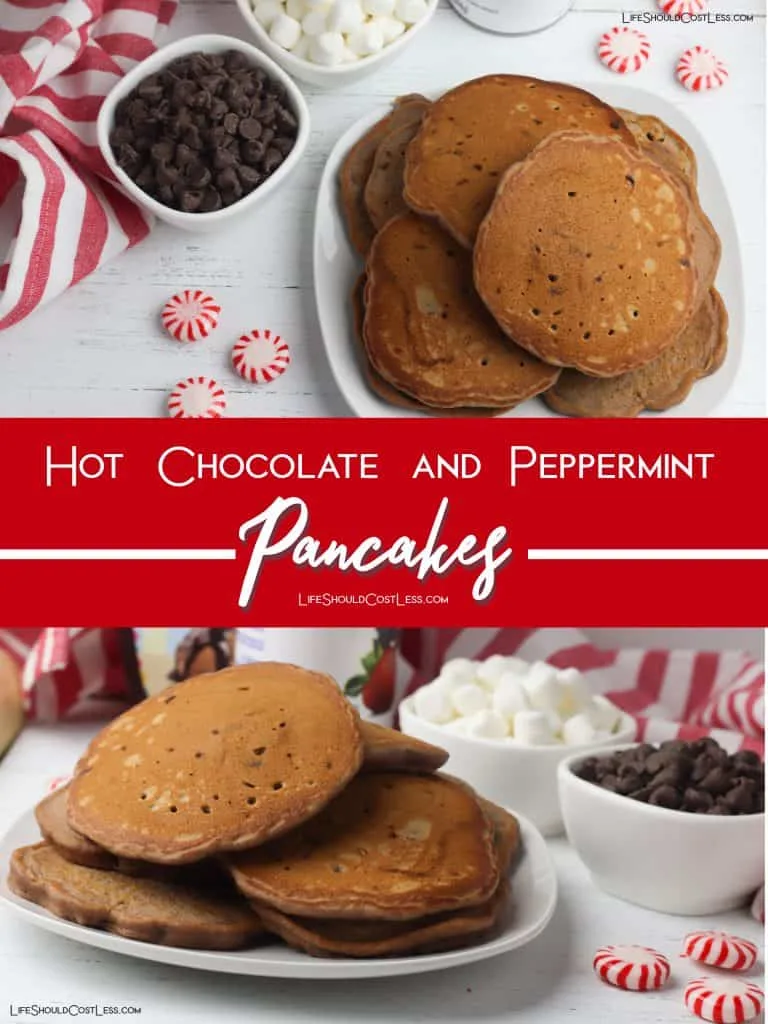 This recipe is perfect for a special and memorable wintertime breakfast, or just any time that you have time to indulge your sweet tooth a little.
Before we jump right into the process, I wanted to share with you all links to five of my other recipes that you're going to LOVE:
Now back to learning how to make the Easiest Hot Chocolate And Peppermint Pancakes!
Start out adding dry ingredients to a large bowl.
Add the wet ingredients.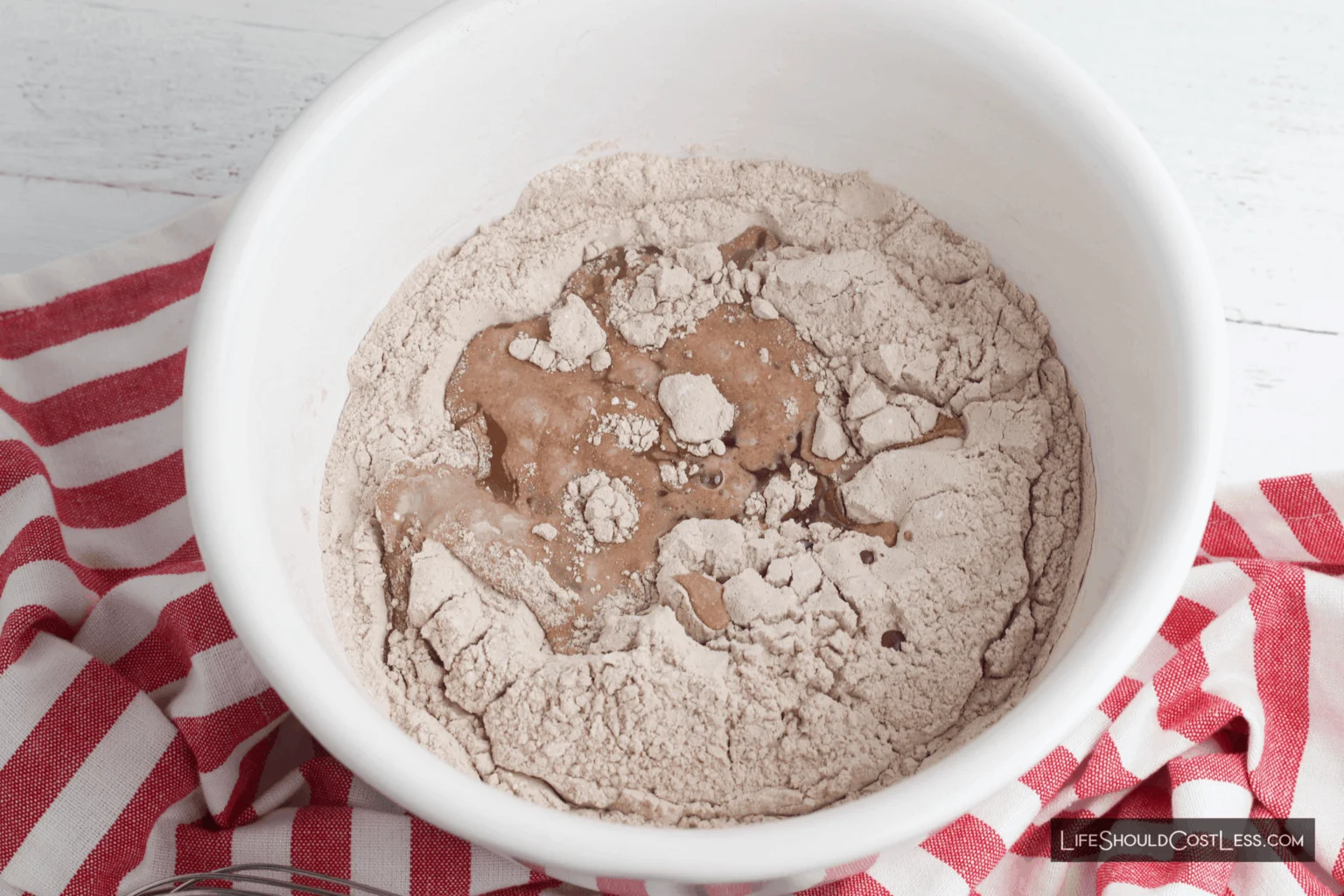 Whisk until just combined.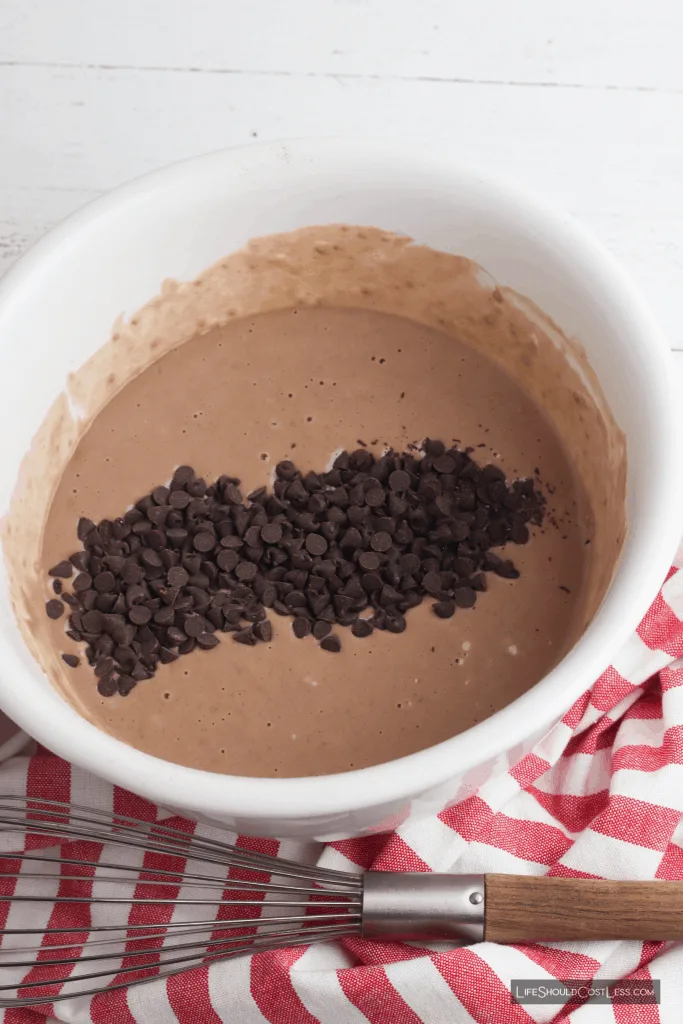 Fold in the chocolate chips and start cooking!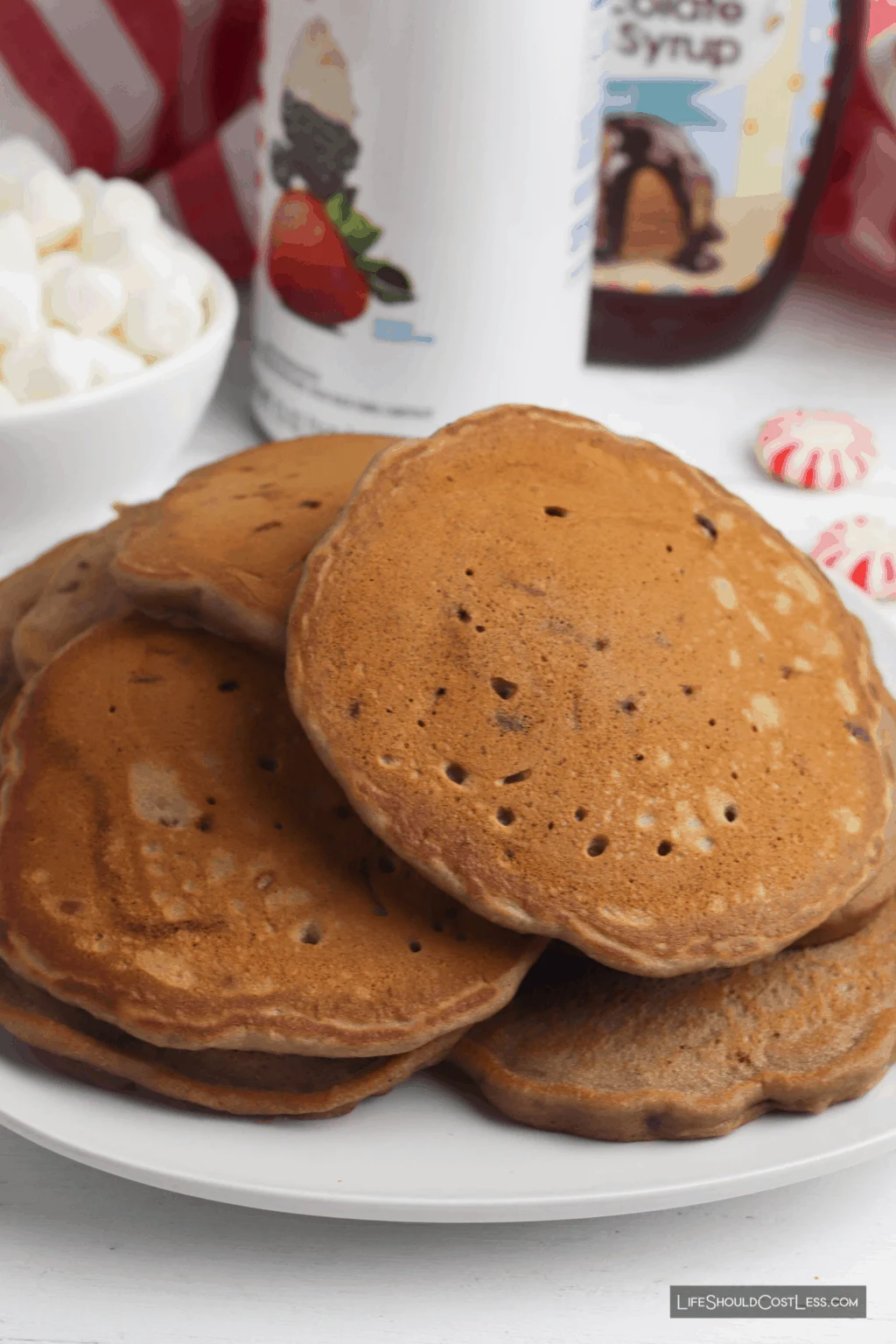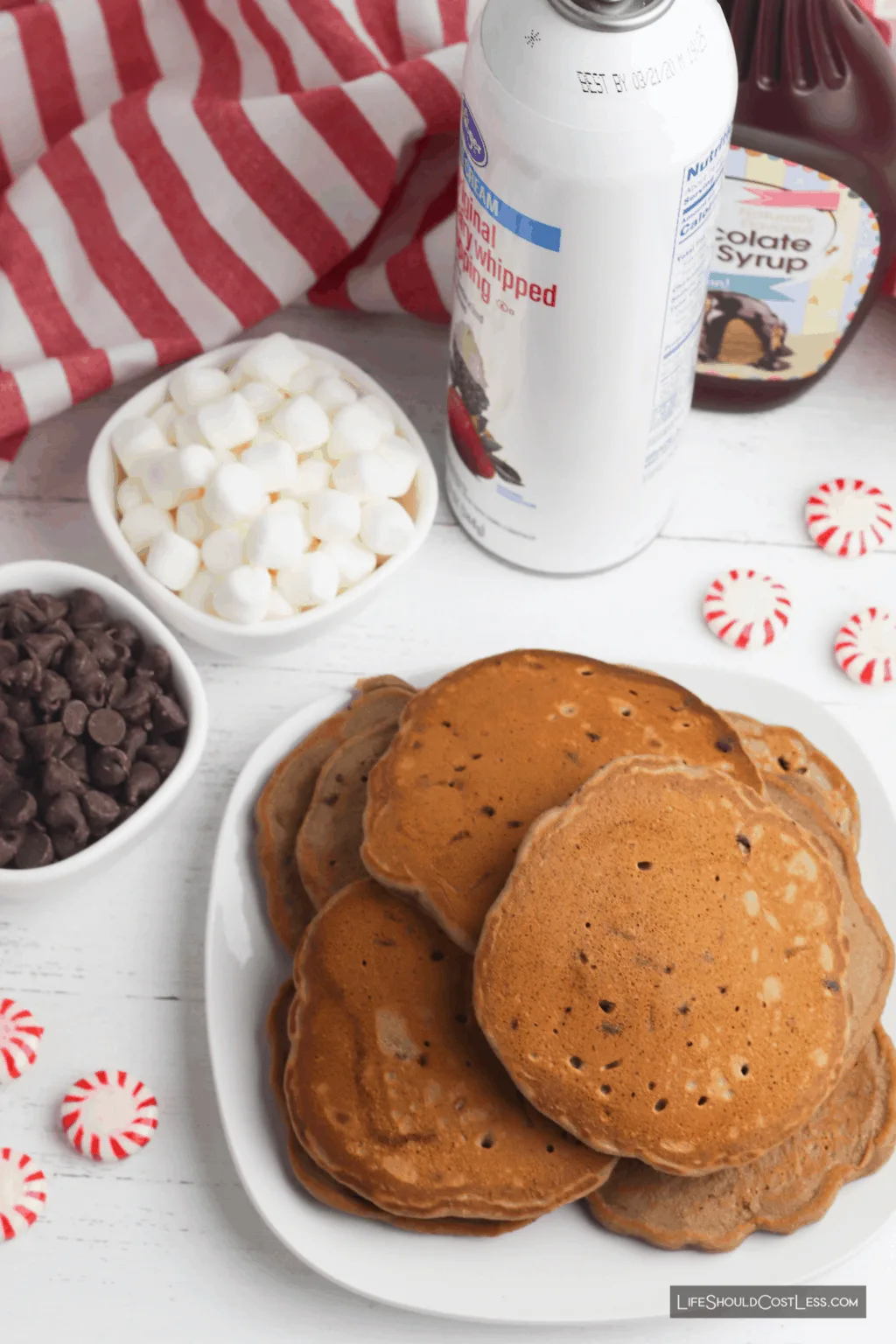 Easy Hot Chocolate And Peppermint Pancakes
Easy and delicious cocoa and peppermint pancakes are the best flavor combo for a perfectly memorable Christmas morning breakfast!
Ingredients
1 Cup Flour
2 Packets Of Hot Chocolate Mix (dry)
1 Teaspoon Baking Powder
½ Teaspoon Baking Soda
¼ Teaspoon Salt
1 Egg
1 ¼ Cups Milk
2 Tablespoons Vegetable Oil (or Avocado Oil)
½ Teaspoon Peppermint Extract
½ Cup Mini Chocolate Chips, Plus More For Garnish (optional)
Crushed peppermint, mini marshmallows, whipped cream, and chocolate syrup for garnish (optional)
Instructions
1. Preheat skillet or griddle (low to medium heat).


2. In a large bowl, whisk together the flour, hot
chocolate mix, baking powder, baking soda, and salt.


3. Add the egg, milk, oil, and peppermint
extract. Whisk until just combined, don't overmix.


4. Gently fold in the chocolate chips.


5. Grease skillet or griddle with nonstick cooking
spray or butter.

6. Pour batter onto hot surface. Cook until the pancake begins
to bubble, then flip to cook the other side and let cook a few more seconds. Remove from heat. Repeat process until all batter has been used up.


7. Serve with mini chocolate chips, mini marshmallows, whipped cream, crushed peppermint candy, and chocolate syrup (optional but it makes it pretty).
They turn out so fluffy and delicious and only feel slightly sinful to eat unless you totally load them up with the fattening toppings…so you can't blame me about your pants not fitting if you go overboard on those…lol.
Thanks so much for stopping by my site! If you liked what you saw, please make sure to share it via social media!O
Other ways to show your support are to follow and/or interact with me on Pinterest, Instagram, Facebook, YouTube, or by Subscribing To My Emails List.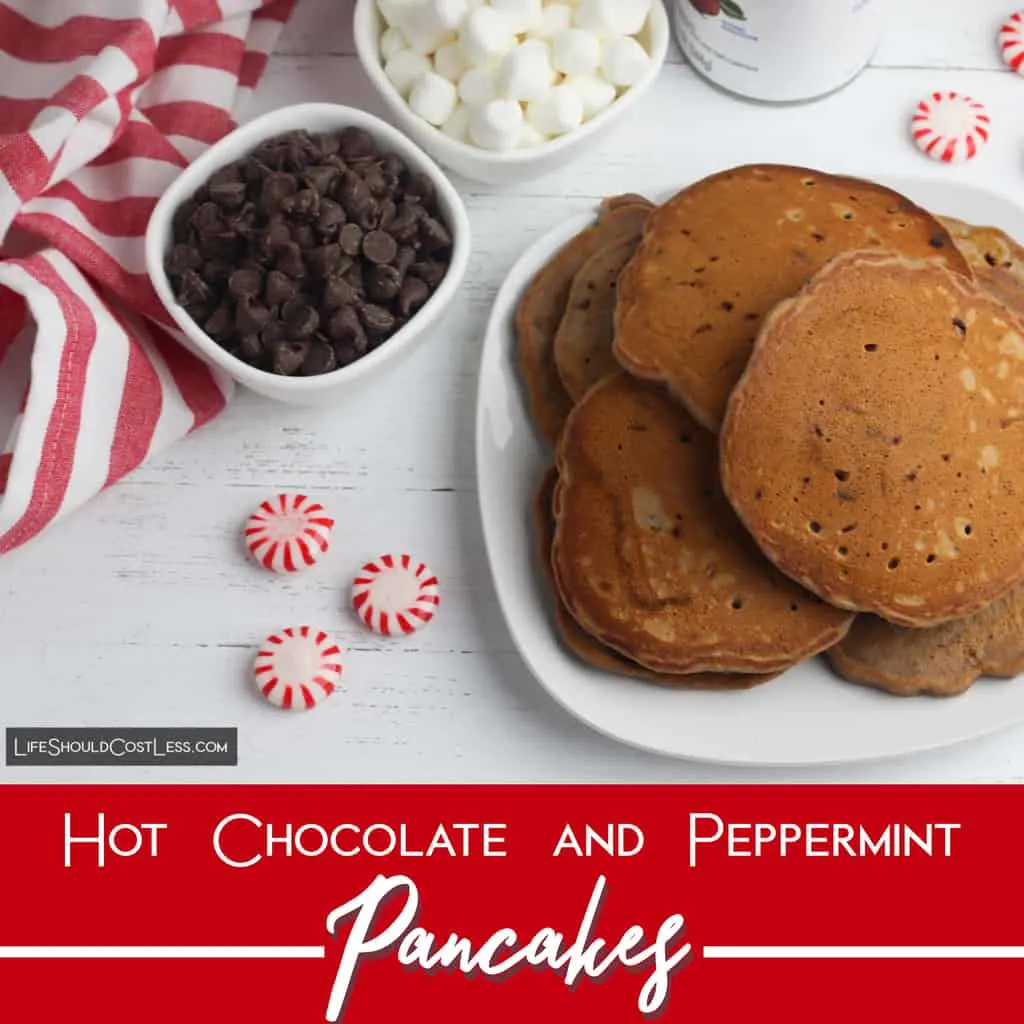 If you ever purchase suggested products through Amazon on my site, the cost to you remains the same, but I make a small commission on everything in your cart.
Also, if you ever need to buy it again, you can always come back to my site for the link…just sayin';).
If something was particularly helpful and you would like to donate directly to my site, you can do so via PayPal, here. I'm a single mom of four, so every little bit helps.
P.S. You may also want to check out my entire recipe collection.
Here are links to five of my Recipes that you need to check out too:
I thought I would sneak one last "pinnable" image in there for any of you that want to share this to pinterest.