If you haven't tried the Reese's Peanut Butter Cups Cookies at Maverik gas stations, you are totally missing out! My oldest child likes them so much that she informed me that they are her new favorite cookie. They are seriously tasty, but at $2 each I just cannot bring myself to buy them for me and my kids very often. So I thought that I would see how well adding Reese's to my Great Grandmother's Peanut Butter Cookie Recipe would turn out, and I think that they taste just as good, if not better, than the ones at Maverik. Score!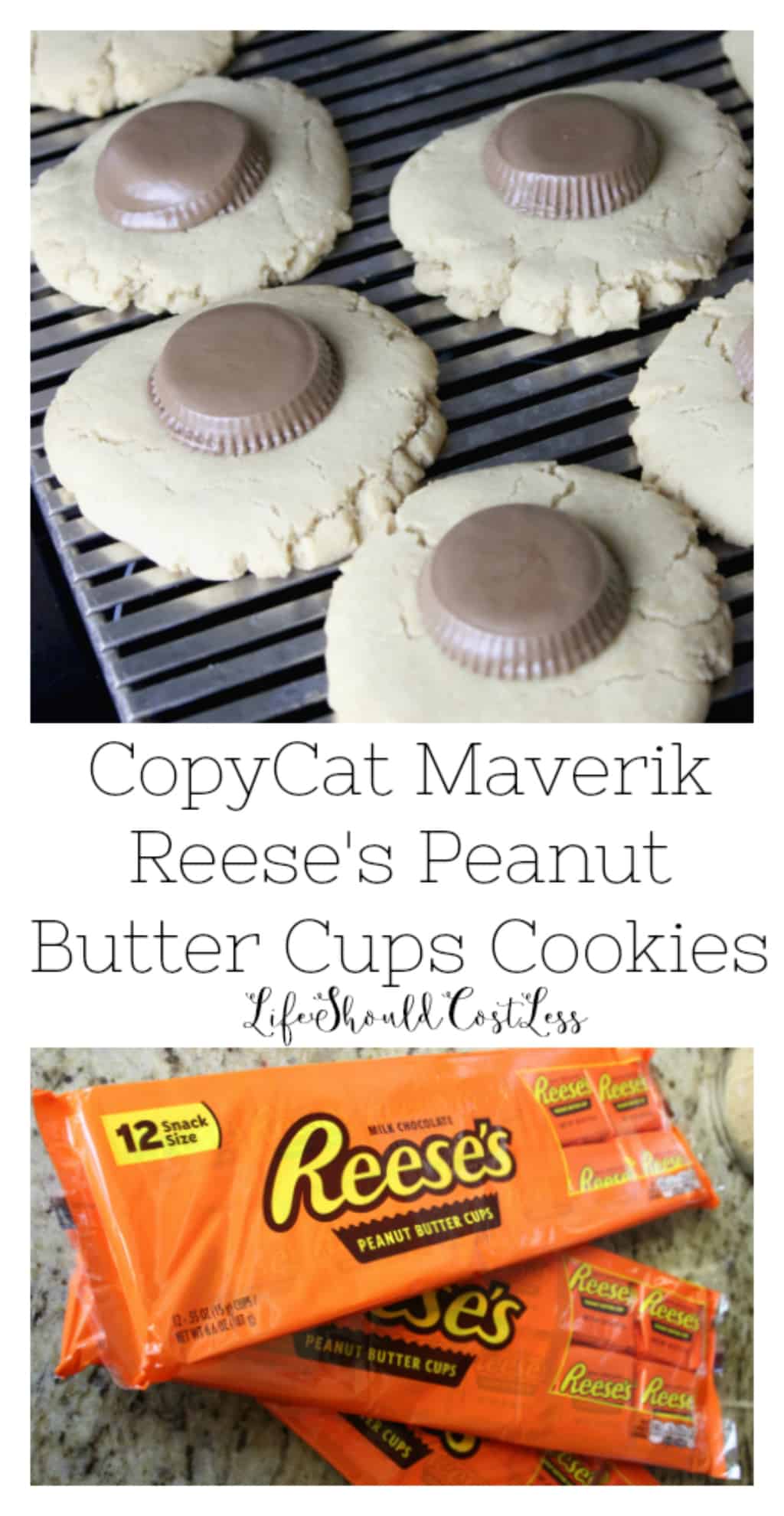 It's considerably cheaper to buy the ingredients and make them yourself, so I thought that I would share with you all how to make these delicious cookies. I'm only going to give you photo directions of the process from the point that it is already dough, so if you need help getting to that point make sure to click on over to my Great Grandma Rachel's Peanut Butter Cookie Recipe and follow along there until you have dough to work with. However, I am giving you the full recipe on this post as well.
Anyway, I'm going to show you the steps from dough, on, but first I wanted to show you the cookies that I'm talking about. Here is Maverik's version… these cookies are MASSIVE!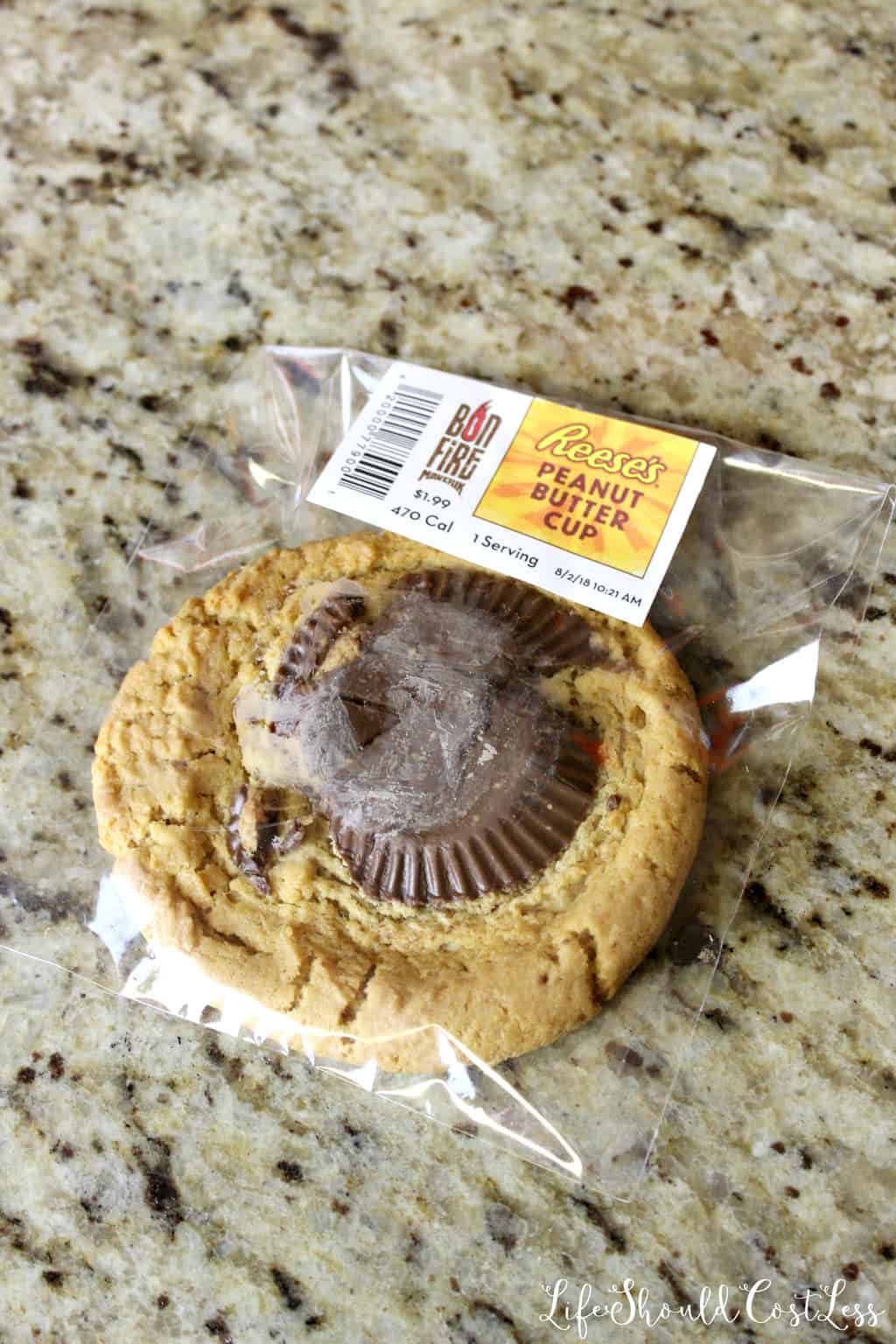 Now we start the tutorial from the dough on. To make the cookies big enough to place a Reese's Peanut Butter Cup on top, I had to use an ice cream scoop to measure out the dough and it ended up being just about right as far as the cookie to Reese's ratio goes. I separated them all pretty well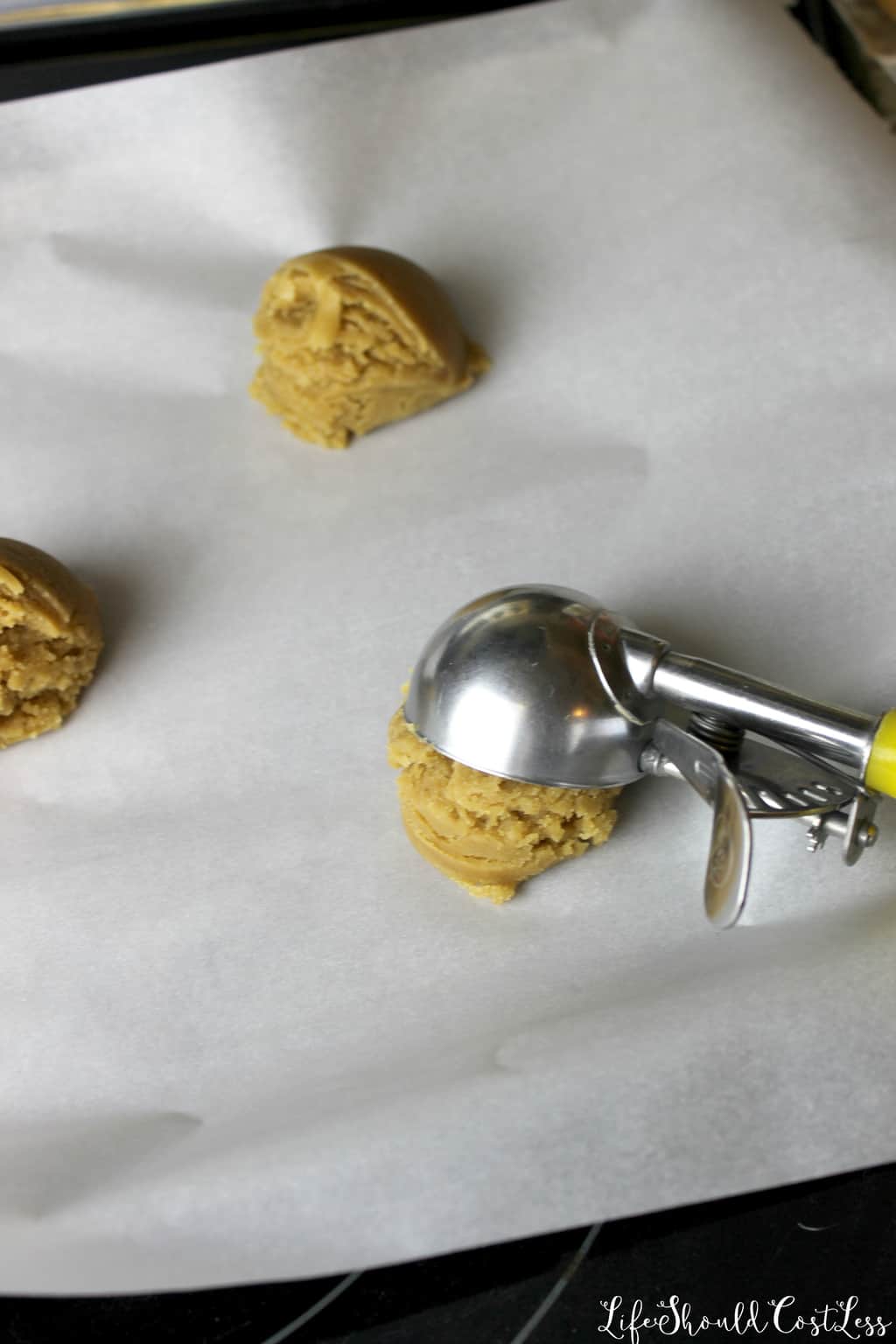 and flattened them with a big spatula. The thinner the better for this recipe.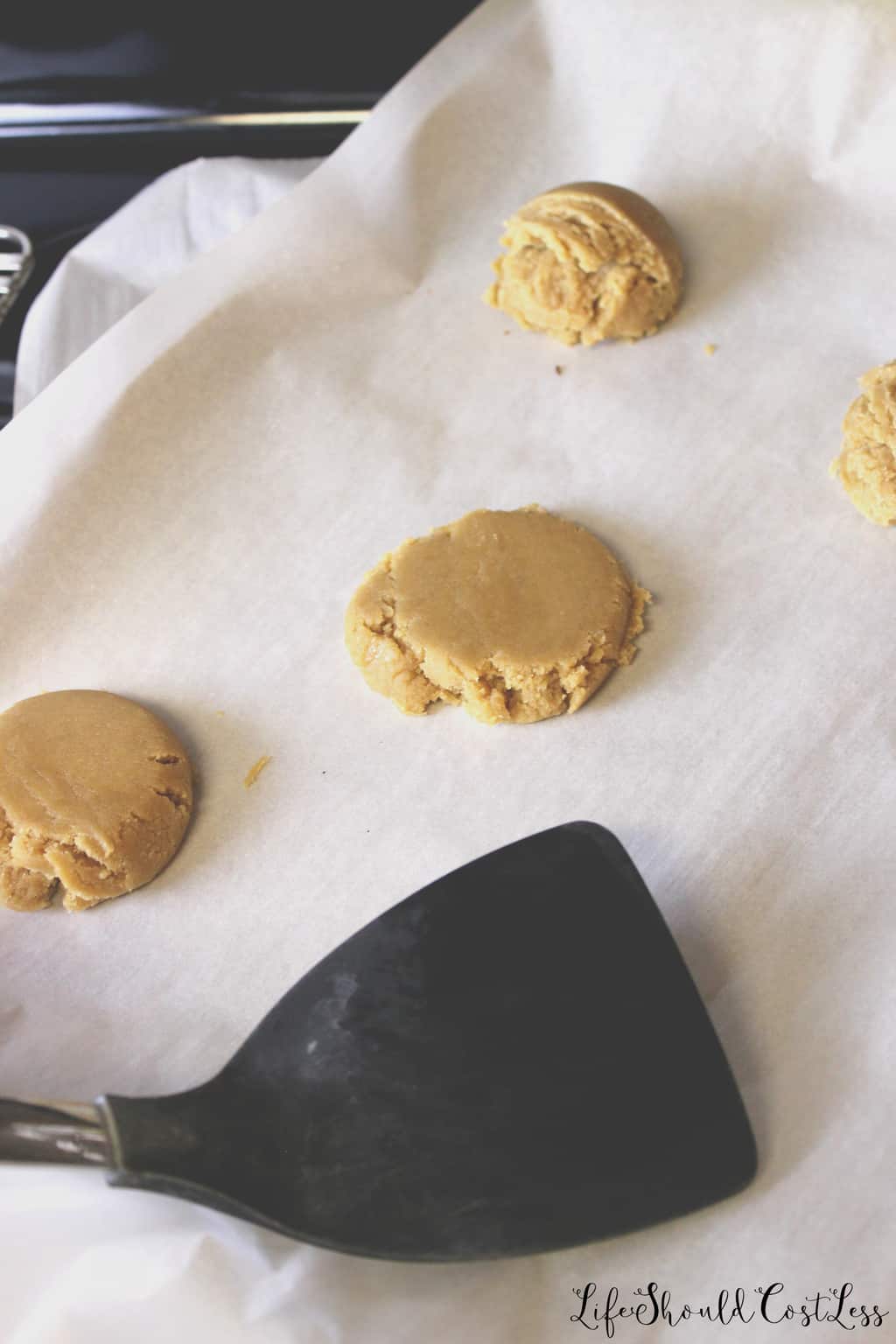 Then baked them for about ten minutes at 375 degrees F. Until the edges were ever so slightly golden.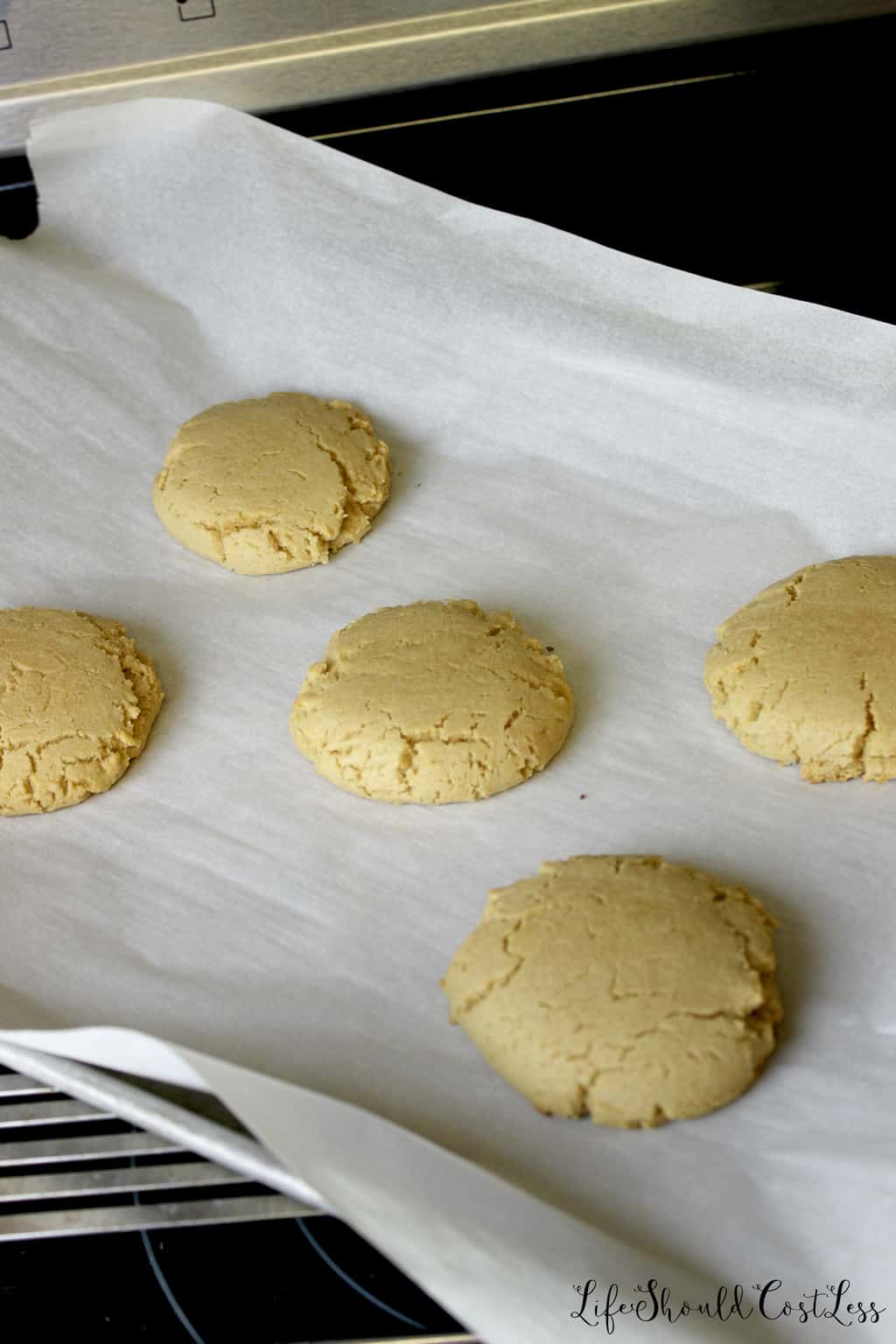 I leave my cookies on the cookie sheet for a minute or two before I move them over to a cooling rack.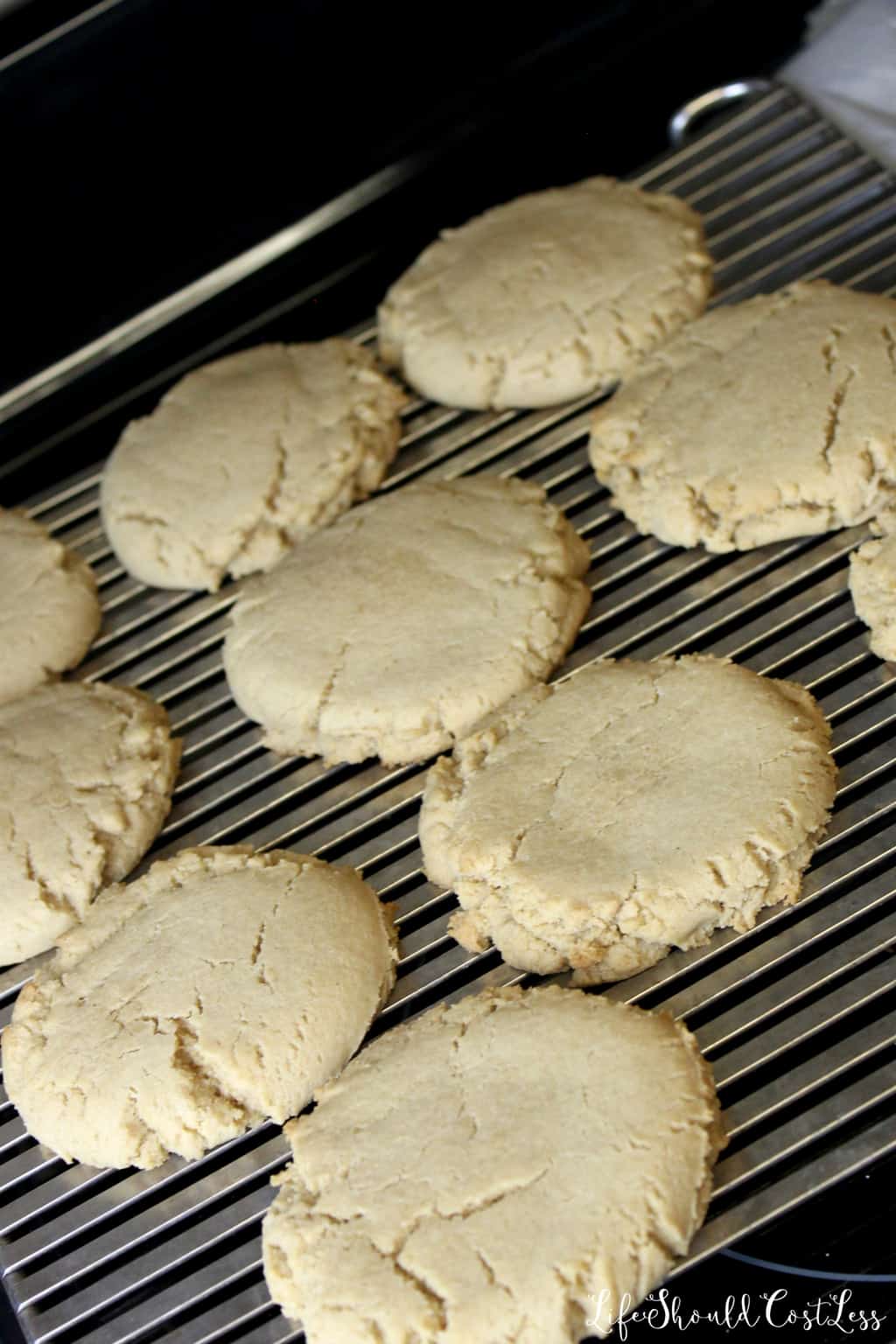 And then added the Peanut Butter Cups to each individual cookie while it was still warm enough to melt the chocolate. It's currently summer and my kitchen was sweltering hot… so if your kitchen is hot too, you may want to keep your Reese's in the fridge until you're ready to use them so that your chocolate is not a soupy mess.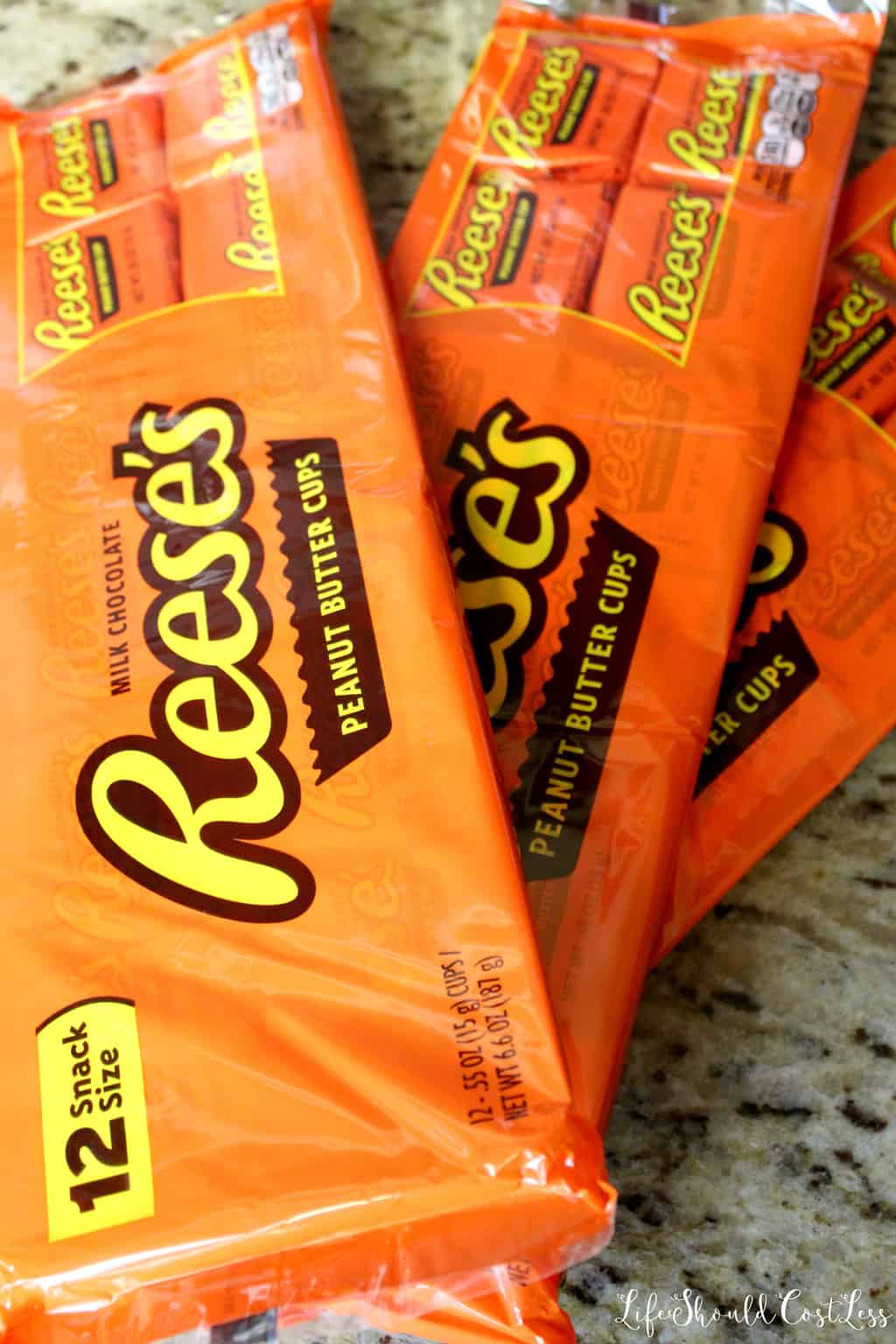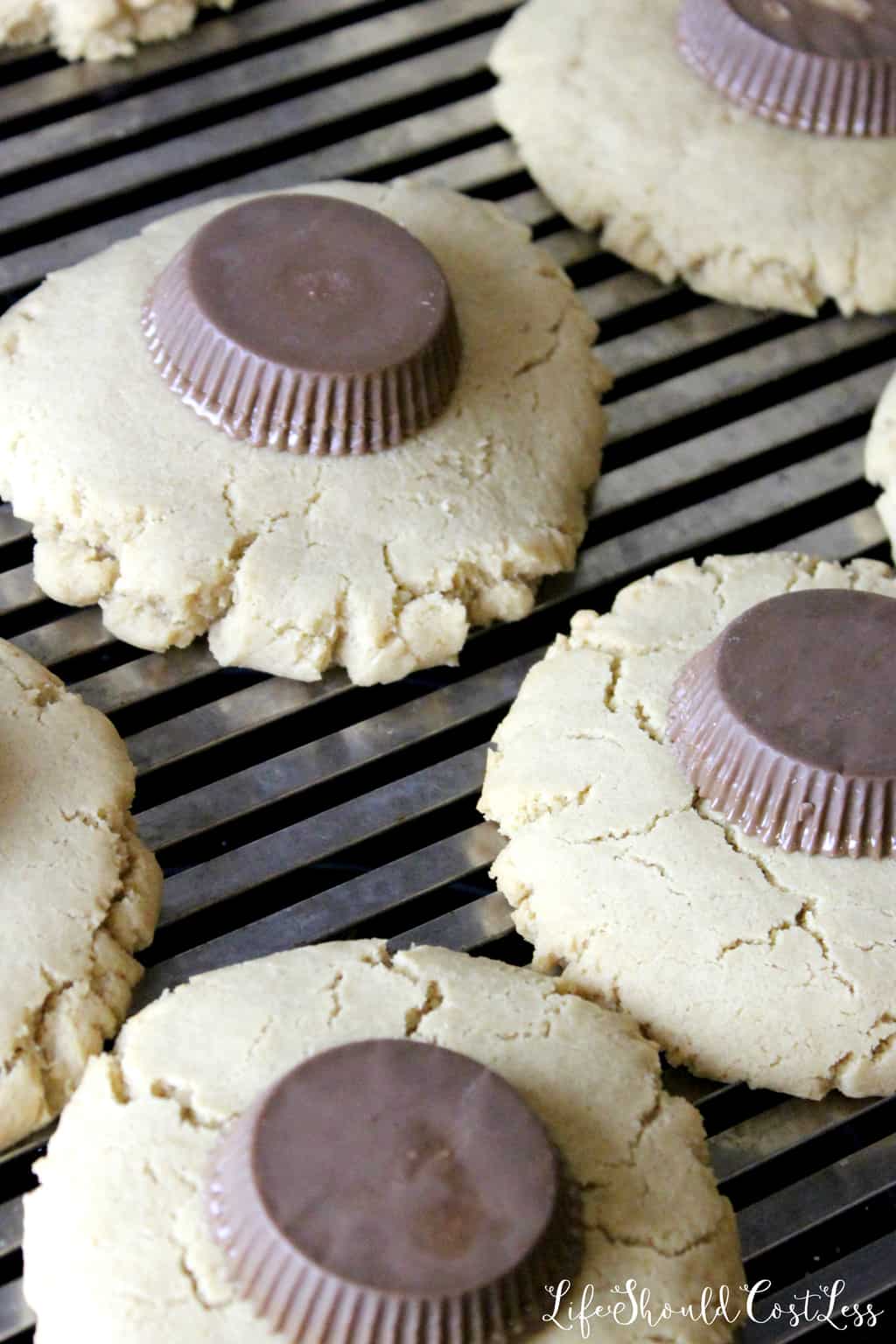 You want them to melt onto the cookie and then cool down as the cookie does. Once they are back to a complete solid you can either serve them or store them to serve later. They freeze pretty well too, so if you need to make them ahead of time you also have the option to do so.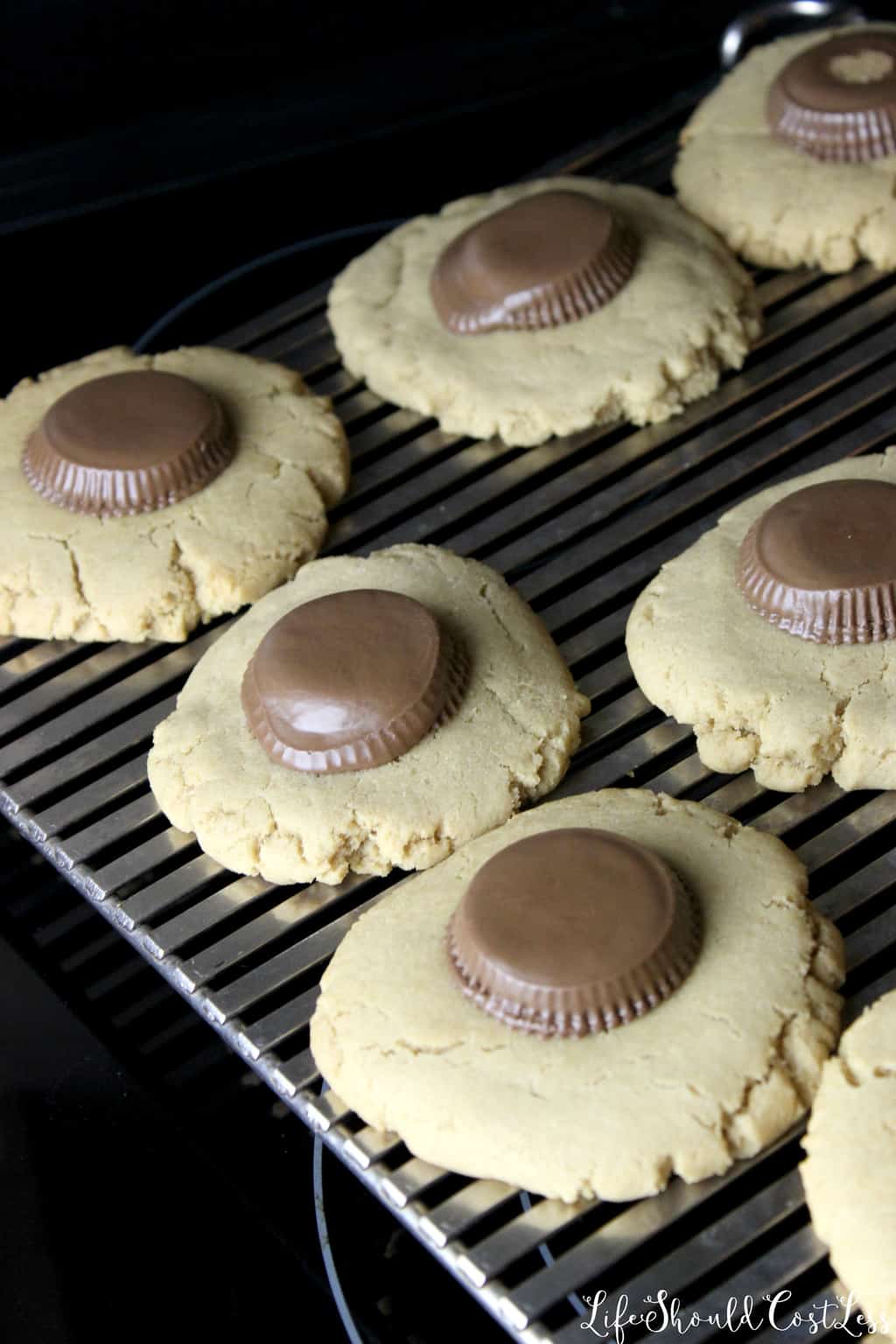 They're pretty delicious and so much cheaper than$2/piece!!!! These will crush it at any bake sale so make sure to keep that in mind if you have any events coming up soon.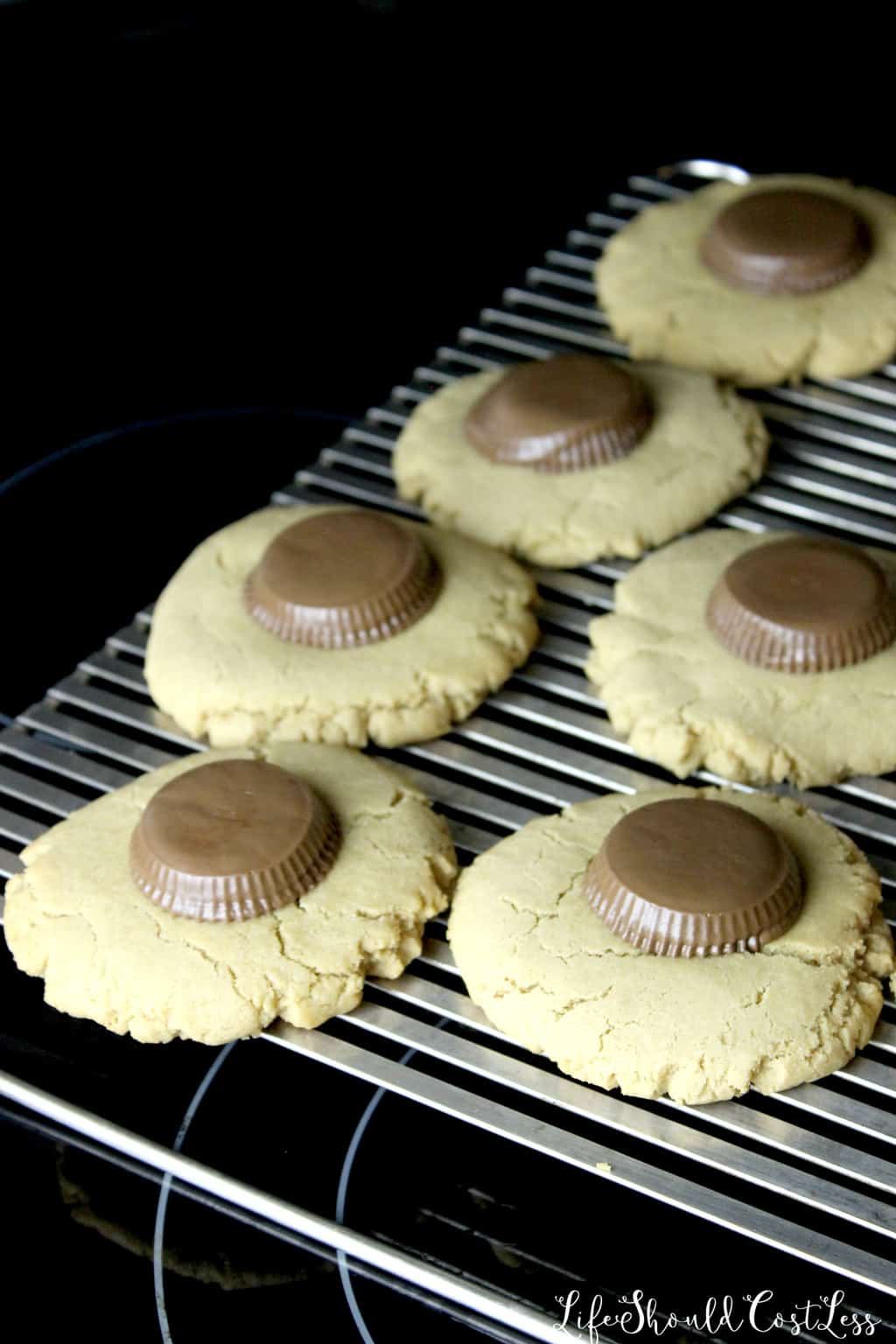 CopyCat Maverk Reese's Peanut Butter Cups Cookie Recipe
Author:
LifeShouldCostLess.com
Ingredients
2 & ½ C Flour
1 & ½ tsp Baking Soda
1 tsp Salt
1 C Peanut Butter
2 Eggs
1 C Brown Sugar
⅓ C Evaporated Milk
1 C Sugar
Instructions
Pre heat oven to 375 degrees.
In a small to medium bowl sift together the flour, soda, and salt. Set aside.
In a medium to large bowl add the remaining ingredients and mix well.
Slowly mix the dry ingredients into the wet ingredients and mix well.
Cover and chill ten minutes or so.
Shape into balls, place onto parchment paper lined cookie sheet and flatten.
Bake for approximately ten minutes, or until the edges are slightly golden.
Remove from oven, keep on baking pan for one to two minutes, then place on cooling rack.
Immediately add a Reese's Peanut Butter Cup to each cookie, while they are still warm.
Let sit until completely cooled and serve or store for later.
Notes
These cookies freeze well so you do have the option of making early and freezing if you will be short on time.
What do y'all think? They're super tasty right? Grandma's Peanut Butter Cookies have got to be the best base recipe for anything that you need to make using a Peanut Butter Cookie, especially caramel or rolo stuffed… Anyway, that's all I have to share with you today. Please make sure that you share this post with anyone that would love it too!!! Thanks so much for stopping by!
P.S. My Sweet Tooth section of the site is more than worth checking out. I don't post anything unless it is HEAVENLY so follow this link if you're looking for some fresh desserty recipes.