One of my very favorite flavor combinations is and will always be chocolate and mint. While eating a piece of mint chocolate candy is amazing, why not take it a step further and combine that delicious candy with another one of my favorite treats – easy homemade donuts? Which is why I decided to share this delicious recipe that combines several of my favorite things.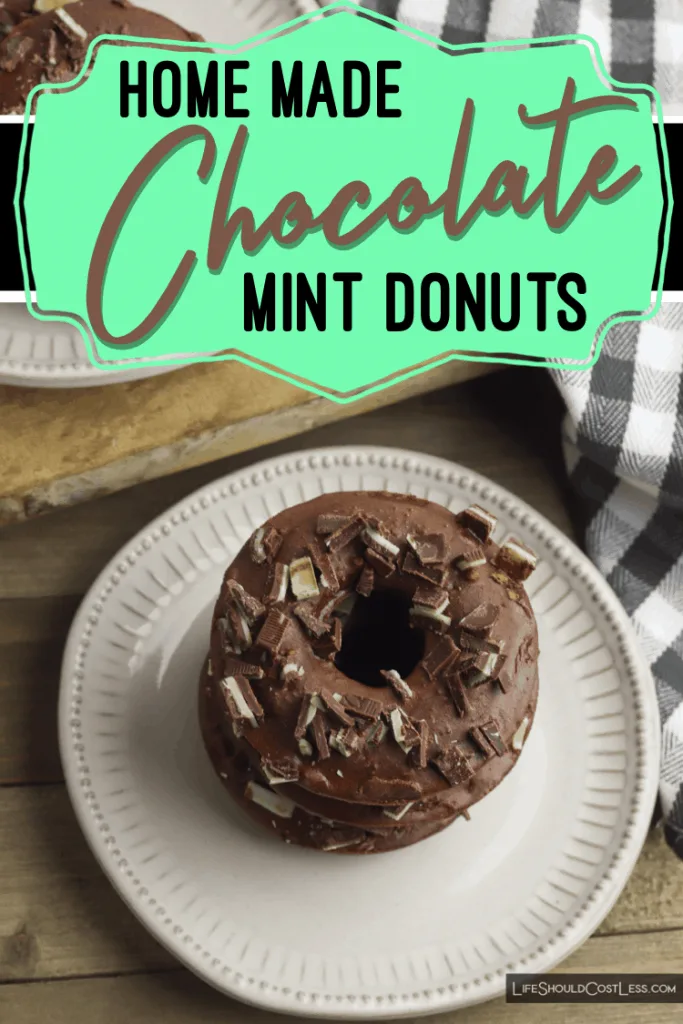 I did just that with these yummy mint chocolate donuts. A soft mint chocolate cake donut is enhanced with a creamy chocolate glaze and topped with mint chocolate candy.
---
Table of Contents, Skip Ahead To What You're Looking For
What Do I Need to Make This Quick and Easy Homemade Donuts Recipe?
These mint chocolate donuts are made using a donut baking pan, so that's the most important tool you'll need. It's also a good idea to use a hand mixer or stand mixer to blend all the ingredients together, but a whisk would probably work just as well.
On top of some special tools, you'll also need your ingredients. In addition to the traditional donut-making ingredients, like flour and sugar, this recipe also calls for mint extract (not peppermint extract), cocoa powder, and mint chocolates.
To top my donuts, I chose Andes mint candies, which I chopped using a sharp knife. You can also buy Andes baking bits in the baking aisle of the supermarket, which would work perfectly for this recipe.
How to Make Donuts From Scratch
First, I'm going to share with you a little video of the process… then we will break it down with still images.
While these donuts may look a little fancy, they're actually very simple to make.
Start by making the donut batter by mixing the dry and wet ingredients together in separate bowls. Then, make a well in the center of the dry ingredients and add your wet ingredients. Mix all the ingredients together using a hand mixer until they're just blended.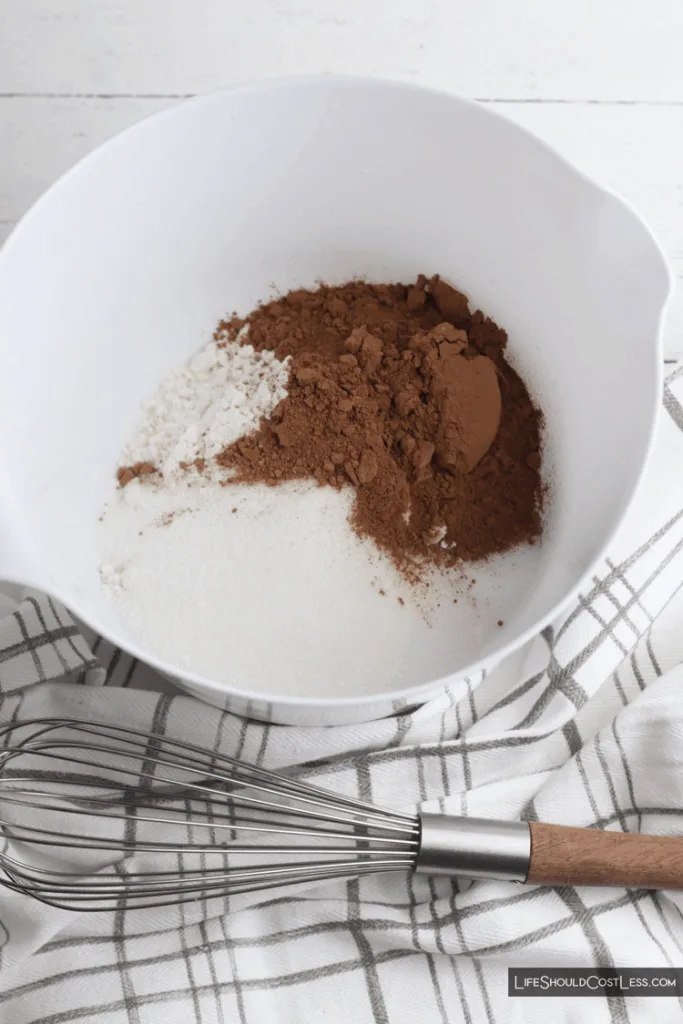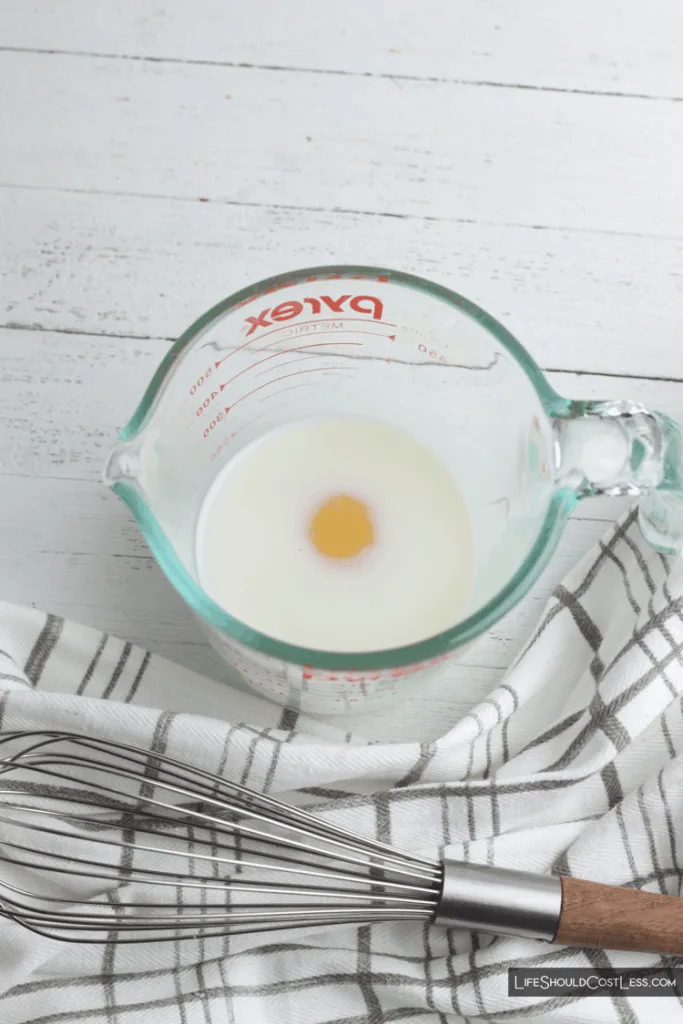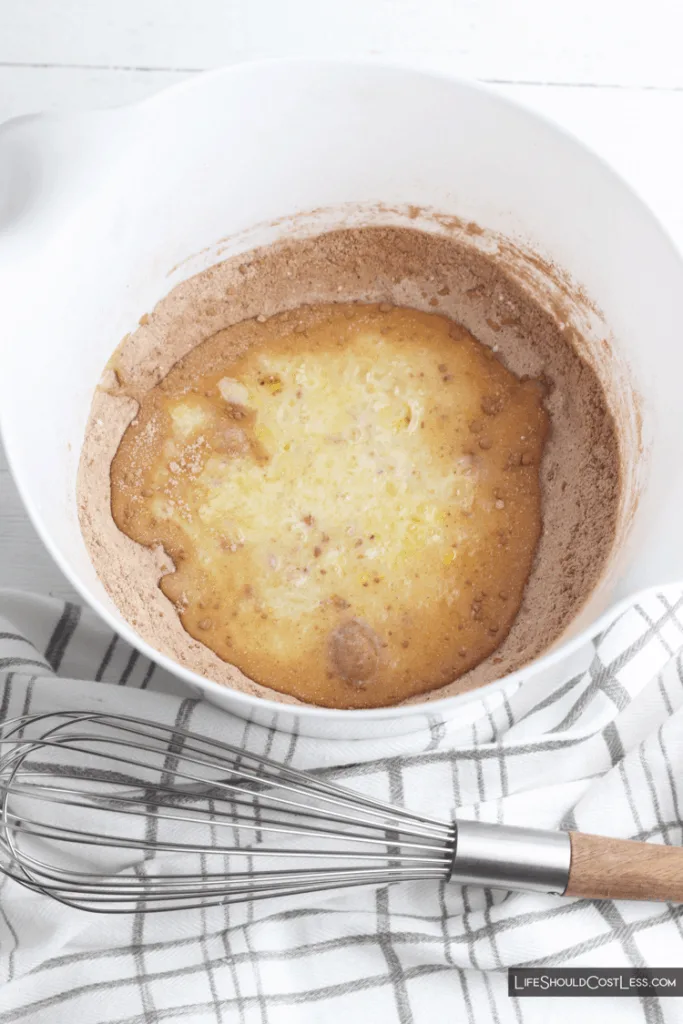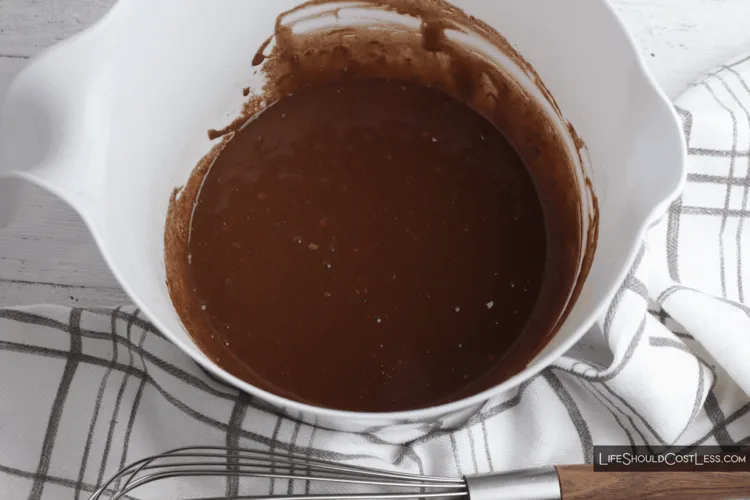 Set the batter aside and prepare your donut baking pans. Since this recipe makes a dozen donuts, you'll need two six-donut pans. Grease the pans well with nonstick cooking spray, then pipe or spoon the batter into each donut cavity. Fill each cup around two-thirds of the way full of batter to ensure your donuts are nice and fluffy when they come out of the oven.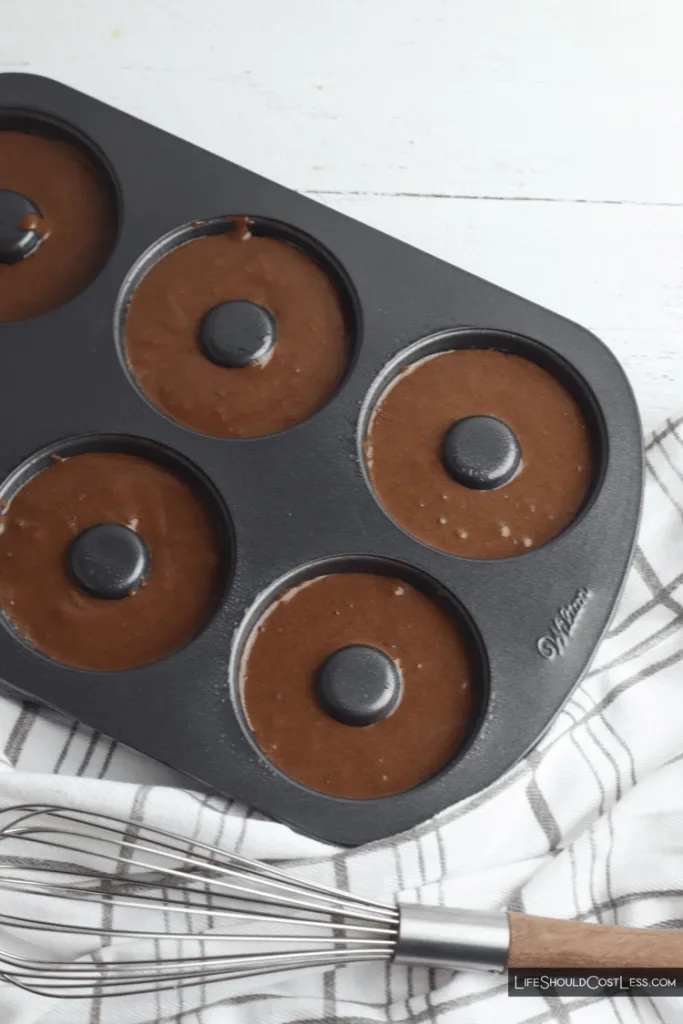 While the donuts are baking, take a few minutes to whip up your chocolate glaze. To make a glaze, simply whisk together powdered sugar, cocoa powder, and milk. Stir until all the ingredients are mixed and a smooth glaze forms.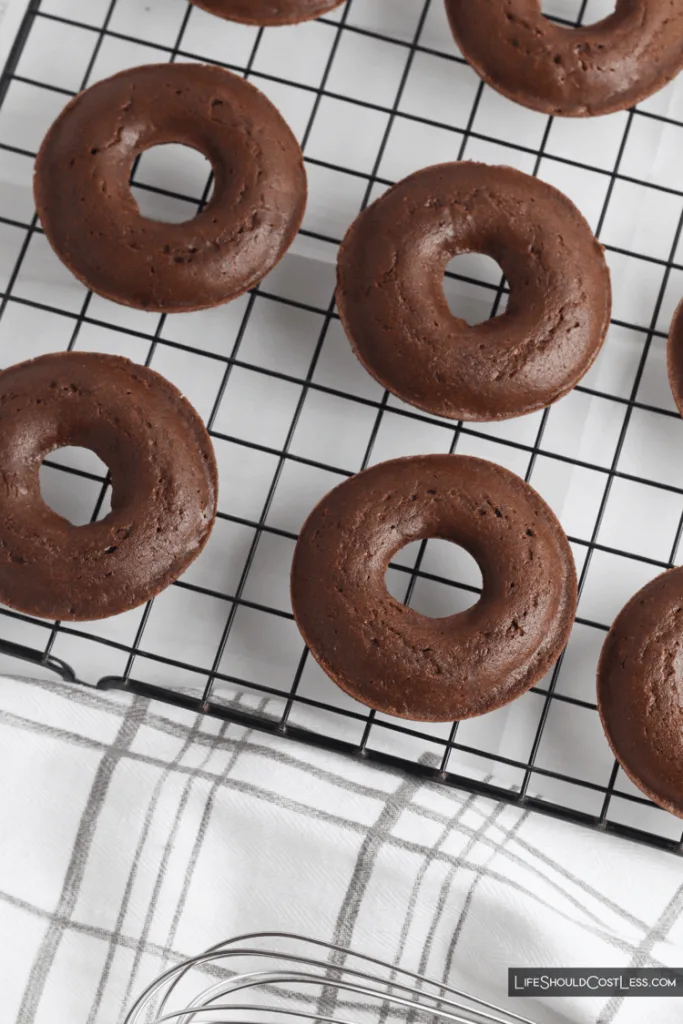 When the donuts are finished baking, allow them to cool in the pan for a few minutes, then flip the pan over onto a wire cooking rack to cool completely before dipping each of the donuts in the glaze. After the top of the donut is coated in glaze, sprinkle bits of mint candy over the top.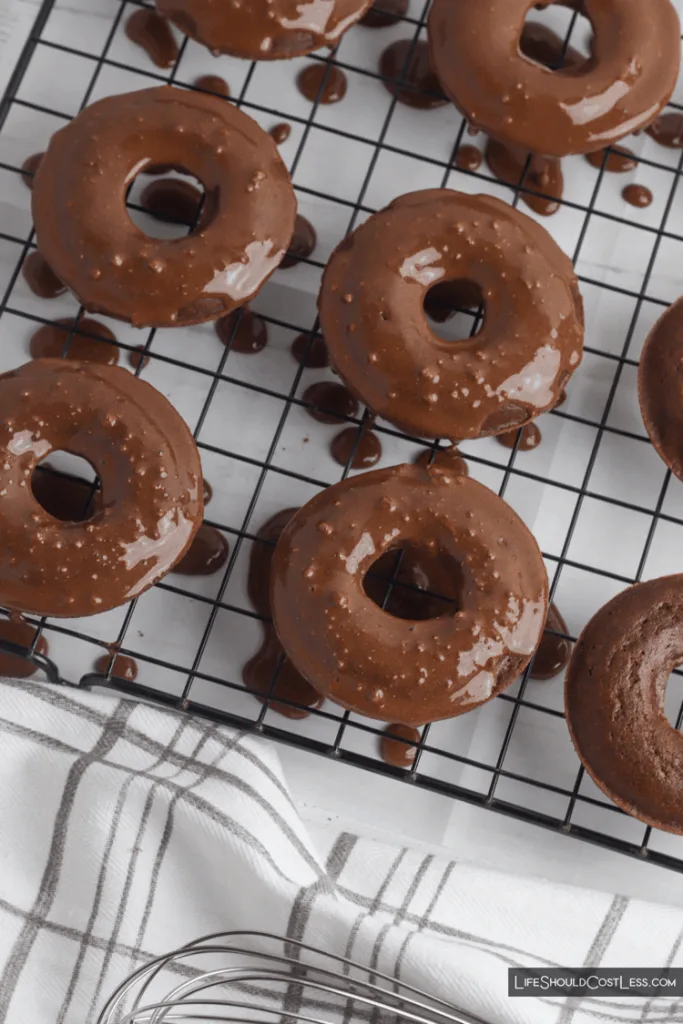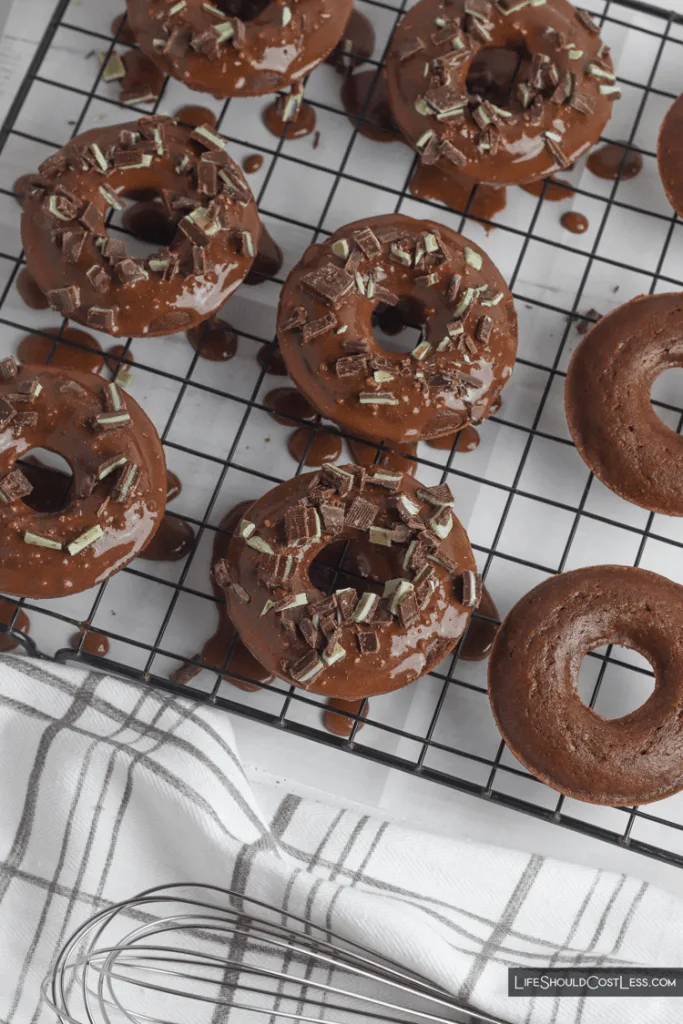 I recommend waiting to enjoy these donuts until after the glaze is set, but I won't blame you one bit if you sneak a bite or two before it has a chance to harden!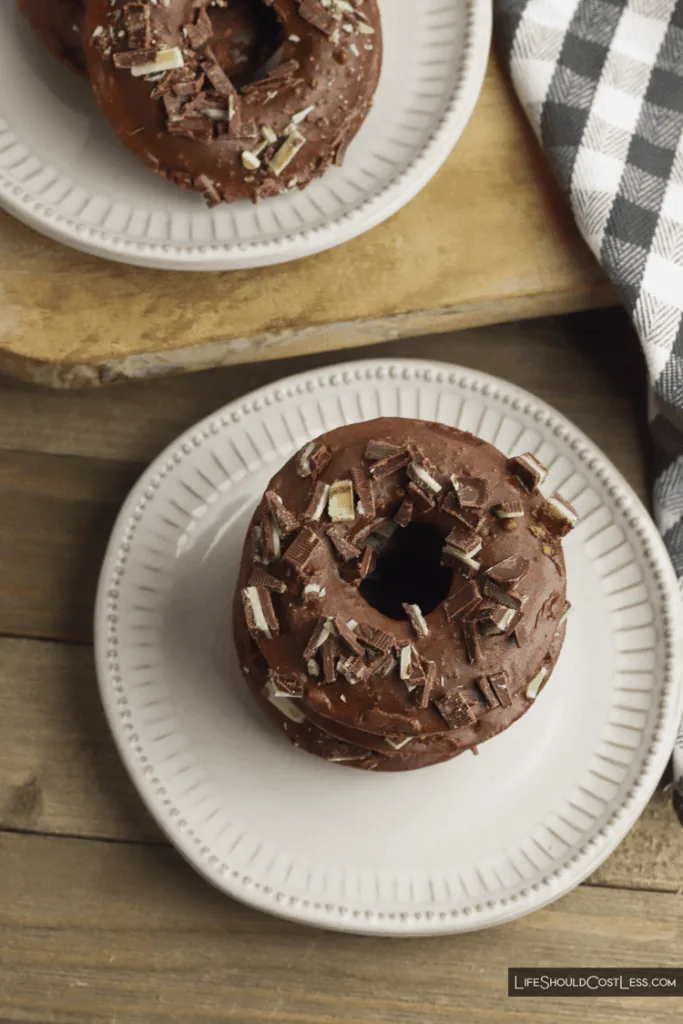 **Remember, if you love these donuts that you need to check out my entire Sweet Tooth Section!**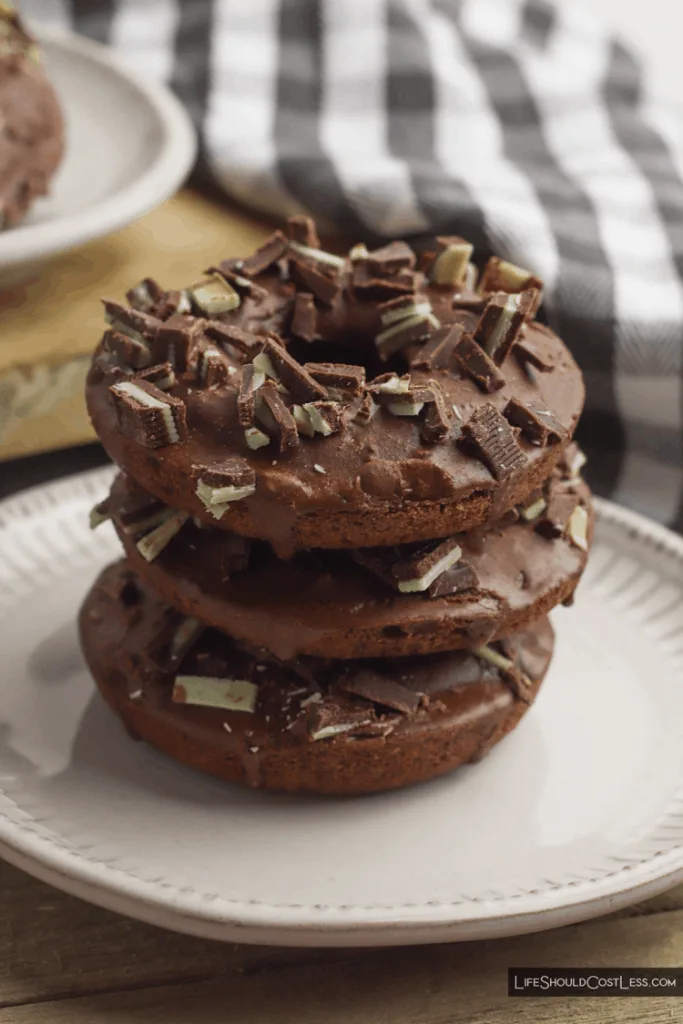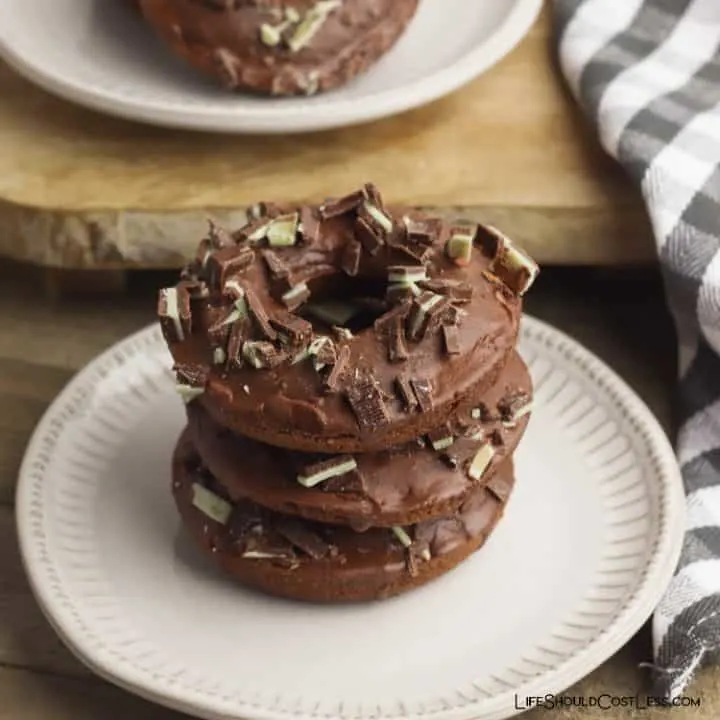 Easy Homemade Donuts Recipe
Additional Time:
5 minutes
Learn how to make easy homemade cake donuts from scratch. This chocolate mint donuts recipe is quick, easy, and a super tasty treat.
Ingredients
Ingredients for the Donuts:
1 cup flour
½ cup sugar
¼ cup cocoa powder
1 teaspoon baking powder
1/2 teaspoon salt
½ teaspoon baking soda
½ cup milk
1 egg
3 tablespoons unsalted butter, melted
1 teaspoon mint extract (not peppermint)
Ingredients for the Glaze:
1 cup powdered sugar
¼ cup cocoa powder
¼ cup milk
½ cup chopped chocolate mints (Andes)
Instructions
Preheat the oven to 350 degrees. Prepare two donut pans by spraying them with nonstick baking spray.
In a large bowl, whisk together flour, sugar, cocoa powder, baking powder, and baking soda. Set aside.
Add milk, egg, melted butter, and mint extract to a large measuring cup. Whisk this tiny mixture until mixed.
Pour the milk mixture into the dry ingredients bowl and stir until just combined.
Spoon or pipe the batter into one of your donut pans, filling each about 2/3rds of the way full.
Bake for 10 to 12 minutes. You will know that the donuts are done when the bounce back after being touched.
After the donuts have baked, place them on a wire cooling rack to cool completely.
To make the glaze, whisk together the powdered sugar, cocoa powder, and milk until a smooth glaze forms. Dip each donut into the glaze, then top with chopped mint chocolate (I use Andes Mints).
Notes
If you need to use salted butter, just omit the added salt in the recipe.
Nutrition Information
Yield

12
Serving Size

1
Amount Per Serving
Calories

211
Total Fat

7g
Saturated Fat

4g
Trans Fat

0g
Unsaturated Fat

2g
Cholesterol

26mg
Sodium

139mg
Carbohydrates

34g
Fiber

1g
Sugar

23g
Protein

3g
These caloric amounts are automatically estimated by a plugin on my site and should be treated as an estimate.
Like I said, they're pretty easy to make, and I love the fact that they are baked instead of fried so that they aren't quite as fattening.
It doesn't hurt that these easy DIY donuts are super tasty too!
Thanks so much for stopping by my site! If you liked what you saw, please make sure to share it via social media!
Other ways to show your support are to follow and/or interact with me on Pinterest, Instagram, Facebook, YouTube, or by Subscribing To My Emails List.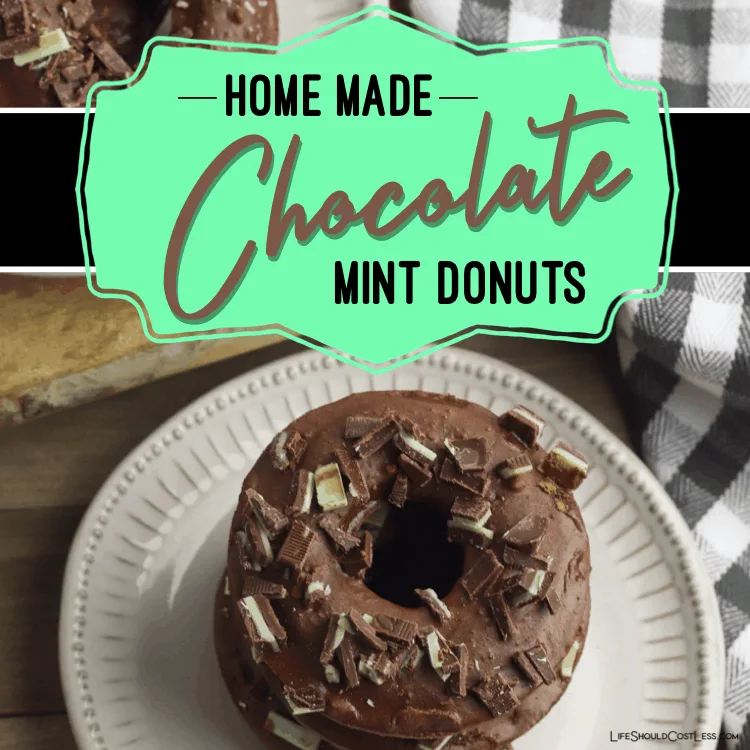 If you purchase suggested products through Amazon, the cost to you remains the same, but I make a small commission on everything in your cart. Also, if you ever need to buy it again, you can always come back to my site for the link…just sayin';).
If something was particularly helpful and you would like to donate directly to my site, you can do so via PayPal, here. I'm a single mom of four, so every little bit helps. Thanks again!~Sarah
Here are five of my other posts that you may also like:
For those of you that would like another option or two for the image that you share on Pinterest, here you go. Thanks again so much for sharing!: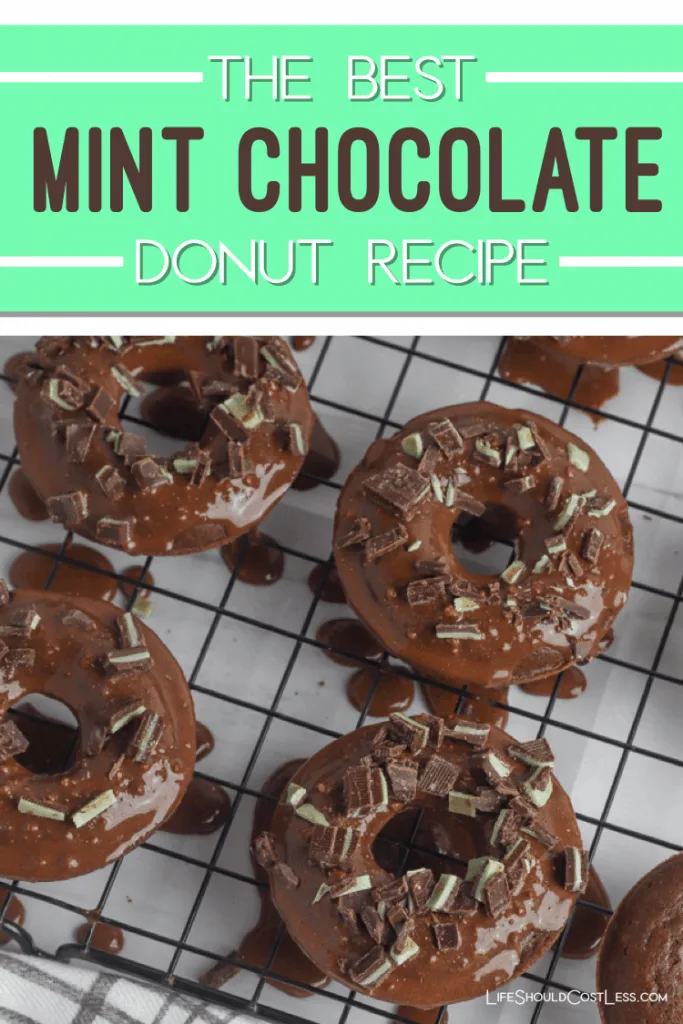 * Please note that this recipe was originally published to this website on January 12, 2020, and has since been updated to improve user experience.