Learn how to make easy Carmelitas with jar caramel sauce. This simple rich dessert is soon to become your go-to oatmeal cookie bar recipe because they're just that tasty. The only thing you'll have to worry about is making sure that you always have the ingredients on hand.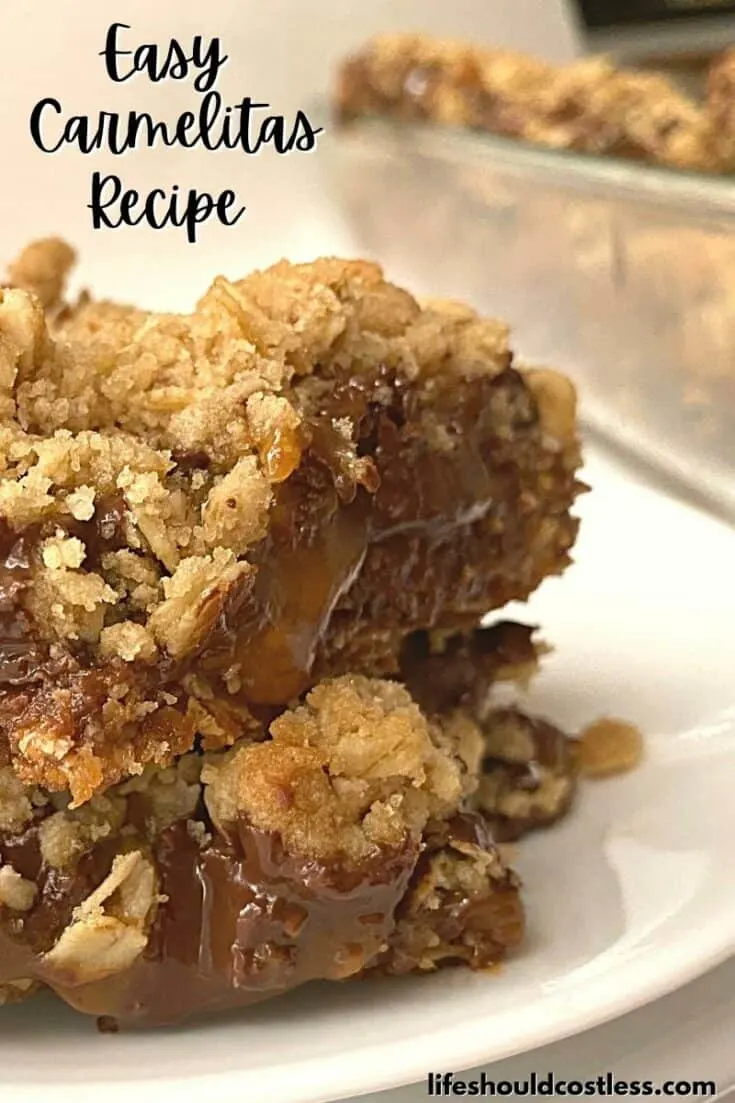 As you view this recipe, please excuse my mediocre (at best) photography skills…I do my best but I am in no way a professional, nor does this single mama of four have the budget to hire one.
I only share my favorite recipes ever, so please don't skip past it because I failed to capture just how yummy it is.
What are Carmelitas?
What is a Carmelita? With a similar base texture as a Congo Cookie Bar, Carmelitas are a tasty dessert cookie bar that also includes oatmeal, yummy chocolate chips, and oozes with caramel sauce.

Many recipes for Carmelitas require you to unwrap and melt caramels, or even make the sauce from scratch.

However, this particular simple cookie bar recipe is made with jar caramel sauce so it takes a fraction of the time to make these.
What ingredients are in Carmelita's?

This particular recipe calls for:

*Flour
*Oatmeal
*Brown Sugar
*Baking Soda
*Salted Butter
*Mrs. Richardson's Butterscotch Caramel Sauce
*Semi-Sweet Chocolate Chips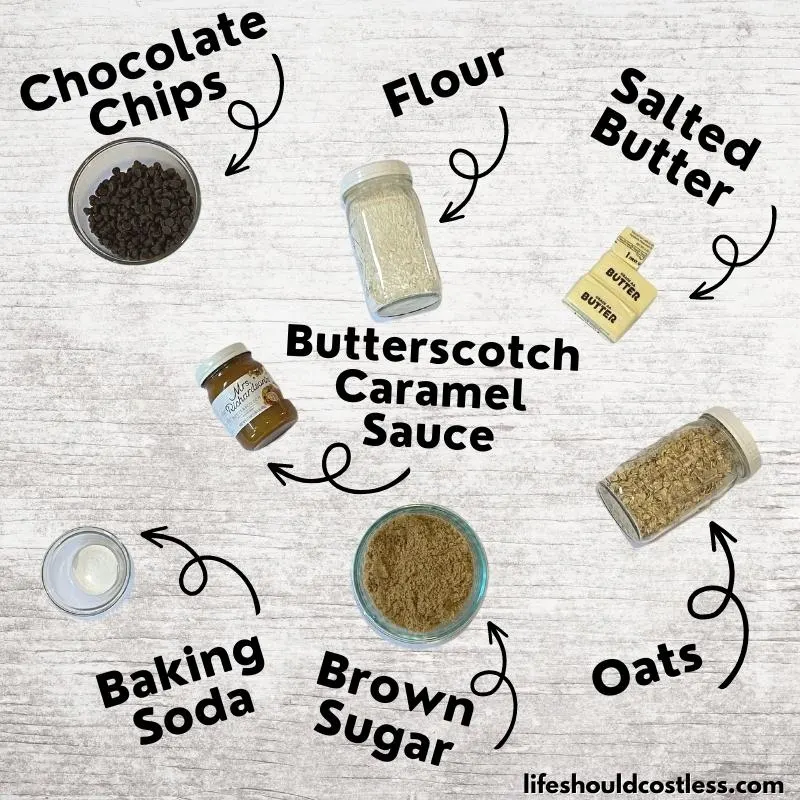 Where did this recipe for Carmelita cookie bars come from?
Somewhere around 2008 a co-worker shared this recipe with me (and I originally shared it to this website on September 15, 2018 but that post needed completely overhauled, so here we are).

In no way am I taking credit for this recipe because I did not change a single thing about it because you just can't improve upon perfection.

The co-worker I got this recipe from actually called them Caramelito's or Caramelita's…so it took me a little bit of searching around, but similar oatmeal cookie bars are called Carmelita's…but this is by far the easiest and yummiest version of this dessert that I have come by so far.
How to make Carmelitas:
I made a video tutorial for this recipe (found within the recipe card, however my video editing software was glitching like crazy, so sorry for any choppy parts in the video tutorial.
If you would like to share the YouTube version of this recipe video, you can get that here.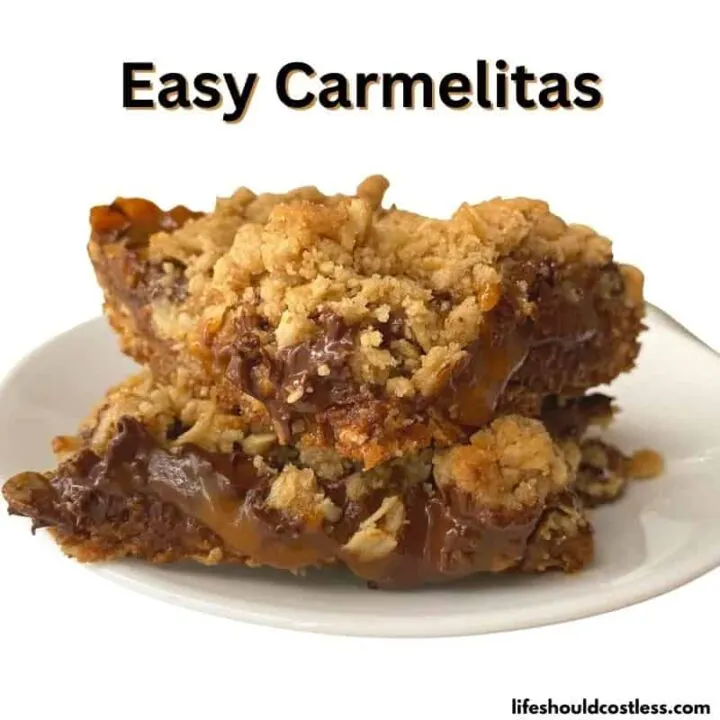 Recipe For Oatmeal Carmelitas
Learn how to make easy Carmelitas with jar caramel sauce. This simple dessert is soon to become your go-to oatmeal cookie bar recipe. The only thing you'll have to worry about is making sure that you always have the ingredients on hand.
Ingredients
2 Cups Flour
2 Cups Oats
1 &1/2 Cups Brown Sugar
1 teaspoon Baking Soda
1 & 1/4 Cups Salted Butter (room temp)
1 (17 oz) Jar Mrs. Richardson's Butterscotch Caramel Dessert Sauce
1 (11 oz) Bag Semi-Sweet Chocolate Chips (or two cups)
Instructions
Preheat oven to 375 degrees Fahrenheit.
In a large bowl, or a mixer, add the first five ingredients and mix until well combined.
Press half of this oatmeal mixture into the bottom of a 9x13" pan to create a crust. I like to use a parchment paper lined pan to make it easier to pull them out and cut into bars later.
Bake for 17 minutes (or until golden brown). Remove from oven.
Remove lid from caramel sauce and microwave it for one minute. Spread evenly over the crust.
Sprinkle the chocolate chips evenly over the caramel.
Crumble and evenly sprinkle the remaining oatmeal mixture over the chocolate chips. Gently press it down evenly to combine it.
Bake an additional 8 minutes or until the top is slightly starting to brown around the edges.
Remove from oven, place on a cooling rack and let cool.
Once cooled cut into bars and serve!
Notes
Do not use margarine instead of butter.
To make a variation of this recipe, feel free to change your chocolate chips to white chocolate, or you could even add walnuts if you would like before adding the final oatmeal layer.
To speed the cooling process, about 30 minutes after they have been removed from the oven, I like to put them in the fridge (uncovered) for an hour or so. This makes them a lot easier to cut and less messy.
How many calories in Carmelitas?
There are approximately 8360 calories in the whole pan and 107 grams of protein (the only things I keep track of)...so if you cut it into 24 pieces each serving is about 348 calories and 4.45 grams of protein.
Recommended Products
As an Amazon Associate and member of other affiliate programs, I earn from qualifying purchases.
Like I said, these ooey gooey dessert bars are pretty easy to make.
I do find the Mrs. Richardson's Butterscotch Caramel Sauce to be a little bit on the expensive side, so I try to only make these Carmelitas cookies on special occasions…but to each his own when it comes to this particular splurge.
Just try not to be too mad at me if you need to go up a pants size before long after discovering this recipe…lol.
---
Thanks so much for stopping by my blog and supporting my endeavors to make people's lives a little easier/better/more affordable.
If you liked this post, or found it helpful in any way, please make sure to share it with your family, friends, and co-workers via social media.
Or you could even send them the direct link via email. Whichever way you choose to spread the love, I super appreciate it! ~Sarah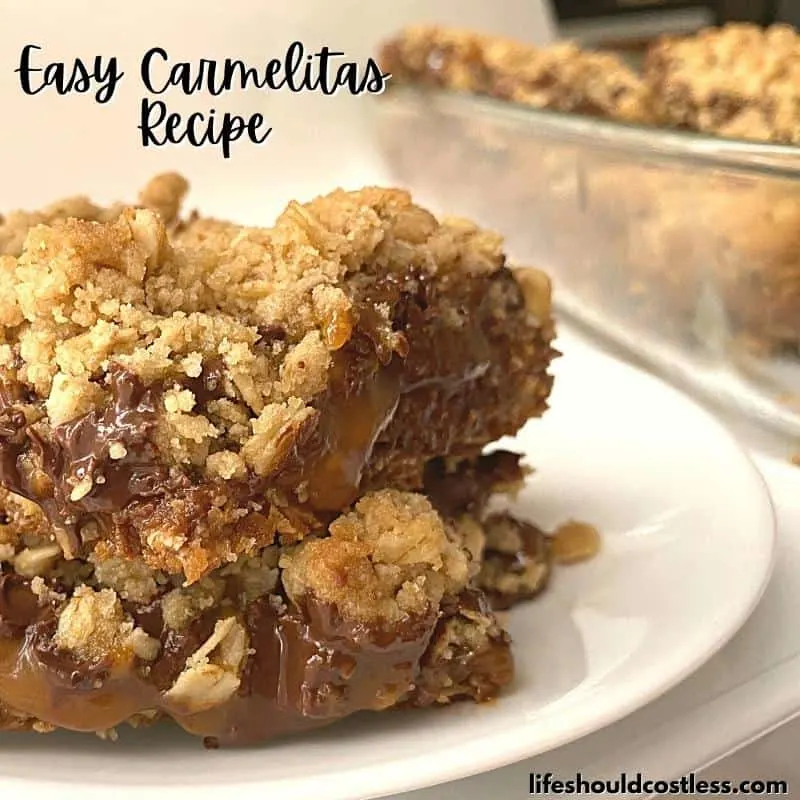 Follow Me
If you would like to subscribe to my email list, go here.
Make sure to follow along via social media, by going here.
If you would like to learn how to really show your support to this site (at no cost to you), go here.
Here are links to several of my other "desserty" posts that you may also want to check out, to see my entire "Sweet Tooth" section, go here:
*As mentioned above, this recipe was originally shared to this site on September 15, 2018 and has since been republished to improve user experience, as well as to add video of the process.