Sugar cookies have got to be one of my most liked year-round baked treats. However, a basic sugar cookie or even one with vanilla frosting can get a little boring, so sometimes I like to give mine a bit of a spicy kick, and you may find that it's a fun variation too. This easy hot cinnamon buttercream frosting recipe is soon to be the perfect new addition to your favorite sugar cookies. The best part is that you have total control of just how much of a spicy "kick" you want it to have.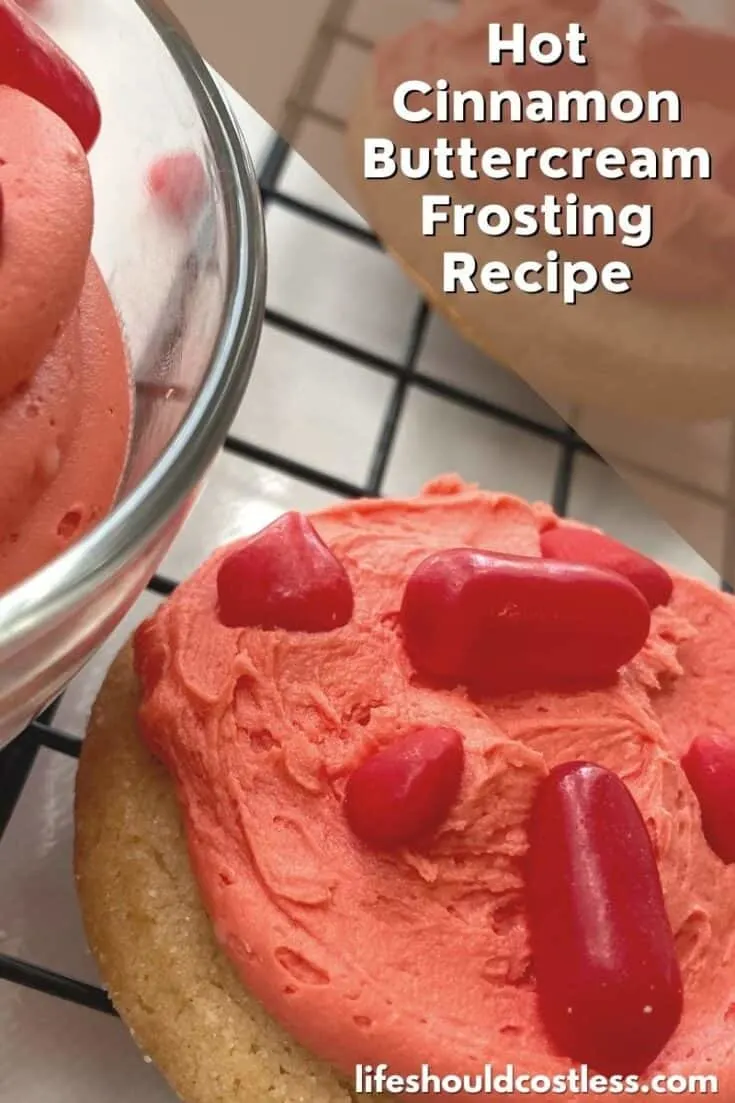 Table of Contents, Skip Ahead To What You're Looking For
What kind of cinnamon flavoring is in this frosting?
When I use the word "hot" or "spicy" when describing this cinnamon buttercream icing recipe…
I am talking about the artificial cinnamon flavoring that you're going to find in candies such as the spice in Red Hots, or Hot Tamales Candy (either candy is actually pretty fun to garnish or decorate your cookies with too, after you frost them).
To achieve this red hot and spicy cinnamon flavoring in my frosting recipe, I use Lorann Brand Hot Cinnamon Flavoring (it is often found in the candy making section of your local grocery store, or you can get it on Amazon here too).
Definitely make sure not to use typical baking cinnamon in this recipe, or it just won't turn out the same.
As you view this recipe, please excuse my mediocre (at best) photography skills…I do my best but I am in no way a professional, nor does this single mama of four have the budget to hire one.
I only share my favorite recipes ever, so please don't skip past it because I failed to capture just how yummy it is.
---
---
Spicy Cinnamon Buttercream Recipe Ingredients:
The best cinnamon frosting is also super simple…it's a basic dump and mix recipe, and there is probably only one ingredient that you don't keep on hand all of the time (unless you make a lot of candies).
Those ingredients are:
When I am making this recipe just for home use, I omit the food coloring as often as possible (I just feel like it's unnecessary)…however, if I do dye my frosting, I try to go the "crunchy" route and use some natural food coloring… but that's just me. You do you.
How to make cinnamon buttercream frosting (video):
A shareable/embed friendly version of this video can also be found on my YouTube Channel, here.
Recipe card found here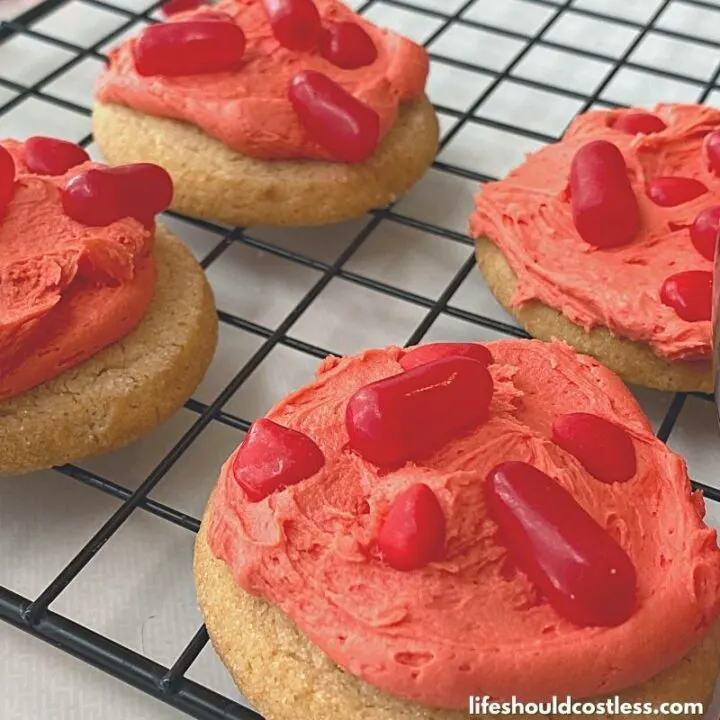 Hot Cinnamon Frosting Recipe
Yield:
Approximately 2.5 Cups Frosting
Give your favorite sugar cookies a bit of a kick with this hot cinnamon buttercream frosting (think spicy like red hots or hot tamales candy).
Ingredients
1 Cup Salted Butter (room temp)
3 & 1/2 Cups Powdered Sugar
1 Tablespoon Milk
1 to 1.5 teaspoons Lorann Brand Cinnamon Flavoring
Food Coloring (optional)
Instructions
In a large bowl, cream together the butter, powdered sugar, and milk (it takes several minutes).
Then add one to one and a half teaspoons of Lorann Brand Cinnamon Flavoring and food coloring, if desired.
Mix until flavoring and coloring is well incorporated.
Use to frost your favorite sugar cookies. Can also garnish with red hots or hot tamales candies.
Notes
I prefer to use 1.5 teaspoons of Cinnamon Flavoring for this recipe. However, if you're a bit of a weenie when it comes to spice, you may want to start with 1 teaspoonful and adjust it to suit your tastes.
If not using this frosting right away, I suggest putting it in an air tight container and refrigerate it for up to a few days.
Nutrition Information
Yield

24
Serving Size

1
Amount Per Serving
Calories

95
Total Fat

8g
Saturated Fat

5g
Trans Fat

0g
Unsaturated Fat

2g
Cholesterol

20mg
Sodium

61mg
Carbohydrates

7g
Fiber

0g
Sugar

7g
Protein

0g
These caloric amounts are automatically estimated by a plugin on my site and should be treated as an estimate only.
That's really all I have to share today about this yummy red hot cinnamon frosting recipe, I hope you like it as much as we do at my house.
When I make a batch of this stuff, it and the sugar cookies are gone in minutes…so you have been warned.
---
Thanks so much for stopping by my blog and supporting my endeavors to make people's lives a little easier/better/more affordable.
If you liked this post, or found it helpful in any way, please make sure to share it with your family, friends, and co-workers via social media.
Or you could even send them the direct link via email. Whichever way you choose to spread the love, I super appreciate it! ~Sarah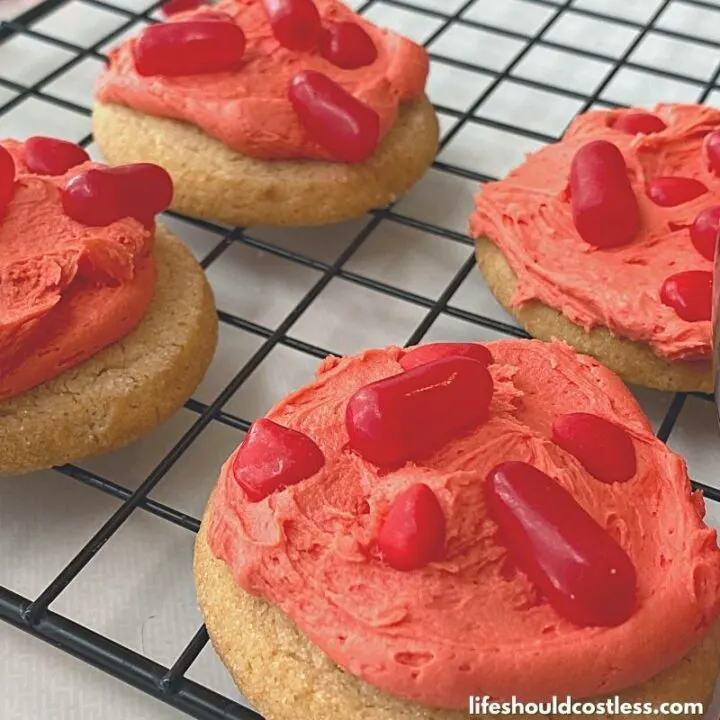 How to follow & support this site
---
Check out my other recipes
Other sugary-sweet recipes
---
What is the best frosting for sugar cookies?
Sugar cookies typically taste best when paired with a buttercream frosting for cookies. Buttercream icing is very versatile, and can easily be flavored or spiced however one desires.
My personal favorite way to flavor my cookie icing is to make a cinnamon frosting.
*Please note that this recipe was originally shared to this website on February 10, 2012 and has since been updated to improve user experience, add video, a free printable recipe card, as well as a new photo tutorial of the process. It will continually be updated to remain relevant and shareable across the social medias.