There is just something about when the air just barely starts to get a crisp edge to it, that makes me think of fall and thinking about fall makes me always think of caramel!!!! I sure love the stuff, (my favorite recipe for basic caramel can be found here) especially when it is paired with chocolate, so I am sharing with you all today a recipe that someone gave me over a decade ago that has both caramel and chocolate and is the most heavenly dessert.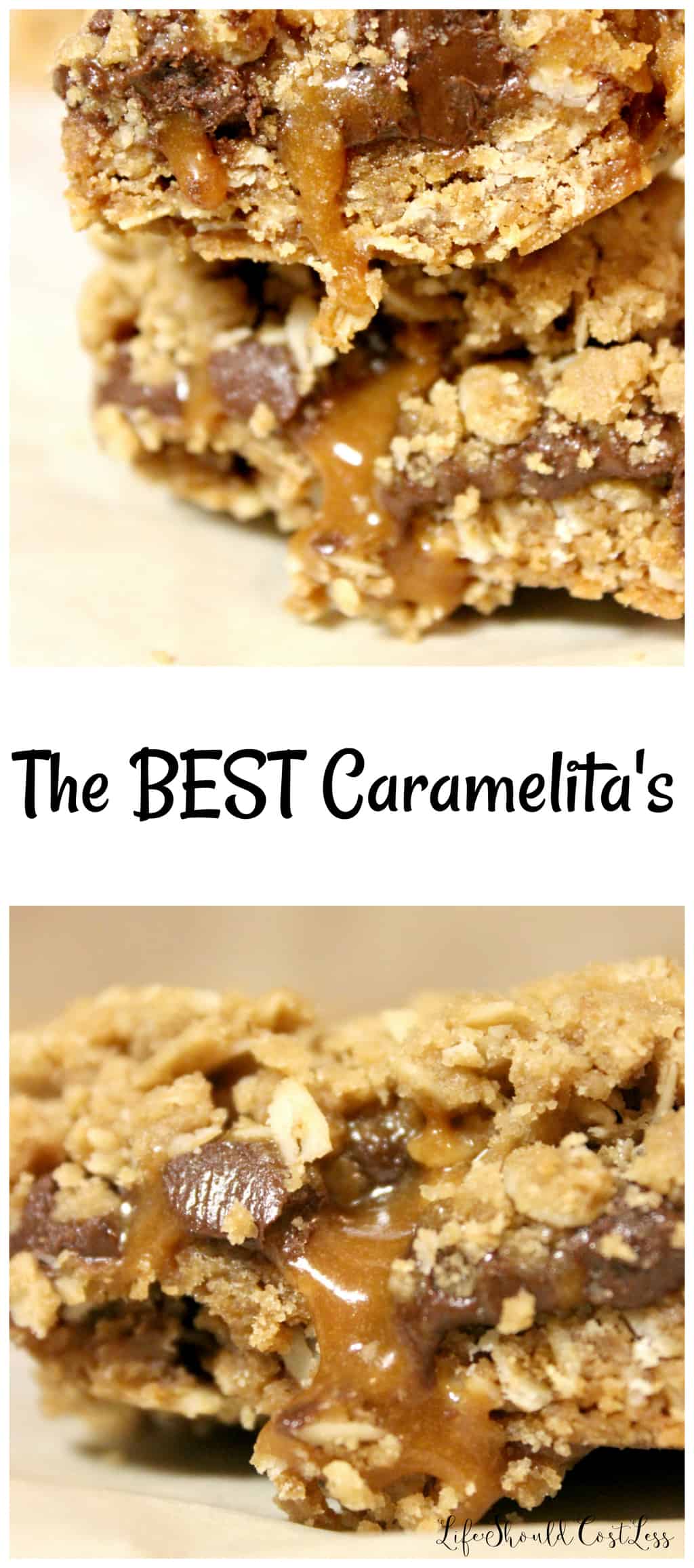 I honestly don't remember the name of the woman that gave me the recipe. She was a temp back when I worked as a mortgage loan processor, but I do remember her bringing some of these in one day and they were an instant office hit. Literally everyone that tried them asked her if they could get the recipe and she was more than happy to make copies for everyone.
Honestly I think that my favorite part of this recipe is that the caramel stays pretty gooey….plus, these bars are basically caramel and chocolate chips trapped between two oatmeal cookies…at least that's what it reminds me of.
Let's get right to the directions with pictures:
Here are the ingredients all laid out.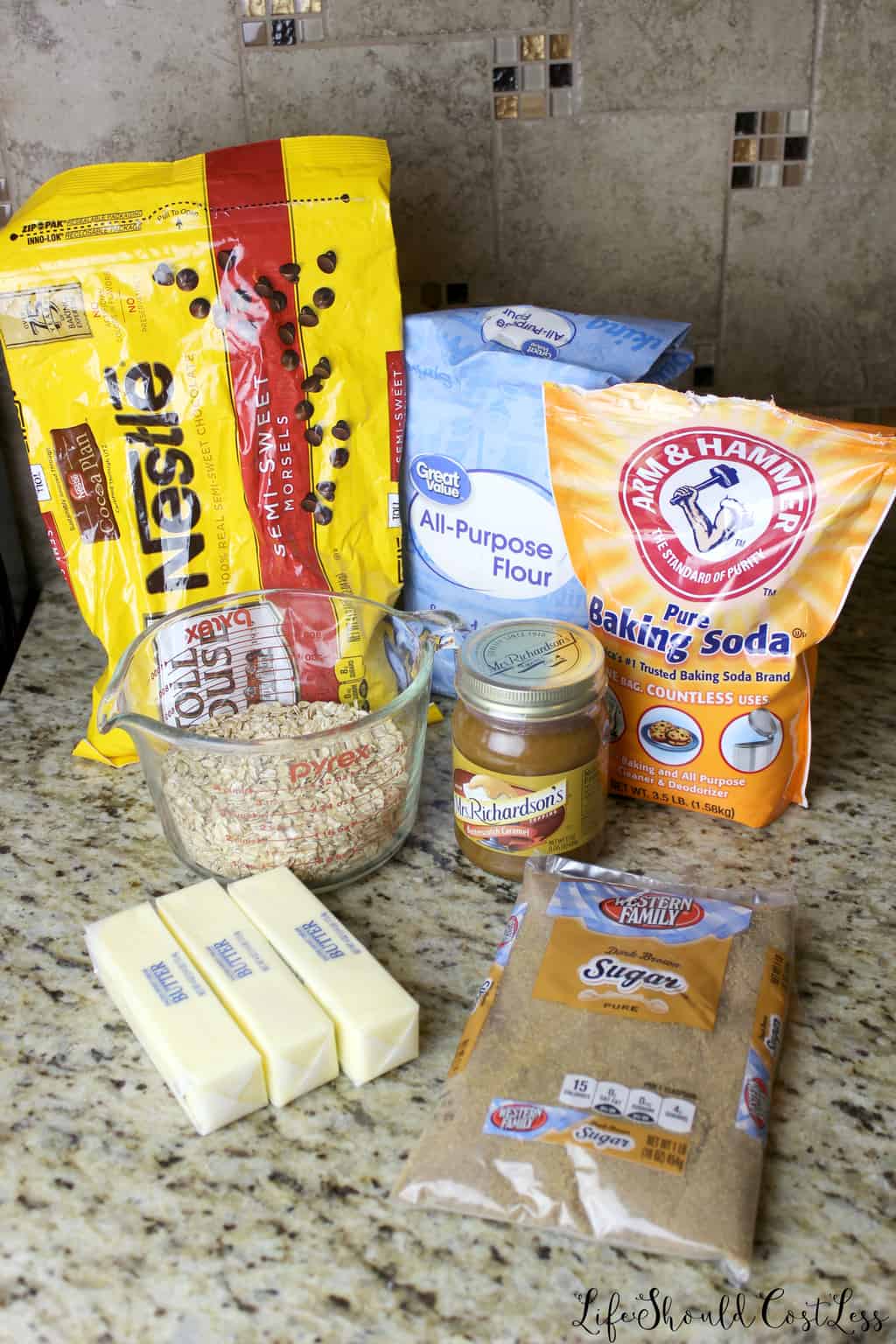 In my four quart glass bowl, I added the first five ingredients.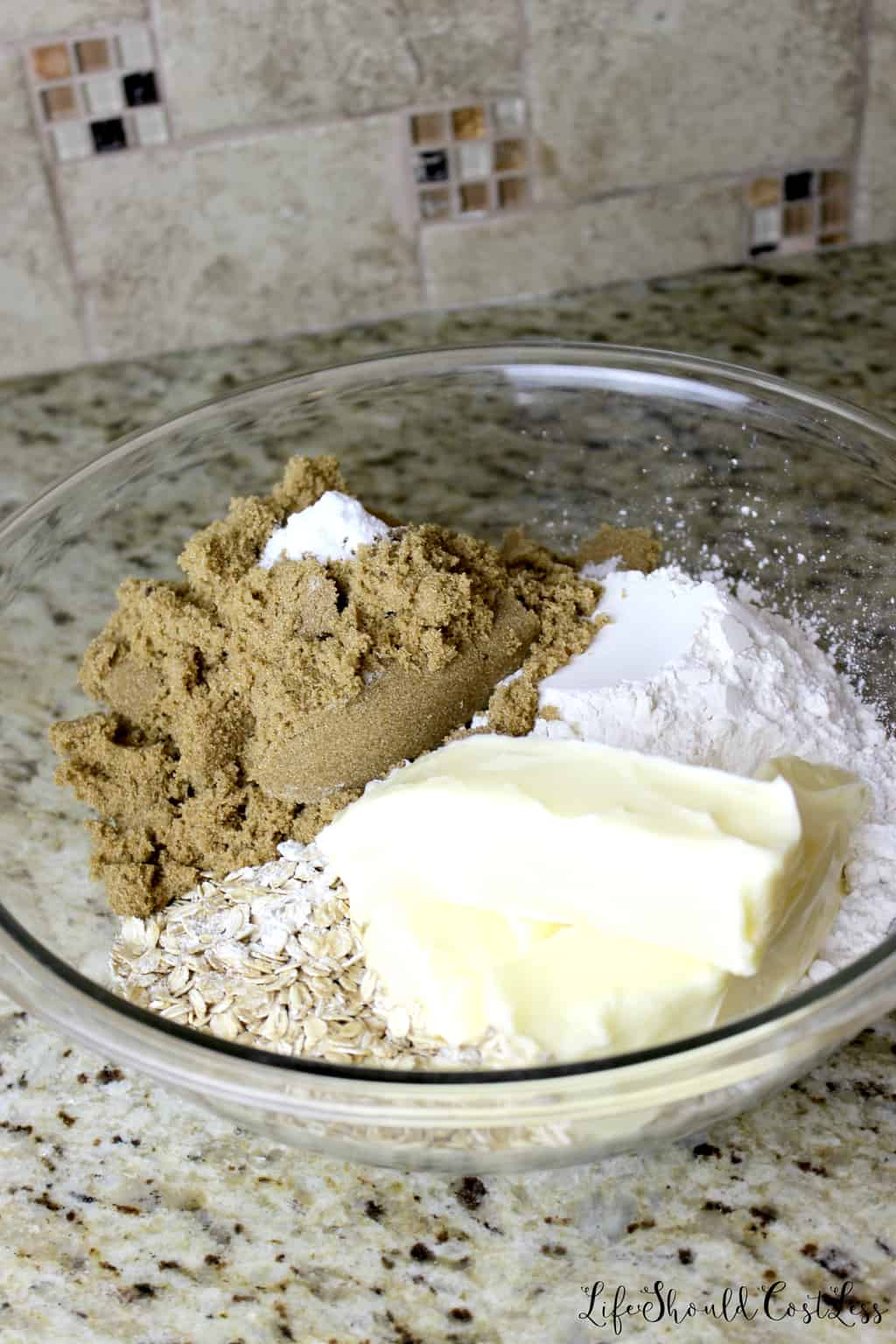 Mix until well combined. I LOVE me a simple dump and mix recipe and this one does not disappoint.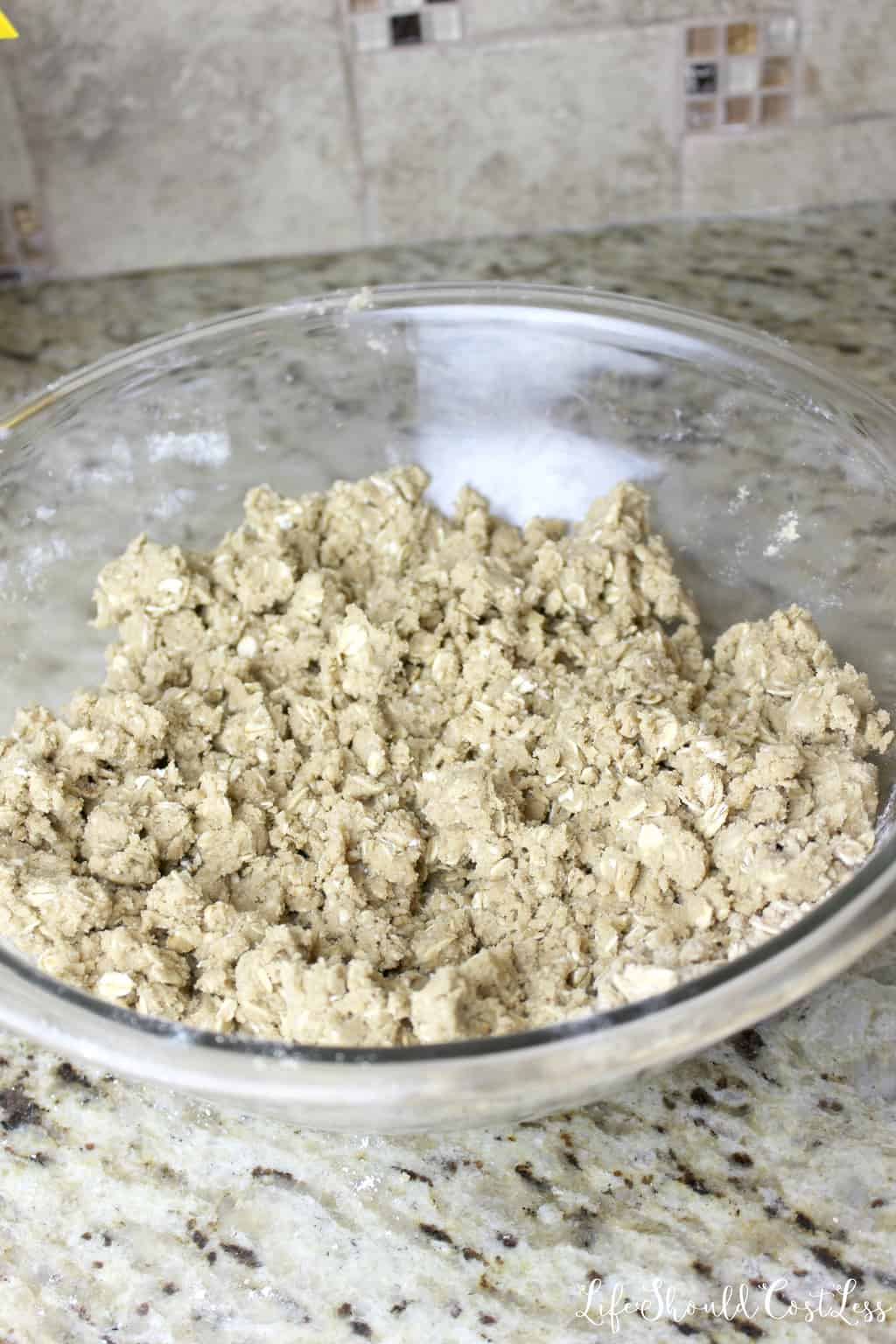 Next I separated the oatmeal mixture into two equal parts to make it easier to know how much to use for the crust layer.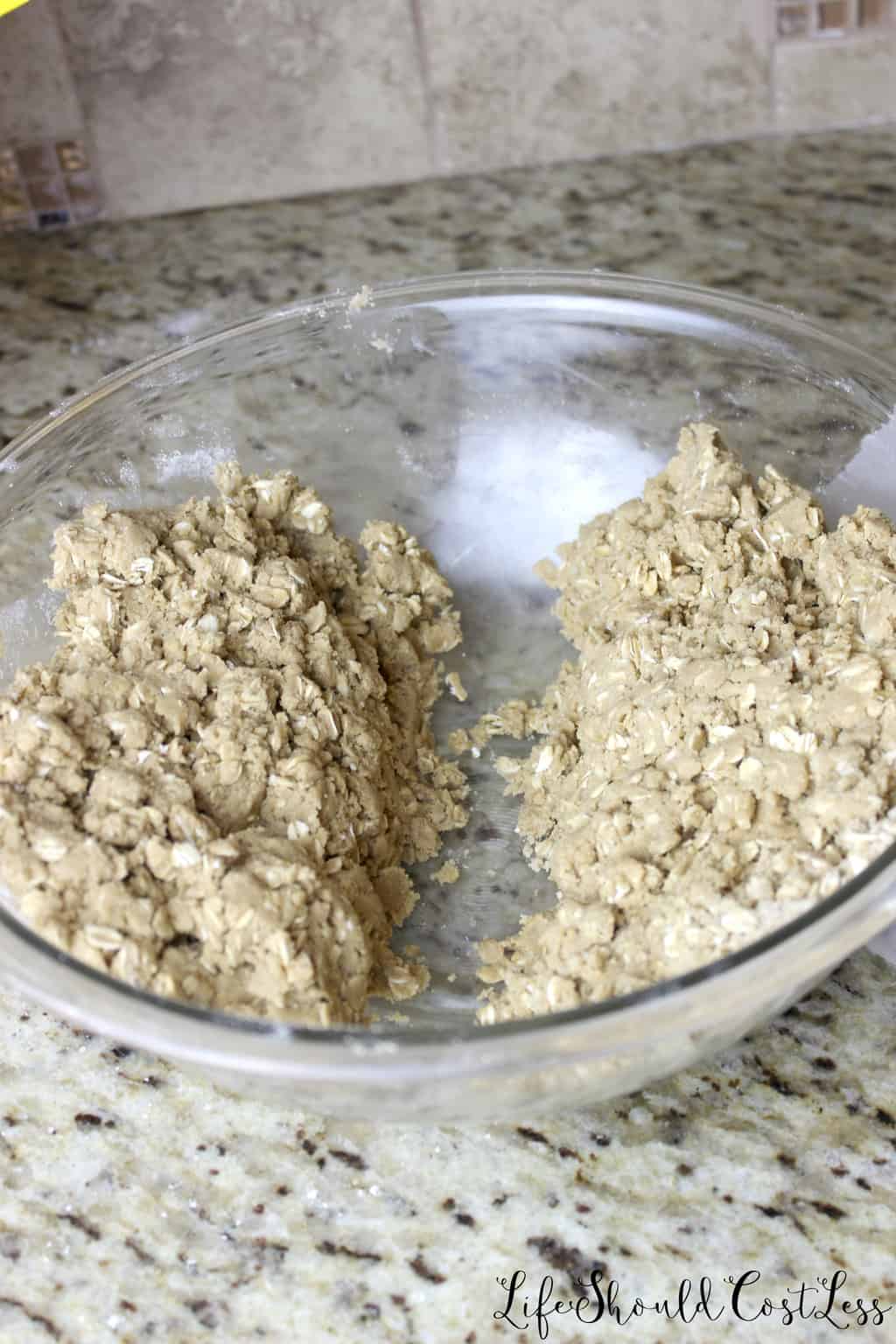 Then pressed half of it into my parchment paper lined 9×13″ casserole dish.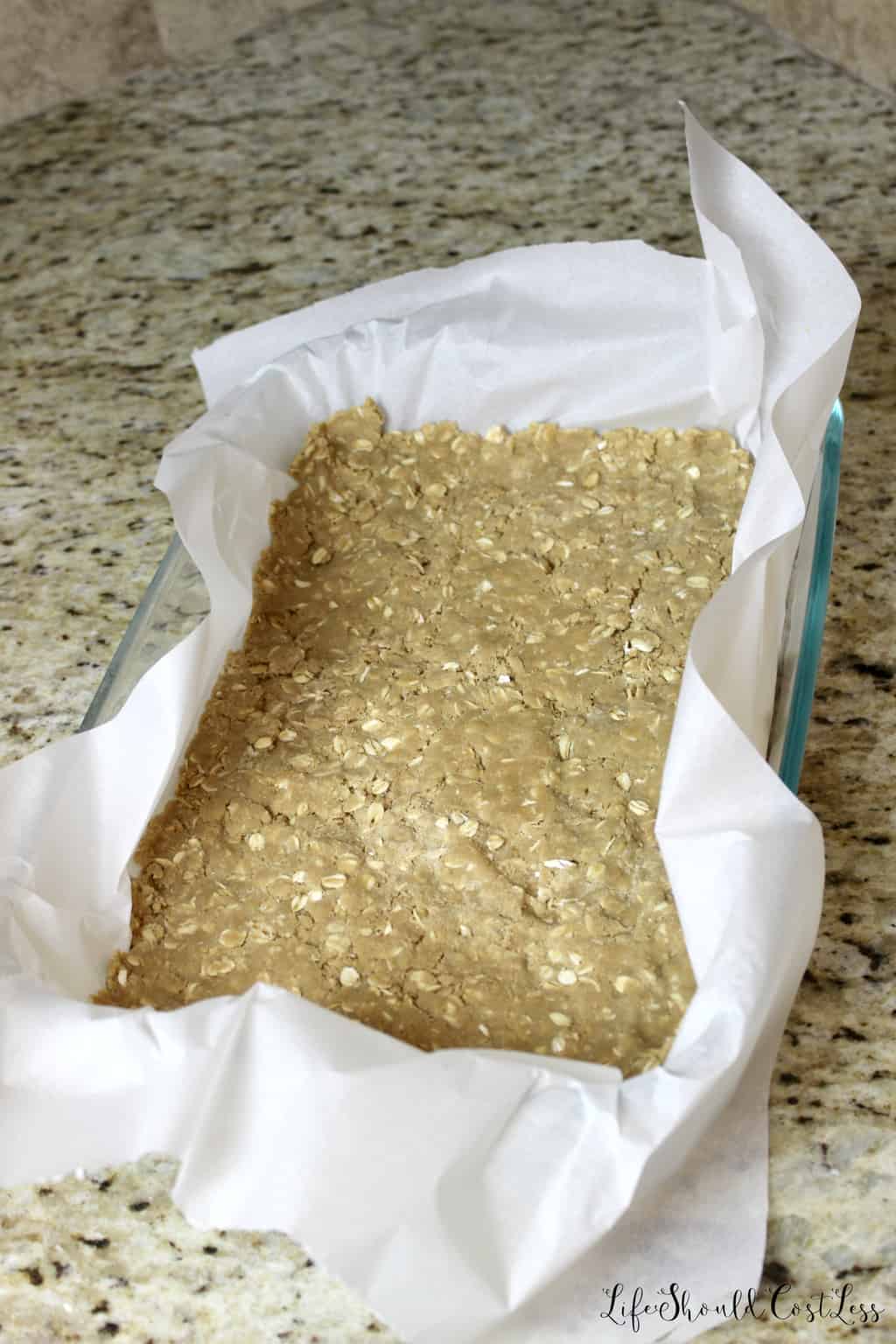 And then baked for 17 minutes.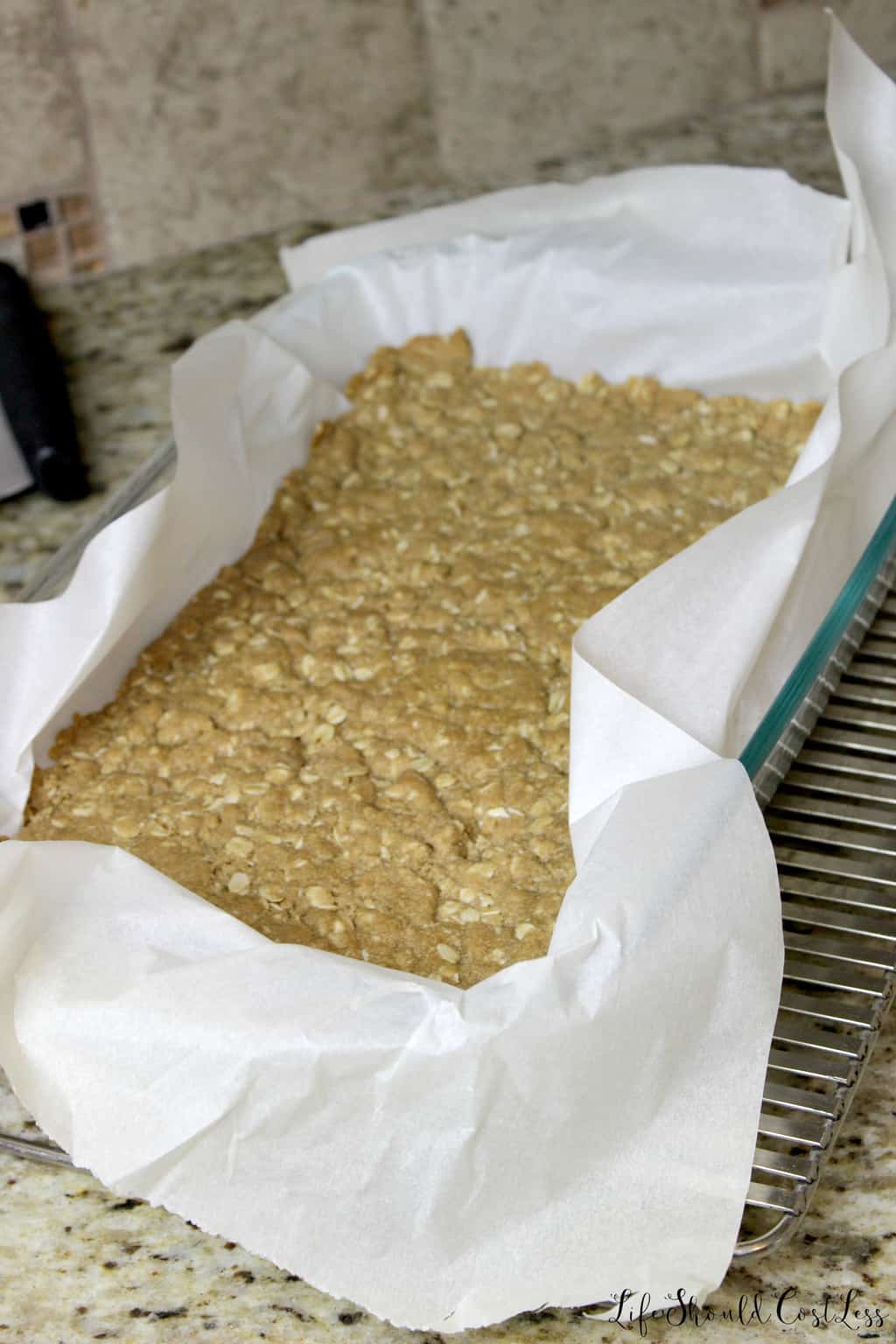 It's time to add the caramel sauce. It was microwaved for one minute, without the lid, and then poured and spread onto the cooked crust layer. Please keep in mind that I was unable to find this exact kind of butterscotch caramel at Wal-Mart but did find it at Lin's so keep an eye out for it or you can buy it on Amazon, here.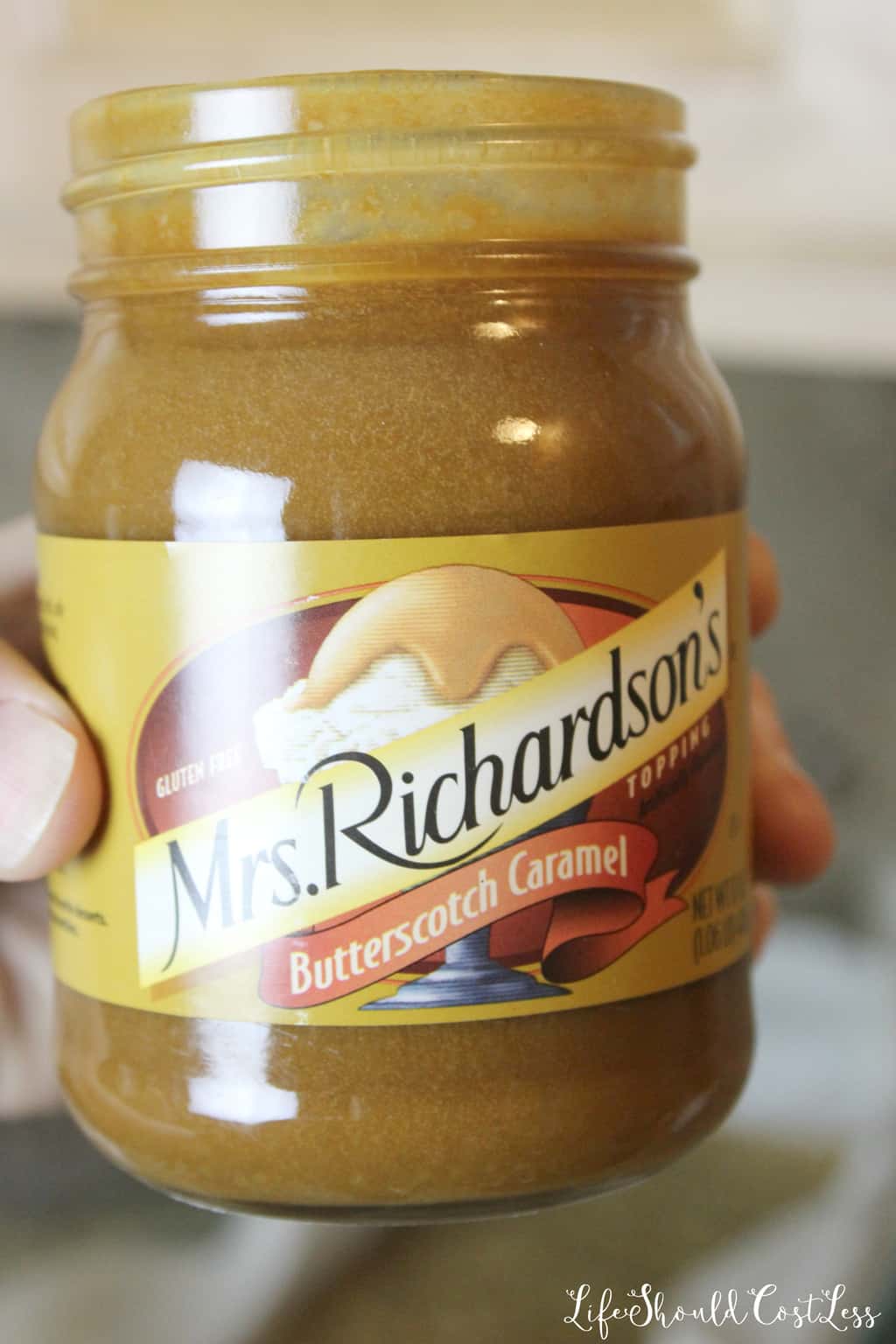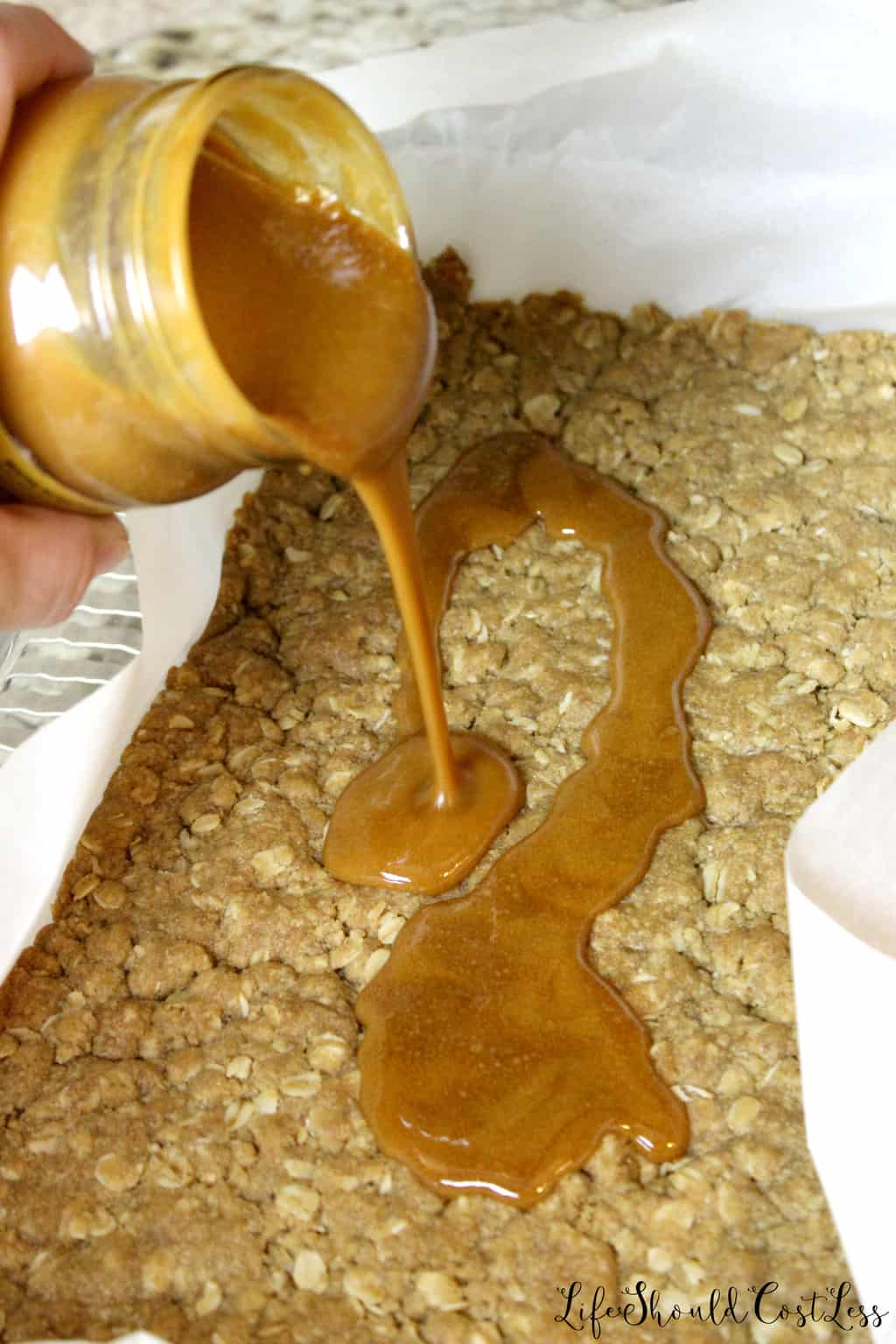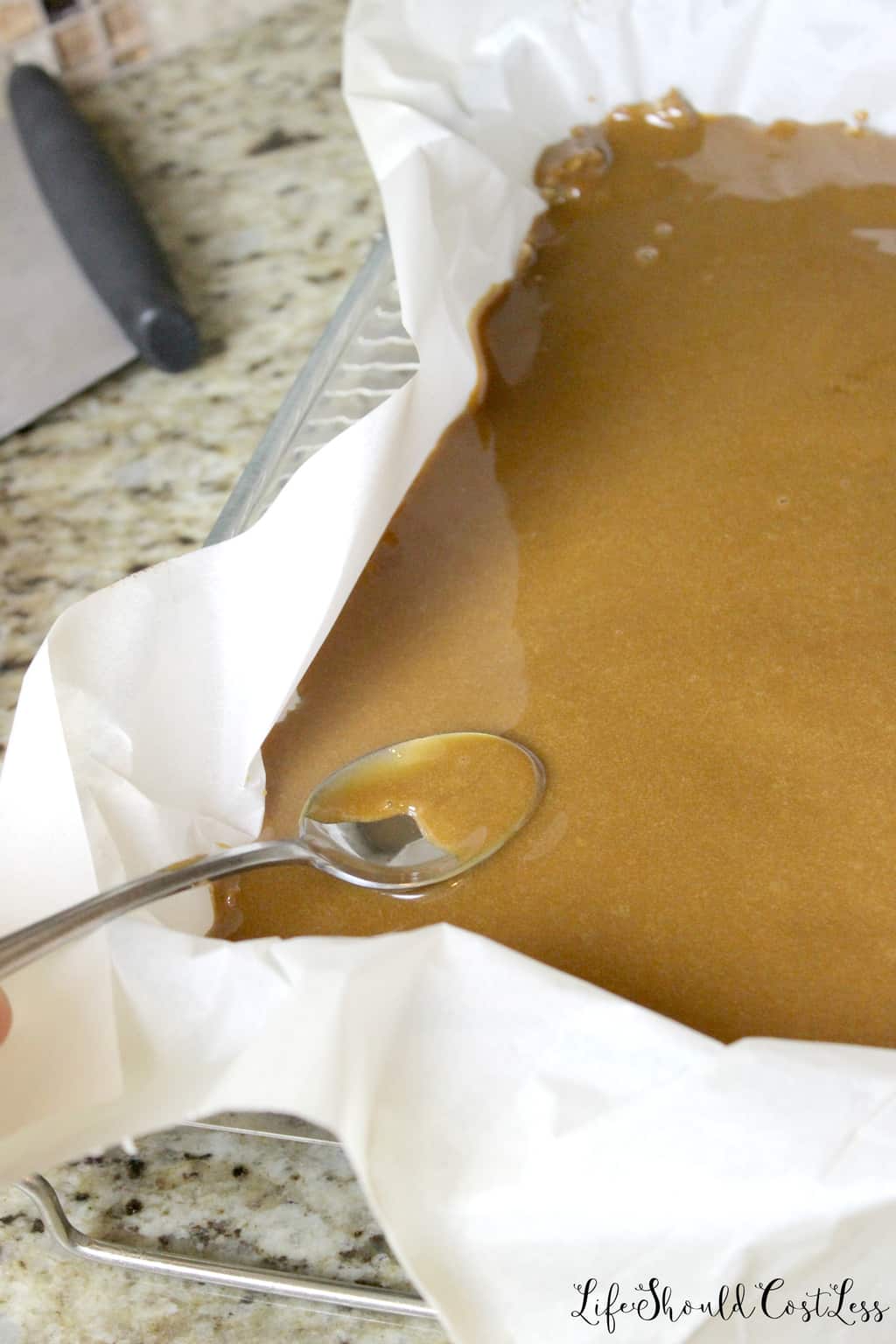 Next I sprinkled on the chocolate chips. These are semi-sweet. Next time I make these I am going to add chopped Walnuts at this point.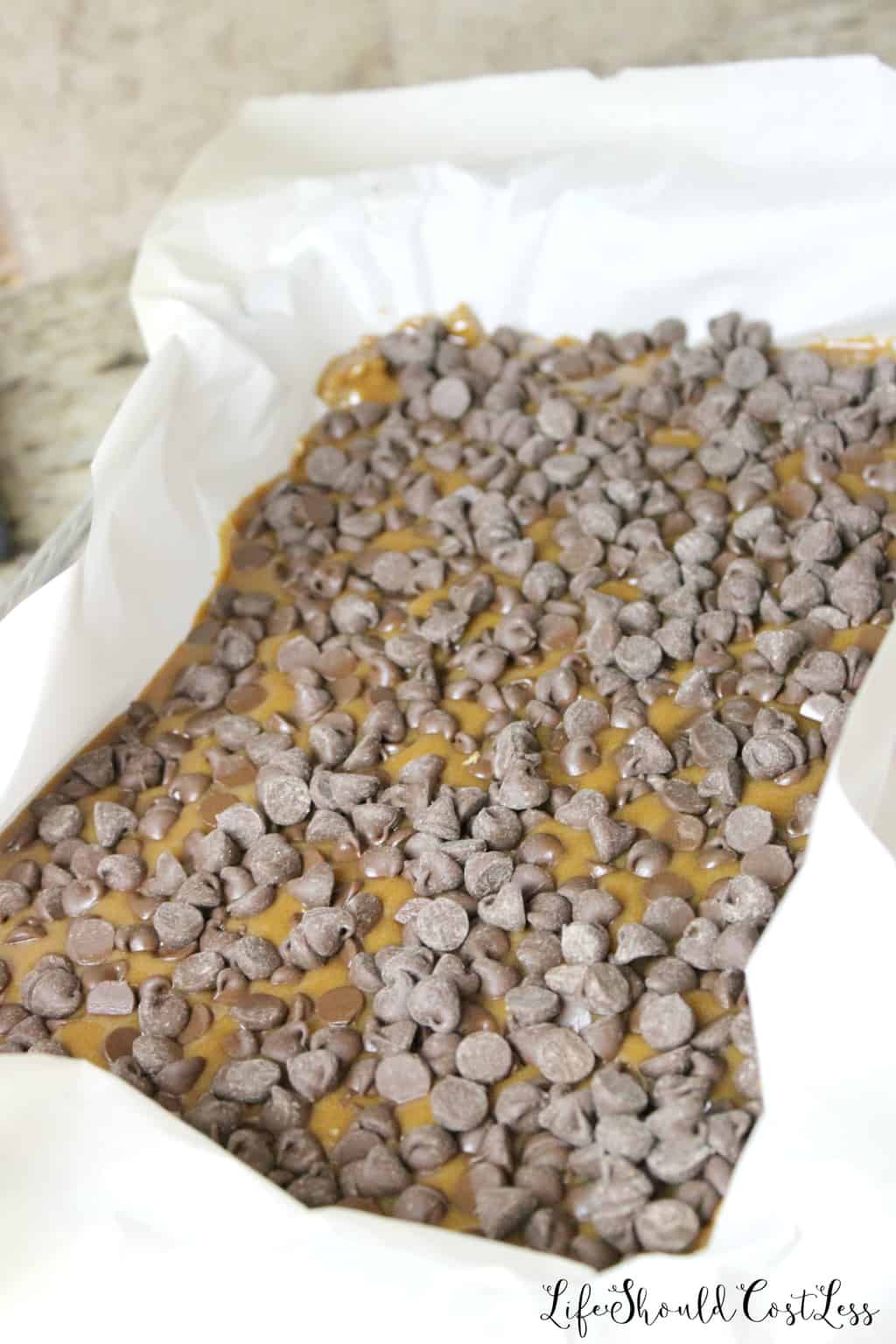 Then I crumbled on the rest of the oat layer.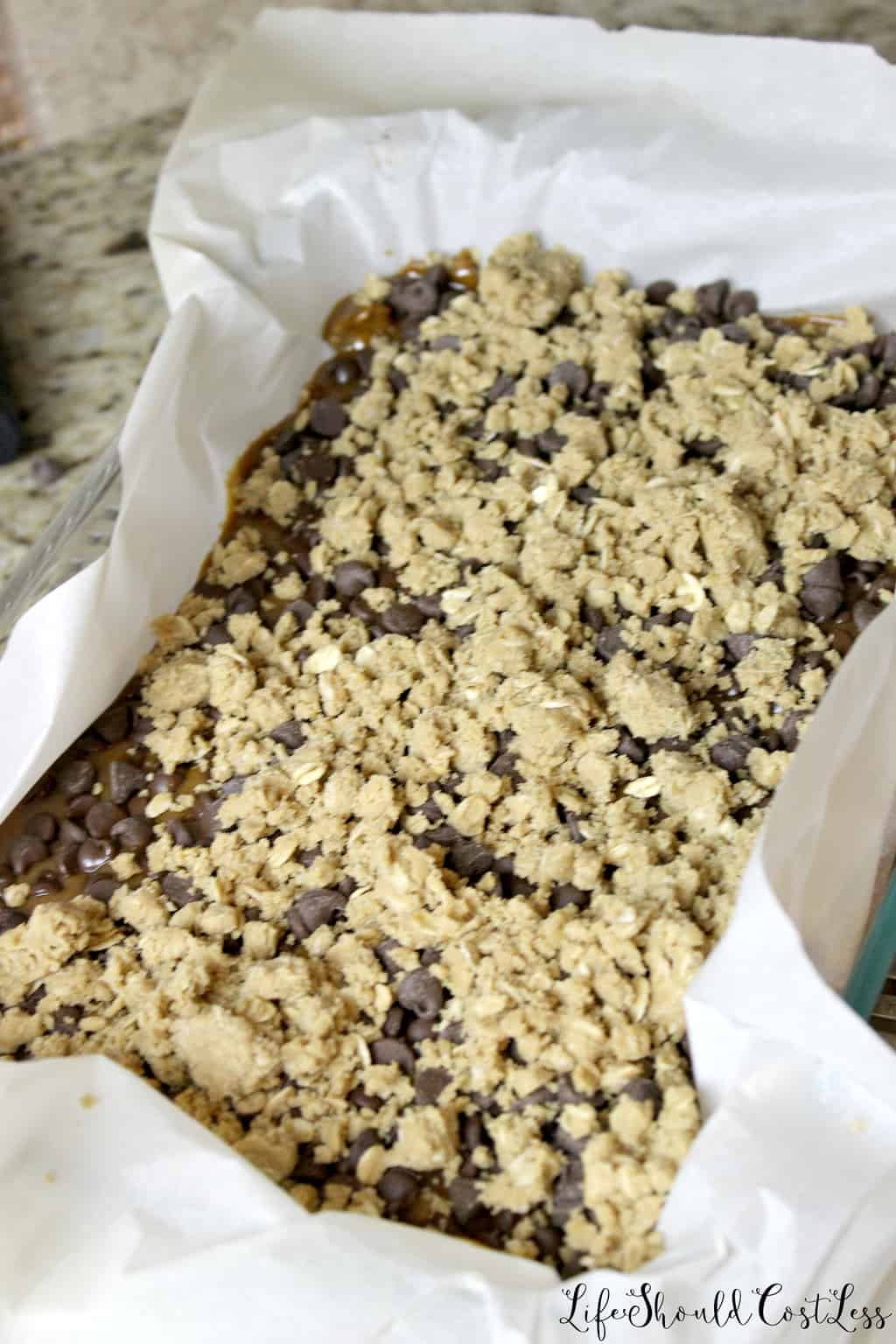 And then patted it down a little bit in order to make it a little more stuck together for the final result.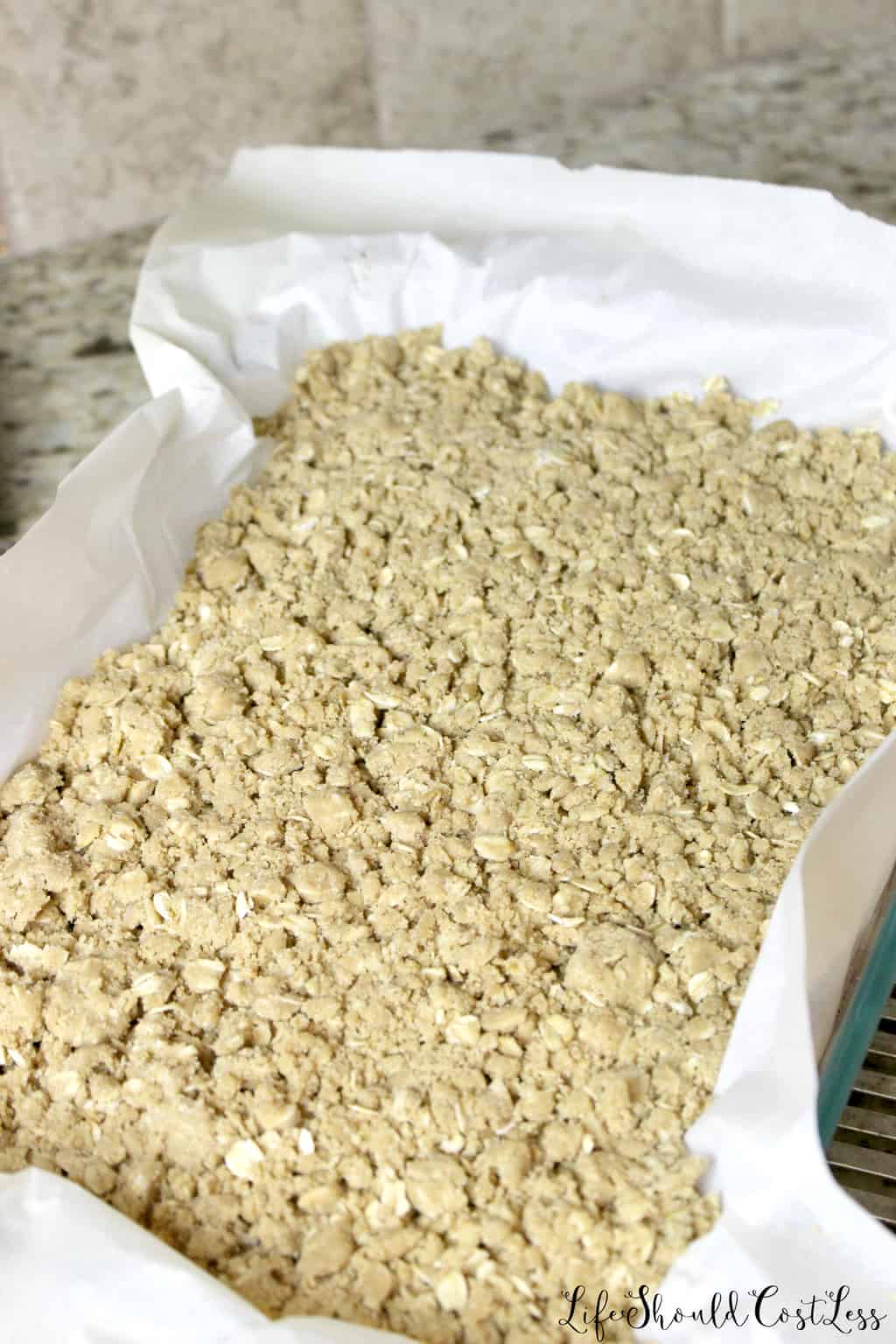 I let it cool until it hit room temperature. To speed that up I put it on my cooling rack to allow air to flow underneath it and then once it had cooled considerably I threw it in the fridge for a little bit too. I was crunched on time for working on shooting pictures so had to hurry it along a little bit.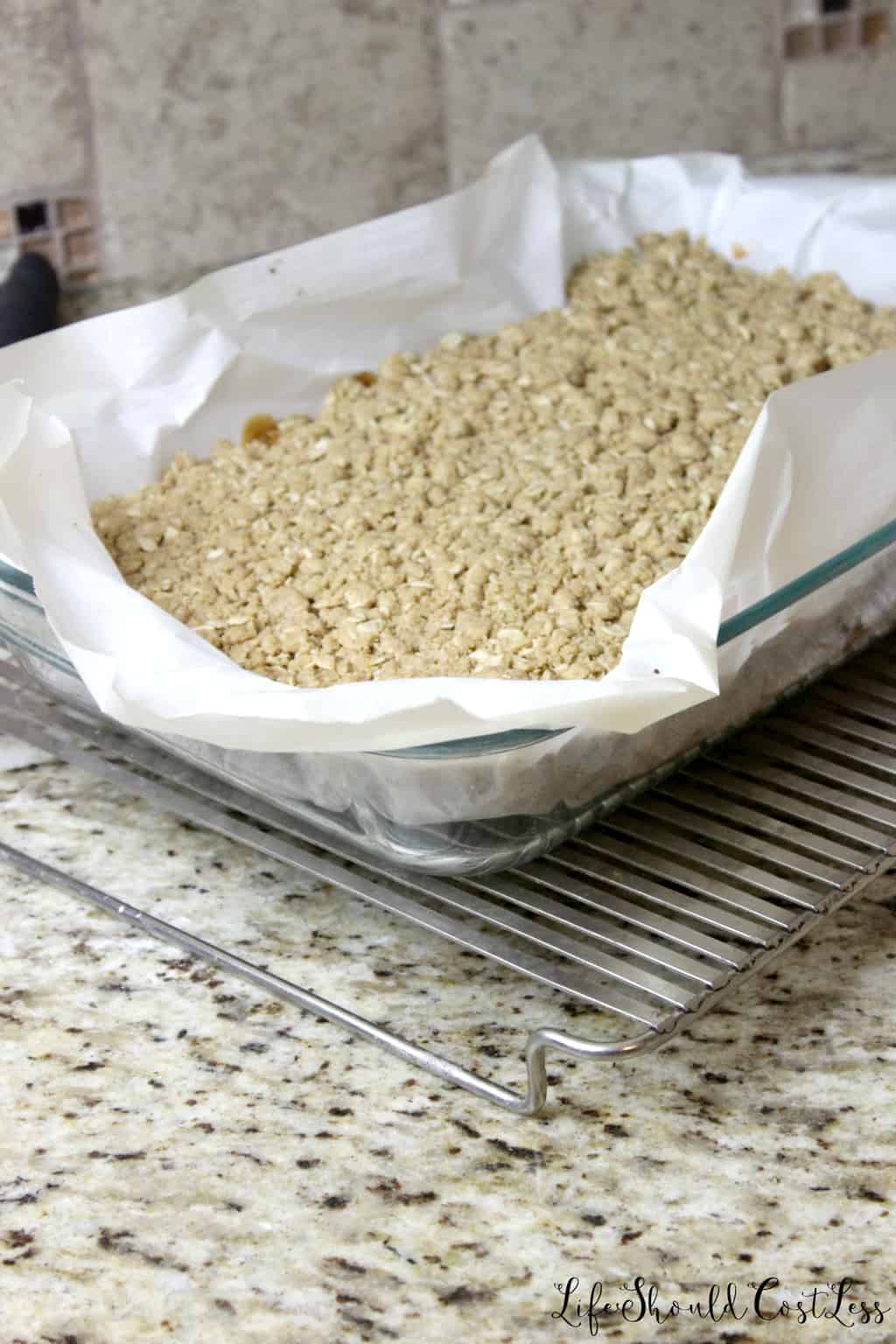 Now it was time to cut them into bars, so I lifted them out with the parchment paper and cut them into squares using my scraper/chopper…. It's messy so plan on that.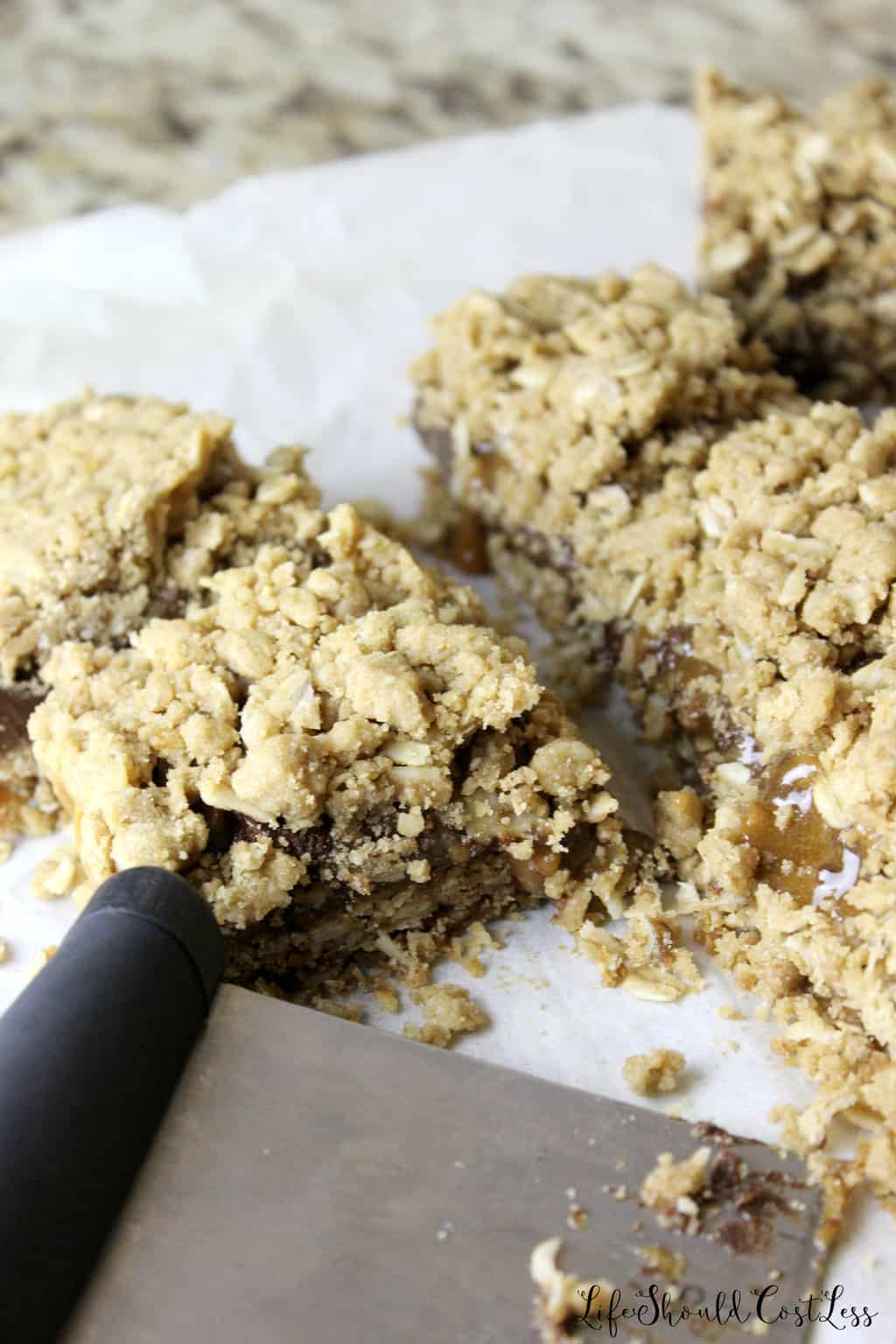 Here are several shots of the finished deliciousness to get you all drooling over the caramel spilling out.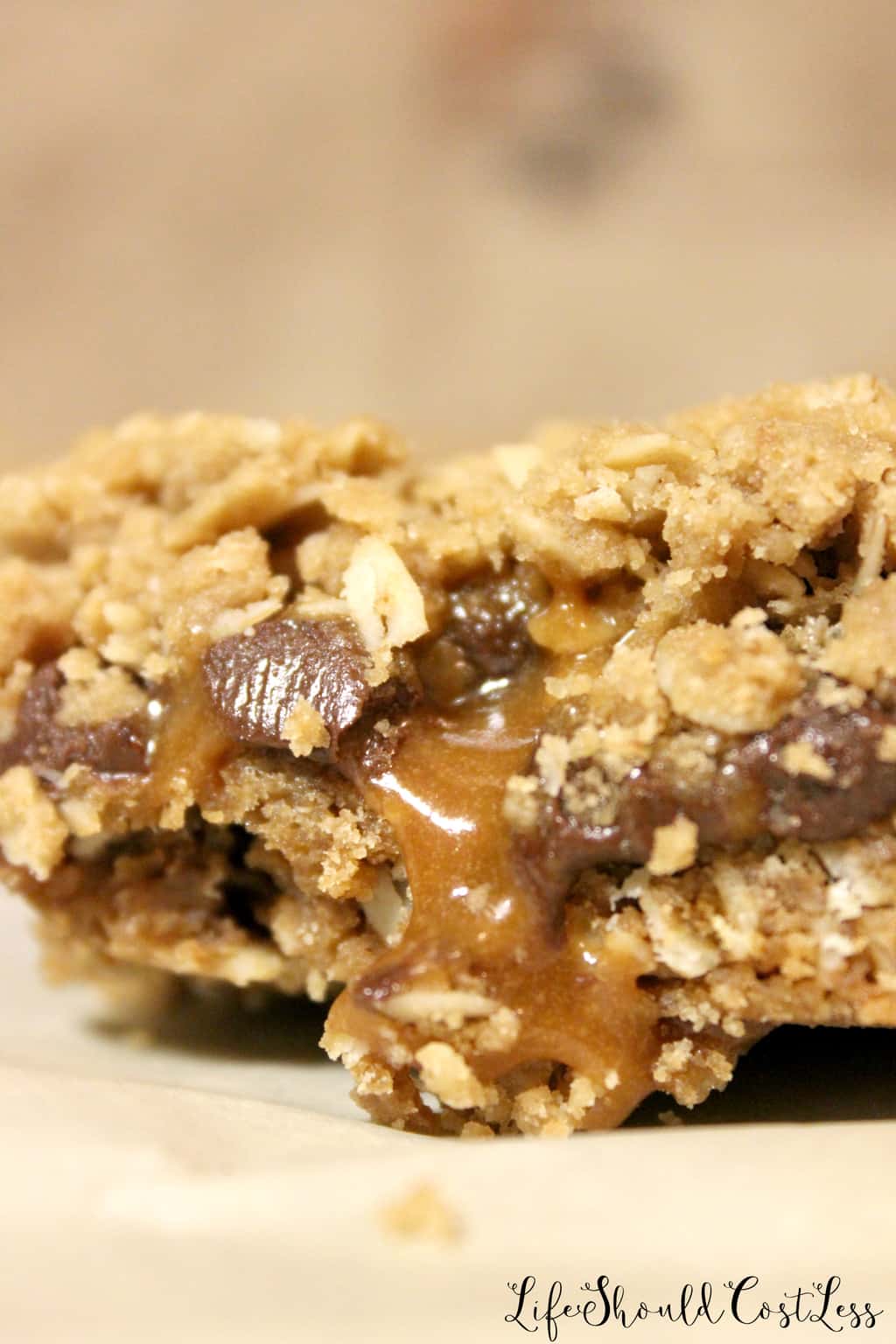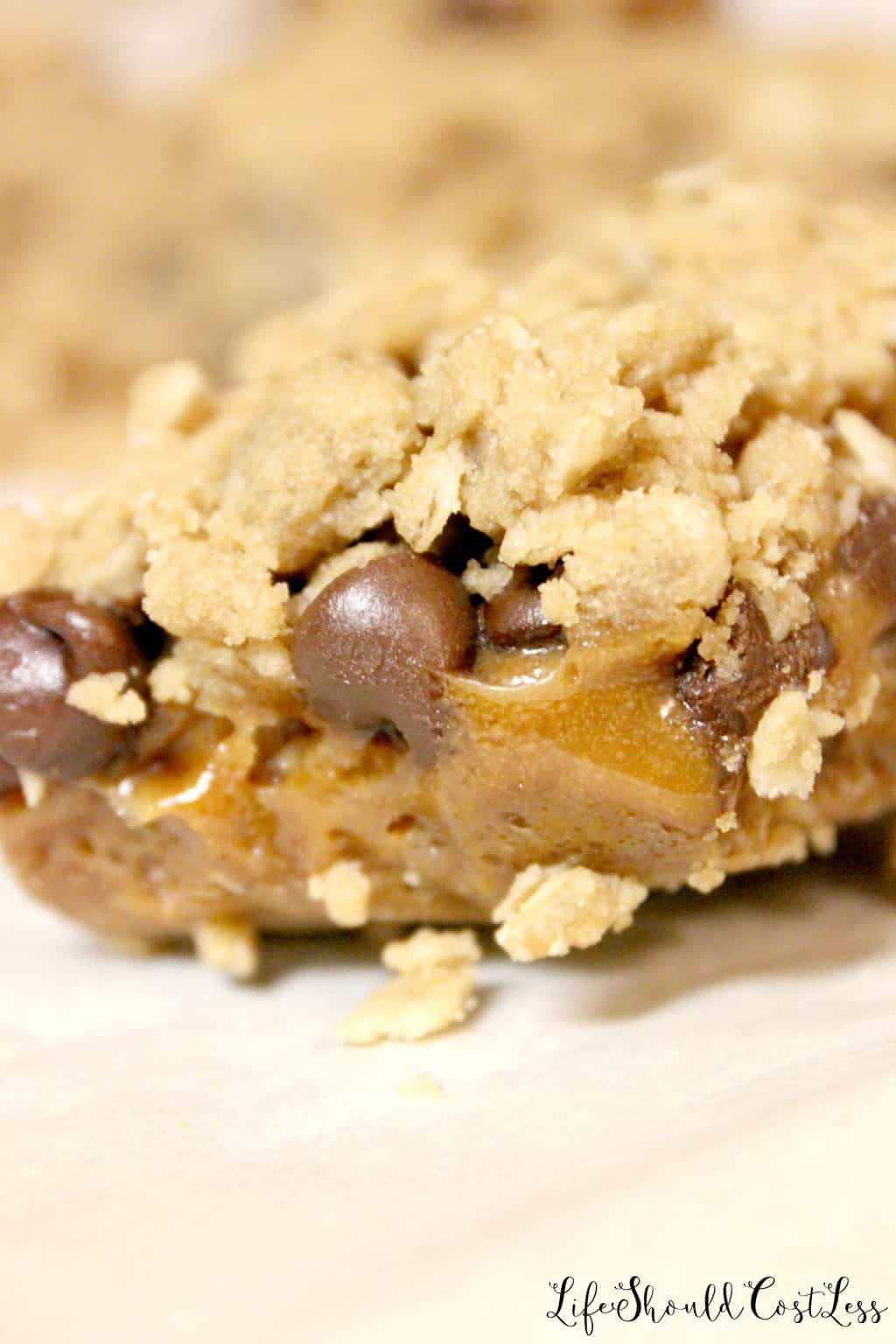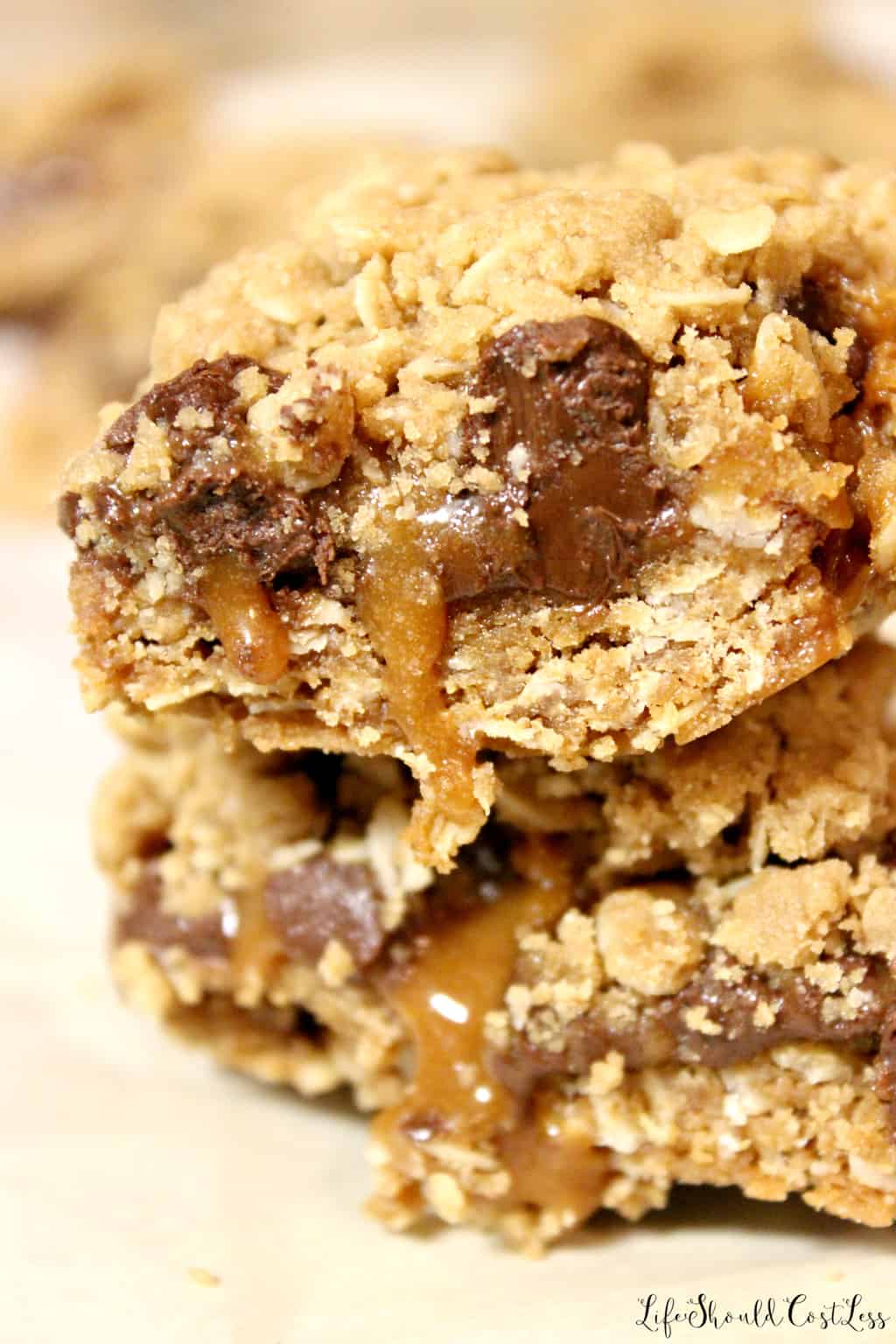 The Best Carmelito's Recipe
Author:
LifeShouldCostLess.com
Recipe type:
Dessert Bars
Ingredients
2 Cups Flour
2 Cups Oats
1 &1/2 C Brown Sugar
1 tsp Baking Soda
1&1/4 C Salted Butter (room temp, not margarine)
1 Jar Mrs Richardson's Butterscotch Caramel
1 Bag Chocolate Chips (approximately two cups)
Instructions
Preheat oven to 375 degrees Fahrenheit.
In a large bowl, or a mixer, add the first five ingredients and mix until well combined.
Press half of this oatmeal mixture into the bottom of a 9x13" pan to create a crust. I use a parchment paper lined pan to make it easier to pull them out and cut into bars later.
Bake for 17 minutes. Remove from oven.
Remove lid from caramel sauce and microwave it for one minute. Spread evenly over the crust.
Sprinkle the chocolate chips evenly over the caramel.
Crumble and evenly sprinkle the remaining oatmeal mixture. Gently press it down evenly to combine it.
Bake an additional 8 minutes or until the top is slightly starting to brown around the edges.
Remove from oven, place on a cooling rack and let cool.
Once cooled cut into bars and serve!
Notes
As a variation you can change the chocolate chips to white chocolate and/or add a half a cup of chopped walnuts before you add the oatmeal topping.
What did you think? That is if you tried them anyway… I think this recipe is a keeper for sure, but then again I have managed to hang onto it for a very long time and I moved many times so luckily it survived to be shared. They are pretty messy as far as cookie bars go, so make sure to use plates to serve them and I totally would not let kids eat them unsupervised unless they are outside.
If you liked this recipe, please make sure to share this post via social media! You also have the option of making a direct donation to the website by means of my PayPal account, if you feel so inclined. Either way, thanks so much for helping me support my kids! Oh, and don't forget to make sure that you are subscribed to my email list so that you never miss a post. Thanks again! ~Sarah
P.S. You may want to check out my entire Sweet Tooth section… I don't post a recipe unless I absolutely love it so you won't regret sticking around to see what else I've shared over the years.