Winter will soon be here so I have been doing a little bit of unconventional prep work to get my house ready. It's unconventional because I'm all about letting as much daylight into my home as possible to help combat the dreary Northern Utah winters. Dreary=depressing and I just don't want to be depressed all winter long. So I'm preparing to be happy!
There are two small rooms in my home that require the blinds to be shut the majority of the time for privacy.  Which means that you basically walk into a cave every time you go in there and I would open those blinds, but I'm always worried I'll forget to close them  and I don't want to give the neighbors a show.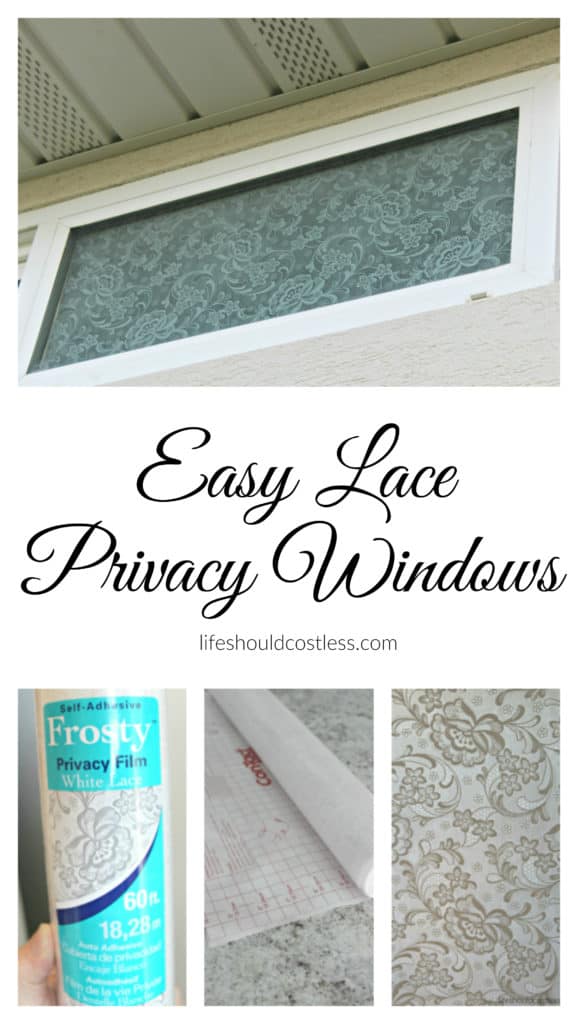 Over the past couple of years I have fallen in love with the lace window covering trend, but I have yet to find a good deal on lace, even at thrift stores, and it seemed like I would never be able to do it…until I discovered a certain product that would work instead… and is a super cheap alternative. But first, let's show you the before and after of how much more light it brought into my laundry room. Here is the before. I even lightened up this picture a little bit…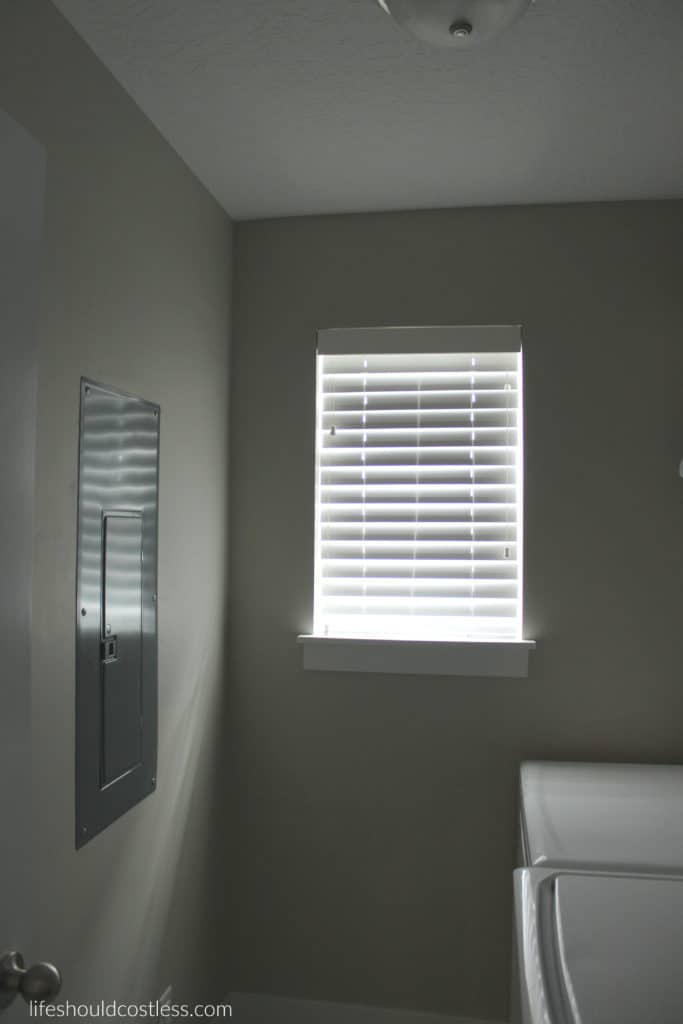 Here is the after with light just pouring into the room. It made such a big difference that that first week after I did this any time I walked by the laundry room I thought that someone had left on the light in there. No lights left on…just what I needed lots of natural light! Yay! Now I can have my bright room but still walk in there half-dressed any time I need to without worrying about being seen.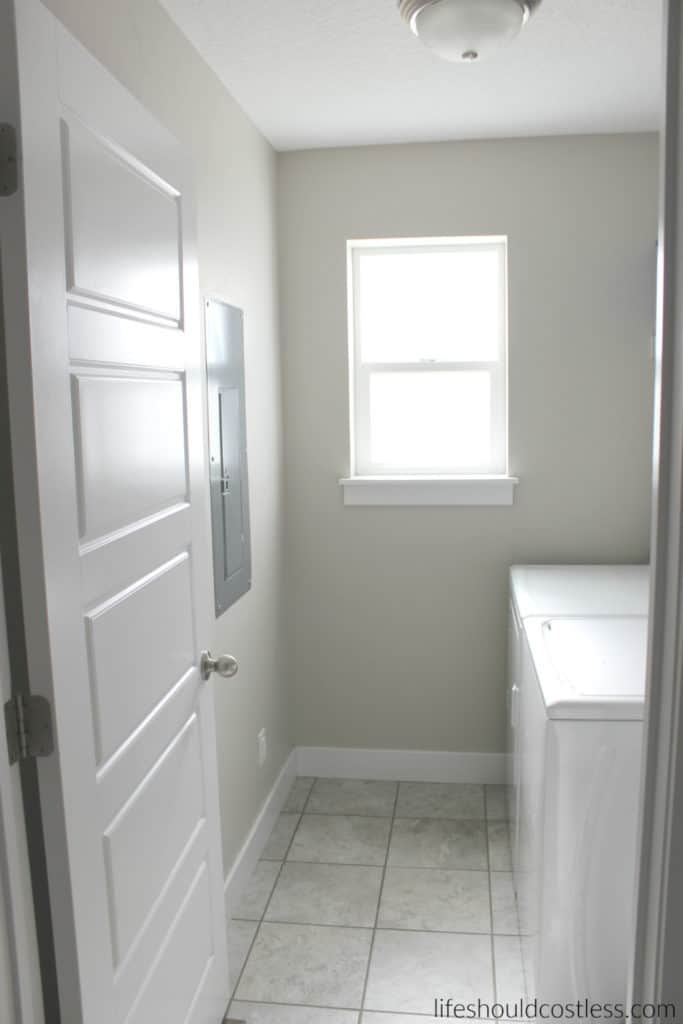 The product that I found is called Frosty White Lace Privacy Film. It is just contact paper. Can you believe it? It comes in a huge roll for around $25 (prices can fluctuate on Amazon so watch for when it's low) and has enough on there that if you and a few friends all chipped in together you could easily do four or five people's windows for just a few  bucks or so each. I however, will be hoarding mine because I have a few more projects in mind that I want to do with it.
The best part about it being Con-Tact Brand contact paper is that it has little grids printed on the back of the paper so it is a breeze to measure out how much you need and then cut in straight lines.

*I've got links to several other great posts at the bottom, so make sure to keep on scrolling!*
Before you just start slapping it on your windows it is important to do a little bit of prep work so that you will get the best possible results. I cleaned my windows really well with rubbing alcohol so that it would stick really well…the same way that you would prep glass before you apply vinyl. Don't skip this step as it will give you a better hold. Just make sure that the window is completely dry before you attach the contact paper.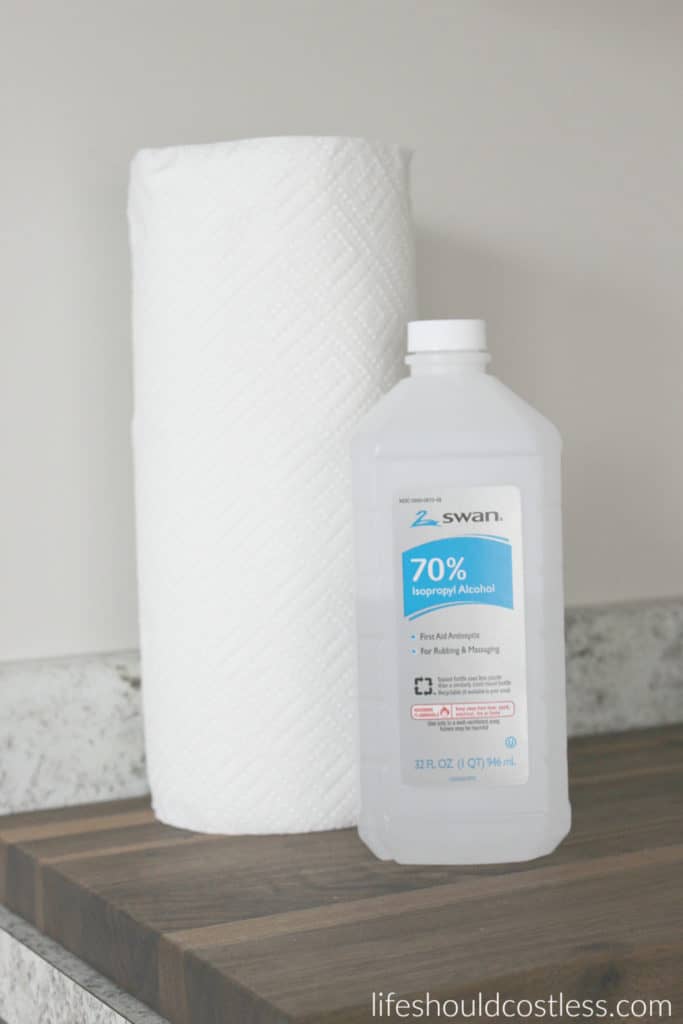 Unfortunately the roll is only 18″ wide so it will only work for smaller windows, unless you hide the seams on a large window that has lots of panes. I found it easiest to roll out a little more than I needed and then cut it to a little bit bigger than I needed so that I could work with a smaller sheet instead of juggling the whole roll.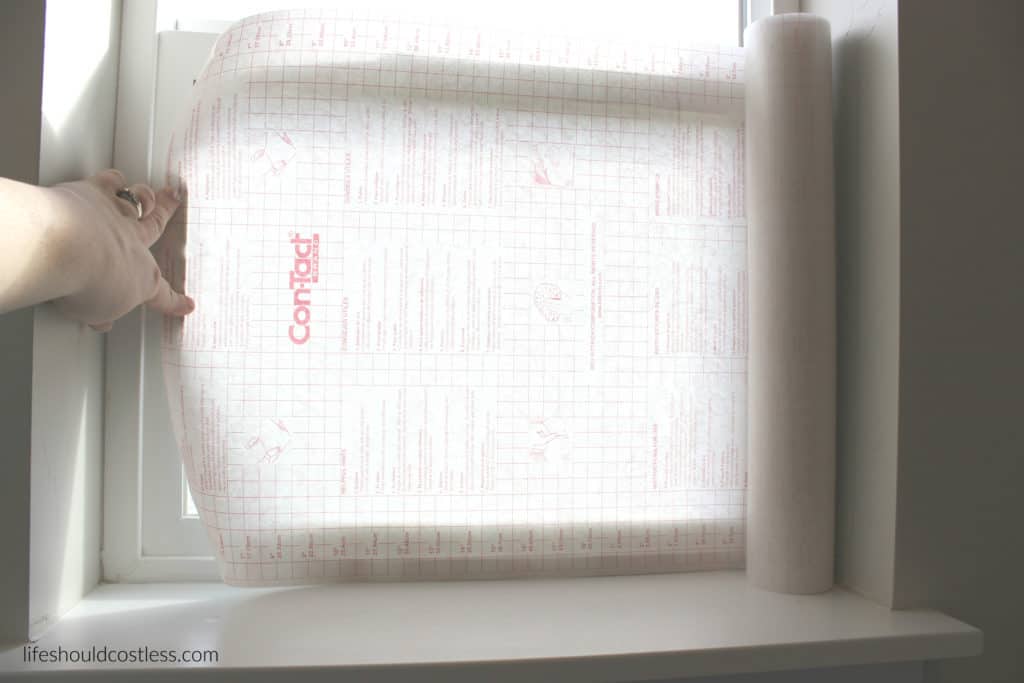 Here are the tools I used for this project. I needed an X-acto knife instead of that razor blade scraper, but had to improvise because I didn't want to wake the person in the room where the X-acto was being stored.  That little Provo-craft tool was super handy. I got it out of a little craft tool kit that I have and it was perfect for creasing the contact paper where it needed to be cut and it smoothed out all of the air bubbles. You can get that craft tool kit here. Otherwise, a debit card or some other smooth strong plastic object will do the trick to smooth out the air bubbles.
One thing to note is that on the back of the contact paper it says that if there is an air bubble that you cannot get out that you can take a pin and gently pierce the center of the bubble and let the air out of that hole by smoothing it towards the hole, or something to that effect(I don't recommend doing that on any rooms that have lots of moisture though).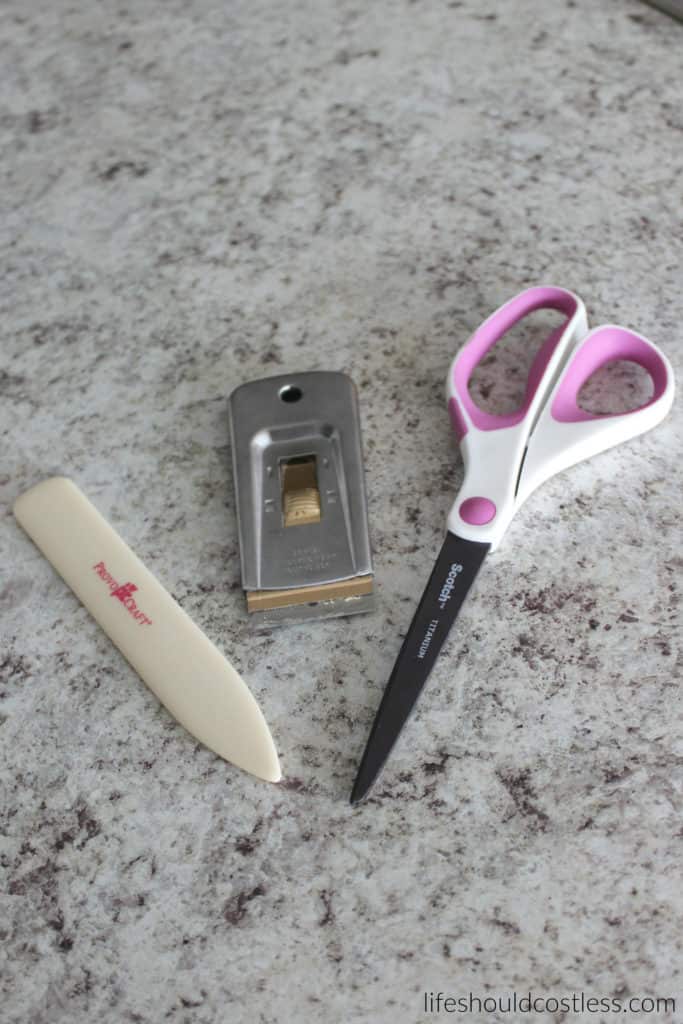 I got my windows done in those two rooms in a matter of twenty or so minutes.  I liked it so much that I cleaned off the DIY Privacy Glass stuff that I put on our bathroom windows a couple of months ago and put this lace on instead. Isn't it pretty?  This is what it looks like through the windows.
Inside. It let in so much light that I could not get a good shot of it and part of the room as well. Even when using my lighting kit.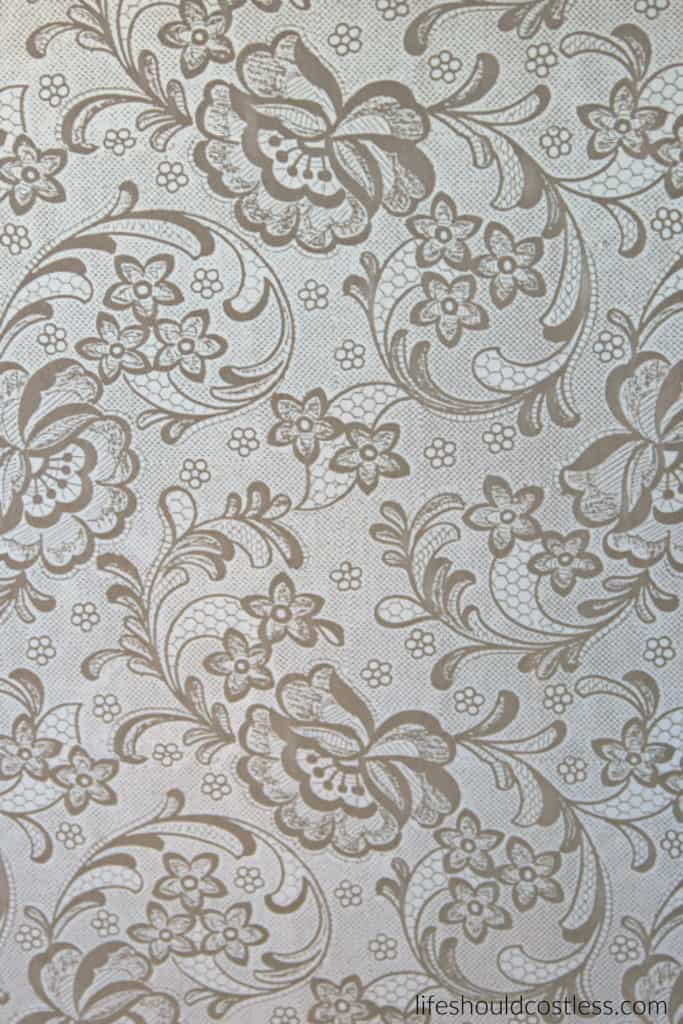 & outside... our windows are tinted and it still looks pretty classy through the tinting and the screens. Sorry I couldn't take a picture of them straight on. I was trying to reduce glare so that you could actually see the lace rather than it being so bright that you can't see anything anyway.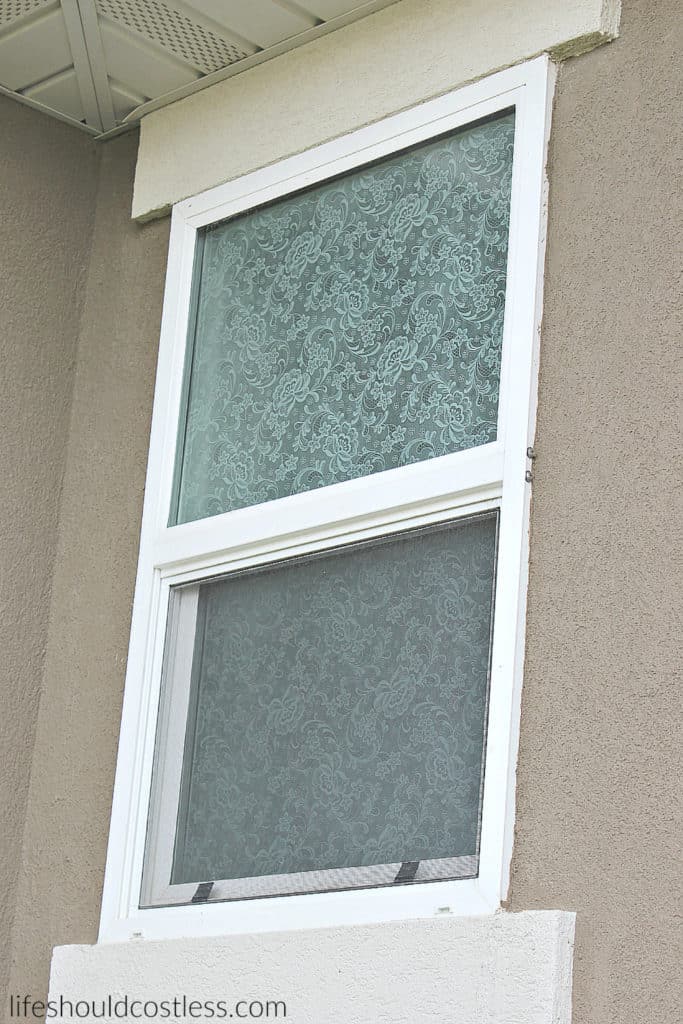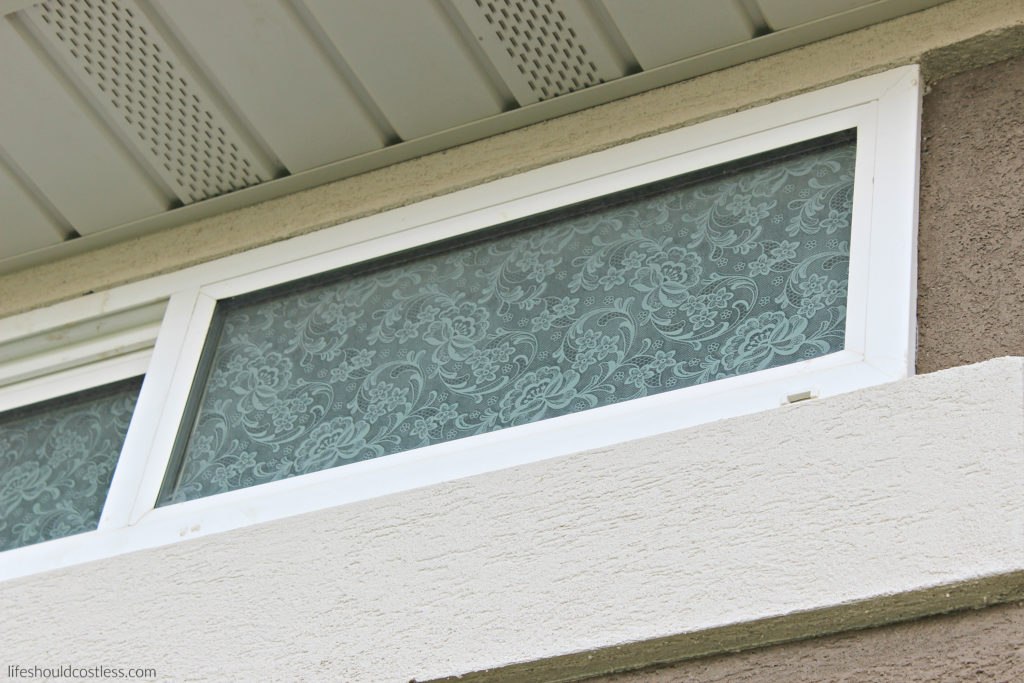 All in all I'm pretty happy with them and it was so much easier than measuring out and cutting up lace and then creating a paste to make them stick (and so much less hassle). Even after a couple of weeks of having them on the bathroom windows, where there is lots of moisture, they are still holding strong. Now only time will tell how well they hold up to the cold of winter and the heat of summer. Both of which I'm not too worried about though because the windows are double pain so they are not exposed to quite as much of the extreme temps. Plus, I put the blinds in a safe place in case I ever change my mind and want to go back to the old ones.


Oh, and one last tip. The easiest way to tell if you have air bubbles that you missed is to look at it when it is dark outside but with the lights on inside.
What do you think? I'm thinking that this is so much cheaper to do than many other window treatments out there and it dainties ( I doubt that's a word, but you get the gist) the house up a bit. That's all for today everybody. Enjoy! Please make sure to share this post on social media if you loved it. Thanks!~Sarah
p.s. The amazon listing for the privacy lace contact paper has a different lace pattern on it than what I got, but I think that the pattern on mine is even prettier than what they have pictured.
You may also like (the pictures are links):