Cleaning – it's that one thing that we all have to do, even if we don't like to . Though, I know that with our busy schedules, a cleaning routine can sometimes slip through the cracks.
If you don't keep up with cleaning your home, the chores can quickly pile up making cleaning your house seem like such an overwhelming task.
One of the best ways I have found to stay on top of the day-to-day duties of maintaining my home, is to create a personalized cleaning schedule.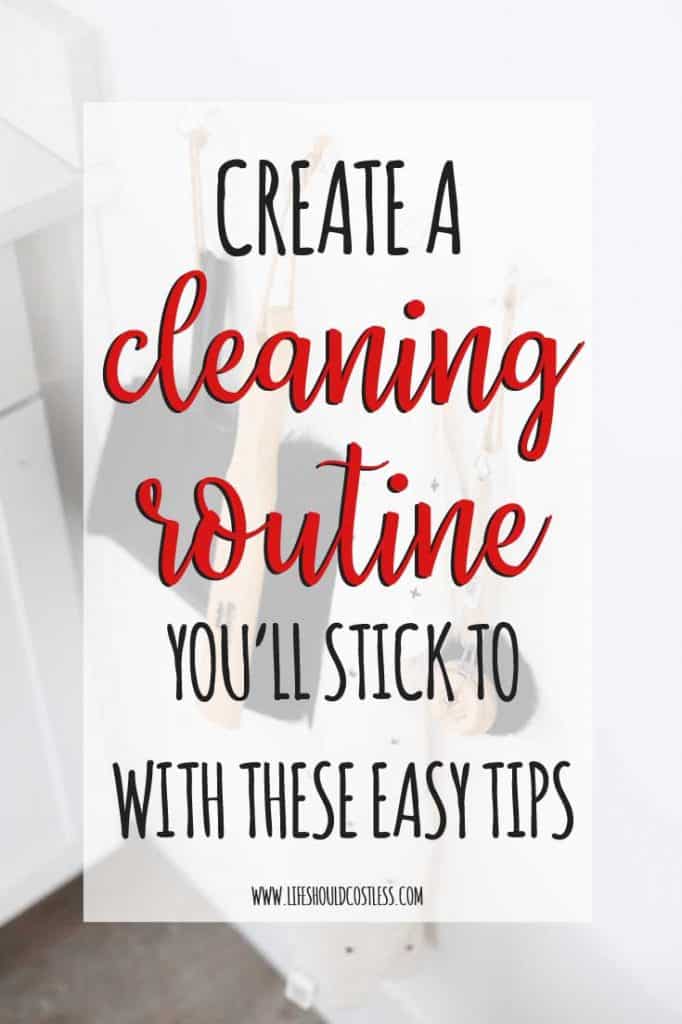 What is a cleaning schedule?
A cleaning schedule is just a daily, weekly, and monthly plan for keeping your home clean. The beauty of creating your own cleaning schedule is that you get to design it with your own home and family in mind.
My number one tip for creating a cleaning schedule you'll actually stick to is to customize your schedule with yourself, your family, and the rhythm of YOUR home in mind.
No cleaning schedule you find online is going to be perfect for you and your family, and if you try to measure up to someone else, you're more than likely going to fail.
So, to make sure you stick to your schedule, it's best to start with some goals that are possible to actually accomplish so you can tackle them each and every day.
Before we break it down, I wanted to share with you links to five of my other handy cleaning tips:
Now back to learning How To Create A Cleaning Schedule You'll Actually Stick To.
Begin by listing out all the cleaning tasks you need to do around your house, then break down those tasks into chores that need to be done every day, those that can be done once a week, cleaning tasks that can be done each month, and the ones that only need to be done once or twice a year.
Daily Cleaning Schedule
Daily cleaning tasks are the chores in your home that must be done every day. These are the bare minimum that should be done in order to keep your house clean on a regular basis. Here are a few ideas for cleaning tasks to add to your daily cleaning schedule:
Make beds
Put away laundry
Straighten nightstands
Wash dishes
Clean kitchen sink
Wipe kitchen counter tops
Spot clean kitchen floor
Clean bathroom sink and vanity top
Spot clean bathroom mirror
Wipe toilet seat (or all around the toilet if you're a "boy mom"
Wipe shower door
Straighten pillows and blankets on sofa
Wipe living room tables
Spot clean living room floor
Straighten coffee table
Clear clutter from each room
While these tasks are a good starting point, you don't have to include everything on this list to your own schedule. Be sure to only choose the chores that are relevant to your household.
Remember, you're the one that's going to be tackling this cleaning schedule. Adding too much to your plate each day will quickly become overwhelming, which could cause you to give up all together!
Weekly Cleaning Tasks
Some household chores need to be done every day, but there are several things that only need to be finished once per week.
These chores can most likely be done on a weekly basis:
Vacuum the floors in each room
Mop the floors in each room
Scrub toilets
Clean bathtubs and showers
Clean bathroom sinks and countertops
Clean bathroom mirrors
Wash towels and bathmats
Declutter toiletries in bathroom
Clean microwave
Wipe down countertop appliances (toaster, coffee maker, etc.)
Wipe down cabinet doors
Wipe down refrigerator exterior
Wipe down stove
Clear old leftovers from refrigerator and wipe down shelves
Wipe down doorknobs and light switches
Dust blinds and windowsills
Dust furniture
Throw away paper clutter
Change sheets & pillow cases on beds and wash them
Wash and put away laundry
Break up these chores throughout your week for your cleaning schedule in addition to your daily tasks. Depending on the number of weekly chores that need to be completed in your household, you could add two to three weekly chores to your daily schedule each day of the week to easily accomplish all the weekly chores you need to finish.
Monthly Cleaning Tasks
There are a variety of places in your home that only require attention once per month. These spots can often be overlooked during your daily and weekly cleaning sessions, and only require a monthly deeper cleaning. I suggest tackling these monthly cleaning tasks on the weekends so you're not overwhelmed during the week:
Clean under furniture
Vacuum under sofa cushions
Dust baseboards
Wash trash cans
Clean hampers
Clean washer and dryer
Clean dishwasher
Clean the freezer
Scrub bathroom grout
Wash duvet covers, mattress pads, pillow protectors, and pillow shams
Dust closet shelves ad vacuum floors
Vacuum window treatments
Wipe doors and trim
Clean ceiling fans and light fixtures
Seasonal Cleaning Tasks
On top of everyday cleaning, your home will also require seasonal cleaning throughout the year. Where you literally take a room apart and get it sparkling clean. Be sure to plan these seasonal chores into your cleaning routine so they don't get overlooked.
While these chores only need to be handled one to three times a year, they're very important to ensuring your home stays well maintained and clean throughout the year. Make sure to read my tips on How To Declutter Without Making A Mess before you tackle these ones.
These seasonal chores should be handled at various times during the year:
Organize closets
Organize kid's toys
Clean walls and ceilings
Clean oven
Organize and clean out pantry
Clean interior of kitchen cabinets
Wash pillows
Turn and vacuum mattresses
Clean fireplace
How to Create a Cleaning Schedule
To create a cleaning schedule that works for you, start by laying out your priorities. Get rid of the dreams of having a completely spotless home – especially if you have kids. I promise you will burn out if you think you need to have a home that is "showing ready" constantly. Instead, decide what cleaning tasks are a priority for your family, then add those to the list.
Next, consider which rooms you need to be clean each day to feel comfortable inside your home. Does your family spend a lot of time in your living room? Be sure that space is clean and orderly each day. Do you need your bedroom to be a peaceful place each night? Focus your efforts on that room before moving on to your other chores.
In addition to deciding which rooms and tasks will be a priority for you each day, it's also important to consider how much time you actually have to devote to cleaning. Be realistic in your estimate to keep yourself from going crazy.
We would all love to have two hours of extra time to devote to keeping our homes spotless, it's not likely that you can (or would want to) carve out that much time for cleaning.
Now that you know what chores you'll be doing and how much time you'll spend doing them, it's time to create your cleaning schedule.
Layout the tasks you'll do, when you'll do them, and in what order, then create a cleaning routine to stick to each day. Once you start incorporating your cleaning schedule into your daily routine – commit to repeating that schedule and routine each and every day.
Following the same routine as you clean will help make the process go more smoothly and eventually become a habit – ensuring your home stays clean on a regular basis. Remember that maintaining a clean home is easier than getting caught up on a dirty one.
Give Yourself a Break!
While creating a routine is an important step toward sticking to your cleaning schedule, it's also a good idea to relax your expectations on occasion.
On top of giving yourself a break from cleaning at least one day a week, make sure you give yourself some flexibility and leeway during your daily routine.
Life happens – the kids get sick, you have a hard day at work – whatever the issue is, give yourself a break to prevent burnout. Then, when life gets back on track, grab your cleaning schedule and get back to work!
Thanks so much for stopping by my site! If you liked what you saw, please make sure to share it via social media!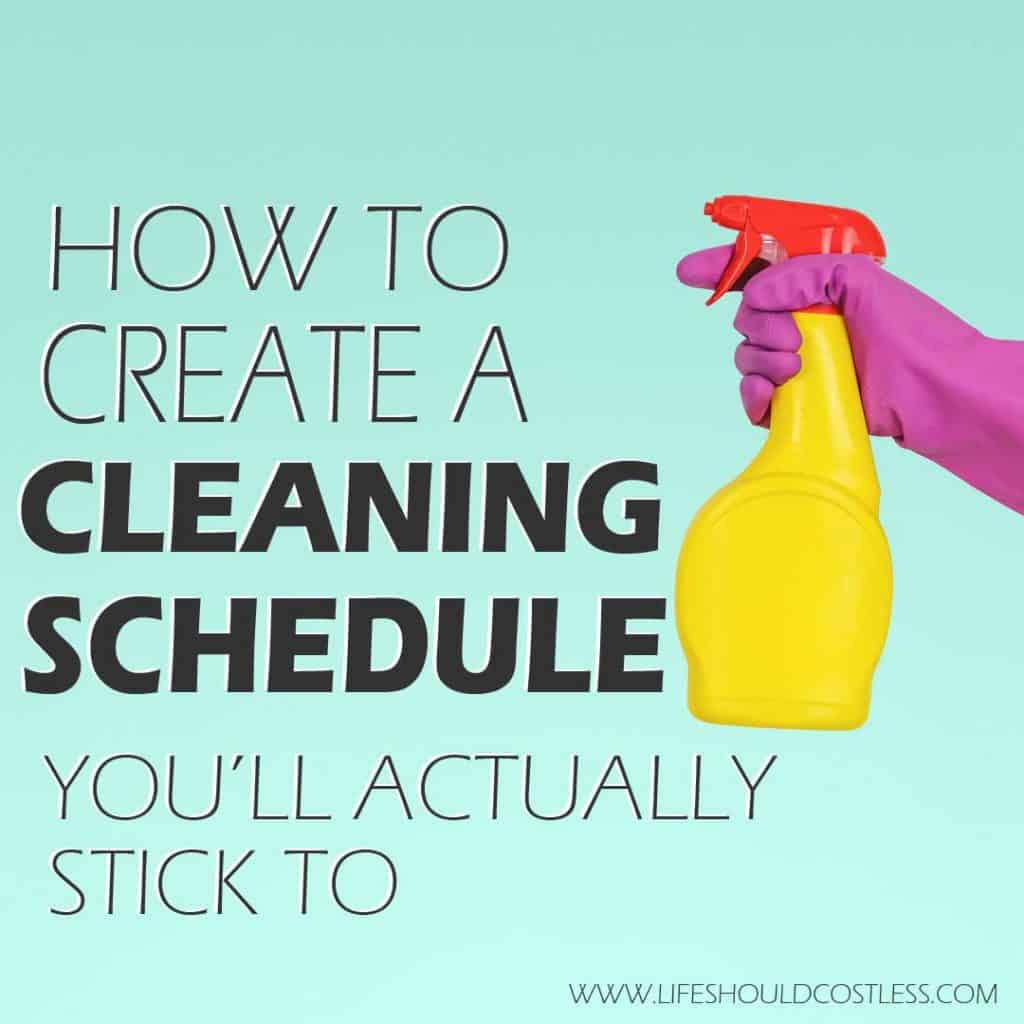 Other ways to show your support are to follow and/or interact with me on Pinterest, Instagram, Facebook, YouTube, or by Subscribing To My Emails List.
If you purchase suggested products through Amazon, the cost to you remains the same, but I make a small commission on everything in your cart. Also, if you ever need to buy it again, you can always come back to my site for the link…just sayin';).
If something was particularly helpful and you would like to donate directly to my site, you can do so via PayPal, here. I'm a single mom of four, so every little bit helps.
P.S. If you found this post helpful, you may want to check out my entire cleaning section.
Here are links to five of my other cleaning posts that you're absolutely going to love:
For those of you that weren't a fan of my other "pinnable" Pinterest image above, here is another one that you can share. Thanks so much for spreading the LOVE!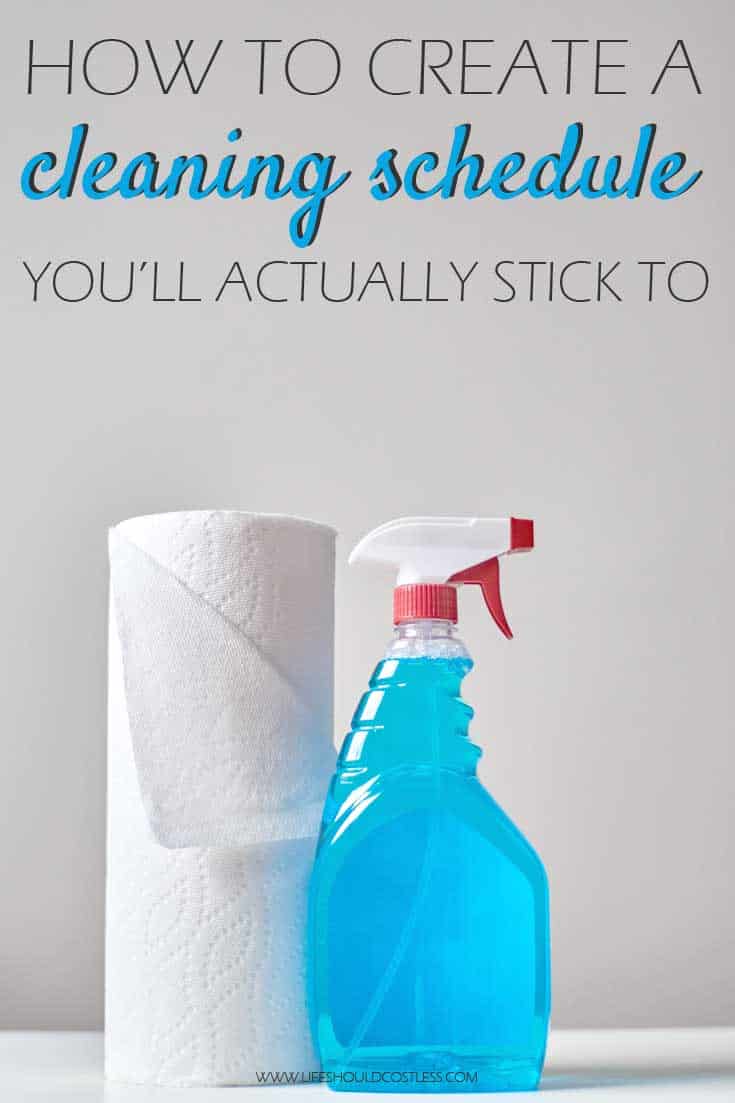 *Please note that this post was originally shared to this website on December 14, 2019 and has since been updated to remain relevant and improve user experience.