This Black Pepper Chicken Recipe is one of my favorite Chinese recipes to make. Plus, I really like that yes, it's mainly a meat, but you get some veggies in your meal too.
Which is a win/win because this mama is always trying to hide a little extra nutrition in our meals;).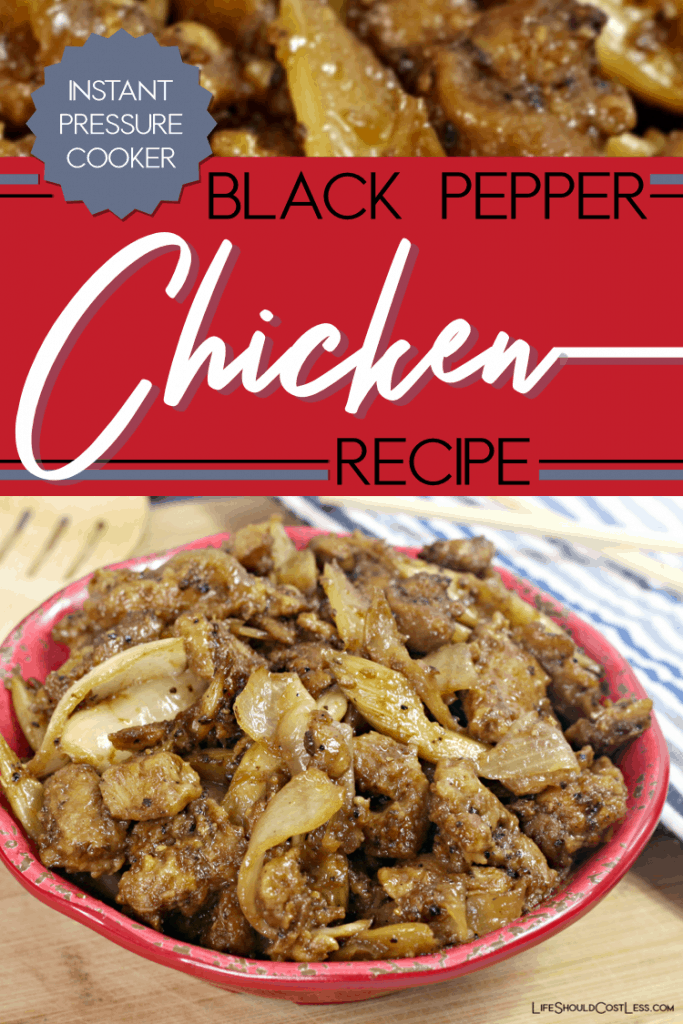 This Instant Pot Pressure Cooker Black Pepper Chicken Recipe Is Super Tasty!
Normally when I make Black Pepper Chicken I consider it a little bit of a hassle to make…(it can be time consuming) so I was beyond excited to find a version of the recipe to make in my Instant Pot.
The chickeny goodness is just moments away! Like "chickeny" is even a word…ha ha…let's just roll with it.
Now I'm going to show you some after shots of this yummy chicken recipe and then will share the free printable recipe card.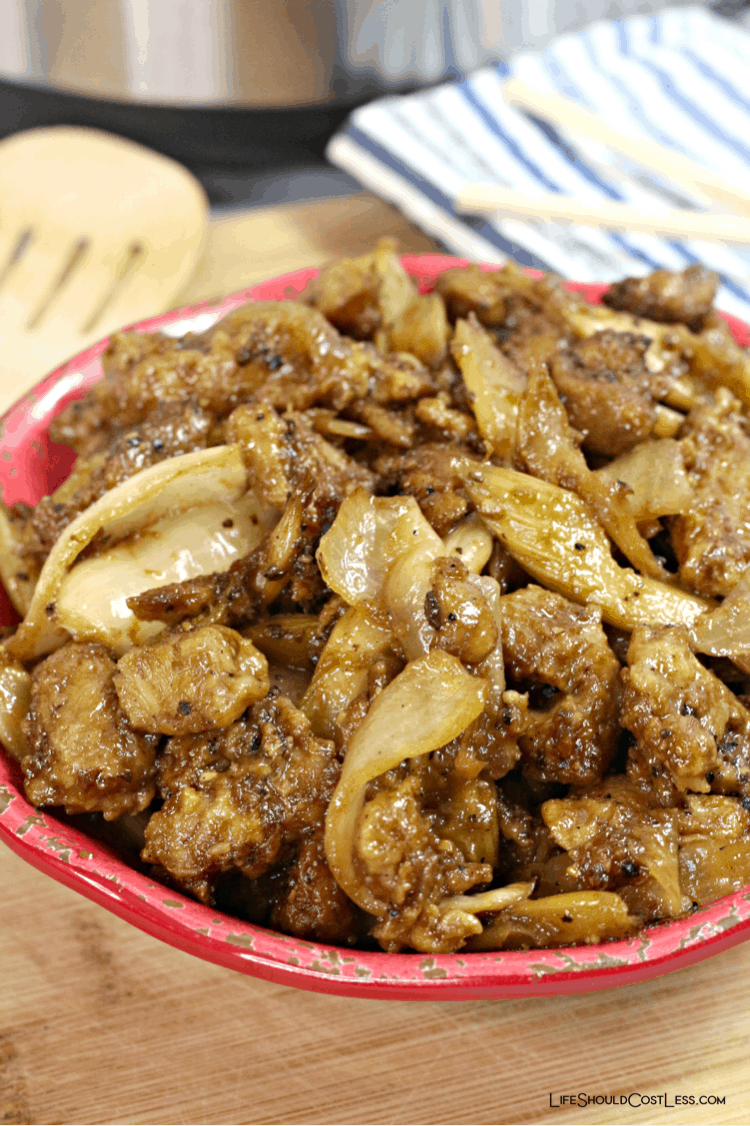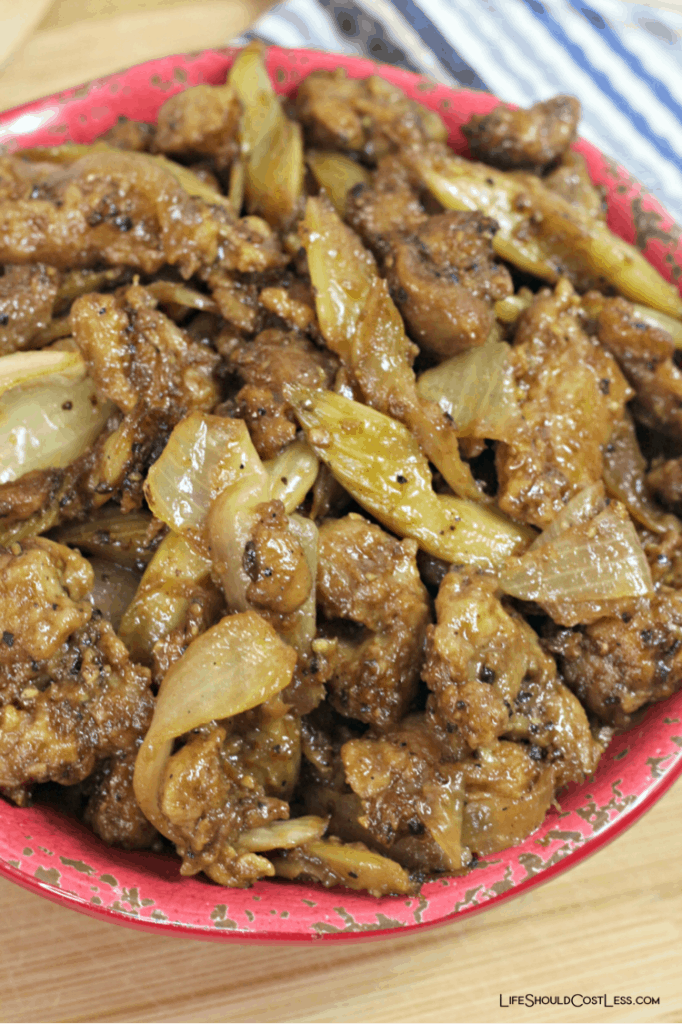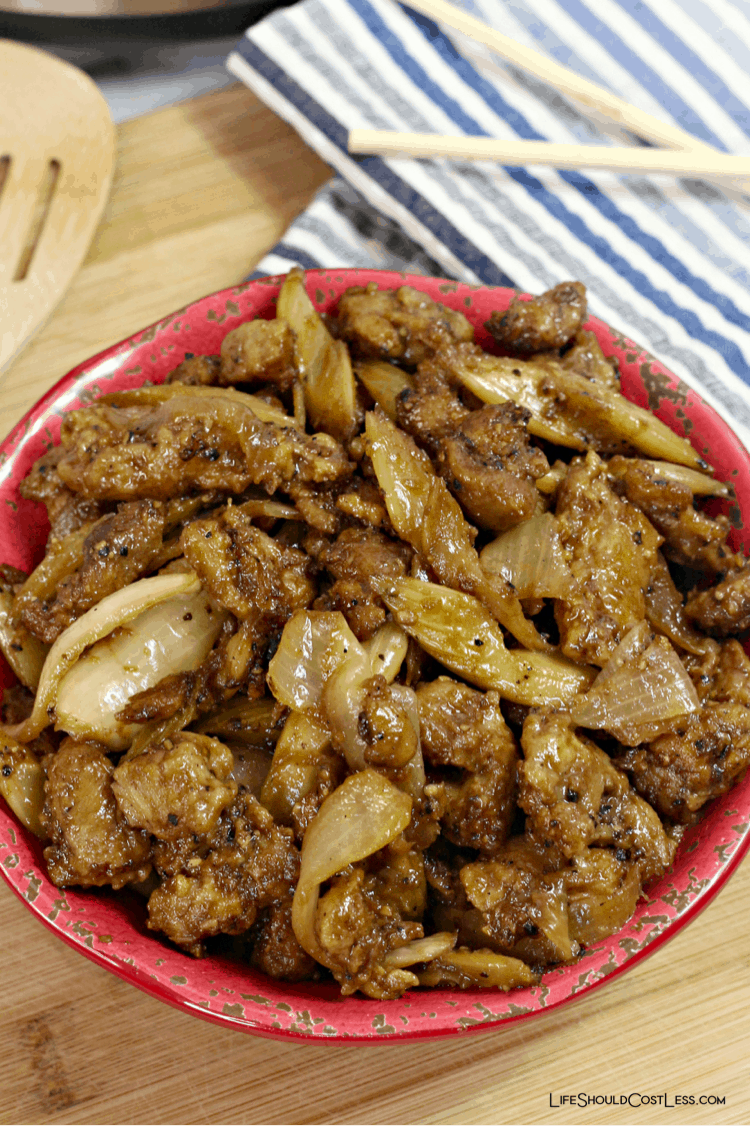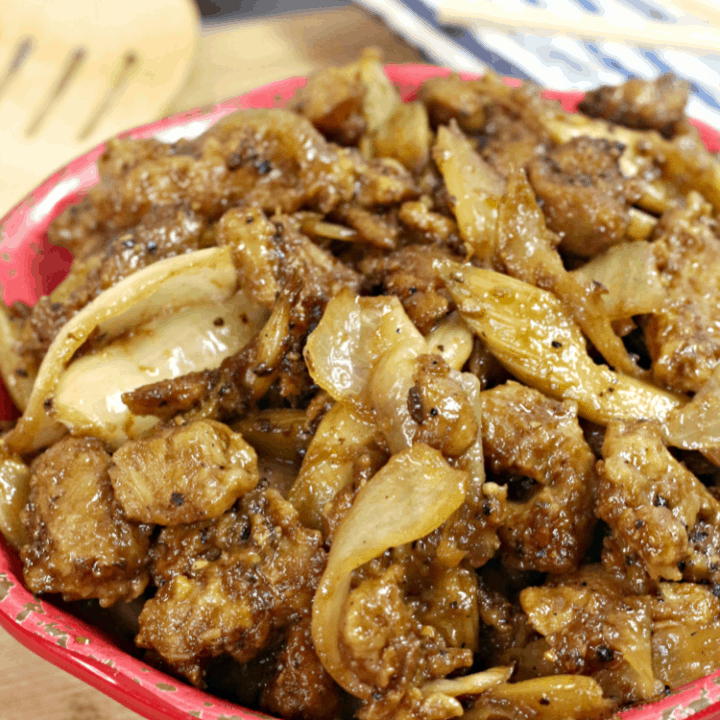 Instant Pot Pressure Cooker Black Pepper Chicken
Cook Time:
Additional Time:
15 minutes
This Black Pepper Chicken is a super yummy Chinese recipe. The best part is that it has been simplified by making it in an Instant Pot Pressure Cooker.
Ingredients
Sauce ingredients:
1/2 C chicken broth
1/4 C oyster sauce
1/4 C rice wine vinegar
1/2 tbsp minced garlic
1 tsp black pepper
1 tsp chili powder
1/2 tsp ground ginger
Chicken Ingredients:
1 package of chicken tenders, cut in half (anywhere from 1-2 lbs of chicken will work depending on how many people you're feeding)
1 medium sized yellow onion, sliced
3 celery stalks, sliced
2 tbsp corn starch
1 tbsp garlic powder
1/2 tbsp freshly ground black pepper
1/2 tbsp onion powder
1 tsp ground ginger
2 tbsp peanut oil
Instructions
Sauce Directions:
Using a large bowl, whisk together all sauce ingredients until combined. Set aside.
Chicken Directions:
Season the chicken with the salt and pepper to taste.
Turn your Instant Pot on "Saute" mode setting. When the display says "Hot" add the olive oil and let it simmer.
Now add the chicken breasts and let it cook/saute for 2 minutes on each side,or till it starts to brown.
Add the chopped celery and onion and let it saute for another 2 minutes.
Add the previously prepared sauce to the chicken in the pot and mix until combined.
Turn off the saute mode and put the lid on properly to prepare to pressure cook.
Select the High pressure cook mode and set the time on for 5 minutes.
When the pot is finished pressure cooking, do a natural release of pressure for 5 minutes, then do a quick release.
While the chicken is cooking, mix the cornstarch with water to make a slurry.
Turn the saute mode back on , add the cornstarch slurry, and simmer for a couple of minutes or until the sauce thickens.
Serve over rice with whatever vegetable to your liking.
There are quite a few steps, but I tried hard to break the instructions into chewable little bite sized chunks to make it so that even an Instant Pot newbie could follow along. Anyway, that's all I had to share with you all today, I hope you liked it!
Thanks so much for stopping by my site! If you liked what you saw, please make sure to share it via social media!
Other ways to show your support are to follow and/or interact with me on Pinterest, Instagram, Facebook, YouTube, or by Subscribing To My Emails List.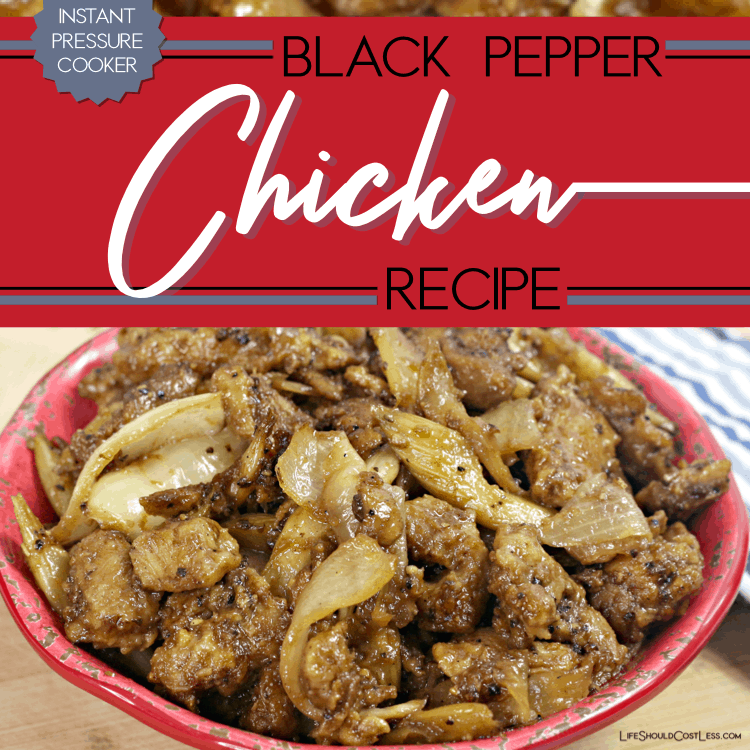 If you purchase suggested products through Amazon, the cost to you remains the same, but I make a small commission on everything in your cart. Also, if you ever need to buy it again, you can always come back to my site for the link…just sayin';).
If something was particularly helpful and you would like to donate directly to my site, you can do so via PayPal, here. I'm a single mom of four, so every little bit helps. Thanks again!~Sarah
If you liked this recipe, you're probably going to like some of my other recipes even better! Here are links to five of my other posts for you to check out: