Buying hard copies of movies used to be the only way to go for me. I loved feeling like I had something tangible that I had spent my money on, which made me feel better about the purchase… but then came children.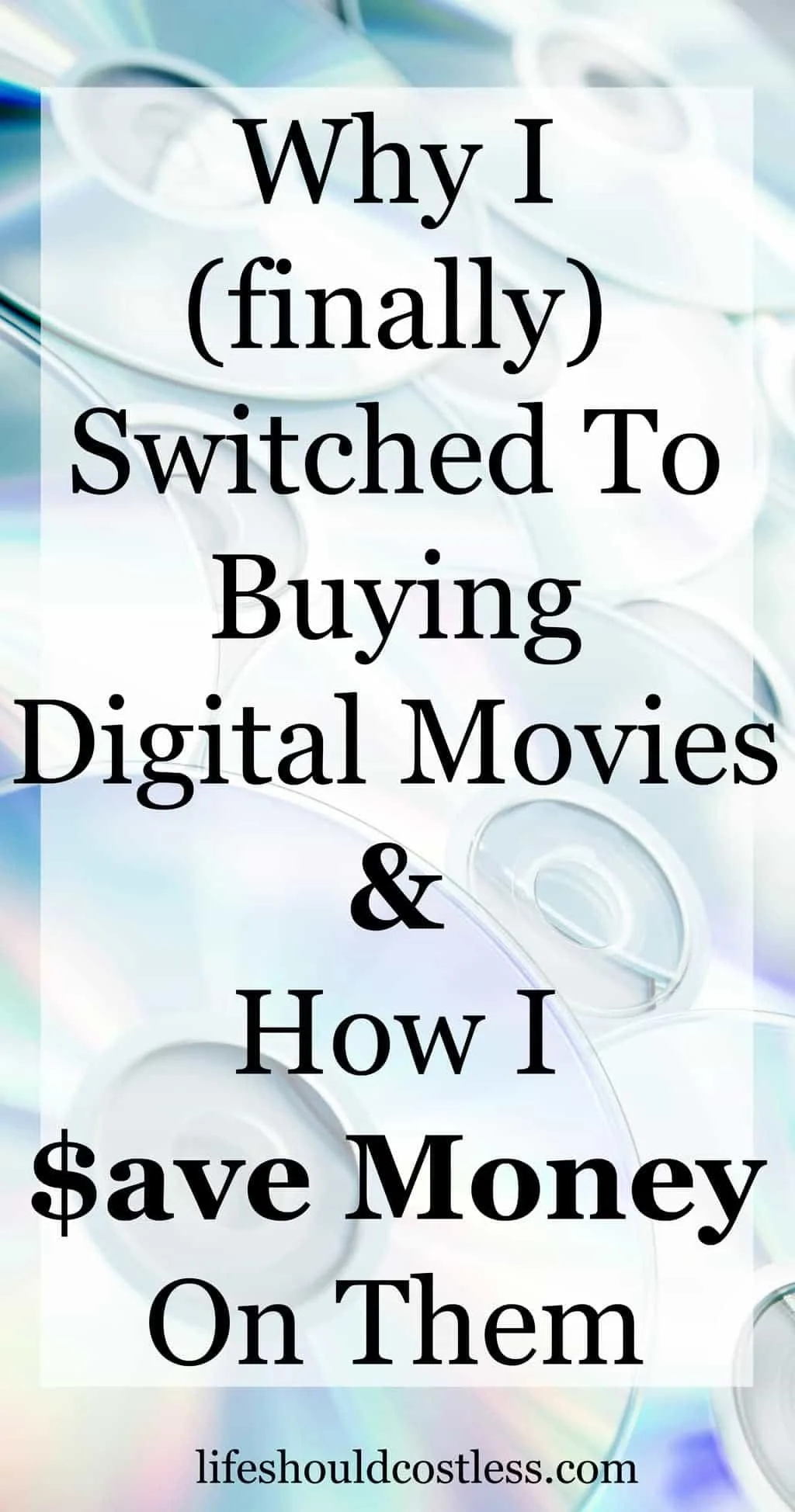 It wasn't until I had gotten so sick of my kids scratching every single disc that I bought (blu-rays may be a bit more resilient, but they still get scratched beyond playability when you have little stinkers like mine) and having discs constantly strewn about the house that I finally gave up. I just couldn't handle the stress of discs everywhere and wasting so much money by having the discs scratched and then needing to replace them. Not to mention all the ones that people would ask to borrow (because they were openly displayed in the family room) and then NEVER EVER return (I'm a tight-wad so that really stressed me out). I have even tried keeping all of the discs in a large cd case and putting them out of reach. But that also seemed like too big of a hassle.
So what was I to do about it? The solution for me was to finally bite the bullet and go digital. Heck, I now only have to buy a movie once!!! Yay!!!
*Hey there, thanks for stopping by my website. This article is super old, so it has been archived as I no longer update it…so proceed if you wish…but it is definitely not my best work. Please stop by my home page, here, and see some of my better content. Thanks! ~Sarah*
When we had finally recouped from the housing market black hole of '08 and had paid off all of our non-house debt, I decided that I had better start buying all of the Disney movies and some old favorites too. Otherwise, if I kept up at only buying them like once or twice a year (another reason that it stressed me out, we couldn't afford to keep replacing them), our kids would be nearly twenty years old before they got to see some of the best ones.
I have since started family movie night once a week and that is when we buy one movie, make treats, and watch it together. It has been really fun and my little girls love for the Princesses, and some older fun but non-animated characters, grows each time we buy a new one. I'm so thankful to finally be able to do this for my kids, I just couldn't justify the expense before we were out of debt, but that does not mean that I am just going to go buying them willy-nilly, not caring about how much I am spending on them… I have penny pinched for far too long to ever be that flippant with my money. Plus, this saves loads of money over going out to the movie theater. So, I am going to share with you my tips and some tricks to save yourself some cash when you buy digital movies/media on Amazon.com.
First off, we don't really ever rent movies anymore. I consider it a huge waste of money. Especially when you go the Redbox route and are really bad about remembering to return them. Why go through the hassle and then end up with a crappy rental disc (with no special features) by the time you finally own it? For real now… sorry I got side-tracked and had to throw in the renting movies tip.

How to save money buying digital movies on Amazon?
We start out by picking the movie that we want to buy. If you'll look at the picture below, the top section shows you (circled in green), a button/tab that says "More Purchase Options". If you click it, as shown in the bottom part of that picture, it shows you the option of buying either High Definition (HD) or Standard Definition (SD). Of course Amazon wants you to buy the High Definition version because most of the time it is quite a bit more expensive than Standard, but before I pick which one to choose I ask myself "how often will this even be watched", and "was it filmed before they even had High Definition camera's"? If the answer to the first question is "rarely", then I buy Standard Definition. If the answer to the second question is no, then I buy Standard Definition. Disney usually remasters their classics and re-releases them in the "Diamond Collection" so that's something to keep in mind, too.
It just doesn't make sense to me to spend the extra money for High Definition if we're not going to be watching it much or was filmed in low-quality…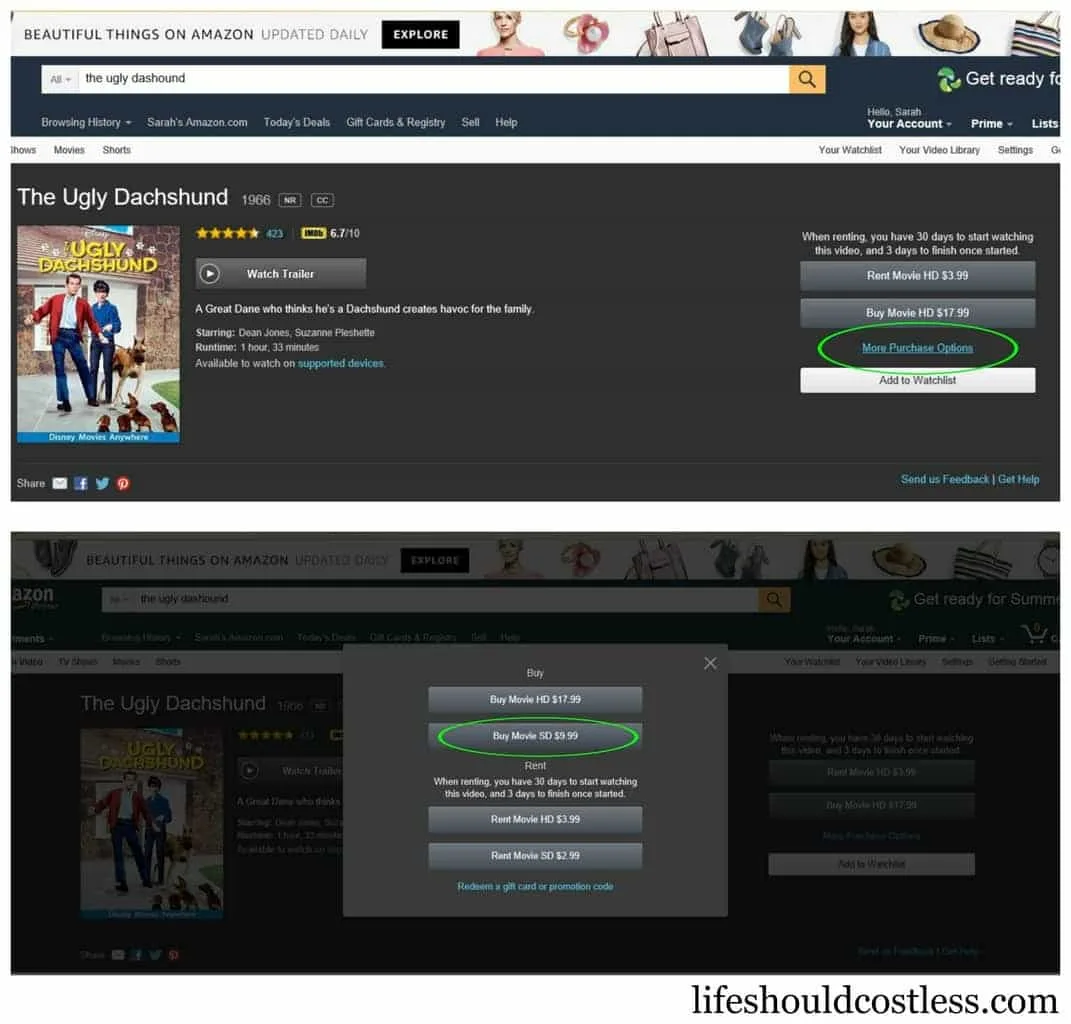 See, if I purchased the Standard Definition version of that movie, I would have already saved myself $8. Being realistic about my spending, and whether or not it's even worth it, saves me so much money over time because we sure like movies at our house.

How to save even more money on movies (or other digital content) through Amazon.com? Well, first you have to be a prime member and that opens up a really neat feature that Amazon offers. *In fact, if you use it enough, it could save you more per year than your annual prime membership fee.*
If you order something that has the option of Free Two-Day shipping, Amazon likes to reward you for using the "No Rush" shipping option and they even give you a $1 off credit for digital books, music, movies, tv shows, apps, video games, and software. The first time I did this, I didn't understand that they don't give you the credit until the item has shipped, and then your next digital purchase will reflect the credit. They even send you an email once the credit has hit your Amazon account so you'll know that it's there. So, the picture below shows you what I'm talking about. You select this option at checkout.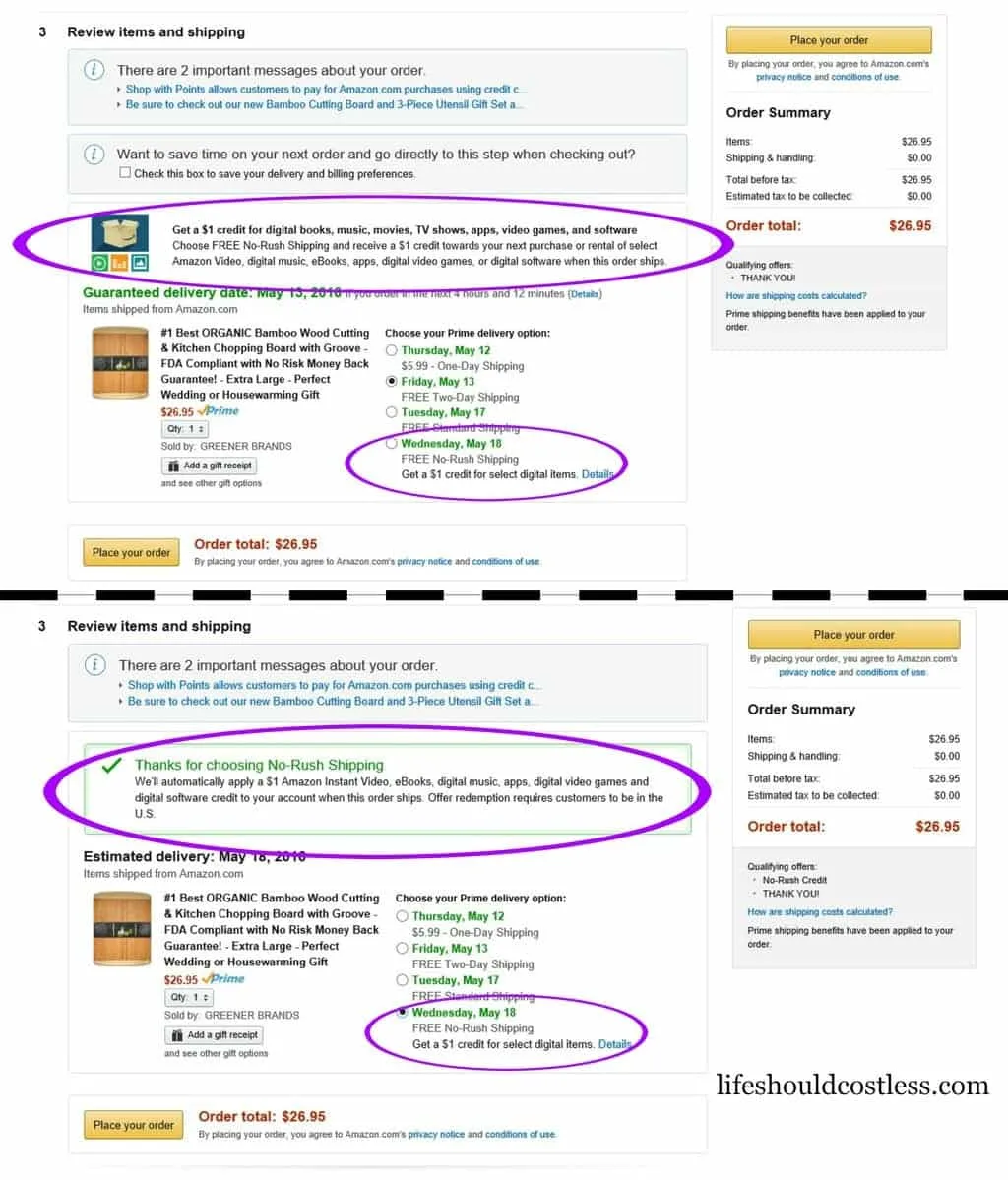 If you start planning ahead instead of needing everything at the Two-Day shipping speed, you could get a ton of credits! Sometimes, instead of a digital media credit for a buck, they offer a much larger credit to Prime Pantry. I've got a few of those Prime Pantry credits saved up…I should probably cash those in sometime ;). Anyway, I hope I shared something that you didn't already know. Please share this post with friends or family that might find it of use. Thanks for stopping by my blog!
~Sarah
You may also like (the pictures are links):