Looking for free things to do that won't break the bank? Check out this list of fun and affordable activities that won't have you paying through the nose. We've got lots of ideas to get you out and enjoying life, even when living on a budget and need to do things on the cheap.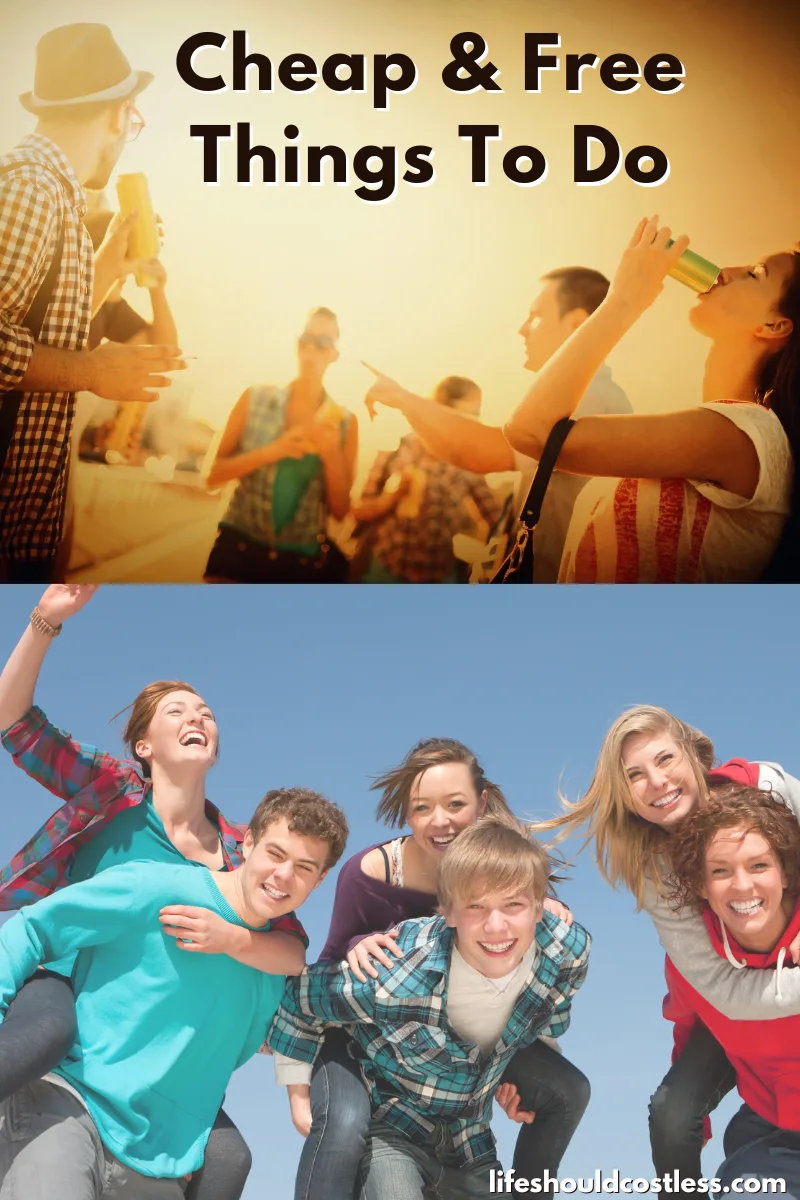 Please note that this post is meant to be geared towards the whole family, or fun things to do for older kids/adults. If you would like some suggestions on what to do with kids, I suggest reading my other post about 35 Fun Free Activities For Kids, found here or my post about 14 Free Or Cheap At Home Kids Activities.
Fun and Affordable Activities
Free Things To Do
Are you a teen or an adult looking for fun and exciting things to do for free? Well, look no further because we've got you covered! Let's go over some of the best free activities for teens and adults to have fun for free.
How can I get free Fun?

Explore nature: Nature provides a great escape from the hustle and bustle of everyday life. Take a hike, go for a bike ride, or go for a swim in a nearby lake or river. You can also visit a local park and have a picnic or play some sports with friends. If you're not sure where to start, do a simple internet search for places to go hiking in your area.
Visit museums: Many museums offer free admission on certain days of the week or month. Check out their websites or call ahead to find out when you can get in for free. Doing so, you can learn about art, history, science, and give yourself/family a little taste of culture.
Attend free events: Many communities offer free events such as concerts, festivals, and outdoor movies. Check your local event calendar for your city, or nearby neighboring towns, to see what's happening near you.
Volunteer: Volunteering is not only a great way to give back to your community, but it's also a fun way to meet new people and gain new experiences and memories. You can volunteer at a local animal shelter, food bank, sporting event, or even the community center.
Take a free class: Many libraries, community centers, and even universities offer free classes. You can learn a new skill such as cooking, sewing, or coding.
Have a DIY day: Get creative and have a fun DIY day. You can make jewelry, paint, or even build something from scratch. The possibilities are endless…and don't forget that you can easily repurpose things that you already have on hand…for instance, you could turn an earring that is missing its match into a charm for a bracelet or the centerpiece of a new necklace.
Attend a book club: Join a local book club or start your own with friends. It's a great way to read new books and discuss them with others. If you don't know people in your area, it may be smart to try the meetup app to see if you can join in on an existing club.
Go stargazing: Grab a blanket and head outside to stargaze. You can download a star map app to help you identify constellations and planets.
Attend a free workout class: Many gyms and fitness studios offer free workout classes to try to get you hooked so you will sign up for the paid membership. You can often try yoga, Zumba, or even kickboxing that first time without signing up for a membership. Just call around and fine out which gyms near you let you try it before you buy it.
Visit a local farmers market: Explore a local farmers market and sample fresh fruits and vegetables. You can also find unique gifts and crafts made by local artists.
Go on a bike ride: Take a leisurely bike ride through your neighborhood, a nearby park, or your local trail system. It's a great way to get some exercise and enjoy the outdoors.
Attend a free concert: Many cities offer free concerts in public spaces on a pretty regular basis. Check your local event calendar to see when and where you can catch some live music.
Take a free online course: There are many websites, or even just YouTube, that offer free online courses on a variety of topics. You can learn a new language, improve your writing skills, or even learn how to code.
Have a movie marathon: Invite some friends over and have a movie marathon. You can choose a theme or just pick some of your favorite films…if you don't have the ones you want try checking your local library to see if they have a copy that you can check out for free.
Go on a photo scavenger hunt: Create a photo scavenger hunt and challenge yourself or your friends to take pictures of specific objects or places found around your town. You can also make it a competition and see who can take the most creative photos.
Visit a public library: Public libraries offer free access to books, movies, music, and sometimes even hold free classes to learn things. There are often also free events to attend such as author readings and book clubs.
Have a picnic: Pack a picnic lunch with some of the grocery items that you already have on hand and head to a nearby park or beach. It's a great way to enjoy the outdoors and spend time with friends or family. If you don't typically have sandwich fixings in your normal groceries, maybe try planning ahead for a picnic and add it to your meal planning.

There are many fun things that are free to do for teens and adults to enjoy. Whether it's exploring nature, attending free events, or hosting a game night, there's something for everyone. So, get out there and have some fun without breaking the budget!
---
Things To Do On The Cheap
Here's my list of ideas for fun cheap things to do:
Have a DIY spa day: Instead of going to an expensive spa, have a DIY spa day at home. You can make your own face masks, give each other massages, and/ or relax in a hot bath…swimsuits optional…lol.
Attend a community theater performance: Many community theaters offer low-cost tickets for their productions. It's a great way to support local talent and enjoy a night out.
Go for a scenic drive: Take a scenic drive through the countryside or along the coast. It's a great way to relax and enjoy the scenery…and who knows, you may find some really cool things to check out along the way if you just go where the road takes you.
Visit a local brewery or winery (for the adults obviously): Many local breweries and wineries offer tours and tastings for a low cost. It's a fun way to learn more about beer and wine production and sample some delicious beverages.
Host a bonfire: Find a free or low-cost location Look for a public park or beach that allows bonfires, or ask a friend if you can use their backyard. Make sure to check local fire regulations and obtain any necessary permits. Ask guests to bring their own snacks and drinks Instead of providing all the food and drinks yourself, ask your guests to bring their own snacks and beverages. This will help keep the cost down and allow everyone to contribute. Bring your own firewood because purchasing it can be expensive, so try to gather your own firewood instead. You can ask your guests to bring their own firewood or look for fallen branches in your local park or beach too. Play some cheap party games, and don't forget to bring the marshmallows!
Have a build your own pizza night: If you provide the dough, cheese, and pizza sauce just ask each of your guests to pitch in by bringing their favorite pizza topping to add to the mix.
Visit a thrift store or flea market: Explore a local thrift store or flea market and hunt for unique treasures. You can even make a game out of it and pick out silly outfits for each other…maybe even have a prize for whomever comes up with the craziest combination of clothes.
There are many fun things to do for cheap for teens or adults to enjoy and pass the time. So, get creative and have fun exploring all the affordable activities you can enjoy with your friends and family.
---
In conclusion, there are plenty of awesome cheap and free things to do for teens and adults alike. Whether it's hosting a potluck dinner party, having a DIY craft day, or attending a free outdoor concert or movie screening, there are many affordable options available. So, grab some friends and have some fun exploring all the affordable activities you can enjoy together.
---
Thanks so much for stopping by my blog and supporting my endeavors to make people's lives a little easier/better/more affordable. If you liked this post, or found it helpful in any way, please make sure to share it with your family, friends, and co-workers via social media…or you could even send them the direct link via email. Whichever way you choose to spread the love, I super appreciate it! ~Sarah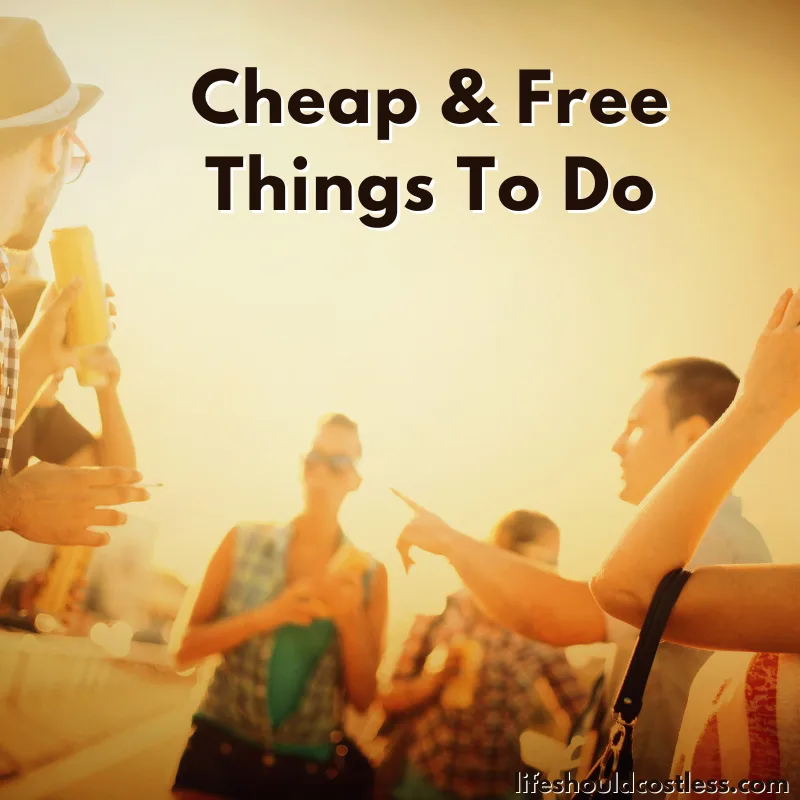 Oh, don't forget to subscribe to my email list (found here). Also, if you would like to learn how to follow along or really show your support for this blog, go here.
Other Helpful Resources On Where To Find Cheapest Things To Do Near Me
Here are some other great places to look for things to do that are free, or things to do cheap:
If you would like to check out my entire frugality section, go here.
Here are direct links to several of my other posts that you may also find helpful:
* Please note that this article was originally shared to this website on 05/08/2023, and has since been/will continue to be updated to improve user experience, remain relevant, as well as to be as shareable as possible across the social medias.