I haven't gotten around to making all of our 72 hour kits yet, but I decided that the most important one that needed to happen first is for the most dependent person in the family (which is infants, elderly, and those that are special needs/disabled). The rest of us are a little easier to care for in general, let alone in an emergency, so until I get the rest of the individual 72 hour kits done, our
bob's
will suffice.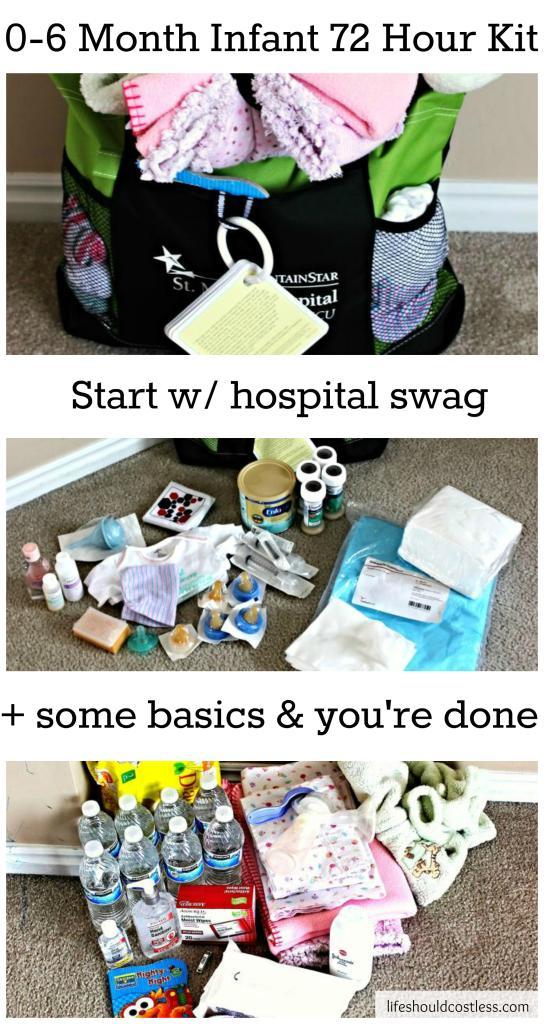 I didn't want to have to buy a bunch of brand new stuff for something that is essentially just going to be sitting in the closet in the off chance that I need it, so I decided to see what I had on hand that would work and then go from there. This brings us to hospital swag. When you have a baby, and get released from the hospital, you get a ton of stuff. They usually send you home with a diaper bag, diapers, wipes, and tons of miscellaneous goodies. This little stock-pile is going to be the base of my infant 72 hour kit.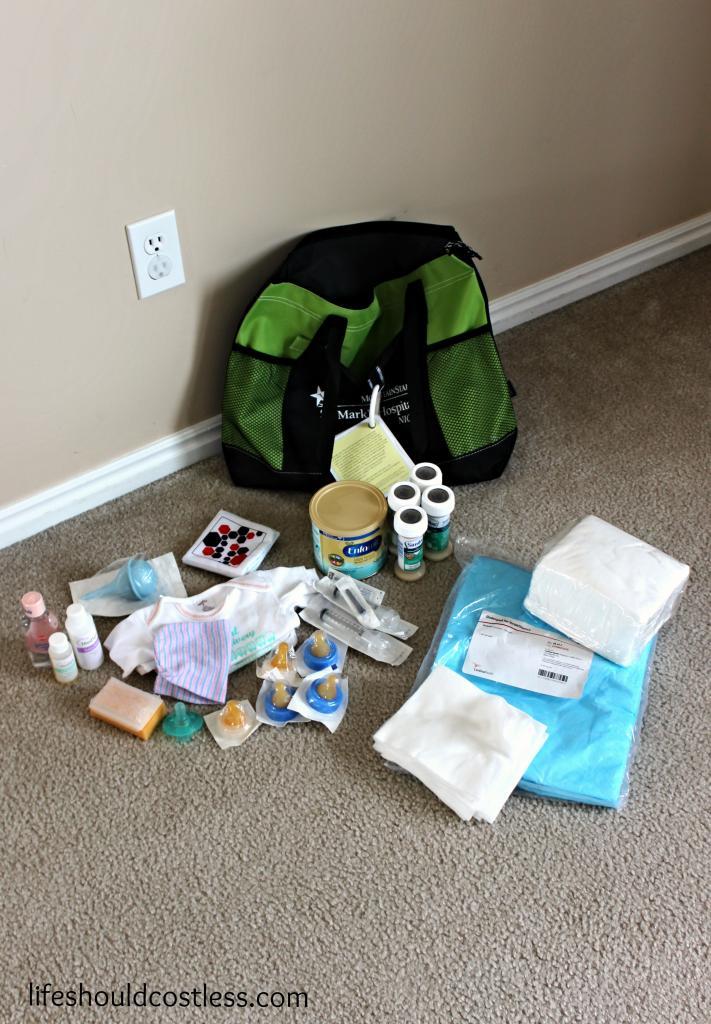 I'm just hoping to give you some ideas as to what to include in your 72 hour kit, so I am going to show you what I personally put in mine. The above picture is all of the stuff from the hospital that I gathered. The next couple of pictures show it a little closer up and I'll list out what the items are.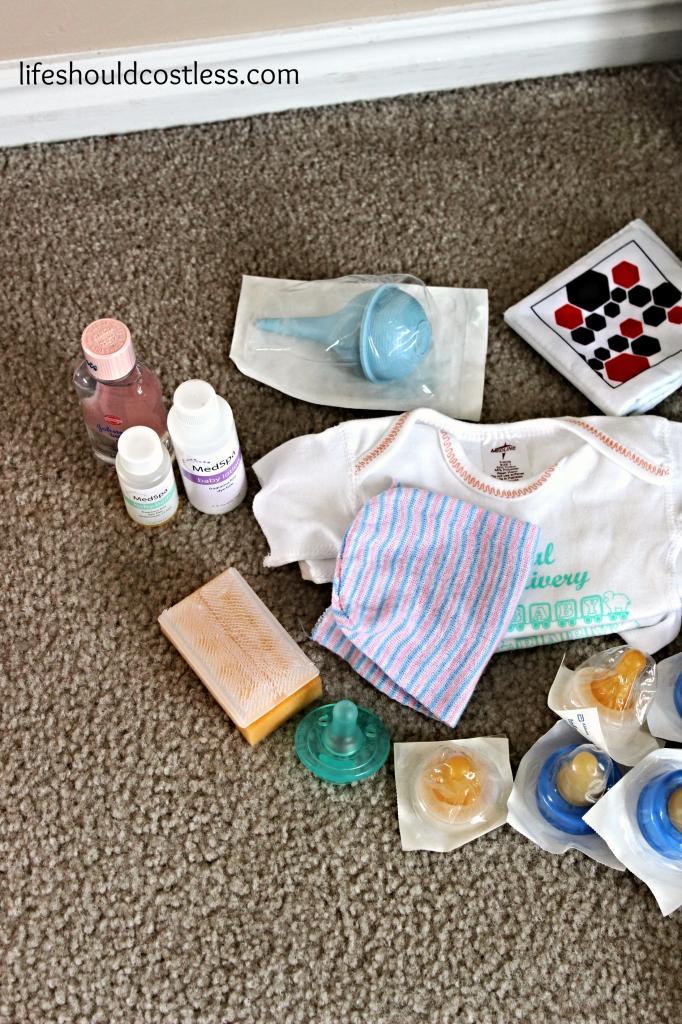 Baby Oil
Body Wash
Baby Lotion
Nasal Syringe/Booger Sucker Thingy
Pacifier
Beanie/Hat
Onesies (I had 3 on hand, some from previous babies, so I put them all in there)
Bath Time Brush/Sponge
Nipples To Disposable Bottles
Little Toy/Book (more needed towards the end of the 6 months when baby is more active)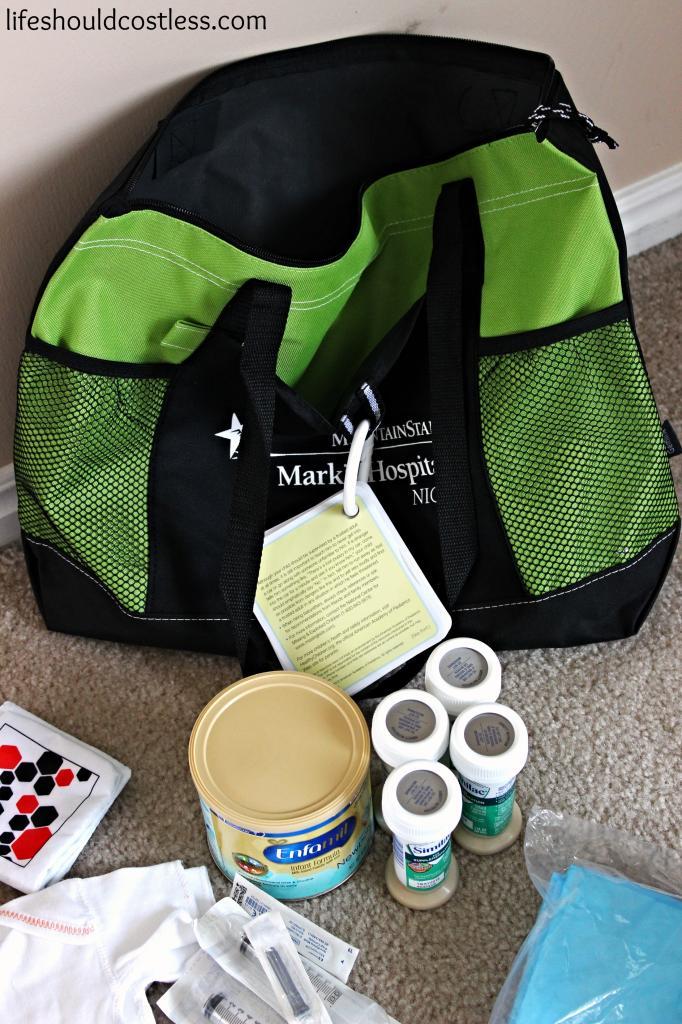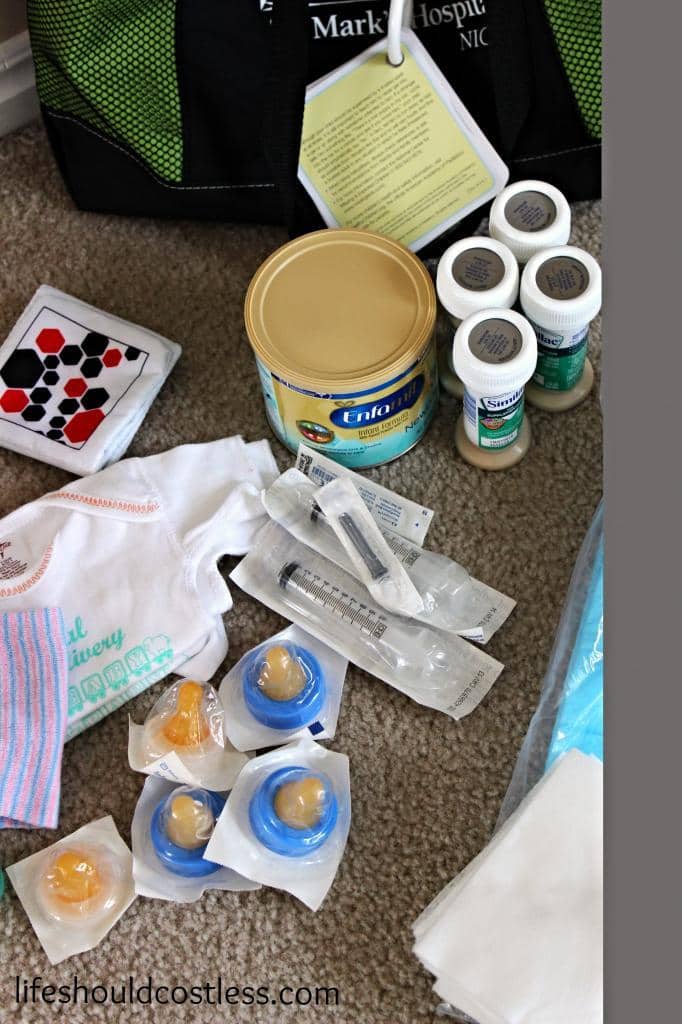 Next we have :
Diaper Bag
Emergency Flash Cards (clipped to the bag, it includes cpr instructions and other basic useful info)
Formula Powder
Pre-mixed Infant Formula
Feeding Syringes (in case baby won't eat on their own)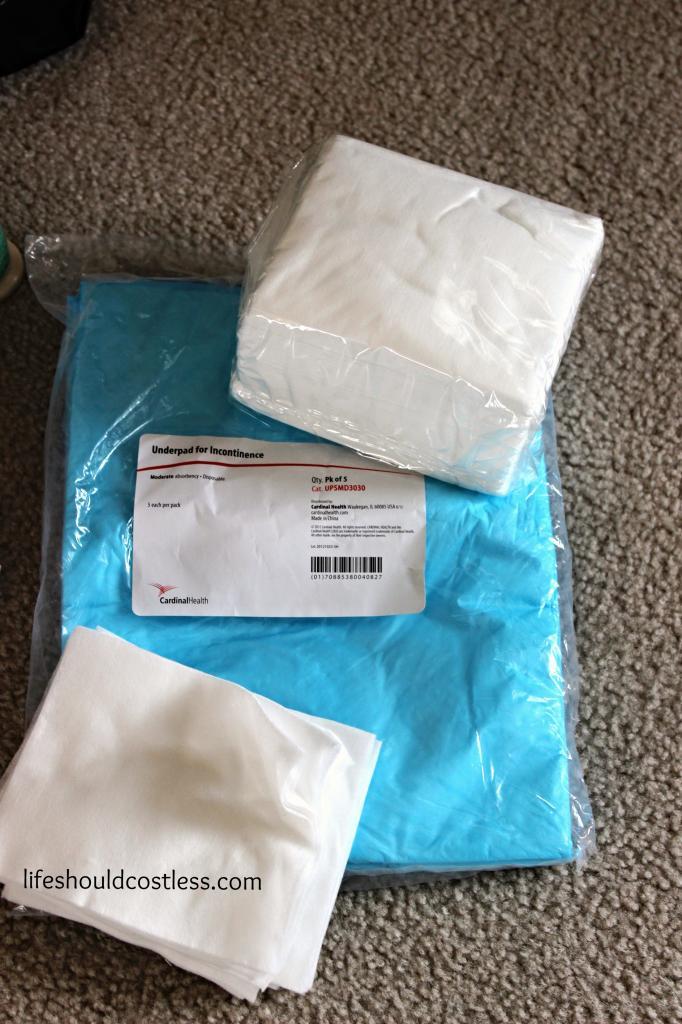 Incontinence pads (which would be good to lay baby on for diaper changes)
Wipes (these are the kind that you get wet first)
That was all the hospital stuff I had/could think of to put in the bag. Next I moved on to the stuff that I have on hand that will also be needed in an emergency and needs to be grab and go ready.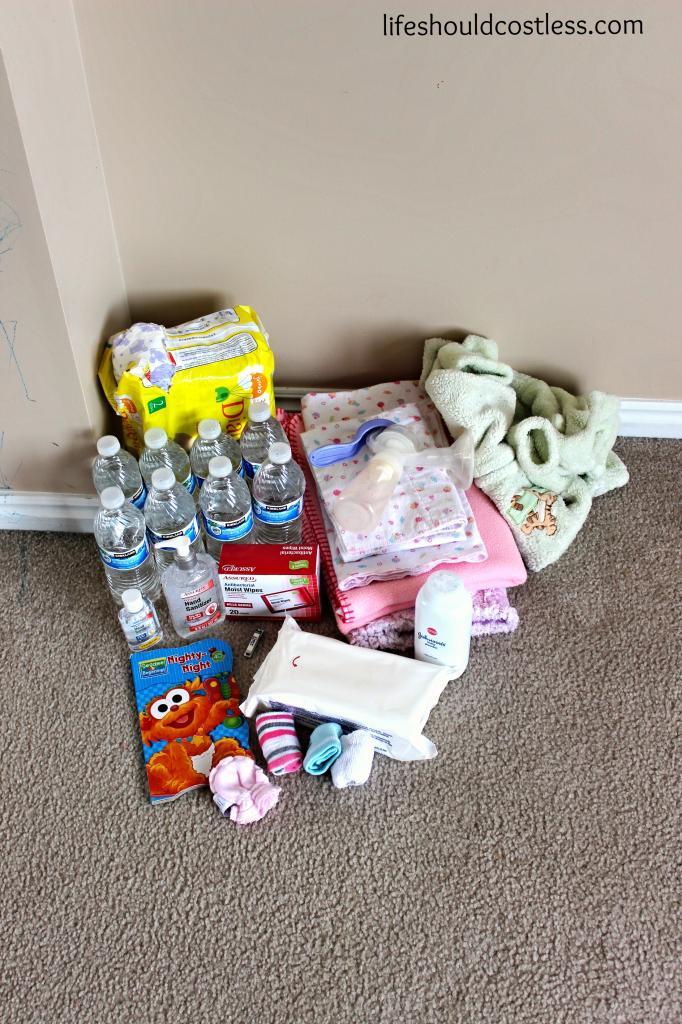 This is it all laid out, I break it down into a list below.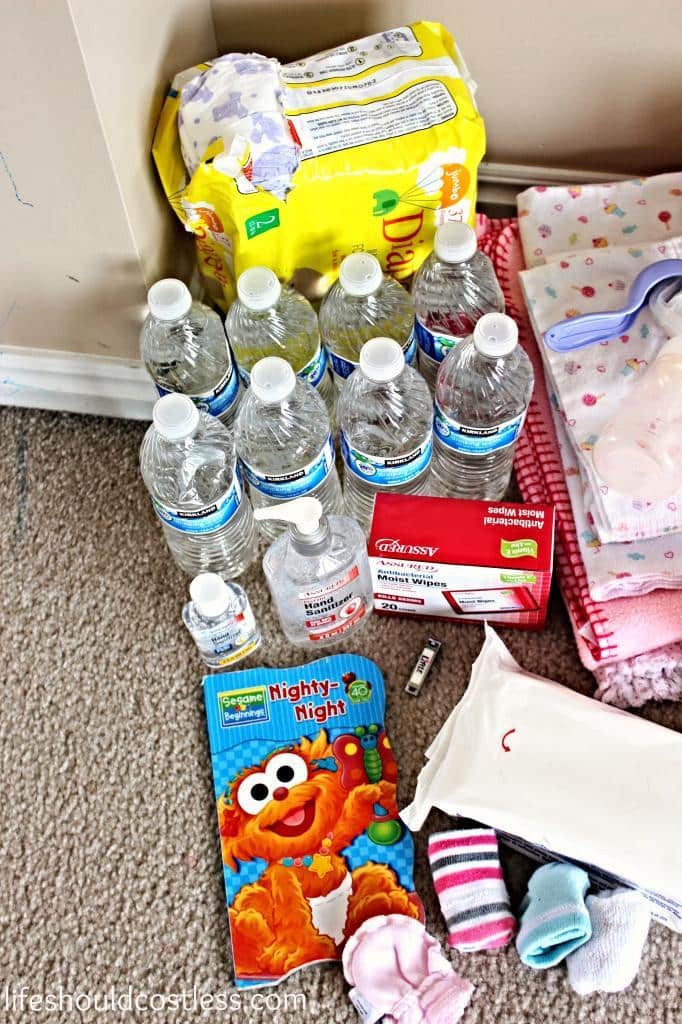 Diapers (newborns go through an average of ten in one day, so I made sure to put at least 30 in there, I went with size 2 because it's better too big than too little and they should fit her at the 6 month stage)
Bottled Water (to mix with the formula)
Hand Sanitizer and Sanitizing Wipes (both found at Dollar Tree)
Nail Clippers
Wipes (the pre-wetted kind in a re-closeable package)
Board Book
Mittens
Socks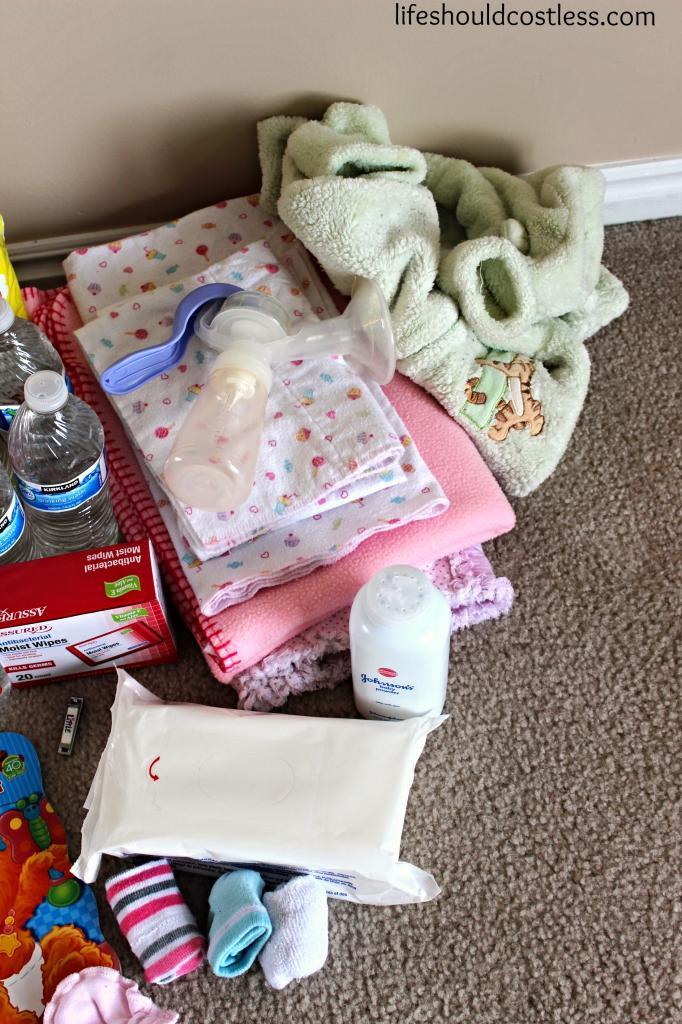 Blankets
Burp Rags
Manual Breast Pump
Baby Powder
Warm Bodysuit (size 3-6 months)
The next step was the most interesting part…trying to get it all to fit into the bag. I ended up having to take some things out of their packaging and it fit…minus the blankets/cloth items. Luckily this bag had big straps so I just bundled all of it together and tied it down with the straps.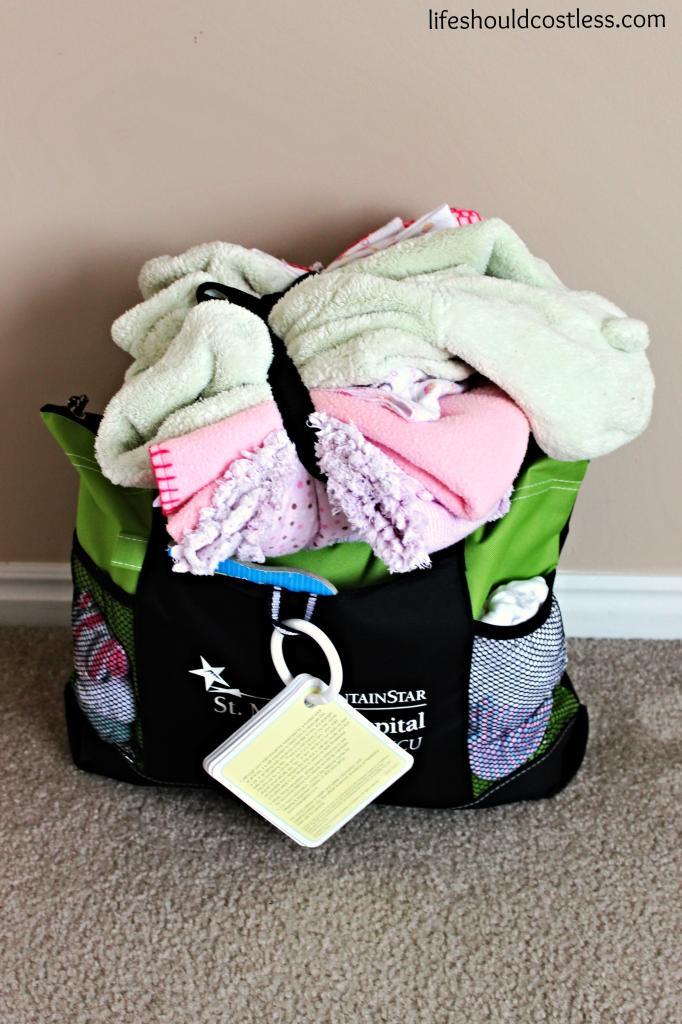 It's not pretty, but it'll do! It's now sitting in the closet and I'm just hoping that it is never necessary to have to use it. Having it done is a big weight off my shoulders. Especially since it's good for not only if something big happened, but if something happened to me, the baby would have a food supply for several days. I am exclusively breast-feeding her so when the breast milk in the freezer runs out, she's still got a little stash of food.
There are still a few items that I may want to add (a Baby Carrier would be nice + Baby Tylenol and Diaper Rash Cream), but I think I got the basics that are really needed. If you don't have them on hand and don't want to buy them new just to sit in the closet, make sure to check thrift shops. Most items can be purchased very inexpensively second-hand.
The final step that is very important!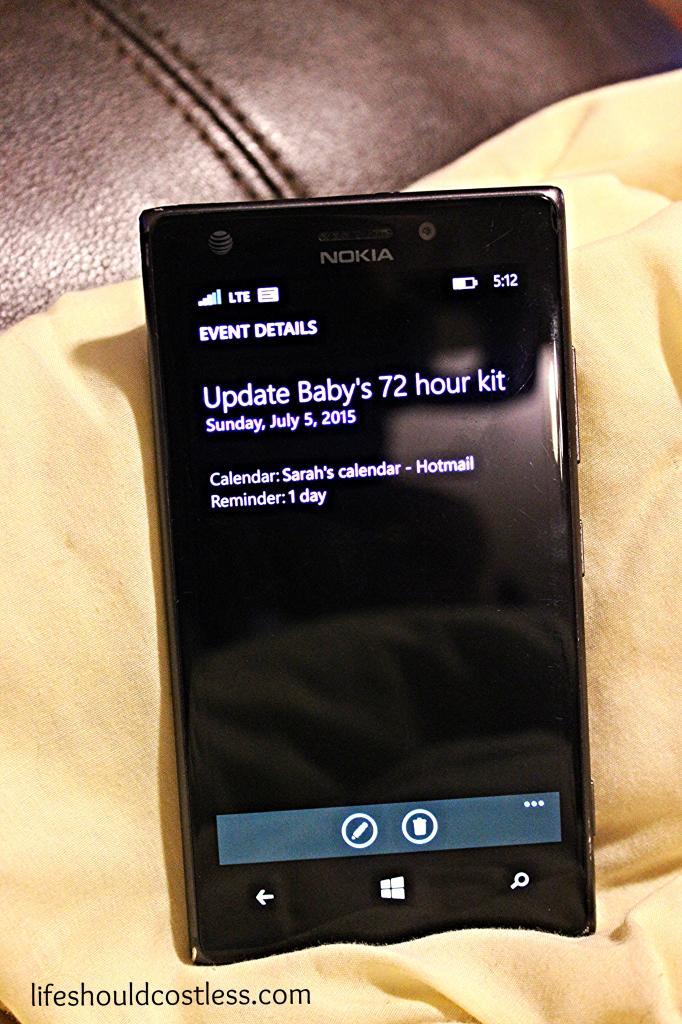 Set a reminder in my phone for the 6 month mark so that I can go through and swap out the items that the baby has outgrown/don't apply any more.
That's it! This took me a few days of thinking about what I wanted to put in the bag and then only minutes to round everything up so there really is no excuse to not get it done. Just put together what you've got and then write out a list and take care of the rest as soon as you can. I'm also leaving you a
printable list
of suggested items so that you can take it with you shopping or check each item off as you can.
Oh, don't forget to subscribe to my email list (found here). Also, if you would like to learn how to follow along or really show your support for this blog, go here.
As always, if you found this post helpful, please make sure to share it!