Let's discuss the essential supplies you will need in a basic emergency go bag, & we provide a minimalistic list of what you actually need to have on hand in a survival kit. Also learn what kind of realistic situations you need to prepare for, and how to save money on those go bag essentials.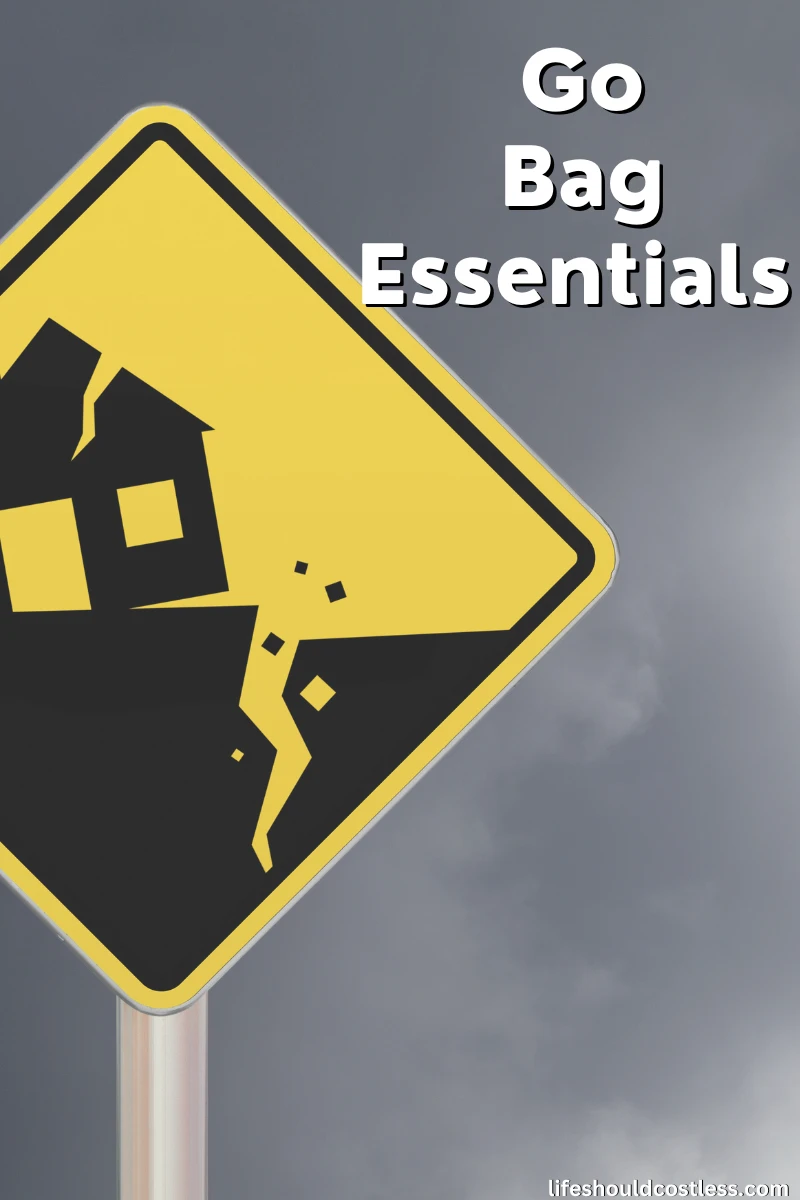 Table of Contents, Skip Ahead To What You're Looking For
What is a go bag?
A go bag, also known as an emergency survival kit, 72 hour kit, (or sometimes "emergency preppers" refer to it as) a bug-out bag, is a portable collection of essential items that are meant to sustain you, and your family, for at least 72 hours during an emergency or disaster situation.
---
Why do I need an emergency kit/bag?
It's important to have a go bag because emergencies and disasters can happen unexpectedly, to anyone at any given time, and you may not have time to gather essential items before you have to evacuate or shelter in place.
A go bag allows you to quickly grab the items that you absolutely need to survive, and evacuate to a safer location without having to worry about packing important items at the last minute.
Not to sound too dramatic, but realistically, if you live in a city situation and need to evacuate quickly…grabbing a bag and getting on the road before everyone else has time to flood the streets and gridlock you in place…it could be the difference between life and death for your family.
Common scenarios why having a go bag is important
Civil Unrest– Civil unrest, protests, or riots can also occur suddenly and require you to evacuate your home quickly. In these situations, having a go bag with essential items can help you stay safe and prepared.
Power Outages- Power outages can occur due to severe weather or technical issues. If the power goes out for an extended period of time, you may need to rely on your go bag for essential items such as food, water, and lighting.
Medical Emergencies- If you or a loved one has a medical emergency, you may need to evacuate to a hospital or medical facility quickly. A go bag with essential items such as medication and first aid supplies can help you stay prepared in these situations.
Hurricanes – These powerful storms can cause flooding, high winds, and power outages that can last for days or even weeks.
Tornadoes – Tornadoes can strike quickly and without warning, causing significant damage to homes and infrastructure.
Earthquakes – Earthquakes can cause significant damage to buildings and infrastructure, leading to power outages and a need for emergency supplies.
Wildfires – Wildfires can spread quickly and unpredictably, leading to evacuations and a need for emergency supplies.
Winter storms – Winter storms can cause power outages, road closures, and dangerous travel conditions, making it essential to have an emergency kit on hand.
Flooding – Flooding can occur due to heavy rainfall or other weather events, leading to evacuations and a need for emergency supplies.
Landslides – Landslides can occur in areas with steep terrain and heavy rainfall, causing significant damage to homes and infrastructure.
Volcanic eruptions – Volcanic eruptions can cause ashfall, landslides, and toxic gases, leading to evacuations and a need for emergency items.
Tsunamis – Tsunamis can occur as a result of earthquakes, volcanic eruptions, or other events, causing significant damage to coastal areas and a need for emergency supplies.
Overall, having a go bag can provide peace of mind and help you stay prepared for any emergency situation that may arise. By having the essentials ready to go, you can ensure your safety and survival during difficult times.
---
Essentials For A Go Bag, How To Put Together An Emergency Kit 72 Hours (Video & Printable List)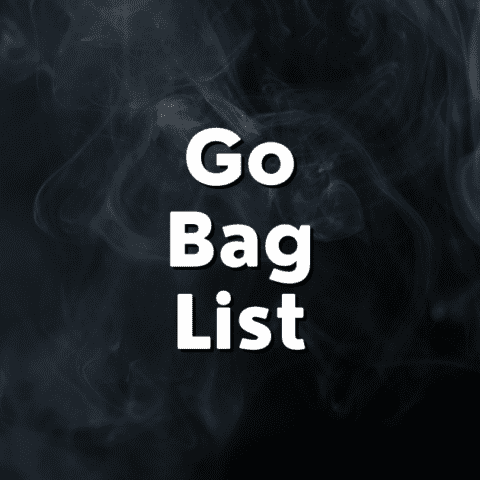 Go Bag List
When wondering "what should you have in your 72-hour kit?", it's important to note that the contents of your personal bug out bag will depend on your individual needs, as well as the type of emergency you may encounter.
However, there are a few universal items that every go bag should have. These essentials include:
I hope that my go bag checklist was helpful. If you'd like to build your 72 Hour bag, but fund are low I have some tips on how to stretch those dollars.
---
Ideas To Build An Emergency Kit On The Cheap
While emergency preparedness is important, it can also be expensive. Fortunately, there are ways to build an emergency kit on a budget.
Here are some inexpensive ideas on how to build an emergency kit when funds are tight:
Shop at yard sales and thrift stores – Look for items like backpacks, blankets, flashlights, and first aid supplies at yard sales and thrift stores. These items can often be found at a fraction of the cost of new items, and are often only gently used or still in new packaging.
Use what you have on hand – Take a look around your home and see what you already have that can be repurposed for your emergency kit. Old blankets, towels, and clothes can be used for warmth and protection. Plastic bags can be used to keep items dry. Instead of purchasing expensive backpacks or duffel bags, consider using old backpacks that your kids no longer use. They can be repurposed as go bags and can easily be grabbed in an emergency.
Purchase items in bulk – When purchasing items like non-perishable food, water, and first aid supplies, consider buying in bulk to save money. These items can be purchased at discount stores or online retailers.
DIY – Many items in an emergency kit can be made at home, such as emergency candles, paracord bracelets, and emergency blankets. Search online for DIY tutorials and instructions.
Check for free resources – Check with local government agencies, non-profits, and emergency management organizations for free resources. Some organizations may offer free emergency preparedness classes or provide free emergency supplies to those in need.
By utilizing these inexpensive ideas, you can build an emergency kit without spending a lot of money and still have all the necessary essentials to stay safe and prepared in an emergency situation. There's even a go bags list of items you can get at a Dollar Store to put in your go pack (here's a good resource for what you can get at Dollar Tree).
Just remember that it's important to ensure that the items you purchase are of good quality and will be reliable in an emergency situation. Before purchasing, inspect items for any damage or signs of wear and tear. Additionally, make sure to check expiration dates on any 72 hour kit food items and rotate them out regularly to ensure they remain fresh.
---
Good resources for a more comprehensive survival kit/bag
I think it's super important to only give you a list that is easy for anyone, at any level of "prepper", to put together…however, there are lots of other good resources out there to help aid you more advanced preppers to make sure that you have everything on hand that you could possibly need if SHTF.
Here are three reliable resources for a more in-depth list of supplies needed for 72 hour bags:
Ready.gov – Ready.gov is a website run by the Department of Homeland Security that provides information on emergency preparedness for individuals and communities. They have a comprehensive list of items recommended for a basic emergency supply kit, which includes a 72-hour kit. The list includes food, water, first aid supplies, clothing, and personal hygiene items.
Link: https://www.ready.gov/kit
American Red Cross – The American Red Cross is a well-known humanitarian organization that provides disaster relief and emergency assistance. They have a detailed list of items recommended for 72 hours emergency kits on their website, including first aid supplies, food, water, and tools. The organization is known for its expertise in emergency response and preparedness, so their recommendations are reliable.
Link: https://www.redcross.org/get-help/how-to-prepare-for-emergencies/survival-kit-supplies.html
The CDC – The Centers for Disease Control and Prevention (CDC) is a national public health agency that provides information and resources on emergency preparedness. They have a list of recommended supplies for a 72 hour bug out bag on their website, which includes food, water, first aid supplies, and personal hygiene items. The CDC is a trusted source of information on public health and emergency preparedness, so their recommendations are reliable.
Link: https://www.cdc.gov/disasters/kit.html (this is a link to a printable list)
I feel like between my basics listed, and the resources I just shared, they should provide you with enough detailed information to cover a range of essential items. By using these resources, you can ensure that your kit is well-stocked and prepared to help you in an emergency situation.
If any of you need to prep a bag for an infant or toddler (because they have far more needs than the rest of the family), make sure to check out my Complete Guide For An Infant Emergency Kit, found here.
---
Emergency Bag FAQ's
How much is 72 hours?
What's 72 hours you may be wondering? That is just a simple term that is used to refer to three days time. It is just the typical number of days that is recommended to have basic emergency supplies on hand should a crisis situation arise.
How much money should I put in my bug out bag?

There is no one-size-fits-all answer to the question of how much money to keep in an emergency kit, as the amount needed can vary depending on a number of factors such as the size of your family, the cost of living in your area, and the duration of the emergency.

However, it is generally recommended that you keep at least a small amount of cash on hand in your emergency kit, as ATMs and credit card machines may not be operational during an emergency.

The Federal Emergency Management Agency (FEMA) recommends that you keep small bills and coins in your emergency kit. Which can help cover immediate expenses such as food, gas, and other necessities in the event of a disaster.
How much emergency food should I have?
Under the "Food" section, FEMA recommends keeping a three-day supply of non-perishable food per person, and suggests including items such as canned meats, fruits, and vegetables, protein or granola bars, and trail mix or dried fruit.

They also recommend including a manual can opener in your emergency kit to open canned food items.

It's important to regularly check and rotate out any expired or perishable items in your emergency food supply to ensure that it is always fresh and ready to use in the event of an emergency. By following these guidelines, you can ensure that you and your family have enough food to sustain you during a 72-hour emergency.

Source: https://www.ready.gov/food
---
Conclusion
In conclusion, having a well-stocked go bag is an essential part of basic emergency preparedness. Natural disasters, power outages, and other emergency situations can happen unexpectedly, and having a go bag with essential items can ensure that you and your loved ones have what you need to survive until help arrives.
The contents of your go bag will vary depending on your individual needs, but should include basic items such as food, water, first aid supplies, and communication devices.
By preparing go bag essentials in advance, and regularly checking and updating its contents, you can be confident that you are fully prepared for any emergency situation that may arise. Remember, taking the time to prepare now can make all the difference in the event of an emergency.
As per my usual request, I am totally human and if anyone notices that there's something "essential" that this scatter-brained mama missed…please email me so that I can add it to the post so that we can all be a bit more "prepared".
---
Thanks so much for stopping by my blog and supporting my endeavors to make people's lives a little easier/better/more affordable. If you liked this post, or found it helpful in any way, please make sure to share it with your family, friends, and co-workers via social media…or you could even send them the direct link via email. Whichever way you choose to spread the love, I super appreciate it! ~Sarah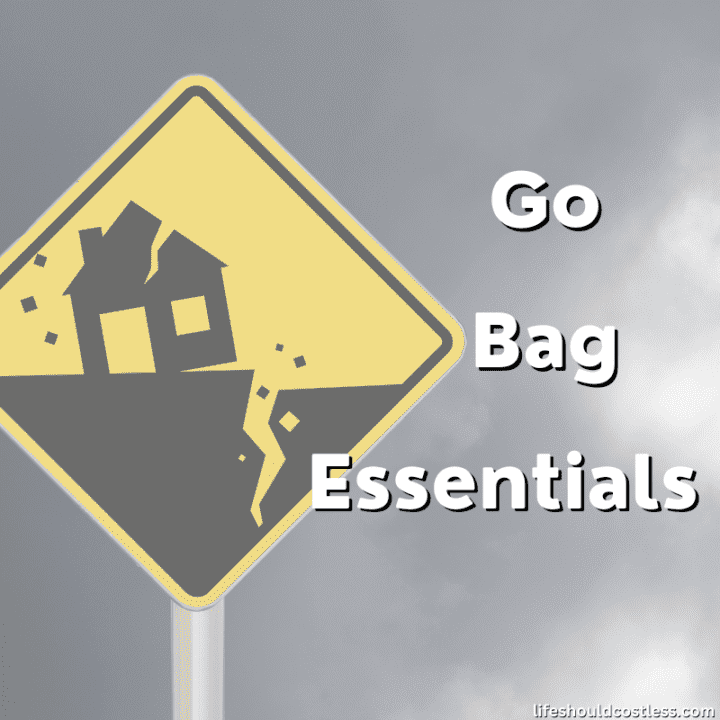 If you would like to subscribe to my email list, go here.
Make sure to follow along via social media, by going here.
If you would like to learn how to really show your support to this site (at no cost to you), go here.
Other Helpful Resources
If you would like to check out my entire preparedness section, go here.
Here are direct links to several of my other posts that you may also find helpful:
* Please note that this article was originally shared to this website on 04/17/2023, and has since been/will continue to be updated to improve user experience, remain relevant, as well as to be as shareable as possible across the social medias.