Teachers work hard every day to educate and inspire their students. They invest a lot of time and energy in planning and delivering lessons, grading papers, and helping students succeed. As a result, they deserve our appreciation and recognition. One way to show our gratitude is by giving them gifts on special occasions, such as Teacher Appreciation Week, the end of the school year, or special holidays. In this article, we will explore some easy gift to teacher ideas that teachers and professors alike would appreciate receiving.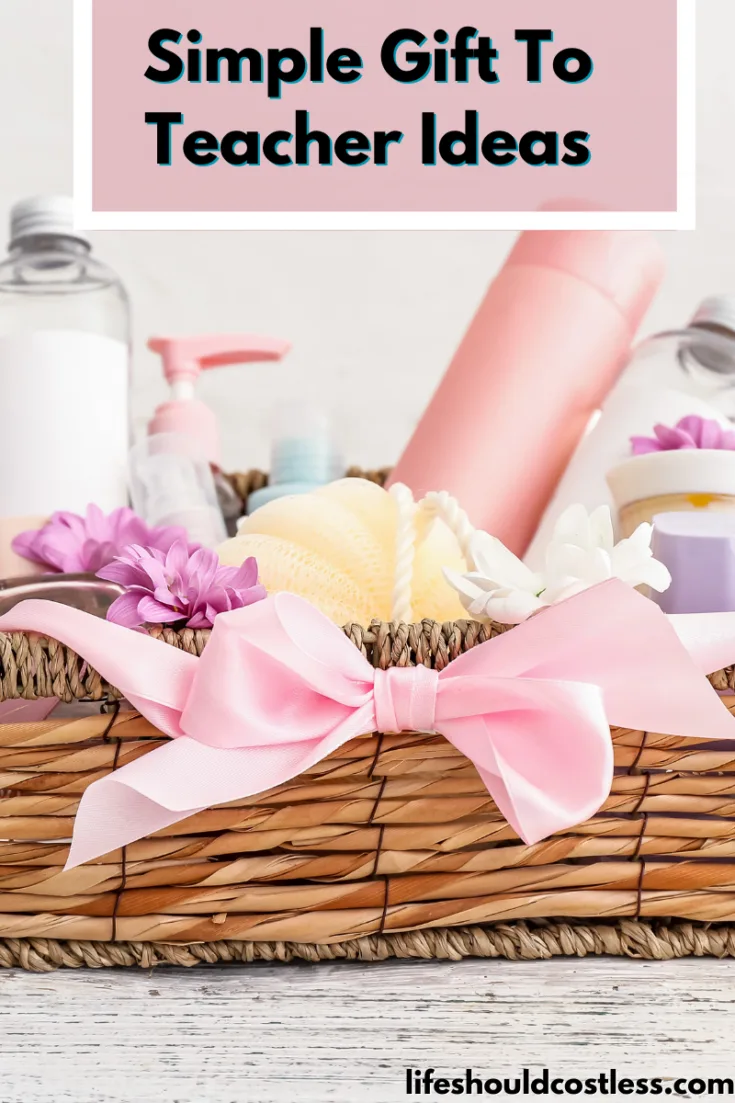 What should I do for my kids teachers?
If you have multiple teachers to appreciate (because you may have multiple kids), bulk teacher gifts are a the way to go…at least I think so. You can give them a gift basket filled with whatever your heart desires, slap some ribbon around it and call it good. Make sure to check out all of the bulk teacher gifts on Amazon too.
I like to lay all my baskets and supplies out, get a little bit of an assembly line going, and it's easy to crank out a simple yet thoughtful gift for teachers in less than an hour.
I decided to share with you guys some easy ways to get the job done and give you as many themed gift basket ideas for teachers as possible while I was at it.
---
How to make a gift basket for a teacher appreciation
Making a simple gift basket for a teacher can be a thoughtful way to show your appreciation. Here's how to create a basic gift basket:
Choose a basket – Start by selecting a basket that will be large enough to hold all of the items you want to include. You can find inexpensive baskets at craft stores, dollar stores, thrift shops, or online.
Pick a theme (I have lots of theme ideas below in this post) – Decide on a theme for your gift basket. For example, you could choose a coffee theme and fill the basket with items such as a coffee mug, coffee beans, and a gift card to a coffee shop.
Add items to the basket – Fill the basket with items that fit your theme. You can include things like snacks, stationery, or small gifts. Be creative and think about what your teacher would enjoy.
Wrap the basket – Once you have filled the basket, wrap it with cellophane and tie a bow with ribbon or raffia. You can also attach a gift tag or card to the basket (Dollar Tree typically sells a two pack of clear bags that are for specifically for gift baskets so check there too).
Remember, a basic gift basket can be a thoughtful way to show your appreciation for a teacher. With a little creativity, you can create a personalized gift that will make a lasting impression no matter what your budget may be.
---
What to put in gift basket for teacher?
If you've been wondering what do you put in a teacher gift basket…you're in the right place! Every teacher out there has different interests and is in a different stage of life…so, there may not be just one correct theme for all.
I thought that I would share with you some of my best ideas for teacher gift baskets so that you don't have to go searching around the internet…it's all here in one place.
Relaxation Gift Basket Fillers
A relaxation themed gift basket can be a perfect way to help your teacher unwind and destress after a long day at school. Here are some items you can include in a teacher relaxation gift basket:
Aromatherapy candles – Candles can create a relaxing and soothing environment. Choose scents such as lavender, chamomile, or vanilla.
Bath bombs or bath salts – These can help your teacher relax and unwind in a warm bath after a busy day.
Essential oils – Essential oils are known for their calming properties. Include a diffuser and a few essential oils such as lavender or peppermint.
Soft and cozy blanket – A soft and cozy blanket can help your teacher relax while watching TV or reading a book.
Relaxing tea – Tea can help calm the nerves and promote relaxation. Include a few tea bags of chamomile, lavender, or other soothing teas.
Stress ball – A stress ball can be a great way to release tension and anxiety.
Book or magazine – Choose a book or magazine that your teacher might enjoy reading in their downtime.
Comfortable socks – Soft and comfortable socks can keep your teacher's feet warm and cozy.
Sleep mask – A sleep mask can help your teacher get a better night's sleep.
Music – Soft and calming music can help create a relaxing atmosphere. Include a CD or a gift card to a music streaming service.
Remember, the key to creating a great relaxation gift basket is to think about what will help your teacher relax and unwind. You can include any items that will help them feel more calm, centered, and peaceful.
---
Snack Themed Gift Basket Fillers
If you're looking to create a snack basket for a teacher appreciation gift, there are plenty of fun and tasty items that you can include. Here are some ideas:
Trail mix – A mixture of nuts, seeds, dried fruit, and chocolate can make for a delicious and energizing snack.
Granola bars – A quick and easy snack that can be eaten on the go.
Popcorn – Whether it's microwave popcorn or a bag of gourmet popcorn, it's a great snack option.
Chocolate – A box of chocolates or a bag of chocolate-covered pretzels can be a sweet treat.
Jerky – Beef, turkey, or vegan jerky can be a high-protein snack that's perfect for busy teachers.
Cheese and crackers – Pre-packaged cheese and cracker packs are a great option for a snack basket.
Fruit – Fresh fruit like apples, oranges, or bananas can be a healthy snack option.
Energy bars – Protein bars, energy balls, or other snacks that provide a quick energy boost can be helpful for busy teachers.
Chips and salsa – A bag of tortilla chips and a jar of salsa can be a fun and tasty snack option.
Tea or coffee – Include a selection of tea bags or a bag of coffee to enjoy with the snacks.
Remember to consider any dietary restrictions or allergies when choosing snacks for your teachers gift basket. A snack basket is a thoughtful and gender neutral gift that any teacher would appreciate!
---
School Supplies Themed Gift Basket Fillers
A gift basket filled with school supplies can be a practical and appreciated gift for any teacher or professor. Here are some suggestions for what to include in a school supplies gift basket:
Pens and pencils – Include a variety of pens and pencils, including different colors and types, like ballpoint, gel, and highlighters.
Notebooks – Whether it's a set of small pocket notebooks or larger composition books, notebooks are a staple item for any teacher.
Sticky notes – These small, adhesive notes can be used for reminders, notes, or bookmarks.
Post-it flags – These small, colorful flags can be used to mark important pages in books or to highlight notes.
Desk organizer – A small desk organizer or caddy can help keep pens, pencils, and other supplies organized and easily accessible.
Binder clips – These can be used to hold together stacks of paper or to keep papers organized.
Correction tape or fluid – This can be useful for correcting mistakes on paper.
Scissors – A good pair of scissors can be helpful for cutting paper, cardboard, or other materials.
Stapler and staples – A stapler can be used to hold papers together, and extra staples can be useful for restocking.
Whiteboard markers – If the teacher has a whiteboard in their classroom, a set of markers in various colors can be a useful addition.
Remember to consider the specific needs of the teacher or professor you're buying for, as well as any specific school supplies they might need. With a little thought and creativity, a school supplies gift basket can be a practical and appreciated gift.
---
Movie Night Themed Gift Basket Fillers
If you're creating a movie night themed gift basket for a teacher that is a movie buff, here are some filler ideas to think about.
Popcorn– You can include a few bags of popcorn, or a jar of gourmet popcorn kernels with popcorn seasoning.
Candy– Fill the basket with a variety of candies such as gummy bears, chocolate bars, or candy-coated chocolates.
DVD or Streaming Gift Card– You can add a DVD of a movie or a gift card to a popular streaming service like Netflix, Hulu, or Amazon Prime.
Blanket– A cozy blanket is a great addition to a movie night gift basket, especially during the colder months.
Mugs- You can add a couple of mugs with some hot cocoa mix or tea bags.
Snacks– Include some salty snacks like chips, nuts, or pretzels, or some sweet snacks like cookies, brownies, or cake.
Movie Theater Gift Card- If there is a movie theater nearby, consider adding a gift card so that the teacher can go out to see a movie.
Movie Night Trivia Game– You can add a movie trivia game to make the experience more interactive.
Movie-Themed Socks– You can add a pair of socks with the teacher's favorite movie character or movie quote.
Remember, you can mix and match the above filler ideas based on your budget and the teacher's preferences. The idea is to create a fun and relaxing movie night experience for the teacher.
---
Coffee/Tea Lover Gift Basket Fillers
If you're creating a coffee or tea lover gift basket for a teacher, here are some filler ideas that you can consider:
Coffee or tea- This is the main attraction of the gift basket, so make sure to add high-quality coffee or tea bags or loose leaf tea.
Mug– Add a coffee mug or tea cup that fits the teacher's style.
Biscuits or Cookies– You can add some biscuits or cookies that pair well with the teacher's coffee or tea choice.
Coffee or Tea Accessories– You can add a tea infuser, tea strainer, or coffee scoop to the basket.
Chocolate– Add some chocolate bars or truffles that the teacher can enjoy while sipping their coffee or tea.
Coffee or Tea Syrups– Add some flavored coffee syrups or tea concentrates that the teacher can use to customize their beverage.
Coffee or Tea Book– Add a book about coffee or tea that the teacher can read while sipping their beverage.
Gift Card- Add a gift card to a local coffee shop or tea store.
Coasters- Add some coasters that match the theme of the gift basket.
The idea with this basket theme is to create a fun and relaxing coffee or tea experience for the teacher.
---
Homemade/Handmade Gift Basket Fillers
Homemade or handmade gifts add a personal touch and can be a delightful addition to a teacher appreciation gift basket. Here are some ideas for homemade items to include:
Baked goods or Jellies– Homemade cookies, brownies, muffins, or jams/jellies are always a hit. Be sure to consider any dietary restrictions or allergies.
Personalized notepad or stationery– Create a custom notepad or stationery set featuring the teacher's name or a special design.
Handcrafted bookmark– Make a unique bookmark using beads, ribbon, or other materials, and add a favorite quote or a personal message.
DIY candles or soaps– Hand-poured candles or homemade soaps in the teacher's favorite scents can be a thoughtful addition.
Knitted or crocheted items– Scarves, dishcloths, or coffee cup cozies are both practical and personal gifts. Stick to either neutral colors or colors you know they love.
Hand-painted pottery or ceramics– Create a one-of-a-kind mug, vase, or dish that the teacher can use and enjoy.
Custom tote bag or pencil pouch– Sew or decorate a tote bag or pencil pouch with a unique design or the teacher's name.
Coloring pages/coloring book– You could easily print out some of my free printable coloring pages and create a coloring book.
Photo album or scrapbook– Compile photos, artwork, and messages from students to create a memorable keepsake.
Personalized planner or calendar– Design a custom planner or calendar featuring the teacher's favorite colors, patterns, or inspirational quotes.
Framed artwork or calligraphy– Create a piece of art or calligraphy featuring an inspirational quote or message that the teacher can display in their classroom or at home.
Recipe-in-a-jar– Layer the dry ingredients for a cookie or soup recipe in a mason jar, and attach a recipe card with instructions.
Tailor your homemade gift to the teacher's preferences and interests. Combining a few of these handmade items with some store-bought treats or supplies can create a well-rounded and thoughtful gift basket.
---
Gifts For Teachers Male Basket Fillers
If you're needing some male teacher gift ideas, here are some basket filler suggestions that you can consider:
Snacks– Add some savory or sweet snacks like nuts, popcorn, beef jerky, chocolate, or cookies.
Desk Organizer– Add a desk organizer that can help the teacher keep his workspace organized.
Stationery– Add some high-quality stationery items like notebooks, pens, pencils, or a personalized leather journal.
Favorite Drink– Add a bag of high-quality coffee or tea that the teacher can enjoy during his break time. Some male teachers even have a favorite soda or energy drink that would work.
Book– Add a book related to his interests or profession.
Personalized Water Bottle– Add a personalized water bottle that the teacher can use during the day to stay hydrated.
Personalized Keychain– Add a keychain with the teacher's name or initials engraved.
Travel Mug– Add a travel mug that the teacher can use while commuting or on-the-go.
Grooming Products– Add some grooming products like a beard oil, shaving cream, or aftershave balm.
Remember, you can mix and match the above filler ideas based on your budget and the teacher's preferences. The idea is to create a thoughtful and practical gift basket that the male teacher will appreciate.
---
Teacher Survival Kit Themed Gift Basket Fillers
A Teacher Survival Kit themed gift basket can be a fun and practical gift for a teacher, especially if they are a new teacher. Here are some ideas for filler items:
Tissues– Help the teacher stay prepared for those sniffles with a pack of tissues.
Hand sanitizer– A small bottle of hand sanitizer can be a lifesaver in the classroom.
Pens and pencils– Teachers are always in need of pens and pencils, so add some colorful ones to the basket.
Post-it notes– These can be useful for jotting down reminders or quick notes.
Stress ball– Teaching can be stressful, so a stress ball can provide a quick and easy way to de-stress.
Lip balm– Keep the teacher's lips moisturized with a tube of lip balm.
Snacks– Add some healthy snacks like granola bars, fruit snacks, or nuts to help the teacher power through the day.
Tea or coffee– Help the teacher stay energized with some tea or coffee packets.
Chocolate– A small bag of chocolates or a chocolate bar can be a sweet treat for the teacher.
Advil or Tylenol– Add a small bottle of pain reliever to the basket to help the teacher tackle any headaches that may arise.
Remember, the goal of a Teacher Survival Kit gift basket is to provide practical and thoughtful items that the teacher can use in the classroom. You can also personalize the basket by adding items that you know the teacher likes or prefers.
---
Summer Themed Teacher Appreciation Gift Basket Fillers
If you want to make an end of year teacher appreciation gift basket that will help your teacher enjoy the summer, here are some filler ideas to consider:
Sunscreen– Help the teacher protect their skin from the sun's harmful rays with a tube of sunscreen.
Sunglasses– A stylish pair of sunglasses can help the teacher look and feel cool during the summer.
Beach towel– Add a colorful beach towel to the basket to help the teacher relax at the beach or pool.
Water bottle– Keep the teacher hydrated with a reusable water bottle that they can take on-the-go.
Hat– A stylish hat can help the teacher stay cool while out in the sun.
Books– Add a few books to the basket that the teacher can enjoy during their summer break.
Gift card– Consider adding a gift card to a local ice cream shop or coffee shop where the teacher can enjoy a treat during their free time.
Outdoor games– Add some fun outdoor games like a frisbee or a set of bocce balls to help the teacher enjoy some fun in the sun.
Insulated bag or cooler– Help the teacher keep their food and drinks cold with a small insulated bag or cooler.
Bug spray– Keep the bugs away with a small bottle of bug spray that the teacher can take with them on outdoor adventures.
A summer-themed gift basket can be a fun and thoughtful way to show your appreciation for all that your teacher does throughout the school year.
---
Travel Themed Gift Basket Fillers
A travel-themed gift basket is a fantastic idea for the teacher who loves exploring new places during their times away from the classroom. Here are some great filler ideas for your travel-themed gift basket:
Travel pillow– A comfortable, compact travel pillow will help make long journeys more enjoyable.
Luggage tags– Stylish and unique luggage tags can help your traveler easily identify their bags.
Travel journal– A beautiful travel journal is perfect for recording memories and experiences.
World map– A foldable world map or scratch-off map is a fun way for travelers to track their adventures.
Passport holder– A durable and stylish passport holder will protect their important documents.
Travel-sized toiletries– TSA-approved toiletry bottles, toothbrush covers, and other essentials are always useful.
Travel adapter– A universal travel adapter will ensure their electronics stay charged no matter where they go.
Currency converter– A small, portable currency converter can be handy for international trips.
Packing cubes– Packing cubes help keep luggage organized and make packing and unpacking a breeze.
Collapsible water bottle– A reusable, collapsible water bottle saves space and is eco-friendly.
Travel-themed book or guidebook– Select a book on their next destination, a travel memoir, or a book filled with travel tips and tricks.
Compression socks– These can help prevent swelling and improve circulation during long flights or car rides.
Snacks– Pack some travel-friendly snacks like trail mix, protein bars, or dried fruit for an on-the-go treat.
Travel-themed games or puzzles– Compact card games, word games, or puzzles can help pass the time during layovers or downtime.
Eye mask and earplugs– These essentials will make it easier to rest during flights or in noisy accommodations.
Travel-sized first aid kit– A small first aid kit with band-aids, pain relievers, and other necessities is always a good idea.
Personalize the basket by choosing items that cater to the recipient teachers preferences, and include a heartfelt note expressing your excitement for their upcoming travels over their long school break.
---
Teacher Gifts Cheap
What are some cheap teacher gift basket fillers?
If you're looking for cheap gift basket filler ideas for a teacher, here are some options to consider:
Pens and pencils– Every teacher can use more pens and pencils for their classroom.
Notepads– Notepads are another essential classroom supply that teachers always need.
Sticky notes– Sticky notes are a fun and useful addition to any teacher's desk.
Classroom stickers– A pack of fun stickers can be a great way for a teacher to motivate and reward their students.
Hand sanitizer– A travel-sized bottle of hand sanitizer can help the teacher stay healthy during cold and flu season.
Lip balm- Lip balm is a small but thoughtful gift that can help the teacher stay moisturized during the winter months.
Tea bags or coffee pods– A few tea bags or coffee pods can be a nice way to help the teacher start their day off right.
Chocolate or candy– A small bag of chocolate or candy can be a sweet treat that the teacher can enjoy during their break.
Fuzzy socks– A pair of cozy socks can be a fun and practical gift for the teacher to wear in their classroom.
Personalized note or card– A heartfelt note or card can be the most meaningful and inexpensive gift of all.
You definitely don't have to spend a lot of money to show your appreciation for a teacher. A small but thoughtful gift basket can be a great way to say thank you without ruining your financial goals in the process.
How do you show appreciation to teachers while on a budget?
Maybe spending money to support a teacher isn't an option, so here are several ways to show your gratitude to a teacher without breaking the bank:

Write a heartfelt note or letter– A personalized note expressing your gratitude and highlighting specific instances where the teacher has made a difference can be truly touching.

Give a small gift– Thoughtful, practical gifts like classroom supplies, a coffee mug, or a gift card to their favorite store are always appreciated.

Create a class gift– Collaborate with other students or parents to create a scrapbook, photo album, or video montage with messages and memories from the entire class.

Organize a Teacher Appreciation Day or Week- Coordinate with other parents or the school to plan special activities or events that celebrate teachers, such as breakfasts, lunches, or treats throughout the day.

Volunteer your time- Offer to help in the classroom, chaperone field trips, or assist with extracurricular activities to show your support.

Advocate for your teacher- Share positive experiences with school administration or the local community to help boost recognition and support for your teacher.

Publicly acknowledge their efforts- Post a heartfelt message on social media, or nominate your teacher for awards or recognition programs.

Attend school events- Show your support by attending school functions, parent-teacher conferences, and extracurricular activities.

Encourage your child to express gratitude- Teach your child the importance of saying "thank you" and showing appreciation to their teachers.

Maintain open communication- Keep lines of communication open, and let your teacher know you appreciate their dedication and efforts.

Remember, even small gestures can have a significant impact. The key is to be sincere and specific in expressing your gratitude, acknowledging the difference the teacher has made in your or your child's life.
In conclusion, there are many gift to teacher ideas that educators will appreciate, or they can even be a gift for a professor or their Daycare helpers. The possibilities are endless in the gift-giving department and now you have oodles of gift ideas to work with. By showing our appreciation, we can encourage and motivate teachers to continue making a positive impact on their students' lives, especially since it's a job that is often underpaid and underappreciated so we all need to make a bit more effort to support them.
---
Thanks so much for stopping by my blog and supporting my endeavors to make people's lives a little easier/better/more affordable. If you liked this post, or found it helpful in any way, please make sure to share it with your family, friends, and co-workers via social media…or you could even send them the direct link via email. Whichever way you choose to spread the love, I super appreciate it! ~Sarah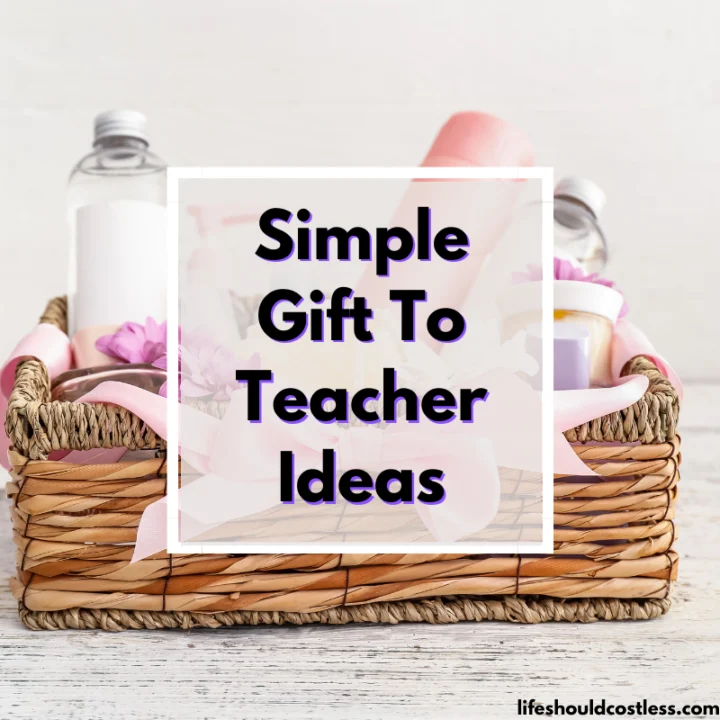 Oh, don't forget to subscribe to my email list (found here). Also, if you would like to learn how to follow along or really show your support for this blog, go here.
To check out lots of my other fun kid/parent related posts, go here.
Here are direct links to several of my other posts that you're also going to love:
Other good resources for gift basket ideas for teachers:
15 Teacher Gift Basket Ideas To Show Your Appreciation <on whatmommydoes.com>
How To Make New Teacher Welcome Baskets <on alyssateaches.com>
Lots Of Teacher Gift Basket Ideas <on happyhappynester.com>
---
*This post was originally shared to this blog on 03/22/2023, and has since been/will be updated to improve user experience, as well as to make it as shareable as possible across the social medias.