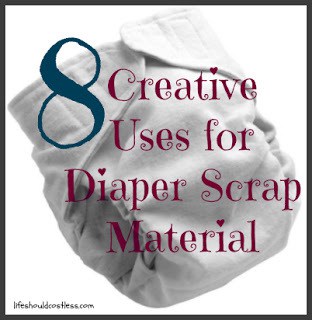 I don't know about you, but when I decided to make my kids' cloth diapers I was not expecting to have fabric scraps coming out my ears… though that is probably my own fault for ordering 40 yards of diaper flannel ;).
Anyway, the pile is just going to get larger if I don't find some creative/useful ways to dispose of it, so here is what I have come up with so far:
* I'm more than happy for more suggestions, so please leave comments.
1)Make Cloth Nursing Pads
(These would be a practical gift for a new mom)
*If you struggle with serging around curves make sure to check Youtube for some great tutorials…that's how I learned.
2)Make Your Own Cloth Sanitary Napkins
*Everyone needs some in their emergency gear*
*you could make your own cloth tampons, but that just makes me gag so I'm not going to provide a link for that.
4)
Donate Scraps to your local branch of
This is a neat organization that makes quilts and donates them to sick children. I emailed Kristen, the coordinator for the Salt Lake branch, and she said that to be useful, flannel pieces should be large enough to cut out a 6″ square and that fleece scraps would need to be large enough for an 8″ square. *I'm sure that this group would be happy for any of your spare fabrics, not just from diaper making(the more colorful the better).
Make sure to spread the word. I know lots of people that have mounds of spare fabric just lying around,
which could be donated!!!
For the rest of you, you should be able to find your local branch by visiting the main website for The Linus Project here.
*There are various other charities out there that you can donate your cloth scraps to, just do a google search.
Cut leftover flannel into strips and use for:
I use these instead of cotton balls…It's 100% cotton, so it works for me.
8)To Apply Aftershave/Tendskin
*They do ball up in the dryer, but I just flatten them out and stack them for reuse.
I hope this post has given you some ideas to reduce fabric waste… Happy Sewing!
**The image that I used for the photo backdrop is just an image that i found when googling cloth diaper jpg. I am in no way taking credit for this photo.**