Solid wood or metal kitchen stools are pricey! My family has needed kitchen stools for a while, but I was not about to waste my money by buying some made out of any cheap material because I knew that I would soon have to replace them and then I'd be wasting even more money, so buying quality was a must.
I had been looking for some second-hand stools for about three years now and just before I was about to break down and buy some brand new ( I had even been pricing them out and they were sitting in my Amazon shopping cart)… I found a set of four matching solid wood stools at a thrift shop. Hallelujah! It was time to use a little elbow grease and save some money.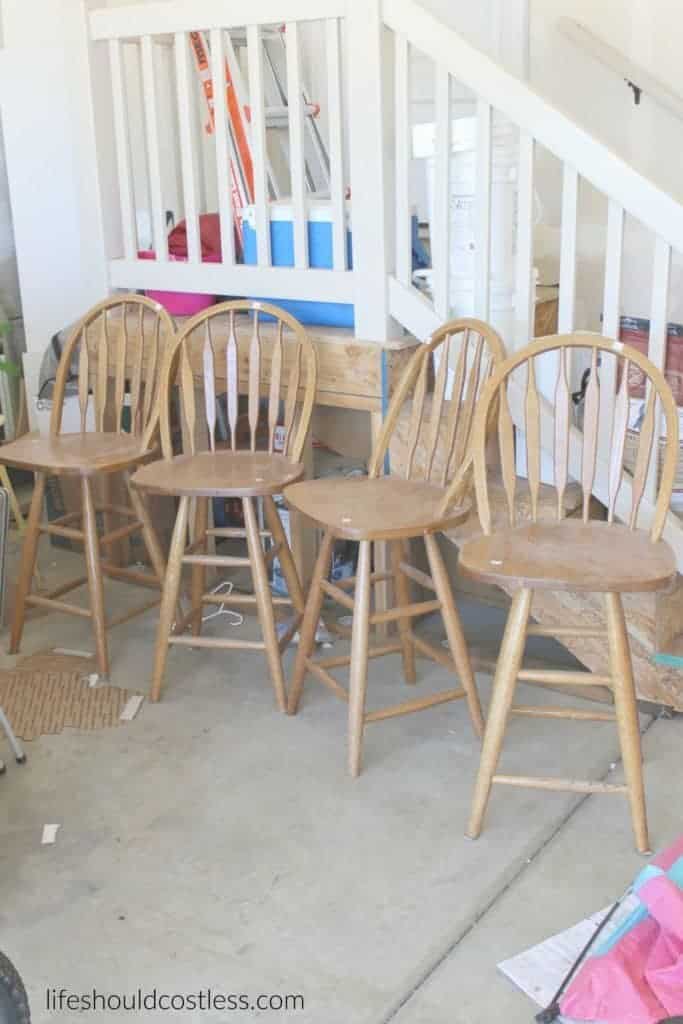 Don't mind my messy garage… The stools were matching, but they needed quite a bit of work in order to look decent. All four had deep gashes where they had been banged into each other and into countertops.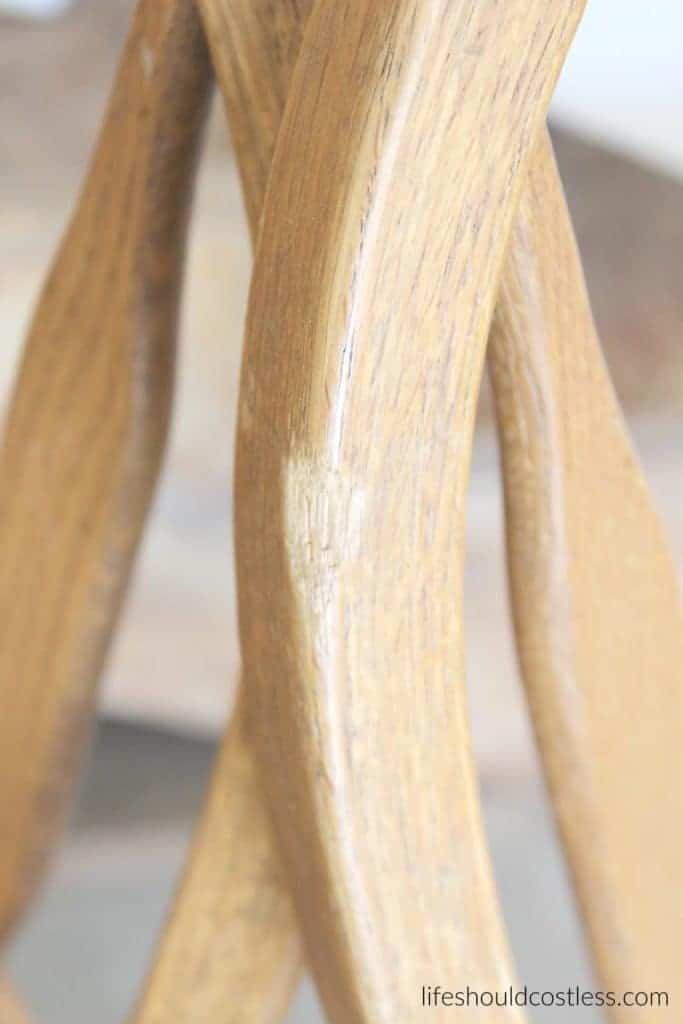 One even had a crack along the seat.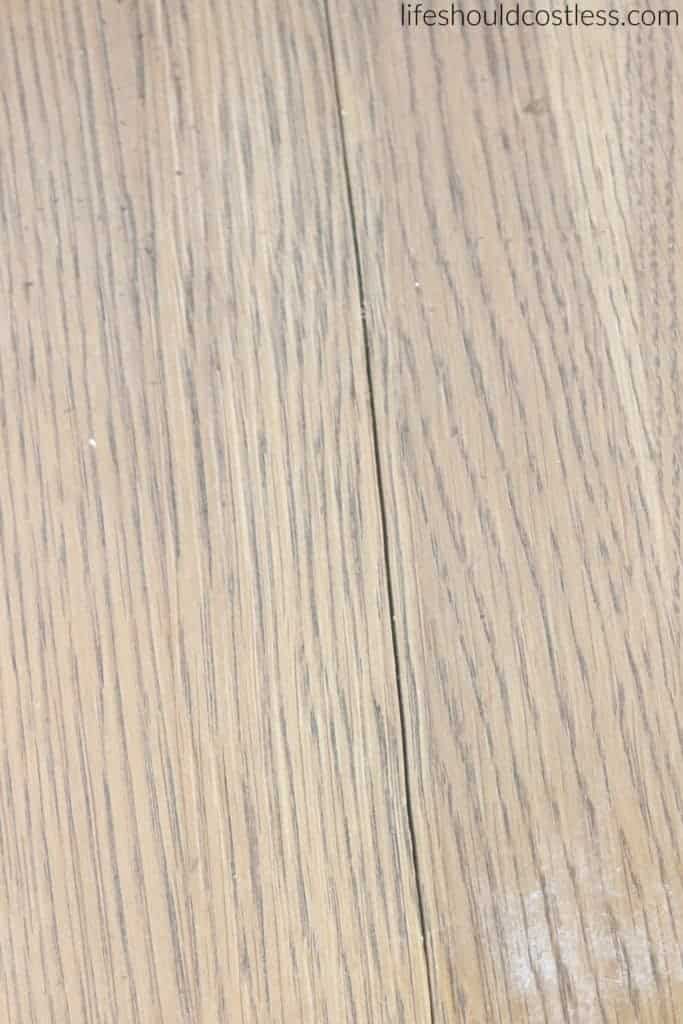 The felt pads were falling off and covered in hair…gag!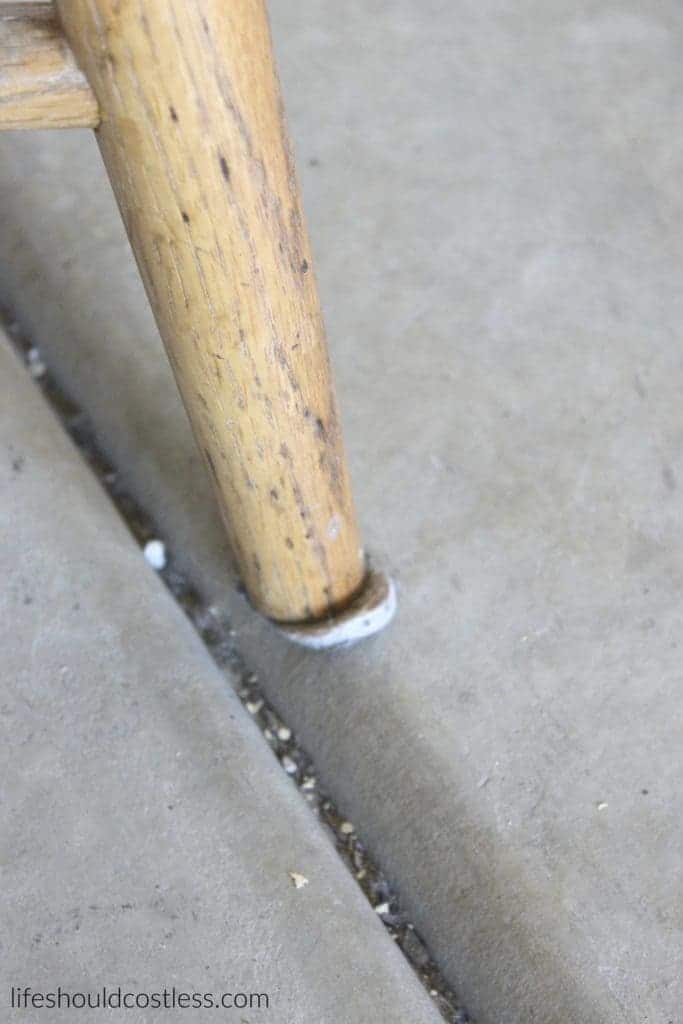 So, I got to work first by doing several coats of wood glue in the crack of that one broken seat. Then all the stools got a couple of coats of wood filler. Then once that was dry I sanded the tar out of them, wood filled any places that had little imperfections, and then sanded again. I took off the felt pads and sanded the bottom of the stools too so that there would be a smooth surface for the new felt pads to stick on. Then I scrubbed all of them down with some lightly soapy water and a rag and let them dry.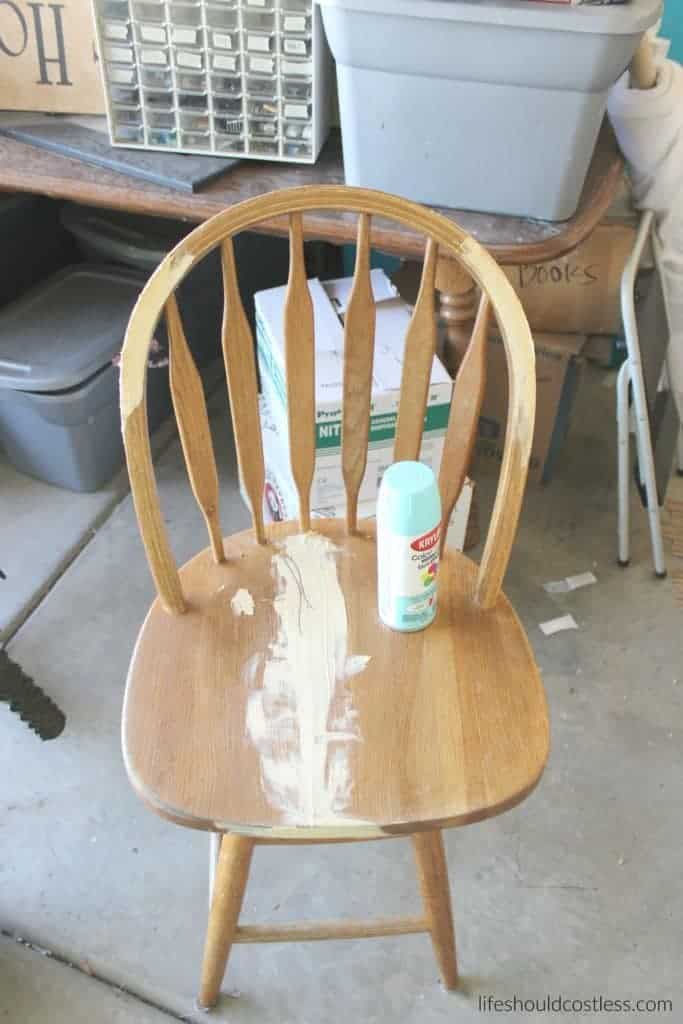 They were all ready for paint and even though I normally use Americana Décor Chalky Paint for every project, I decided to use spray paint this time. I went with Krylon Blue Ocean Breeze (I'm not even going to give you a link for that, it's way cheaper to get it at Wal-Mart than on Amazon) and each stool took just over two cans of spray paint. I ran out of paint mid-project and had to go to a different store to pick more up. Krylon must have changed their packaging because the cans look way different, but the color is exactly the same.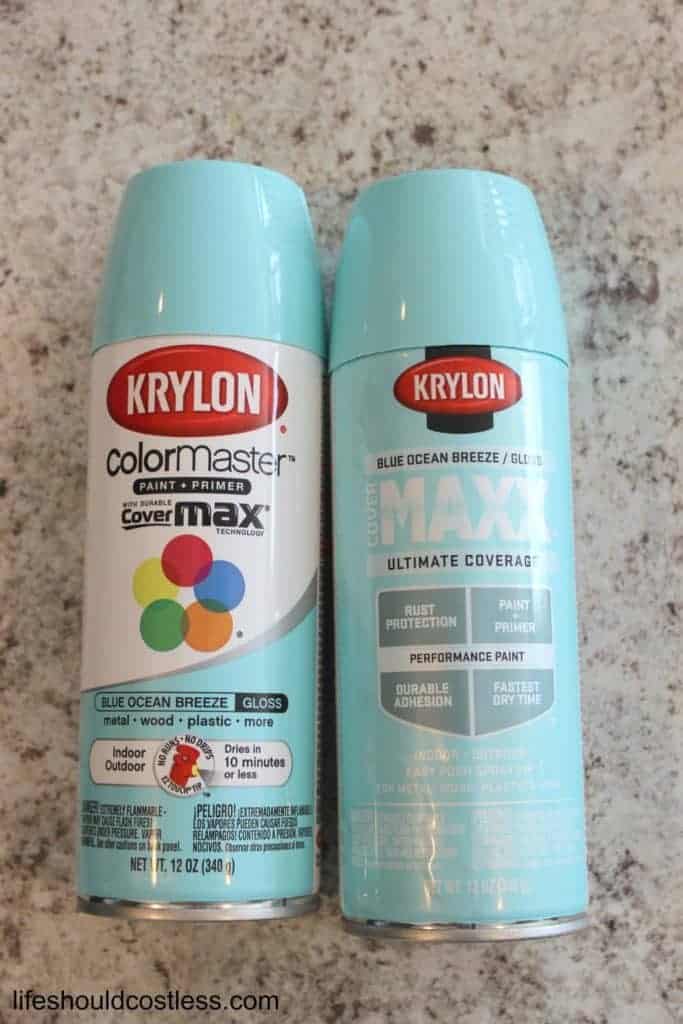 I let the paint cure for at least a day between coats and then once I was done I let it cure for several more days before I let the kids start using them. I think that they turned out pretty nice! They look much better in my kitchen than they would if they were a natural wood color that doesn't match my cabinetry. Plus, since I'm trying to come out of my same-old boring shell, having a pop of color in the kitchen is pretty fun.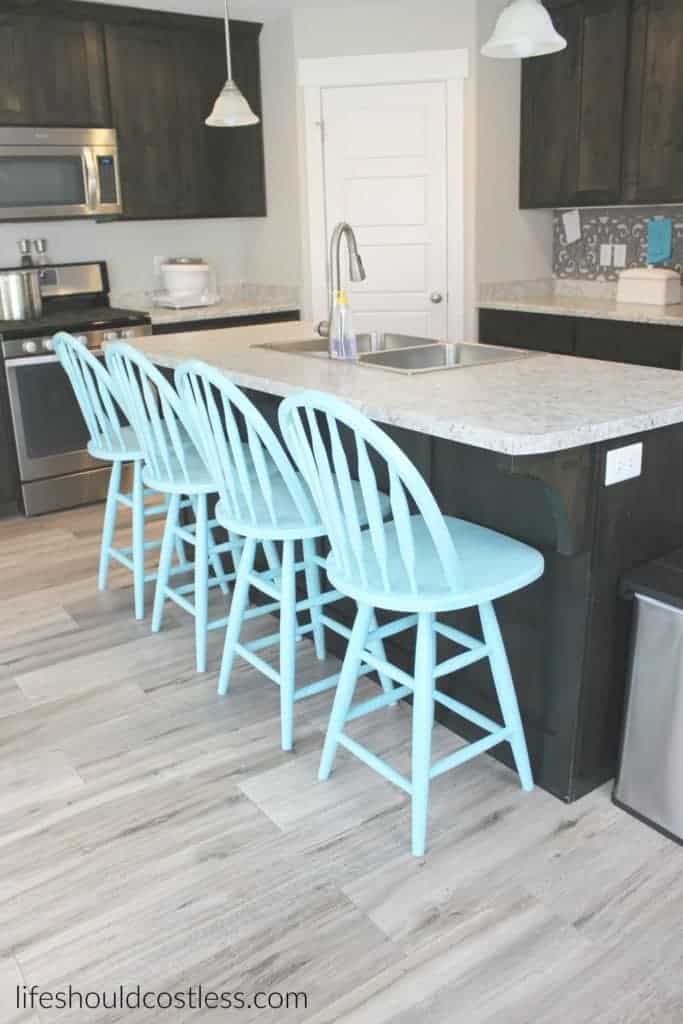 Did you notice my decorative cork backsplash organizer in that last picture? If you want to check it out, go here. I also have several other projects at the bottom of this post, so make sure to keep on scrolling.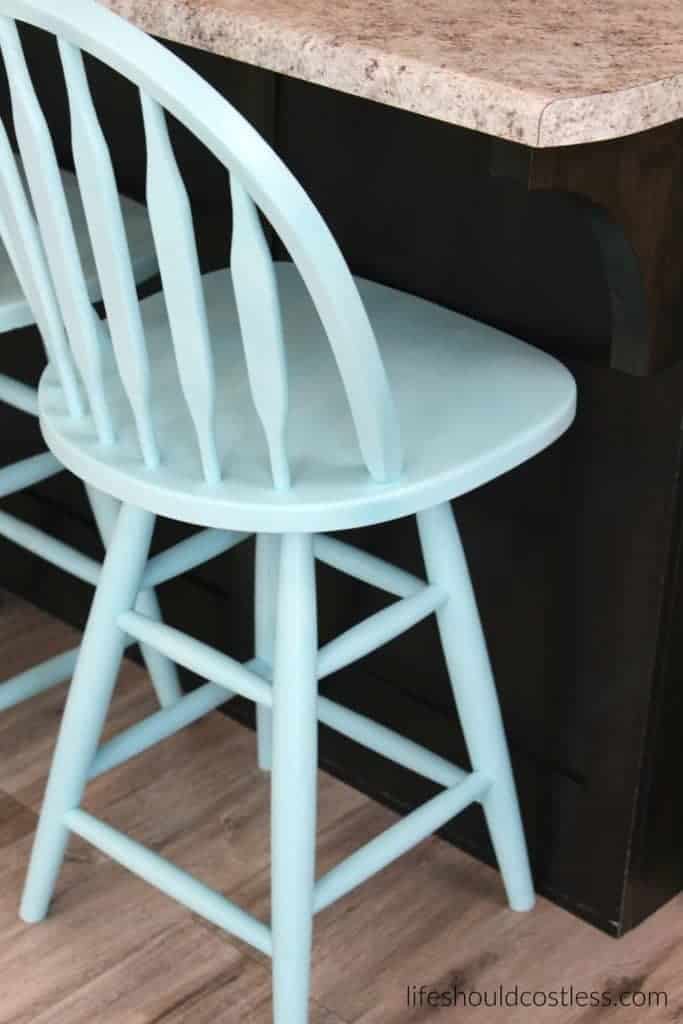 I've noticed that in bright light they look more pale blue and then in dim light they have a bit of green to them…which is just like the ever so popular Tiffany Blue.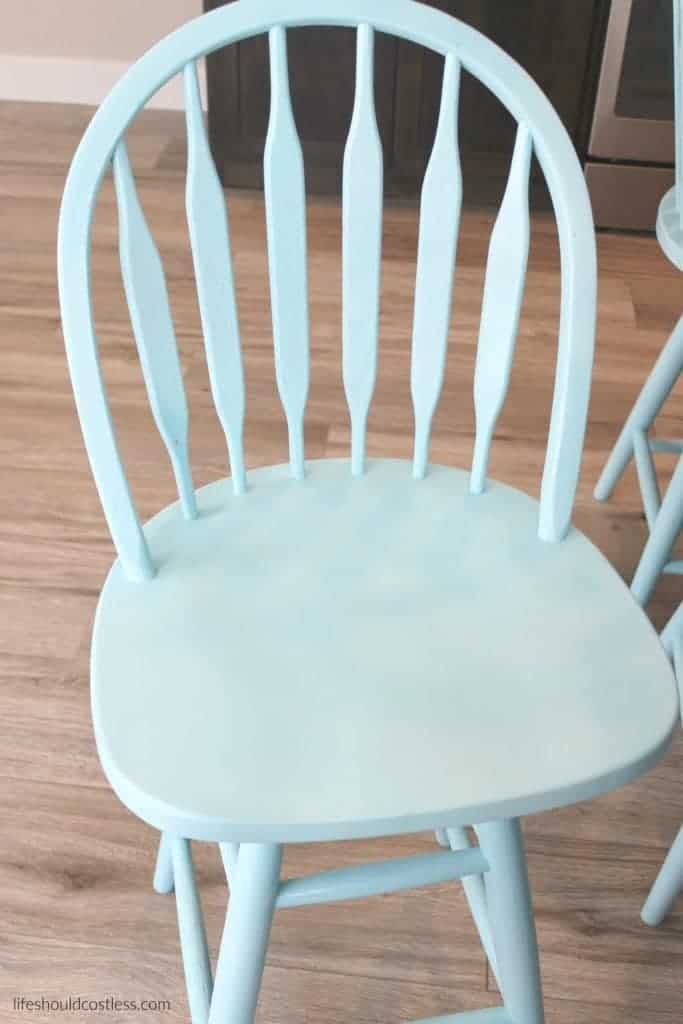 I added some new, heavy duty felt pads to the bottoms of the stools in this grayish tannish color because I thought it would look much better than white or black.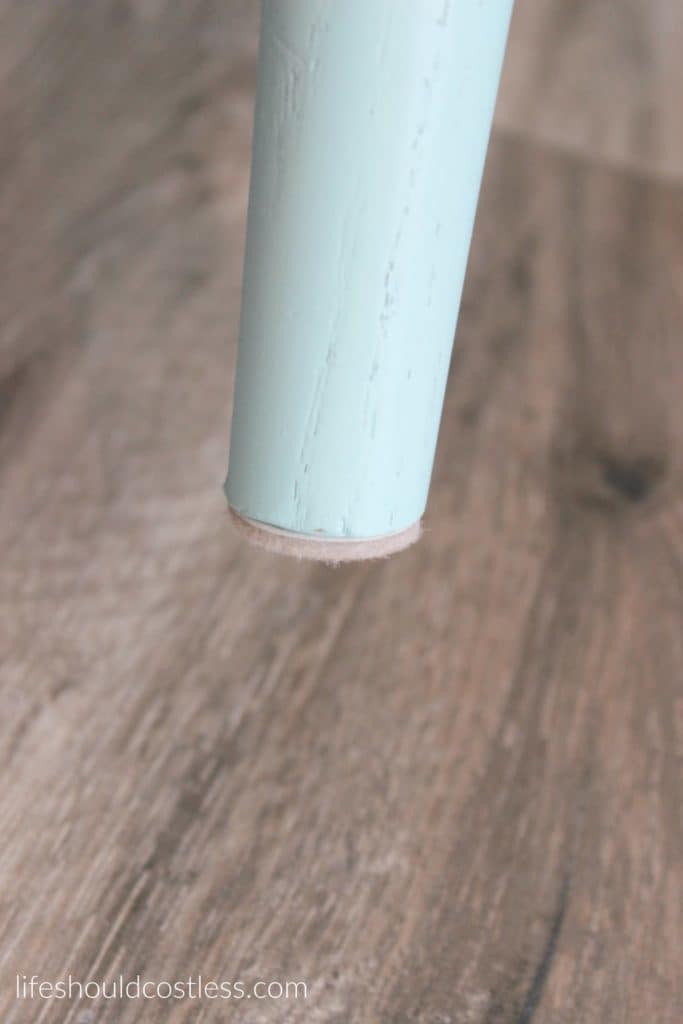 Total cost of the project was about $80 which was for all four stools, the paint, and the felt pads for the bottoms. I had all the other stuff already to do the sanding and gluing. Considering the fact that I was about to spend $200+ on four new ones, that is some pretty good savings!
Anyway, I hope that I have inspired you to either look for some second-hand stools or maybe just refinish the ones that you already have. If I can find the time to do it…you can too. I did have to go out and work on them sometimes fifteen minutes at a time and was still able to complete them within about a week and a half and it only took that long because I was being anal about letting them cure well so that the paint would have minimal chipping.


Now that we've been using them about a week and a half, my only grievance with them is that since they do swivel, it was only a day or two before the kids were whipping around and banging them into the sharp edge of the counter…and the circle of life begins again. At least now I have it documented what color I used so that when it comes time to repaint them again, it will take me so much less time because I'll only need to patch and repaint that small portion where they are hitting the counters…boy am I glad that I found them second-hand because if the kids were being that rough with some full-priced, brand new stools I would be pretty upset. Hopefully you can find some that don't swivel, but have backs to them so that small kids don't fall off.
Please share this post with anyone else that would love it! ~Sarah
You may also like (the pictures are links):