I have always wanted to be one of those classy lady's that you see that are well-dressed and always have a cute little pin on their cardigan to either match the outfit or that is a festive ode to whatever Holiday is near. Which is what this whole post is about, my Three Minute Burlap Nativity Pin! I think that this is also the first time that I have ever outwardly expressed having that desire and I really hope that it doesn't make me sound like an old lady ;).
If you know me at all, you know that I am generally too cheap to dress well because I tend to wear things until they are literally falling apart before I will replace them (a personal habit that I plan on trying to somewhat overcome in 2017). Anyway, I decided that since I'm not quite ready to embark on an entire wardrobe overhaul (I'm more than half way through my goal of losing 100 pounds this year and plan on buying a whole new wardrobe at the end) I would finally start my pin collection and that I can justify this expense if I make some of them myself. Plus, pins will always fit so that is great motivation to start making them…they won't become unused due to a weight fluctuation the way that clothes seem to.
When I had the idea to make this Three Minute Burlap Nativity Pin I was walking through Hobby Lobby and found so much cute stuff that it was really hard for me to decide exactly which pin to start with… but since it is Christmas time and I am always trying to bring a little bit more Christ to the season, it was a pretty easy decision to go with a Nativity scene in the form of a pin. My budget was ten dollars and I know that I will be able to get away with making my pins cheaper in the future because I will have almost all of the stuff to make them already. Boy those start-up costs are no fun any time that you start a new hobby. On to the pin!
First I will show you all of the stuff that I used to put my pin together. Obviously there can't be that many things if it only takes three minutes to make so here they are. I used a small dual temp glue gun, a four inch burlap flower, small fabric scissors, some darling Nativity buttons, and some one and one half inch pin backs.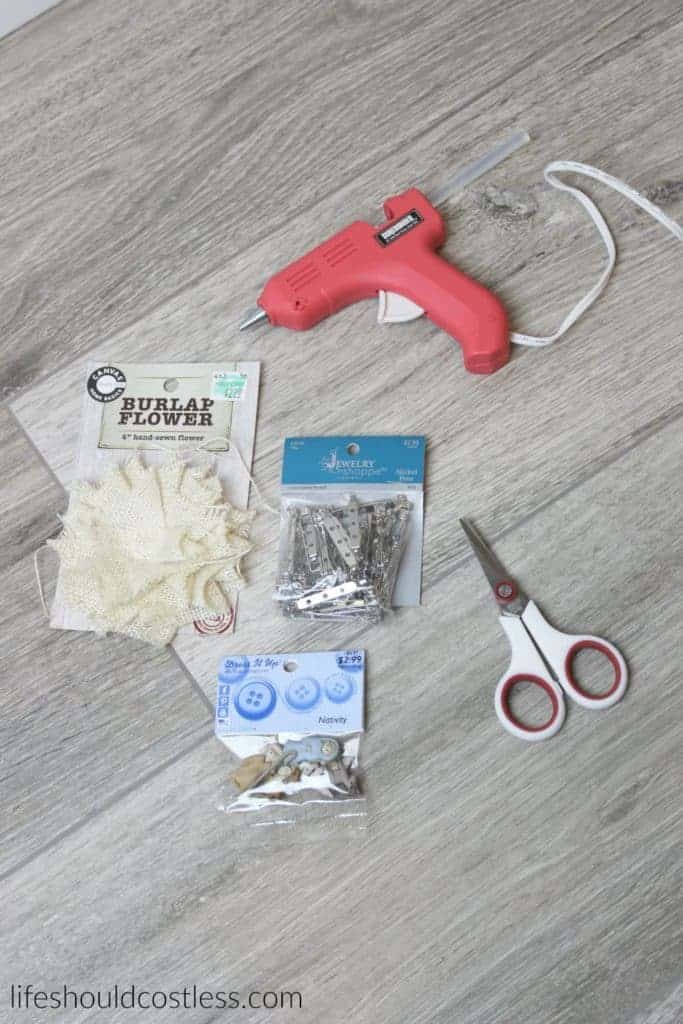 The very first thing that I did was to preheat my glue gun while I got everything else out of their packaging. This step is important if you really are crunched for time and are maybe trying to make this while your kids are napping or maybe while you have them occupied in the other room for a moment. I actually made mine in the small window I get in the mornings between when I wake up and when the kids get up. Those little stinkers are always up by six am. I used High Heat since I was going to be bonding to metal. I used a small glue gun because that it what you should use when you are making something with small details so that you don't have a huge sloppy glue mess everywhere.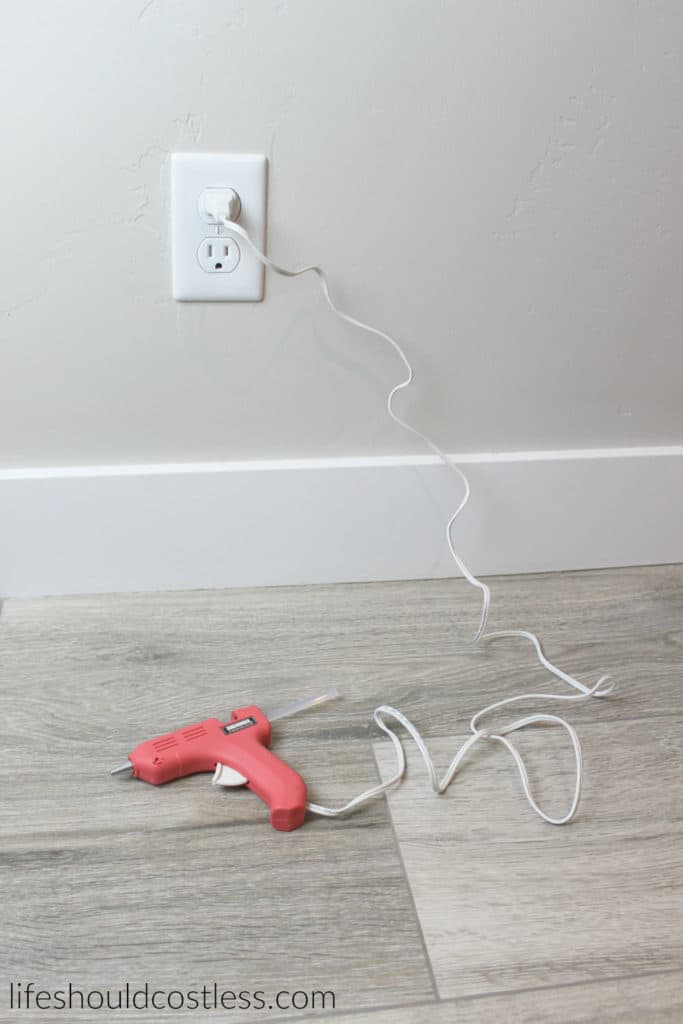 I'm sure that you could make a burlap flower yourself to reduce the cost on this pin a little bit more, but since I'm doing the single mom thing I have been short on time and that wasn't really an option for me. Luckily, Hobby Lobby has these cute little pre-made four inch burlap flowers that you can buy, for around three bucks, ( I just found a very similar one, that is actually a bit cuter on Amazon you can get that here) that I thought would be perfect for this Nativity pin. They come in several different colors and even some patterns, but the white burlap was calling to me. Plus I really like things to be simple and somewhat rustic so it was a good fit.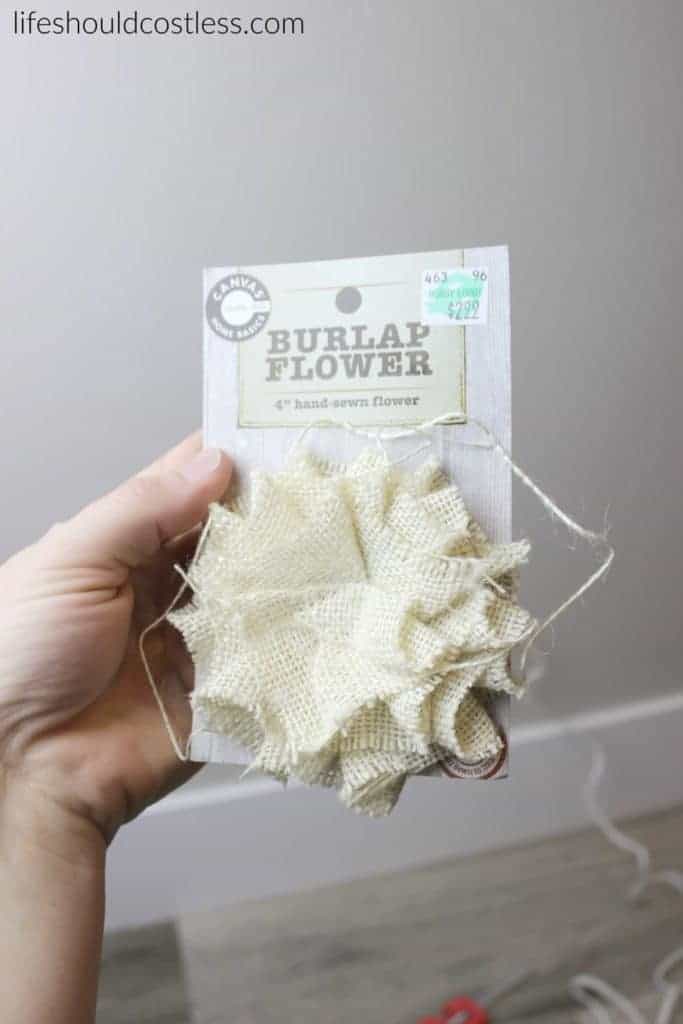 Taking the burlap bow from the packaging was pretty easy. All it took was removing a staple. I decided that it needed to be cleaned up a little bit because the burlap was somewhat fraying/had a shaggy look to it and that is not what I wanted for my pin. That look works sometimes, but not on my outfit. I took my small fabric scissors and trimmed up all the the frayed parts. In hind-sight this is the only part of the project that I would have done something differently. Instead of just trimming it up and getting back to work, I think that I would have gone around the edges of the flower with some fray check or other product that is designed to make things not fray. That is because after having worn my pin a couple of times there have been a couple of frays that I have had to trim back.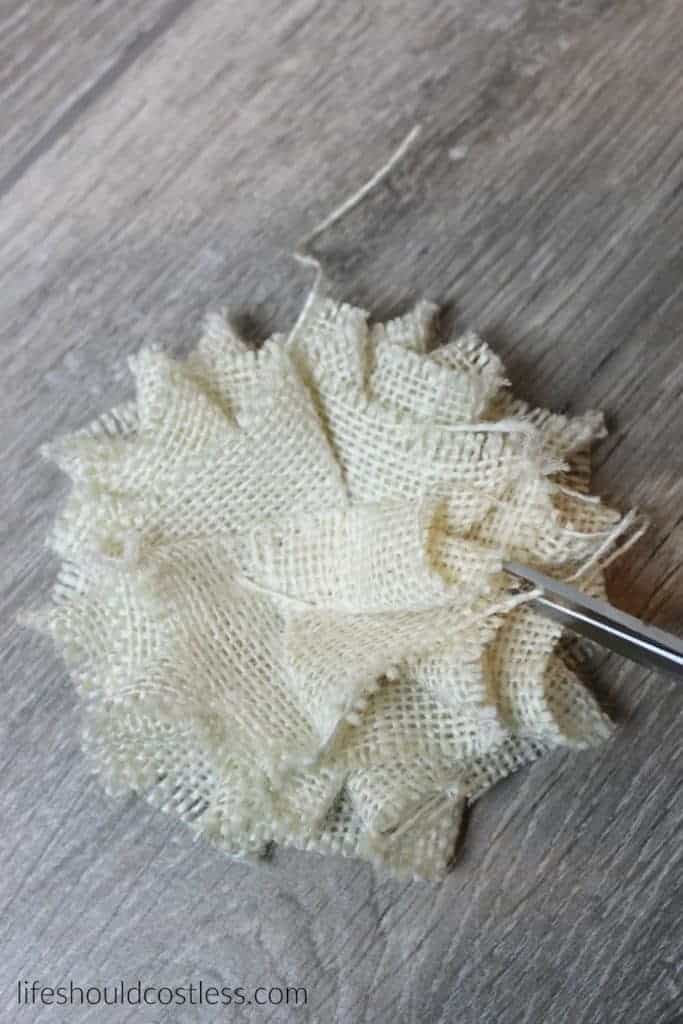 I got these one and one half inch pins in the jewelry section at Hobby Lobby. They seemed to be just the right size for this pin, although I am sure that some of my future pins will need a smaller pin.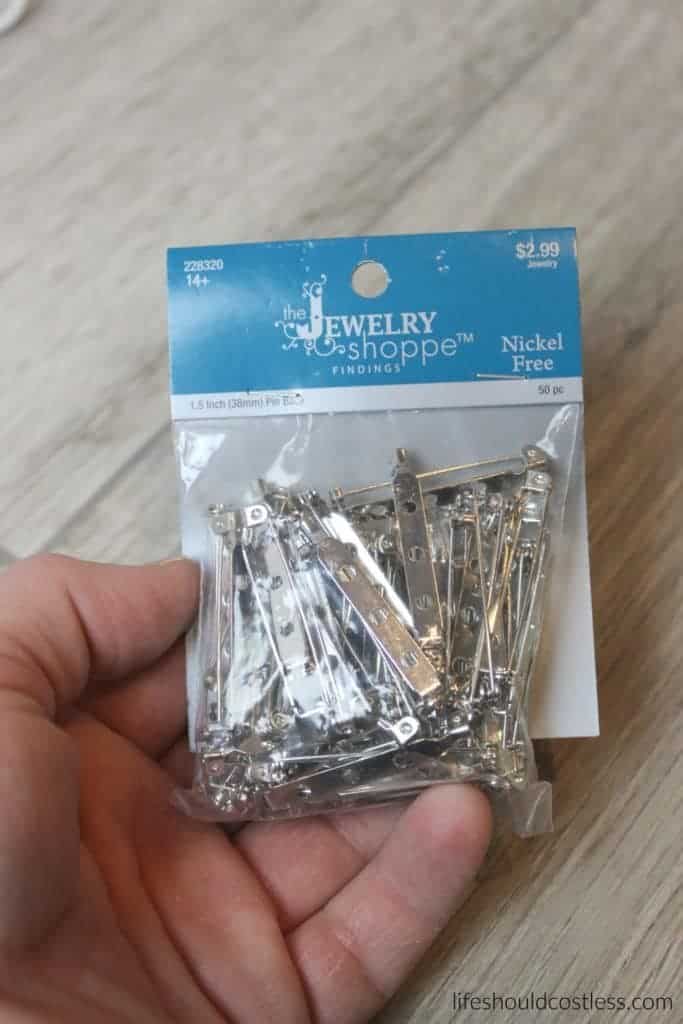 The back of the burlap flowers are flat and have a round piece of material that was the perfect surface to bond my pin to. Don't forget that I said earlier that I used a small glue gun on high heat to bond the metal to the fabric.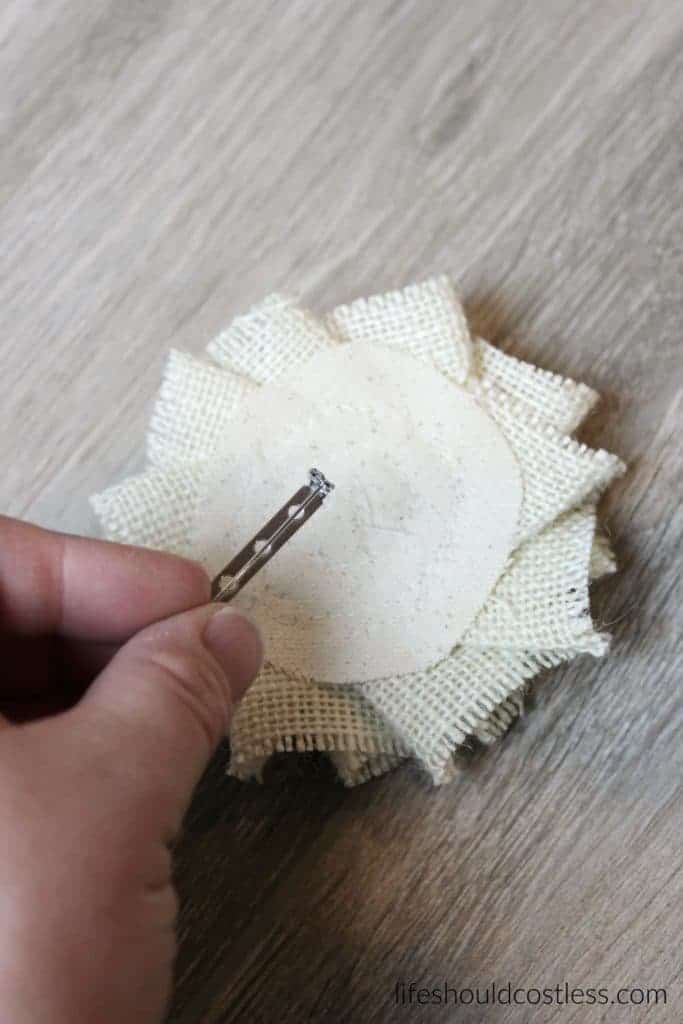 I used a little too much glue, but it wasn't bad for my first pin. Plus, this side is hidden when I wear it so it didn't matter too much.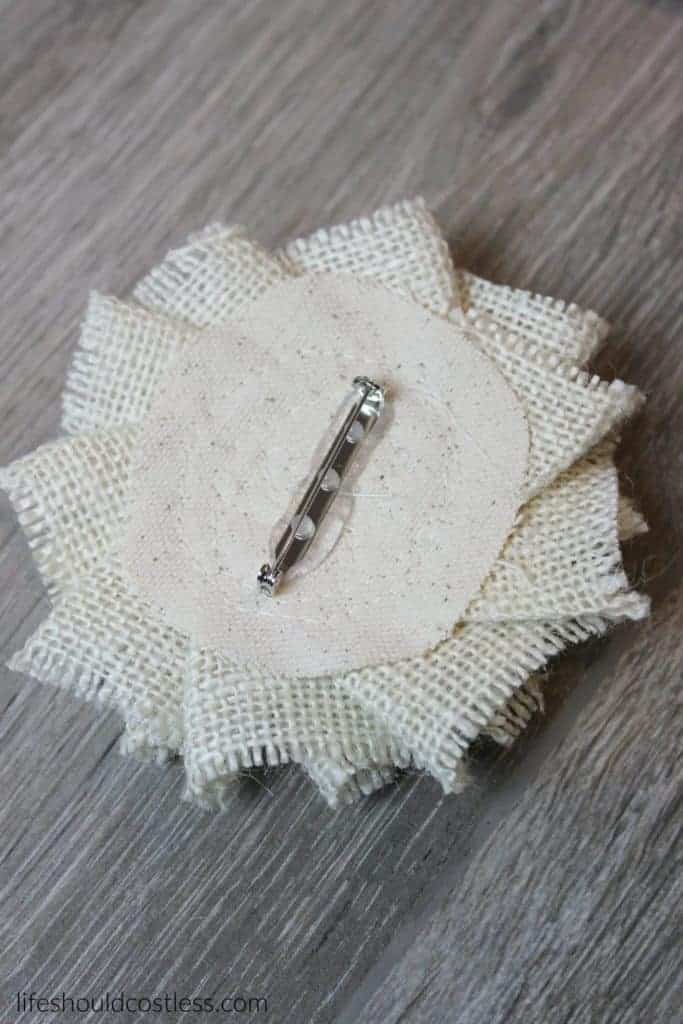 When I was browsing the button aisle at Hobby Lobby I came across this darling little nativity scene in button form. I thought that it was pretty much the cutest thing ever and I just had to get them. Unfortunately they only had one package left or I think I would have bought all they had in stock so that I could use my pin idea to make a few homemade Christmas gifts ( which I have a different budget for)…but no such luck. It sounds like they only get new shipments in once a week at Hobby Lobby, so if they are out of them you might want to ask an employee what day they restock so that you don't miss out the next time that you stop by too.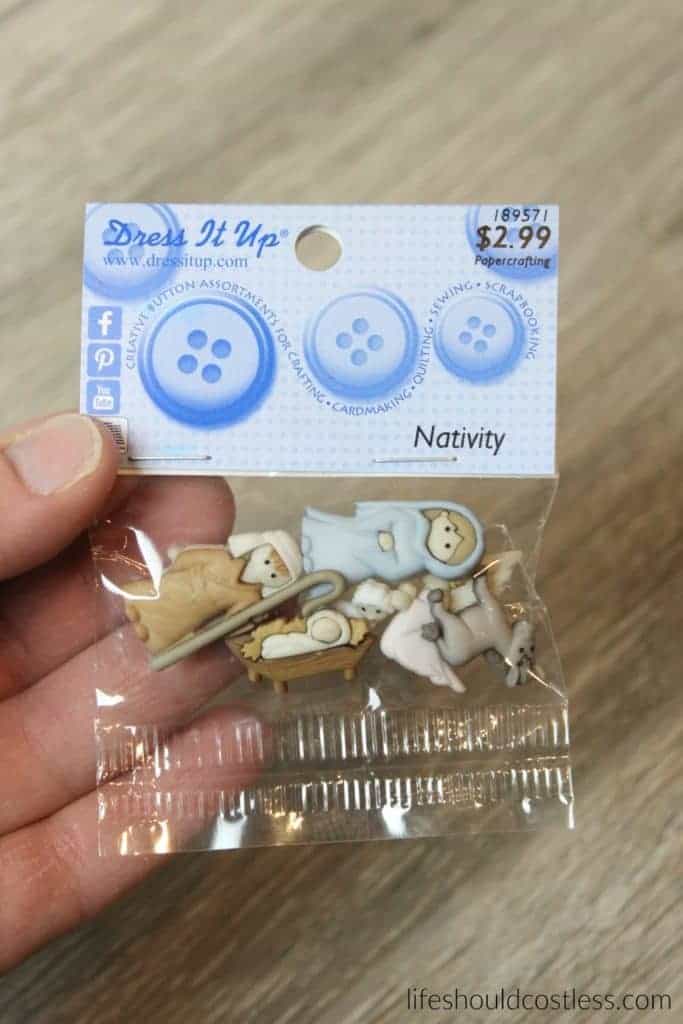 Here are all the Nativity buttons laid out. Since I lean more towards minimalist side I decided that my pin would look best, and not too busy, if I just used the main characters which of course are Mary, Joseph, and Baby Jesus. I have found these buttons on Amazon, they're a bit pricier than at Hobby Lobby, but if you don't have one near and would still like to do this project, you can get them here.
*I have several other festive posts linked at the bottom of this post, so please make sure to keep on scrolling!*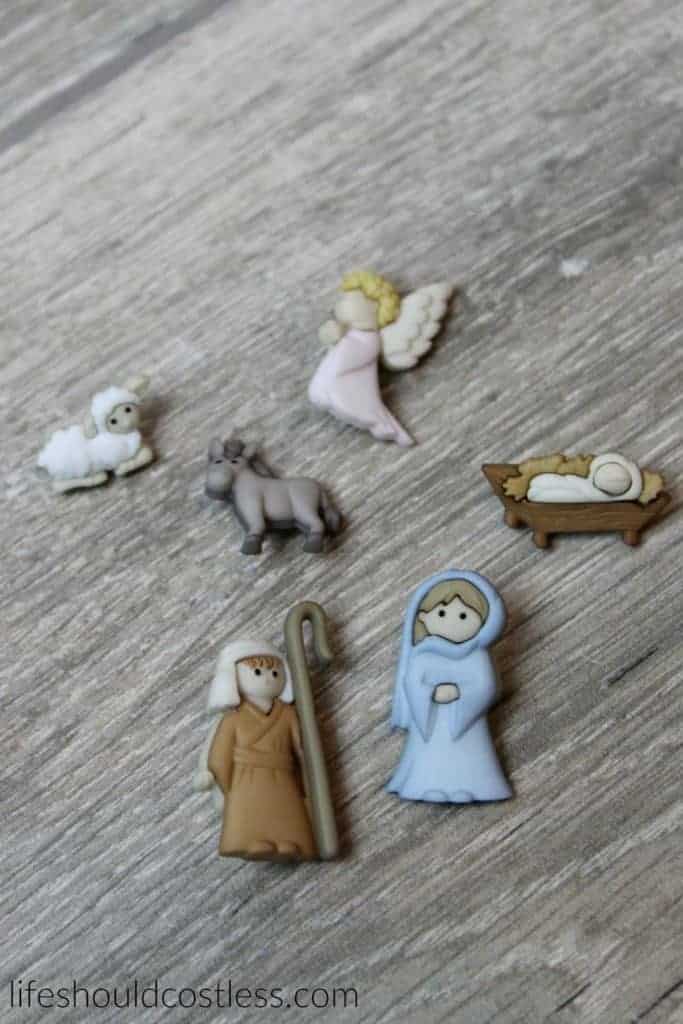 To add the buttons to my pin I started out by positioning them on the burlap flower so that I could see exactly how I wanted them spaced and how they were going to look before I glued them down. Once I had that plan all laid out in my head I started with Joseph and glued him on making sure that I did not use too much glue so that there isn't a huge glob sticking out on the sides.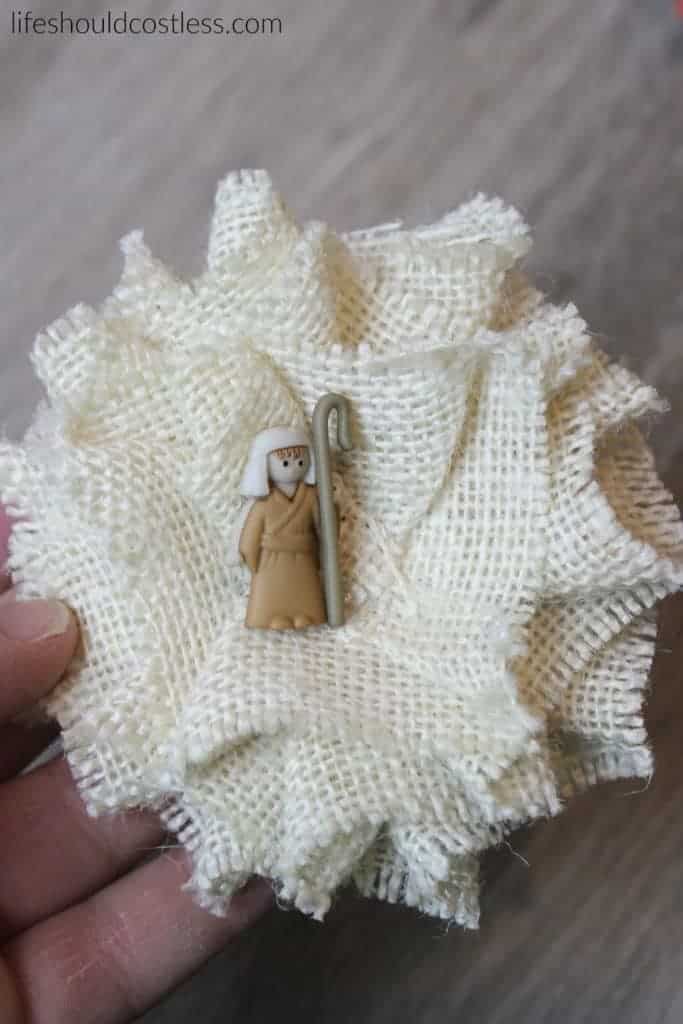 Next came Mary. She too got glued down without have glue coming out the sides. I tried my hardest to center both she and Joseph, honestly I just had to eyeball them and center them the best I could before the glue hardened. I did hold them in place until I was sure that the glue had a good hold. Which is another reason it's a good idea to not use too much glue…because you'll burn yourself if you have glue oozing out the sides while you need to hold something down.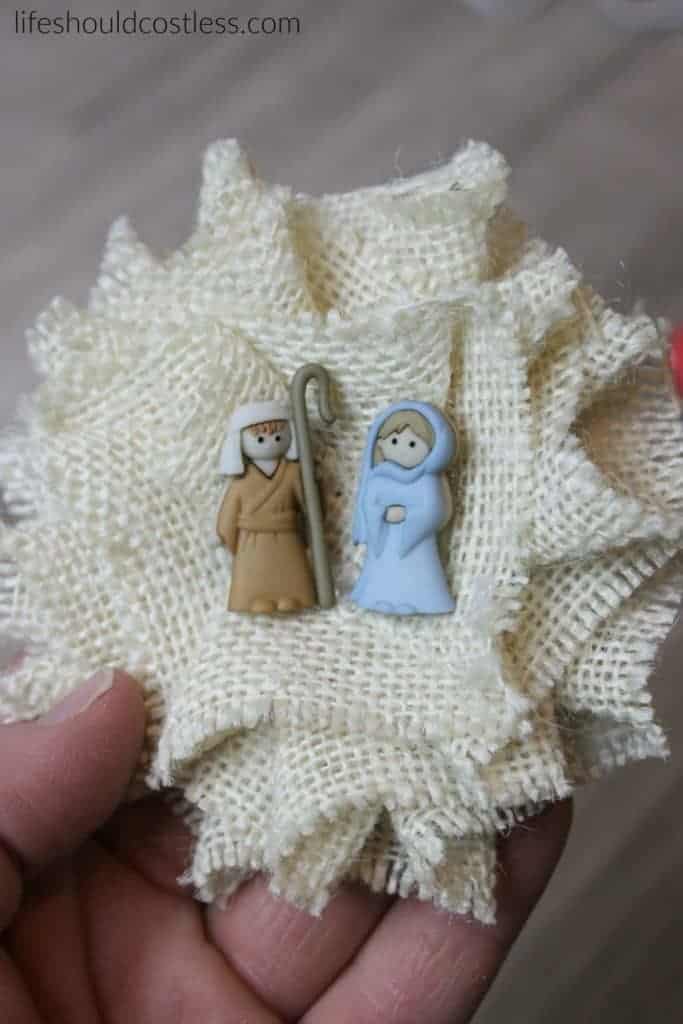 Then came the baby in the baby carriage…lol. Only kidding, I just had to because it flowed;). It was now time to glue on the Baby Jesus button and I decided that rather than having him be way below Mary and Joseph that I liked the way that it looked to have the manger overlapping the bottoms of their clothes/ robes a little bit.
Oh, and I didn't tell you before, but when I glued on the buttons I made sure to concentrate on putting the glue right around the button hole on the back. I figured that if the glue got down inside the hole it would provide the best hold for the button…and so far I haven't had any issues with a button coming off. Yay, remember that the best way to save money when making a pin is to be thorough and do a good job so that it doesn't fall apart. Because a pin that falls apart prematurely is a waste of money and your time! In order to build a collection, your pins cannot be a one-time-use kinda thing…we are going for quality here people!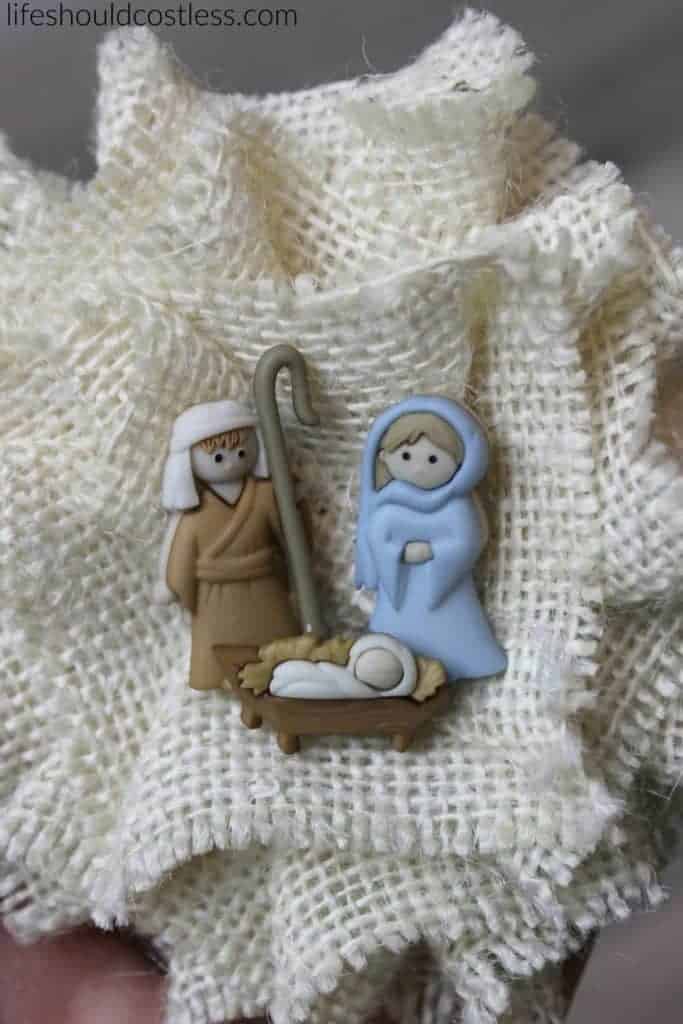 Adding Jesus completed my pin and it was ready to wear. Wahoo! It literally took me three minutes to make, even taking pictures of the process, so I just had to share because I know that there are lots of you other busy momma's out there that might like it too. It's simple and kinda rustic and I think it suits my taste perfectly…now if only I could get my youngest child to stop messing with it… at least it withstands her trying to pull off the buttons saying "baby".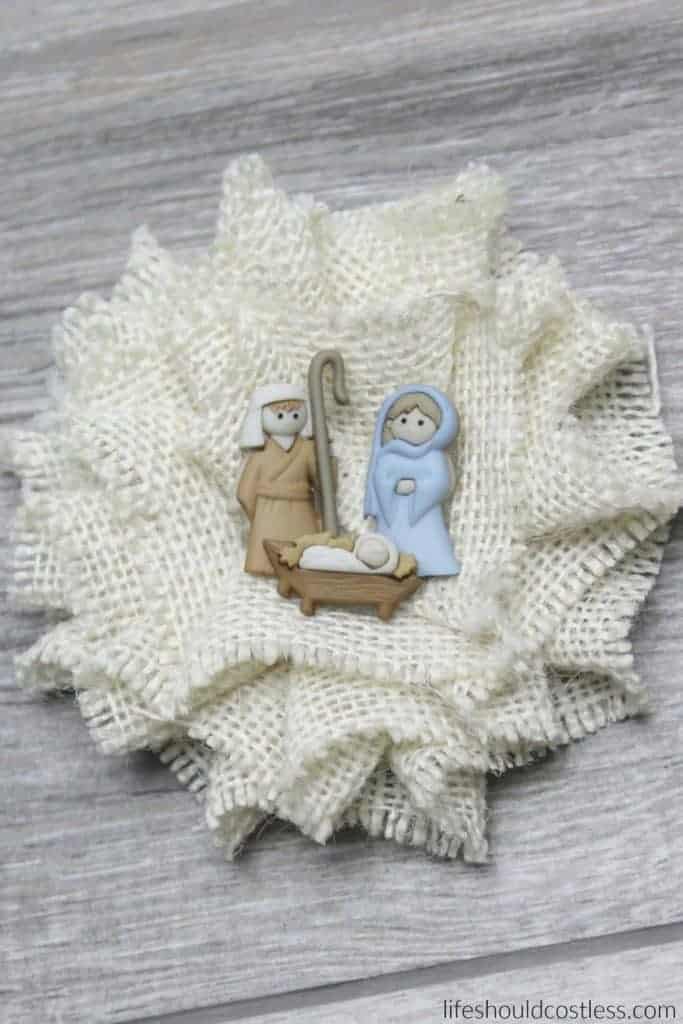 I peeked my head out of my shell a bit and wanted to show you guys what it looks like when being worn. Sorry, the picture was taken with my cell phone so it isn't quite as high of a resolution as the other photos. This is a picture of me wearing my pin to my oldest child's Baptism last weekend. I wanted to show you all how big the pin looks when being worn because when I told you that it was made with a four inch burlap bow, I realized that it kinda sounds huge but it really isn't that big…at least not on me, but I'm hardly little myself.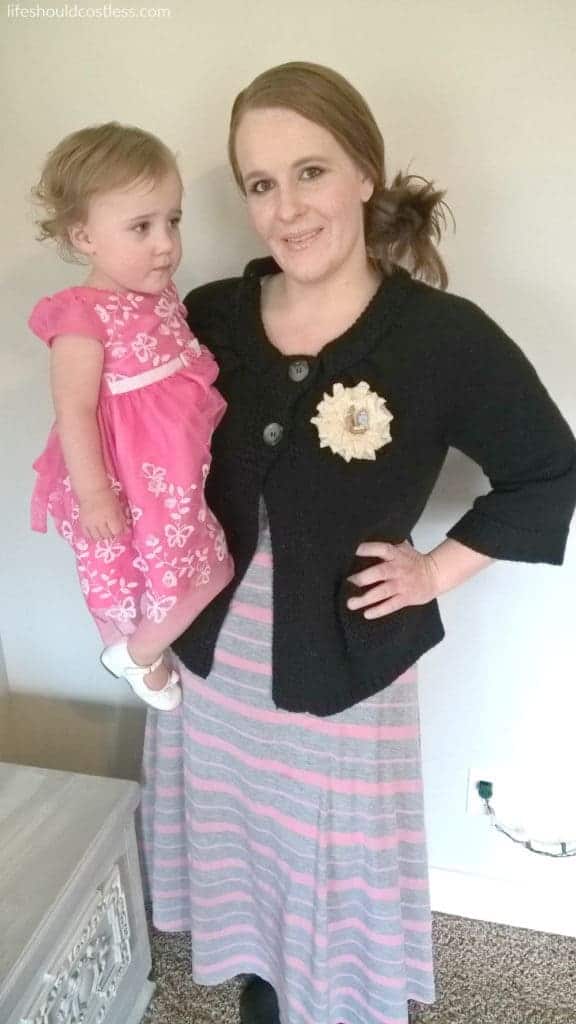 What do you all think? I don't hate comments you know…It does sometimes take me a little while to reply to them all, but please take the time, if you have a question or something nice to say, to leave a comment. Nice comments are good buoys when I am having a rough day.
I'm sure that you could make your own pin using all of the Nativity buttons, not just Mary, Joseph, and Baby Jesus , if that is your preference, I just thought it would look a little too busy if I put them all on mine. That is the beauty of making your own pins afterall. You can make them however you please and you can even take them apart if you decide that you don't like something, or you can add to them later if you want. Boy am I going to miss having a Hobby Lobby nearby once I move in a couple of weeks…I guess I may have to start seeing how much I like their online store.
As per my usual request, if you liked this post or want to show your support of me without it costing you a penny, please make sure to share this post via social media (or all of your social medias ;). That is one thing that I can't stress enough. If there is a blogger that you really like and want to support you always need to make sure that you are subscribing to their emails, following them on as many forms of social media as you use, sharing their stuff on social media, and using actual word of mouth when you are talking to people. Just so you know. Thanks for stopping by! ~Sarah
You may also like (the pictures are links):



To see all of my posts in the Christmas Time category, go here! That link will allow you to see posts that I have written even after this one!