Progress with my cottage is slow and steady these days as my budget it nearly non-existent to improve on my home, but I wanted to show you guys just how much of a difference you can make, even with a tiny budget.

I was able to transform the overhang above my door using crown molding, caulk, paint, and a new light fixture for less than $60 if you can believe it and even though it doesn't look EXACTLY the way that I want it to, it is a huge improvement.
As I have mentioned in previous posts, there is nothing centered or level when it comes to Noor Cottage (was built in the 1940's and has had who knows how many different occupants DIYing the crap out of it), but I have chosen to embrace the imperfections, or rather work around them and attempt to make this place as nice as I can.
We are going to dive right in to this project and I'm going to start by showing you all what the overhang looked like before…
Blue, cords hanging all ghetto-like, and a light fixture that is probably older than me.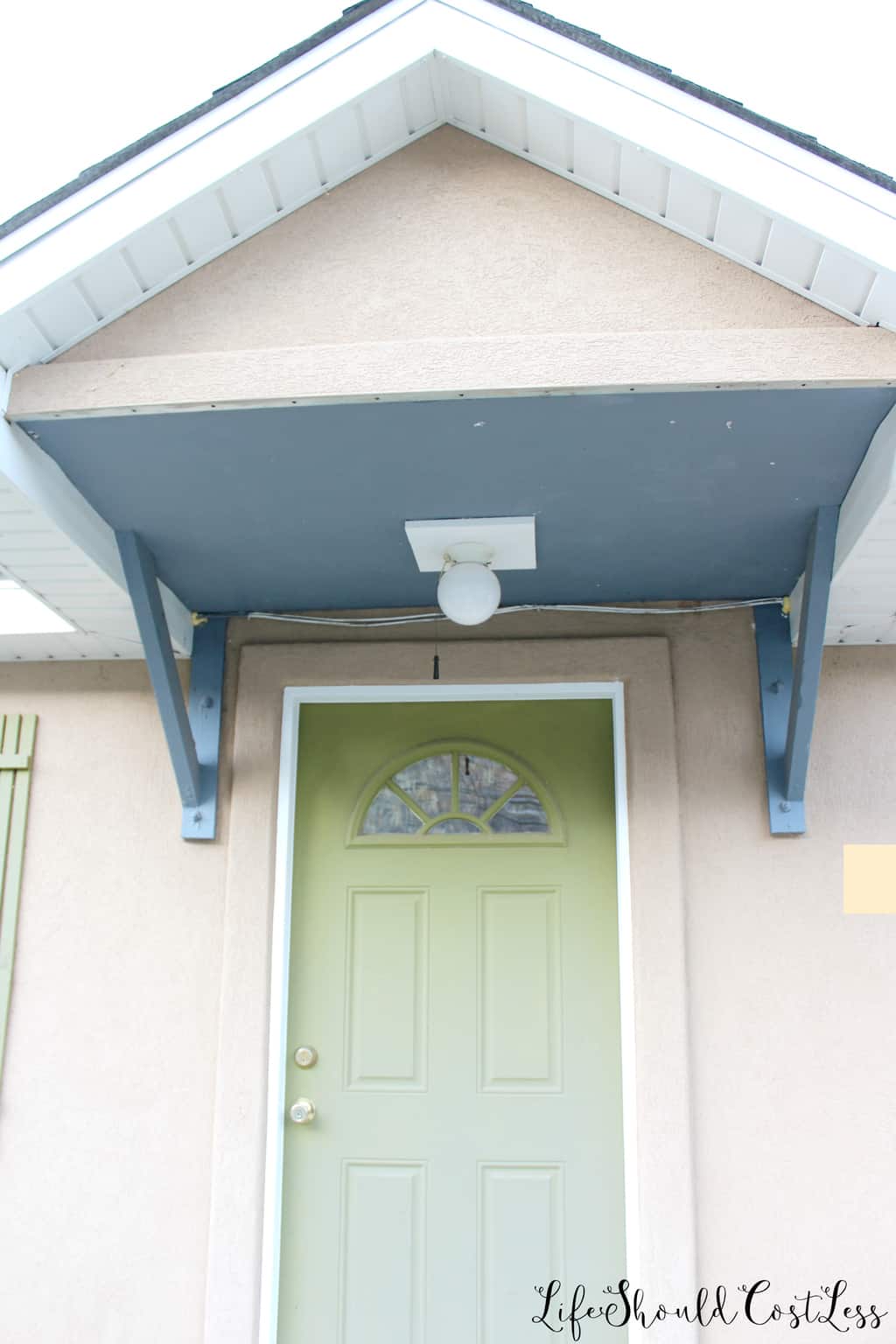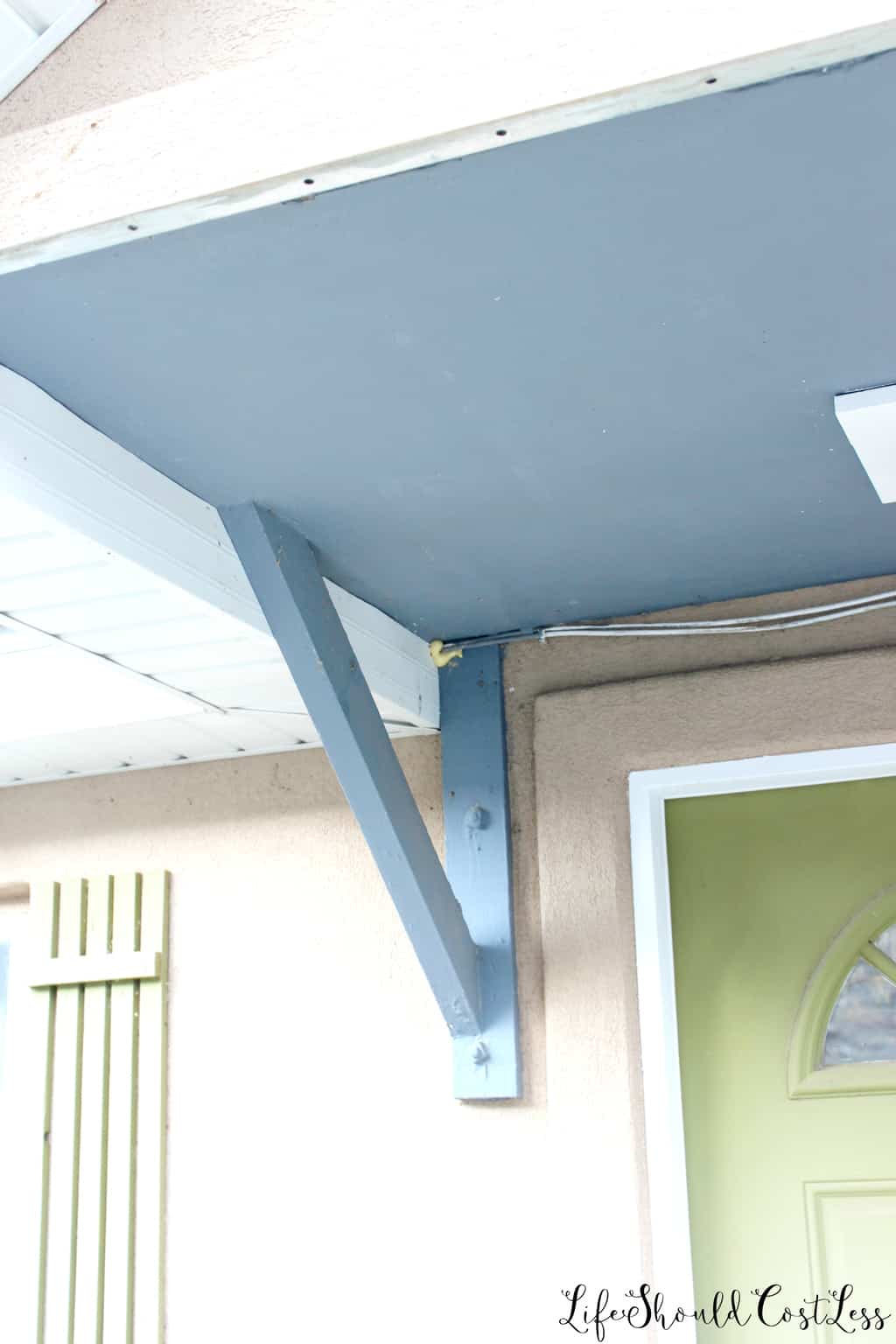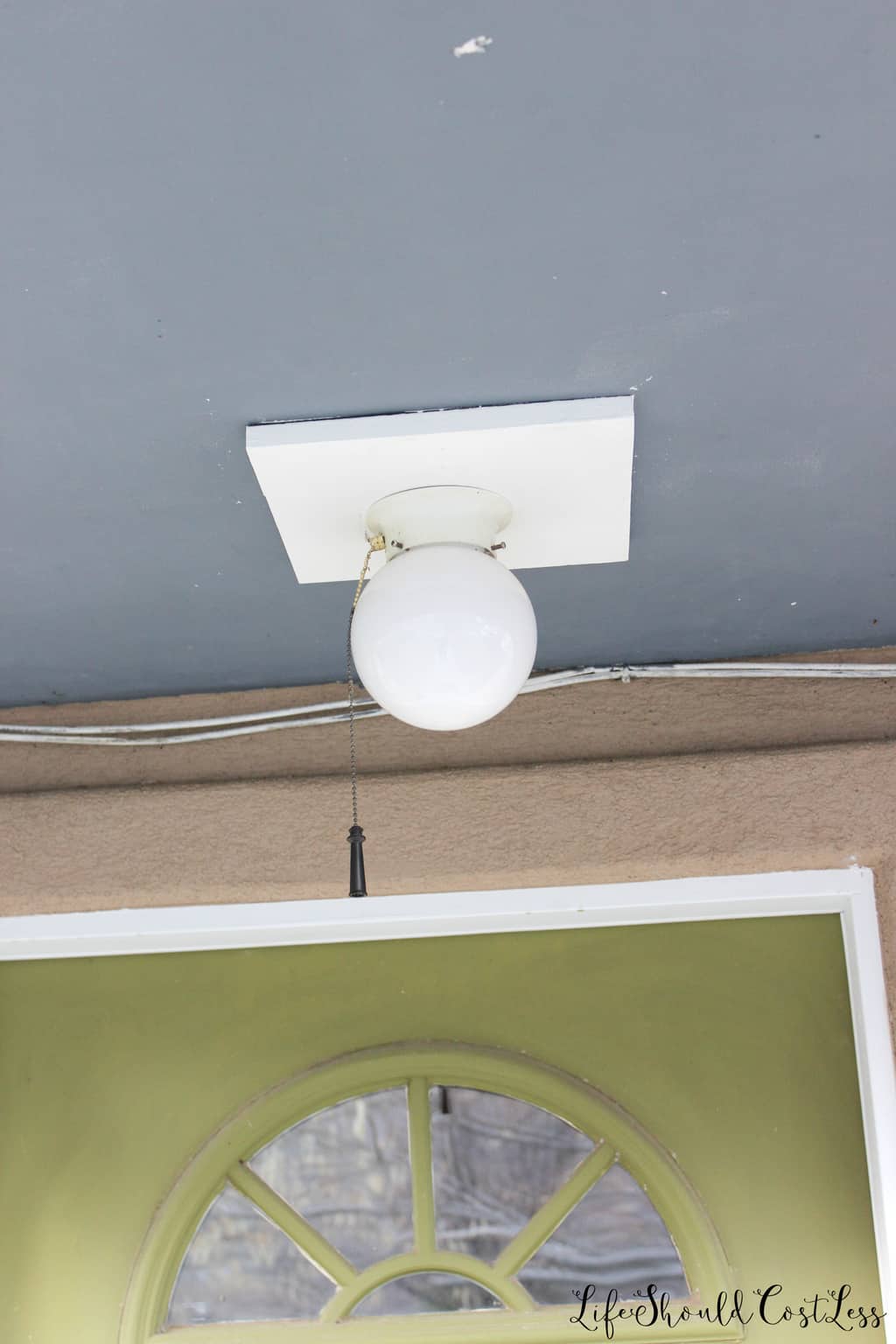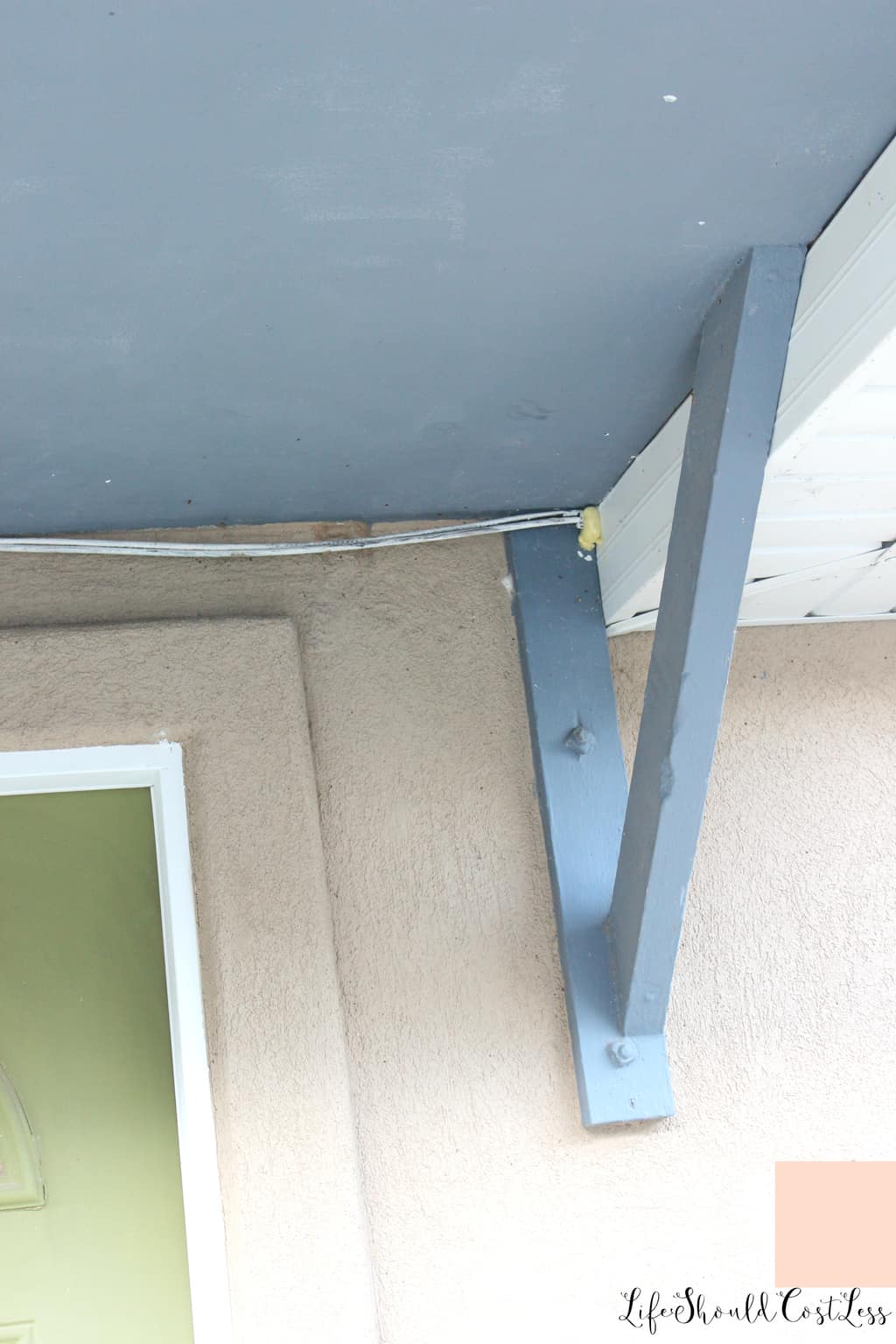 It was ugly to say the least, and I have found that if I work on the room, or area, in my home that is bothering me the most, it makes me all the more happier when I am done with the project. I guess it's because I cross one more eye-sore off of the list.
Anyway, I started out by removing the light fixture and the weird piece of square wood that was under it. I sanded the areas that were going to be problematic and added some crown molding to cover the wires. Can you believe that I got that crown molding at a second-hand store (Re-Store) for like a buck? It didn't quite fit, so I dug around in my little barn and found a piece of wood that would make it work.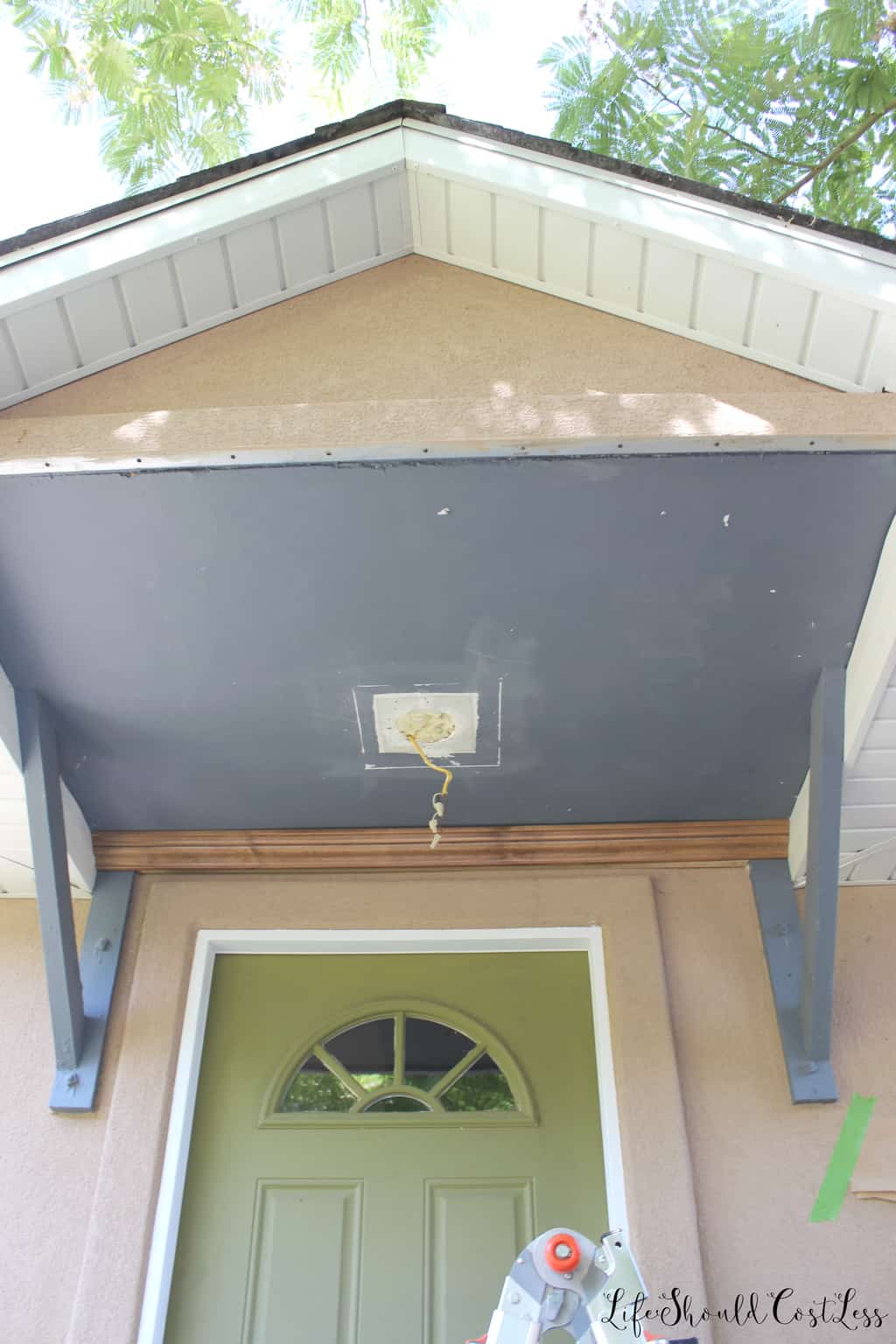 My next step was to tape off and caulk the areas that were going to need some help… Remember folks, caulk is your friend. If you are going to do a project, don't even start unless you are planning on caulking, aka the finish work.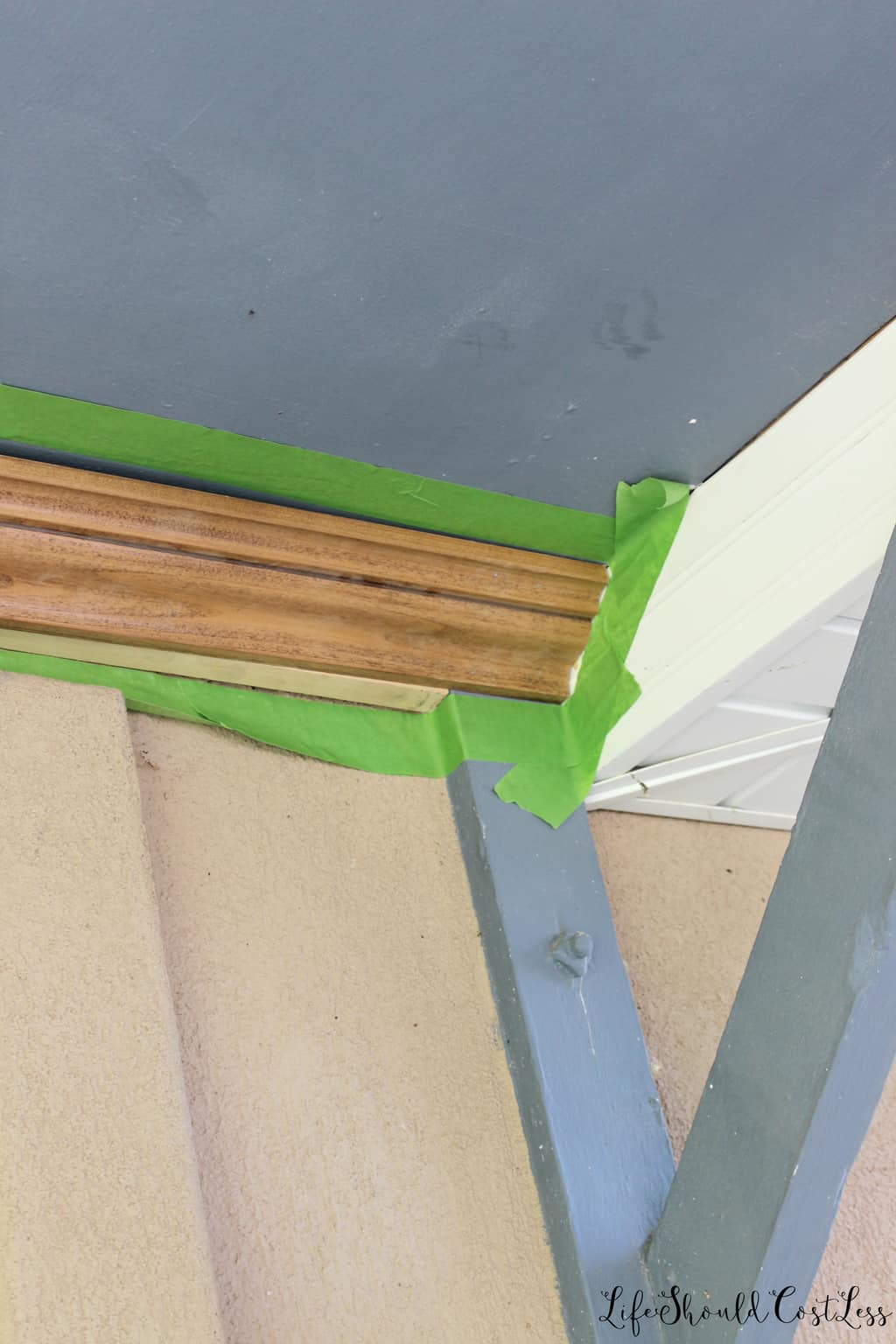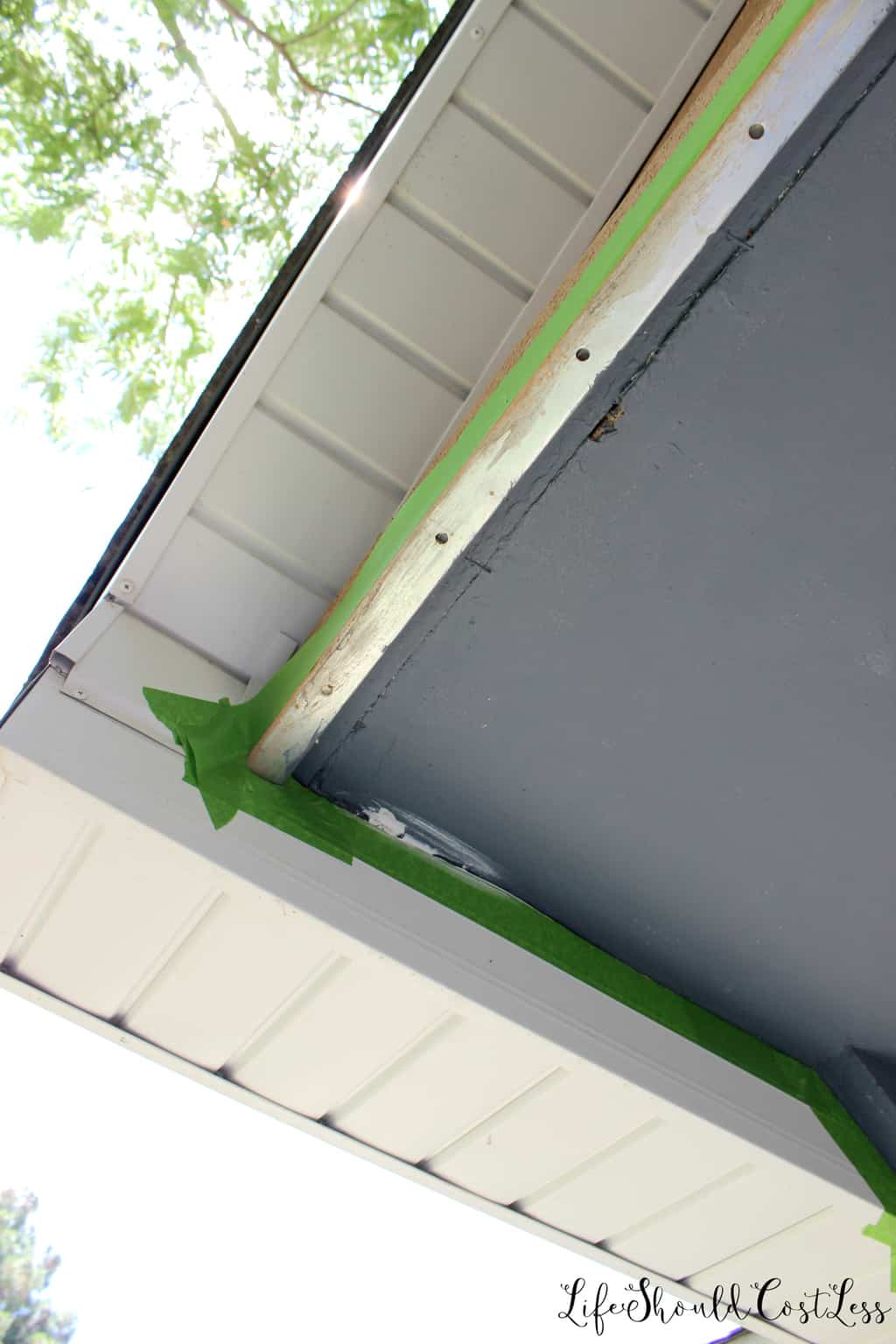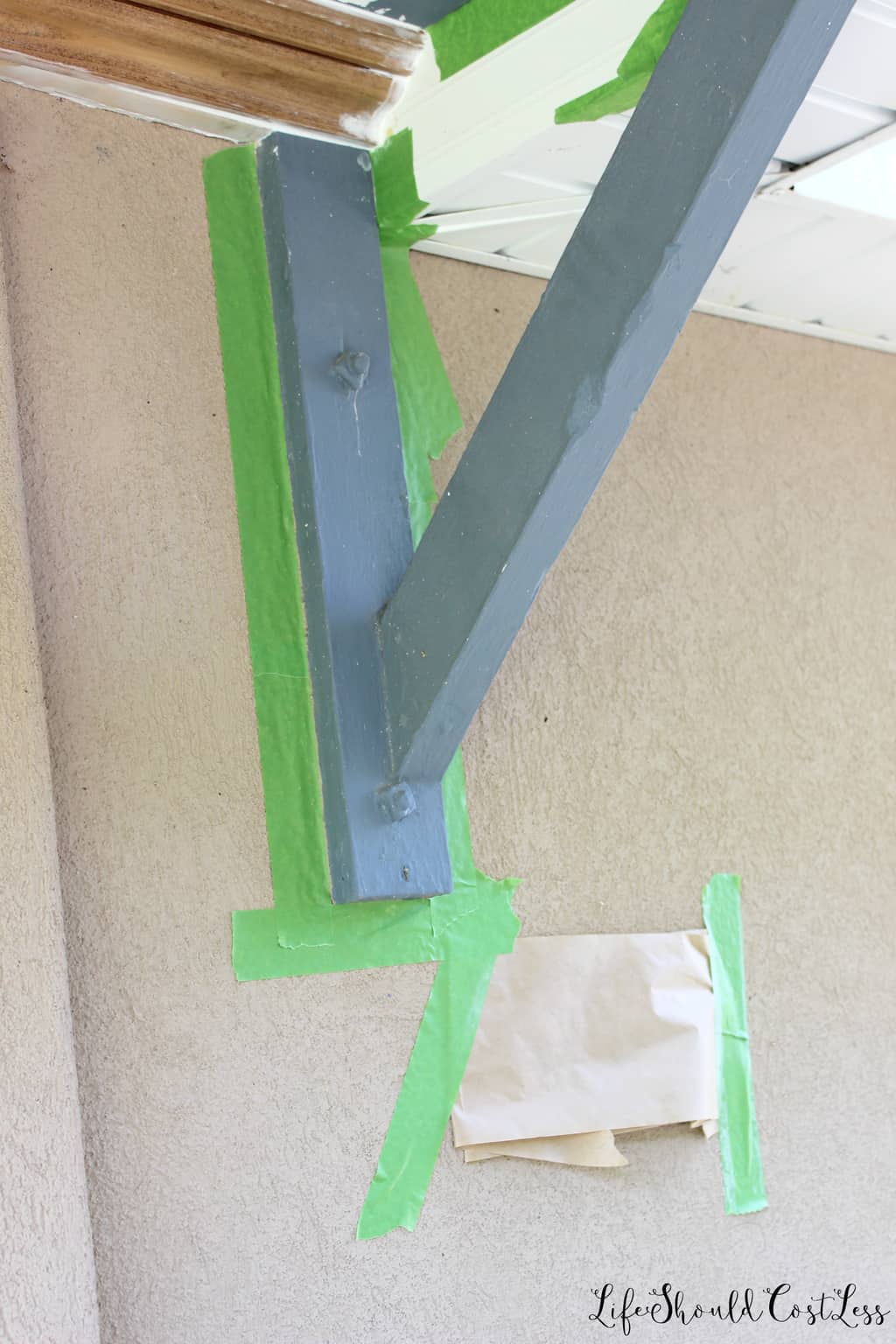 I bought a quart of Behr Premium exterior white paint and gave it one coat…and it looked bad as any first coat should. The great thing about the first coat of paint is that it shows you where else you need to caulk…so I added even more caulk, let it dry, and then removed the tape to see how the paint lines were looking…and I was not impressed. Have you ever tried to get a crisp line when painting onto stucco? It's tough and I remembered a solution that I tried out.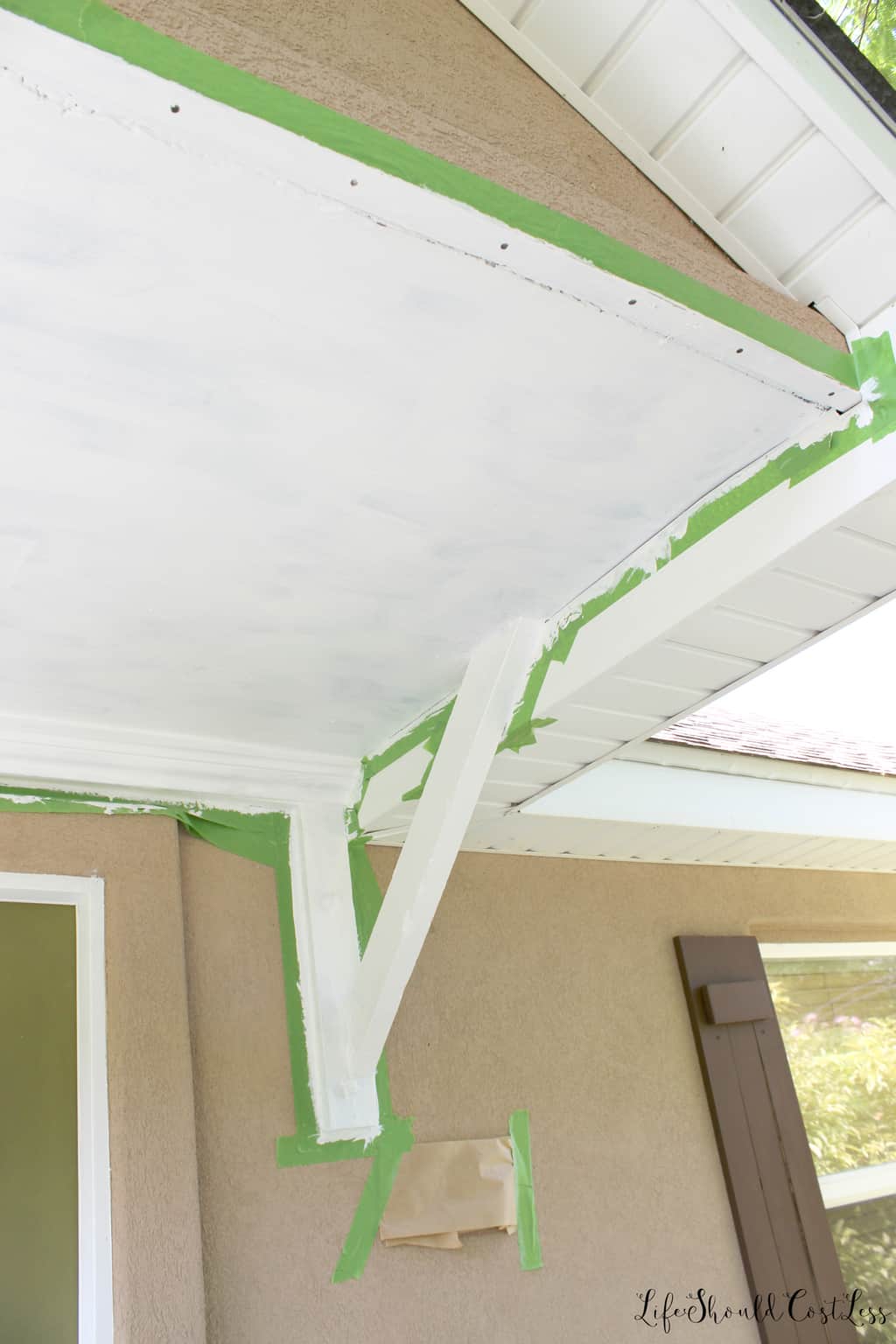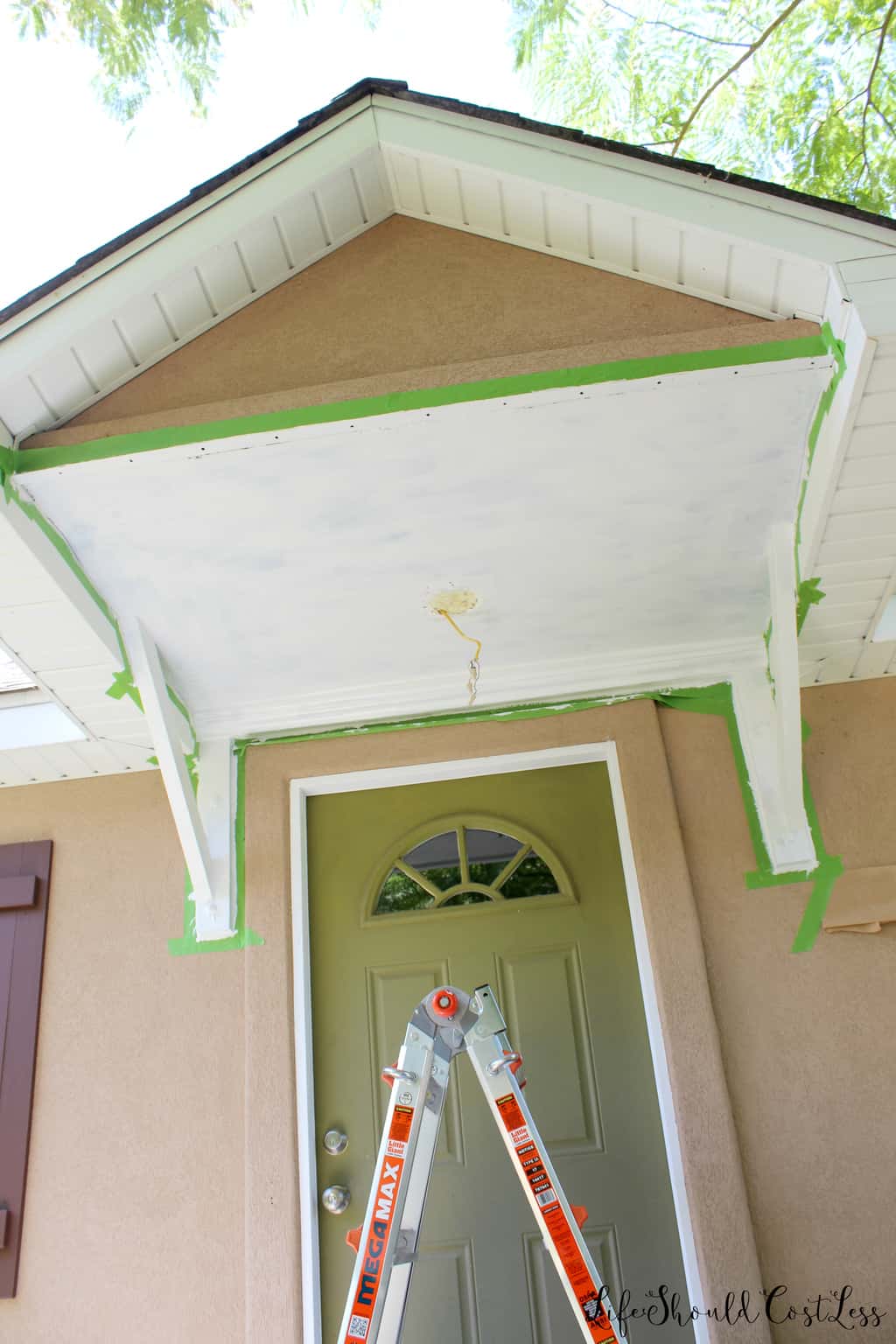 I taped off again,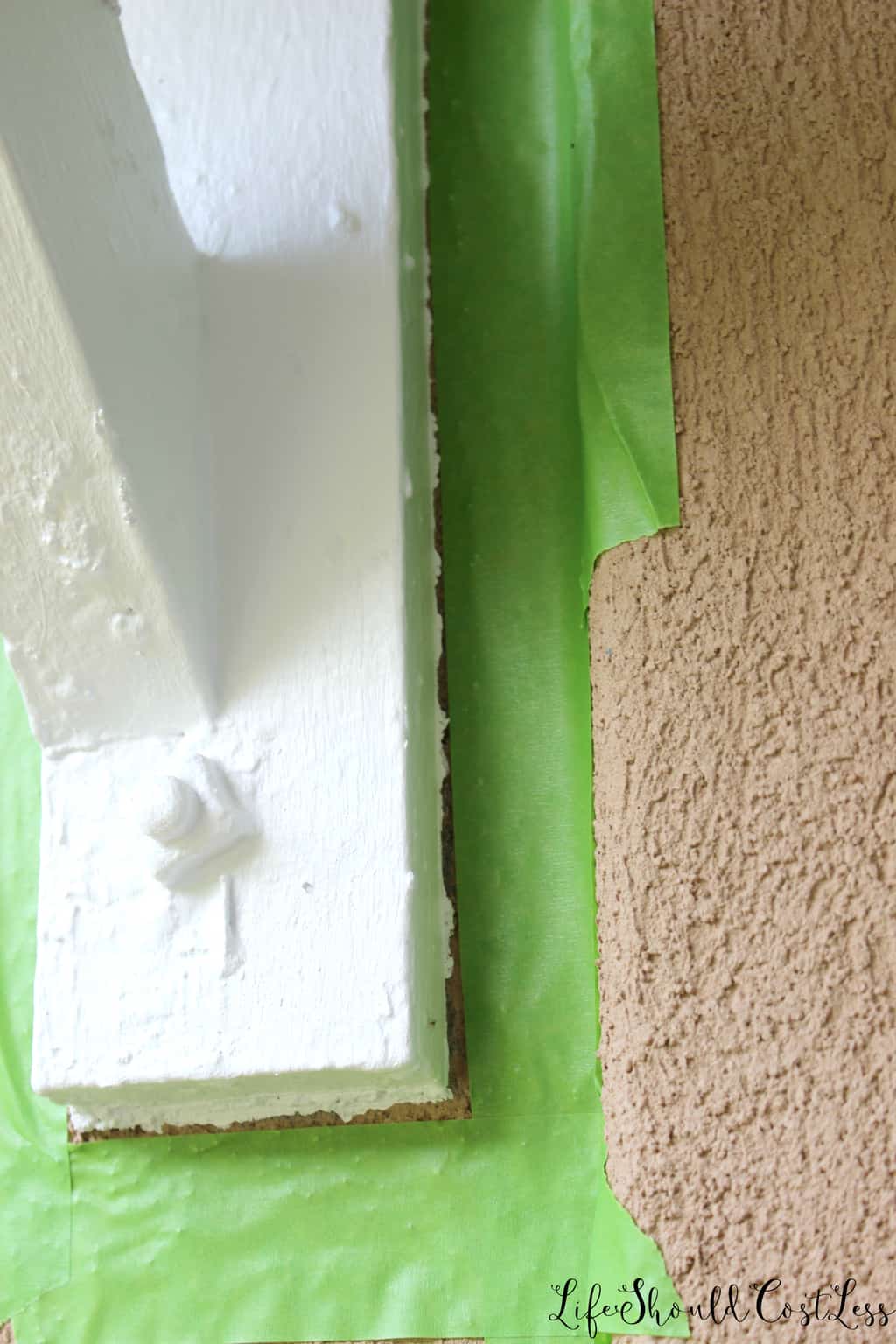 Then added some clear caulk to create a seal, in the stucco, that would give me the best chance of a straight/crisp line. I gave the whole thing a second coat of paint, then touched it up as needed.
When it had dried well I was sad to discover that I could not attach the light fixture… turns out that that weird piece of square wood That had been beneath the previous light fixture was actually structural because of a lack of mounting hardware for a light fixture… so I was stumped for a little bit about how to work around it. I had already bought my new light fixture and it was not going to work with that tiny square of wood. So I thought on it for a good long while…and when I say a good long while, I really mean it took me two or three weeks to come up with a frugal solution.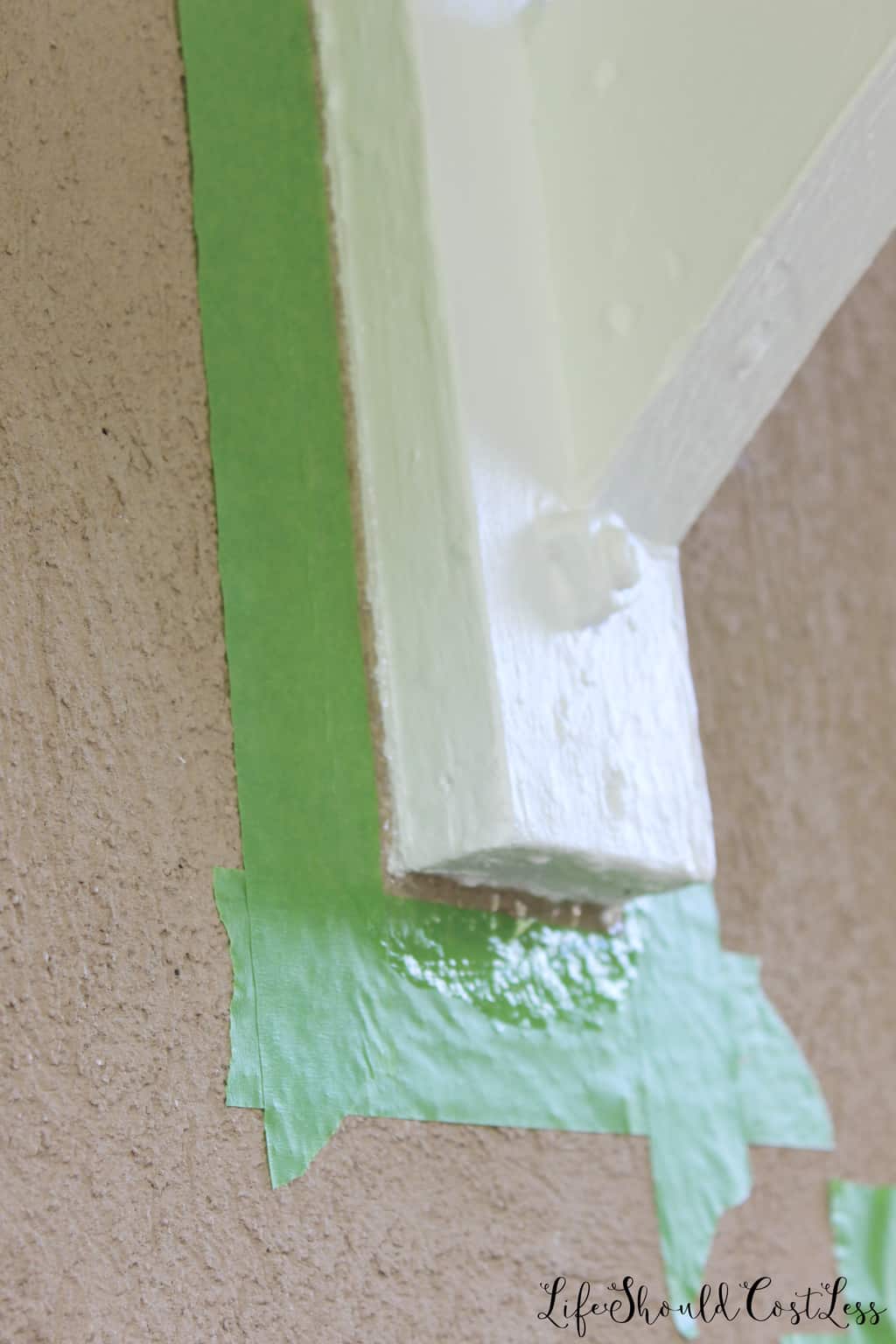 I remembered that a few years ago I had bought a lazy susan at a thrift shop and that it was just sitting in my pile of projects that I would like to complete someday. I was planning on refinishing it and using it as intended whenever I get around to refinishing a nice dining room table, but I decided that the task at hand was more needful of the wood.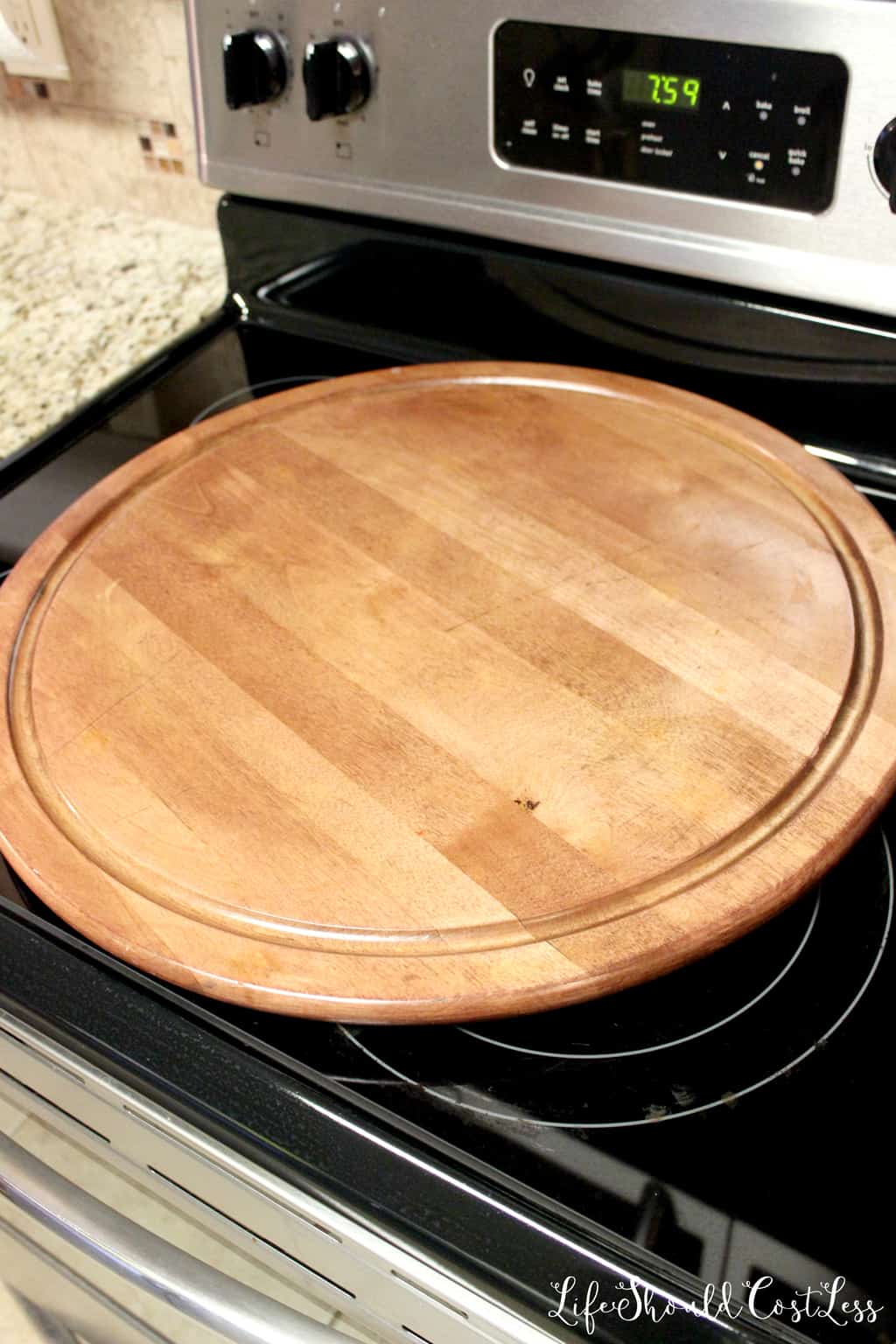 So, I took my $3 lazy susan, removed the hardware on the bottom that made it spin, and had the perfectly round piece of wood that I was going to need in order to support my light fixture. I drilled a hole in it large enough to fit the wires through, sanded it a little bit, and then screwed it into the underside of the overhang.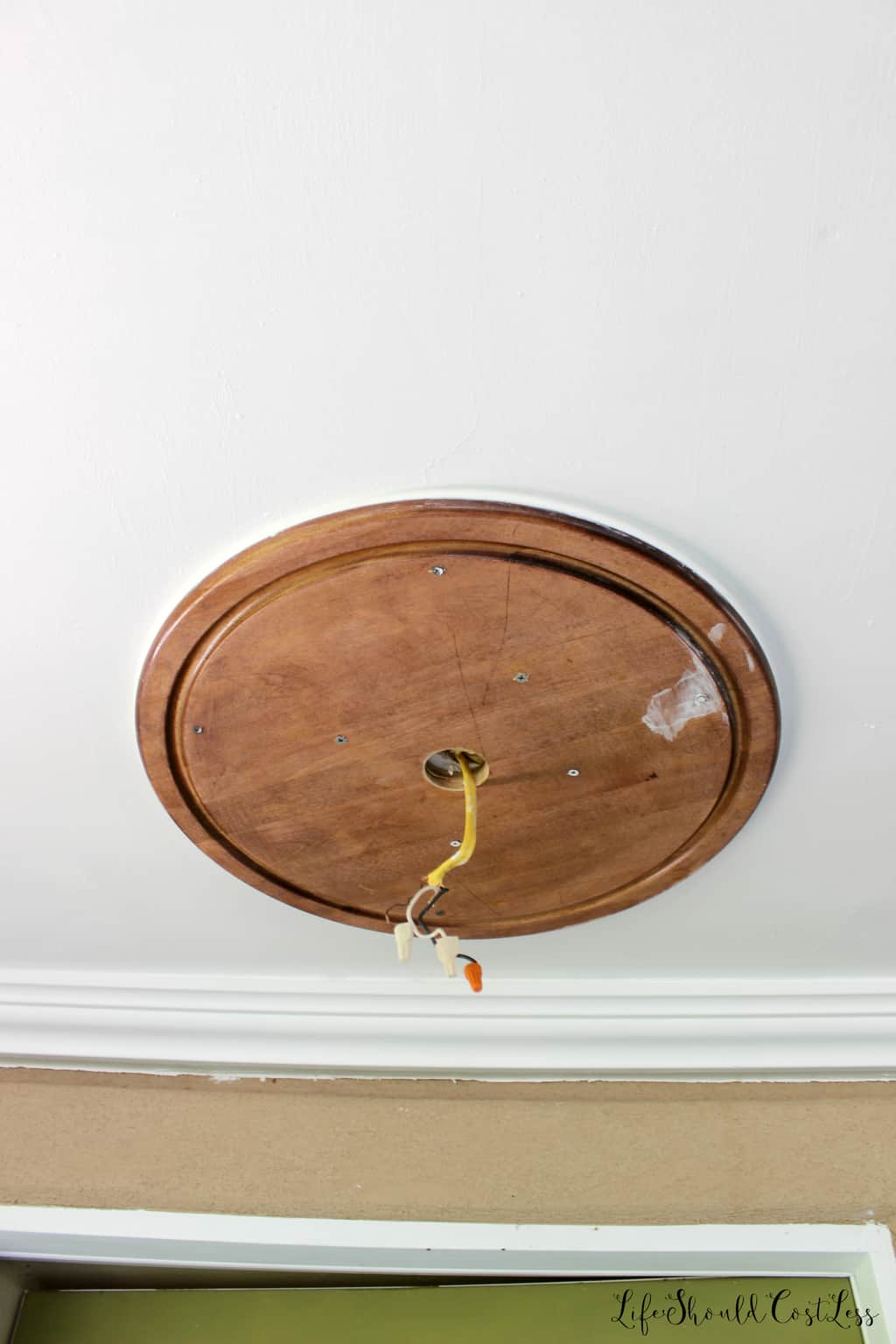 It got a couple of coats of paint, I let it dry, and then I was finally able to finish up my project and install my light fixture. I found my light fixture second hand at a store that sells light fixtures that have previously been purchased and then returned. I think it was around $30 but I can't remember exactly. I'm not going to share the name of that store with you all because I was less than impressed with their customer service.
Anyway, here is the overhang completely done…for now anyway, one day I hope to completely redo the exterior of the home and put up cedar shake shingles, but it is considerably better.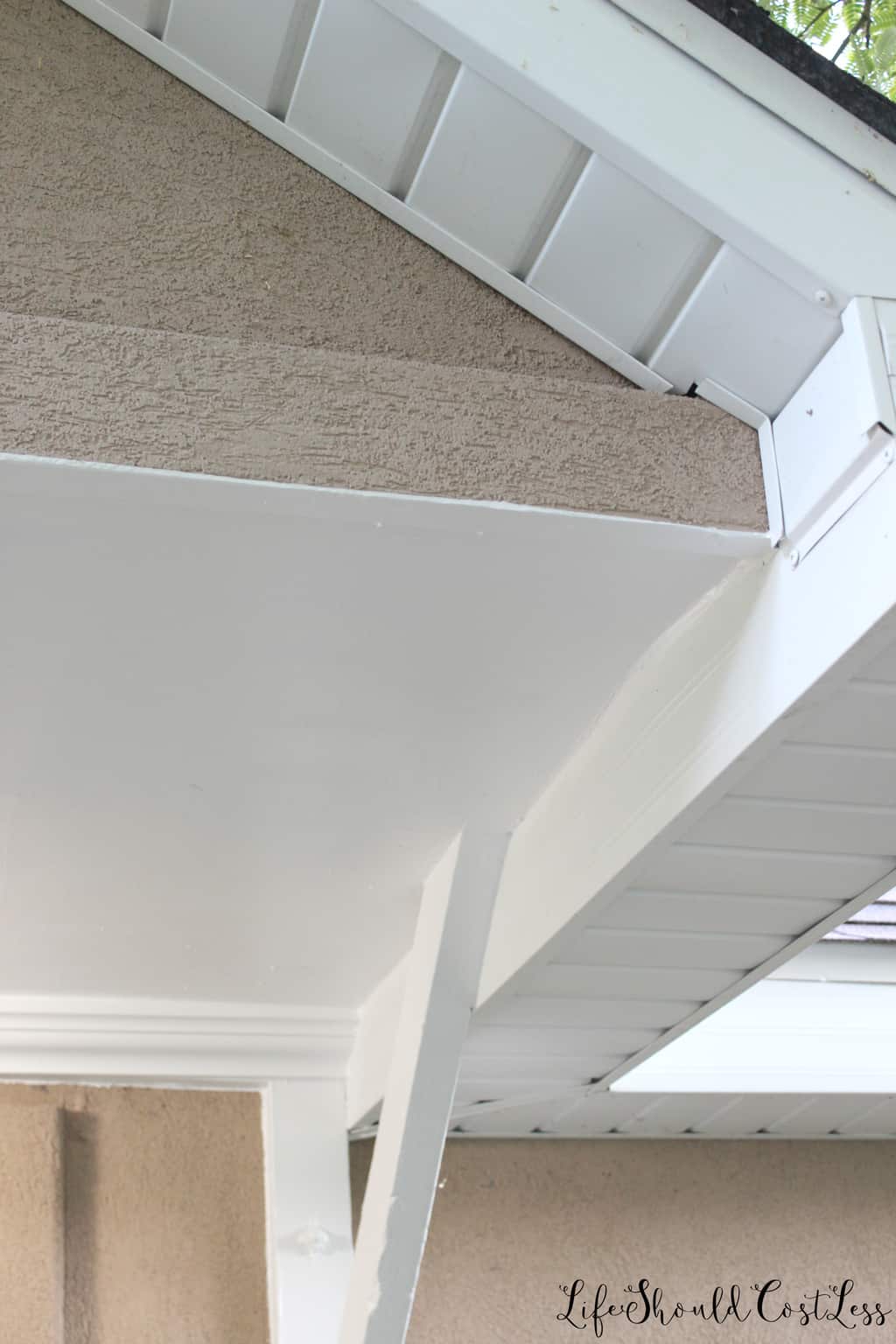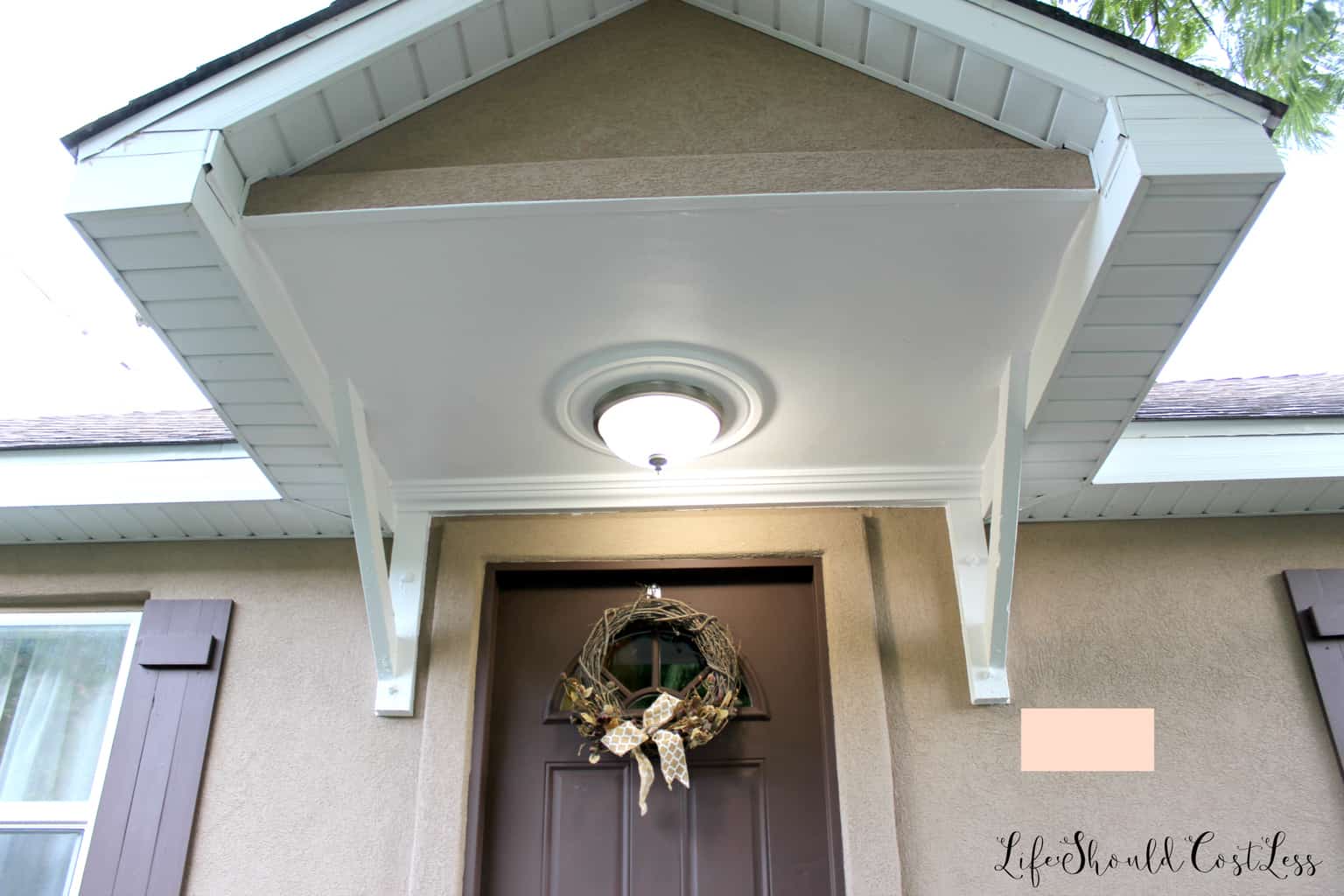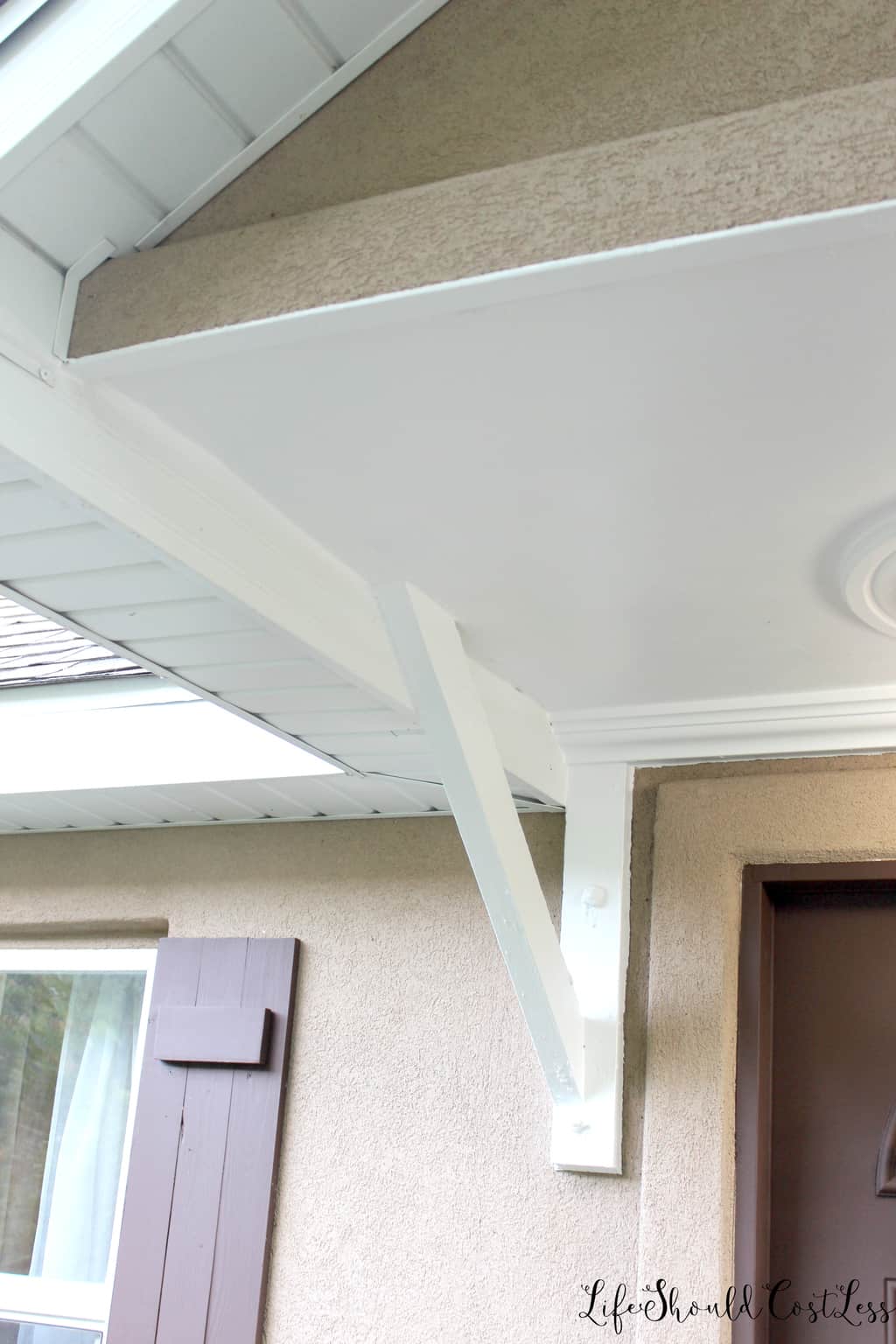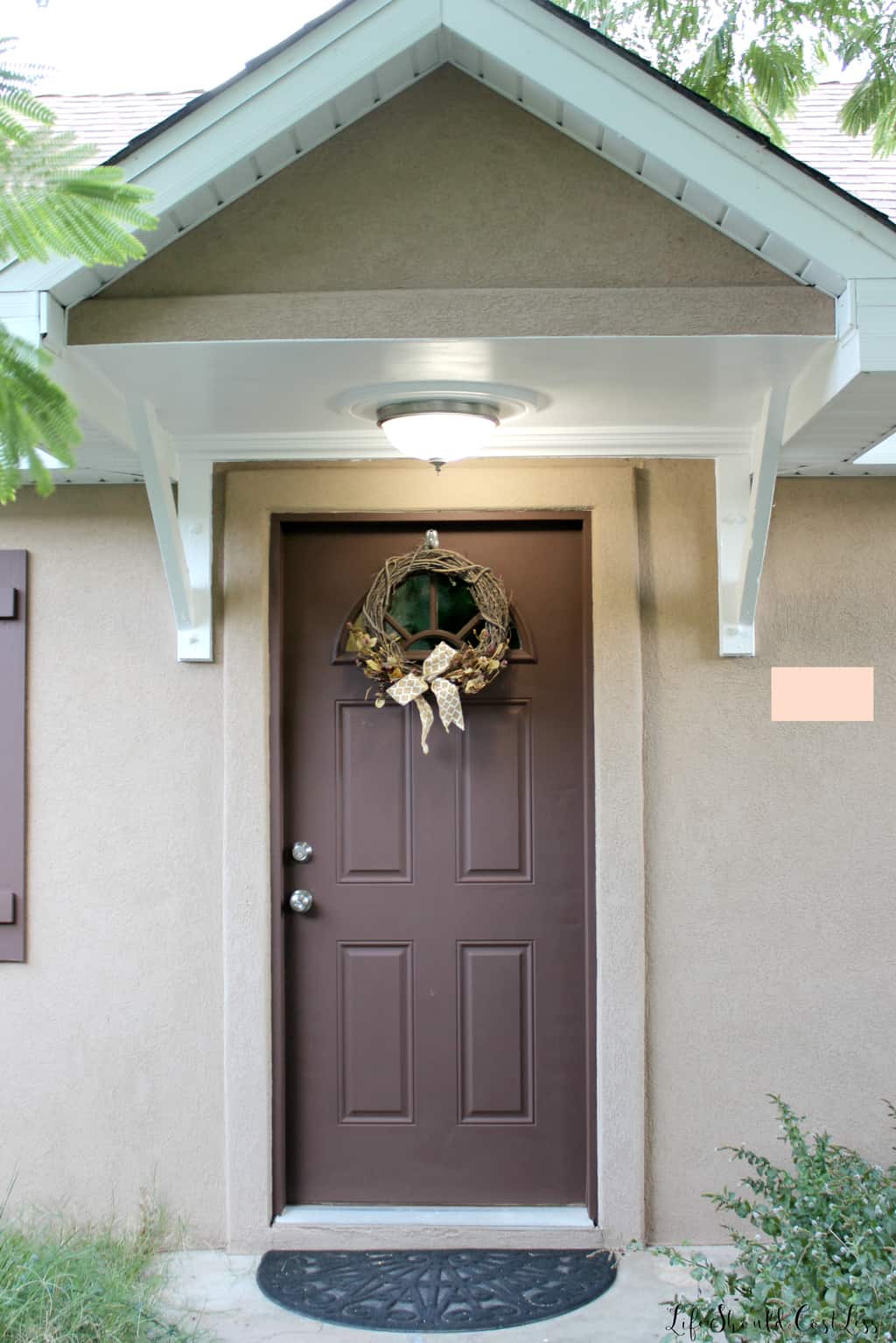 Here's a before and after right next to each other so that you can get the full effect. Kinda crazy that I was able to make that big of a difference on such a tiny budget… Oh, and yes, I did also repaint my door. I had some paint left over from when I built my shutters so that is what I used.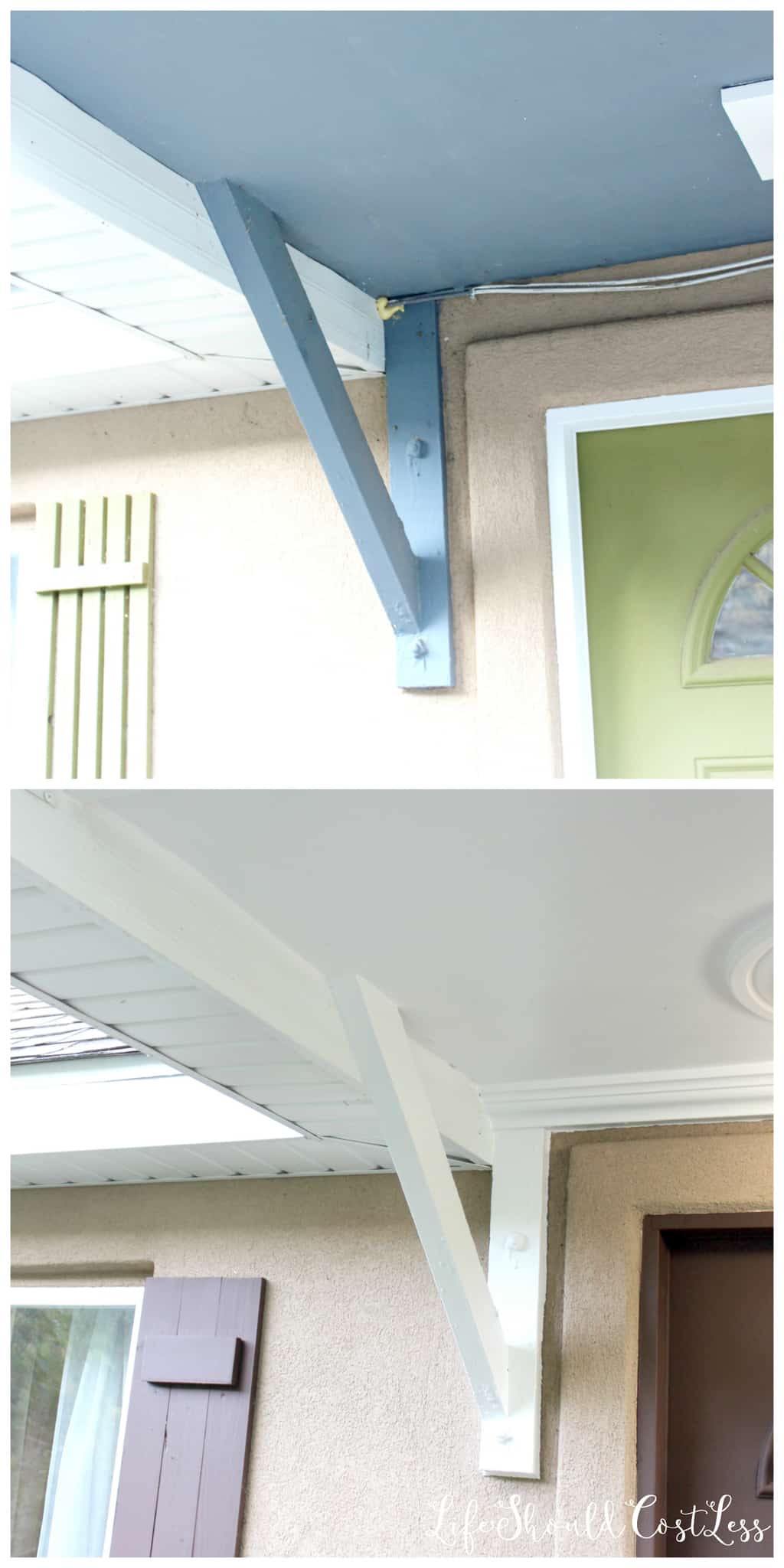 What do you guys think? I think that it turned out much better than I was expecting. There are a couple of spots where the clear caulk trick didn't quite work and the white paint smudged onto the stucco… and one day I will color match the stucco and get it touched up, but for now it looks a million times better than it did before. At least I think so.
Thanks for stopping by my blog! If you loved this post, please make sure to share it via social media and don't forget to subscribe to my email list so that you never miss a thing! Also, you always have the option of supporting the site monetarily by donating directly through my PayPal account, which you can find that here. Thank you so much for helping me support my kids. ~Sarah
P.S. if you would like top see all of my posts for Noor Cottage, go here. Also, you may like to look through all of my DIY posts as well, found here.