This past weekend we were able to knock out a project that is going to make the house have more of a Victorian look/feel and I'm pretty excited about it. A special thanks to my in-laws for watching the girls for two solid days! However, this was literally the most beastly (pain in the rear) home improvement project that my husband and I have ever worked on together. That's saying a lot because we've been homeowners for seven years and believe me, we have done our fair share of projects. I had no idea how time consuming it was going to be to paint (3 coats plus the clear coat) each individual spindle. Let's just say that with all the bending and kneeling, even when using an old boppy pillow to sit on for support, this poor prego was in tears because it was so painful making those movements over and over for literally hours.
That being said, painting banisters is so time consuming that it would have been faster to just replace the whole dang thing. (I'm not exaggerating either. It took about 2&½ hours per coat. So three coats plus the clear coat equals to 10 hours of painting, plus the time you have to give each coat in between for it to cure a bit.) However, if you know me at all you know that I'm not going to rip out a perfectly good banister just because it's not the color I want and replace the whole thing. That would be a huge financial no-no and it's just wasteful. We went with chalky paint because it adheres so well that you don't have to do any sanding prior to starting. Americana Decor brand ended up being the choice because of the price, otherwise we would have gone with some Annie Sloan Chalk Paint, which is about twice the cost. I've been really happy with a previous project that used Americana Decor Chalky Finish Paint. It was my Country French Cedar Chest Re-do and my girls have been playing with it and climbing on it for months and the paint has not chipped at all…which is pretty AMAZING! We went with a bright white (Everlasting is the paint color name) because I wanted it to match all the moldings. Eventually the moldings will all be the tall classic kind and the walls will be painted in a country french blue/gray of some sort… I still can't decide on the exact color I want to go with for the walls.
Anyway, here goes our results: Don't mind the carpeting that all needs replacing and at the very least a shampooing. I just can't keep up with the house this pregnancy. Also, I apologize for the poor lighting in our house.
Before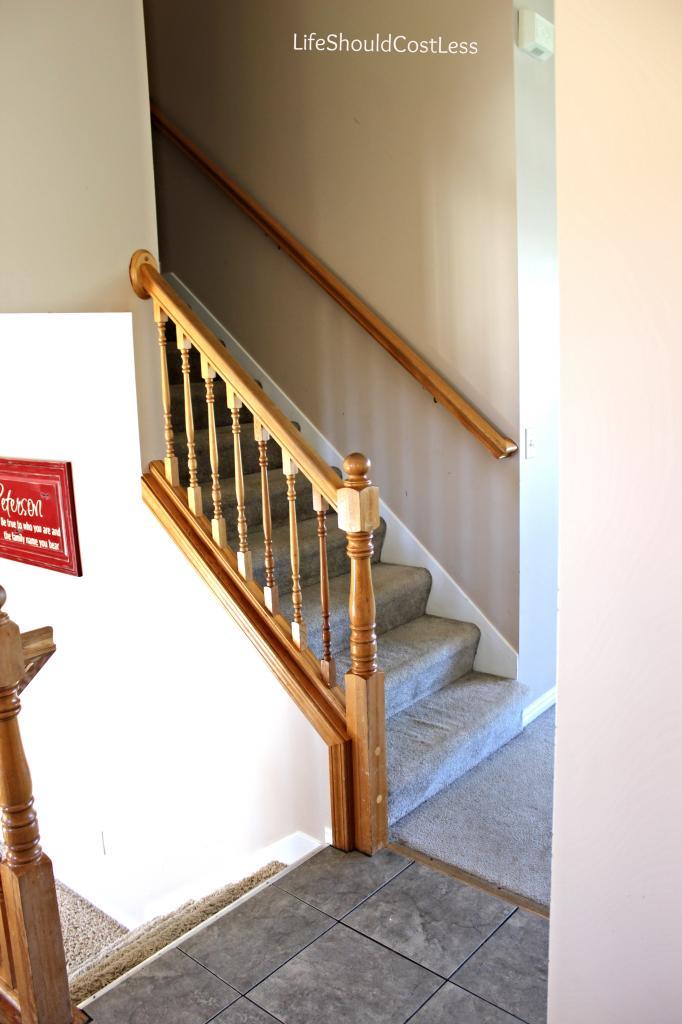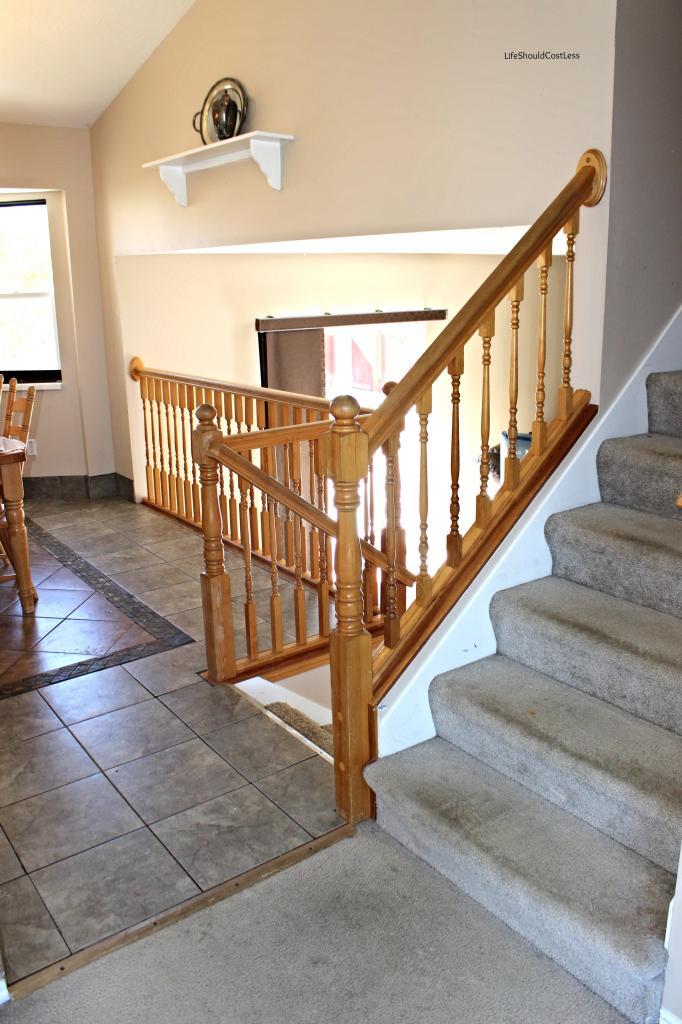 After taping off as best we could. We use
1.88″ Wide Frogtape
btw, and I love it!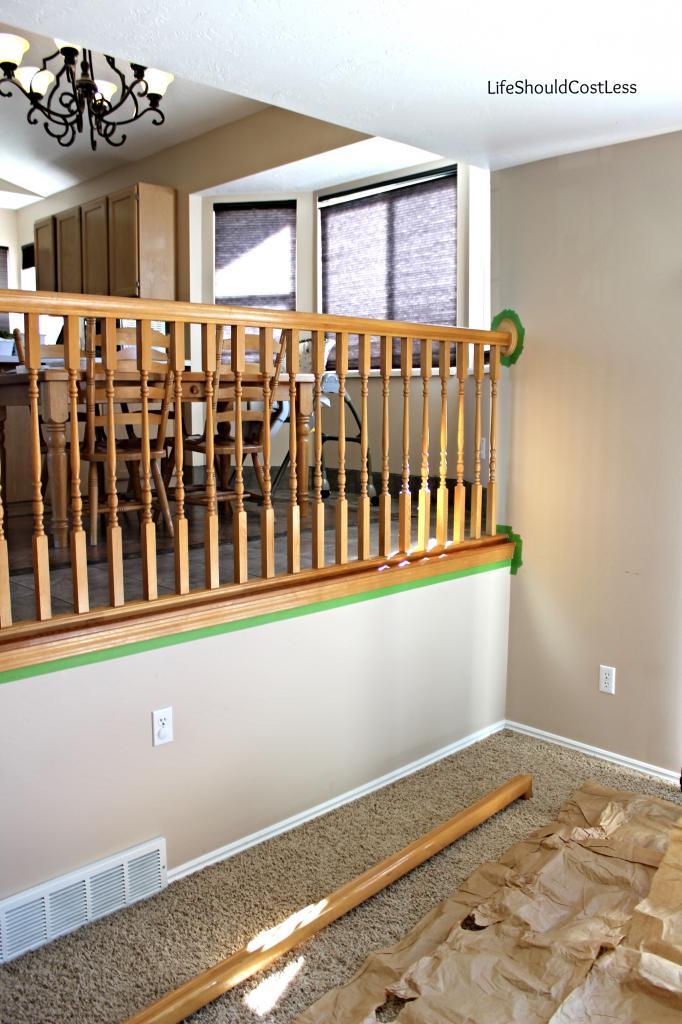 This pic shows how bad it looks after the first coat. Remember to always do thin coats of paint for a better end result. We let it dry for a couple of hours between each coat.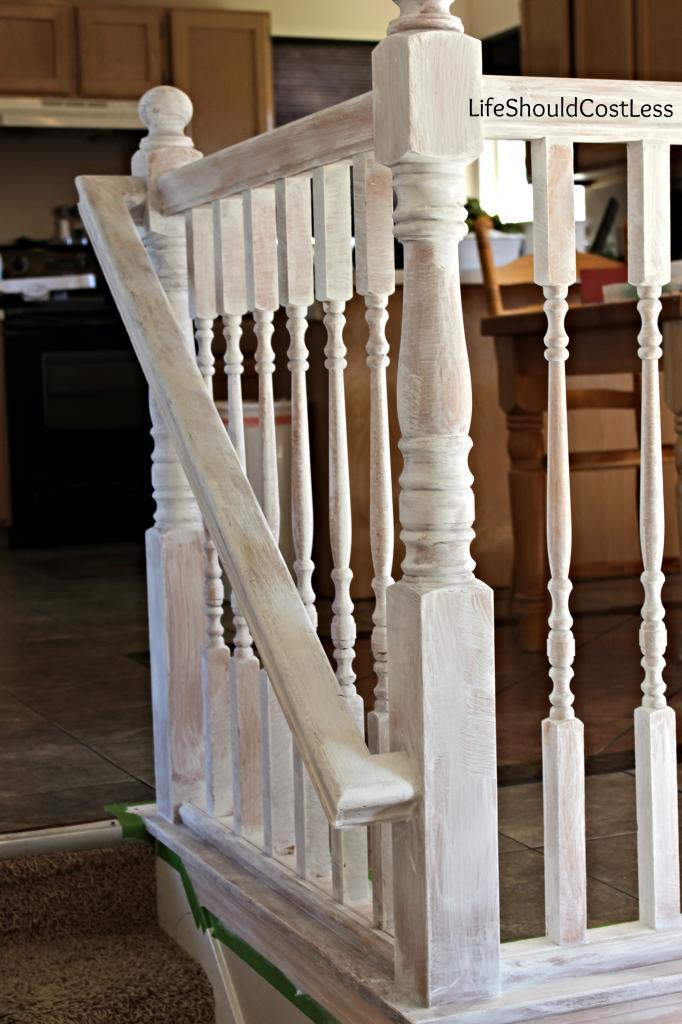 This was after the third coat and it was ready for the protective coat. We used the Americana Decor Clear Wax and it did the job! The only complaint I have with the wax is that if you have to be super careful to make sure that it is spread evenly. Otherwise any globs dry yellow and it looks like garbage.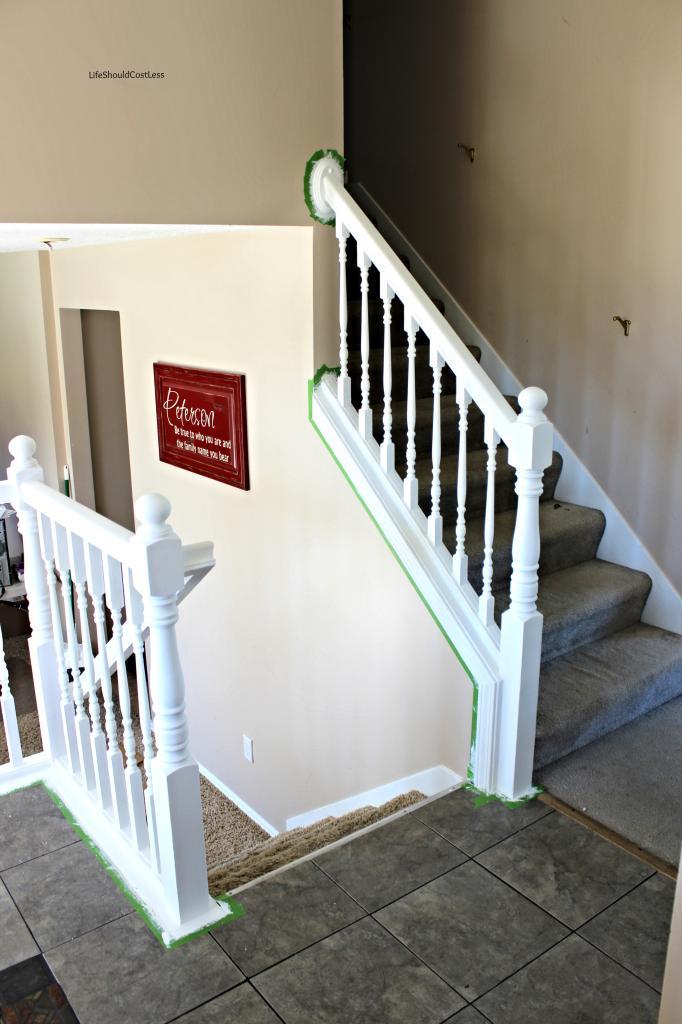 After, with the painters tape removed. There are a few spots that could use a little more touching up, but I am done with this TEDIOUS project for at least a year. I'm sure it'll need touched up in a year or two anyway…such is life with a bunch of little ones.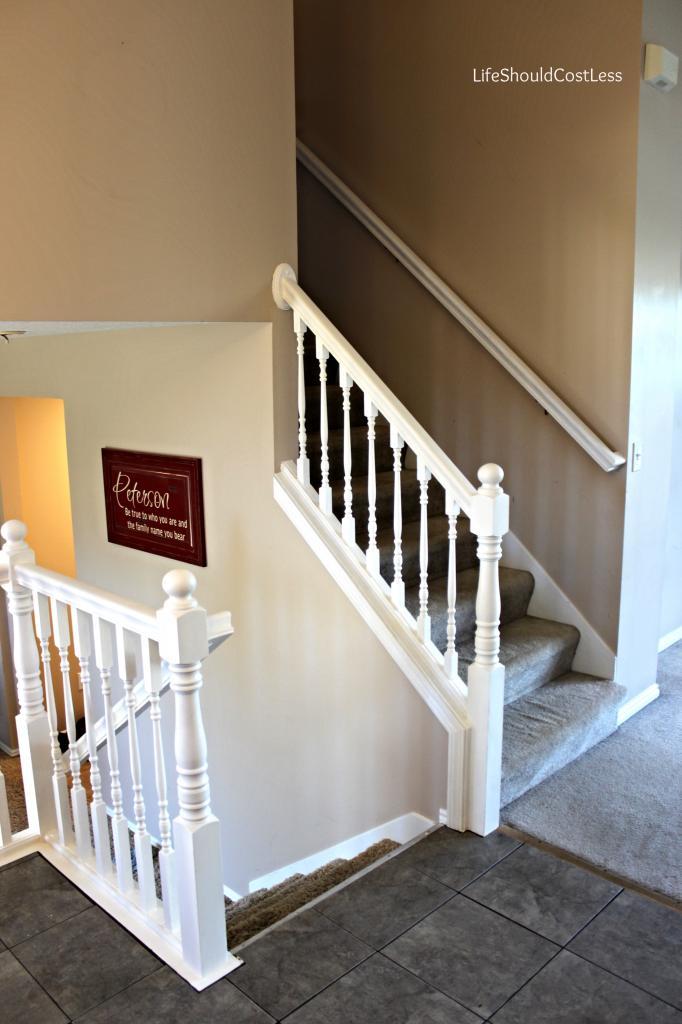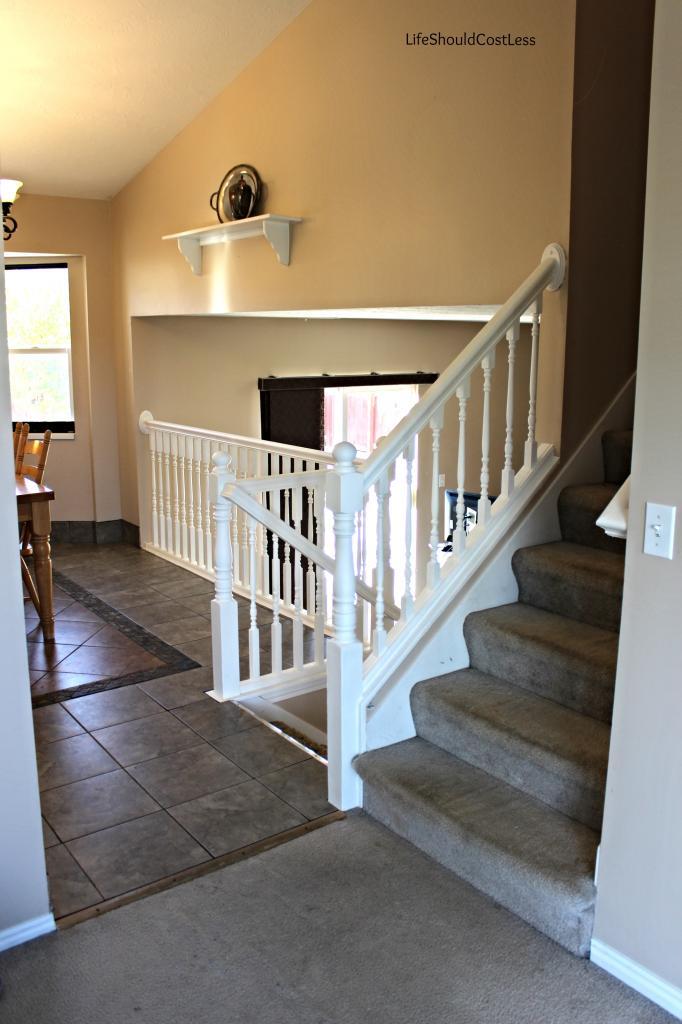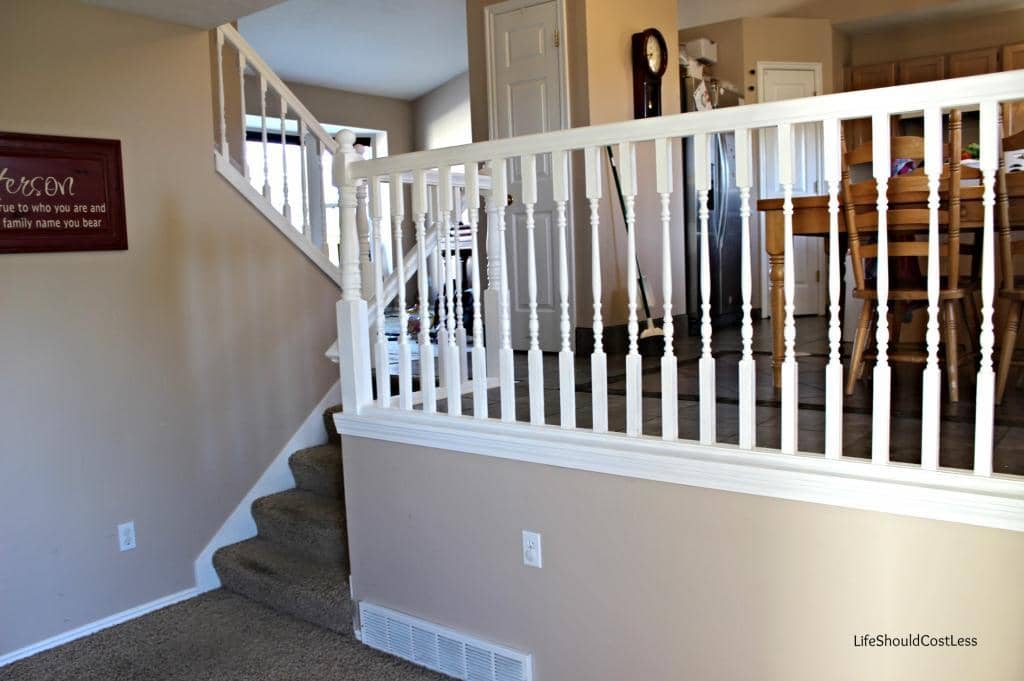 Would I do this project again? Definitely not while pretty largely pregnant. However, I probably would still do it again if not pregnant. We definitely couldn't have done this with the kids around. You need two (or more if you're that lucky) completely able bodies to paint spindles. It's best if you are working opposite each other so that you can catch any globs of paint that the other person made…especially if you're using Chalky paint because it dries so fast.
It's progress…slow slow progress towards the home we want to have some day. The best part about it is that it's done and I'm not going to worry about it anymore for a good long while.
*We got our Americana Decor Chalky paint and wax at Home Depot but I've heard that you can get it at Hobby Lobby too.*