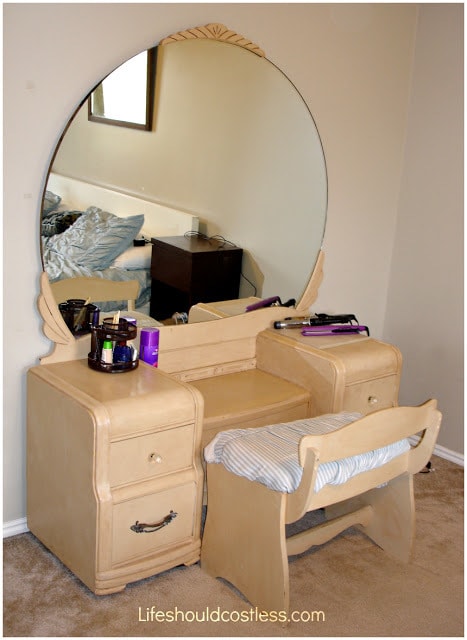 I've been a sucker for antiques for as long as I can remember. I was 18 when I fell in love with this vanity and begged my mom for it, along with the bedroom set that goes to it, as my graduation gift. It was about twice the cost of their normal graduation gift

(my parents try their hardest to be fair with all us kids)

, so I paid half of it out of pocket and I'm so glad that I did. Anyway, the sad thing is that I've only been able to use it for about 10 months of the last nine years, since I got it, because we've never had the room to keep it out and usable. Until our recent move to the new house, now there will always be a perfect spot for it in the master bedroom, which I'm pretty dang excited about! If you look closely, there are a couple of handy things I wanted to point out.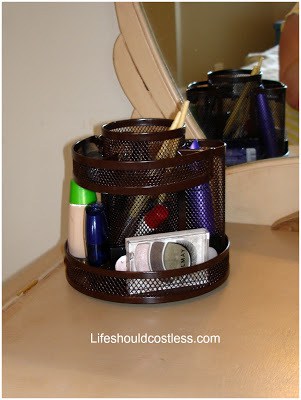 I'm sure that most of you have seen this idea on Pinterest to use an office supply organizer for your make-up. The only thing I have to add is that
I spray painted mine
dark brown to match the color scheme that I am going to be working towards in my bedroom (you could always paint yours to match your bathroom). It makes it a little less tacky…at least I think so. If you'd like to do the same, make sure to let your paint cure for about two days so that it won't chip in the future. I went with a metal organizer so that it should last much longer. I got mine here
.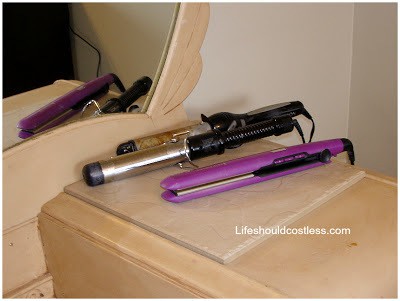 I wanted to be able to use my hot tools on the vanity, but I was really worried about it warping or damaging the wood.
This was solved by buying a similarly colored ceramic tile to lay them on.
It actually fits perfectly in the grooves, so it was totally meant to be ;). It cost about a buck at The Home Depot so that dollar was well spent.
Like usual, I like to keep my posts short, sweet, and to the point so that is all for today.
*One last note: If you need a good but inexpensive (less than $20) flat iron, this is the one that I have
and I love it! I got it because it has hundreds of good reviews and it hasn't disappointed.*