Learn how to make the best Italian Homemade Pasta Salad and Dressing completely from scratch, it's so much easier than you would think. Plus, I have a big list of Pasta Salad ingredient ideas so that you can make it truly your own, or just use up any ingredients that you may already have on hand.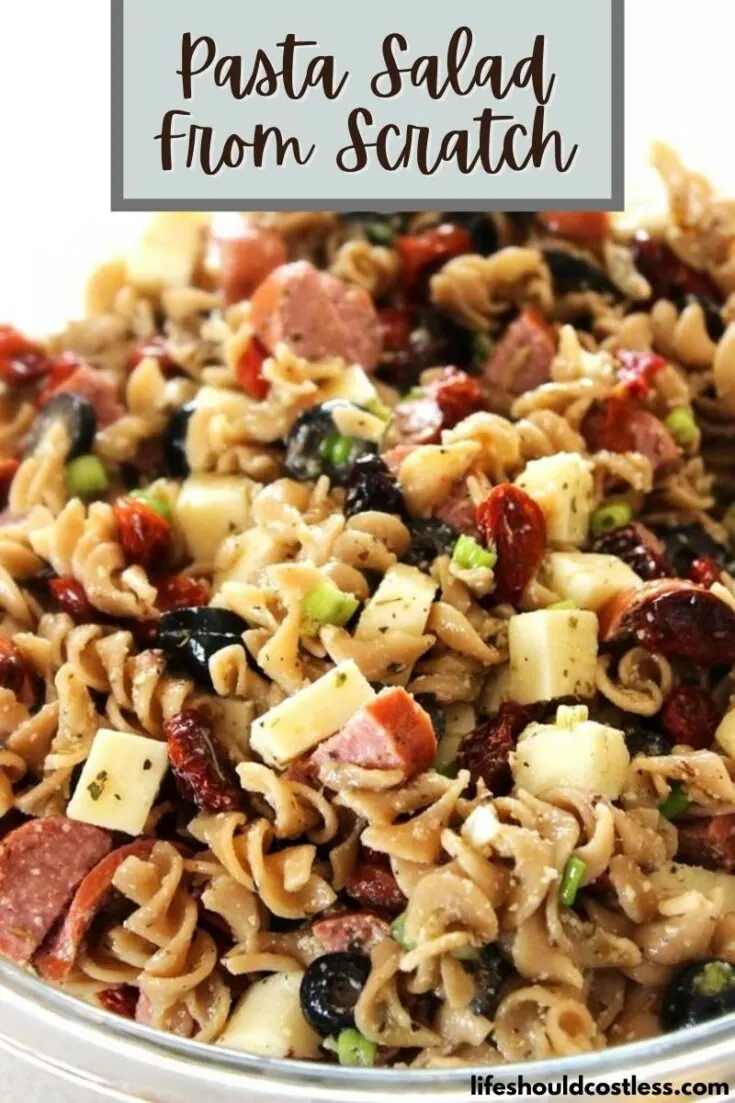 Isn't it funny how your tastes in food change as you get older? I know that mine definitely have. As a child I actually HATED Pasta Salad and avoided it at all cost, but as an adult I LOVE it!
So much so, that lately I have been making it at least twice a month. I'd make it once a week, but that's a little over-kill and depending on what you want to put in it, it can be kind of expensive to make…
Luckily Pasta Salad from scratch really is easier than you'd think to make, yes, even without a kit. It's certainly better for you than buying pre-made, because you can control every single ingredient and make it as healthy, or unhealthy, as you want.
I've been fiddling around with ingredients and I finally decided on what is now my "go to" recipe for homemade Pasta Salad. I have tried to simplify it so that, hopefully, others can make it from scratch too.
Though, if you decide that you don't want to make it exactly the way that I do I would also give you guys the option of mixing and matching your own ingredients.
Pasta Salad Ingredient Ideas
Pick your Pasta Noodles:
(use the ratios in my recipe card below), some good options are:
I like to use wheat, or brown-rice noodles whenever I can just so my salad is a bit more nutritious, but that's just me.
Then choose the Meat/Protein:
*Make sure that is has been cooked properly, chopped/flaked, and chilled before you add it to your salad*
Sausage, Salami, Pepperoni, or Ham
Chicken (canned works too)
Shrimp or Crabmeat
Hard Boiled Eggs
Roast Beef or Steak
Beans (black or navy are best)
Tuna
Nuts
Bacon Bits
Again, try to use the ratios that I have in the recipe card below as a guide.
Now we add our Fruits/Veggies/Other Mix-ins:
These are best if they have been washed first, blanched/drained(if needed), chopped, and chilled.
Olives
Cherry Tomato (sundried are yummy too)
Cheese
Broccoli or Cauliflower
Bell Peppers
Asparagus
Corn
Peas
Carrots
Seeds (such as sunflower)
Artichoke Hearts
Green Beans
Onion
Next, we learn how to put it all together.
Keep in mind that if you're not particularly a fan of my personal recipe for the dressing, here is a great resource that has easy recipes for six other dressings (including Creamy Italian, Mediterranean, Ranch, Asian, Garlic, and Pesto)…you literally are probably too picky of an eater if you can't find a good dressing with that many yummy options…lol.
How to make Homemade Pasta Salad, Step by Step:
Making pasta salad from scratch is pretty simple, but there are several steps to both make it as quickly as possible, as well as things to think about a little bit beforehand.
First, we prepare the pasta by boiling it until it's done (al dente), draining it, and then let it cool enough to cover and put in the fridge until you are ready to add the other ingredients.
You can cool the noodles down faster by rinsing them with cold water when you drain the pasta. I use a four quart glass pyrex bowl when I make this, you can get one on Amazon here.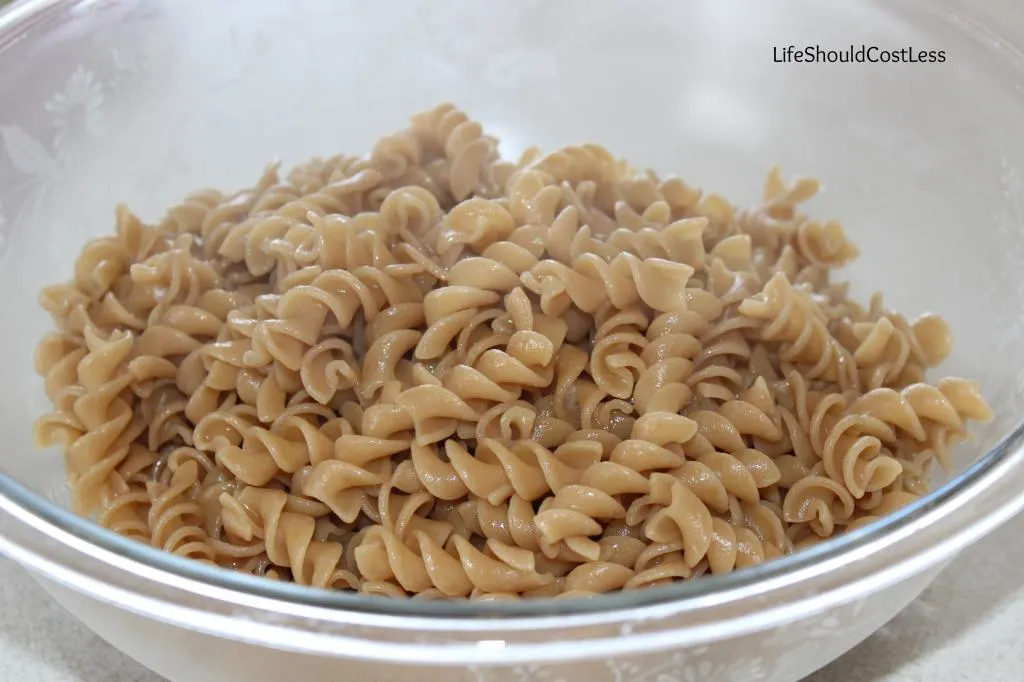 Next, we start making the dressing. I like to use a Pint Jar with a plastic lid for this part… but any container that you can close up tight and shake will work.
Add the oil to the jar.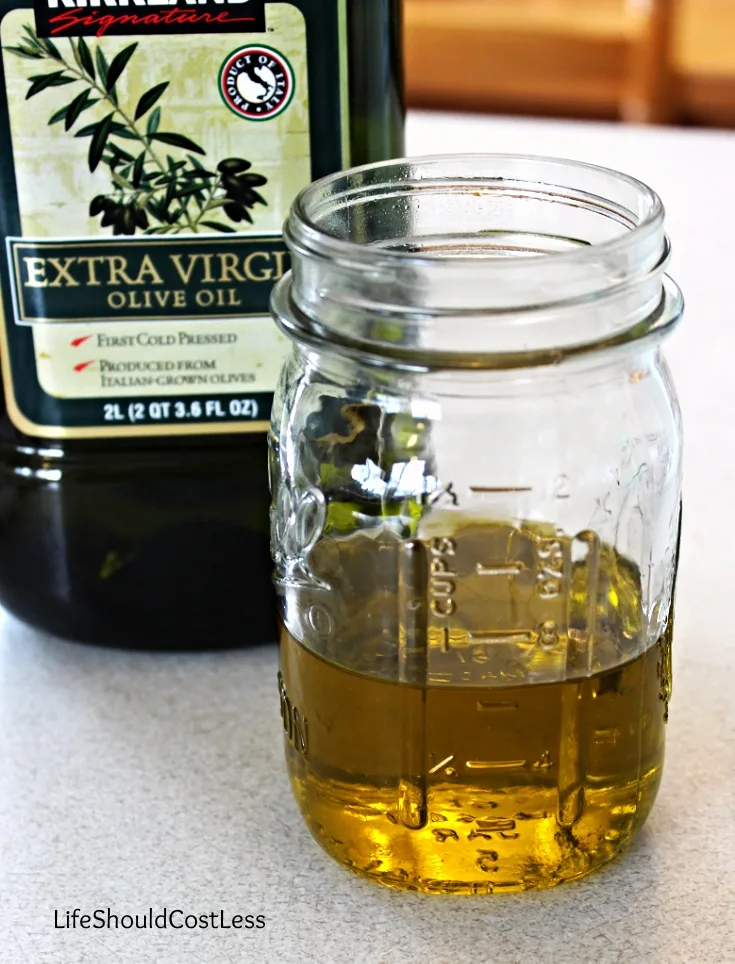 Then add the vinegar.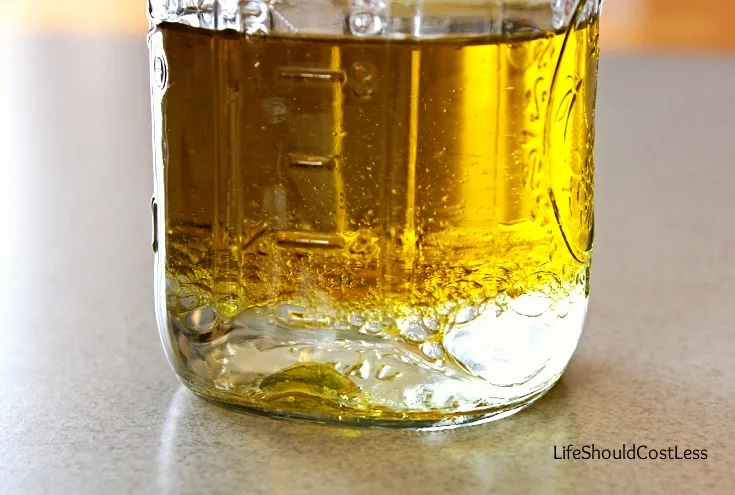 Then add the Parmesan Cheese.
Next I added some of my Home-Made Bulk Italian Seasoning, you can get that recipe here. Or just use some from a mix you buy at the store.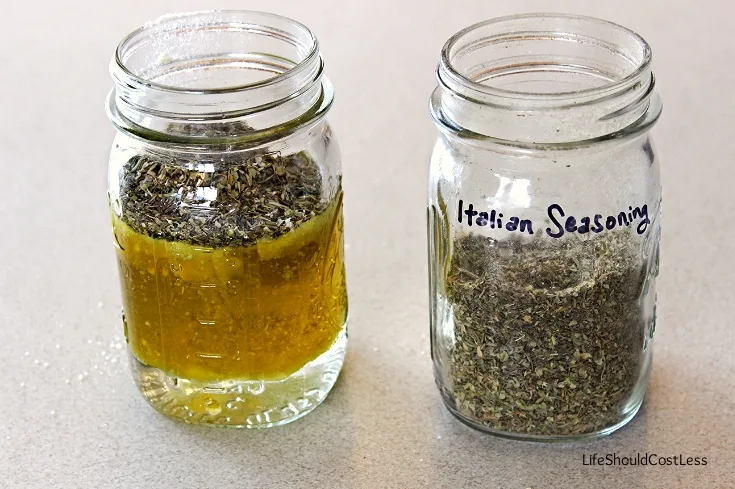 Now here is what it looks like with the added yummy Green Onions. I only used ½ a cup of them this time, but you can add more as desired.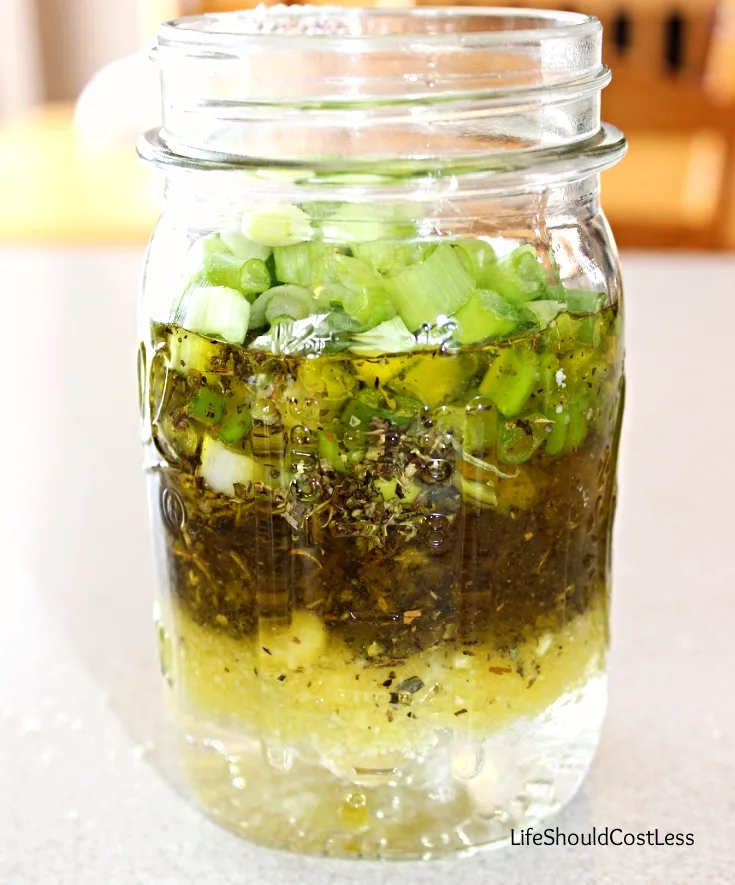 Now we put the lid on the jar and shake well to mix! Make sure to prepare the dressing ahead of time and put it in the fridge to allow the flavors to blend.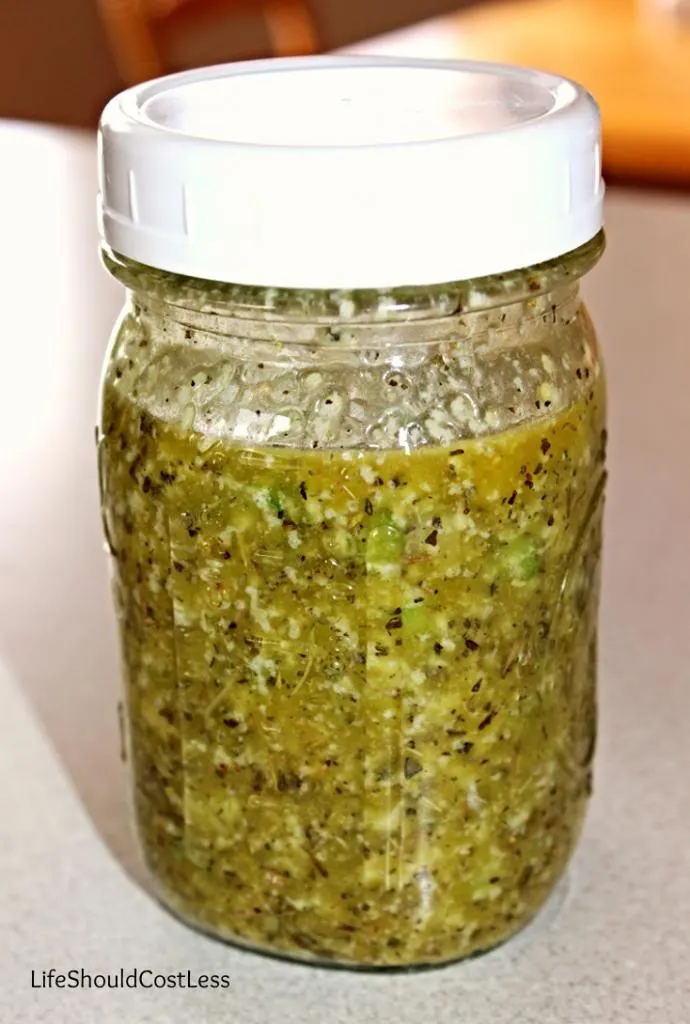 Next, cube your Mozzarella Cheese to your desired size. I prefer big chunks, but half of that preference could just be because I'm more than a little lazy in the kitchen…lol.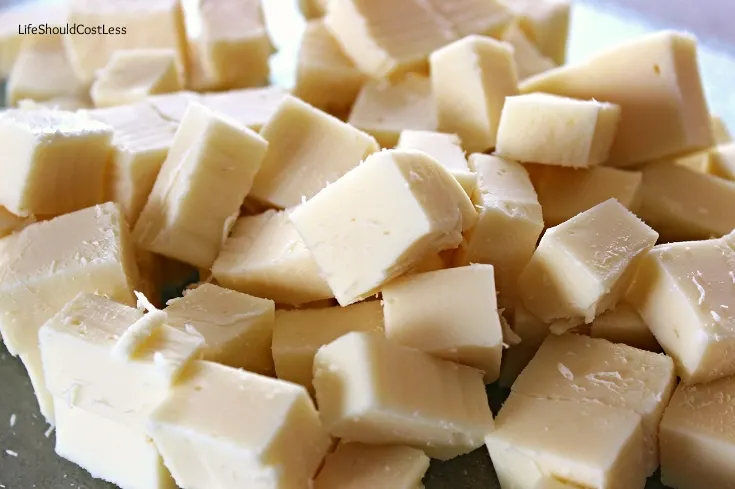 Here is my favorite kind of pre-cooked sausage for this recipe. It's delicious! Just cut it to your desired size…along with cutting down the olives to your desired size.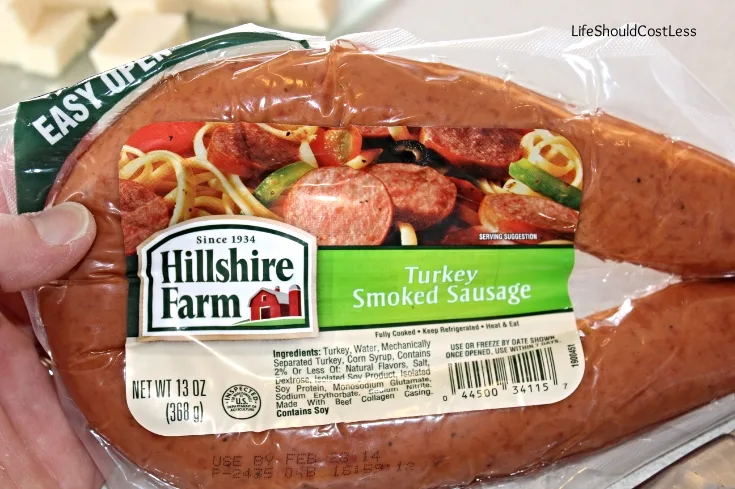 Here are what the other ingredients looked like when prepped and ready.
It's time to combine everything! Here are all the ingredients when it's time to mix them together in my large bowl, you will need a bowl that is at least four quarts to handle this recipe.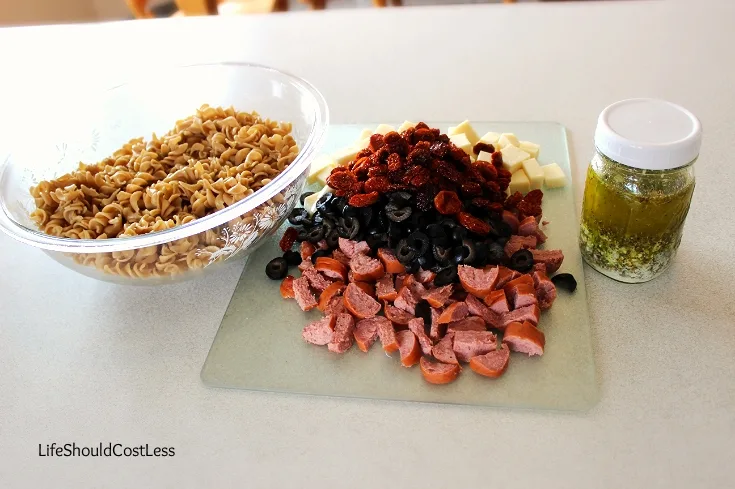 One thing to remember is that the oil in any dressing settles…
So make sure to shake it up really well right before you add it.
Here's what it looks like when everything has been added to the bowl, and it's time to toss it together/ mix it.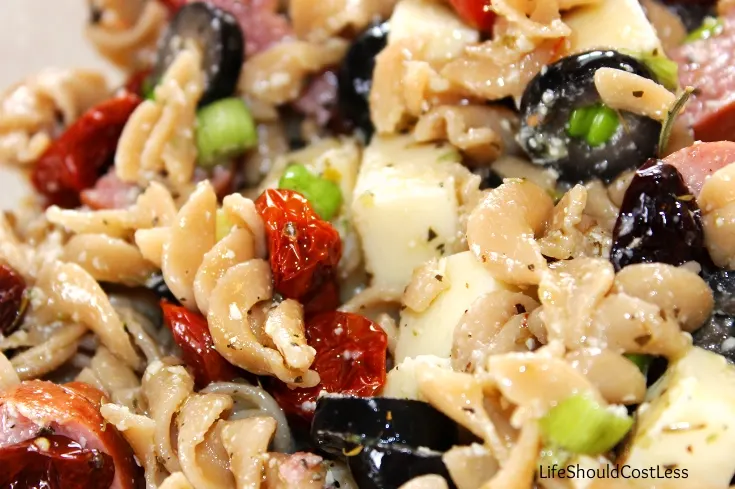 It's ready to serve! Enjoy!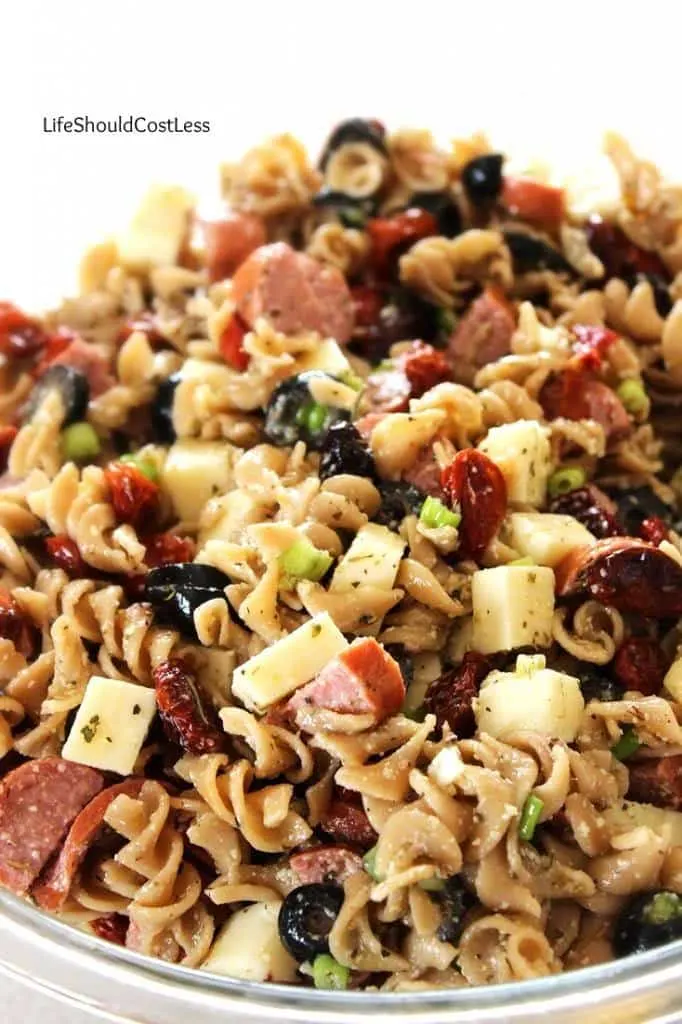 How long is Pasta Salad good for?
How long Pasta Salad is going to stay fresh for (pasta salad refrigerator life) and continue to taste good depends on what meat you use and how well you cover it. My personal opinion is that if pasta salad has been tightly covered and refrigerated within a few minutes of each use, it should stay safe to eat for at least four to five days.
However, let's say that maybe you took it to a party and it sat out for a while (not refrigerated)… I wouldn't even dare risk it, just toss it so that no one will get food poisoning. You have to be a bit more careful with things that have meat in them.
Recipe for Pasta Salad From Scratch: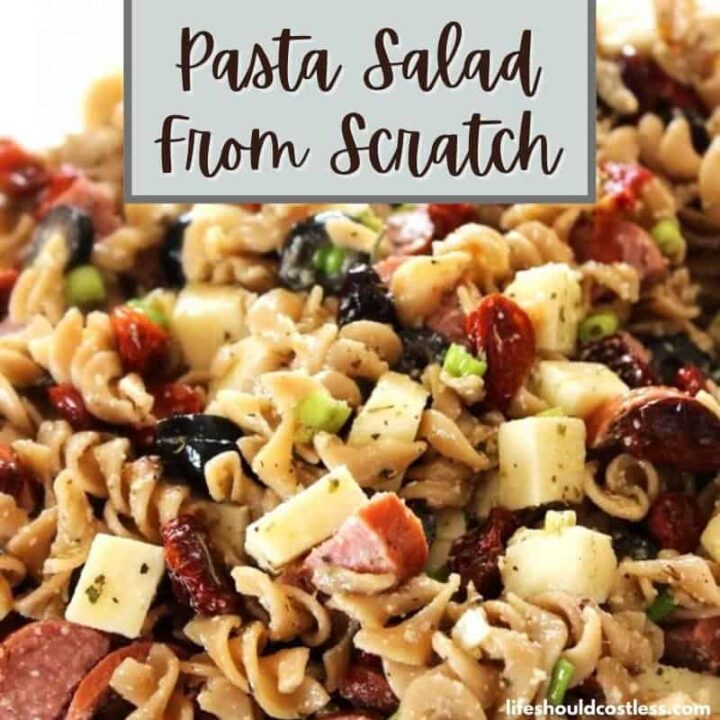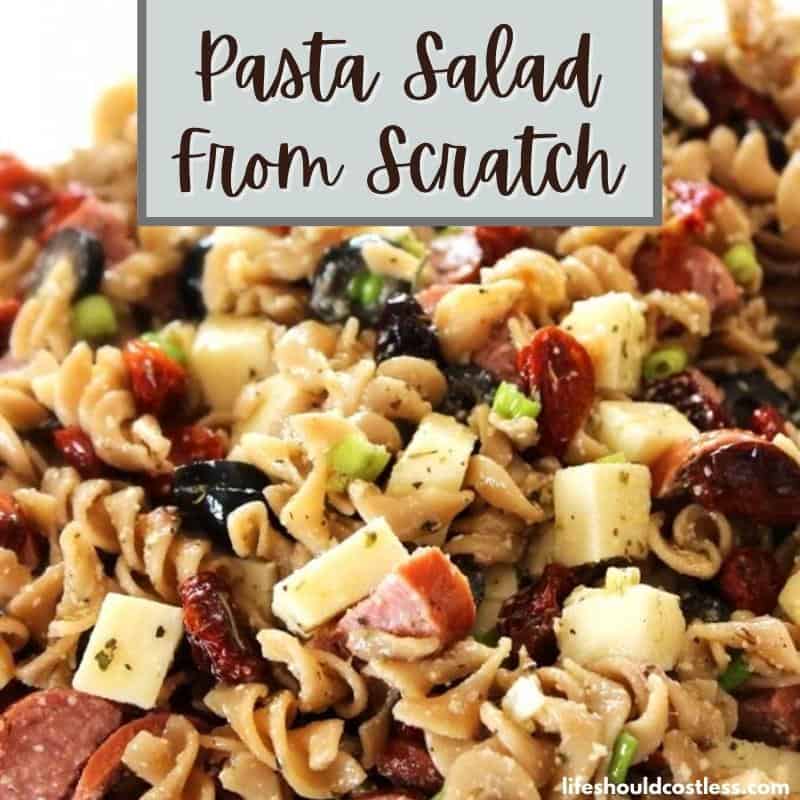 How to make homemade pasta salad from scratch
Pasta Salad made entirely from scratch! It's super tasty and you can change it up to suit your tastes.
Ingredients
12 Oz Package Pasta (pick your fave pasta. Can use 6-8 cups pasta if using bulk noodles)
Dressing Mixture:
2/3 Cup Extra Virgin Olive Oil
1/3 Cup Vinegar of Choice (my favorite is White Wine, I've heard that balsamic is good too)
1/3 Cup Grated Parmesan Cheese
2 Tablespoons Italian Seasoning
1/2 to 1 Cups Chopped Green Onion or Dried Minced Onion
Mix Ins:
1 lb Mozzarella, Cubed
1 Can of Black Olives, Sliced
1 to 2 Cups Cherry Tomatoes or Sun dried Tomatoes
1 lb Pre-Cooked Turkey Sausage or Pepperoni, Cut to your desired size.
Instructions
Prepare your pasta by boiling it until it is your desired level of "done". Drain and rinse in cold water. Let cool, place in a large bowl (at least four quarts in size, cover, and refrigerate until you are ready to add the other ingredients.
To make the dressing mixture, use a pint sized jar with a plastic lid. Add all of your ingredients to the jar. Close the lid and shake well. Place this in the refrigerator until you are ready to mix the salad. shake it well before mixing it into the other ingredients. I personally think it tastes best to let the dressing sit and allow the flavors to blend for several hours before you mix up the salad.
On a large cutting board, cube the Mozzarella, Slice the remaining ingredients to your desired size.
Gather all the ingredients, shake the dressing, and mix them all together. Serve now or cover and refrigerate until you are ready to serve. Mix well before serving.
Notes
This salad should keep in the fridge for several days if both covered tightly and refrigerated properly.
I like to serve this as a whole meal as it has all the food groups that we need. Just go a little heavier on the added veggies if you're doing so.
Remember that the vinegar that you choose affects the taste of the salad more than anything in this recipe. If you make it and don't quite like it, try another vinegar. I prefer it with White Wine Vinegar and I have heard others prefer it with Balsamic... so play around with it and see what you prefer. Oh, and you can salt and pepper to taste...though I usually don't.
Nutrition Information
Yield

15
Serving Size

1
Amount Per Serving
Calories

301
Total Fat

21g
Saturated Fat

7g
Trans Fat

0g
Unsaturated Fat

13g
Cholesterol

54mg
Sodium

452mg
Carbohydrates

10g
Fiber

1g
Sugar

2g
Protein

16g
These caloric amounts are automatically estimated by a plugin on my site and should be treated as an estimate only.
This is just my personal preference for the ingredients, but you can do it however you want. Maybe just use my amounts and preferences as a guide to creating your favorite pasta salad.
In this particular batch, I had to use dried tomatoes this time because they were getting soft, I didn't want them to go to waste so I dried them in my oven.
Thanks so much for stopping by my blog and supporting my endeavors to make people's lives a little easier/better. If you liked this recipe post, or found it helpful in any way, please make sure to share it with your family, friends, and co-workers via social media…or you could even send them the direct link via email. Whichever way you choose to spread the love, I super appreciate it! ~Sarah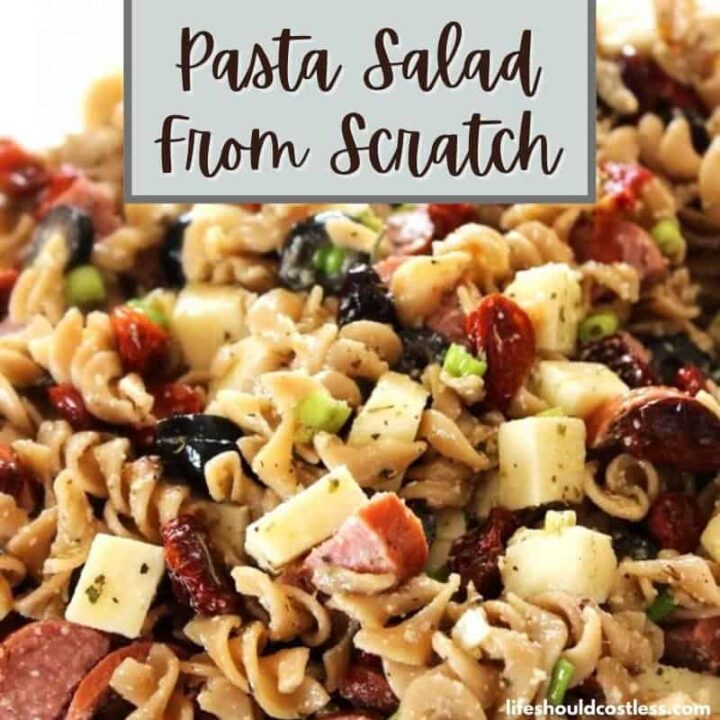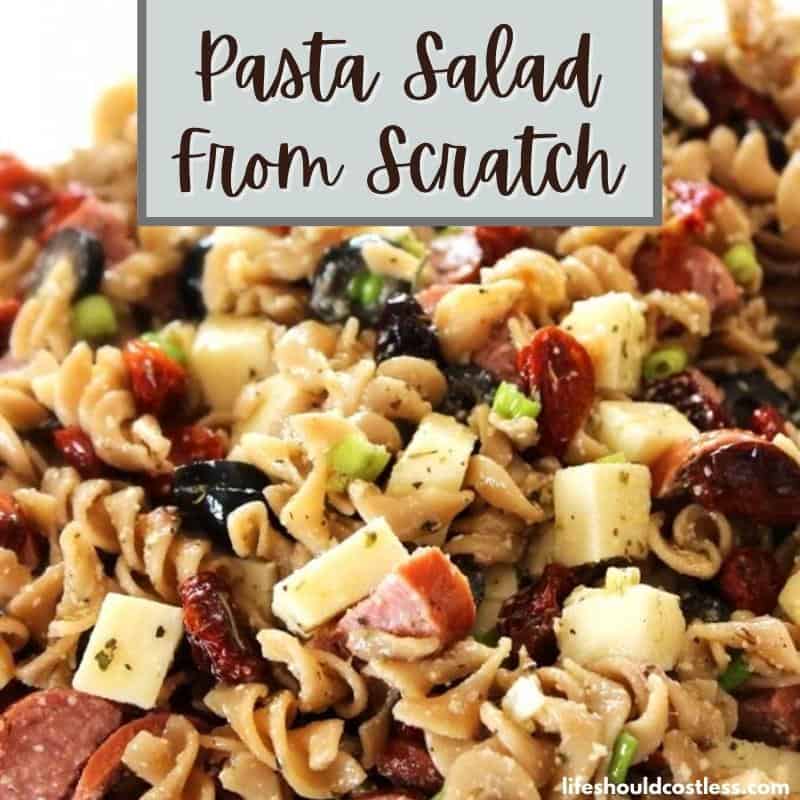 Oh, don't forget to subscribe to my email list (found here). Also, if you would like to learn how to follow along or really show your support for this blog, go here.
P.S. You may also want to check out my Salads & Dressings section.
Here are several of my other recipes that you're also going to LOVE: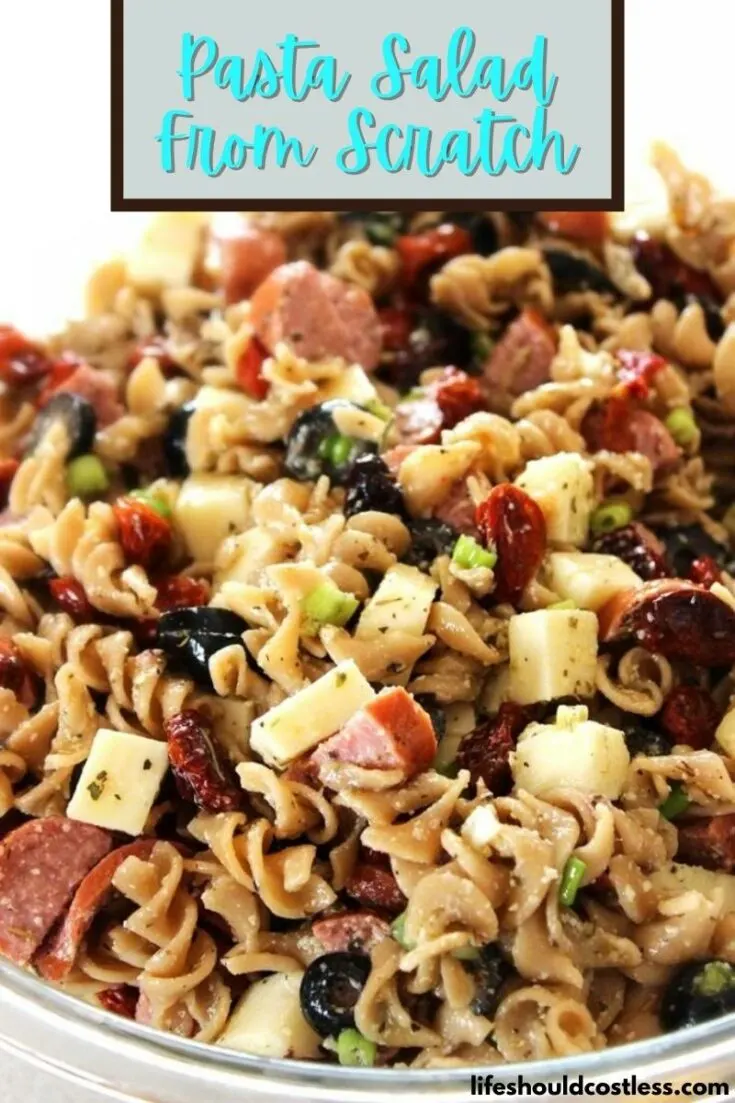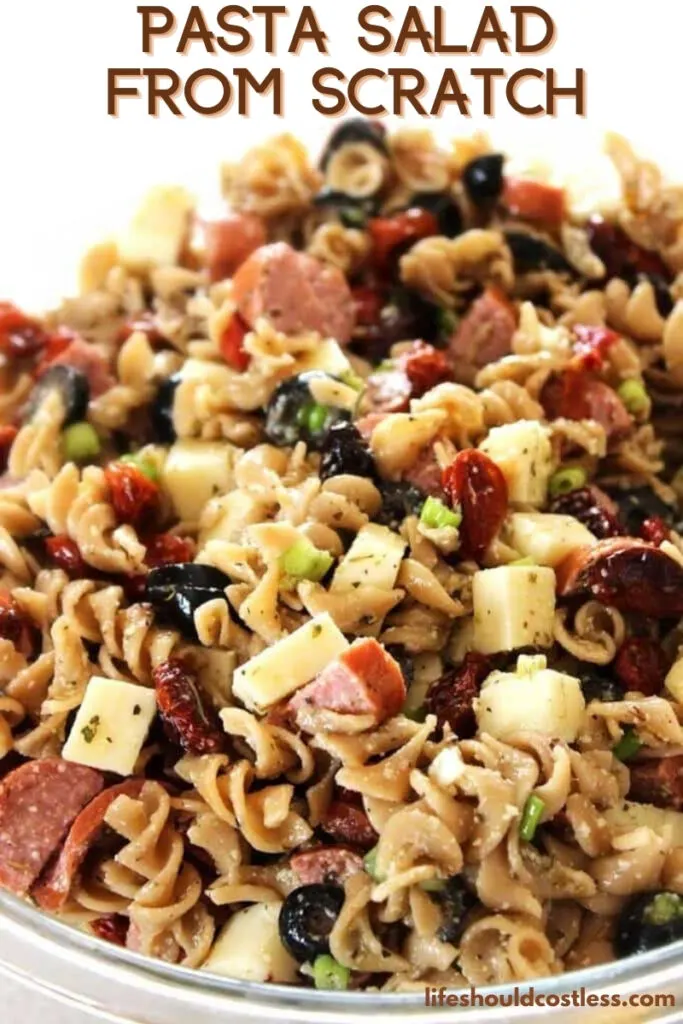 *Reposts: Please note that this idea/post was originally posted to this website on 01/11/2014, but it was in great need of a refresh so it now is more user friendly/shareable and now has a free printable recipe card!