Isn't it funny how your tastes in food change when you get older? I know that mine sure have. As a child I HATED Pasta Salad and avoided it at all cost, but as an adult I LOVE it!
So much so, that lately I have been making it at least twice a month. I'd make it once a week, but that's a little over-kill and it's kind of expensive to make…
Pasta Salad from scratch really is easier than you'd think! It's certainly better for you than buying pre-made, because you can control every ingredient and make it as healthy as you want.
I've been fiddling around with ingredients and I finally decided on what is now my "go to" recipe for Pasta Salad. I have tried to simplify it so that, hopefully, others can make it from scratch too. Well, here it is broken down into steps to make it easier.
Let's dive right into the pics/tutorial of the process of making Pasta Salad From Scratch:
First, we prepare the pasta by boiling it until it's done, draining it, and then let it cool enough to cover and put in the fridge until you are ready to add the other ingredients. You can cool the noodles down faster by rinsing them with cold water when you drain the pasta.
I use a four quart glass pyrex bowl when I make this, you can get one on Amazon here.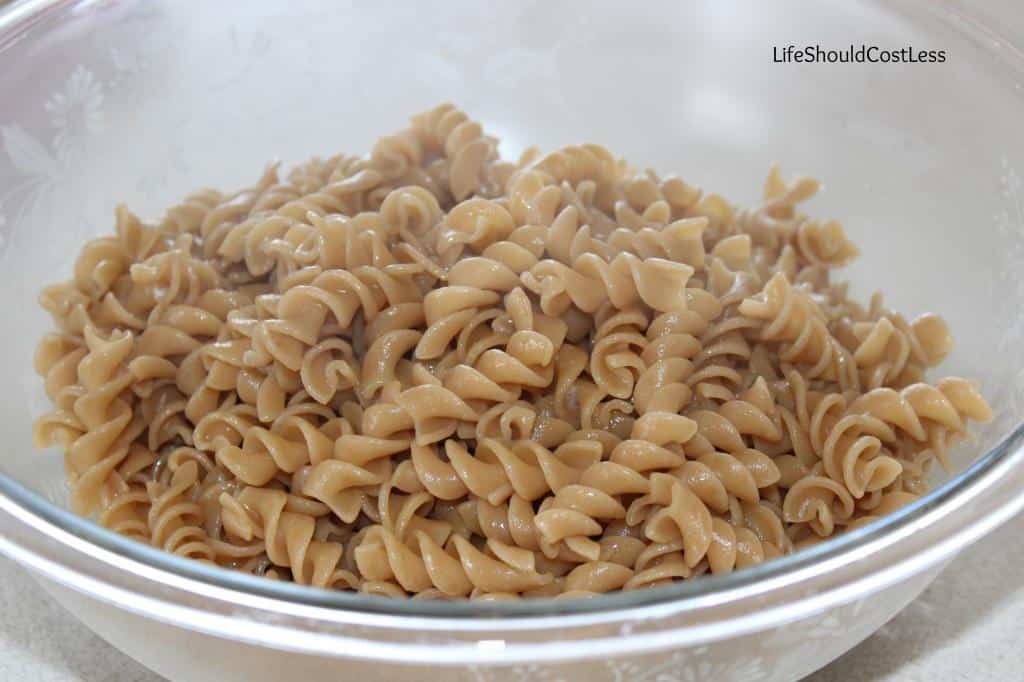 Next, we start making the dressing. I like to use a Pint Jar with a plastic lid for this part.
Add the oil to the jar.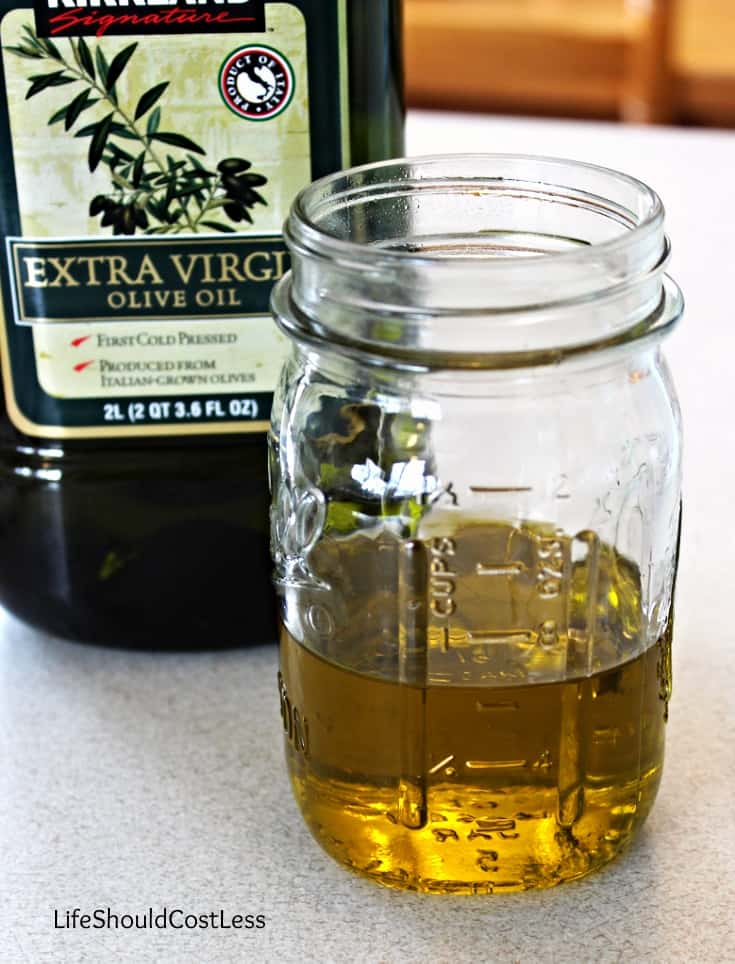 Then add the vinegar.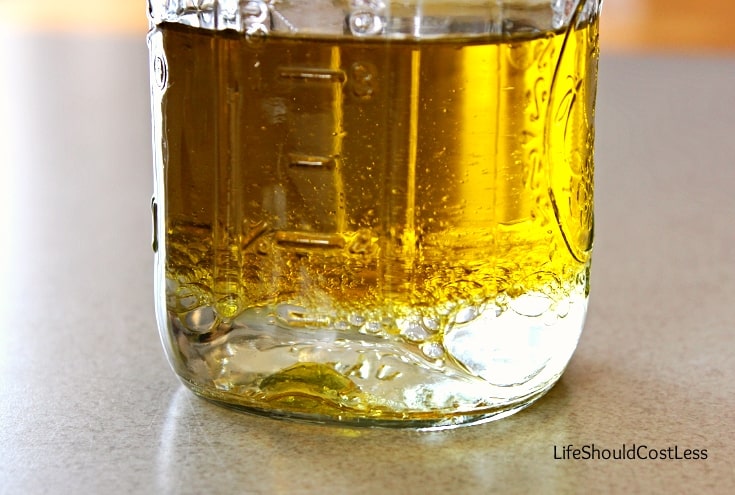 Then add the Parmesan Cheese.
Next I added some of my Home-Made Bulk Italian Seasoning, you can get that recipe here.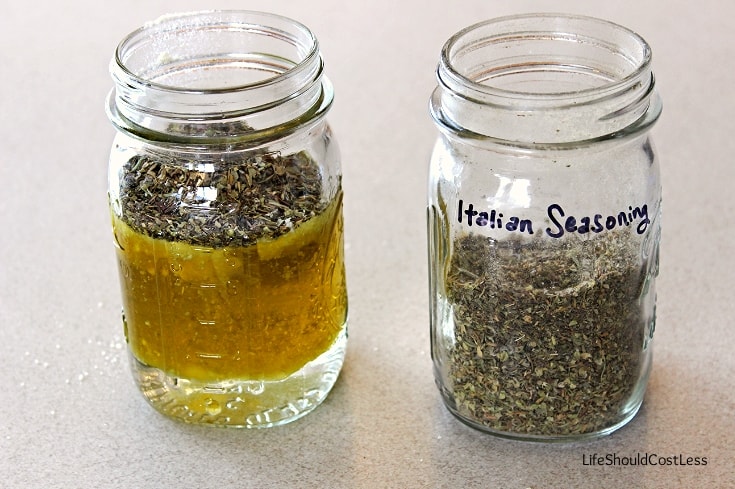 Now with the added yummy Green Onions. I only used ½ a cup this time, but you can add more as desired.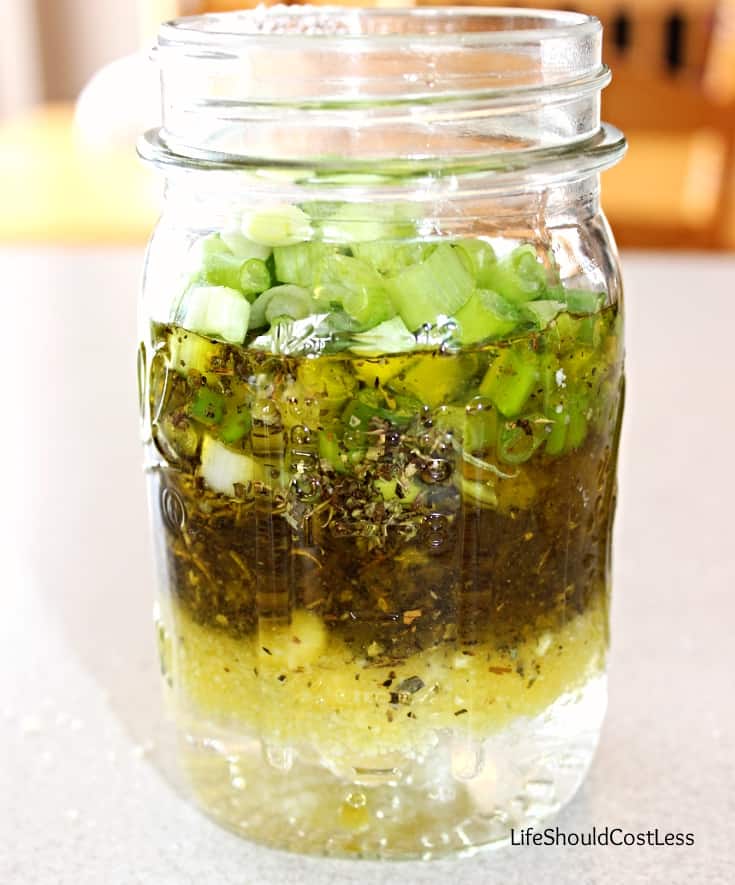 Oh, before I forget, I wanted to also share with you several of my other salads that you'll love:
Back to the Pasta Salad From Scratch recipe.
Now we put the lid on the jar and shake well to mix!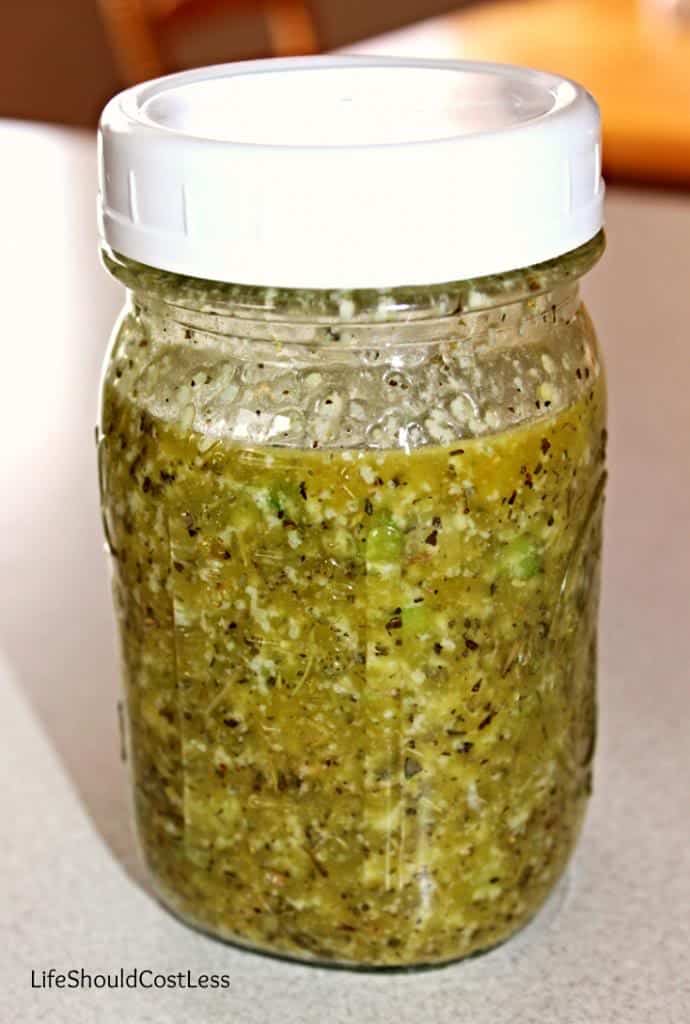 Next, cube your Mozzarella Cheese to your desired size. I prefer big chunks, but half of that preference could just be because I'm a little lazy in the kitchen.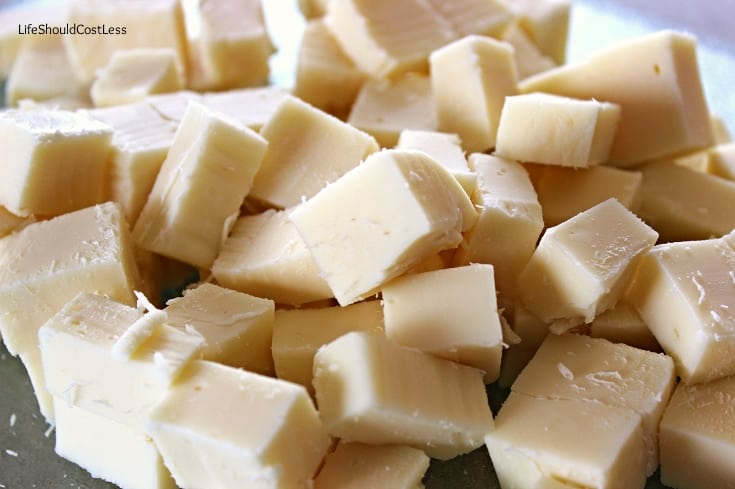 Here is my favorite kind of pre-cooked sausage for this recipe. It's delicious! Just cut it to your desired size…along with cutting down the olives to your desired size.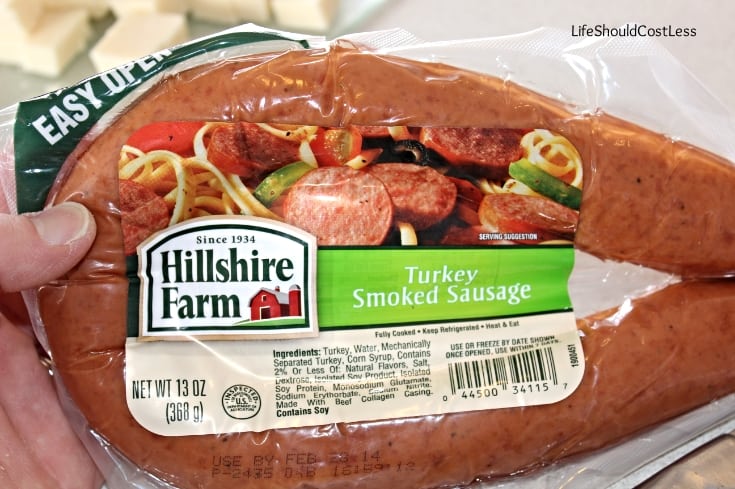 Here are what the other ingredients looked like when prepped and ready.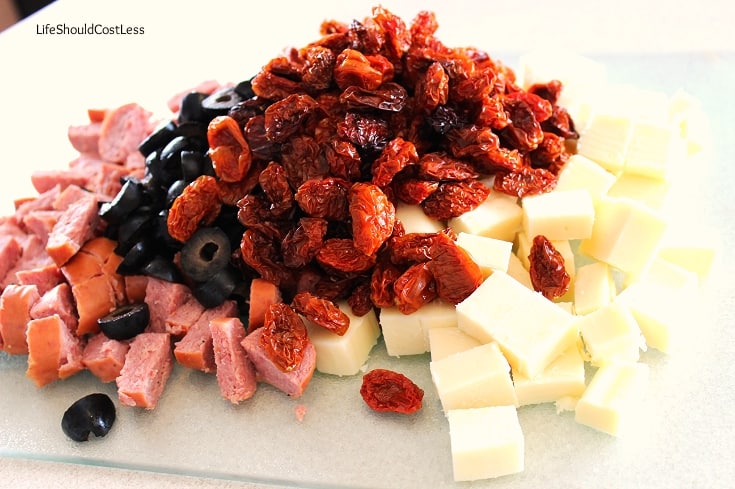 It's time to combine everything! Here are all the ingredients when it's time to mix them together in my large bowl, you will need a bowl that is at least four quarts to handle this recipe.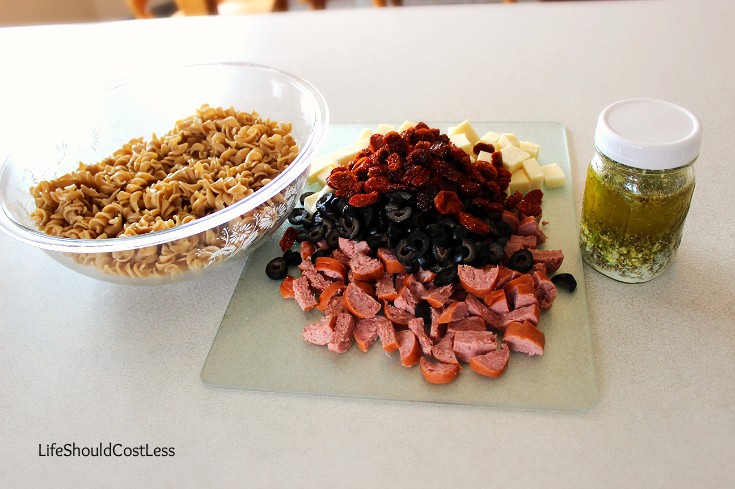 One thing to remember is that the oil in the dressing settles…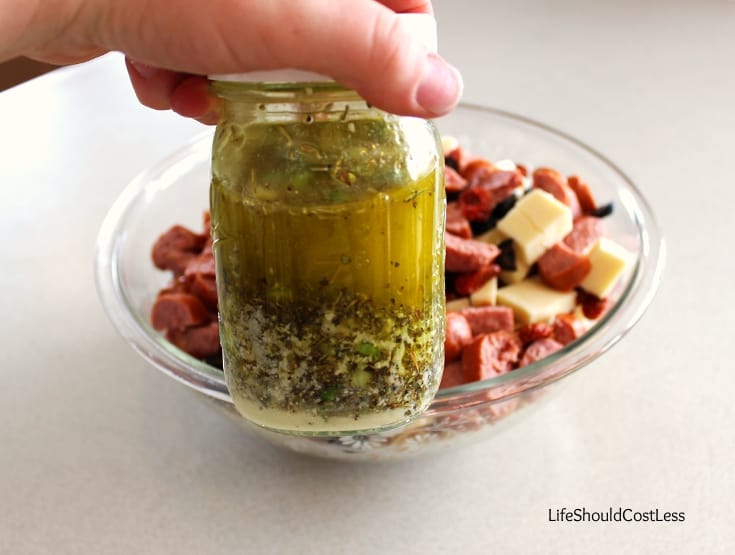 So make sure to shake it up really well right before you add it.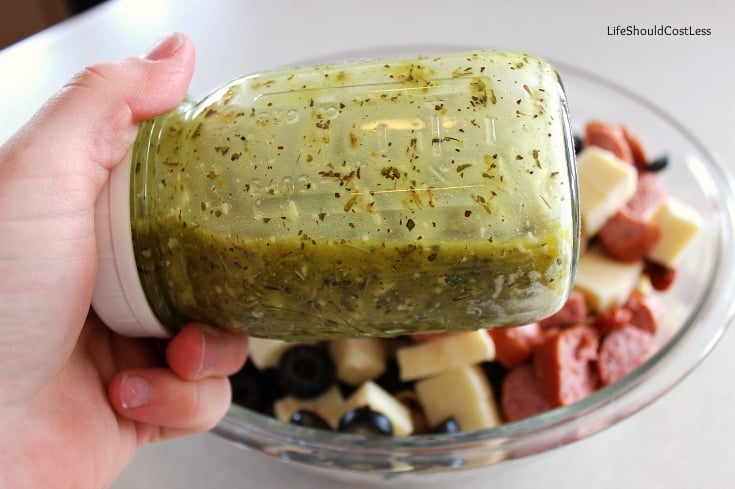 Here's what it looks like when everything has been added to the bowl, and it's time to toss it together/ mix it.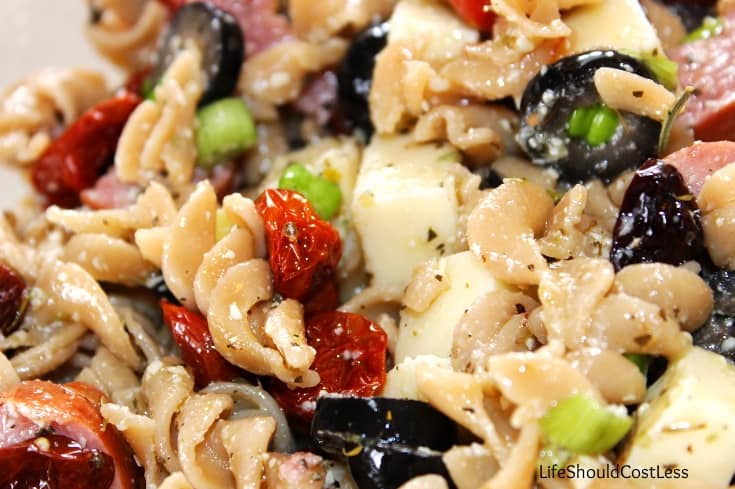 It's ready to serve! Enjoy!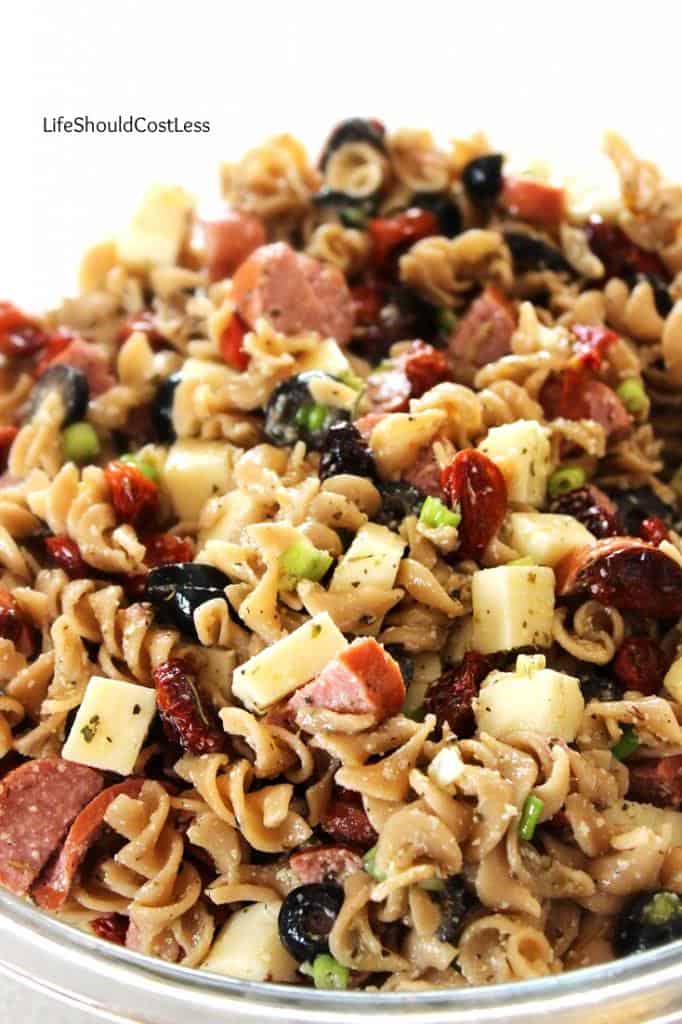 This is just my preference for the ingredients, but you can do it however you want. Maybe just use my amounts as a guide. I had to use dried tomatoes this time because they were getting soft, I didn't want them to go to waste so I dried them in the oven.
Thanks so much for stopping by my blog! If you liked what you saw, please make sure to share it via social media!
Other ways to show your support are to follow and/or interact with me on Pinterest, Instagram, Facebook, YouTube, or by Subscribing To My Email List. If you purchase suggested products through Amazon, the cost to you remains the same, but I make a small commission on everything in your cart.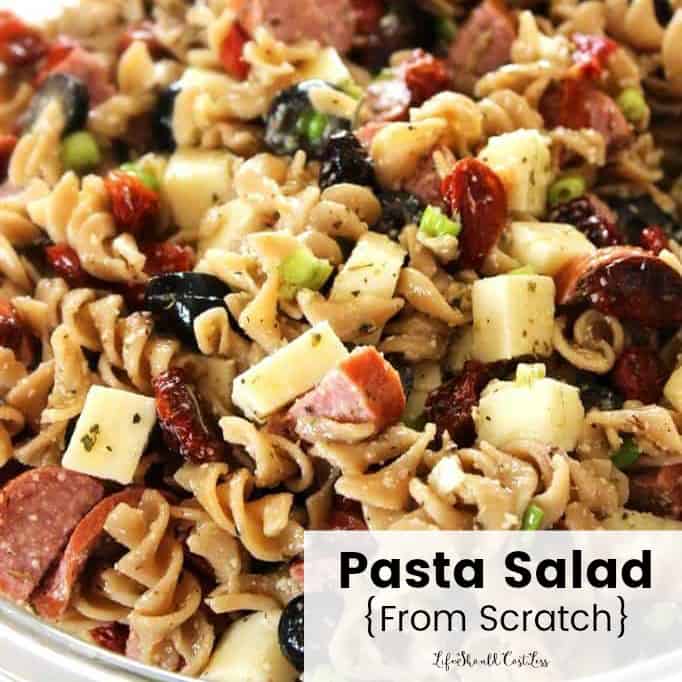 If something was particularly helpful and you would like to donate directly to the blog, you can do so via PayPal, here. I'm a single mom of four, so every little bit helps. Thanks so much! ~Sarah
P.S. You may also like my Salads & Dressings section as well as my entire recipes section. Here are a few linked pics to check out too!
Some of my other recipes that you may like are (the pics are links):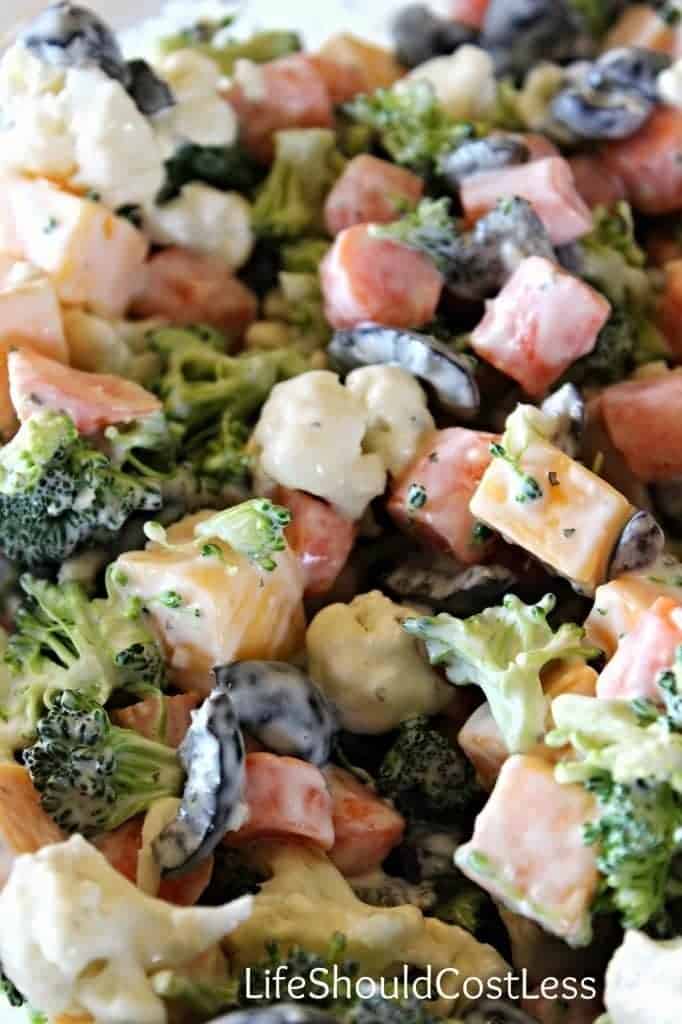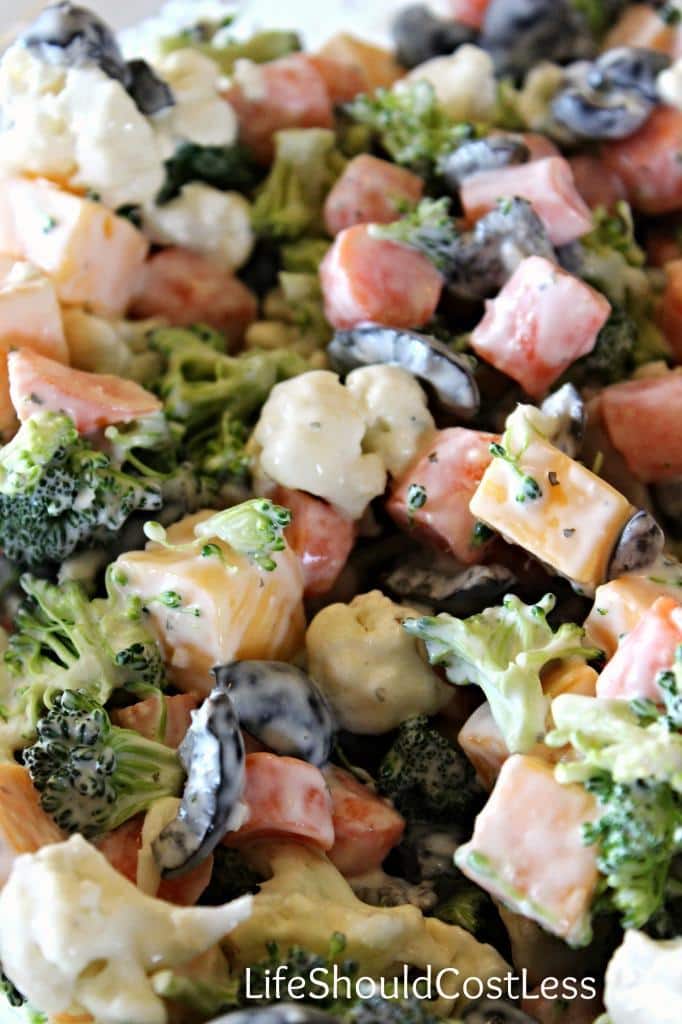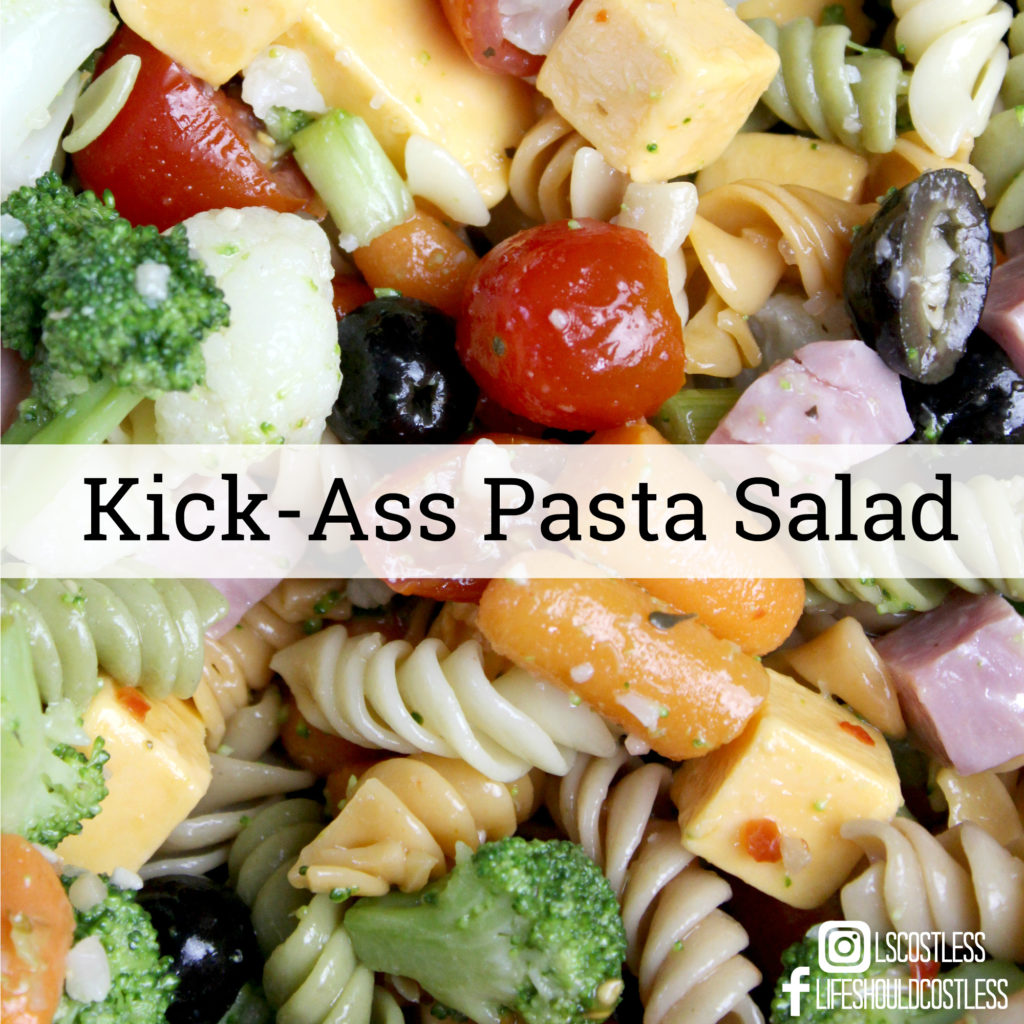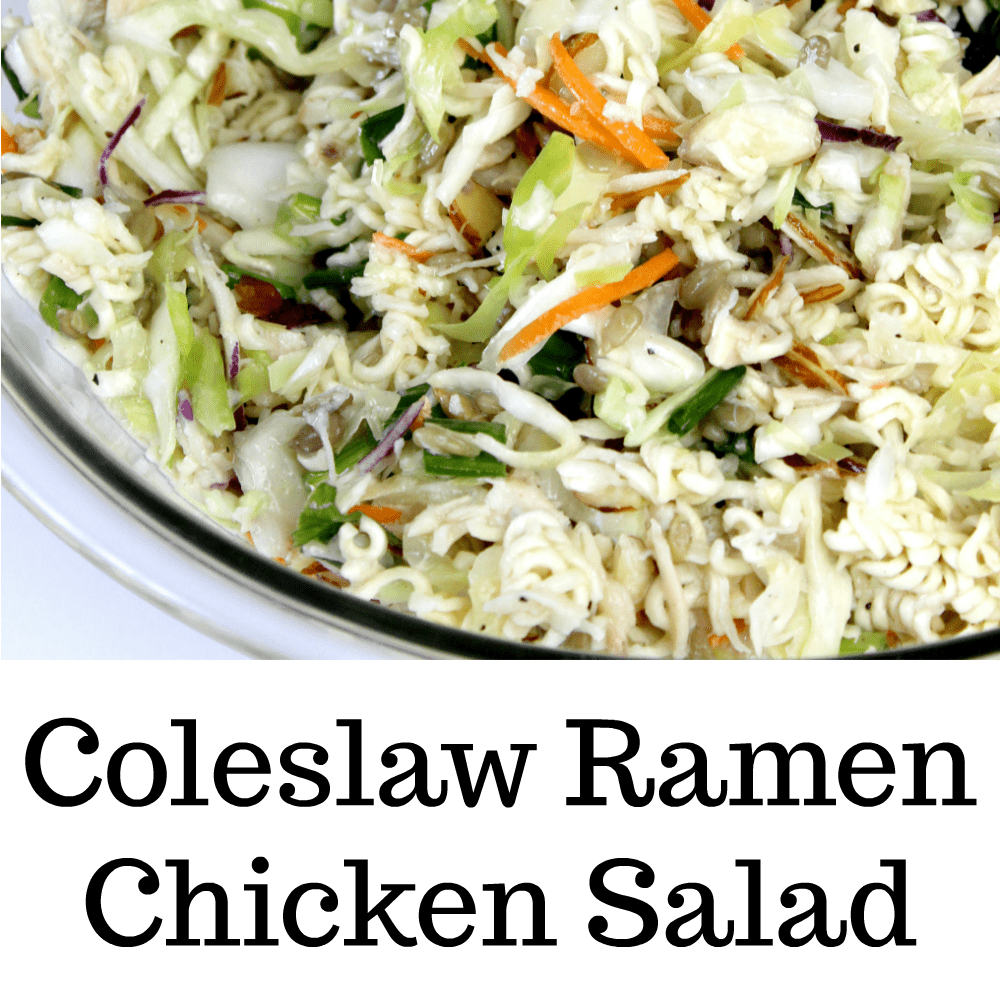 *Reposts: Please note that this idea/post was originally posted to this website on 01/11/2014 but it was in great need of a refresh so it now is more user friendly/shareable and now has a free printable recipe card!