This salad is so delicious! I made it for dinner tonight and all of us had seconds, which is not normal for my kids (my husband even had 4ths…he'll be SO happy I added that…;). It is honestly so tasty that every single time I take it to a party there are never any leftovers.
Since it's a little on the expensive side to make, I do use the excuse of a large gathering to make a second bowl for my family.

I consider it to be a whole meal since it has a fruit, vegetable, dairy, grain, and fat all in one bowl. Anyway, I got this salad combination from my sister, and it's been passed around the family quite a bit for the last few years, so I'm not sure who deserves credit but it's too good not to share.
No need to write all day, the true test is to try it and see if you like it. Odds are it will be your new favorite too within just a few bites!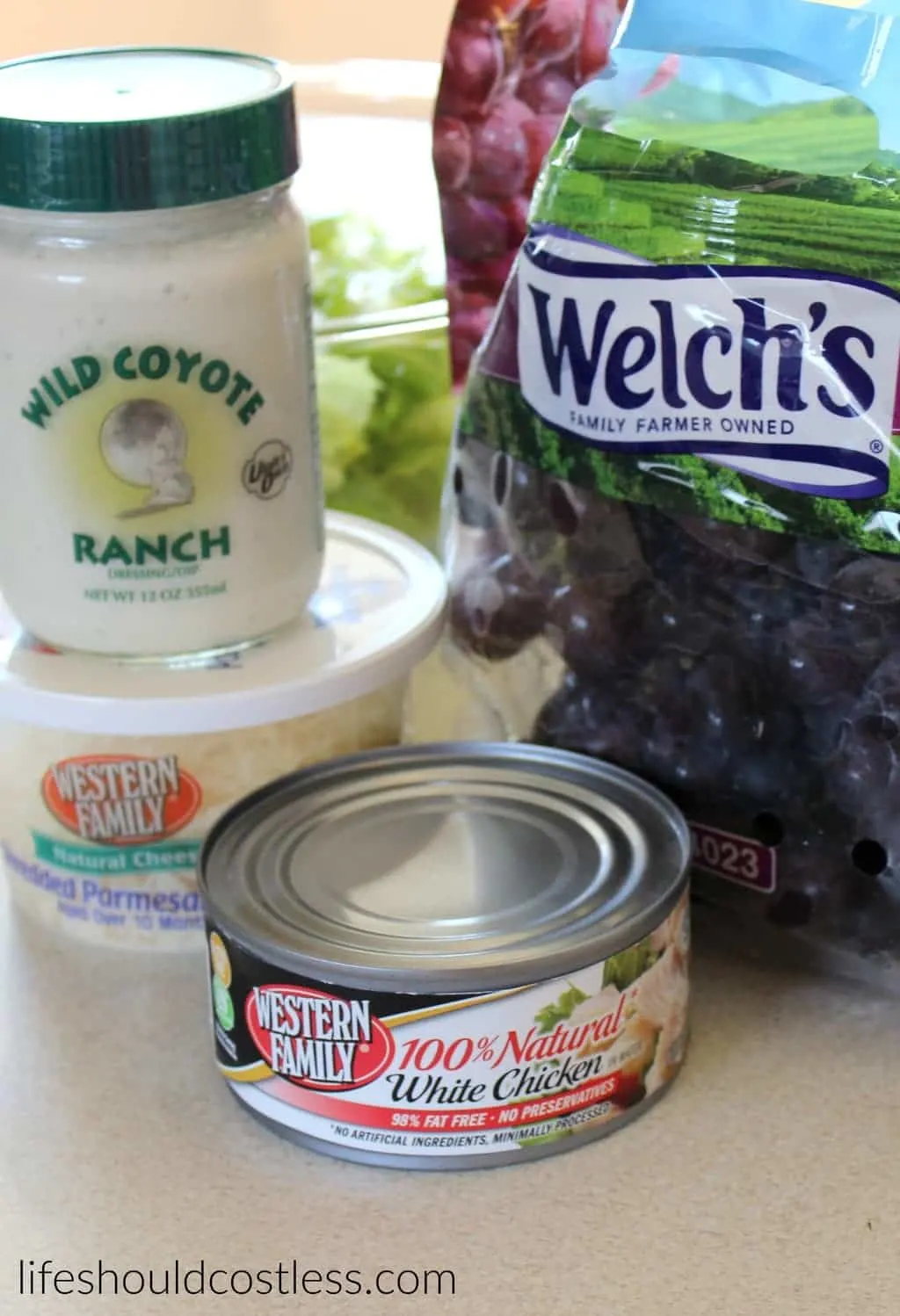 *Make sure to check out some of my other yummy recipes at the end of this post.*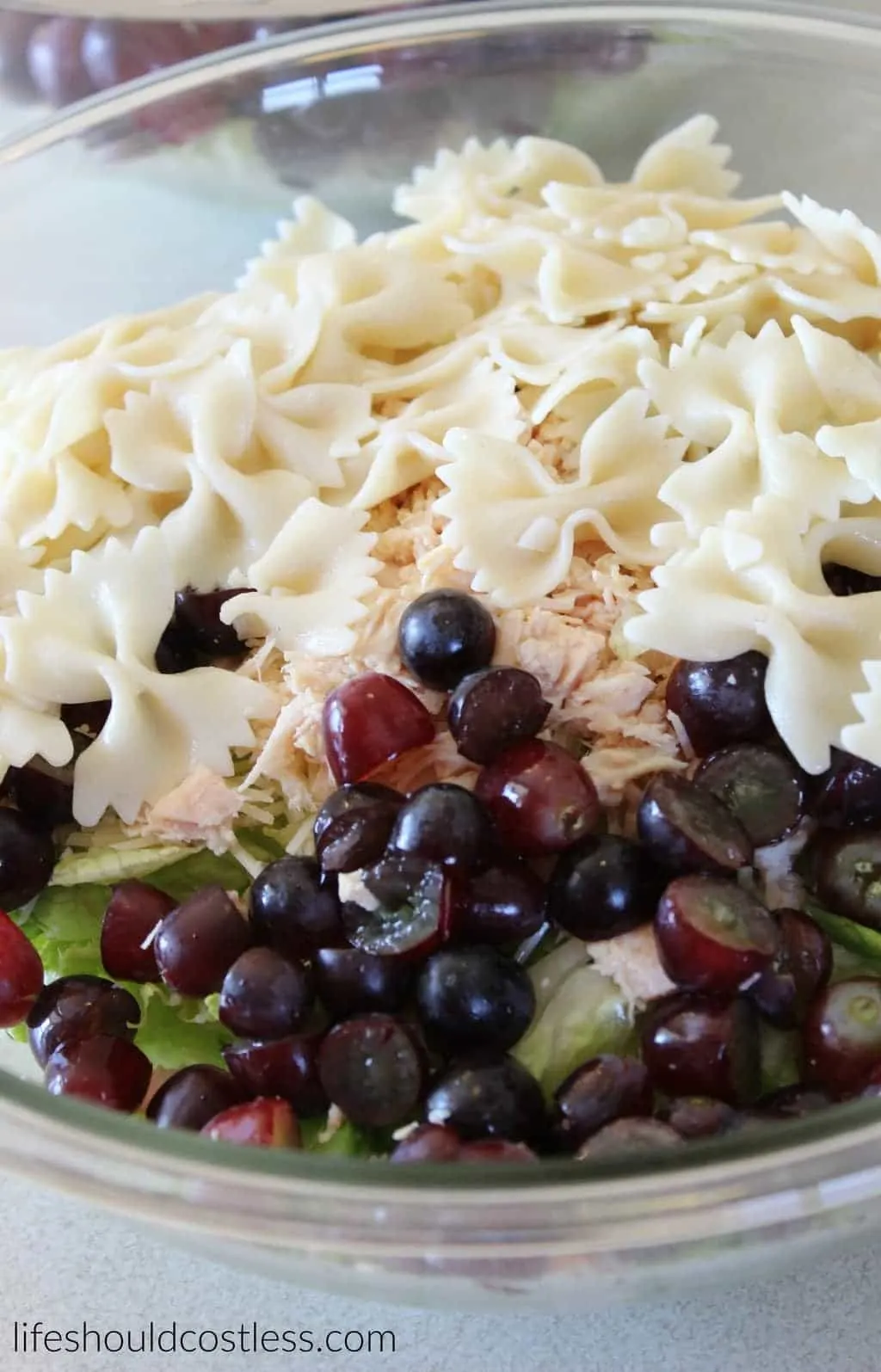 Hungry for some yet?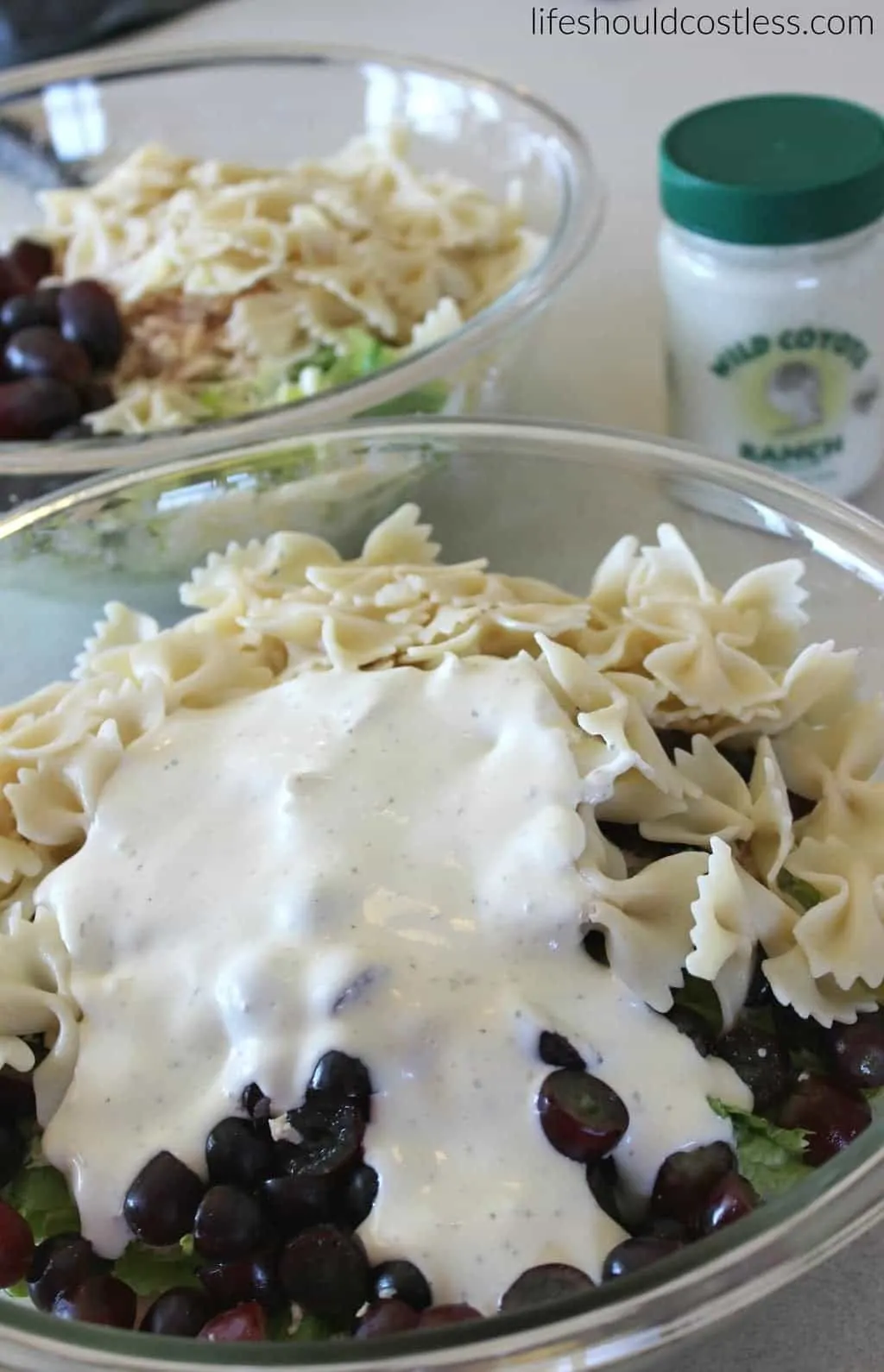 Bow Tie Chicken Salad
Author:
LifeShouldCostLess.com
Ingredients
¾ C Grated Parmesan Cheese
1 & ½ C (uncooked measurement) Bow Tie Pasta (prepare as directed on box, then cool)
1 & ½ Heads Romaine Lettuce (washed & chopped to desired size)
½ Large Can, Canned Chicken (drained)
1 & ½ to 2 C Red Seedless Grapes (washed & cut in half)
*Wild Coyote Ranch Dressing
Instructions
Add all ingredients to a large bowl (at least 4 quarts in size) and toss. Cover tightly and chill until ready to serve.
*Use as much dressing as you prefer, but Wild Coyote is the only way to go...it's so good!
**The dressing can make it soggy, so make sure not to add it until just before you serve it.
***Place the Canned Chicken in the fridge so that it's nice and cold like the other ingredients.
****If you don't have time to prep your noodles beforehand and need them cooled quickly, I find it helpful to rinse them with very cold water and then spread them out on a cookie sheet that is covered with a clean dishtowel and place them in the freezer for 5 minutes or so. They come out just right.
This is a small batch, but if you are making it for a large crowd just double the above. You can put whatever ratio's of ingredients that you prefer, just sharing what I did. I'm assuming that most people know how to assemble/toss a salad… which is why this is as far as the directions for assembly go:).

Please make sure to share this post with anyone that asks you for the recipe…which will be a lot of people ;). ~Sarah
P.S. If you have never tried Wild Coyote Ranch, you have been missing out. It can be found in the refrigerated section usually by the salad kits. Also, if you can't find Wild Coyote Ranch, a good alternative is Gregg's Savory Ranch Dressing that can be found at Costco.

*This post got a make-over on 05/25/16.