Learn how to make a delicious and easy Coleslaw Ramen Chicken Salad in just a few steps with this yummy, less-sugar (than the typical versions of this dish) recipe. It is sure to please the whole family!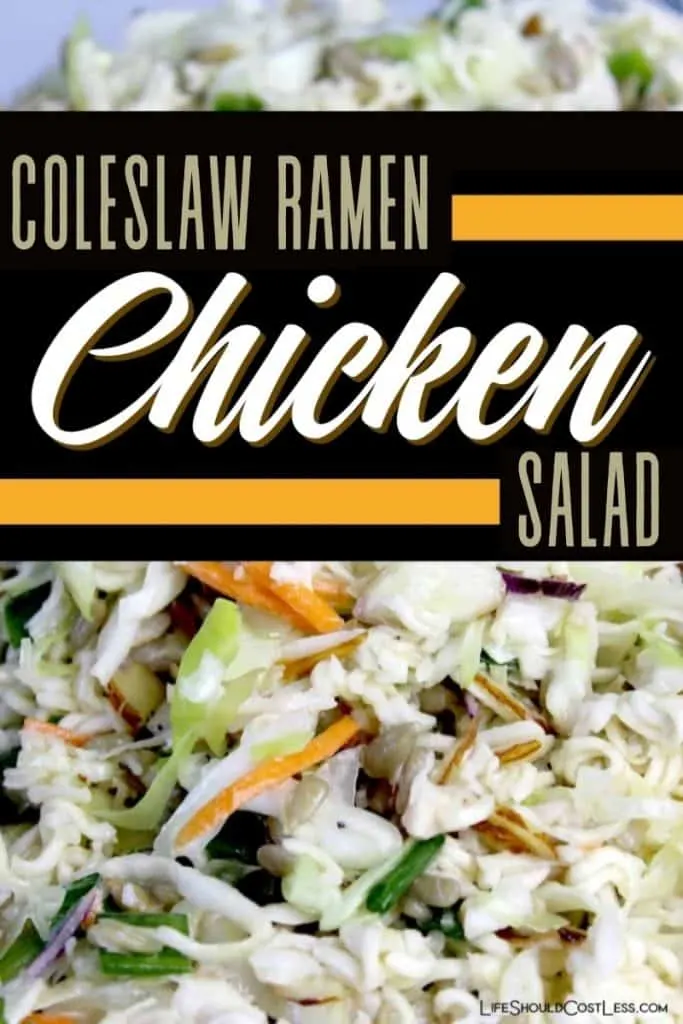 I'm not a fan of Ramen noodles, or Coleslaw for that matter, so you better believe that I was quite surprised to be such a big fan of this recipe that has both of them as main ingredients.
This is one of those salads that I crave quite frequently honestly, but lucky for me, I never seem to have to make it because my mom makes a double batch every couple of weeks so I'm spoiled and need only to go raid her fridge…lol.
This is the perfect salad to take to a pot luck, so if you need a fresh idea to take to a gathering, give this one a try, you are sure you'll get asked for the recipe, because I always do.
I got this recipe from my mom. I'm not sure where she got the original recipe, but just like me (er…I'm sure I'm just like her) my mom never leaves a recipe as it was when she got it, so she has changed it up a bit and each change has made it even more tasty.
Let's just dive right in to the directions and then I share the free printable recipe card down at the bottom…
How to make an Oriental Chicken Coleslaw Salad?
Here are the ingredients all laid out. I'm going to do the dressing mixture first, and then show you the ingredients for the salad mixture after.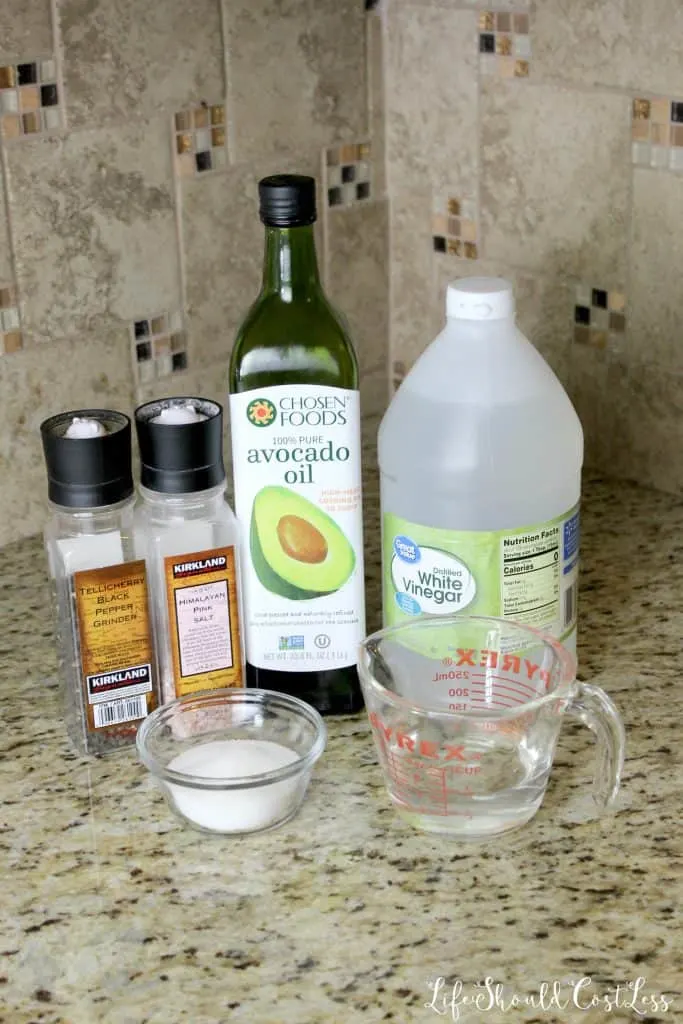 What is in Chicken Coleslaw Salad?
Now I show you the salad mixture ingredients.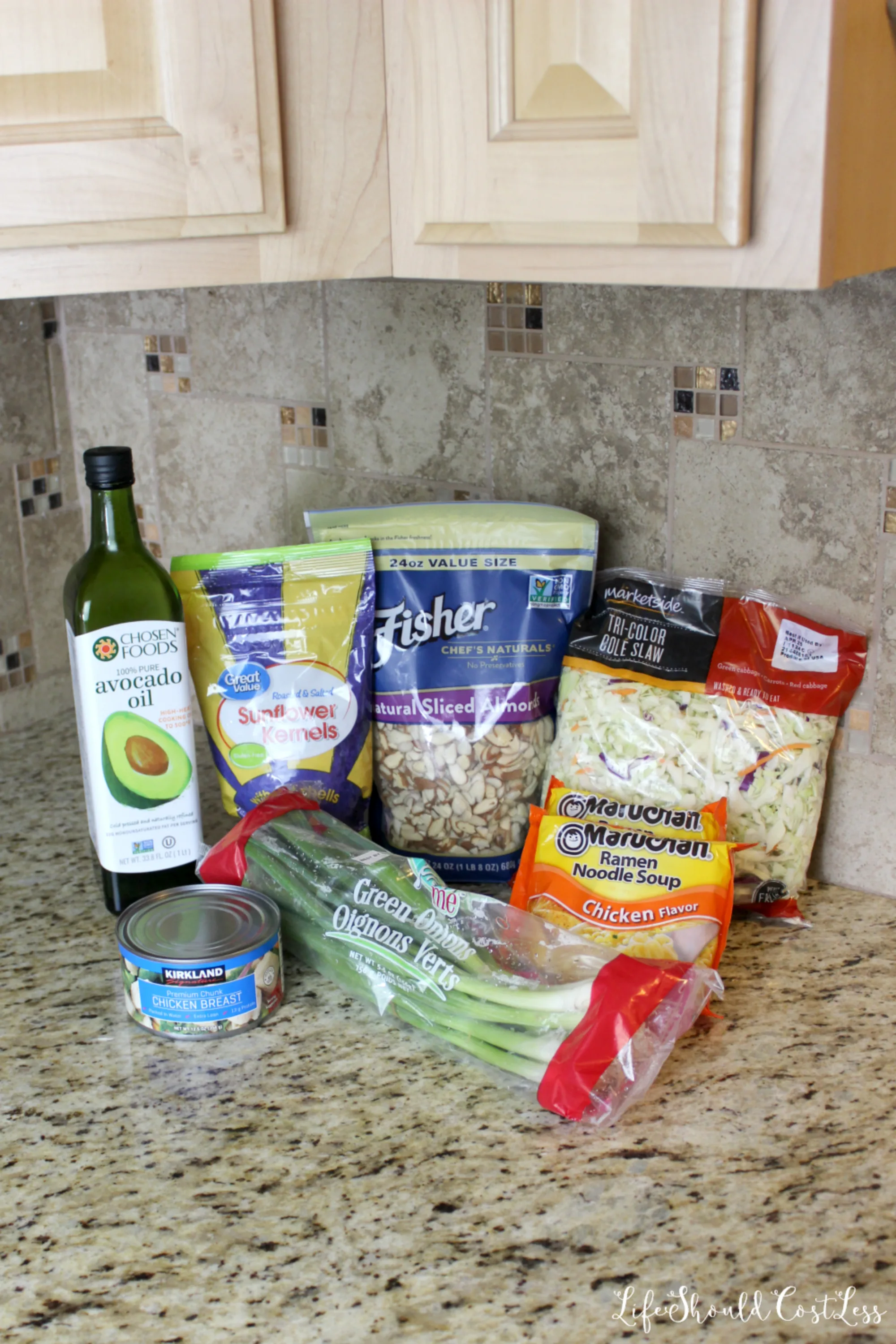 I did some closer-ups so you guys can see a little better what ingredients you'll need to buy.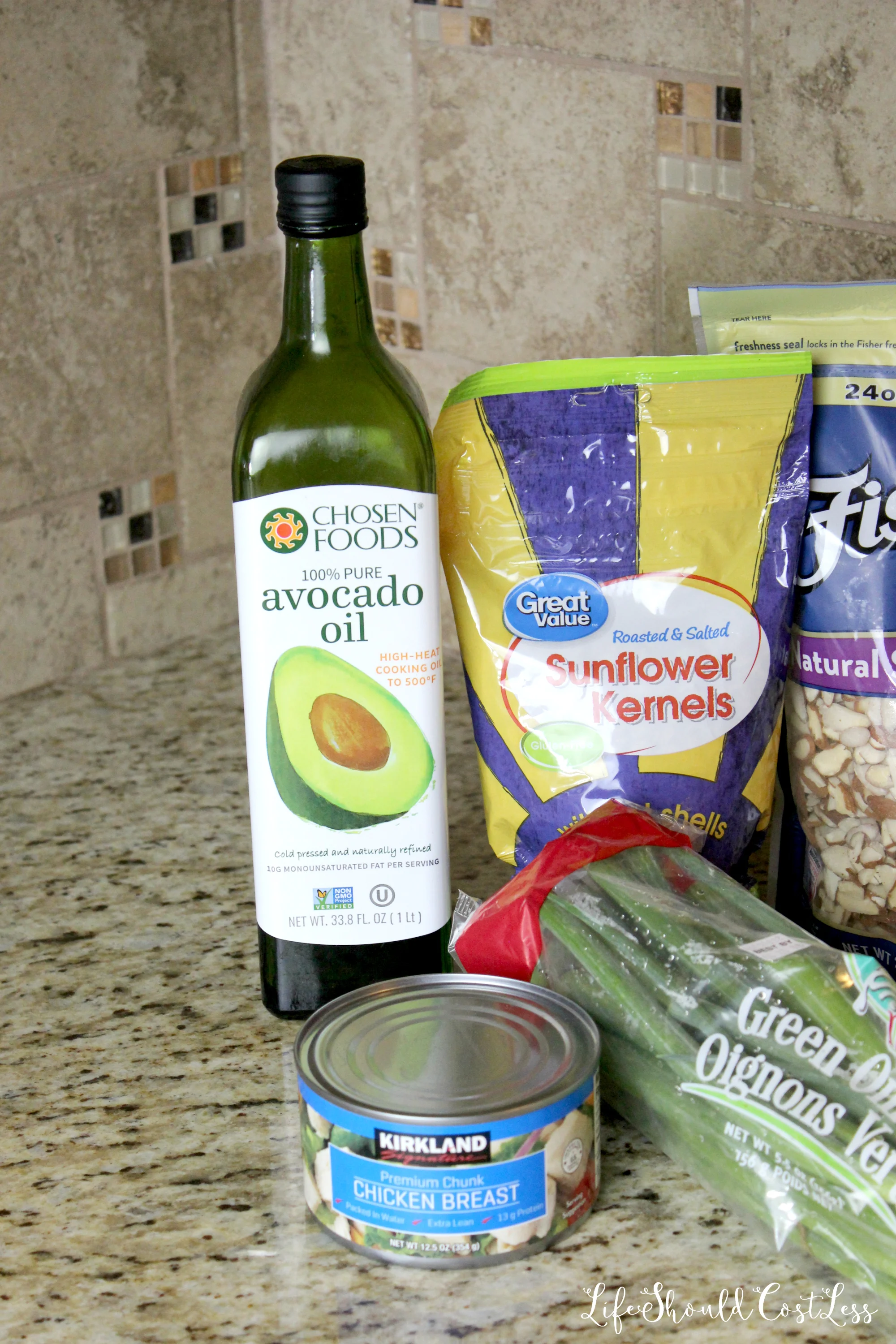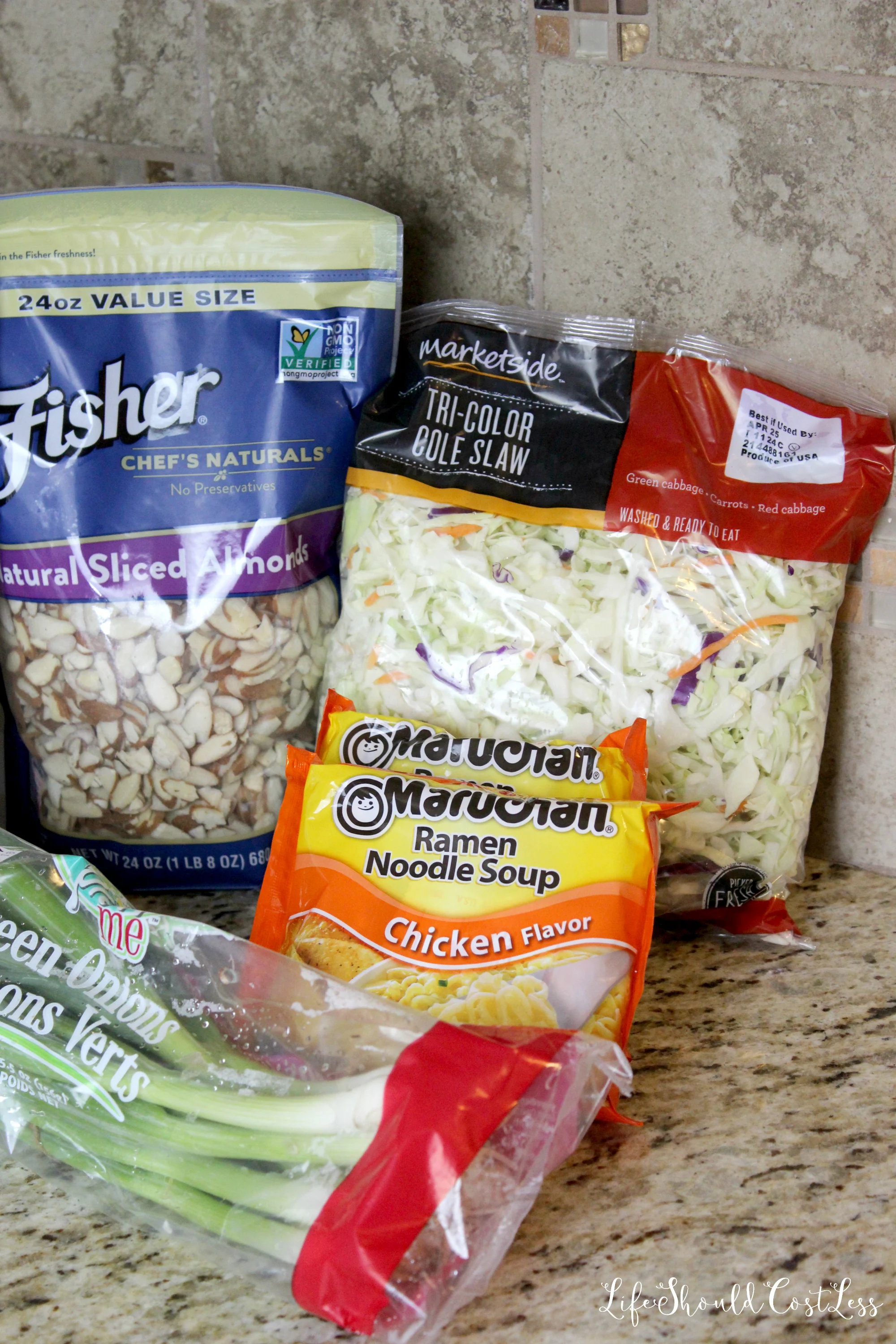 Now, it's time to make it! I start out with making the dressing because it needs a considerable amount of time to cool.
Start out with a small to medium sized sauce pan on medium heat. Add all the dressing ingredients. Mix them together, I use a whisk for mixing it.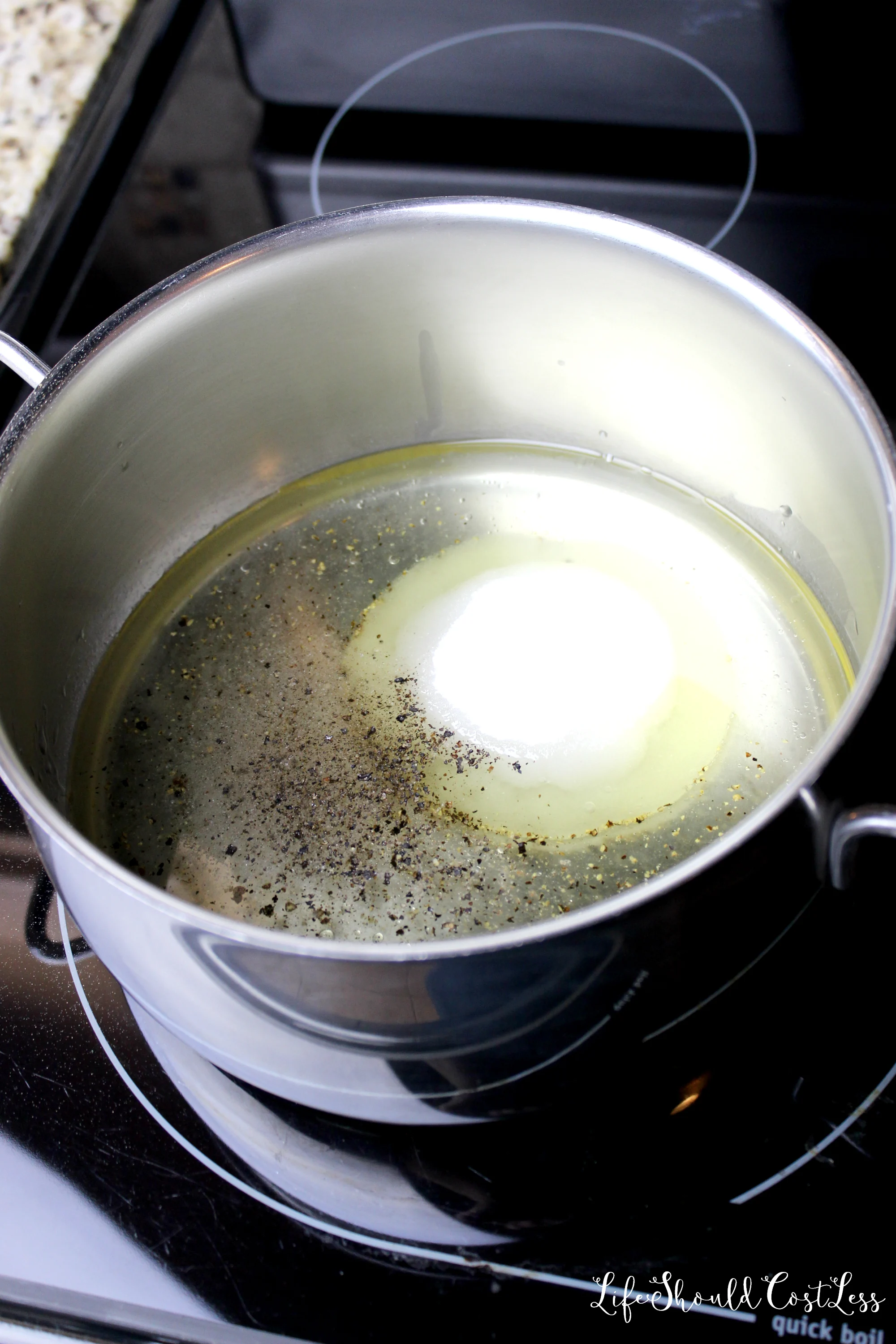 Bring to a boil for a minute or two to dissolve the sugar.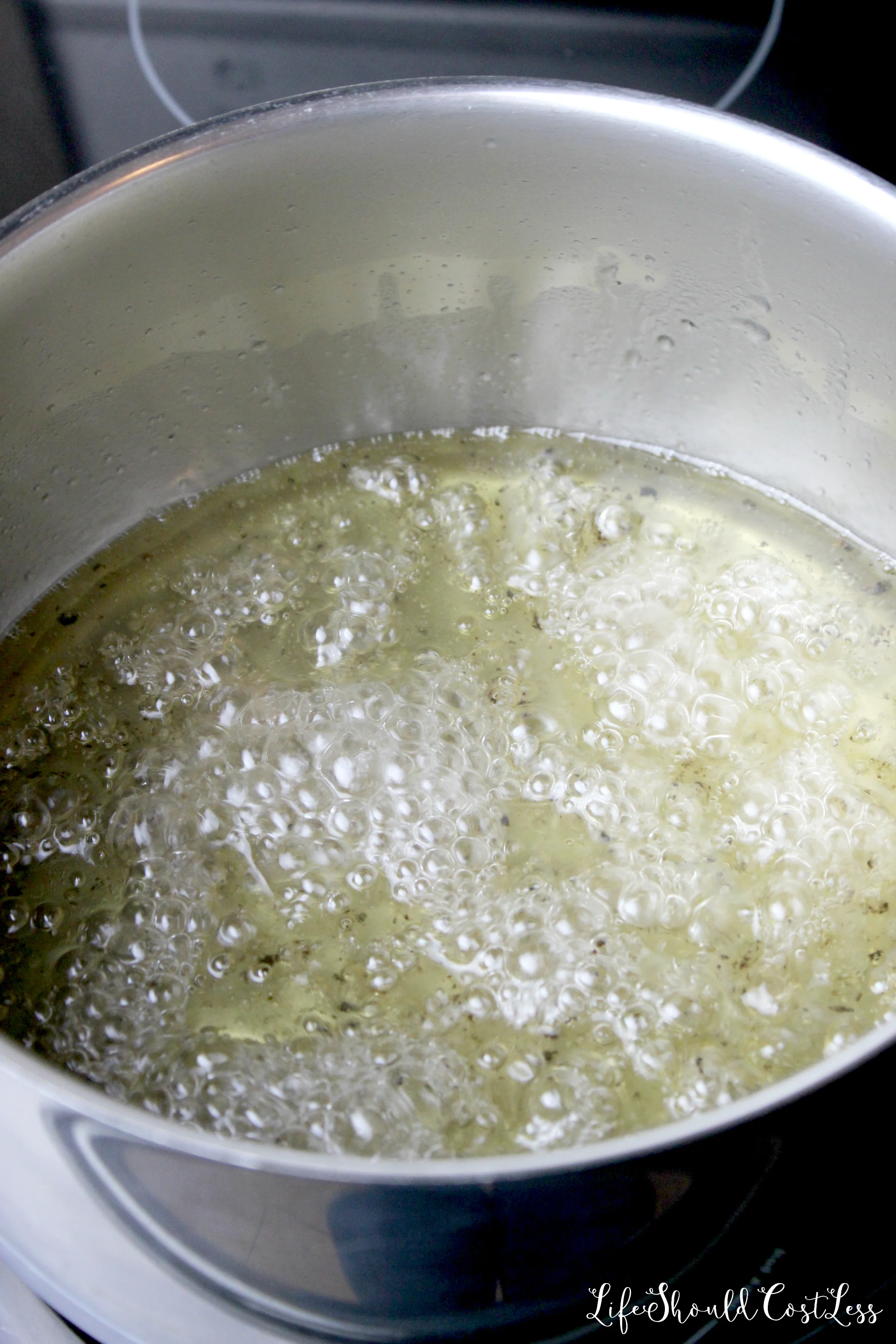 Remove from heat and let cool before you refrigerate it. I just let mine cool in the same measuring cup I used to measure out the ingredients for the dressing…less dishes that way.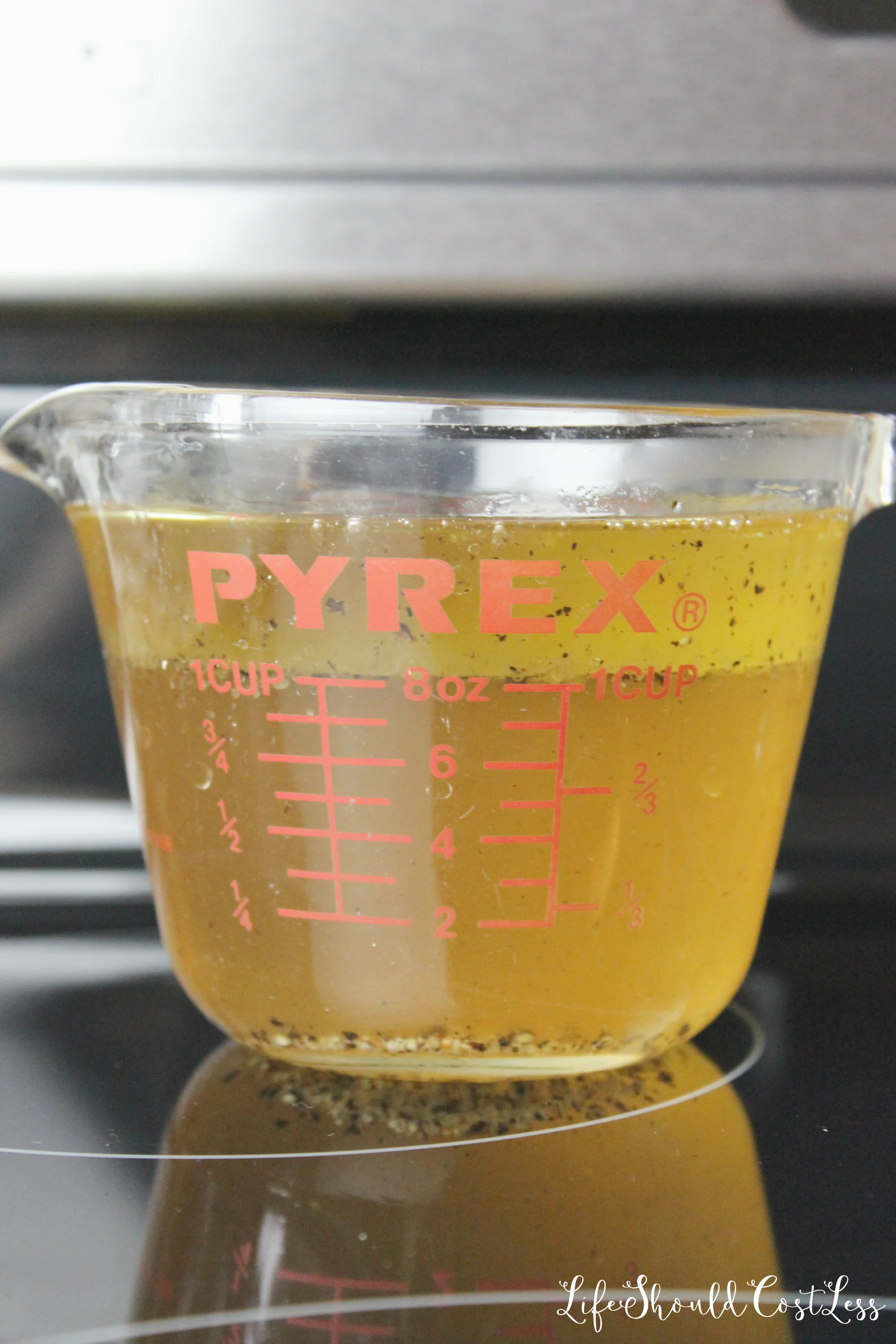 While the dressing is cooling, it's time to make the salad! I start out with my four quart mixing bowl, and add the oil.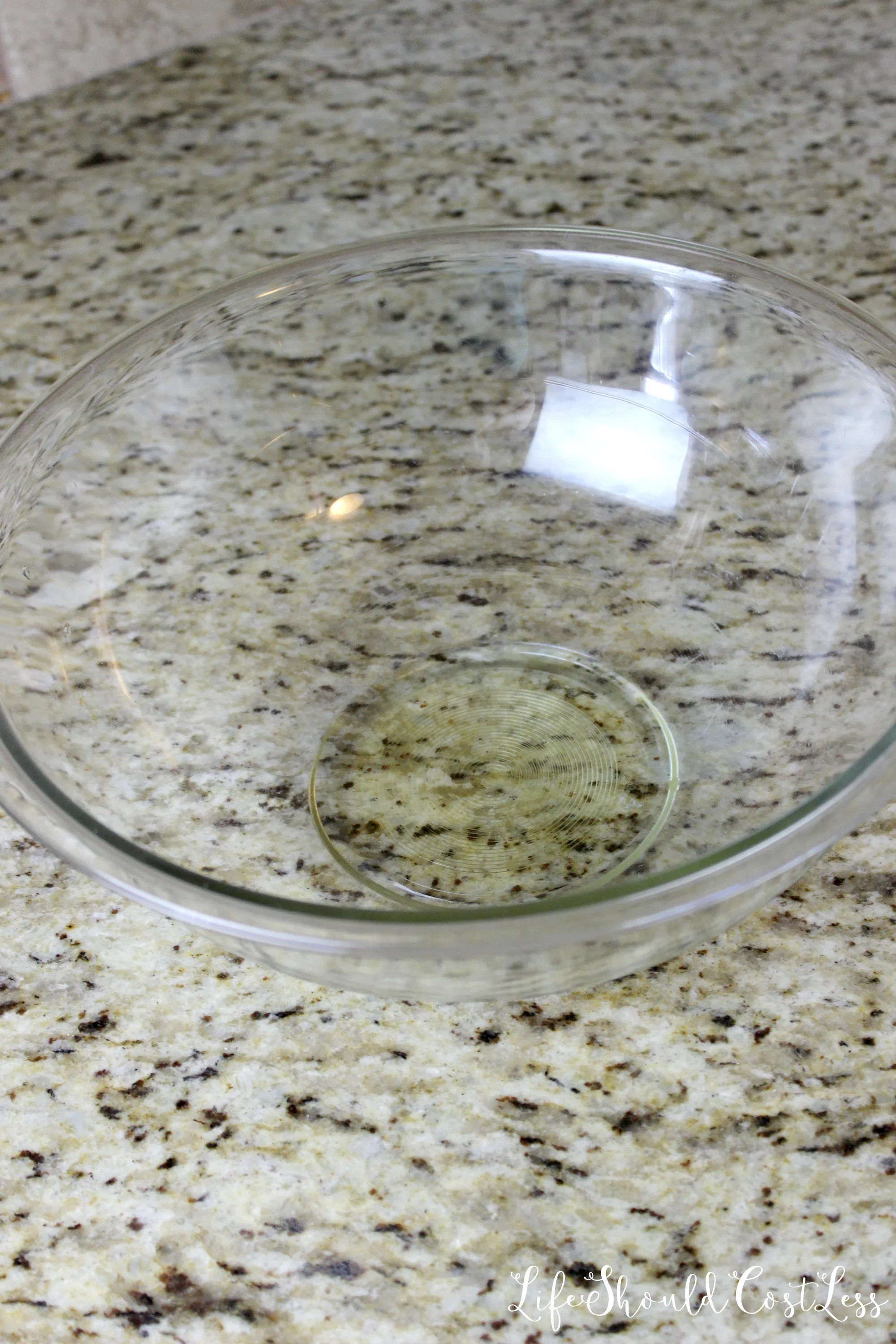 Then add the coleslaw.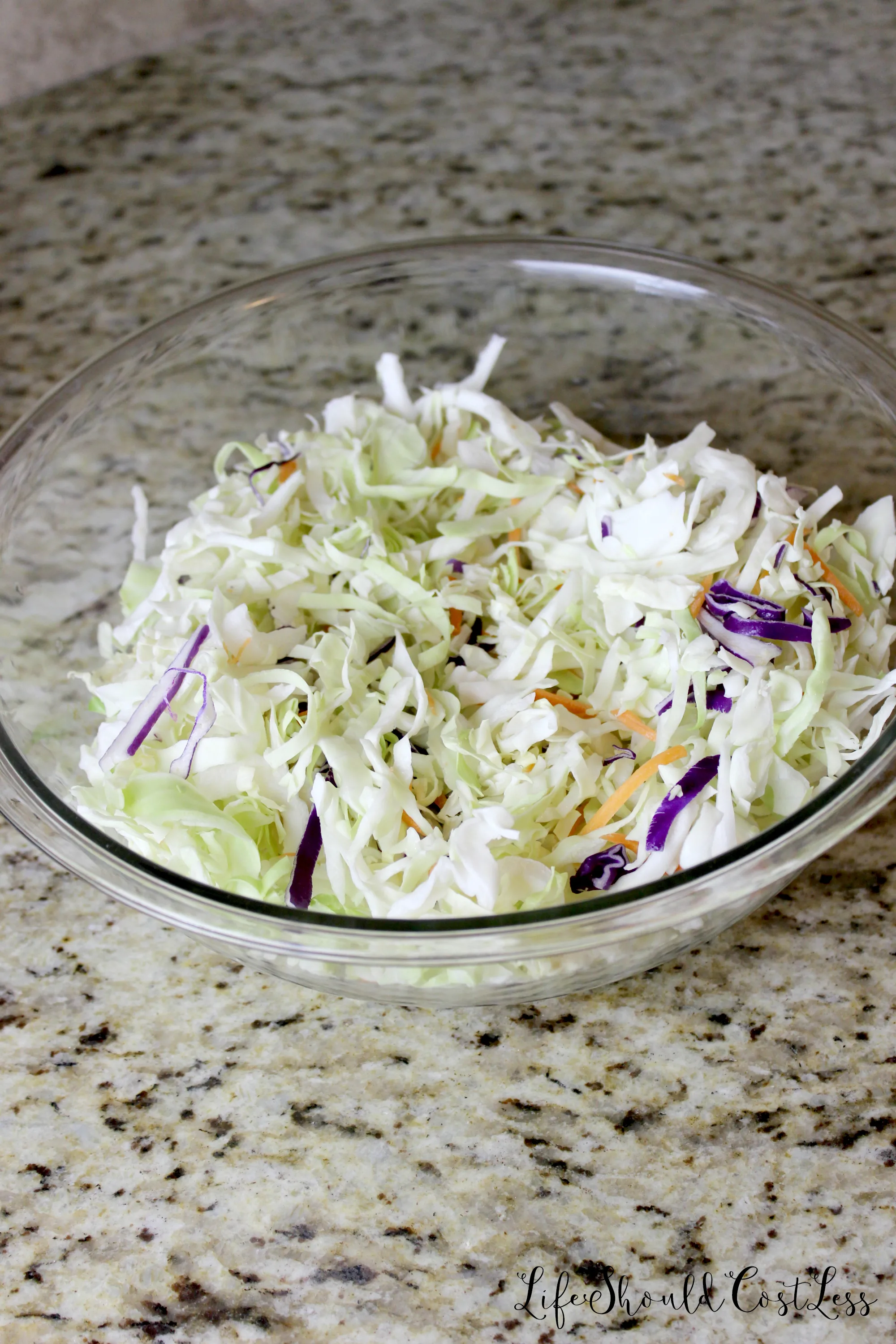 Next I layer all the remaining ingredients. *Remember, to save money on this recipe it's smart to buy the ingredients, that you are going to use regularly, in bulk.
The sliced Almonds and the Sunflower seeds would be good to buy in bulk, for example.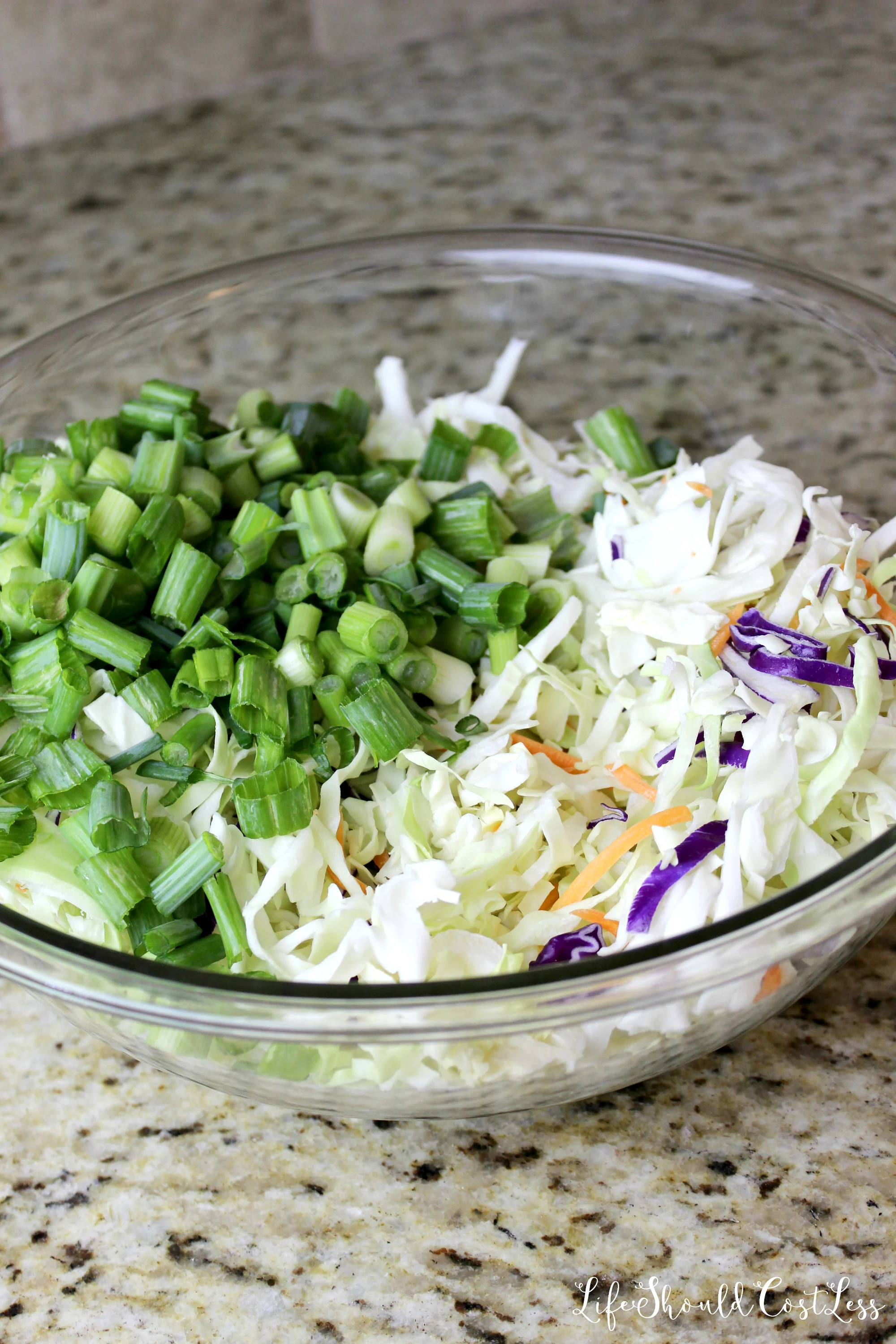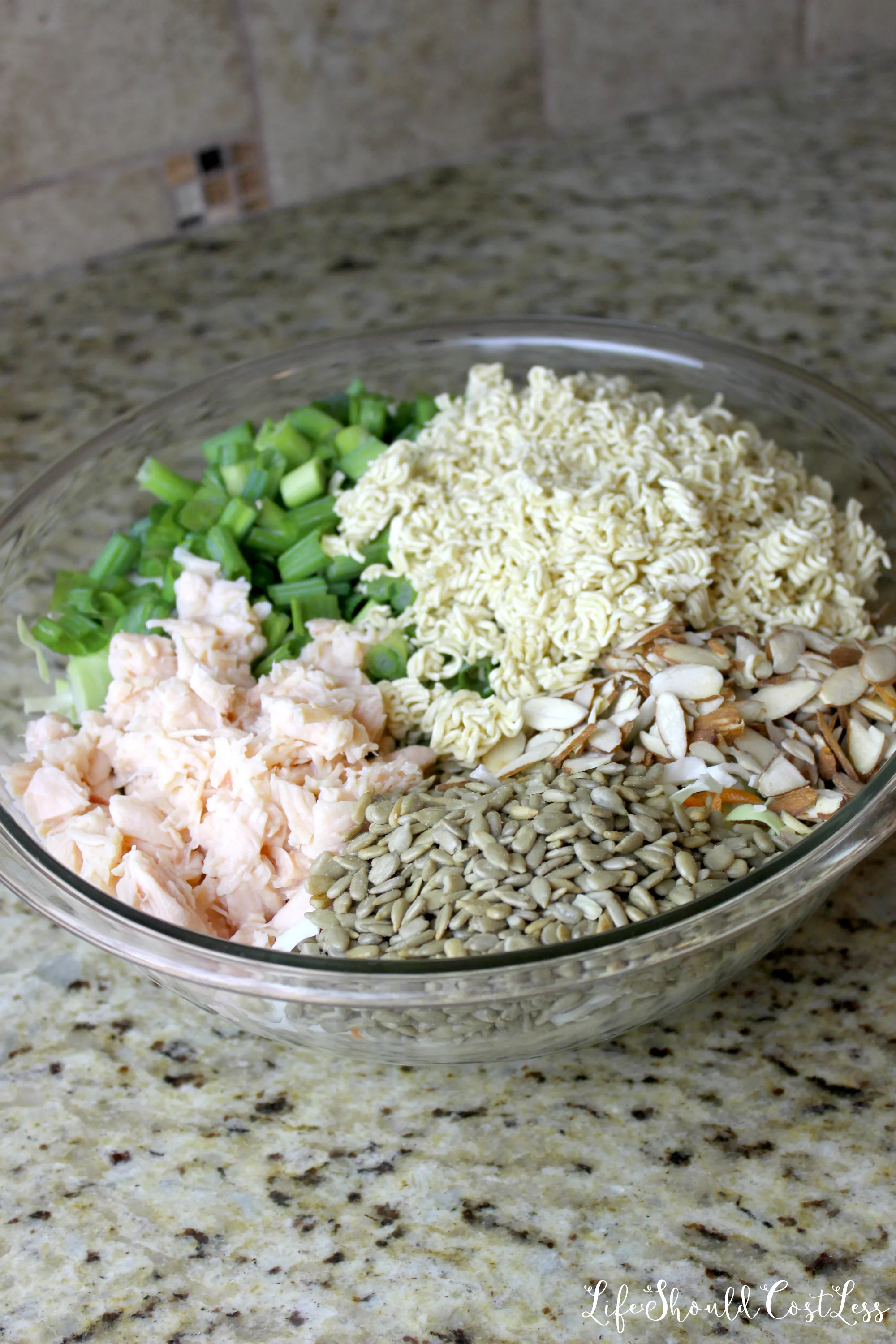 Then you just toss the salad using tongs.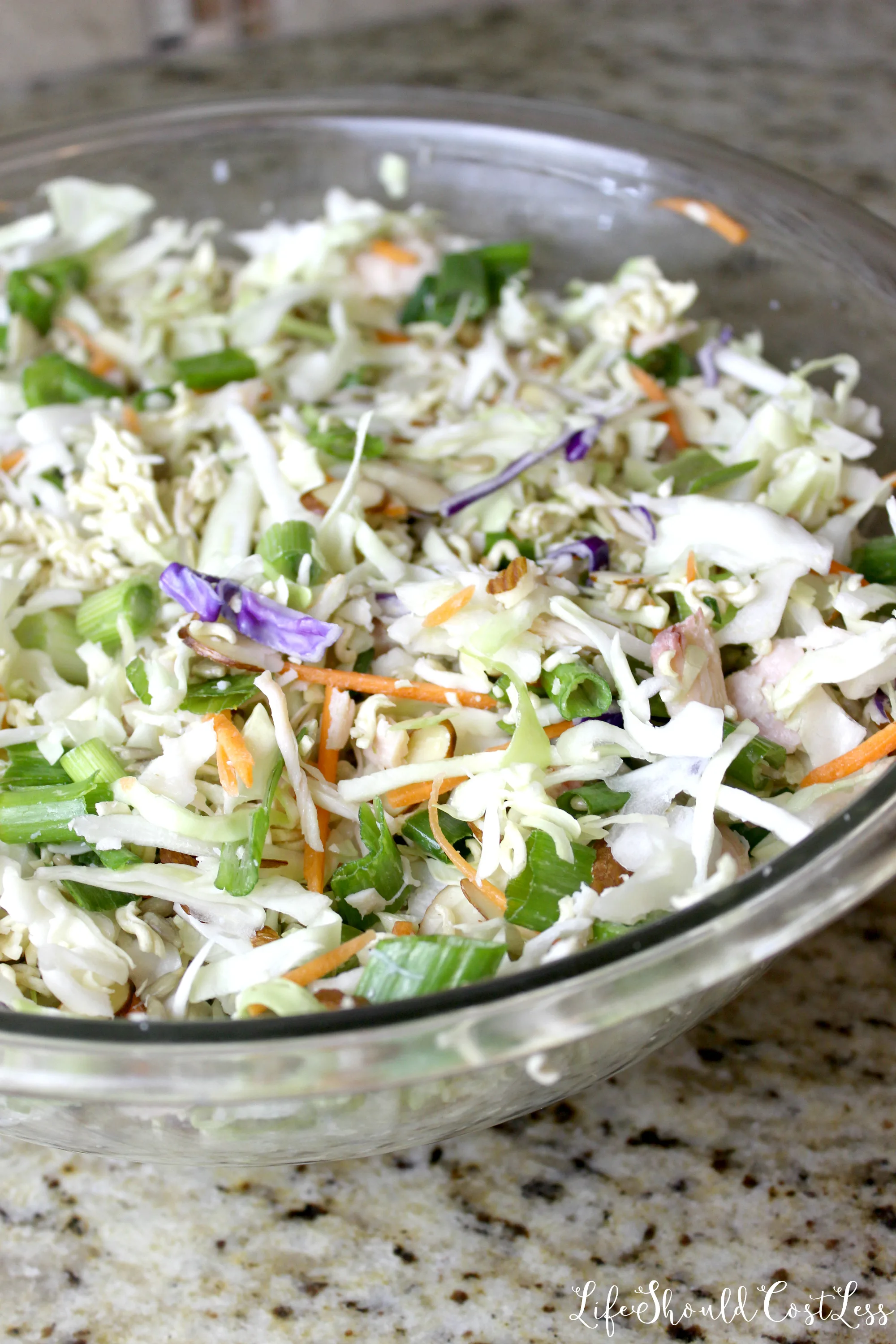 Then cover it and put it in the fridge.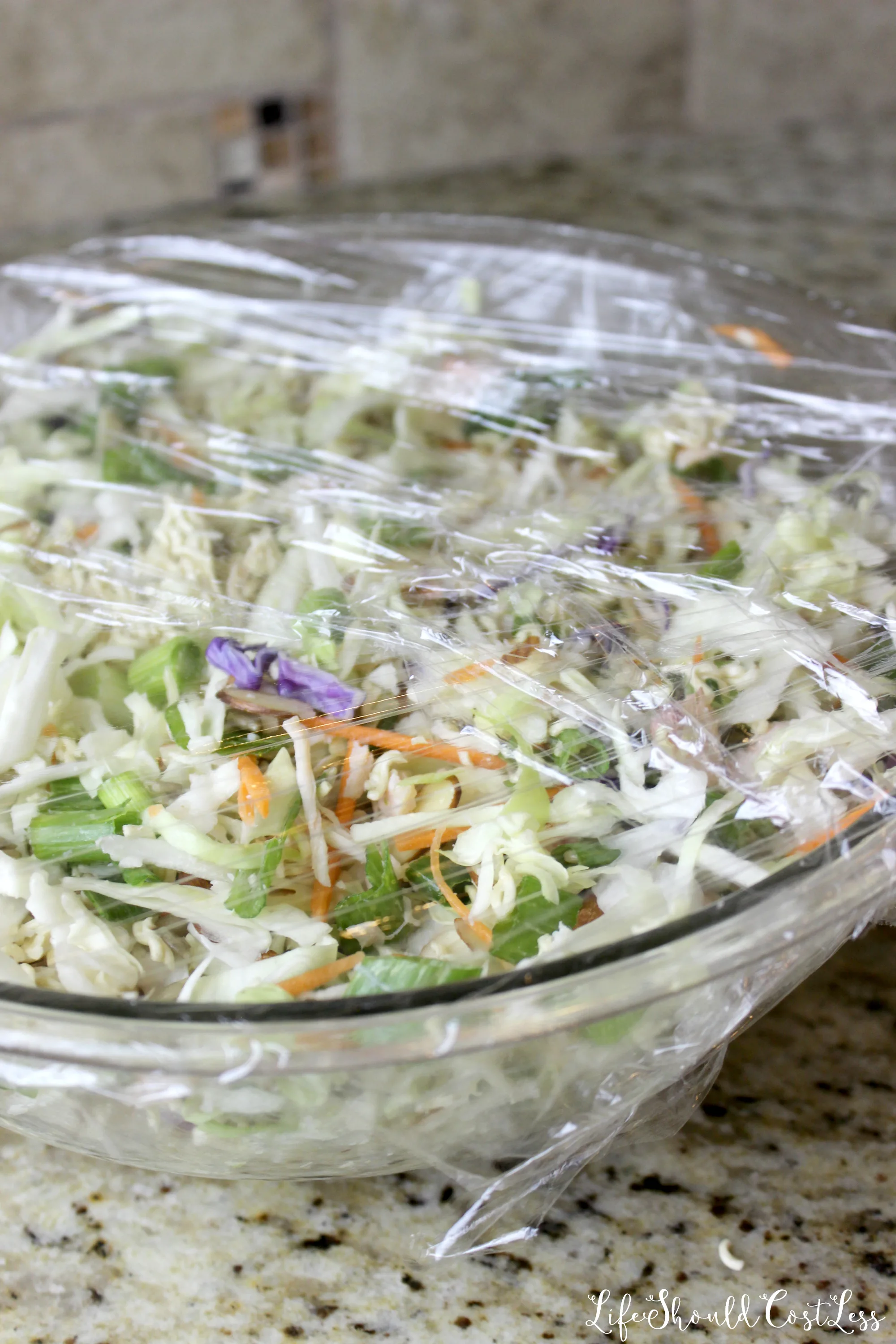 Once the dressing has cooled, you are ready to add it to the salad.
Only do this at this point if you're going to be serving it within a few hours, otherwise it will get soggy faster.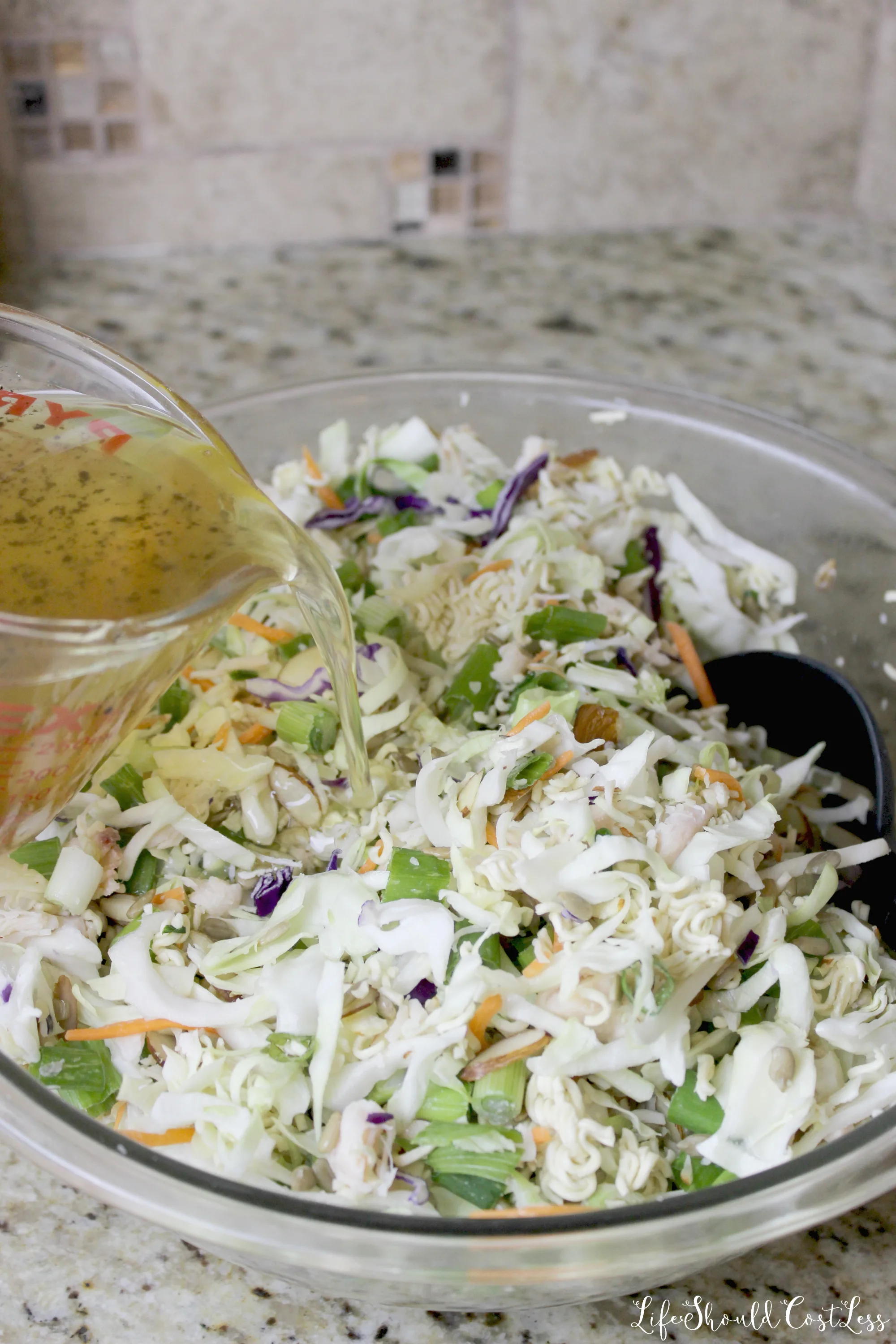 Now toss, and re-cover it, and let it sit at least an hour before you serve.
Make sure to re-toss it before each time you go to serve it.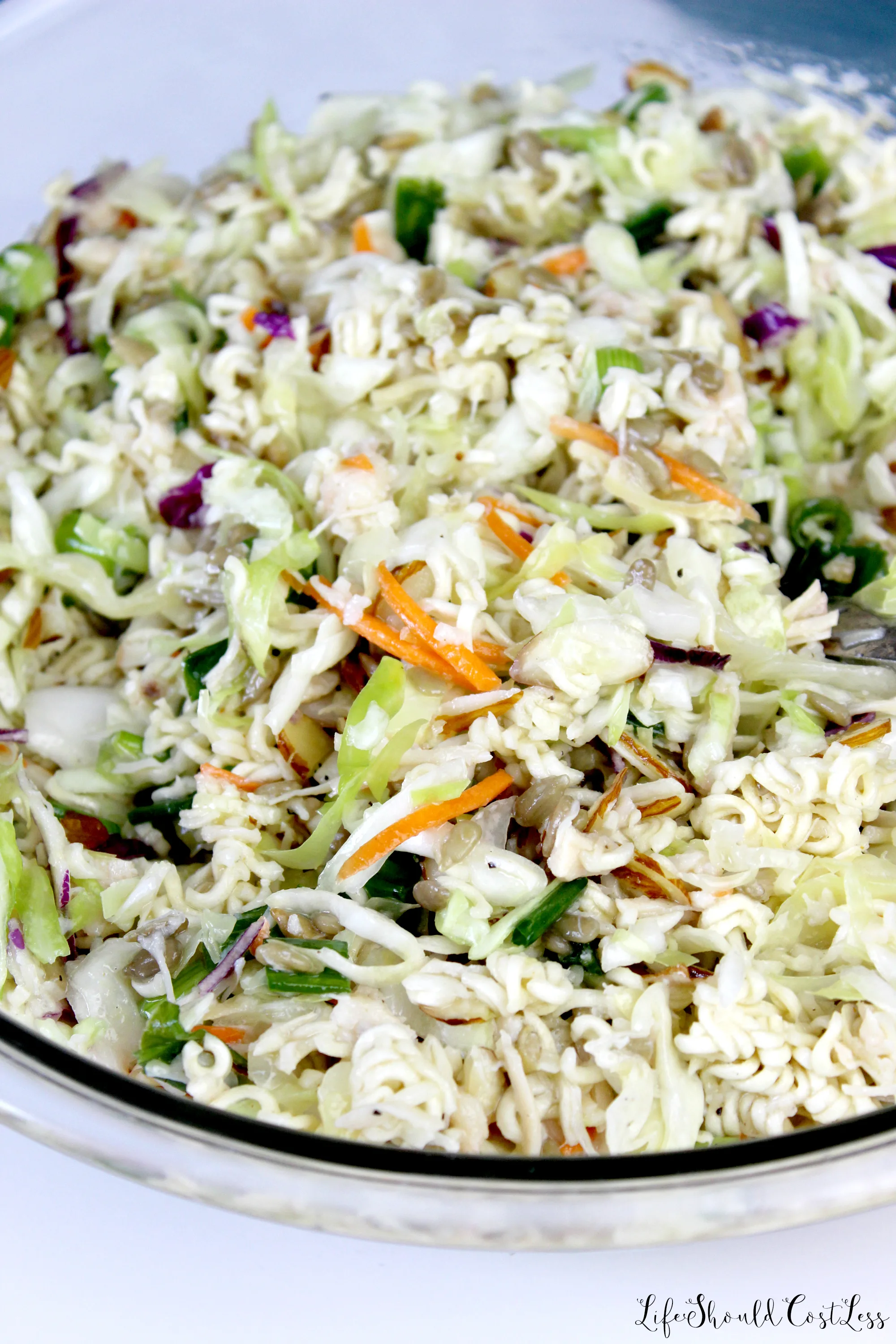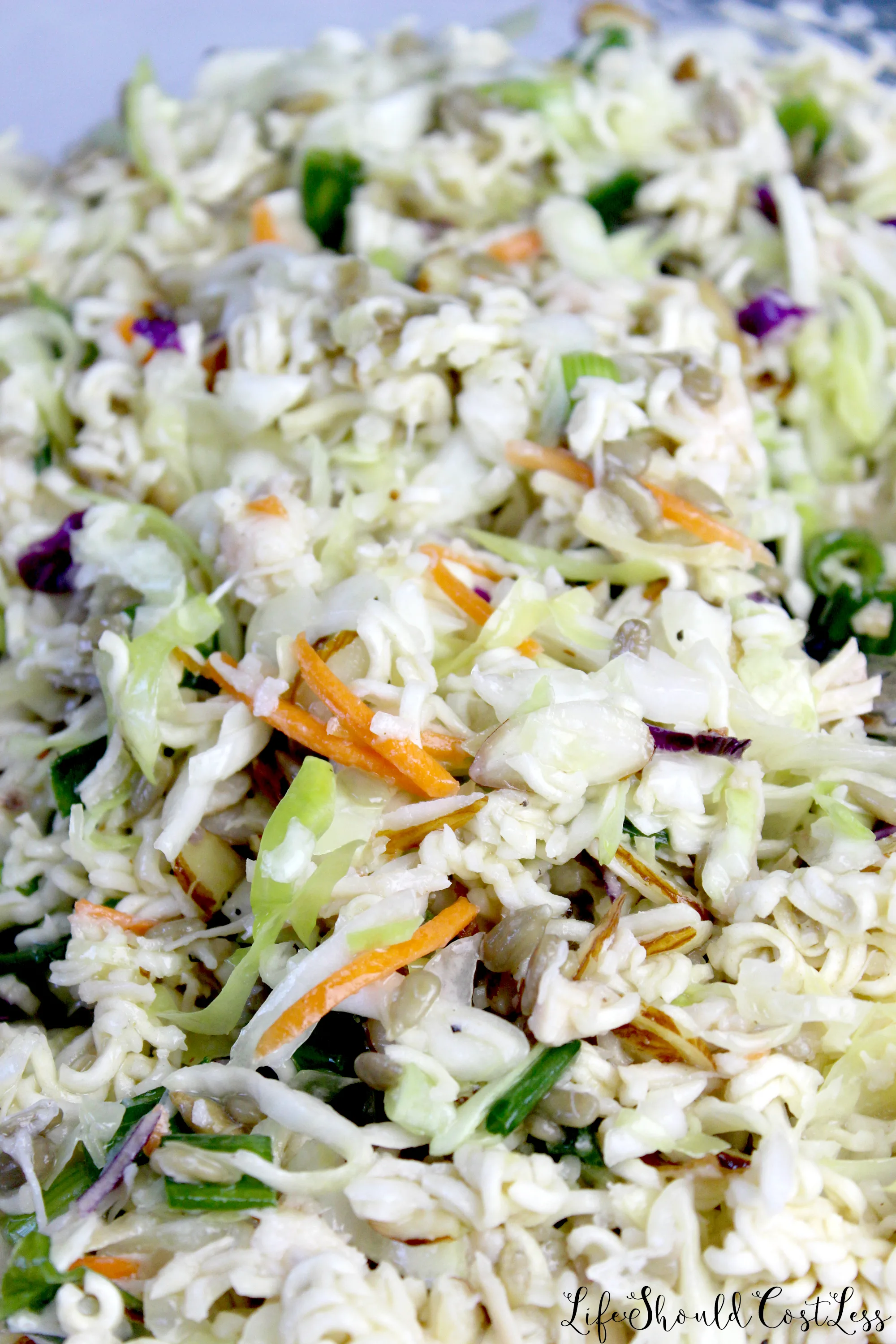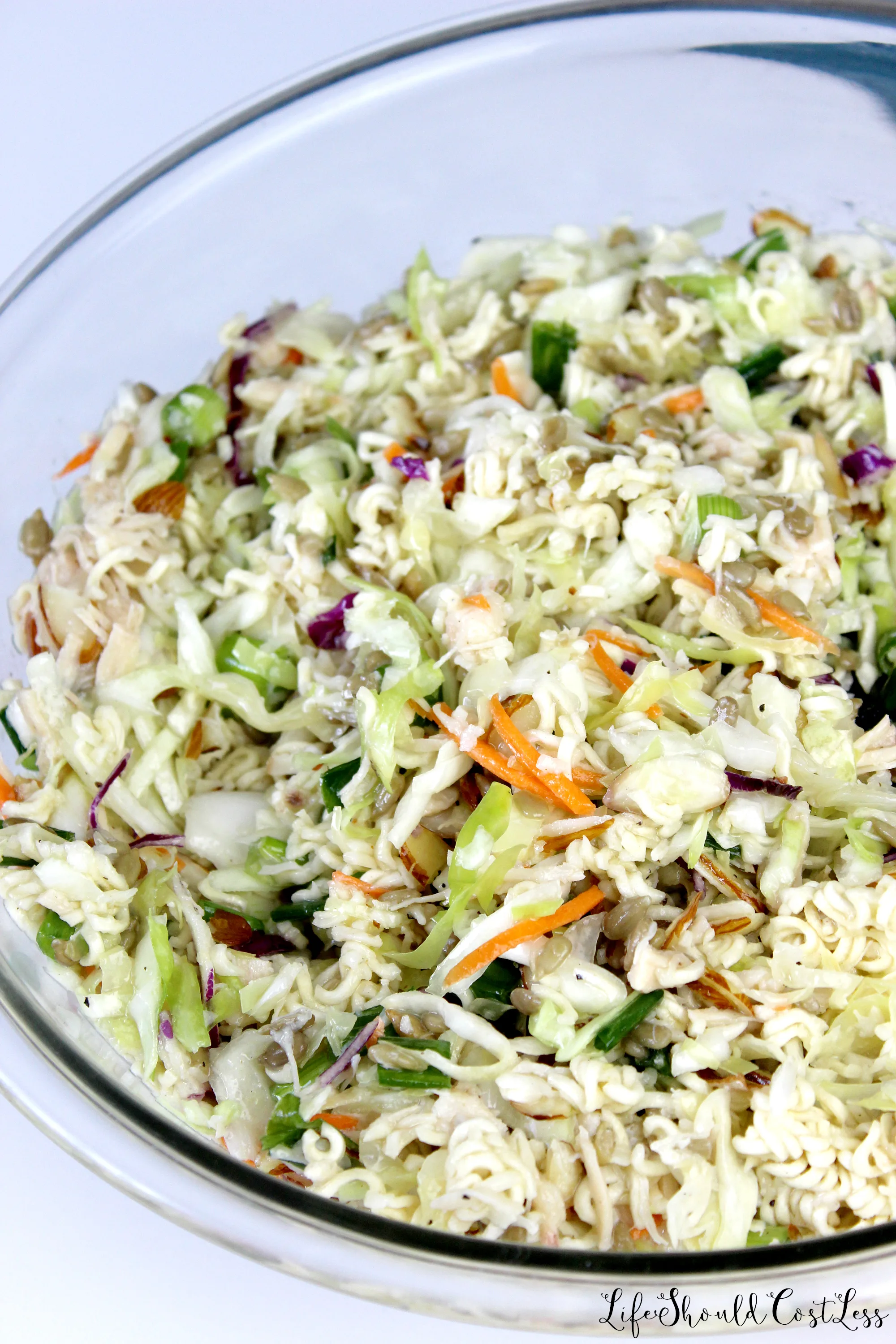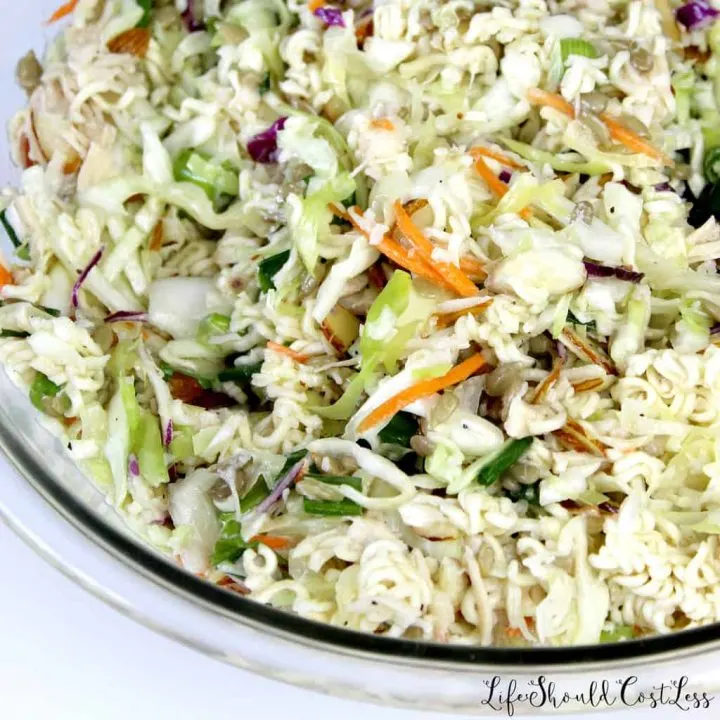 Coleslaw Ramen Chicken Salad
Total Time:
1 hour
20 minutes
This is an Americanized Asian dish that is knock your socks off good!
Ingredients
Dressing:
½ Cup Oil
½ Cup Water
6 Tablespoons Vinegar
¼ Cup Sugar
1 teaspoon Salt
1 teaspoon Pepper
Salad Mixture:
1 (12.5 oz) Can Chicken Breast (drained)
2 Tablespoons Oil (such as Canola or Avocado)
½ Cup Sliced Almonds
½ Cup Roasted Salted Sunflower Seeds (shelled)
8 Green Onions (chopped)
1 (1 lb) Package Cole Slaw Mix
2 (3 oz) Packages Raman Noodles (uncooked, broken up, discard flavoring packet)
Instructions
In a small saucepan add all of the dressing ingredients. Over medium heat, bring to a boil until the sugar is dissolved. Let cool/refrigerate covered until ready to add to the salad mixture.
In a large bowl, add all the Salad Mixture ingredients. Toss with tongs, cover, and refrigerate until you are ready to add the dressing.
Mix both mixtures together and toss. Cover and chill for several hours before serving.
Toss each time, just before serving.
Since this recipe has pretty much all of the nutritional (in the food pyramid) food groups, lots of veggies and a decent amount of protein, I consider it a whole meal…but that's just me.
I don't even think you need to make anything to go with it if you want to just serve it as a meal by itself.
That's really all that I have to share today.
Thanks so much for stopping by my blog! If you liked what you saw, please make sure to share it via social media!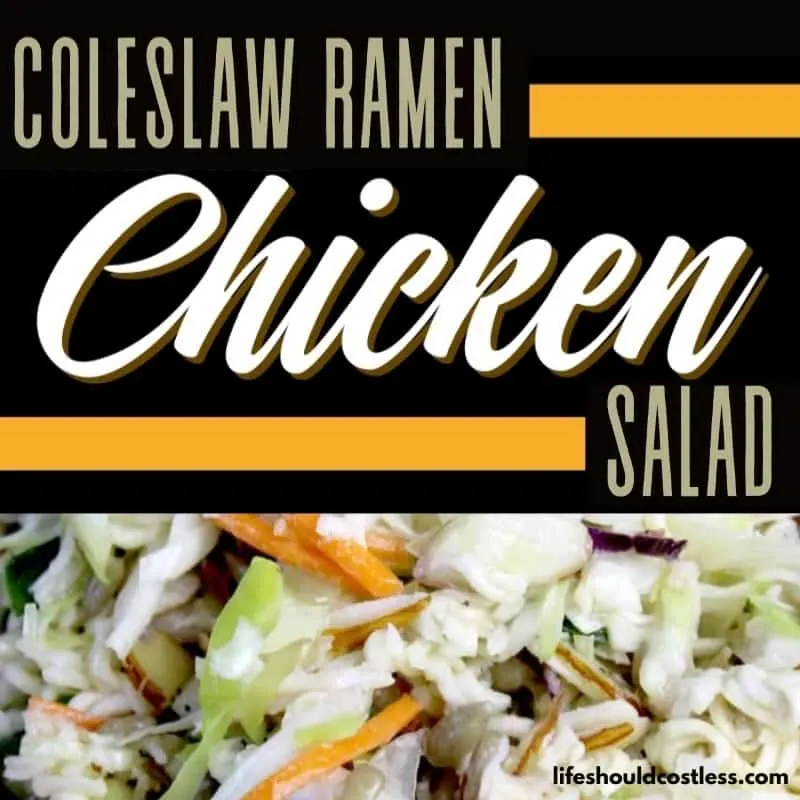 Follow Me
How to follow & support this site
---
P.S. Check out my entire Salads and Dressings" section here. You may also be interested in browsing "All Of My Recipes".
Here are links to some of my other posts that you are going to LOVE: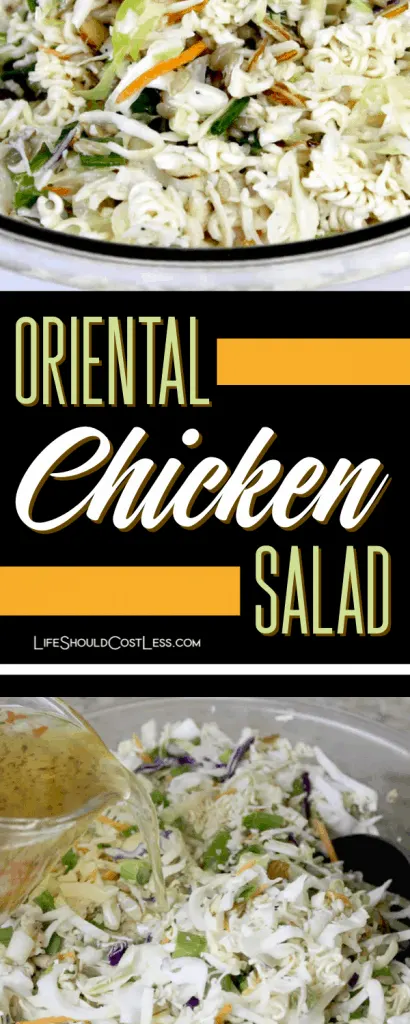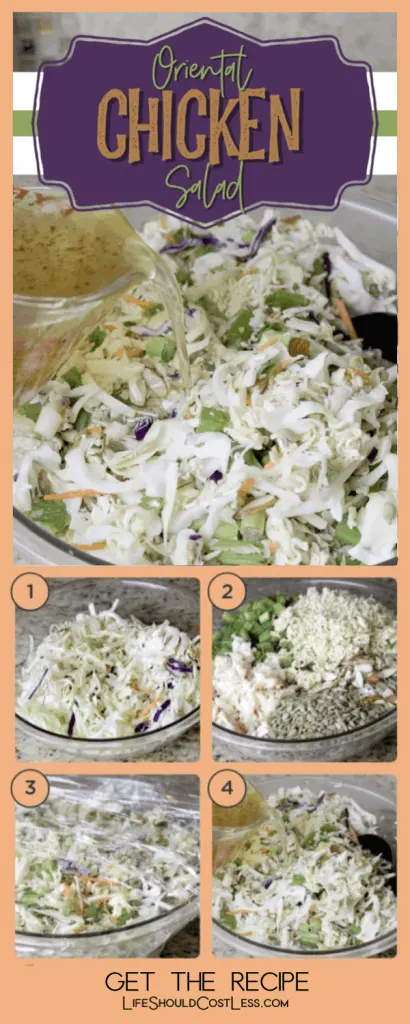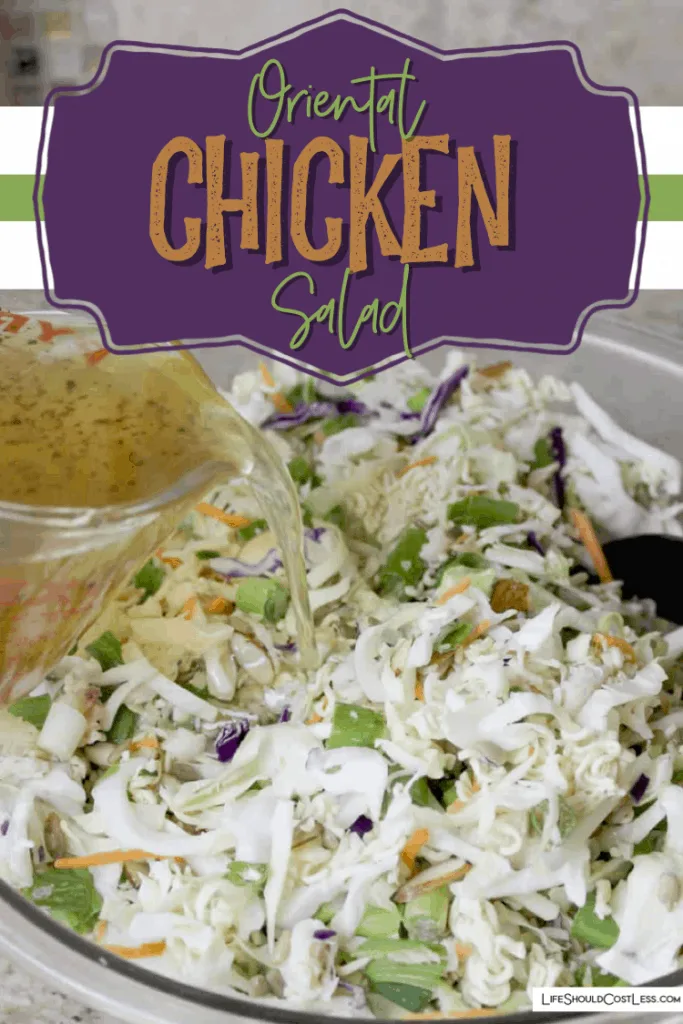 *Reposts: Please note that this idea/post was originally posted to this website on 04/17/2018 but it was in great need of a refresh, so it now is more user friendly/shareable with an interactive, free printable recipe card.