I have loved this salad since I was a little girl! In fact it's hard to think of a family gathering that this salad wasn't a part of back then. My favorite thing about this delicious veggie salad, as an adult, is that it's not a boring 'ol veggie tray, but everyone is still getting their veggie servings in!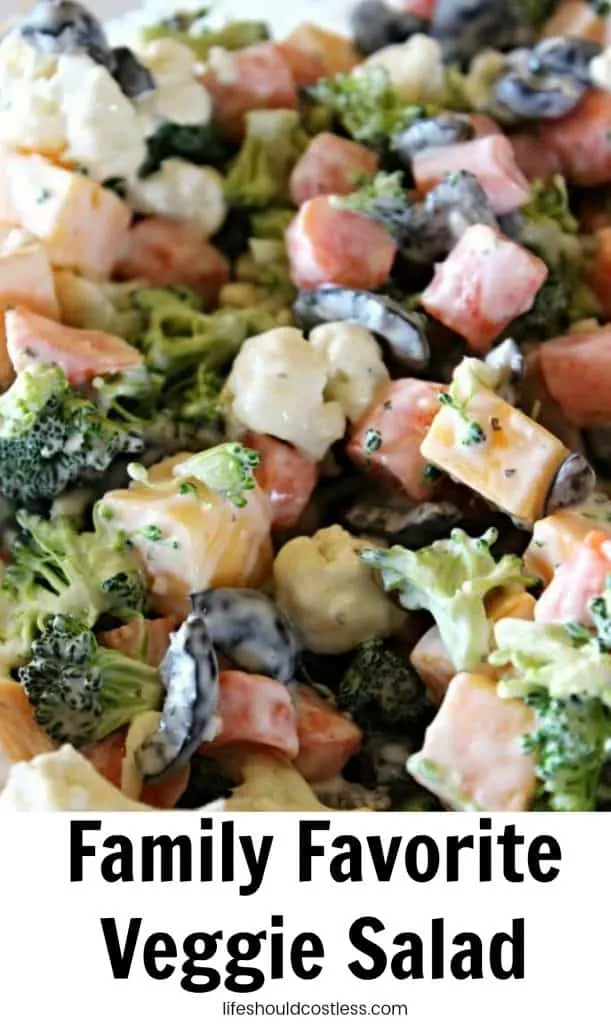 I am just going to jump right into this awesome recipe, so here are some pics of the process:
This is the Cauliflower, chopped to my desired size. I made this in my Four Quart Pyrex Bowl…in case you need to know what size of a bowl you will need to make yours.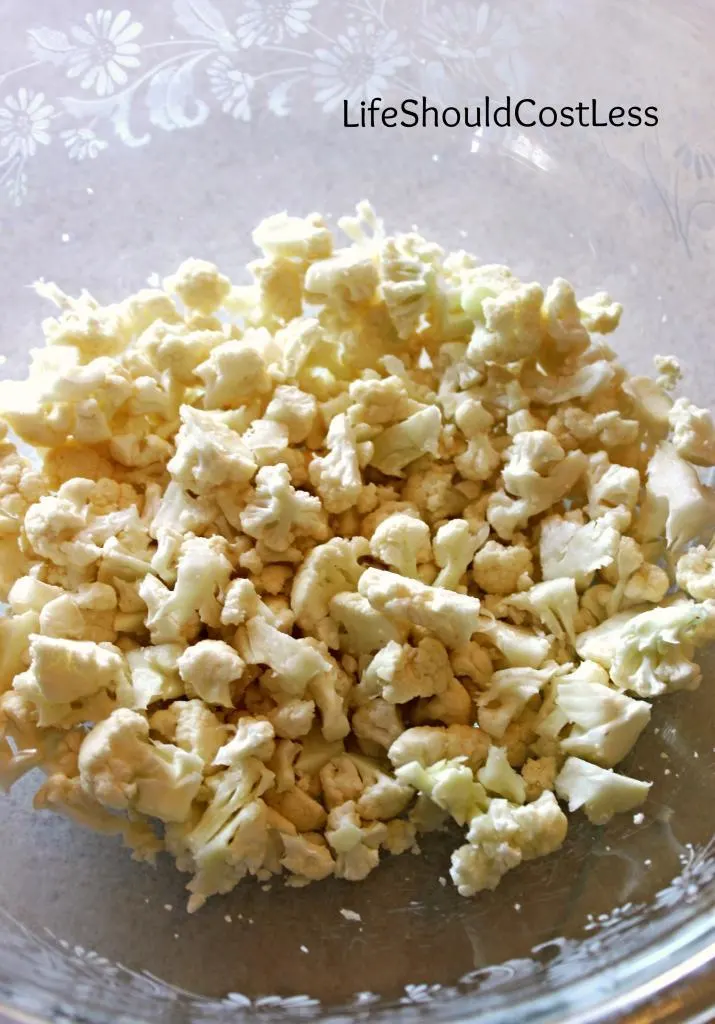 The chopped Broccoli. I prefer it with the stems cut most of the way off, so it's not too hard to chew.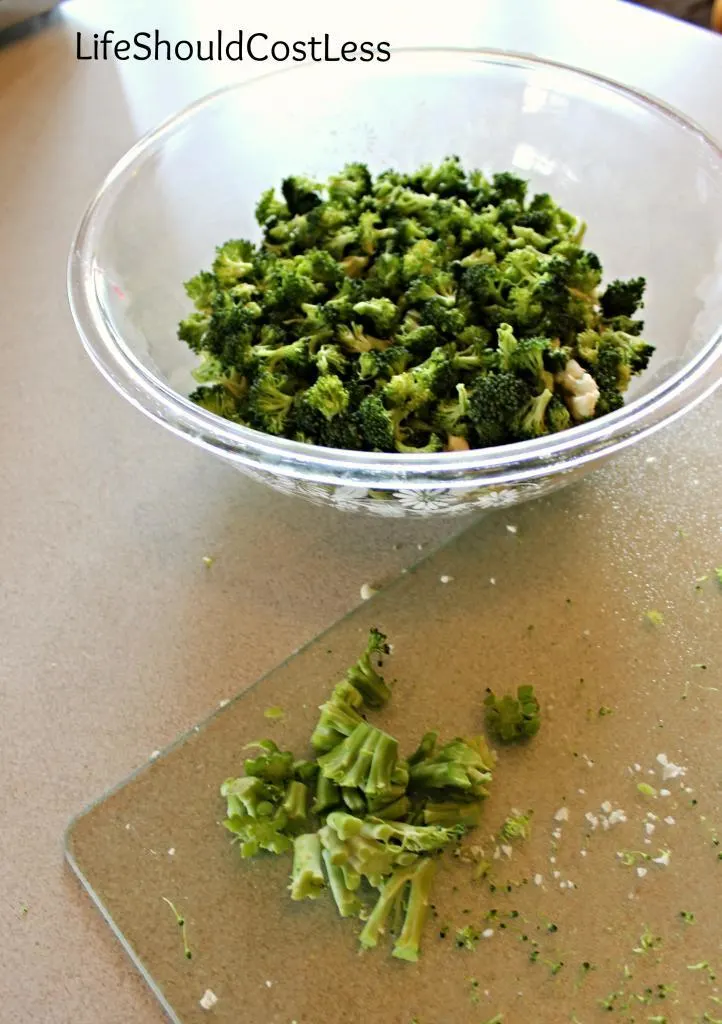 Chopped Carrots. I just use baby carrots and chop them into 4th's or 5th's depending on how big the carrot is.
I was being too lazy to chop the olives so I squashed them into 4th's. Don't worry, I'm anal about hand-washing so it's not gross!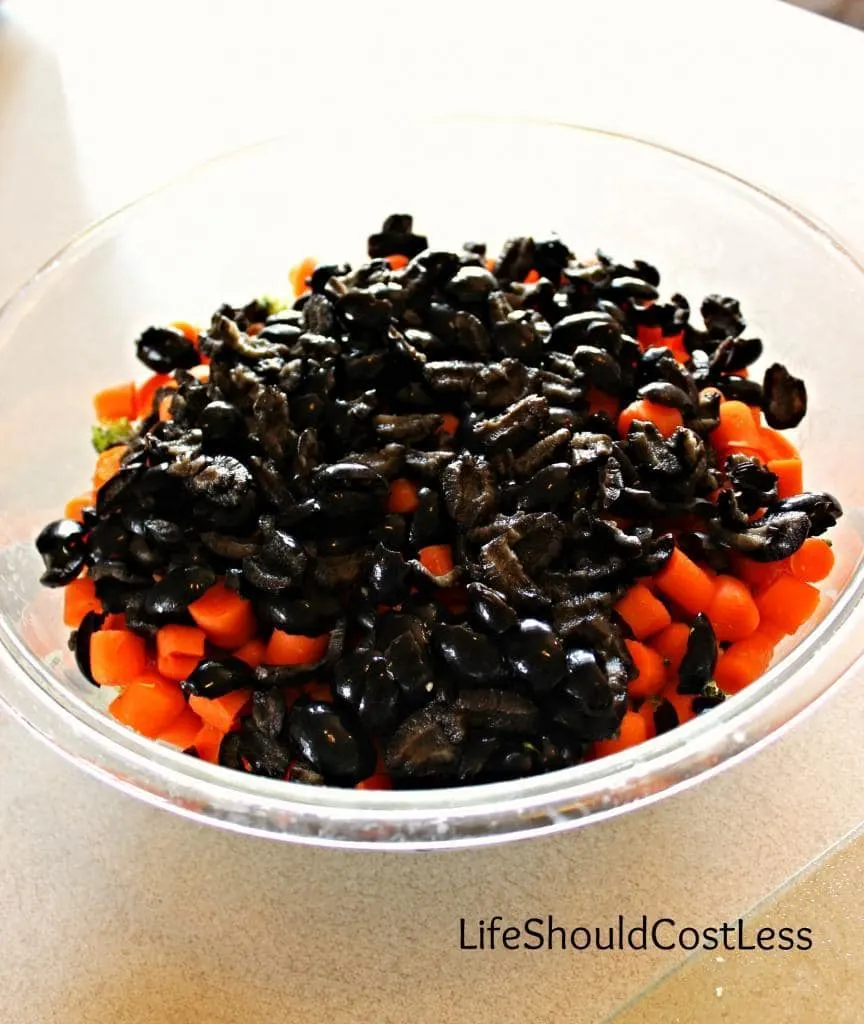 The cubed cheddar!!! My favorite part!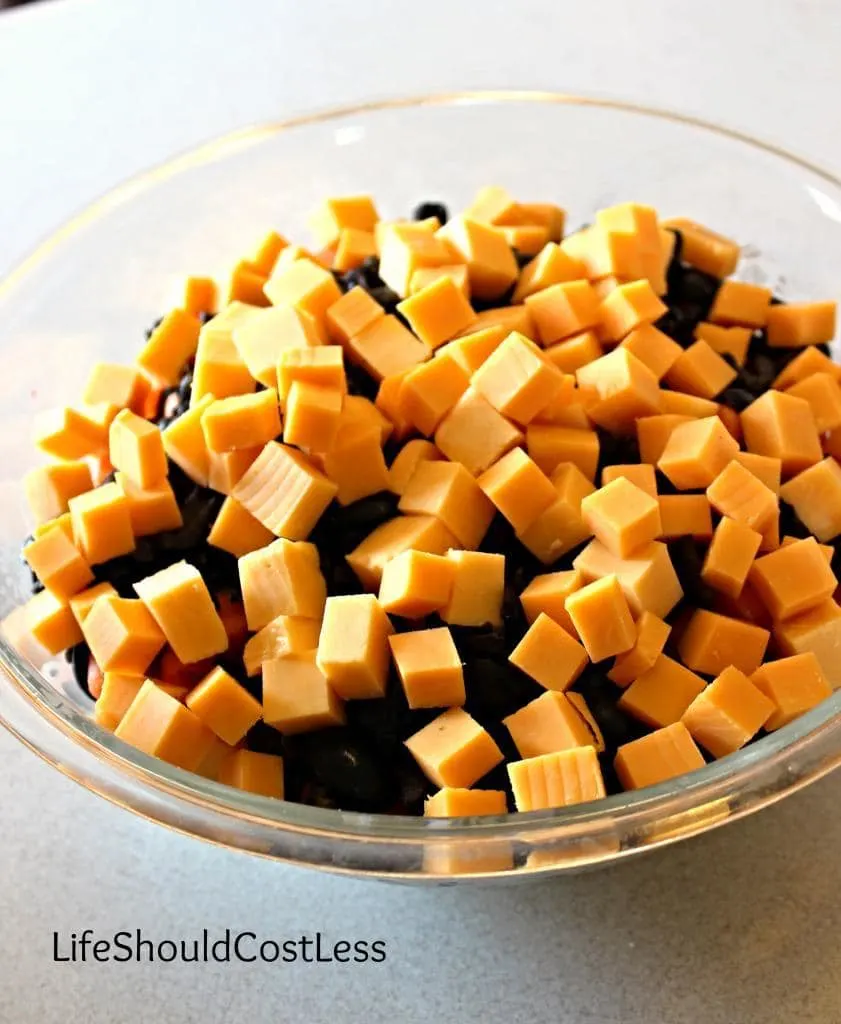 Before I forget, I wanted to share links to five of my other recipes that you may also like:
Back to showing you how to make Family Favorite Veggie Salad.
Adding the Ranch/Garlic Mixture.
Wild Coyote Ranch is the BEST Ranch ever!!!! It's a product of Utah, found in most Wal-Mart's in the state. If you can't find it, Gregg's Savory Ranch Dressing from Costco is good too.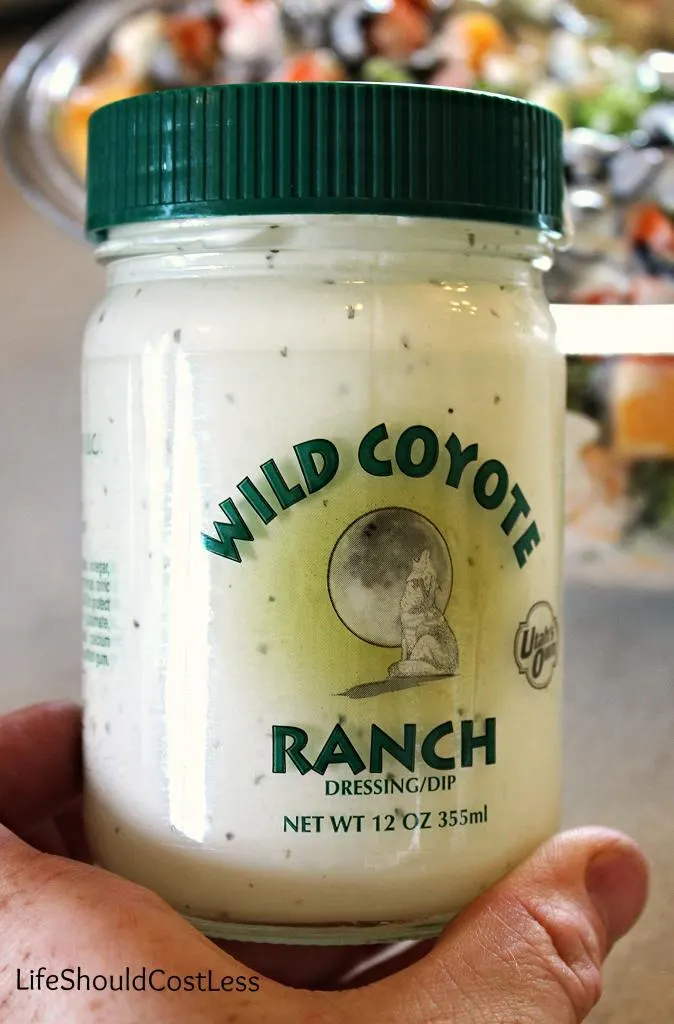 Lastly, all we do is take some nice salad tongs and toss it all together. Here it is all mixed up and ready to devour!
It's so tasty I'm craving some as I'm writing this, practically drooling all over my keyboard.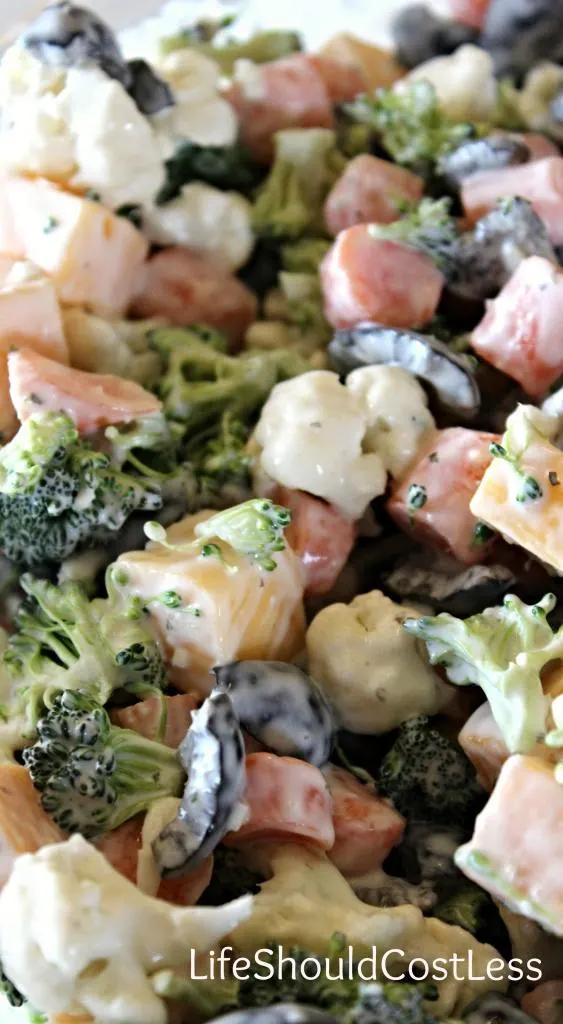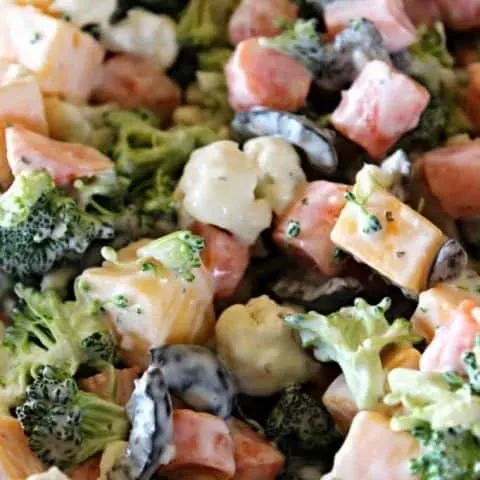 Family Favorite Veggie Salad
This delicious salad is a great alternative to the same old boring veggie tray. Bring it to your next large gathering and you will get rave reviews.
Ingredients
Salad Mixture:
3 to 4 Cups Chopped Cauliflower
3 to 4 Cups Chopped Broccoli
3 to 4 Cups Chopped Carrots
2 Cans Olives, Drained and Sliced
1 lb Cheddar Cheese, Cubed
Dressing Mixture:
½ tsp Minced Garlic or 1/8 tsp Garlic Powder
1 (12 oz) Jar Ranch Dressing
Instructions
In a four quart, or larger, bowl add the salad mixture ingredients.
Mix the garlic well, into the Ranch Dressing and then pour over the salad mixture ingredients.
Toss well with some nice salad tongs. It's now ready to serve or cover and refrigerate.
Toss before serving each time you get it out.
Notes
Store in an airtight container in the fridge for up to a couple of days.
Please make sure to wash and dry your veggies before you begin. You can also blanch and chill them first if you are worried about them being too hard.
If you need to make it ahead of time, it's a good idea to keep the cheese separate and then mix it in right before serving. Otherwise the cheese can start to get soggy if it's been sitting in the ranch for more than a day or so.
You can also add your desired amount of cherry tomatoes, but we usually don't. It gets a little on the expensive side to make the more ingredients you add and that is one that can be omitted.
You can chop everything to your desired size (you can add more of whatever you want too, I just like a pretty even mix of everything). Most of my veggies and the cheese were cut or cubed to about marble size.
When I was asking mom about this recipe, she was really cute when I asked her how many cans of olives it would take. She said "it depends on how many "helpers" you have in the kitchen"…which is all too true. A good portion of them ended up on my little "helpers" fingers, then in their mouths, instead of in the bowl.
This family favorite veggie salad is FANTASTIC so make sure you give it a try, at least once.
I hope it becomes a family favorite for you too, let me know how you liked it in the comments.
Thanks so much for stopping by my blog! If you liked what you saw, please make sure to share it via social media!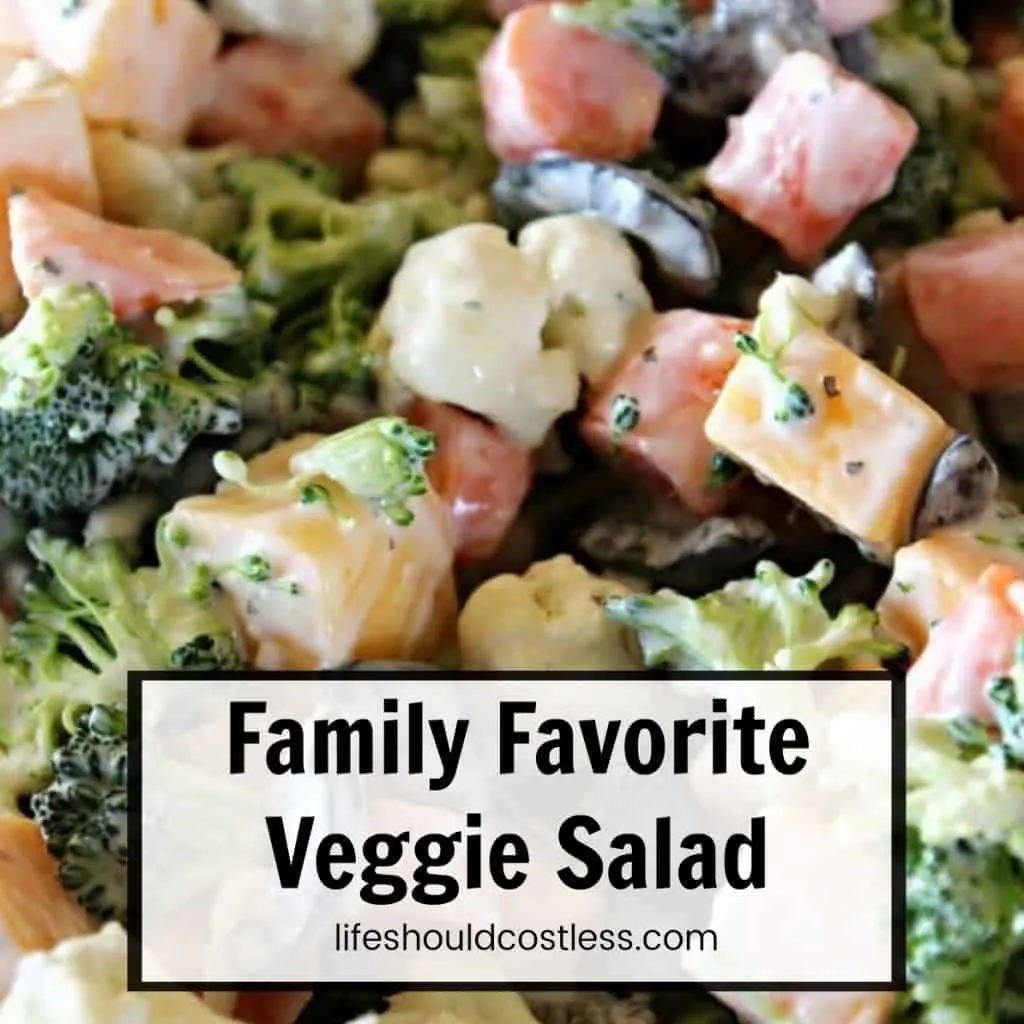 Other ways to show your support are to follow and/or interact with me on Pinterest, Instagram, Facebook, YouTube, or by Subscribing To My Email List. If you purchase suggested products through Amazon, the cost to you remains the same, but I make a small commission on everything in your cart.
If something was particularly helpful and you would like to donate directly to the blog, you can do so via PayPal, here. I'm a single mom of four, so every little bit helps. Thanks so much! ~Sarah
P.S. You may also like my Salads & Dressings Section as well as my Entire Recipe Section.
Here are some more of my yummy recipes, with links, that you may want to check out too: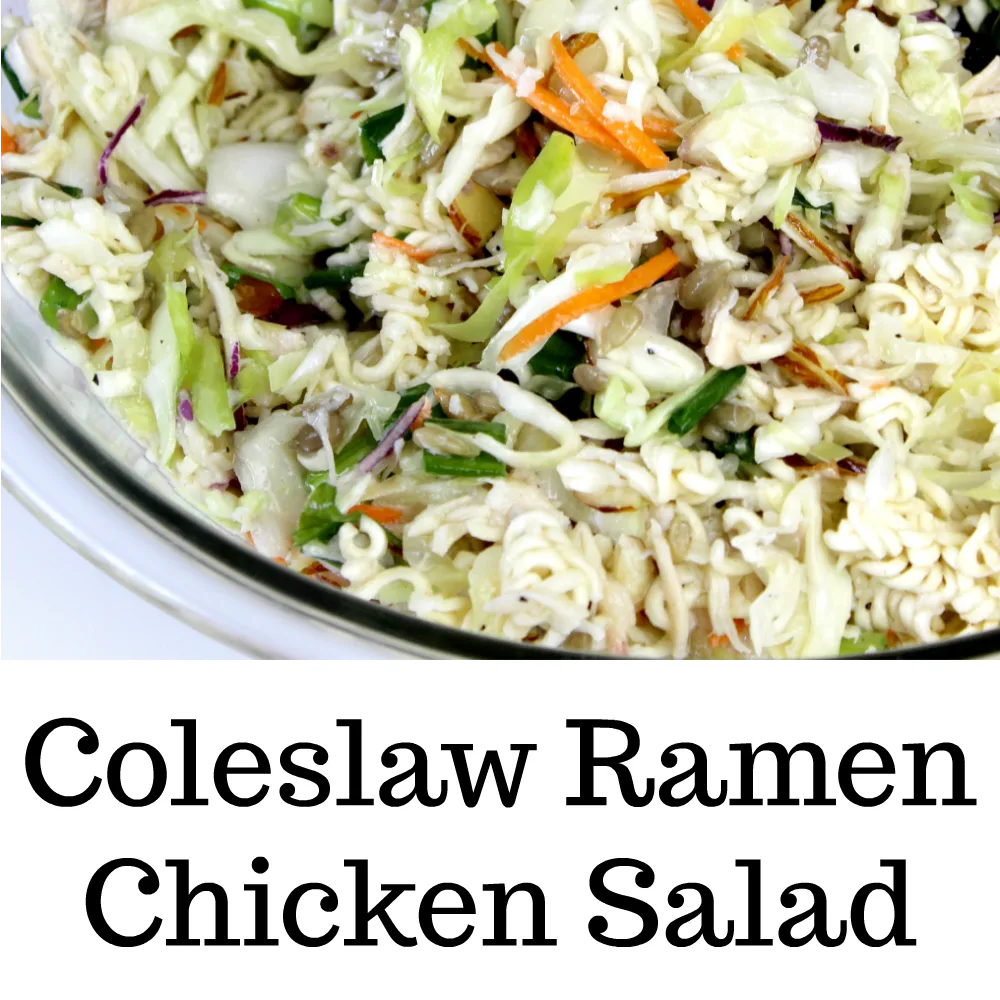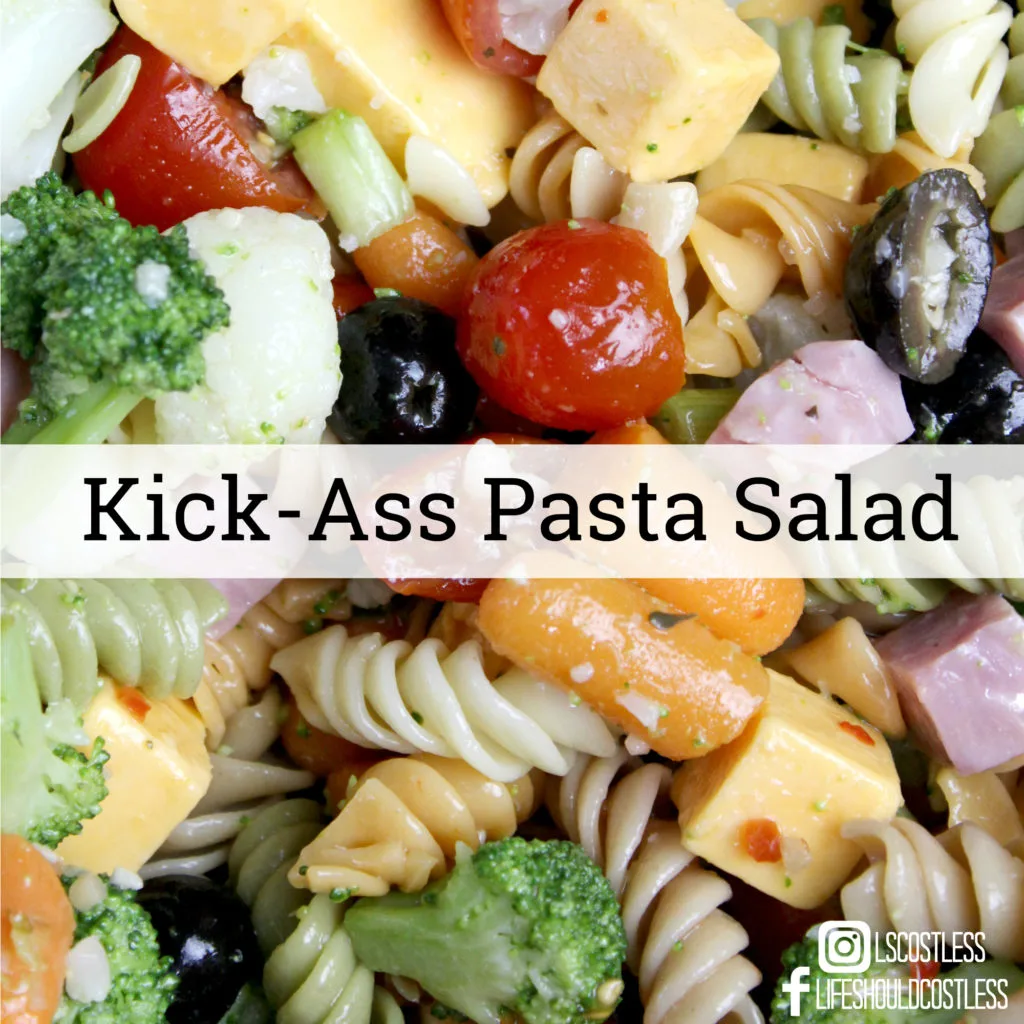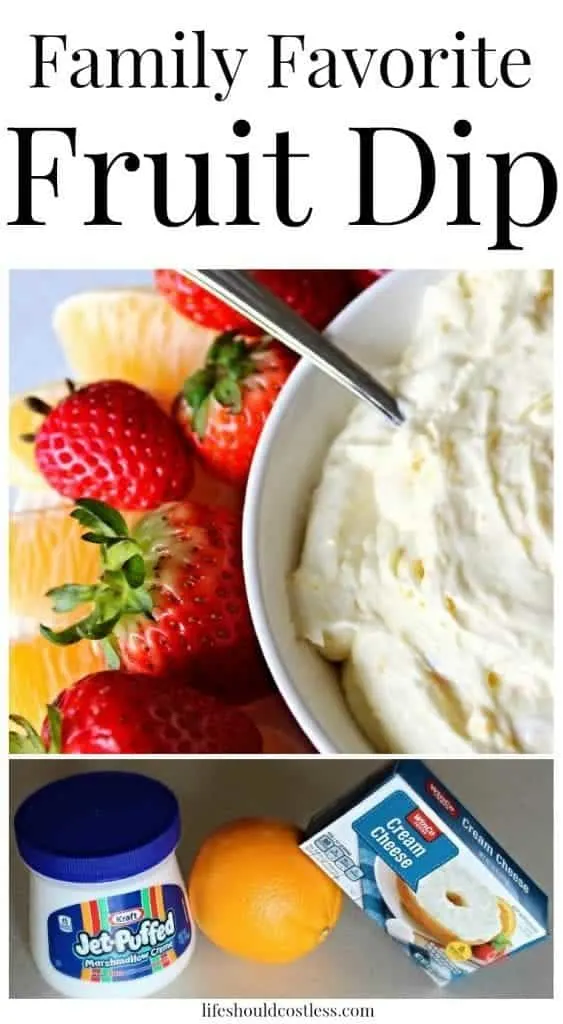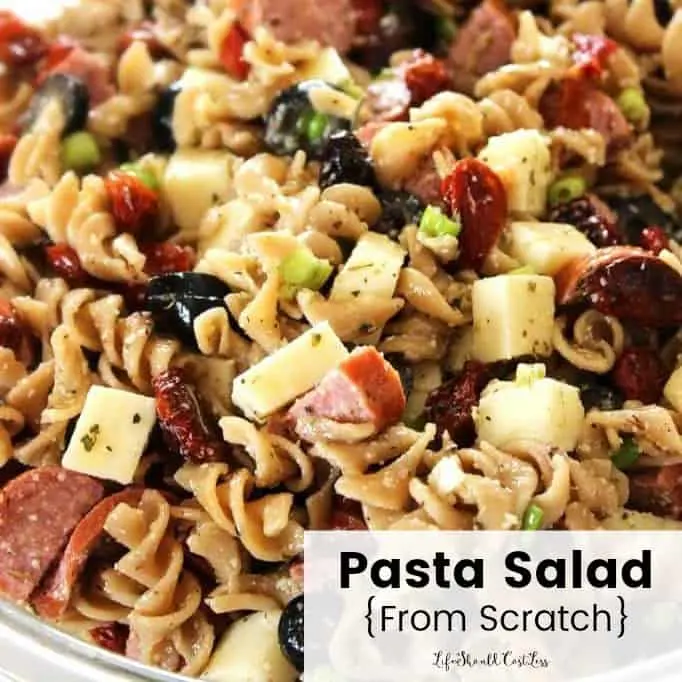 *Reposts: Please note that this idea/post was originally posted to this website on 07/28/2014 but it was in great need of a refresh so it now is more user friendly/shareable and has a free printable recipe card.