This easy and delicious basic kick ass pasta salad recipe will easily feed a crowd. Made with broccoli, cauliflower, carrots, wacky mac veggie pasta, cheese, ham, & Italian dressing. It's basically a full meal all in one dish. This is one of those crowd-pleasing bad ass salads that you need to keep in your recipe box to use time and time again.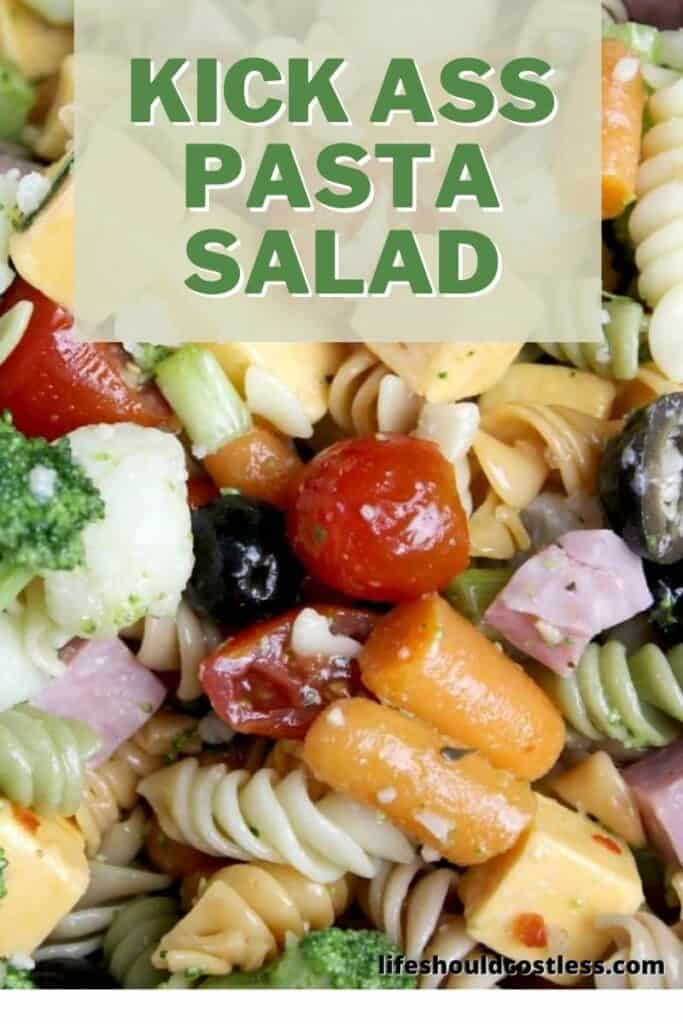 My mom makes this HEAVENLY basic pasta salad recipe with Italian dressing all of the time, and though it is very different from my own pasta salad recipe from scratch, it is one that I cannot avoid posting ;).
I love that it has such a variety of veggies, has a really good source of protein, and even tastes as good as it looks!
This particular recipe is one that you could make either as a side, or I would even be so bold as to serve it as a whole meal because it has all of the important food groups in it and is also very filling.
Pasta Salad For A Crowd
This recipe makes a HUGE batch, like large enough that my biggest mixing bowl (which is four quarts) couldn't handle it and I had to borrow a huge bowl from my mom so that I could finish posting this recipe…
So, with that in mind, you can easily half the recipe, in which case a standard 4 Quart Mixing Bowl should handle it just fine.
Or make the whole thing, for a picnic, bbq, potluck, or any other large gathering and you will have plenty to go around.
Let's jump right in to a few pics of the process and a little direction. Here are all of the ingredients laid out…in two pics.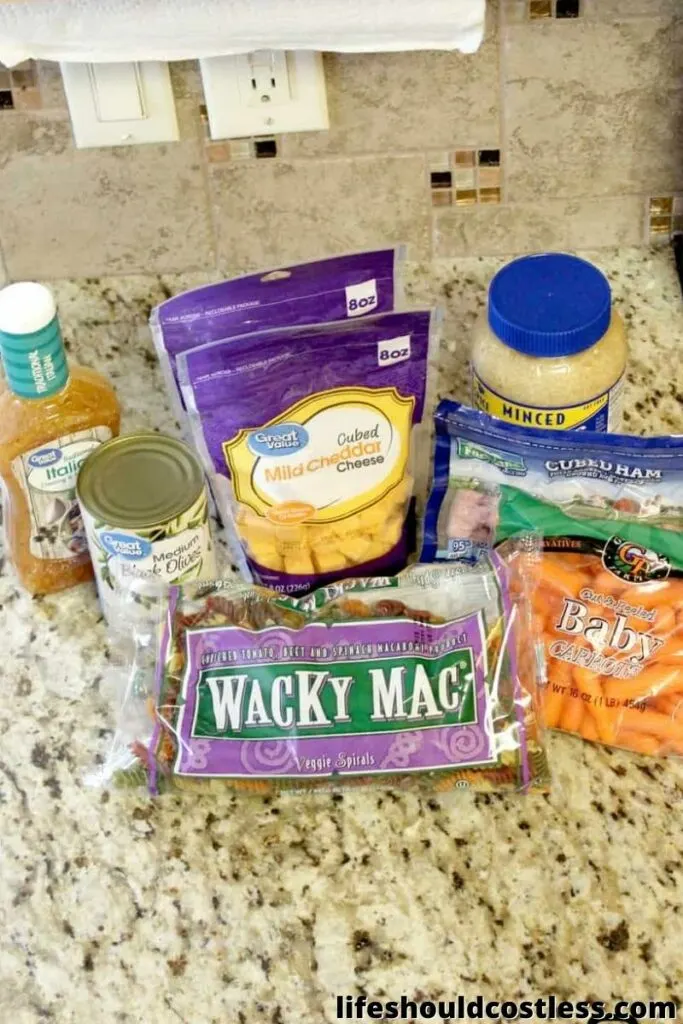 I bought pre-cut cheese and ham for no other reason than I suck at cutting things in uniform sizes and I wanted the pictures to turn out better.
However, keep in mind that it is WAY cheaper to buy the cheese and ham in blocks and cut it yourself, so please keep that in mind.
Though if you are short on time, it's also good for you to know that you have options. Below are the veggies that got washed and were waiting to be cut.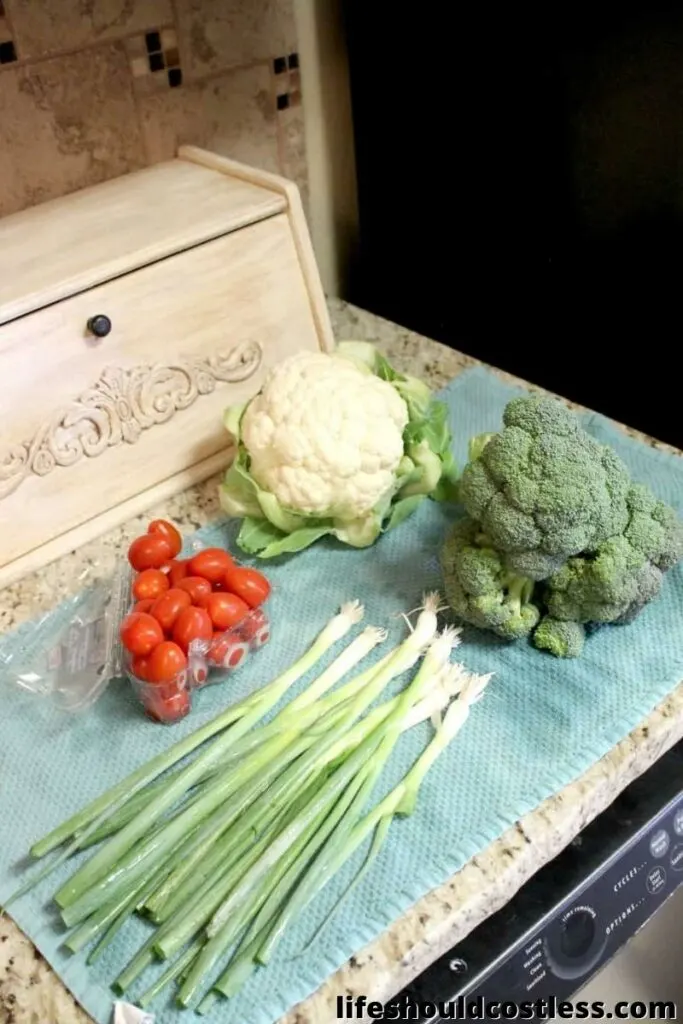 Here is how big I cut the carrots, broccoli, and cauliflower.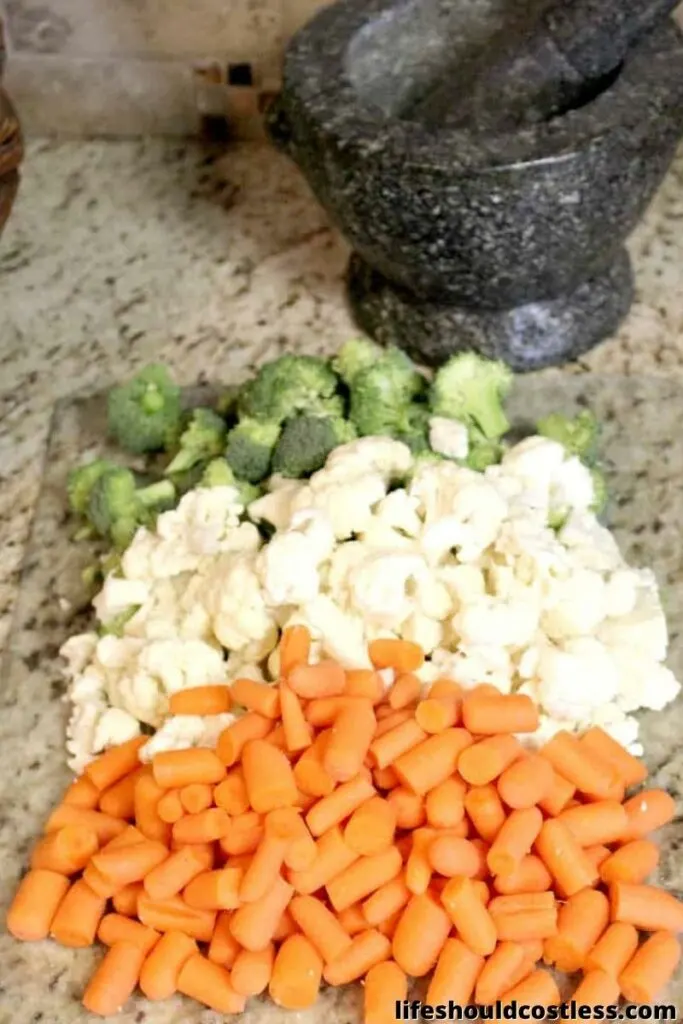 And the green onion, cherry tomatoes, and olives.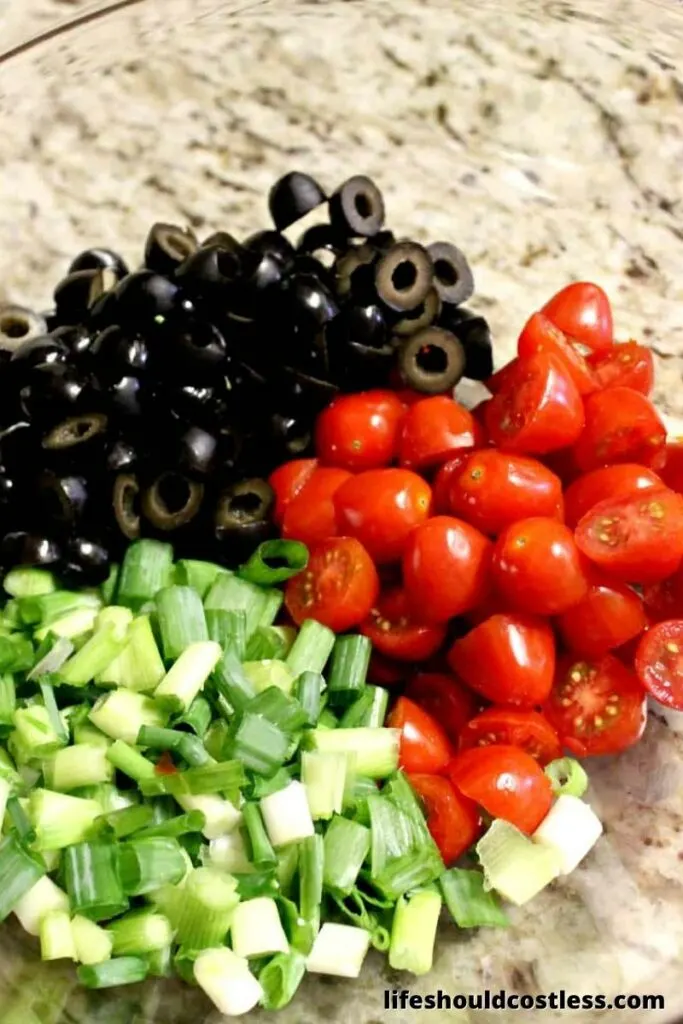 I steamed the carrots, cauliflower, and broccoli together and used the carrots as the reference for when it's done… just when the carrots are tender enough to easily bite into.
Then I drained them, rinsed them in cold water, drained that cold water too, and they were chilled in the fridge until it was time to add them to the salad.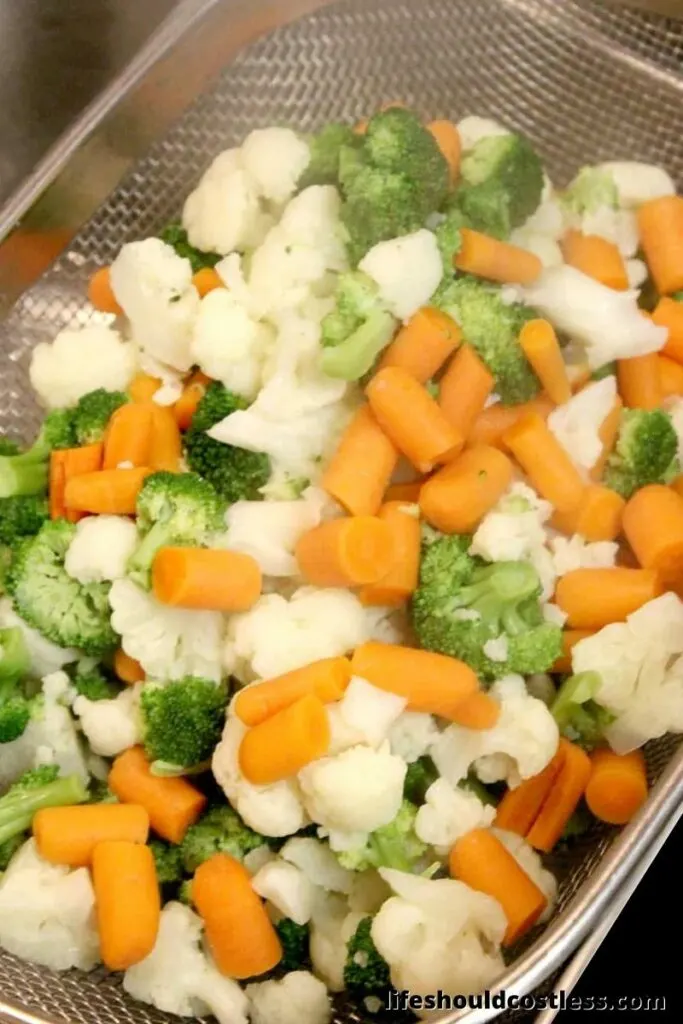 Once you've prepped all the ingredients, all that you do is add the ingredients to a very large bowl…for reference, the bowl in the picture below is a 12 Quart Bowl…
Keep in mind you could just use two smaller bowls and put half in each… and mix well.
Cover, and chill until ready to serve. Mix well before serving each time you get it out.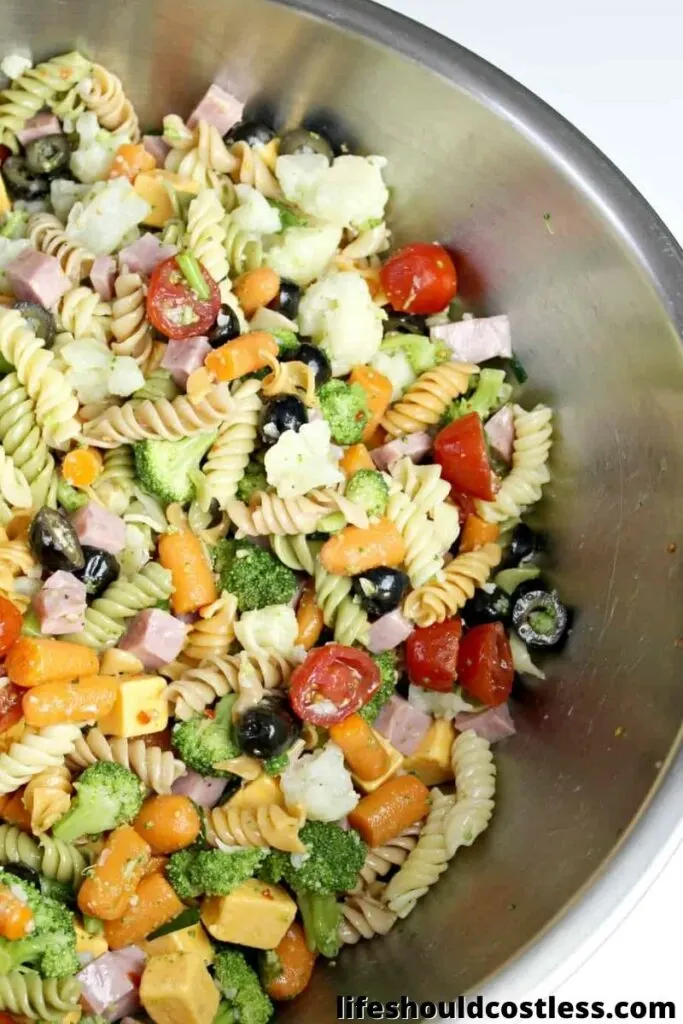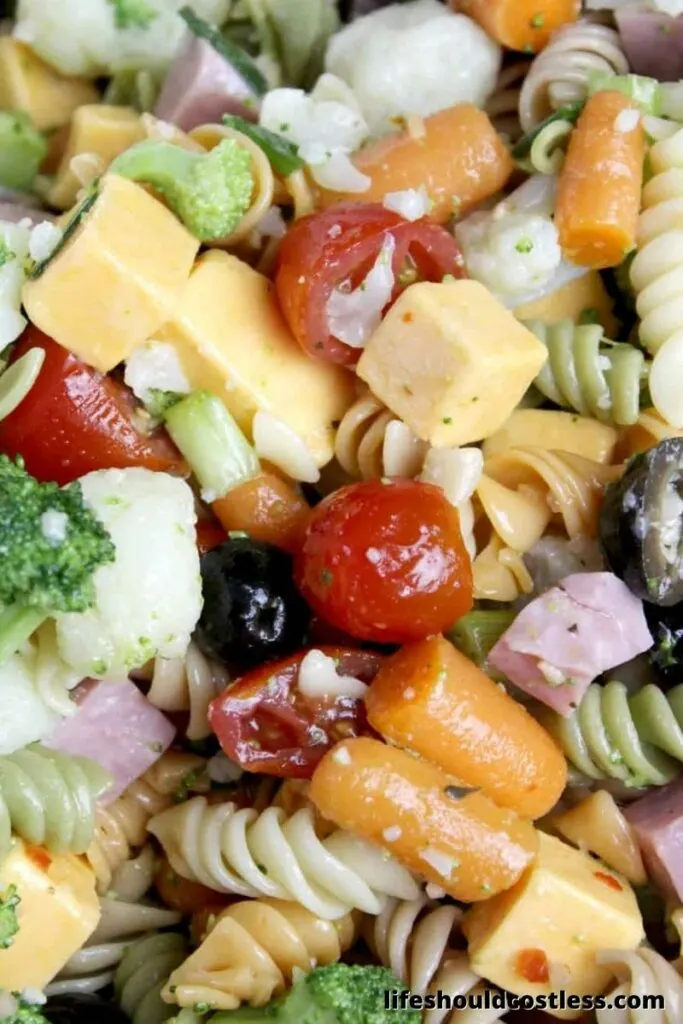 Wacky Mac Pasta Salad Recipe…
Doesn't it look so freakin' tasty? I always drool whenever I see that it's on the menu.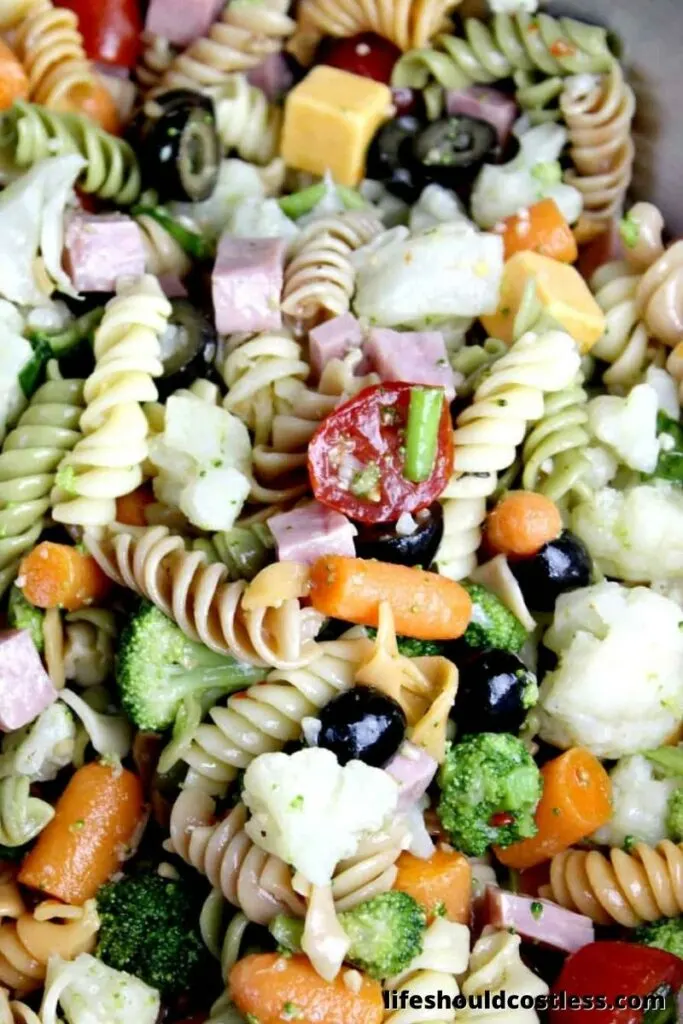 Anyway, you've been patient and it's time to post the recipe! So here it is (keep in mind that at the top of all of my recipes there is a "jump to recipe" feature…so you really only have to scroll through the whole thing if you wanted to):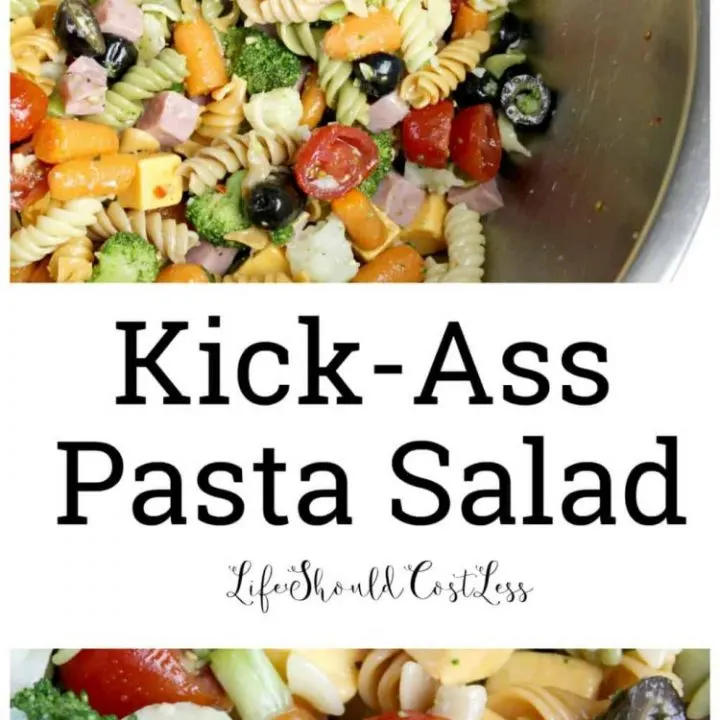 Kick Ass Pasta Salad
Whether it's for a large gathering, or for your family to much on for several days. This basic pasta salad with Italian Dressing is super tasty and there are never leftovers at parties.
Ingredients
1 Large Head Broccoli (washed and chopped)
1 Large Head Cauliflower (washed and chopped)
1 Small Bag Baby Carrots (chopped)
1 (12 oz) Package Wacky Mac Veggie Spirals
2 C Mild Cheddar Cheese (in chunks)
1 C Ham (in chunks)
1 Can Olives (drained and halved)
1 T Garlic (minced)
8 Small Green Onions (washed and chopped)
1 Small Package Cherry or Grape Tomatoes (washed and halved)
1 Cup Italian Dressing (or half of a 16 oz bottle)
Instructions
Steam the Broccoli, Cauliflower, And Carrots until tender, drain, and then chill.
Cook the Noodles, with the package directions, drain and chill.
Add all the prepared ingredients into an XL bowl, or two large ones, and stir well.
Cover and chill until ready to serve.
Stir before serving.
Nutrition Information
Yield

30
Serving Size

1
Amount Per Serving
Calories

71
Total Fat

5g
Saturated Fat

2g
Trans Fat

0g
Unsaturated Fat

2g
Cholesterol

11mg
Sodium

186mg
Carbohydrates

4g
Fiber

1g
Sugar

2g
Protein

4g
Like I said before, this is definitely a recipe to keep in your recipe box, so you'll probably want to print it out or bookmark it to save it on some level.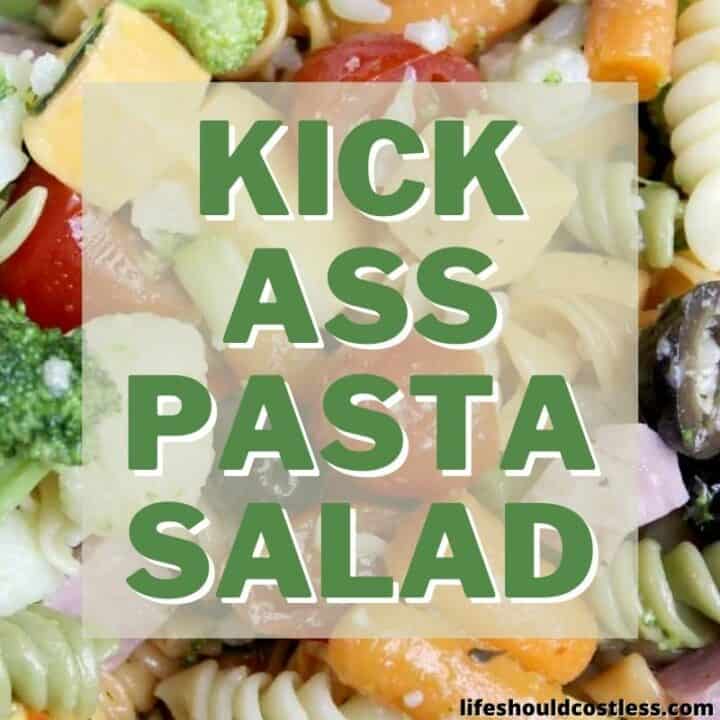 Thanks so much for stopping by my blog and supporting my endeavors to make people's lives a little easier/better/more affordable.
If you liked this recipe post, or found it helpful in any way, please make sure to share it with your family, friends, and co-workers via social media.
Or you could even send them the direct link via email. Whichever way you choose to spread the love, I super appreciate it! ~Sarah
P.S. You need to check out my salads section of this blog.
Here are some direct links to several of my other recipes that you're also going to love:
*Please note that this recipe was originally posted to this website on June 28, 2018 and has since been updated to improve user experience, add a newer better free printable recipe card, as well as to improve social shareablity.