The cost of using hair gel for your entire family can be pretty high sometimes, especially if you possibly have a lot of male children…because often those stinkers use WAY too much. I have found that the best ways to save money when it comes to hair gel, is to stretch your hair gel by making it into spray gel.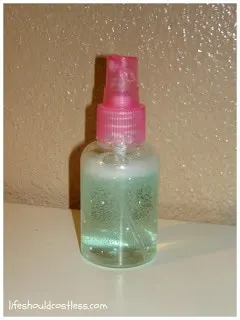 How to make spray hair gel:
Here is a simple little tip that should save you quite a bit of money over time (more so if you like expensive hair products or have lots of little boys). I think that this would have saved my parents a lot of money when my brothers were younger, little boys seem to not know how much gel is too much gel and I even had one brother that used so much that he walked around with a dried blob of gel in his hair for years.
Anyway, I use the following method at our home to stretch our hair gel and I have found that it works great.
Mix two parts boiled water(must be

HOT

)
Let it cool and then pour into your desired spray bottle.
Very simple, I know. Which is why I'm hoping people will do this because it takes very little time to do and can save you so much money.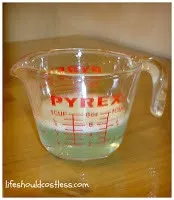 *Make sure that when you are making this that you are using a container that can withstand the heat from the boiled water. I like to use a pourable Pyrex measuring cup in the microwave, which makes it easier to pour into the empty spray bottle.
**Also, depending on the type of hair gel you use, you may want to switch up the water to gel ratio to either make it thicker or thinner, but two to one is a good starting point.
*This article was originally shared to this website on July 25th 2012, amd has since been updated.
*Hey there, thanks for stopping by my website. This article is super old, so it has been archived as I no longer update it…so proceed if you wish…but it is definitely not my best work. Please stop by my home page, here, and see some of my better content. Thanks! ~Sarah*