Learn how to make a knock-off of some of the best aftershave found on Amazon (Tend Skin is one of the highest rated aftershaves on the whole site) and all from the comfort of your own home. This homemade Copycat Tend Skin Solution Recipe will have your ingrown hairs and razor bumps down to a minimum in no time when you add it to your daily skincare routine. Making it at home is pretty simple, & will also save you a considerable amount of money if you end up using it on a regular basis.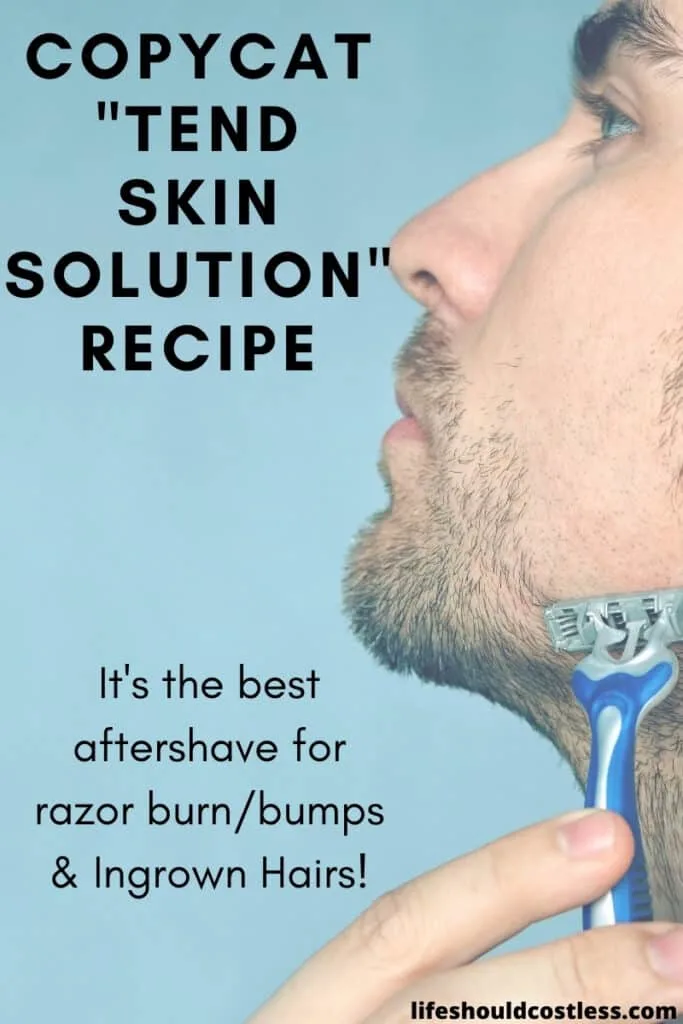 What is Tend Skin Solution anyway?
Tend Skin Solution is a fantastic product that helps reduce the appearance of ingrown hairs, razor bumps, and razor burn…and if you're anything like me (a very sensitive skinned, curly haired, redhead), you get an awful lot of sores any time you shave any sensitive areas on your body.
I actually believe that Tend Skin Solution is such a good product (it's rated five stars on Amazon by thousands of people) that I highly recommend that you buy some of it before you even try this Copycat/knockoff recipe.
Then if you love that, come here and see if you like this homemade version enough to put in the effort to save yourself some money.
How to use Copycat Tend Skin:
There are actually several uses for this Copycat Tend Skin Solution, you can:
Use for a facial/makeup remover (do not use near the eyes). Even after you have already washed your face, it's common to have buildup of dirt or makeup on one's skin.
Grab a cotton ball, saturate it, and scrub those hard to clean places…it should even help reduce blackheads! It works for me anyway.
To Spot Treat Blemishes.
Use it as a toner. The original product claims that you can use it as a "micro-peel" solution, so you could easily replace some of your other expensive micro peel products.
Use it as an aftershave after shaving with a razor blade, waxing (brazillian or otherwise), electrolysis, or even if you have had some laser hair removal procedures.
How to make the best homemade aftershave recipe: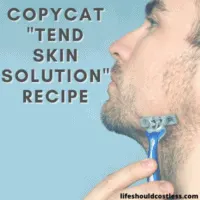 Copycat Tend Skin Solution Recipe
Please note that this recipe is not for consumption. It is a topical skin solution to help reduce razer burn/bumps and ingrown hairs.
Ingredients
Solution 1:
18 tablets (crushed )uncoated Aspirin
5 oz. Rubbing Alcohol (70% is best for this recipe)
Solution 2:
8 tablets (crushed) uncoated Aspirin
2.5 oz Witch Hazel
Instructions
In a blender or food processor, combine the ingredients for Solution 1.
Once combined (will be a more milky color and have no visible chunks when done), pour into a separate container.
In the same blender/food processor, combine the ingredients for Solution 2 until desired consistency (should also be a more milky color with no visible chunks).
Add solution 1, to solution 2 in the blender/food processor and mix well.
Store in an airtight container (an old contact solution container or an old toner product container works well for use).
Directions for use: Apply to a cotton ball and gently cleanse the affected area/s.
Notes
The aspirin will settle a bit, so shake it before each use. Apply to shaved areas to prevent or treat any ingrown hairs or razor bumps/burns.
After scouring the internet for the best knockoff recipe, this is the one that I liked the most, I found it here…that site no longer has it published…
Please keep in mind that I originally shared this recipe/post back on June 24th of 2012, and it has since been updated to improve user experience, and to add a free printable recipe card.
I definitely don't claim this to be the exact recipe, by any means…it's just the best that I have found that works the same as the original product and should be treated as such.
To save yourself as much money as possible when you are making this recipe, consider buying all of the ingredients in bulk somewhere such as Costco or Walmart…
Remember to check the price per ounce so that you know for a fact you are getting the best price possible as you are buying each ingredient.
*Just above the recipe I have suggested which ingredients I would buy off of Amazon, but keep in mind that prices (especially online) fluctuate so it is up to you to find the best deal for your budget. Also don't forget to click the "clip this coupon" if any are available at time of purchase.*
That is really all that I have to share with you guys today. If you loved it and would be so kind as to share this post with your friends/family/followers, I would super appreciate it…whether it be on social media, or even sending them a direct link via email…it all helps. Thanks so much! ~Sarah
If you'd like to check out more of my posts in my Lifehacks Section, make sure to go here.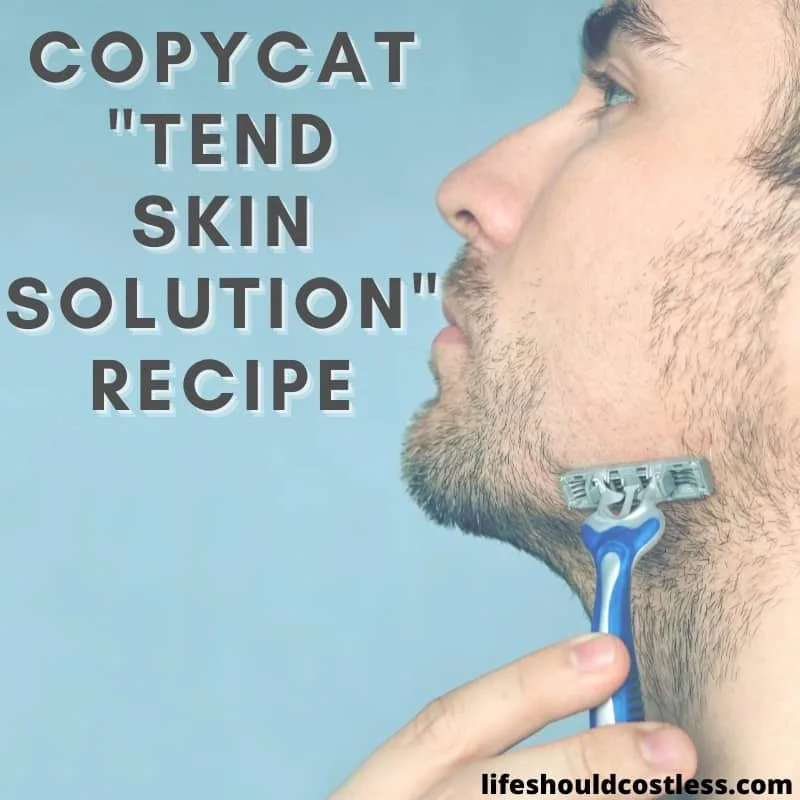 If you would like to subscribe to my email list, go here.
Make sure to follow along via social media, by going here.
If you would like to learn how to really show your support to this site (at no cost to you), go here.
Here are several of my other posts that you're going to LOVE:
If you would like another option for a "pinnable image" for pinterest…here you go. Thanks so much for helping this site grow!