Like a true "fat kid", my favorite part of any Holiday is the treats…no lie. So I thought that for a fun Happy St. Patrick's Day Printable that I would share a fun and easy way to be festive.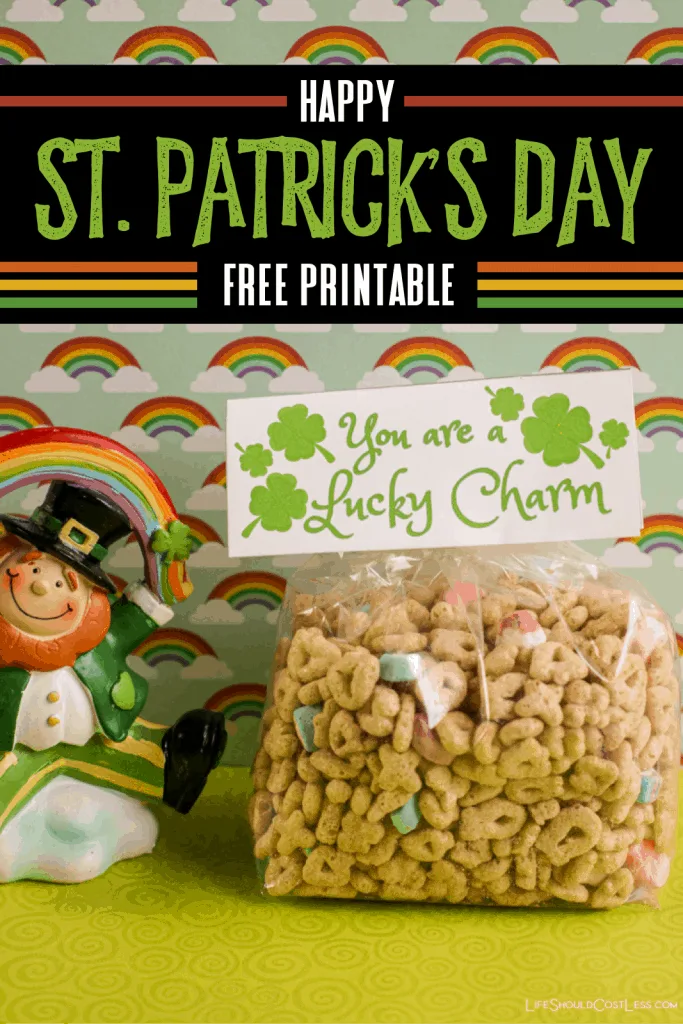 Happy St. Patrick's Day Printables are best when they're free ;).
I'm such a dork, but it's totally true! If I can find something quick and free to print out online, you better believe that I'm not going to take the time to design it myself or to hire someone to design it for me… which is why I thought that it would be fun to share one with you guys today.
We are just going to dive right in and I will share with you the link for the free printable, as well as give you the simplest of tutorials to put them together.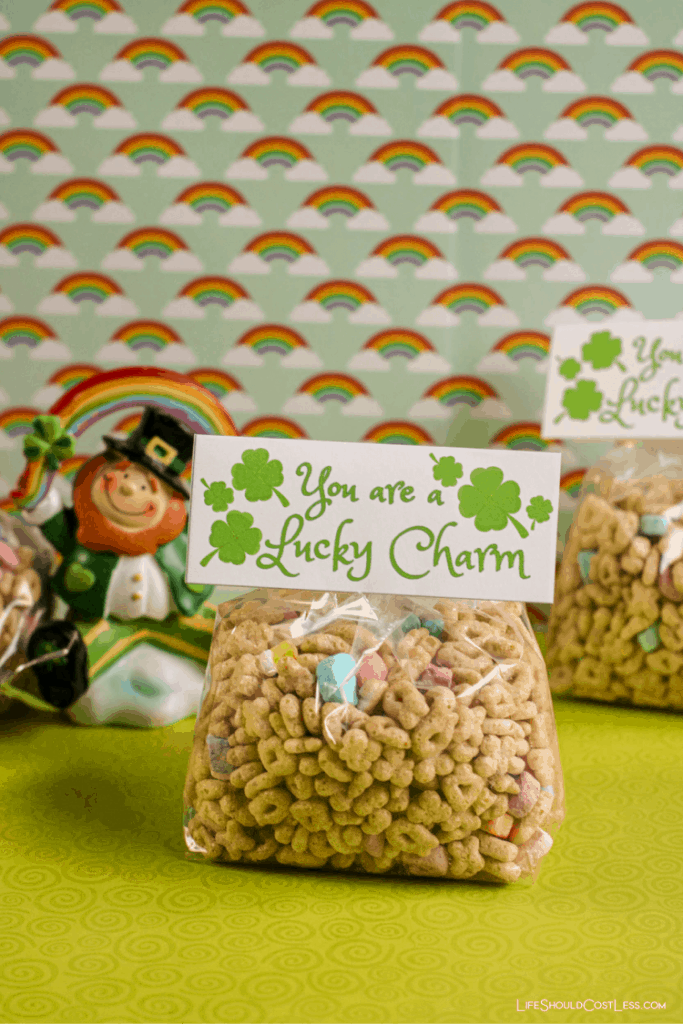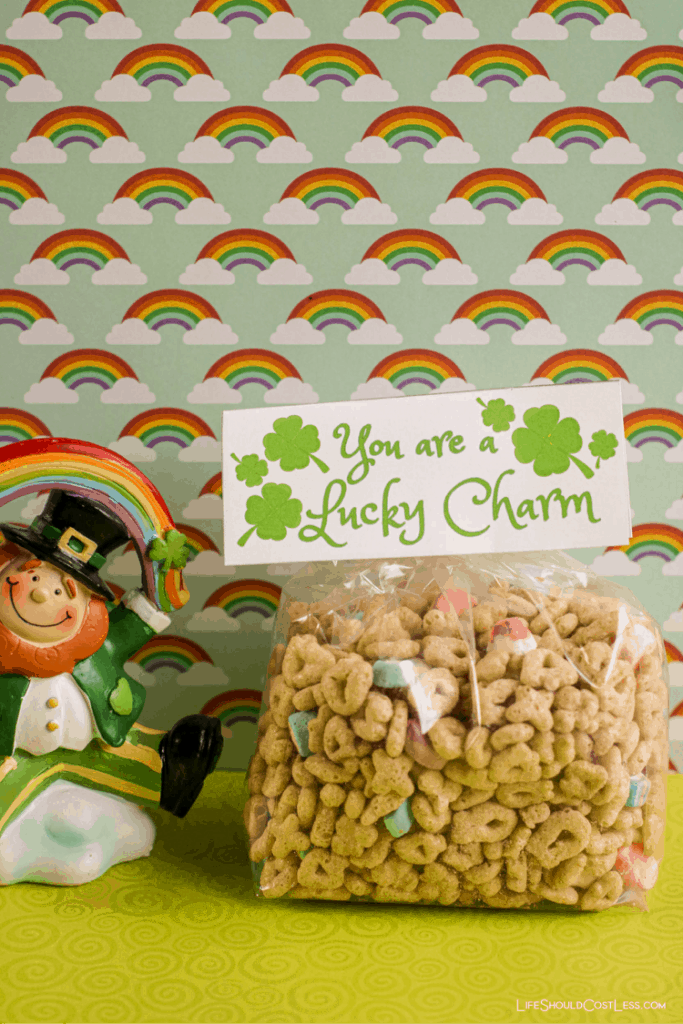 If you're not familiar with my free printables, here is how I do them. I am going to share with you the image, however, since I use an image optimizer on my website, it's best not to just click on the photo and save it because it will be a very low quality image.
The solution to this problem is that I leave a link that you can go to where I store the image directly and you can download it from there for free. There is also a "how-to" card near the end of this post and it will have the link to the free printable as well.

Here is the link to the PDF of the "You Are A Lucky Charm" Happy St. Patrick's Day Free Printable.
Now I go a little more in depth for how to put them together… it's super simple, but having a little guide can help you make sure that you don't miss a step.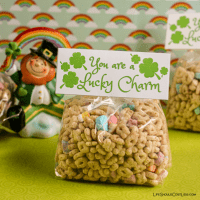 How To Make A "You Are A Lucky Charm" Happy St. Patrick's Day Treat Bag
Easy free printable treat bags for Lucky Charms cereal on St. Patrick's Day.
Materials
Thick Paper, Such As Card Stock
Treat Bags, Clear, Green, or Rainbow Colored
Lucky Charms Cereal, or Generic.
Tools
Printer/Ink
Scissors/Paper Cutter
Stapler w/Staples Or Glue
Instructions
Download and save the free printable labels, found here.
Print desired number of labels on thick paper.
Cut out labels along the outer edges.
Fold the labels in half with the design facing outward.
Fill treat bags with Lucky Charms (or generic) cereal, and secure them shut.
Place top of treat bag inside the label and either staple or glue the label shut around the top edge of the bag.
Enjoy your new festive treat bags.
Notes
You could also fill the bags with rainbow twizzlers, rolo's (with gold wrappers), and white mini marshmallows.
That's really all I have for you guys today. Please make sure that if you liked it or found it helpful to share it via social media.
To see my entire free printables section, go here.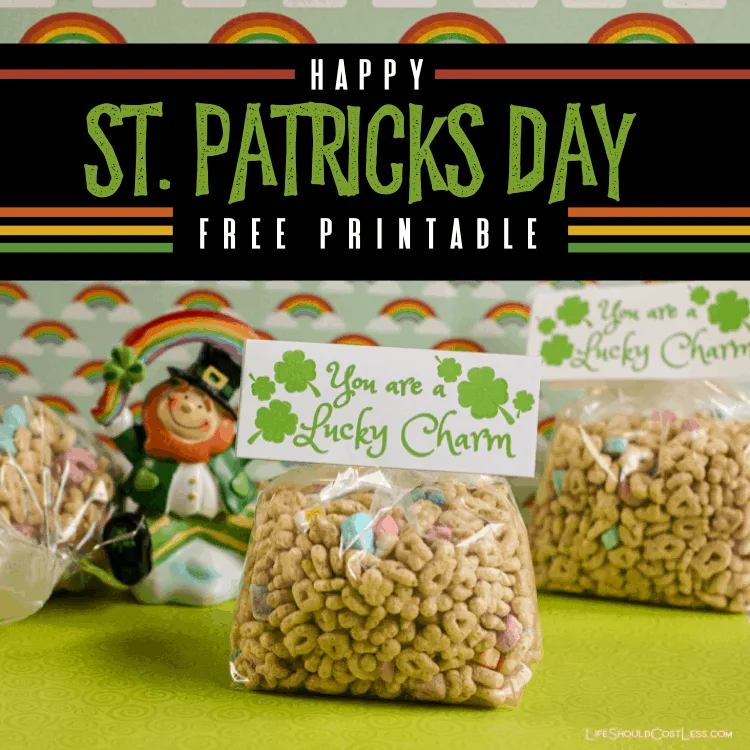 Oh, don't forget to subscribe to my email list (found here). Also, if you would like to learn how to follow along or really show your support for this blog, go here.
Here are links to five of my other free printables:
For those of you that would like another option of a "pinnable" image, here you go. Thanks so much for the support!